Short hair with highlights is any haircut that is neck-length or shorter, with pieces of hair painted with lighter hues against a darker color base. This is surely the most effortless and fun way to spice up a dull hair! Sported by fashion icons, Vanessa Hudgens, Katy Perry, and Miley Cyrus, cropped hair with strategically placed highlights is guaranteed to leave a fabulous impression. What should be on top of your mind when planning to own this hairstyle is your face shape and skin tone. Short locks might be tricky to perfect because it depends on a number of things – your facial features, hair density, and hair type. Matching the highlights with your complexion should be noted as well. Plus, there are different techniques to do highlights. If you want a natural-looking dimension and longer time in between salon visits, a balayage is the way to go. You can also tweak the intensity of your highlights depending on how much contrast and brightness you want! What more could you ask for from this super versatile style?! Scroll down below to see the hottest ideas for short hair with highlights!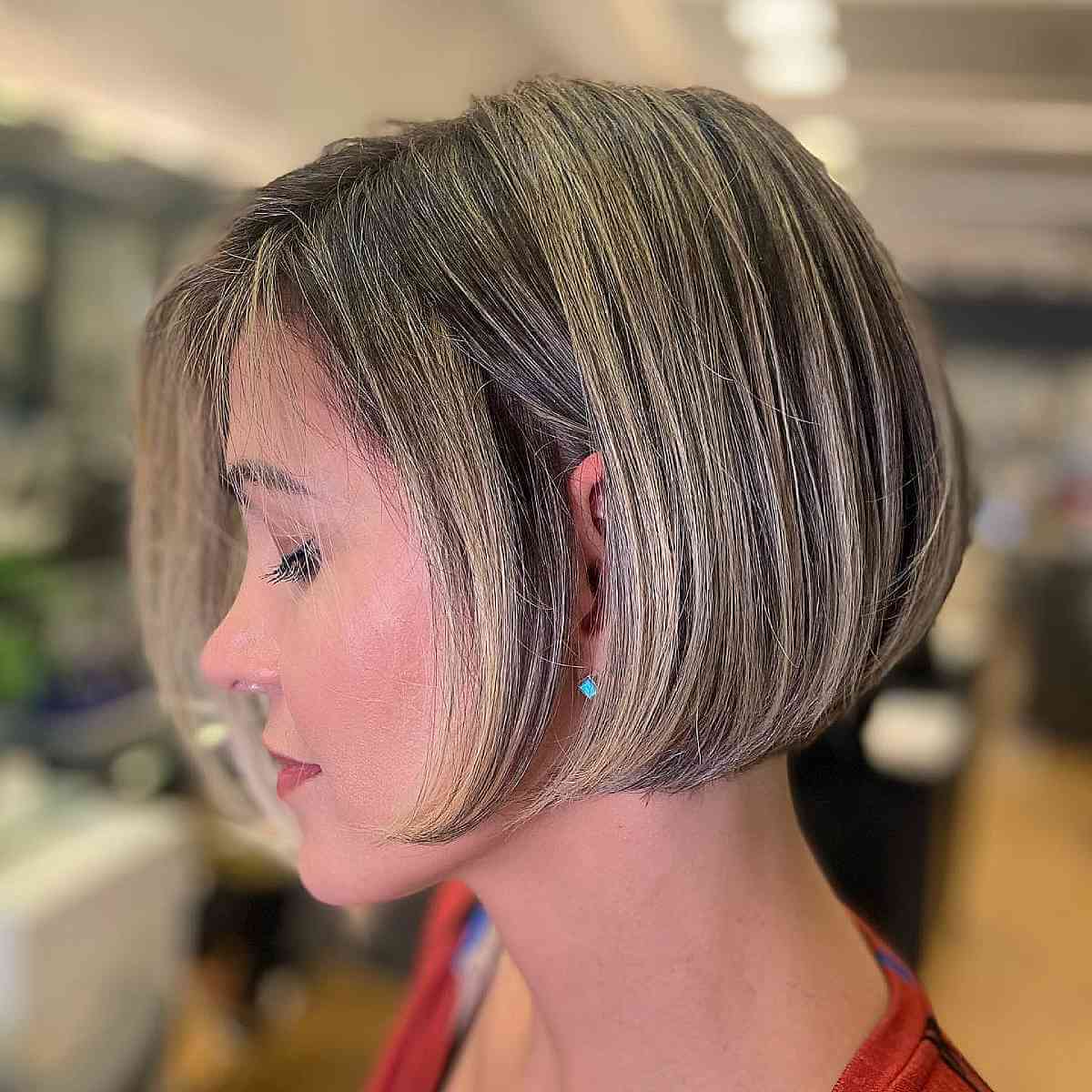 #1: Highlighted Short Bob
You should choose a highlighted short bob for its eye-catching shape. Make sure you ask your stylist for fine highlights that will grow out well and give you more natural color. You'll want to leave the layers long for a smooth and shiny finish that will reflect the light. Blow dry your bob with a smoothing cream such as Olaplex which is also a bonding conditioner, and a medium round brush. The maintenance requirements for your highlighted bob will be about every 8 weeks for color and a cut.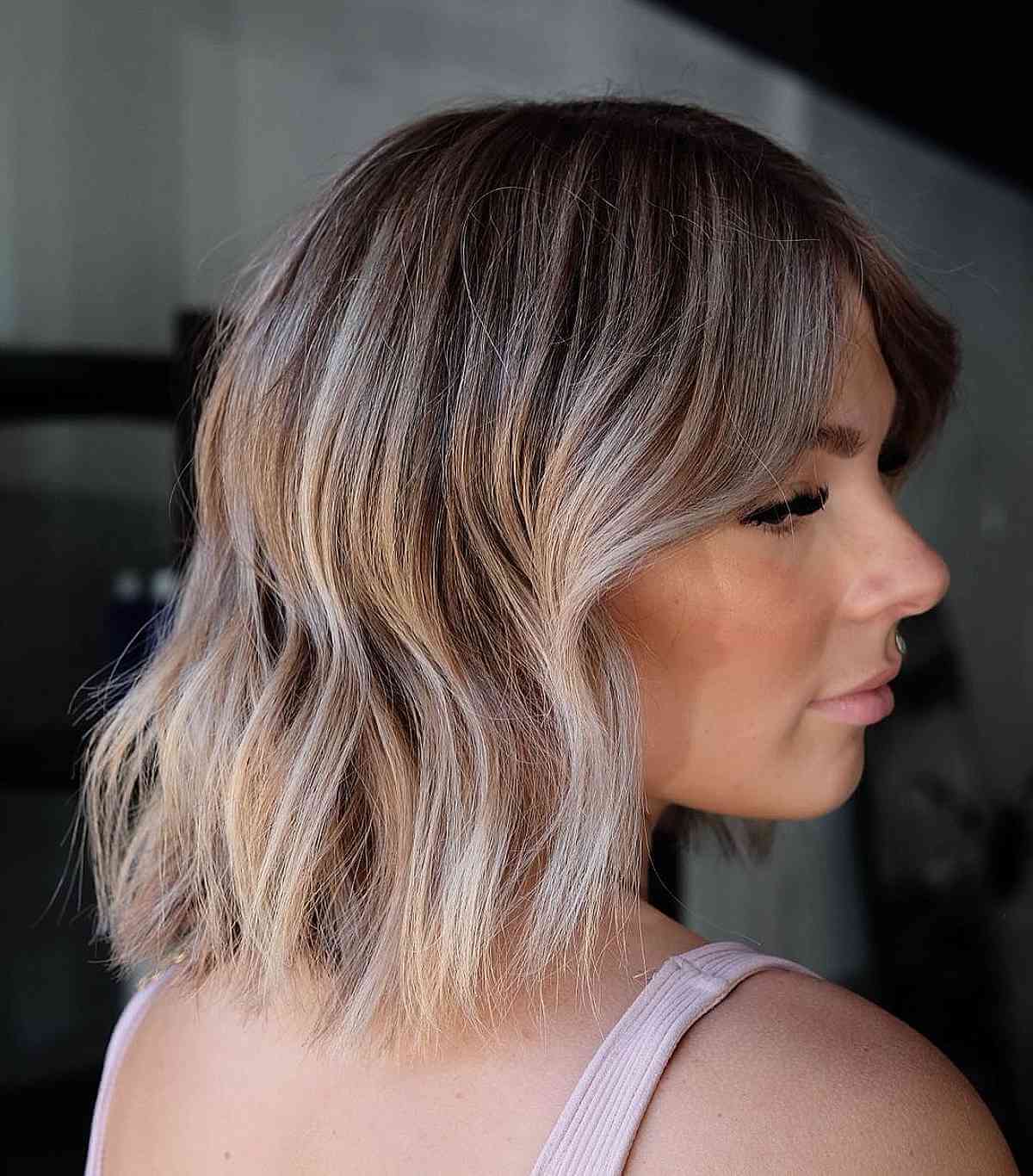 #2: Tousled Short Bob with Dark Roots
Rock a short bob with dark roots if you want to add some sparkle to your naturally dark hair. If you'd like to try a short bob with highlights, ask your stylist for a full head of thin highlights with a shadow root to keep the grow-out soft and natural. Also when considering this look, talk to your stylist about your expectations on time spent daily on styling and salon maintenance as this look will need to be refreshed about every 6 weeks with a glaze treatment and about every eight to ten weeks for a highlight touch-up.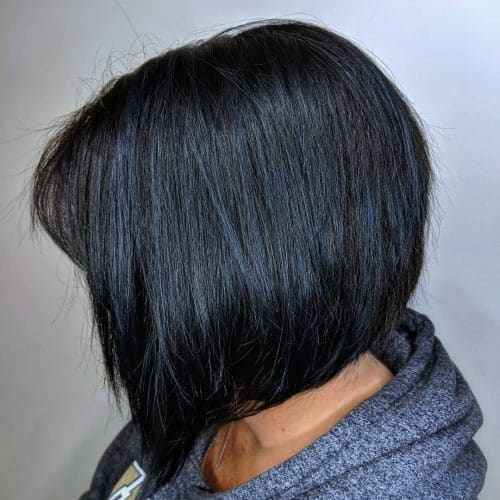 #3: Blue Highlights on Short Black Hair
These blue highlights on short dark hair look luminescent. Colorist Jasmin did an amazing job on this neck-length bob.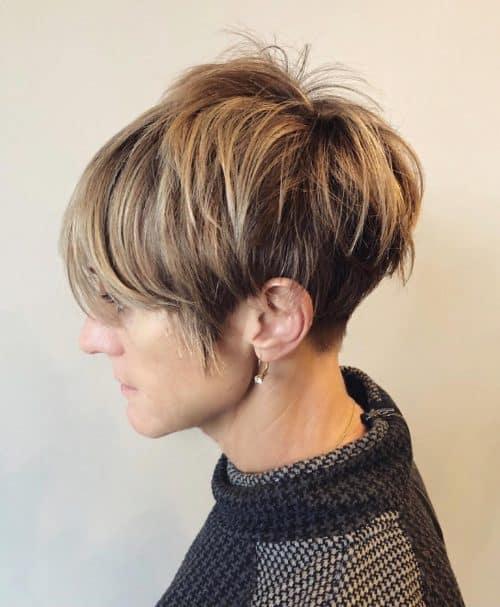 #4: Brown Short Pixie with Highlights
A naturally brown short pixie cut with blonde highlights offers amazing dimension and contrast. If you have thick hair, ask your stylist for an undercut to lighten in out a bit.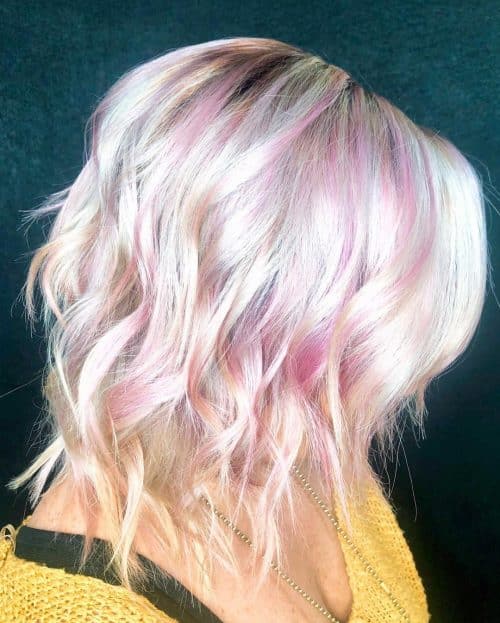 #5: Pink Highlights on Short White Hair
Deviate from your usual highlighted short hair by having bold, pastel color accents on a ghostly white hue.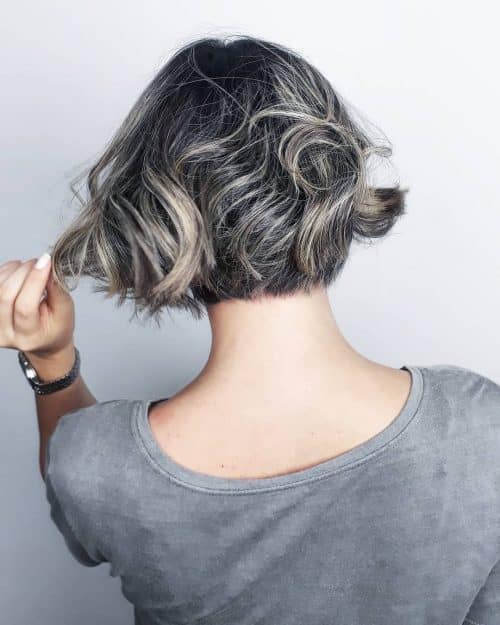 #6: Short Black Hair with Ash Grey Highlights
There are still a lot of highlighting options on jaw-length hair. Switch it up with some ash grey short hair highlights on black hair and big curls for a tasteful take on short hair.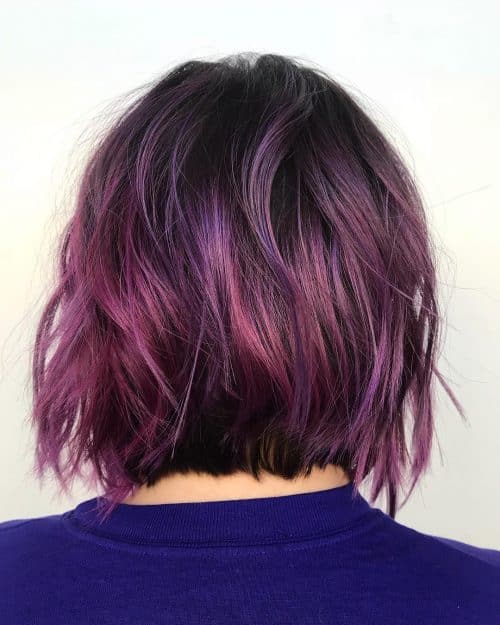 #7: Short Dark Brown Hair with Purple Highlights
Purple highlights in short hair is a gorgeous and edgy hue that isn't for everyone. Fashion color highlights short hair even more. So if you're in your teens and 20's this is a super attention-getting color combo.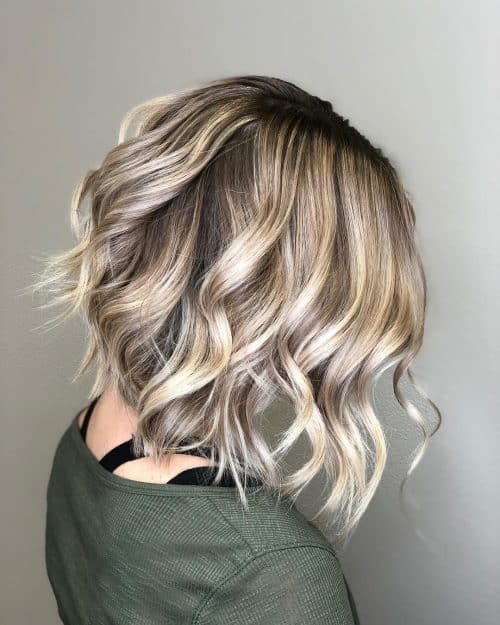 #8: Chunky Blonde Highlights on Shorter Hair
Adding chunky highlights to short haircuts really showcases the cut and style. So next time you get a short a-line bob cut, consider adding thick streaks of hair to highlight like this one.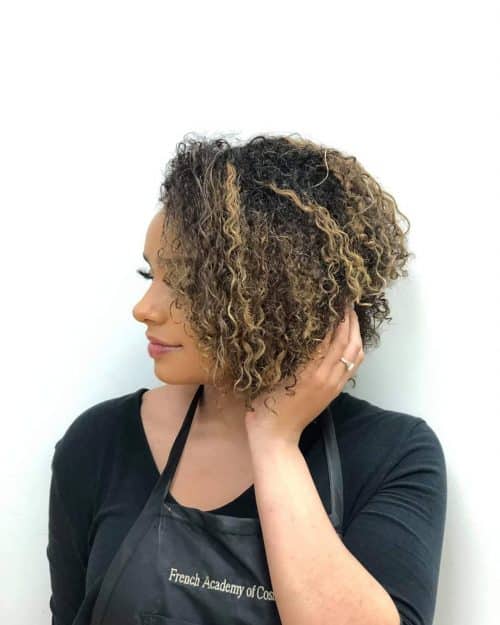 #9: Curly Short Hair with Highlights
Highlighting short hair may be tedious and would need you to block your whole day off to achieve. Nonetheless, the results are fantastic on this short hairstyle and would make all the waiting worthwhile.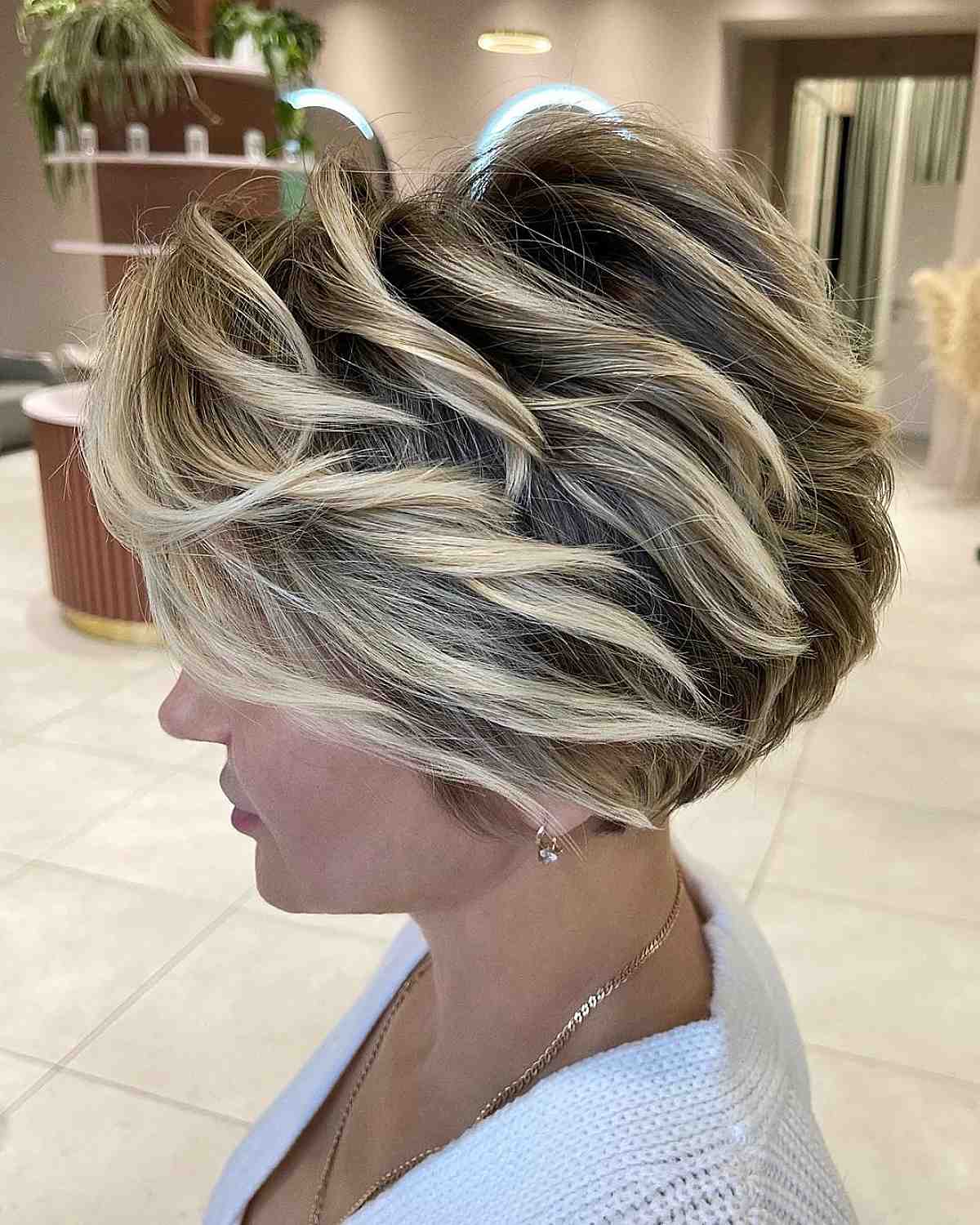 #10: Short Brownish Hair with Blonde Highlights
This brown hair with blonde highlights combo that we are used to never gets old, does it? Perfection truly is timeless.