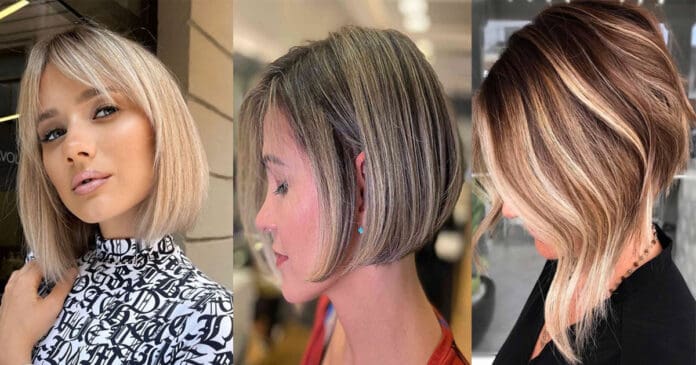 Short hair with highlights is any haircut that is neck-length or shorter, with pieces of hair painted with lighter hues against a darker color base. This is surely the most effortless and fun way to spice up a dull hair! Sported by fashion icons, Vanessa Hudgens, Katy Perry, and Miley Cyrus, cropped hair with strategically placed highlights is guaranteed to leave a fabulous impression. What should be on top of your mind when planning to own this hairstyle is your face shape and skin tone. Short locks might be tricky to perfect because it depends on a number of things – your facial features, hair density, and hair type. Matching the highlights with your complexion should be noted as well. Plus, there are different techniques to do highlights. If you want a natural-looking dimension and longer time in between salon visits, a balayage is the way to go. You can also tweak the intensity of your highlights depending on how much contrast and brightness you want! What more could you ask for from this super versatile style?! Scroll down below to see the hottest ideas for short hair with highlights!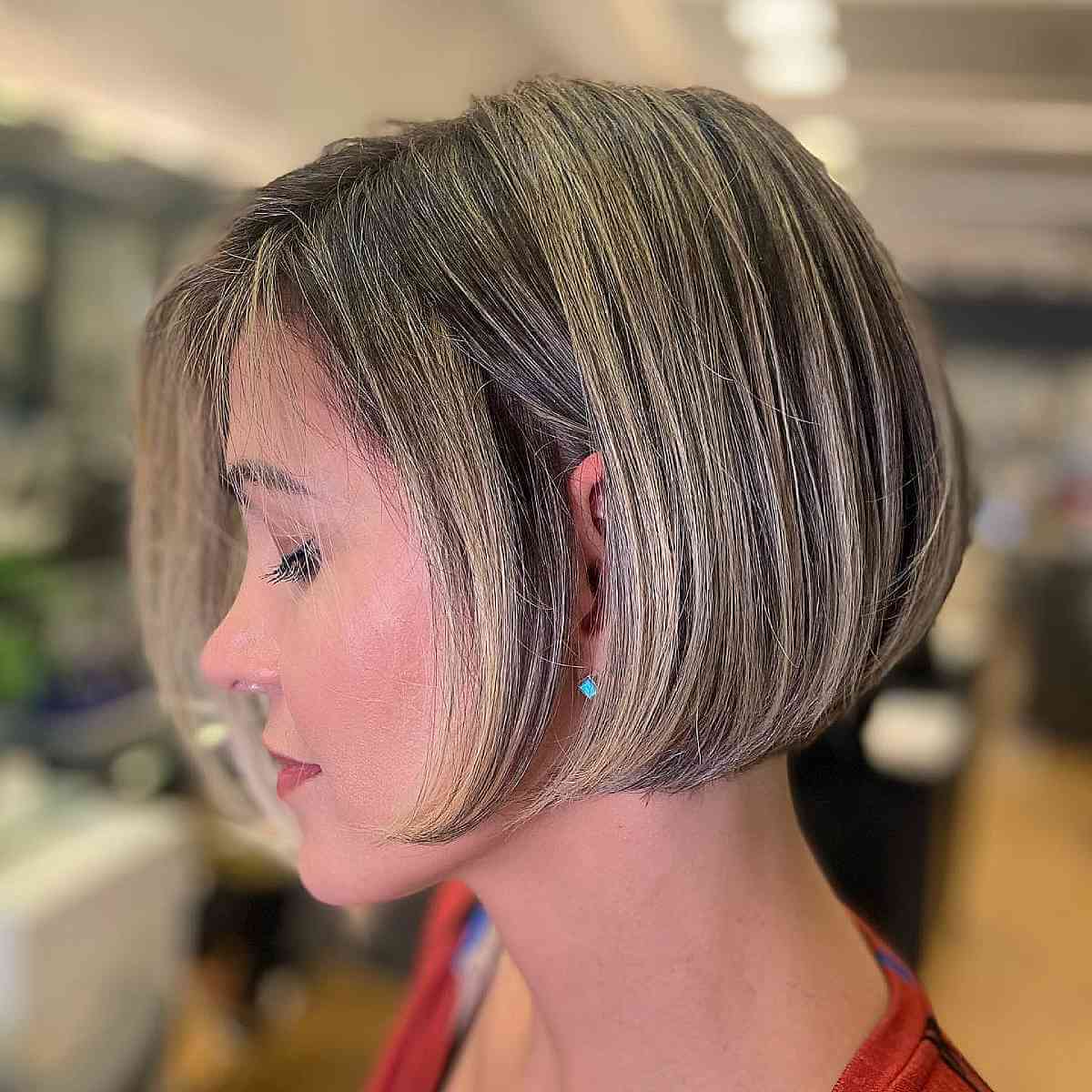 #1: Highlighted Short Bob
You should choose a highlighted short bob for its eye-catching shape. Make sure you ask your stylist for fine highlights that will grow out well and give you more natural color. You'll want to leave the layers long for a smooth and shiny finish that will reflect the light. Blow dry your bob with a smoothing cream such as Olaplex which is also a bonding conditioner, and a medium round brush. The maintenance requirements for your highlighted bob will be about every 8 weeks for color and a cut.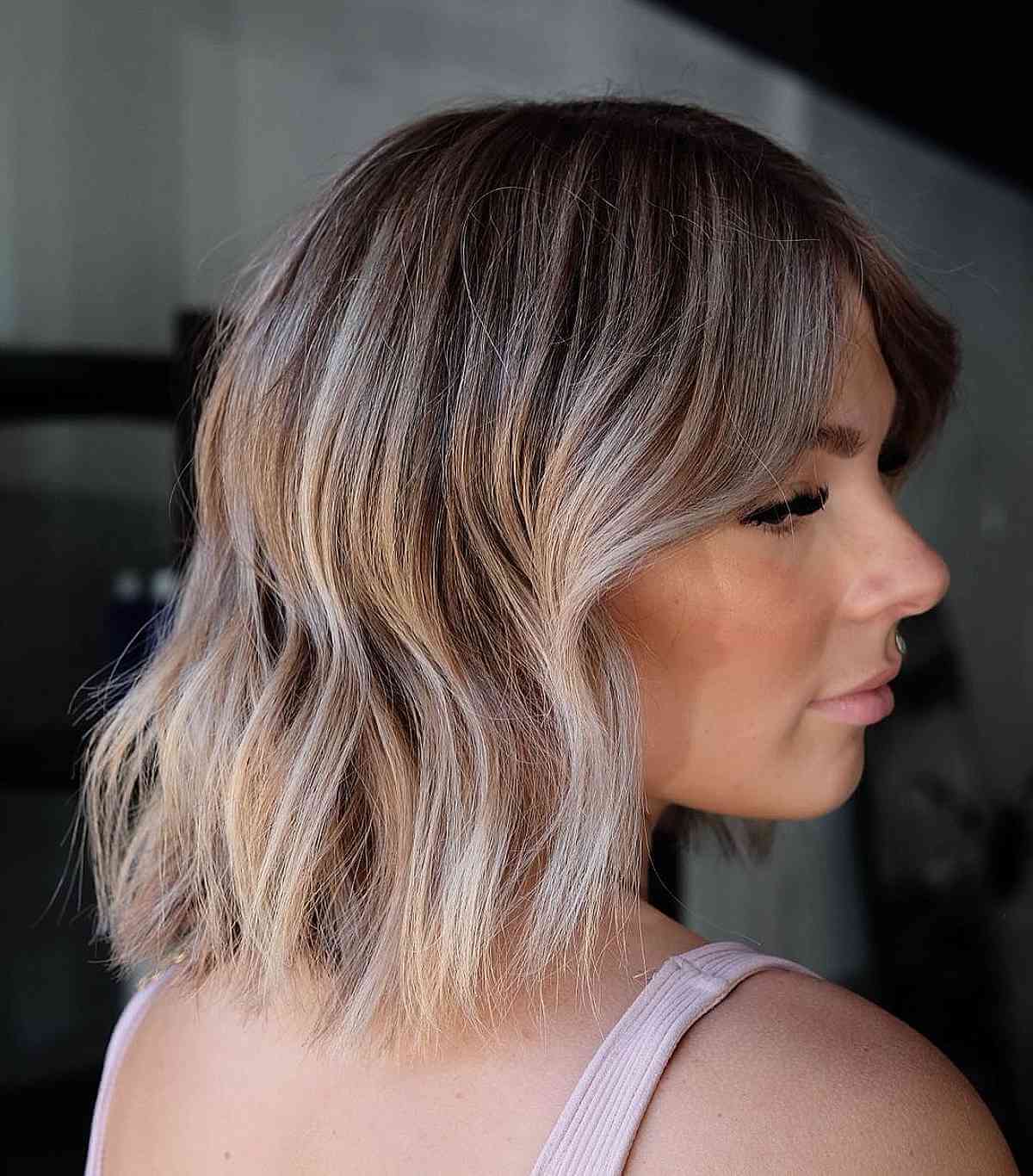 #2: Tousled Short Bob with Dark Roots
Rock a short bob with dark roots if you want to add some sparkle to your naturally dark hair. If you'd like to try a short bob with highlights, ask your stylist for a full head of thin highlights with a shadow root to keep the grow-out soft and natural. Also when considering this look, talk to your stylist about your expectations on time spent daily on styling and salon maintenance as this look will need to be refreshed about every 6 weeks with a glaze treatment and about every eight to ten weeks for a highlight touch-up.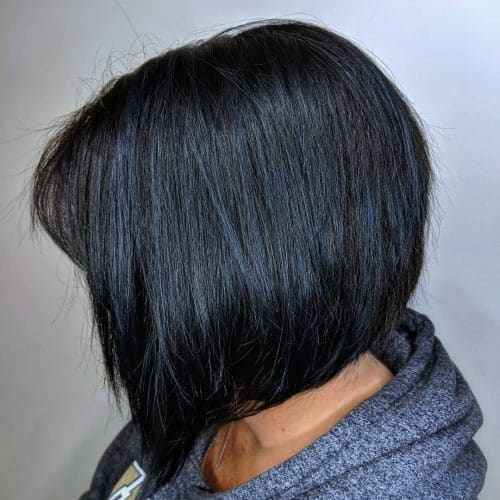 #3: Blue Highlights on Short Black Hair
These blue highlights on short dark hair look luminescent. Colorist Jasmin did an amazing job on this neck-length bob.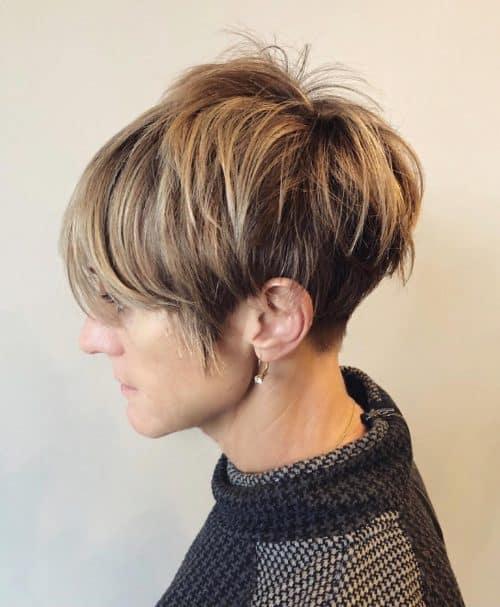 #4: Brown Short Pixie with Highlights
A naturally brown short pixie cut with blonde highlights offers amazing dimension and contrast. If you have thick hair, ask your stylist for an undercut to lighten in out a bit.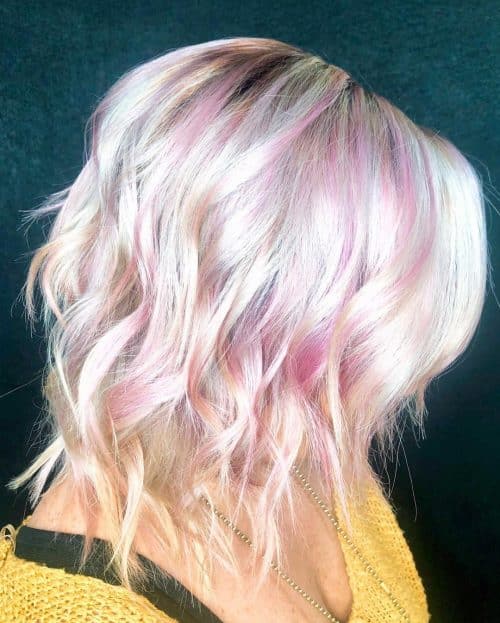 #5: Pink Highlights on Short White Hair
Deviate from your usual highlighted short hair by having bold, pastel color accents on a ghostly white hue.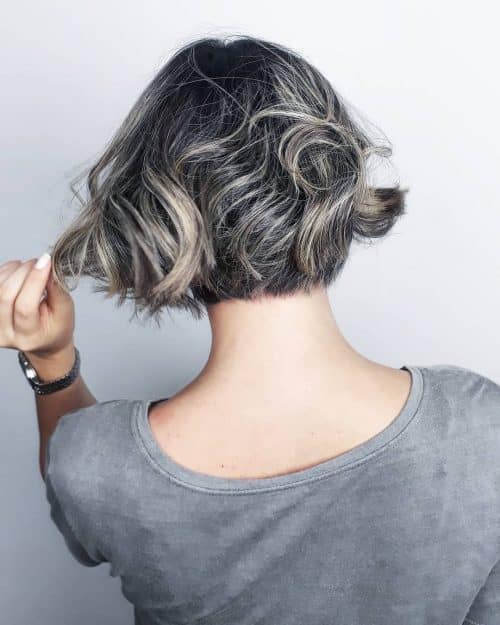 #6: Short Black Hair with Ash Grey Highlights
There are still a lot of highlighting options on jaw-length hair. Switch it up with some ash grey short hair highlights on black hair and big curls for a tasteful take on short hair.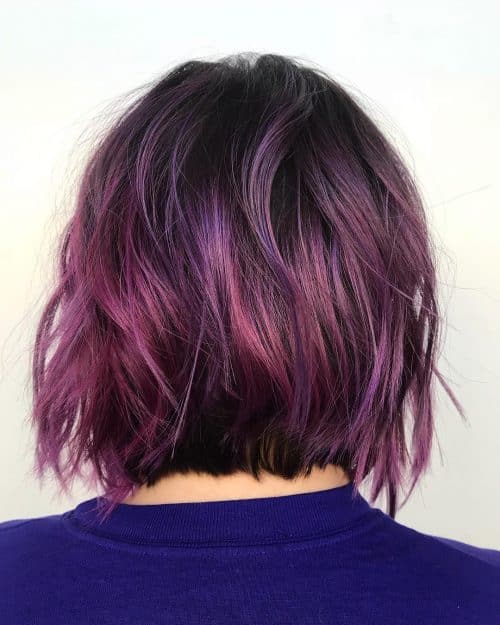 #7: Short Dark Brown Hair with Purple Highlights
Purple highlights in short hair is a gorgeous and edgy hue that isn't for everyone. Fashion color highlights short hair even more. So if you're in your teens and 20's this is a super attention-getting color combo.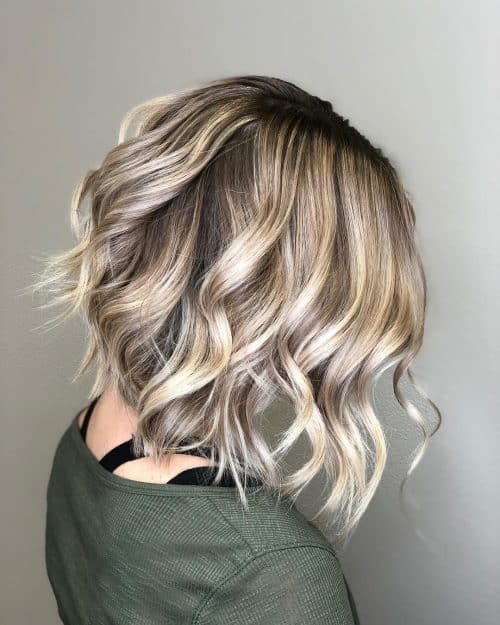 #8: Chunky Blonde Highlights on Shorter Hair
Adding chunky highlights to short haircuts really showcases the cut and style. So next time you get a short a-line bob cut, consider adding thick streaks of hair to highlight like this one.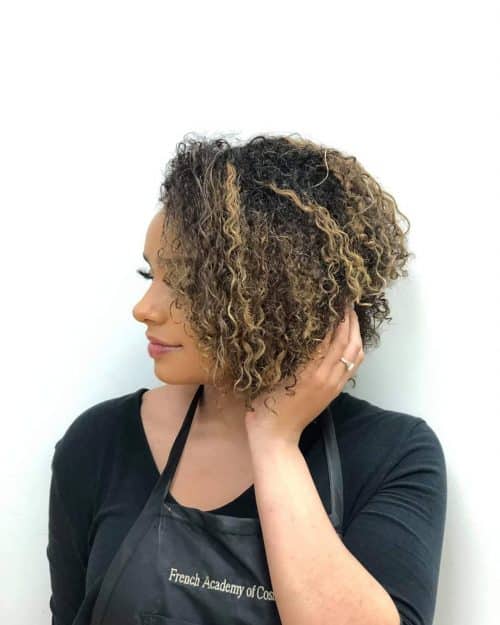 #9: Curly Short Hair with Highlights
Highlighting short hair may be tedious and would need you to block your whole day off to achieve. Nonetheless, the results are fantastic on this short hairstyle and would make all the waiting worthwhile.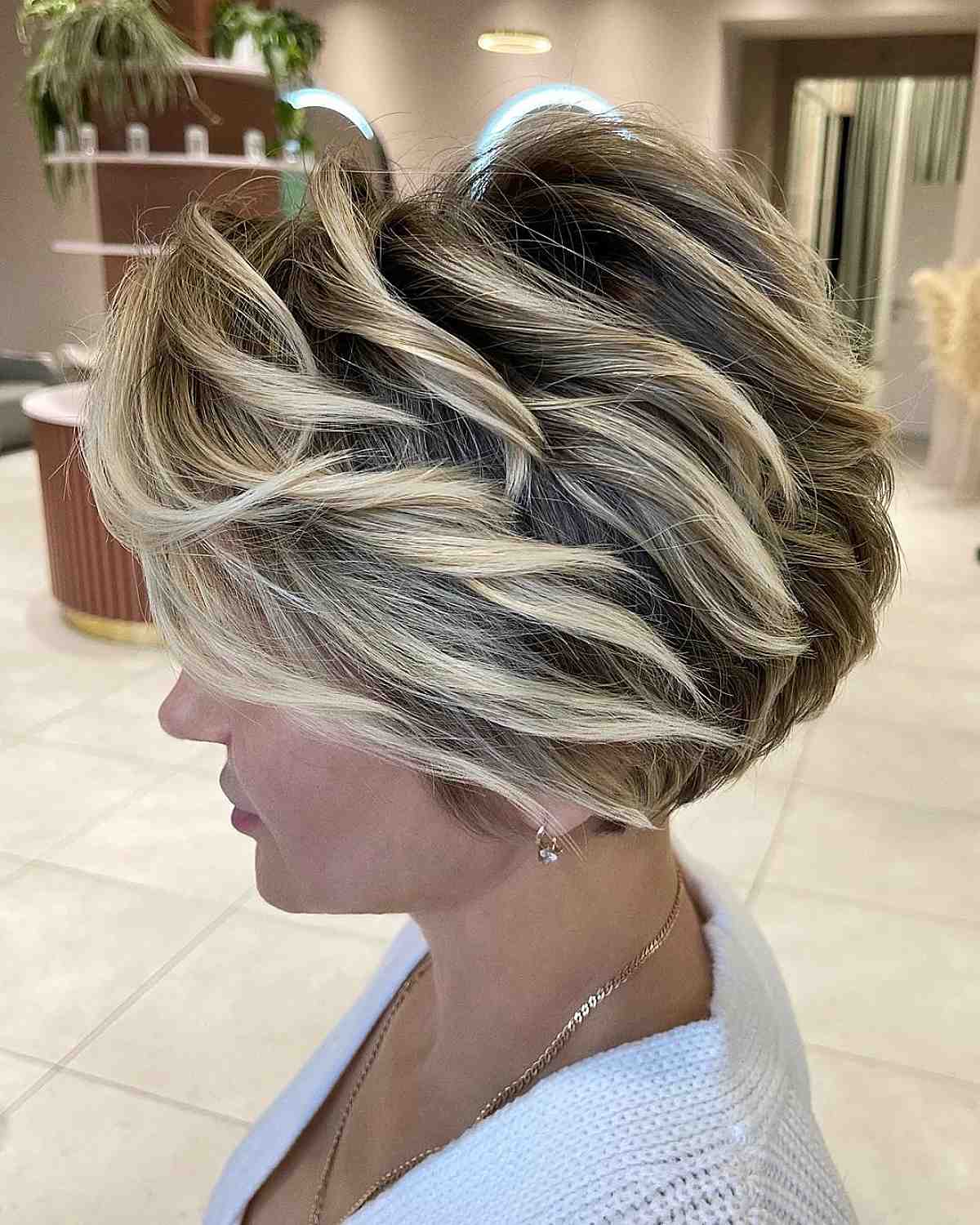 #10: Short Brownish Hair with Blonde Highlights
This brown hair with blonde highlights combo that we are used to never gets old, does it? Perfection truly is timeless.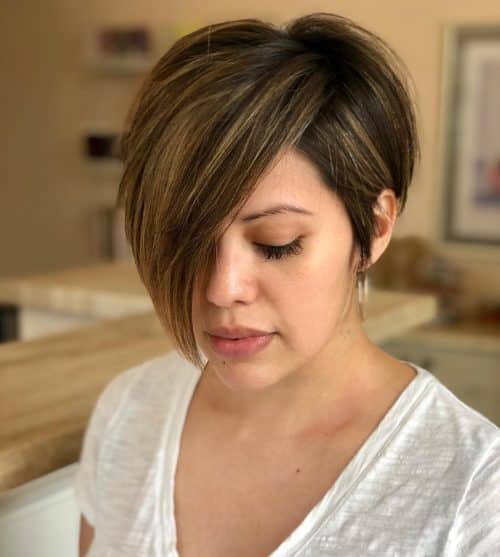 #11: Very Short Brown Hair with Dark Blonde Highlights
Dark blonde highlights on very short hair will create a more dimensional look on an extra long pixie cut.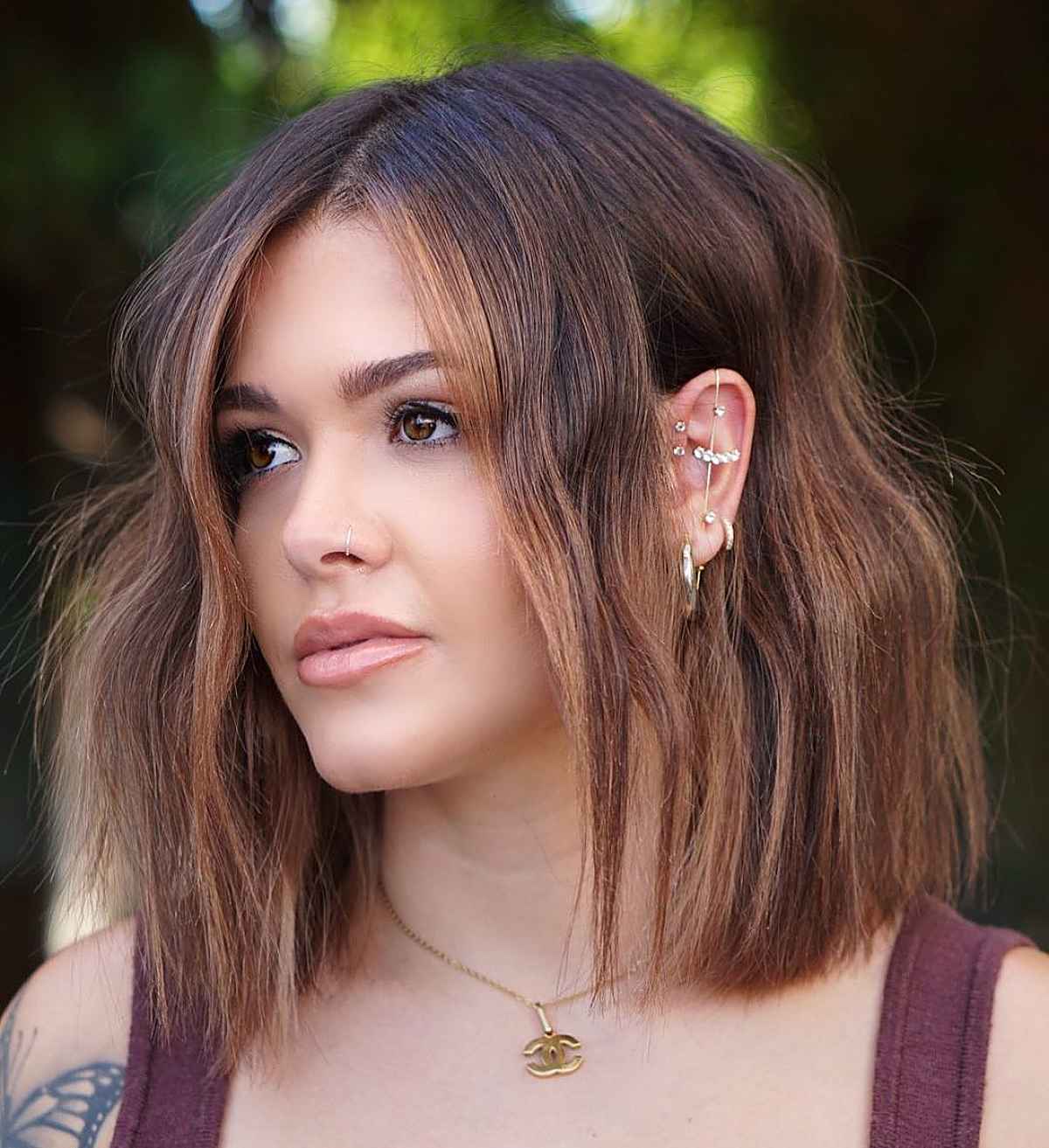 #12: Short Wavy Hair with Light Brown Highlights
A natural brunette short haircut with highlights creates a blended dimensional color. Having the highlights blended is lower maintenance than the traditional highlights. It's a style/color for the gals who do not want to be in the salon as often. This highlighted short hair is a classic bob that's perfect for a woman of any age. Some women think light brown short haircuts with highlights are easier to manage. Perhaps that's the case for some, but short highlighted hair does take more effort into styling. The natural dimensional highlight looks like it's a very low-maintenance hair color. Still, you should get into the salon every 8 to 12 weeks to get the highlights touched up.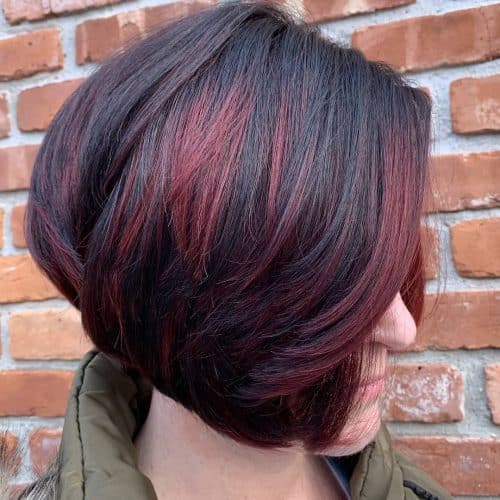 #13: Layered Short Hair with Red Highlights
What's great about this? The color placement on this short layered hair with red highlights gives so much dimension to the haircut. This was done using balayage highlights instead of using a traditional foil technique because you can have panels of red without looking too stripey at the root. Plus, it makes it look more appealing as it grows out. A dark canvas will really show off the vibrancy of he red highlights. What's your best advice? When considering highlights for short hair, the first and most important thing is to consider the integrity of your hair and make sure it is healthy enough to highlight. After any highlighting service, use a moisturizing conditioner or mask to prevent breakage. Schedule an upkeep appointment every 4 weeks to glaze the red and prevent fading. In between salon visits, home care is very important. Use a sulfate free shampoo like Gemstone Shampoo and Conditioner by R+Co since it locks the color in. Using a color depositing shampoo about once a week and always rinse the hair with cool water. This should make the color last longer and keep it looking as vibrant and rich.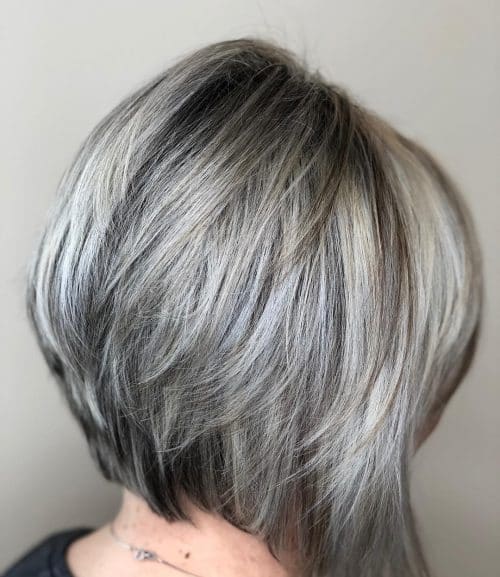 #14: Short Hair with Ash Blonde Highlights
What's great about this? It is a short graduated bob with ash blonde highlights that makes it more modern. You can style it straight/smooth with a lot of volume at the roots, but this cut would also look amazing with some beachy waves. What's your best advice? A bit of advice on short hair with highlights would be getting yourself a good round brush. You'll alos need a volumizing product (mine is "Blow it up" by Short Sexy Hair), and a little hairspray to finish with. Highlights with short hair looks great with or without bangs. The ash blonde highlights are great for anyone who is dealing with grey. Use a good purple shampoo to maintain the tone like Redken Colour Extend Blondage. Leave it in your hair for a few minutes, once a week. This will help keep that icy tone between salon visits.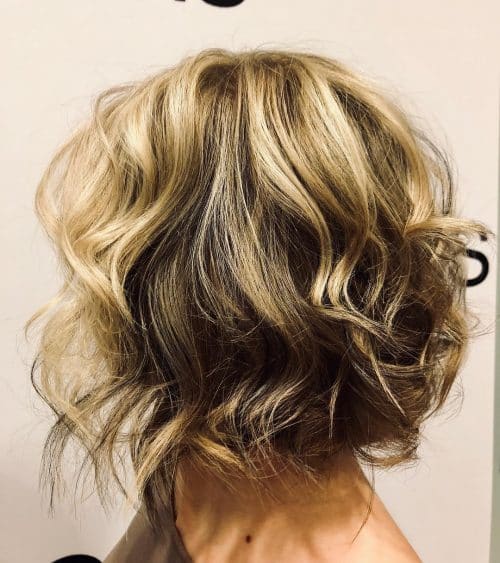 #15: Short Bob with Highlights and Lowlights
great about this? This short bob with lowlights has quite a few elements that make it both trendy and low maintenance. Depending on your hair texture, shorter cuts with fewer layers are typically easier to wash and go. What's your best advice? A darker blonde makes a good candidate for lighter, cooler blonde tones. You can do a partial highlight and pull through a lowlight to match your natural color to add dimension. Women looking to recreate this style should consider their hair history! Lighter blondes are often created in multiple processes if you have dark or previously colored hair. Short bobs can be very low maintenance and stylish, especially for women who can't spend more than 10-15 minutes styling their hair.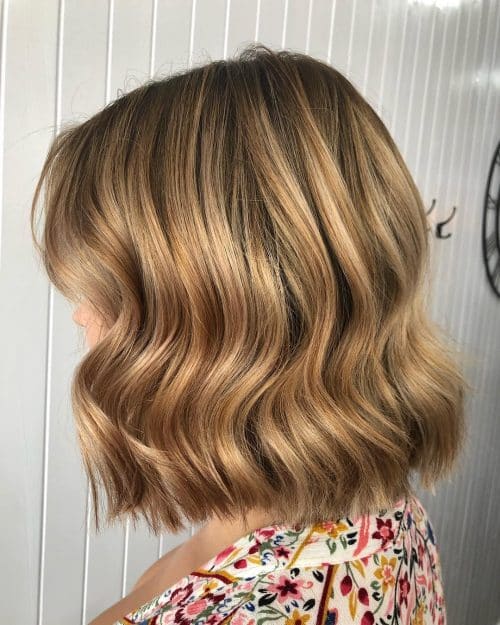 #16: Caramel Balayage Highlights on Short Wavy Hair
What's great about this? This short style is a dimensional caramel balayage highlights which have been cut into a beautiful short lob. Hairstyles with highlights help accentuate your face, and the color adds texture through the different caramel tones within the style. What's your best advice? Short hair with highlights can complement so many women! The lob can be made to suit any woman by lengthening it or adding some texture throughout. The warmer color is more for the warmer skin tones. Use a heat protectant and a product with a bit of hold so the wave in the hair will hold longer. Following up with a lightweight serum or cream to add shine and finish the look.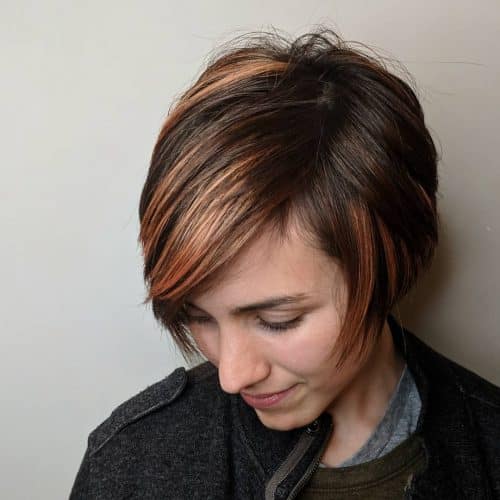 #17: Short Hairstyle with Rose Gold Highlights
What's great about this? Rose gold highlights in short hair that's dark give such a bold statement with loads of contrast. The placement and technique will give a softer less noticeable regrowth line as it grows out resulting in longer times between appointments. This short textured cut is a breeze to style. What's your best advice? You honestly can't mess it up! A little volume mouse and a blow dryer finished with a light shine pomade and you have a perfectly tousled style. If you are looking for a bold statement with low maintenance, short hair highlights are the way to go. The highlights will grow out seamlessly resulting in a few trips to the salon and more money in your pocket. Go home from the salon with a custom color conditioner to keep the rosiness of the highlights.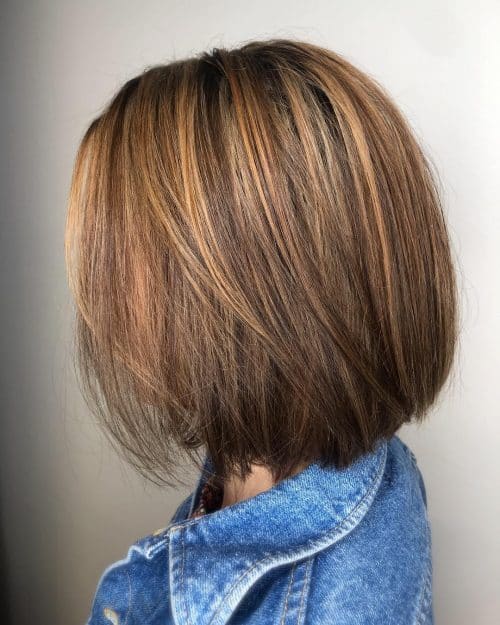 #18: Short Brown Hair with Caramel Highlights
What's great about this? These warm caramel highlights on short hair are for ladies whose goal is to go bright blonde. These tones are perfect for women with medium to dark eyebrows and a tan complexion. This short haircut is a one-length trim and some point cutting at the ends to create a long bob cut without all the layers! What's your best advice? This short hairstyle is great for any woman trying to brighten up their facial features with a few warm caramel highlights on brown hair.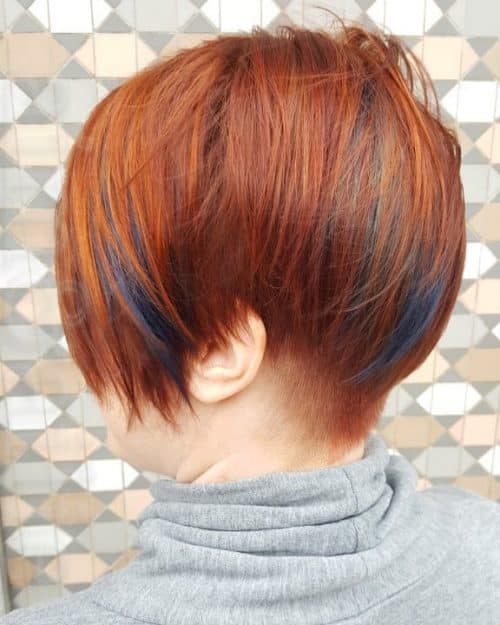 #19: Peekaboo Highlights on Short Hair
What's great about this? Blue peekaboo highlights for short hair that's naturally a copper color offers a bold juxtaposition of tones. Copper (orange) and navy are two opposing colors that pair so well with each other. What's your best advice? This short hair is truly great for women who especially those who want just a touch of edgy in their life. Doing panels or peek-a-boos is a great way to add a splash of unnatural hair color without being too over the top. This particular short haircut works extremely well for someone with short fine hair. Be prepared for a moderate level of maintenance to continue wearing a look like this. If you're thinking about maintaining the length and color as is for a while, you will need regular haircuts (anywhere between 4-8 weeks). Coppers need to be refreshed in that time frame as well. Dry shampoo is your best friend. The less you shampoo, the longer the color will stay vibrant.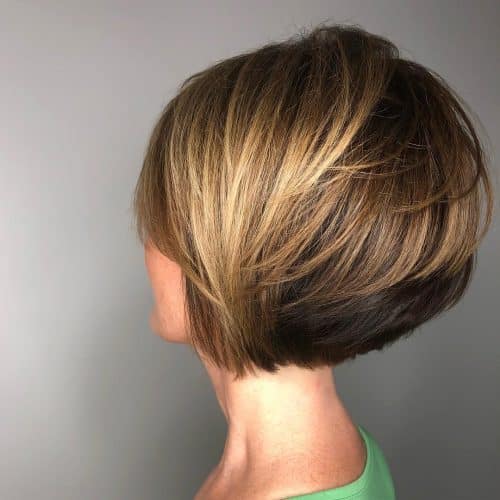 #20: Short Dark Hair with Highlights
What's great about this? Short dark hair with highlights cut into a graduated bob created volume and density making it easy to achieve fullness in all the right areas. The short dark underneath keeps it looking dense while the highlights throughout keep it light and airy on top. What's your best advice? This short hairdo is more of a high maintenance style. I recommend getting a reshape every 4-5 weeks to keep the shape sharp and polished.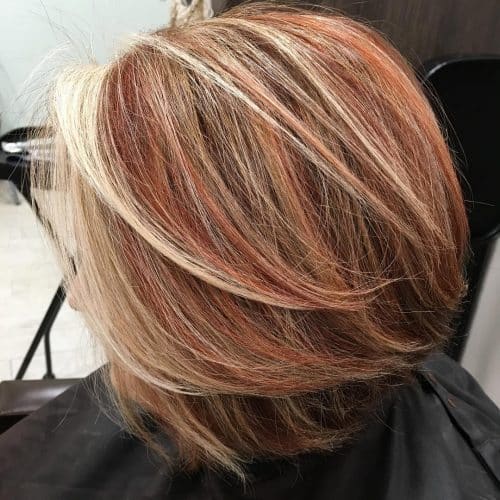 #21: Red Hair with Blonde Highlights for Older Women
What's great about this? Short red hair with blonde highlights on a modern layered bob looks amazing. The color placement is to accentuate the layers and frame around the face. The combination of warmth from the copper base color and the coolness of the blonde highlights really give it a look that "pops." What's your best advice? This short hair and highlights is great for women over 70. It provides that age is just a number and you can always have fun with your hair. If you have grey hair, the root touchup requires being done every 4-6 weeks. It's not a low maintenance color. You would also need to use the right color shampoo and conditioner to order to maintain the color and prevent fading.