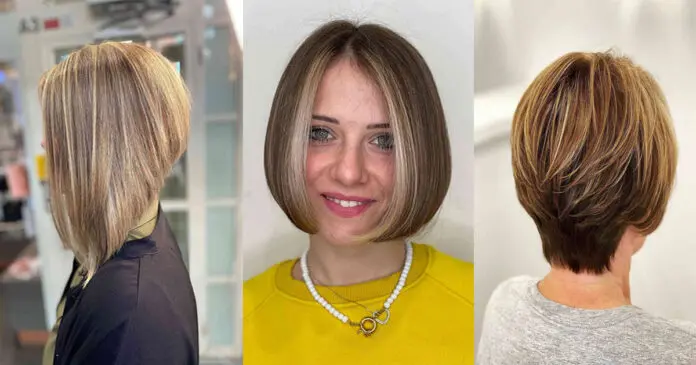 Above-the-shoulder haircuts range from short to medium-lengths and they're such a great way to get a short hairdo without going too short! Sheena Johnson is a salon owner from Apple Valley, MN. Her utmost advice is to choose a cut with realistic styling options for your ability and lifestyle. Face shape and cowlicks are additional aspects to consider when getting a fresh chop. Opt for some bangs or layers to customize the cut and enhance your best facial features. The only drawback of this hair trend is that it isn't the wash-and-go type of cut. "You may even lose the ability to put all your hair up," Johnson adds. If this hair idea inspires you to jazz up your look, you gotta see this photo gallery. Find the newest and trendiest ways to rock above-the-shoulder haircuts here!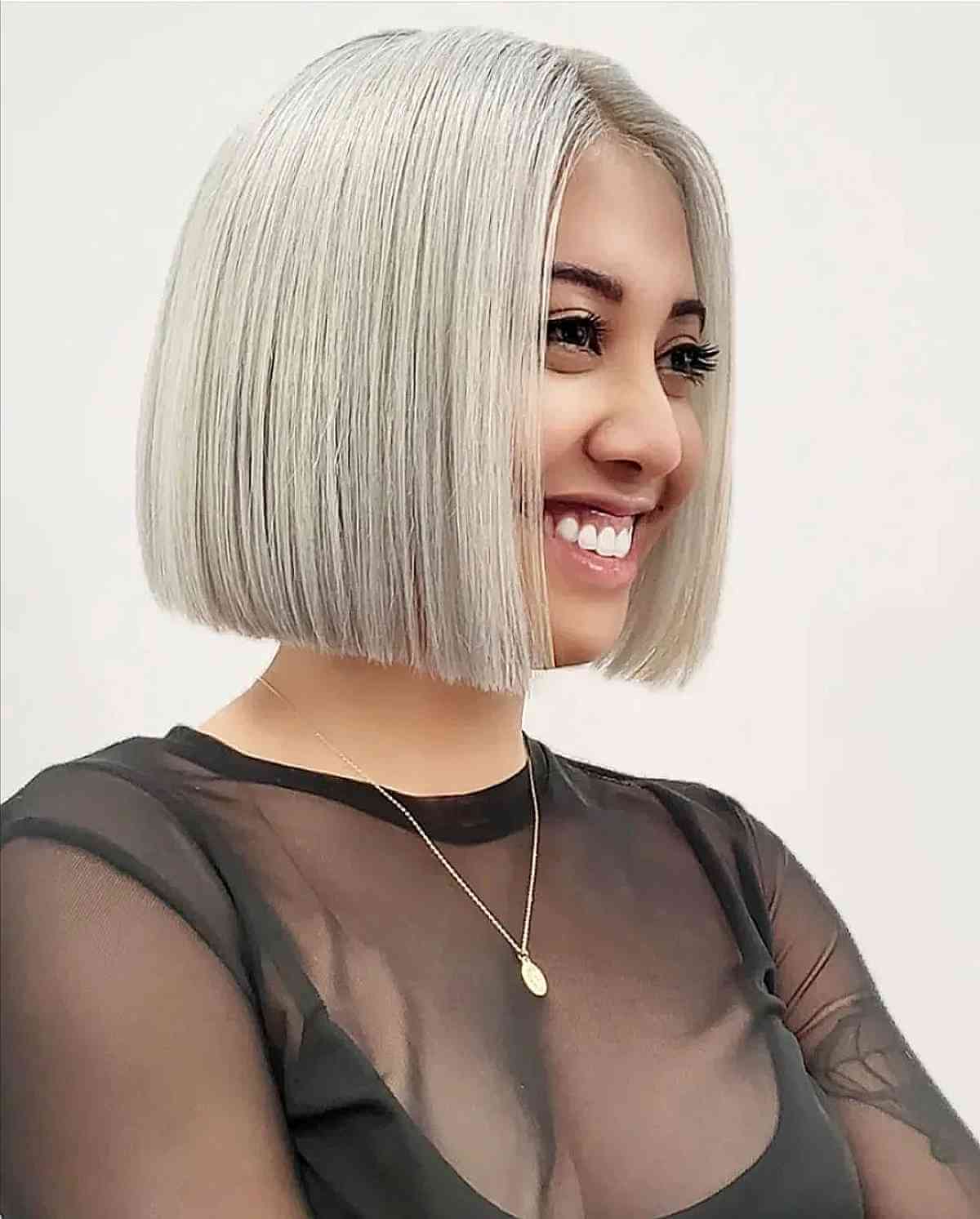 #1: Straight Chin-Length Blunt Bob
For the reserved woman, get into a straight chin-length blunt bob. A blunt bob above the shoulders has no layers and has a very "straight to the point" vibe. This is an excellent style choice for women with less naturally voluminous hair and only requires a simple flatiron to maintain.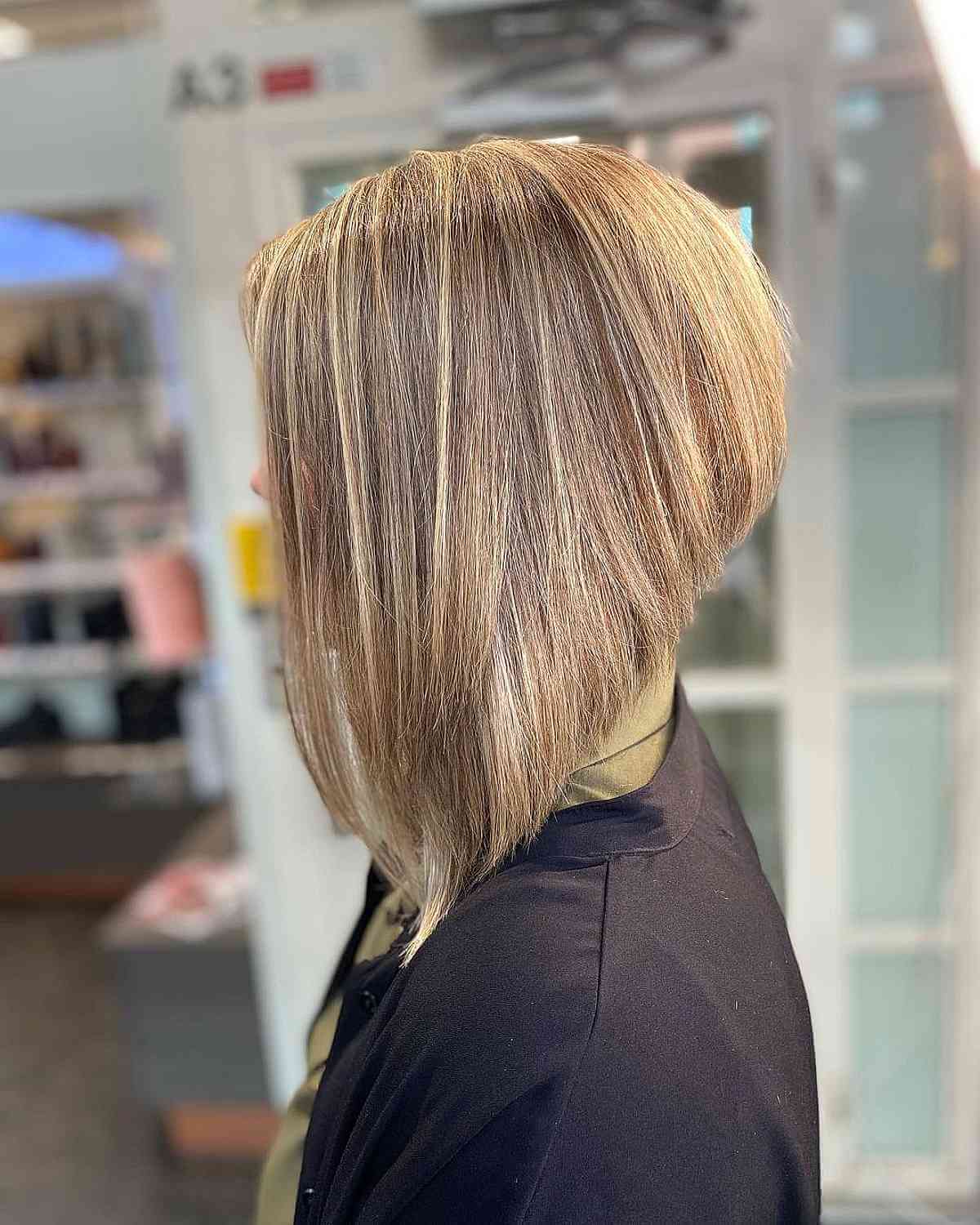 #2: Angled Long Bob for Thick Hair
Go for an angled long bob for thick hair. Great for active women who want shorter hair. Haircuts that have longer lengths around the face create versatile styling by being able to wear down or put up away from the face in a pony still.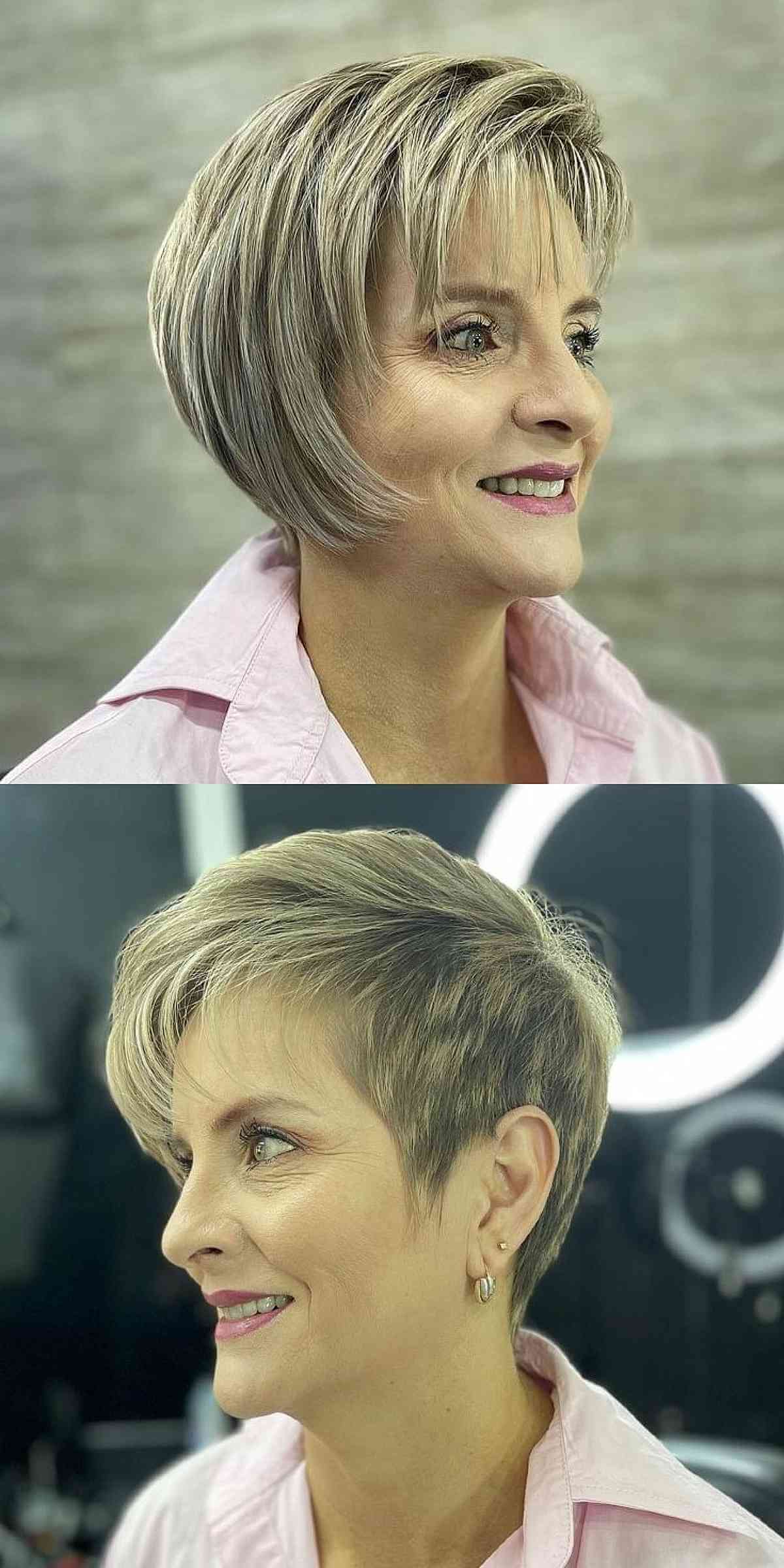 #3: Jaw-Length Concave Bob with Wispy Bangs
Opt for a jaw-length concave bob with wispy bangs. Above-the-shoulder cuts for women over 50 looking to have modern and easy style. Asymmetrical pixies are beautiful on diamond, triangle, round, and heart face shapes.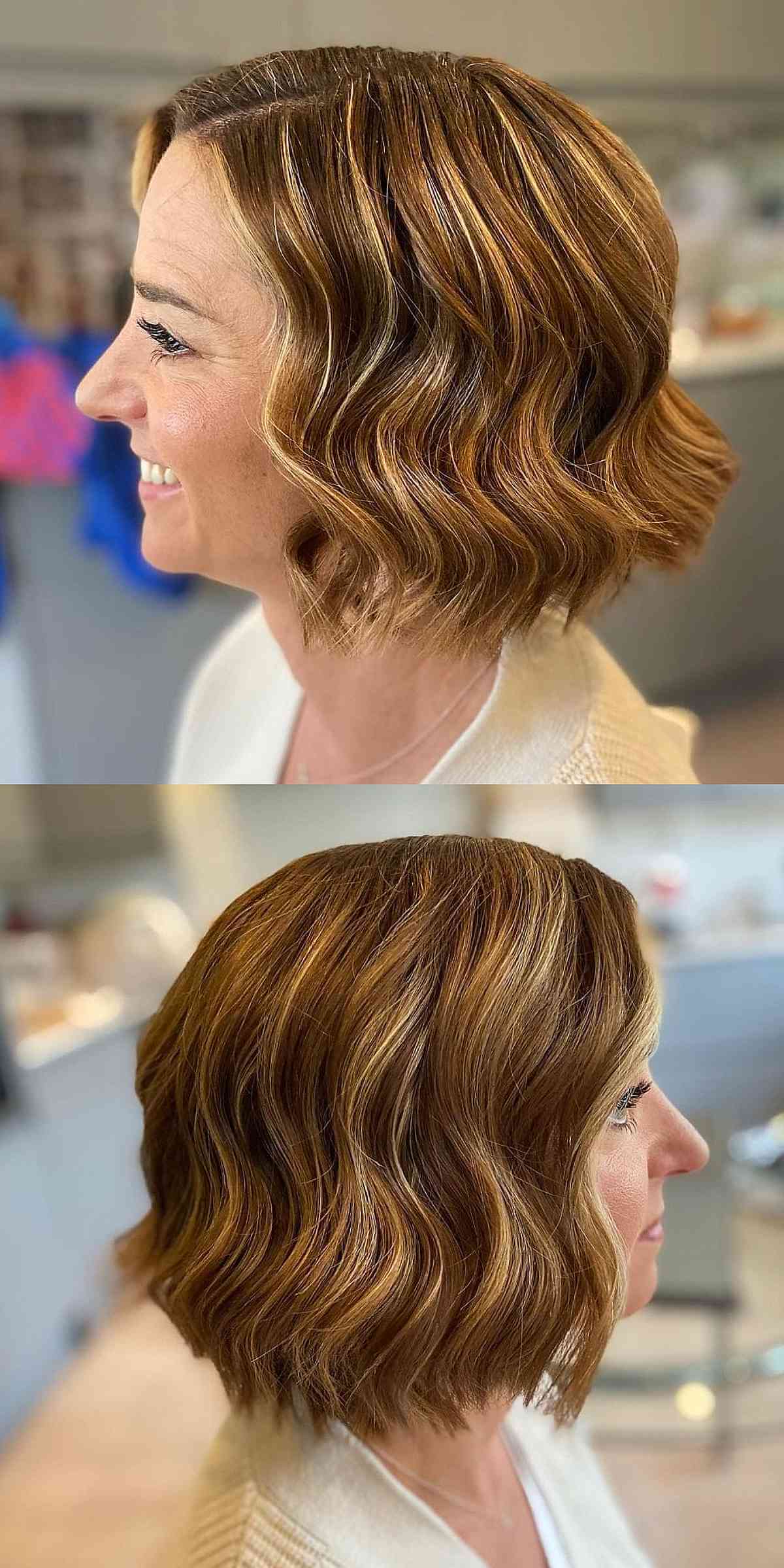 #4: Short Bob with Glam Waves for Women Over 40
Try a short bob with glam waves if you're a woman over 40. It's a cute crop for women who have diamond and heart-shaped faces. Volume around the chin helps to balance the face to perfection.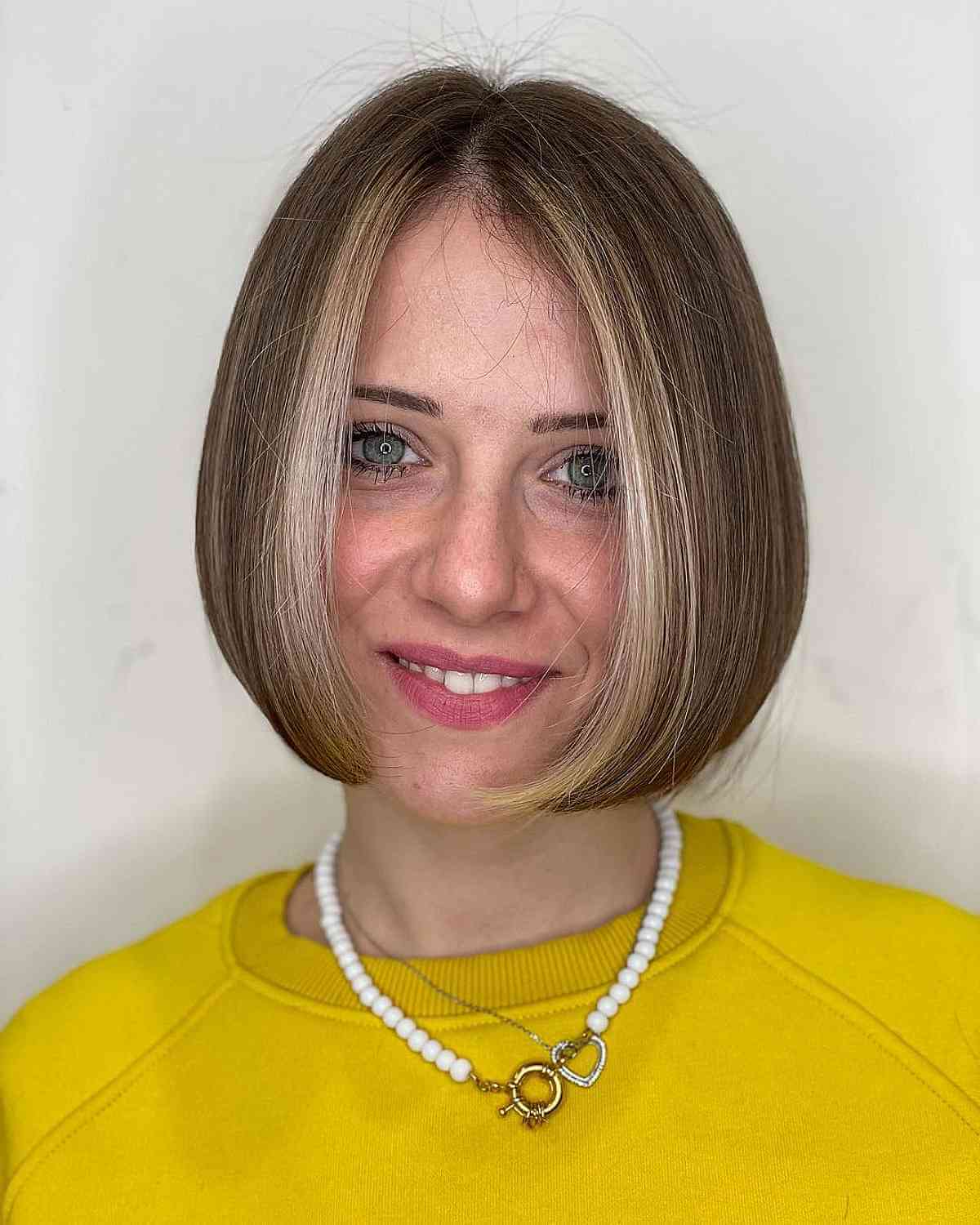 #5: Classic Bob with a Money Piece on Straight Hair
Consider a classic straight bob with a money piece. Fine hair works wonders with an above-the-shoulder haircut for straight hair. Open the face up with money piece highlights to bring out the eyes and cheekbones.
#6: Tousled Pixie Bob with Wispy Layers
Rock a tousled pixie bob with wispy layers. A pixie hair cut is a beautiful, soft feathered above-the-shoulder layered haircut. Great for all ages who have fine hair and want a low-maintenance style that changes shape and tends to get better as it grows.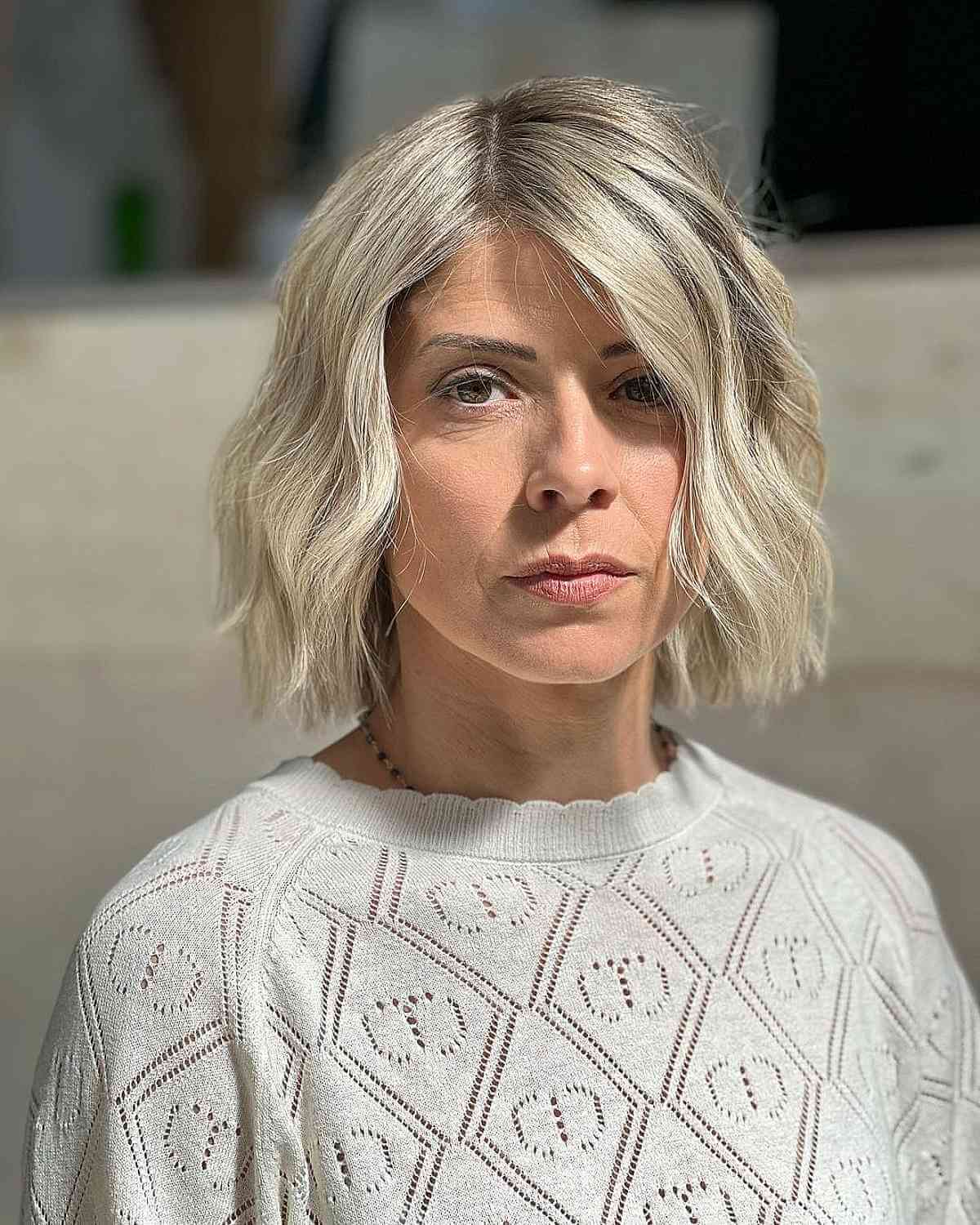 #7: Above-The-Shoulder Cut with Soft Waves for Square Faces
Go for an above-the-shoulder cut with soft waves if you have a square face shape. Middle-of-the-neck haircuts look great on medium to fine hair textures. Soften your locks with added waves to add balance to heavier jawlines.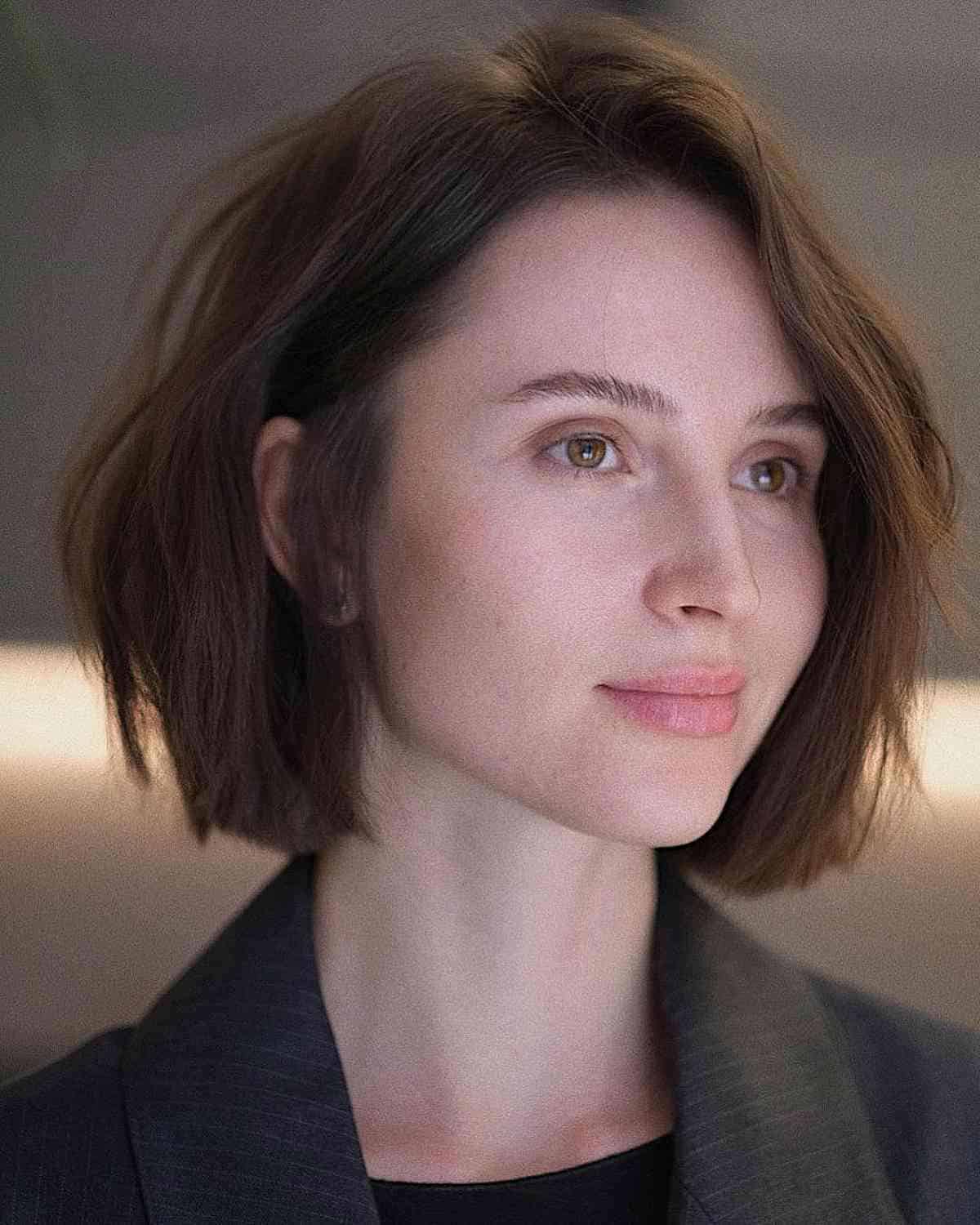 #8: Soft Tousled One-Length Bob
Try a tousled one-length bob. Short styles on fine to medium density hair look great on most face shapes. A big barrel curling irons will give you tousled ends with minimal styling effort and can be held in place with a light hairspray.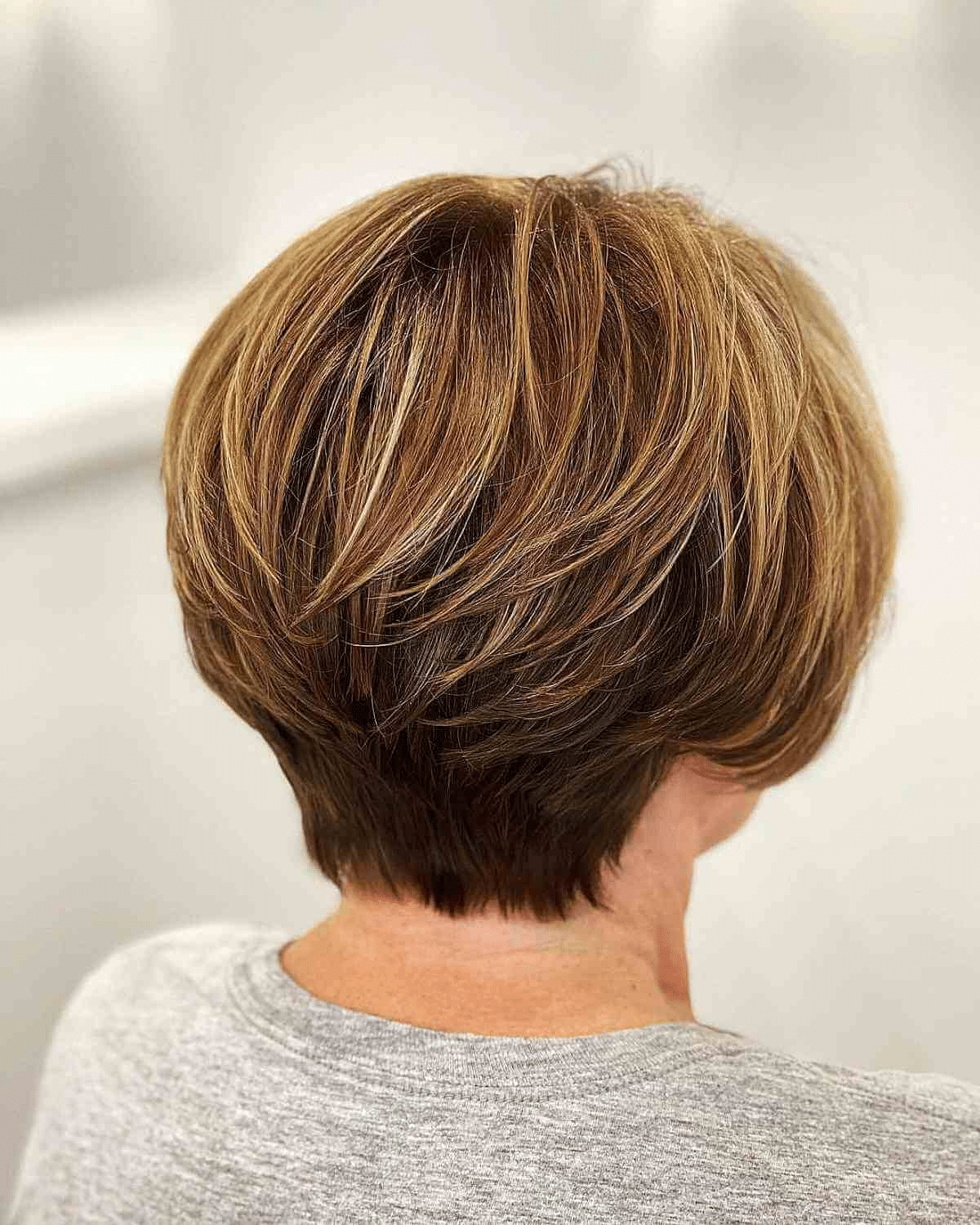 #9: Short Tapered Bob with Layers
Go for a tapered bob with layers. A round layered hairstyle gives a beautiful shape while adding volume to the hair. Great for women over 50 who may have finer hair over time. You're looking at 4-6 weeks for hair maintenance visits.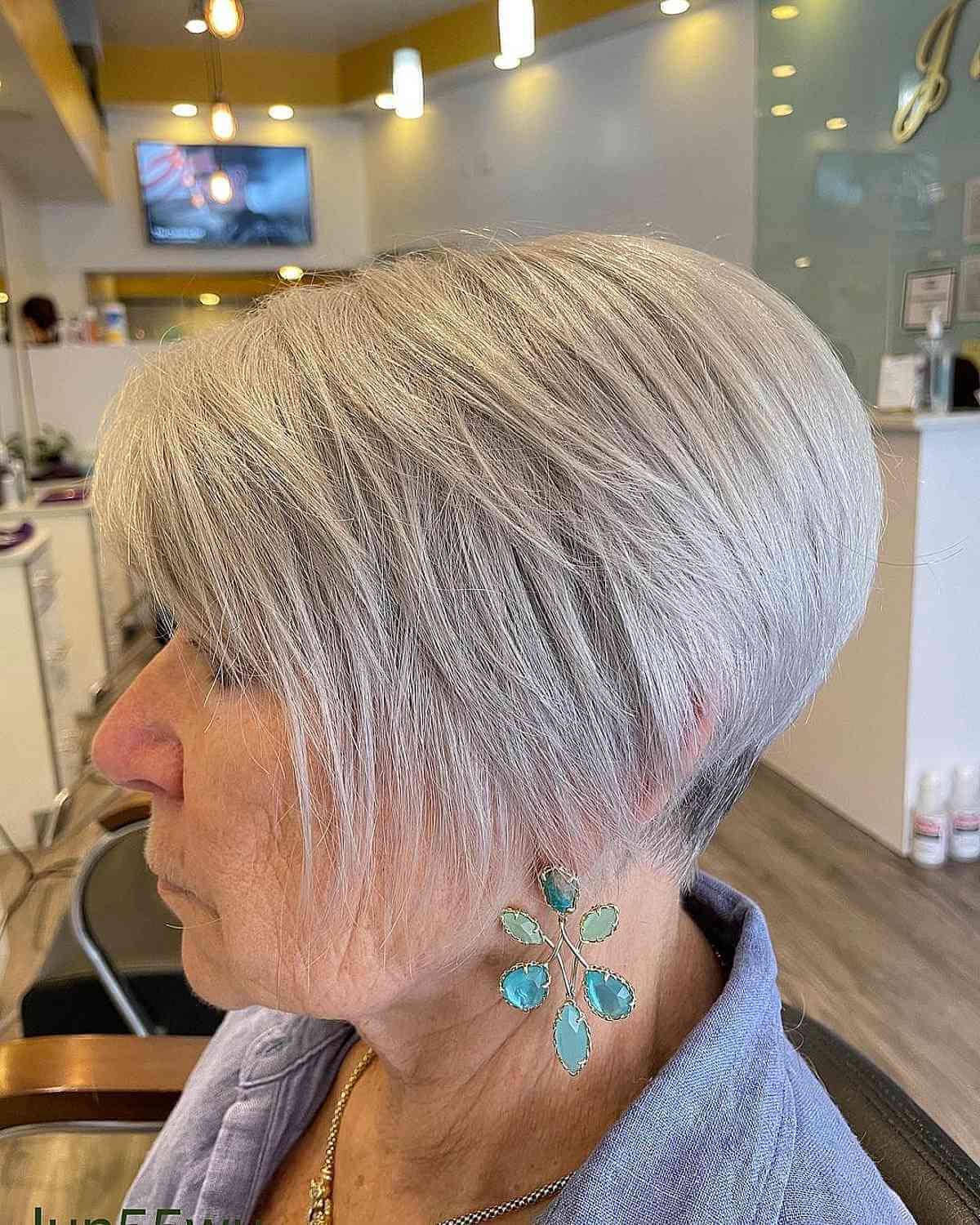 #10: Angled Pixie Bob with Side Bangs for Women Over 70
Think about an angled pixie bob with side bangs for women over 70. Although this short haircut graduates from short in the back to long in the front, there is minimal texture. It's a great balance between keeping it youthful but reserved at the same time.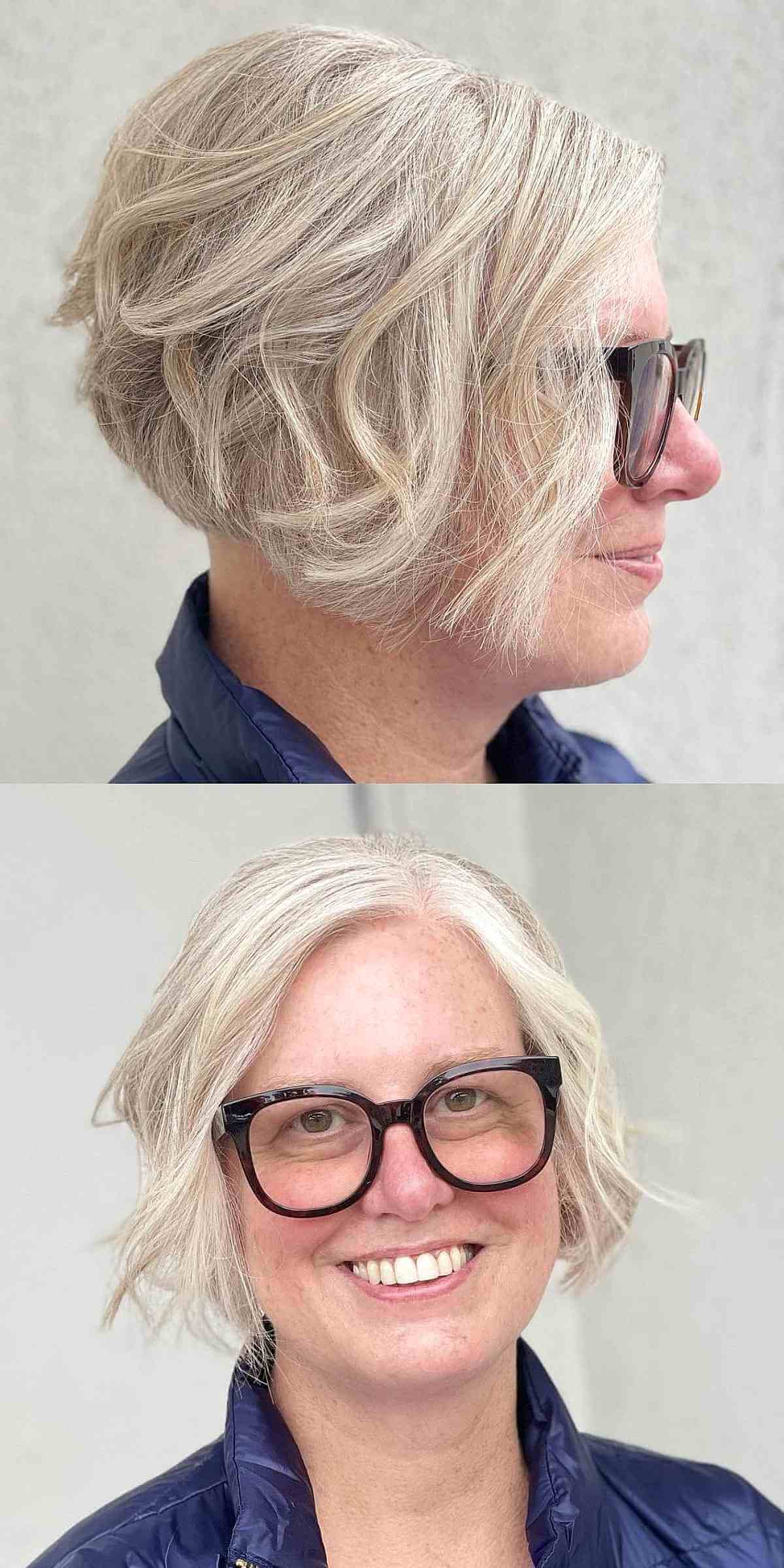 #11: A-Line Cut on Wavy Hair for Women Over 60
An a-line cut on wavy hair for women over 60 is simply a less textured version of a stacked bob. With fewer layers than the typical stacked bob, it's an above-the-shoulder haircut that requires little maintenance with at-home styling. Your natural wave pattern will naturally give this haircut body and movement, keeping your looks lively yet mature.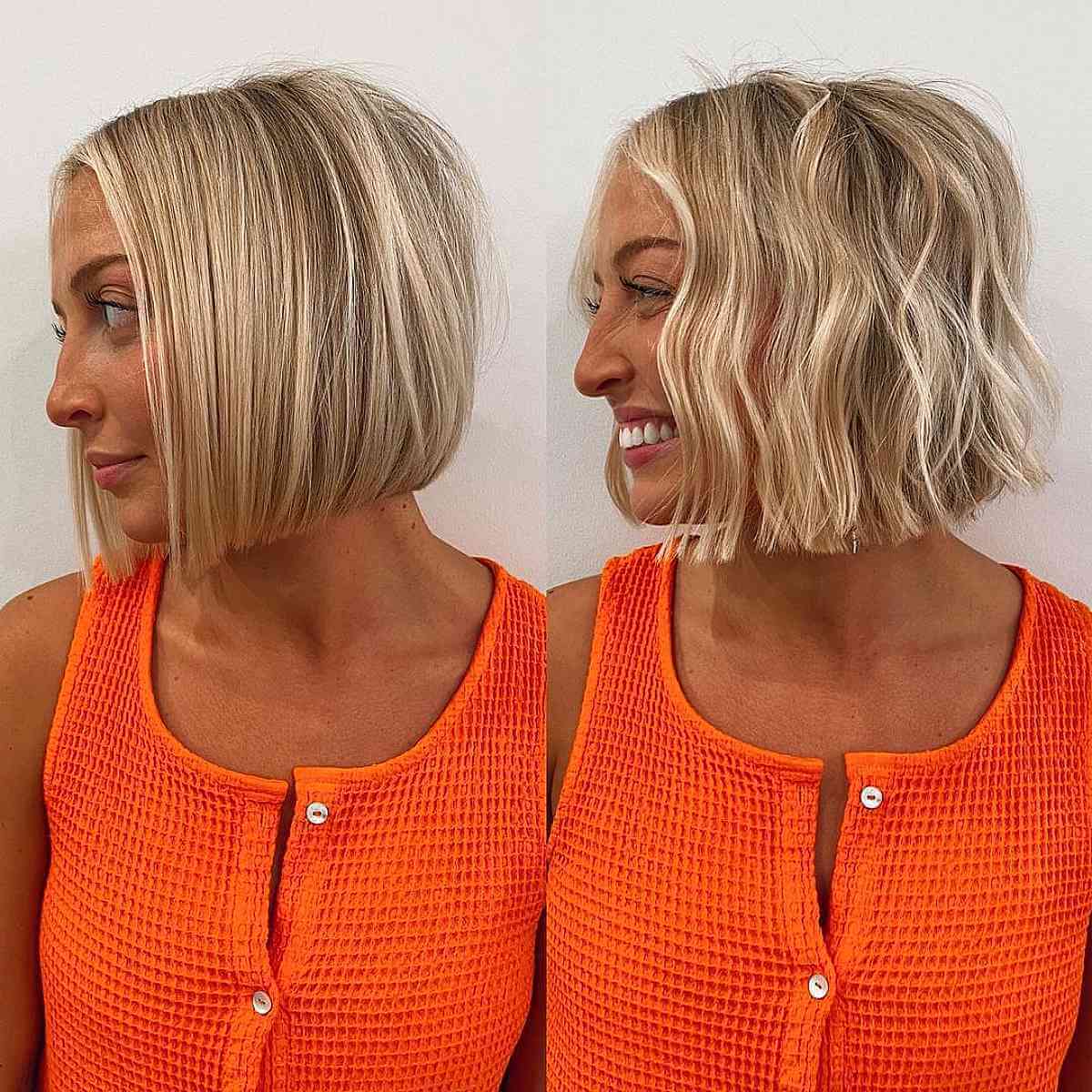 #12: Above-The-Shoulder Blunt Textured Bob
Go for an above-the-shoulder blunt textured bob. A blunt chin-length bob is a great option for fine hair. This is for the mom and or the professional who wants an easy versatile short cut that you can wear wavy or straight.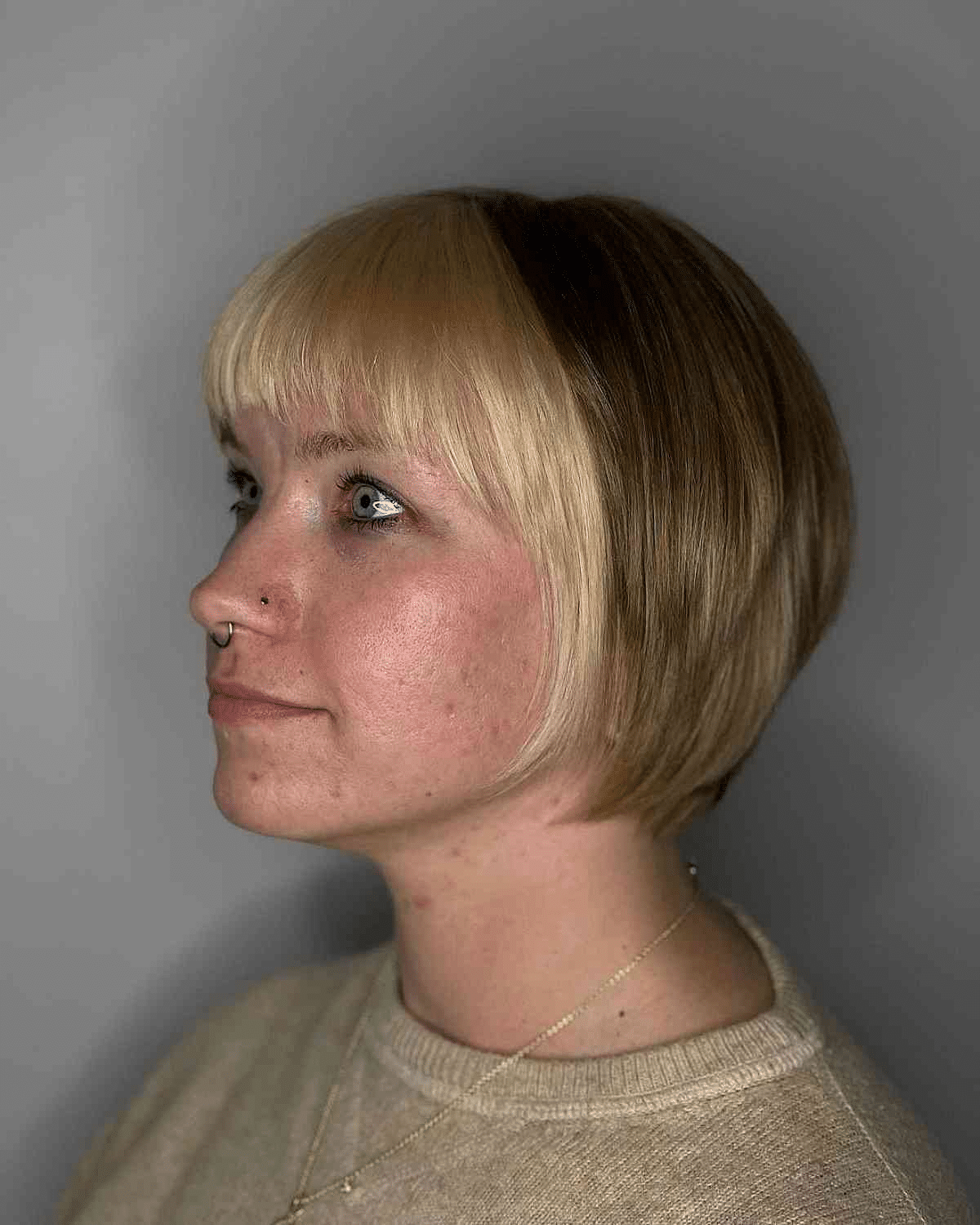 #13: Two-Toned Bob with Baby Bangs for Thin Hair
Consider a two-toned bob with baby bangs for thin hair. A sassy style for young women with heart /inverted triangle face shapes. Two-tone blonde coloring in the front highlights the eyes and cheekbones. For a short hairstyle for fine hair, ask your stylist for a beveled bob with layers.
#14: Wavy A-Line Lob Cut with Choppy Ends
Rock a wavy a-line lob cut with choppy textured ends. It's a beachy above-the-shoulder hairstyle that fits all stages of life with minimal curling iron capabilities. A textured end with a blunt reflect gives a graduated bob a modern flair.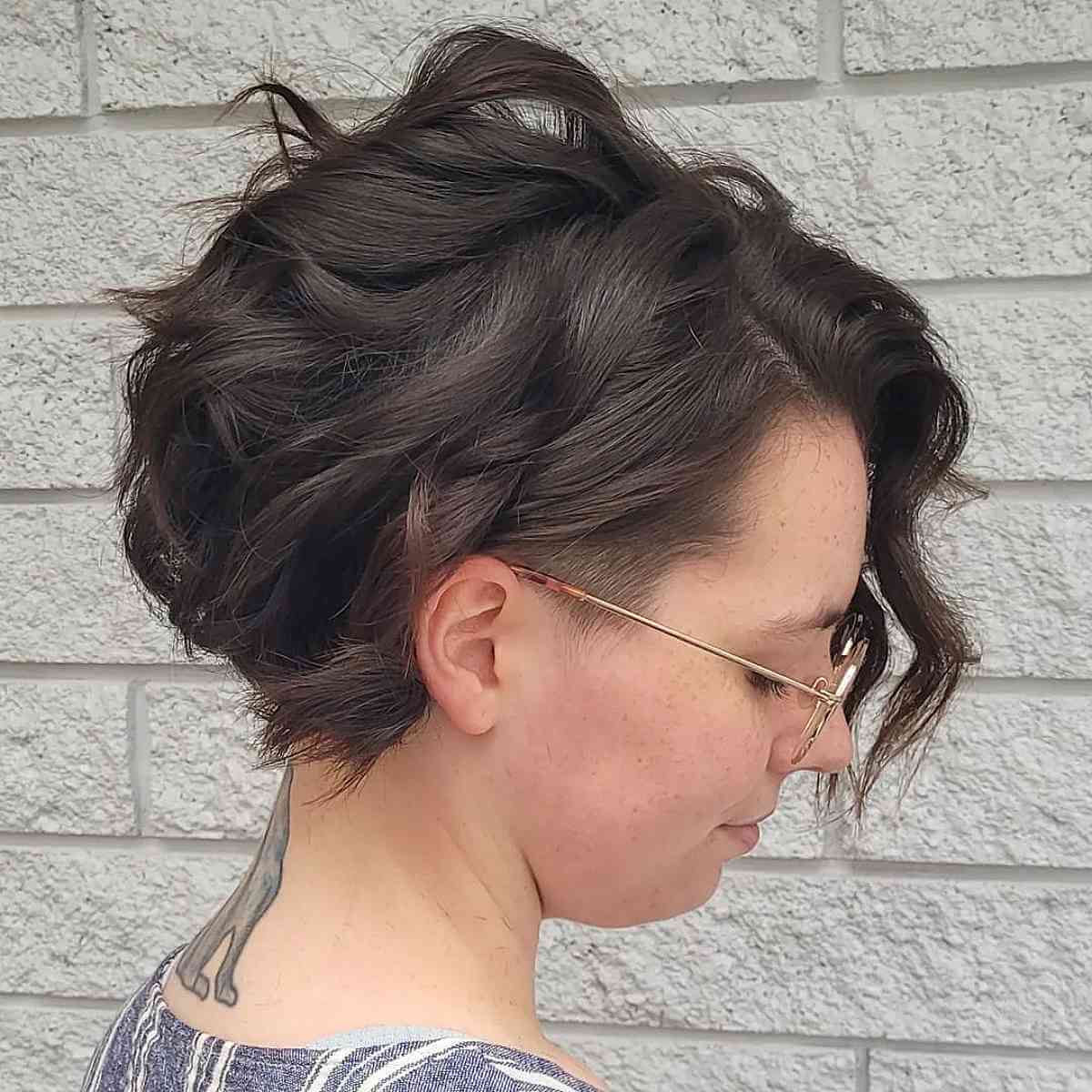 #15: Short-Length Curled Bob with an Undercut
Go for a short-length curled bob with an undercut. A short-length textured bob is great for women with thicker hair that don't mind an edgy twist. Style with a wand or 1-inch curling iron for short-length hair if you want to show off a little curl. Keep in mind that too big of a curling iron will show a soft wave with less curl.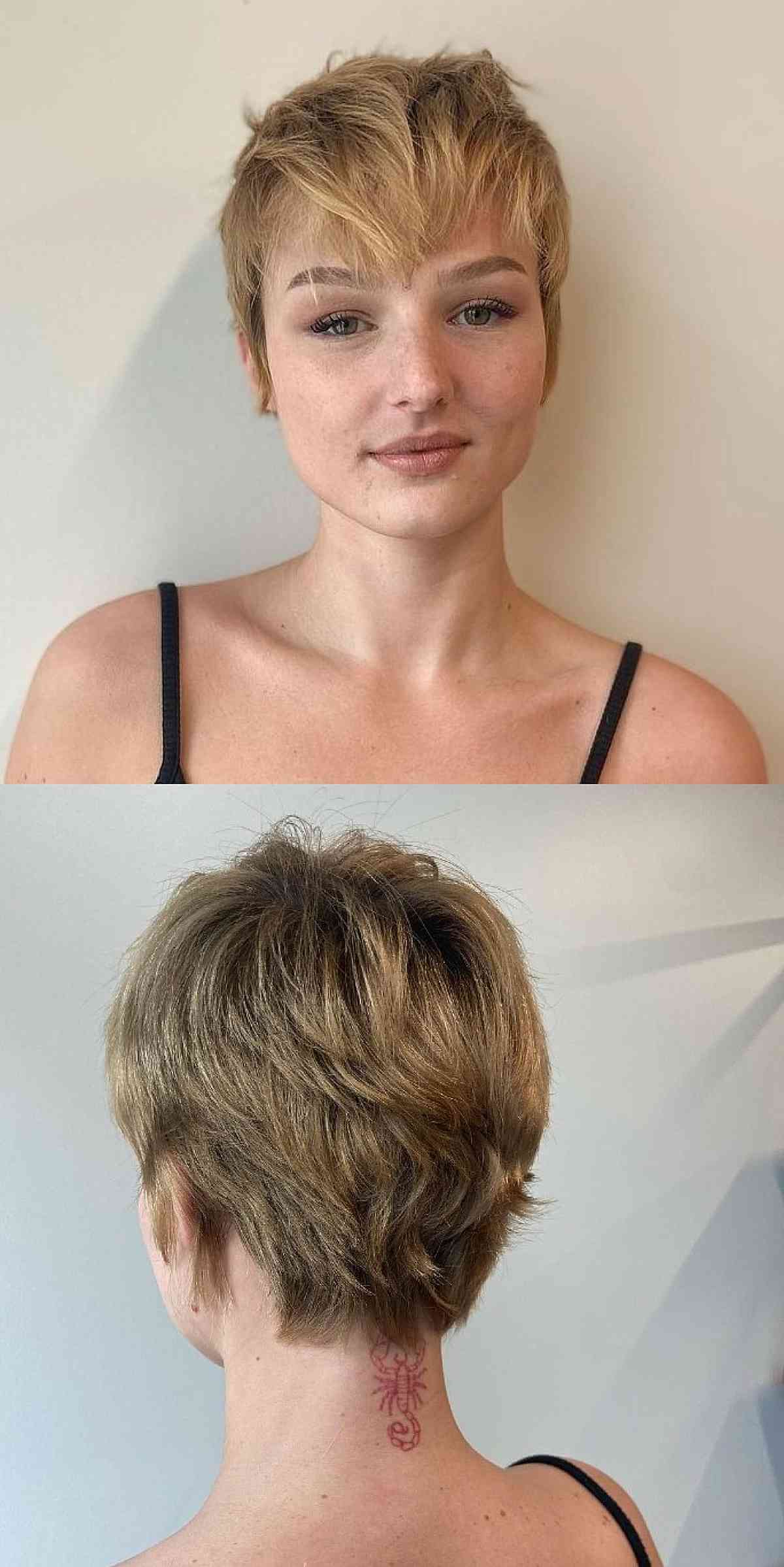 #16: Textured Pixie with Bangs
Get into this trending textured pixie with bangs. A flattering style for above shoulder-length hair, this haircut is choppy and chic. Tons of fringe is added to the top for a super edgy look. To style at home, use a pomade to fingerstyle on dry hair.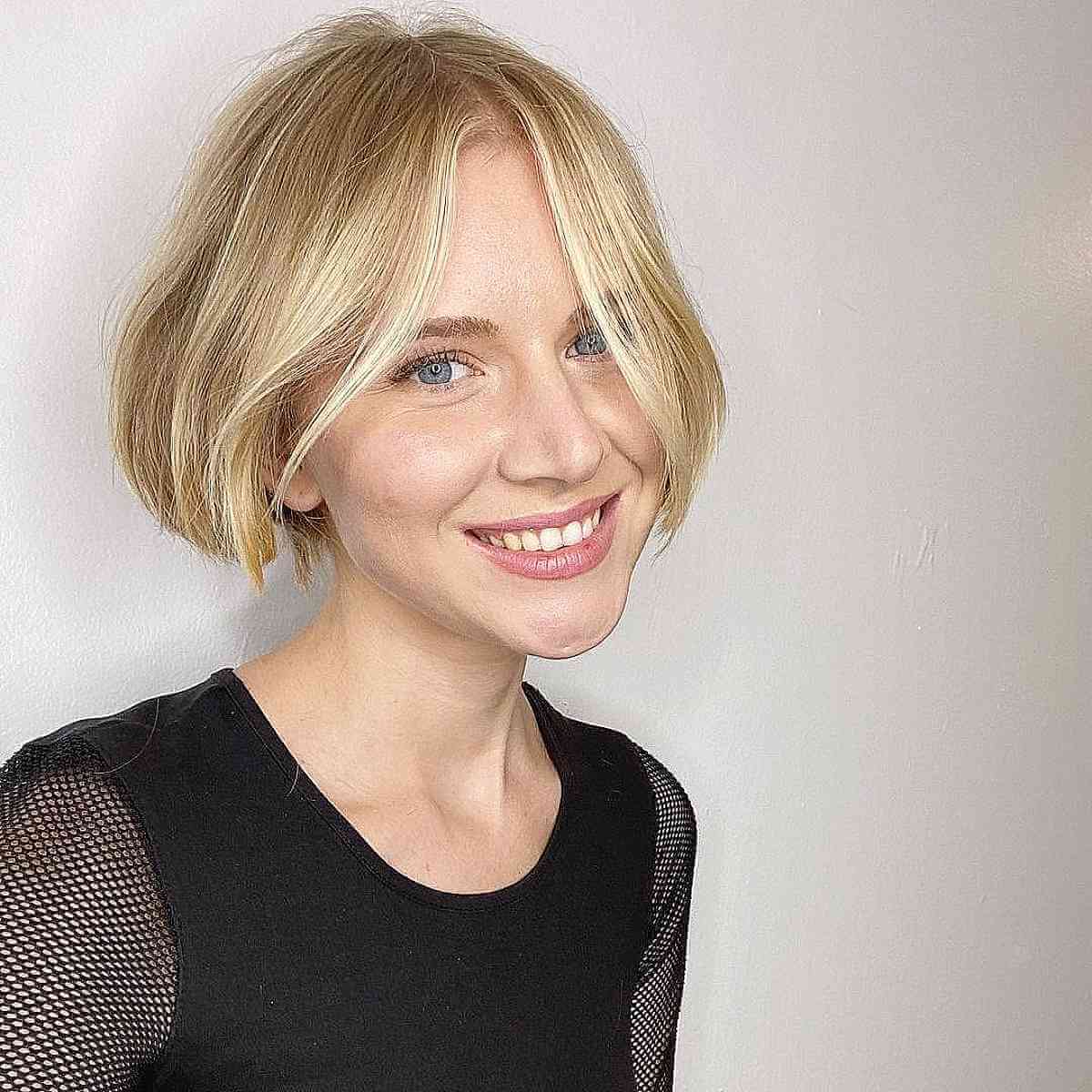 #17: Face-Framing Mini Bob Cut for Fine Hair
Consider a face-framing mini bob cut for fine hair. Girls who experience challenges with styling their fine hair can certainly rock a mini bob. Perfect for above shoulder-length hairstyles, this haircut requires a little less styling in the back because it isn't stacked. A large barrel curling iron and light hairspray will give you just the right amount of movement.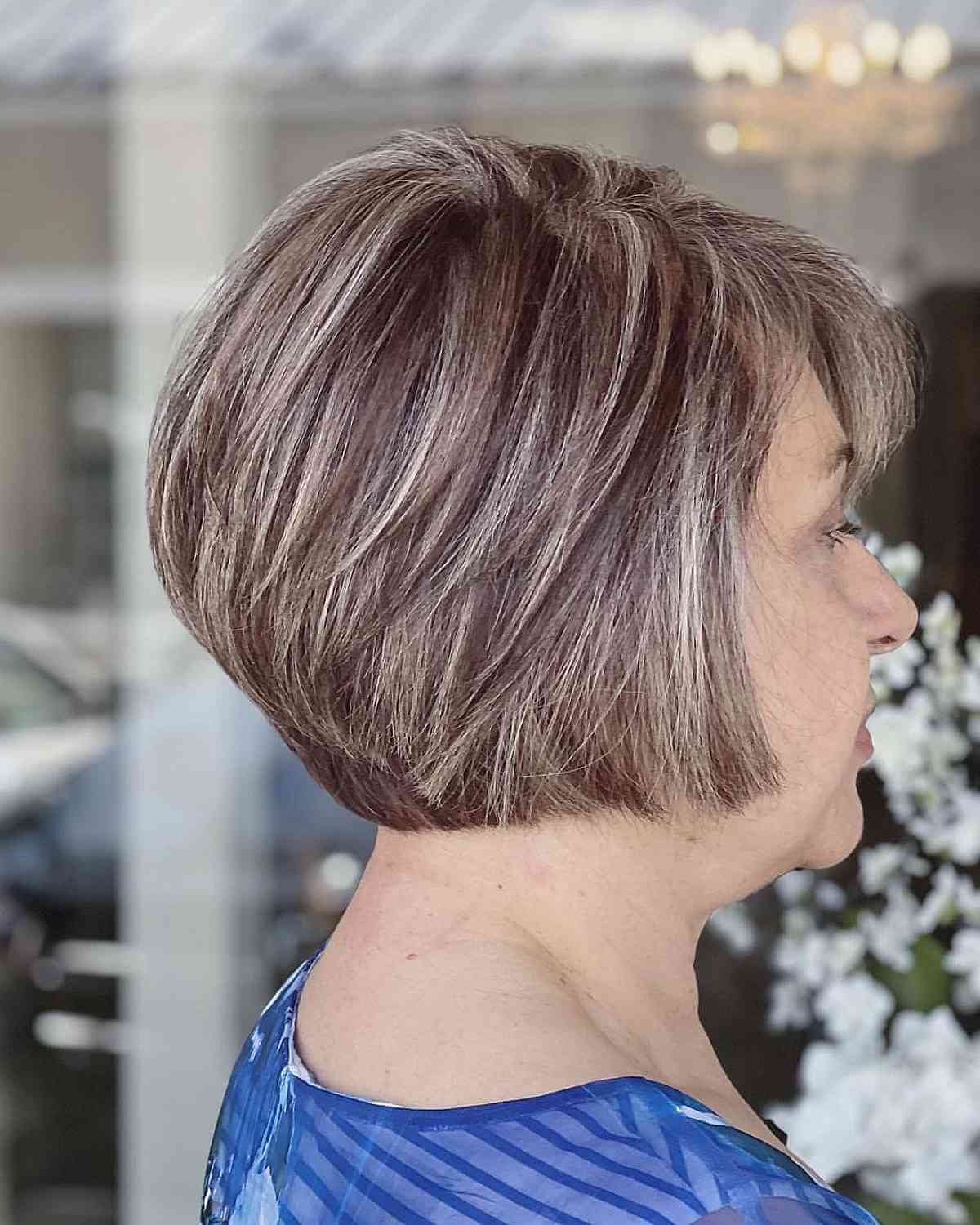 #18: Dimensional Round Bob for Women Over 50
For women over 50, consider a dimensional round bob. Round because of the body and movement of the style, this haircut is a nice balance between blunt bobs and layered or stacked bobs. Great for above shoulder-length hair with layers, note that this style is also a great choice for those with round face shapes.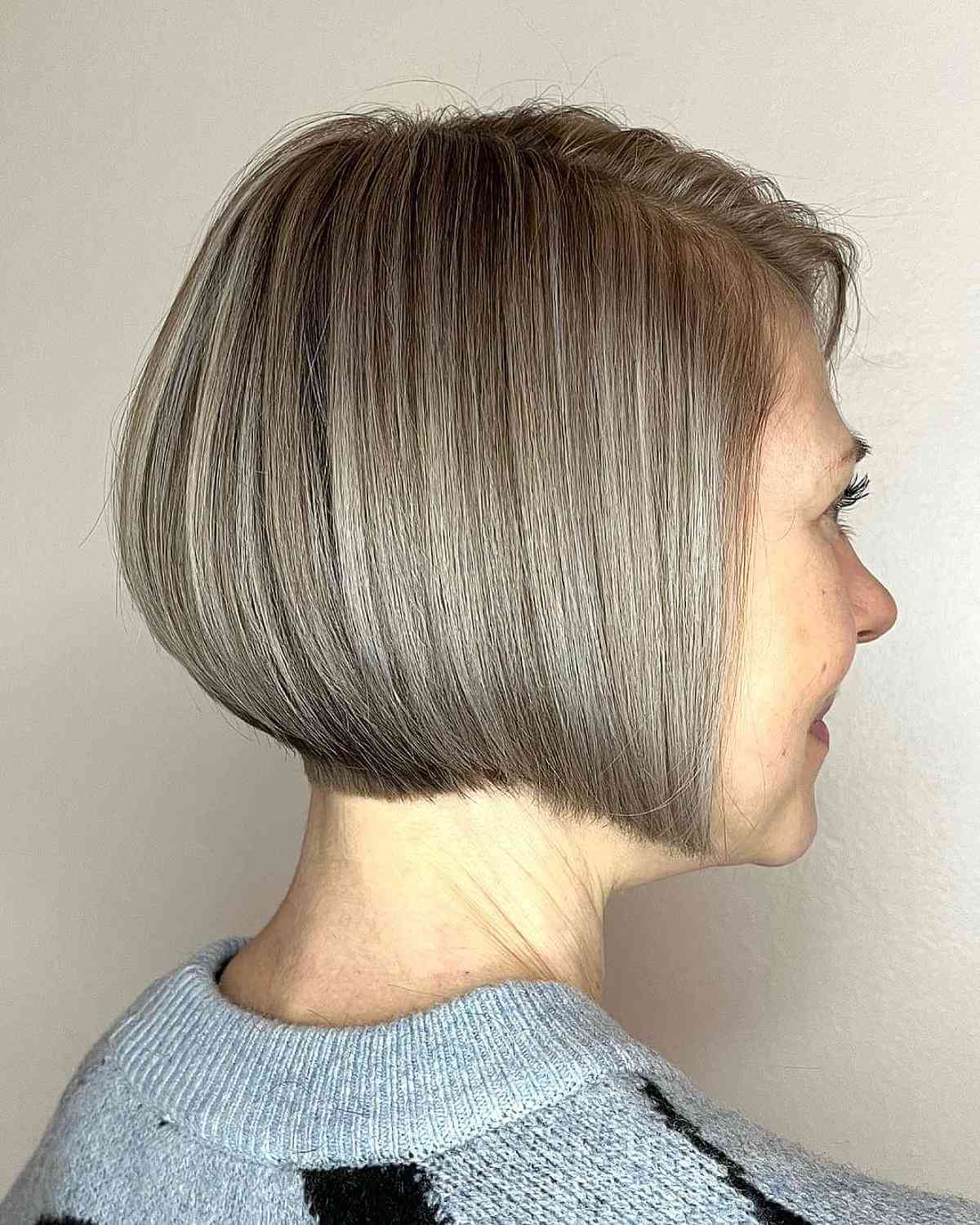 #19: Sleek Graduated Bob
Try a sleek graduated bob for chic style with volume. Longer in the front while gradually getting shorter in the back with low stacked layers, this is a favorite above-the-shoulder style.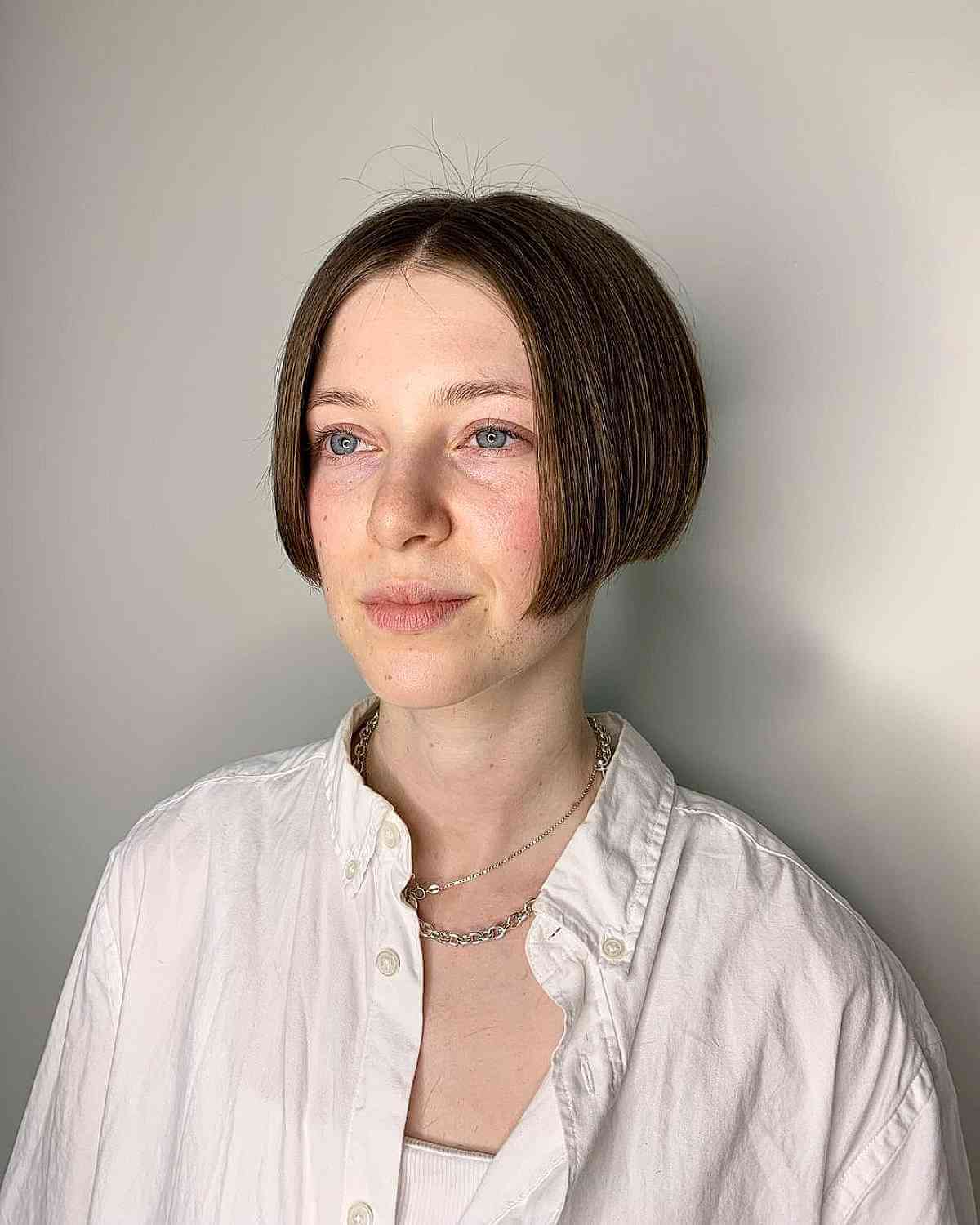 #20: Ear-Length Bob with a Middle Part
A different cut to consider is an ear-length bob with a middle part. An ideal hairdo for women with strong facial features, this is a great style choice to show off your beautiful face. It's simple and super easy to style!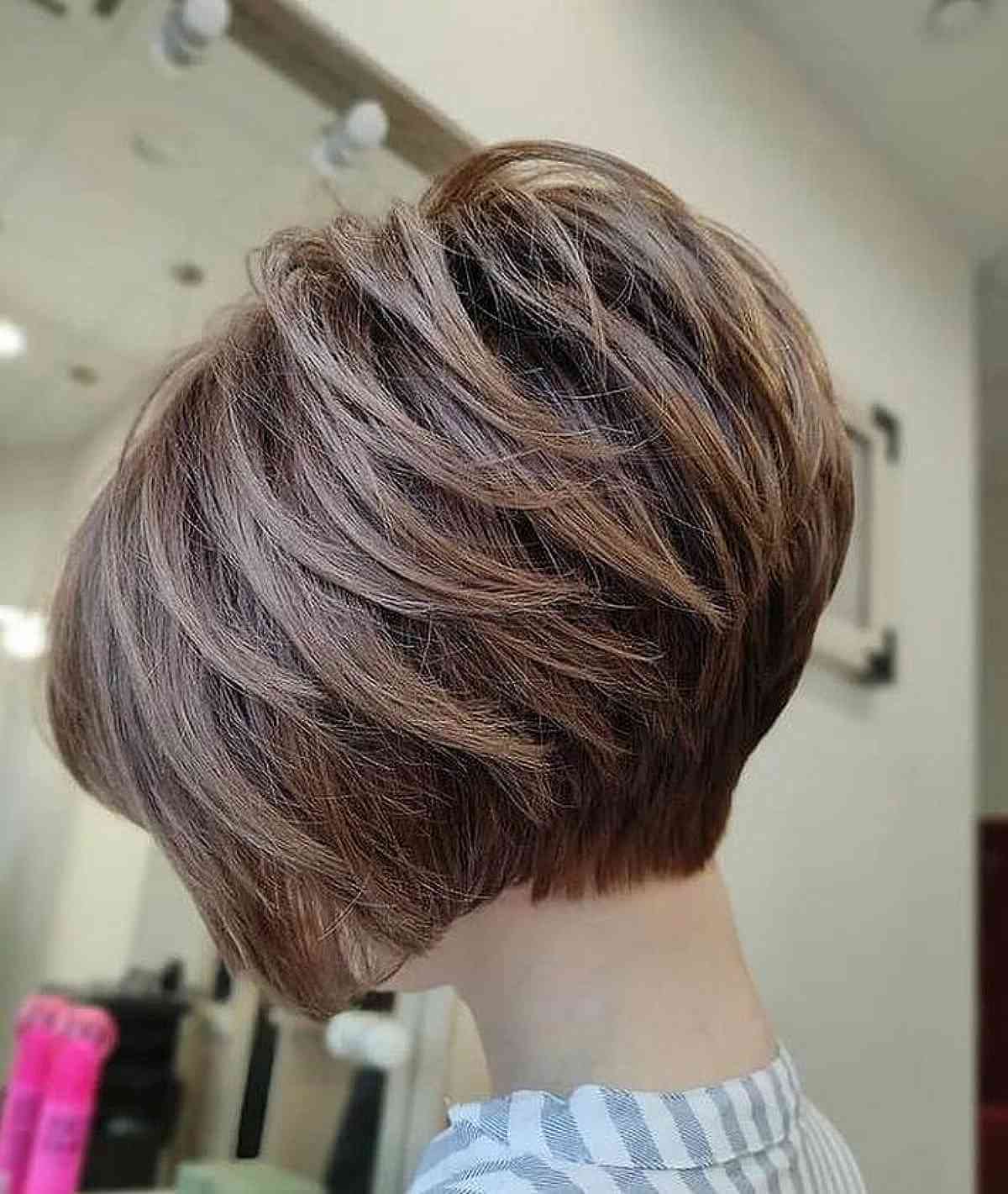 #21: Short Layered Stacked Bob
A cute haircut to rock is a short layered stacked bob. Angled for a longer front and short stacked back, the back is loaded with a ton of volume from the many layers. Your stylist can use a razor or cutting techniques to get chic choppy styling in above-the-shoulder haircuts with layers. You can re-create the styling at home with a flatiron, hair spray, and some quick easy finger styling.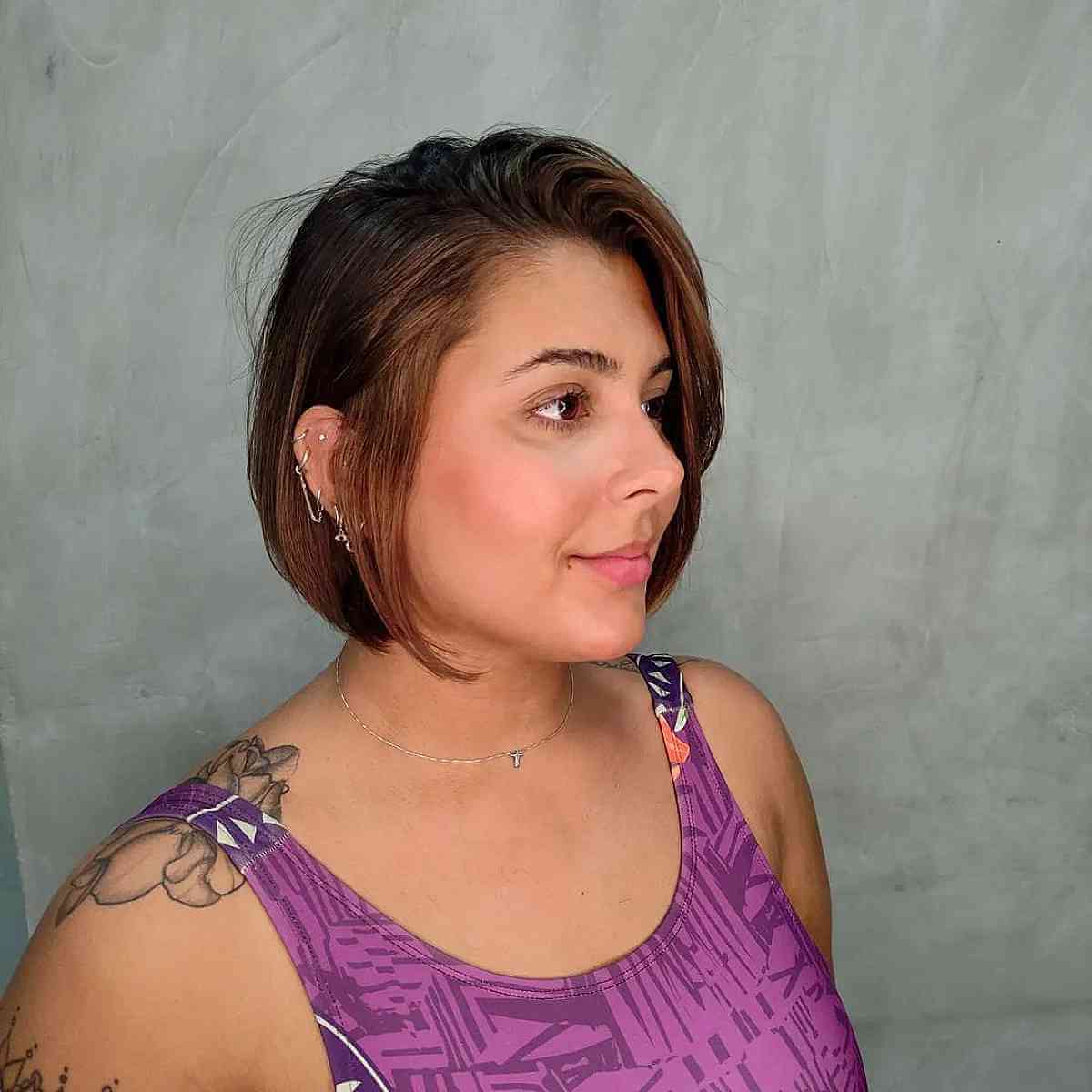 #22: Side-Parted Short Bob for Round Faces
For women with round faces, try a side-parted short bob. Short bobs help reduce some of the roundness of your face if you're wanting to draw out your face shape. One of the shortest bob cuts, this cut also goes well with those who have fine hair. Short bobs allow women with short hair to get a lot of body, especially with layers for texture.