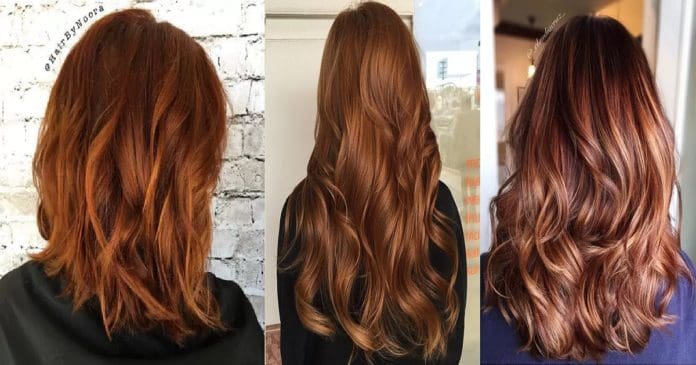 The warm golden pink tints of the famous ductile metal (copper) inspire a whole range of red hair hues we refer to as coppers. This group includes a rich spectrum of shades from soft auburn through ginger and Satsuma to spicy tangerine. Even in their light versions, these are always very special and eye-catching compared to more usual browns and blondes. Choosing the right copper tone can be a complicated matter because if you select randomly, you risk ending up with a color that looks plain and "cheap". Today there's a rich variety of complicated and intelligent copper shades that are able to offer you exclusive modern looks. We've collected 22 fresh examples of the best currently popular copper hair hues. Have a look and embrace the ideas you like, welcome!
Copper Hair Color and Its Opportunities
Copper hue for straight hair. If your hair is straight and you are thinking of dyeing it copper, consider ombre. Let it be dark auburn or ginger at the roots melting into tender strawberry blonde. Treat your tresses with a silky finish to enhance the radiance of the gorgeous copper fade.

Coppers for wavy and curly hair. All copper hues look fantastic on wavy and curly hair. Anything from scrunch styles or beach waves to polished vintage curls is extremely flattering on redheads. Loose messy curly updos or messy braids adorned with field flowers, twigs or leaves create fantastic rustic hairstyles and are actively used as bridal 'dos in eco style.
Red Hair Palette
Below there are some cute trendy examples of copper hues and hairstyles you may try for your red locks. Enjoy the gallery and collect the ideas!
#1: Everyday Elegance
Source
Unfortunately, many women who work in corporate environments aren't able to experiment with color and cuts as much because of conservative dress codes. A dark copper hue is eye-catching yet elegant. Balance the color with a sleek haircut.
#2: Bold Body Wave
Ginger hair has a distinct mix of golden blonde and red that blends to create a lively orangy color. It works best on women with fair and porcelain skin, and bright green or blue eyes.
Source
#3: Soft and Sensual
There's something incredibly sensual about loose ombre waves. They give an impression that you have been rolling around in bed all day, but still manage to look effortlessly chic. For such a natural look, try a subtle ombre to show off every hint of copper color.
Source
#4: Long and Natural-Looking
Make your own distinct copper hair color by blending different shades. A dark auburn at the roots will make strands look thick, while a light spicy red at the ends will appear sun-kissed and natural.
Instagram/ @beautique119
#5: The New Nineties
With the age of Netflix, it's not hard to draw inspiration for your next style from old television classics. Buffy the Vampire Slayer may be known for her spunky blonde locks, but who can forget her best friend Willow's deep copper bob? Years later it still remains a timeless and stylish must-have look.
Source