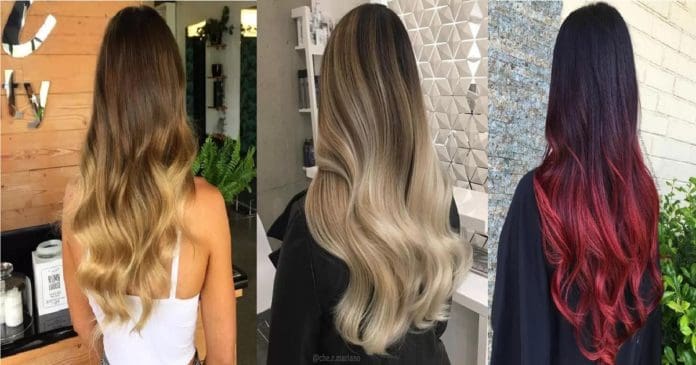 Although it has been hot popular for a couple of seasons, ombre is still extremely faddish and in great demand. Actually, it's a superb opportunity to express yourself and add that very special extra glow to your looks. Most women want to have ombre because it's considered very beautiful, low-maintenance and can fix some hair issues: to disguise the damaged ends, for instance. With a professionally performed ombre the ends do really appear thicker, the rest of the hair – more dimensional, the eyes brighter and the skin younger and fresher. We are going to share 60 versatile ombre looks. Many of them breathe with natural grace, sophistication and elegance, while others are with a more dramatic bent. We've tried to cover very different color solutions. Whatever your natural hair color is, you will find here some really cool ideas with highlights or solid color.
What Are the Upgrades of Today's Ombre?
So, what are the fresh takes on the trend? Today's ombre tends to appear more natural, being less drastic than it has been in the previous seasons. Now the choice for the ends would often be only 2 tones lighter, not as contrasting as before. Brunettes look especially flattering in so called sombre looks with less drastic change of color, such as medium brown and honey hues blended with dark brown roots. Blondes with cool skin undertone seem extremely charming with natural beige fading into icy blonds up to almost silvery shades.
Ombre Hair Colors to Inspire Everyone
The choice of colors for ombre is, certainly, determined by your skin undertone and, to some extent, your natural hair hue. Women with cooler skin undertones, paired with medium brown hair color, may decide on icy brown and cool chestnuts. As for the reds, they are always on a big way and are so presently in particular. Redheads with warm skin tones look pretty awesome with peachy and golden ombre shades.
Another spin on ombre still offers us bolder glamorous solutions, when you are going from very dark to very light. There always will be ladies who want more contrasting shades for their hair and their demand is also satisfied. Let's see some photos.
#1: Red Hot Ombre
Source
Red and black hair is hard to pull off because it can look like a costume or too unnatural. With an ombre dye job, you can gradually fade dark hair into a lighter vibrant shade. Plus, by keeping the roots dark you don't have to worry about the awkward growing out process.
#2: Chocolate Ombre
If you just want a subtle lightening of the ends, you can use hair dye instead of bleach which is a safer bet if you are attempting to create your own ombre at home. The color will not be as bright or drastic, but it will create a noticeable difference.
Source
#3: Smoke and Silver Ombre
Ombre color can be as creative or as natural as you want it to be. The concept still remains the same – fading one color into the next one from top to bottom. Smoky grey and silver blue make a trendy color combination for a lady looking to update her hairdo with a fresh hair color solution.
Source
#4: Two-Tone Neutral Ombre
Blending shades in the same color family may seem counterproductive, but in this brown ombre hair style it works. Contrasting a warm copper shade with a cool toned chocolate, allows the hues to complement each other but still stand out in a way that feels natural.
Istagram / @morgan.mecca.hair
#5: Shimmering Wavy Ombre
Women who want a more natural look should opt for a balayage ombre. The painted on method creates softer lines like the caramel ribbons shown here. It's perfect for those who want a sun kissed glow year round.
Source
#6: Auburn Ombre
Long hair can seem lifeless without shape and dimension, so make sure to incorporate razored layers to give your style structure. Red and black together is an edgy color combination, but it can look rather sophisticated depending on the hue you choose. Auburn, a warm mix of red and brown, is a good color to compliment black hair.
Source
#7: Crimson Ombre Hair
Get a hair color worthy of a rock star with this "bleeding red" ombre. Pair with tough leather and lace-up accents, and you will command attention the second you walk through the door. If you actually perform on the stage, dark roots are ideal for maintaining your style on the road.
Instagram/ @notanothersalon
#8: Champagne Ombre
Subtle ombre hair, or "sombre," is a softer, updated version of the popular trend. It melts highlights into a lighter hue at the bottom for the overall silky color that blends better with your base.
Instagram / @morgan.mecca.hair
#9: Soft Red Ombre
Many people believe that ombre red hair is only for tough punk rockers or biker chicks. But, the reality is your red coloristic solution can also be soft depending on the saturation of color you use and how you style your hair. Loose layered curls create a subtlety and femininity that's refreshing for such a fairly bold hue.
Source
#10: Purple Passion Ombre
Ombre hairstyles can come in a variety of different shades. By sticking with dark hues on dark hair, you can add color without having to use bleach or harsh chemicals.
Source
#11: Beach Blonde Ombre
One of the most traditional ombre styles involves a fade from dark to light to give a lived-in appearance to your mane. Pair with beachy tousled waves for a low maintenance look that is appealing in many different settings.
Source
#12: Light to Dark Ombre
Reverse ombre happens when colors go from light to dark instead of the opposite. This is not recommended for thin strands because it will emphasize fineness throughout the crown, but it is a fun ombre hair color for blondes with medium to thick hair.
Source
#13: Casual Beach Wave Ombre
A blonde ombre with beach waves styling gives off the quintessential girl next door vibe—gorgeous hair that seems carefree and easy, but still looks polished and inspirational. A middle part is ideal for slimming round faces or chubby cheeks.
Source
#14: Strawberry Blonde Ombre Hair
Although ombre hairstyles typically have brown or black roots you can fade from red to blonde as well. The pale highlights against the muted red roots create a softer contrast than darker colors would.
Source
#15: Natural Brown Ombre
Nice and natural is the theme of the look. Ombre hairstyles are perfect for women who work in conservative jobs because you can add some flair to your look without being too over the top. Just make sure to stay within the same color family.
Source
#16: Natural Long Ombre
Dark ombre hair is a great look for women who are easygoing and just want a quick update to the hairdo they already have. Light brown will give your style warmth and depth, but won't take as much effort to maintain as blonde.
Source
#17: Glamorous Bronde Ombre
Blonde and brown ombre styles are not "one size fits all". The shades and tones depend on the complexion of the wearer and should be custom-blended. A crisp cool champagne hue will really pop against olive and dark skin tones. With such a soft gradual ombre, this is not a style for those with short hair because you won't be able to get the full effect.
Source
#18: White Blonde Ombre
Many people would not think of blonde as edgy ombre highlights, but white or platinum hair colors create a nice contrast against a dark brown base. You can also go for a black and blonde solution, if you want a starker contrast.
Instagram/ @josievilay
#19: Golden Brown Ombre
If you want a more natural ombre hair style, opt for complementary colors. Dark mahogany and mute copper both have warm tones that work well together without clashing within your look.
Source
#20: Platinum Ombre Curl
Long loose curls are romantic and universally appealing because the style looks good on most face shapes and hair textures. But, after a while the hairdo can get a bit monotonous. Revamp the look with blonde tips to give it more of an edge.
Source
#21: Cascading Ombre Color
So often we associate ombre hair with either simple brown to blonde, or else a dramatic DIY dip dye. However, this is a style that can be much more subtle and sophisticated if you wish. Ombre hairstyles can start with your natural hair color and then softly fade into a delicious hue within the same color family.
Instagram / @neon_beauty
#22: Long and Bright Hair
Dream of Rapunzel-caliber locks but don't want the work of maintaining blonde? Go for a dark, dramatic combination of hues instead, like black and red. Red tips are especially fun during the fall and holiday seasons.
Instagram / @stevievincenthairartistry
#23: Ombre Hair Combined with Curls
Long hair is beautiful straight, but you'll feel like a romantic princess when you fluff things up with gorgeous, full curls. Use hot rollers or a large barrel curling iron to introduce the curly magic to your locks.
Instagram / @constancerobbins
#24: Shades of Blonde
Blonde ombre hair is an easier way to maintain blonde hair, as it doesn't depend so strongly upon a perfect overall hue. Hair rather blends and looks a bit more natural. The closer to the blonde tips, the lighter the strands should get.
Instagram / @wesdoeshair
#25: Ombre Accenting
If you hold down a job in an office and can't go too wild with your hair style choices, try a color job where ombre hair is used just as a subtle accent.
Instagram / @hugosalon