A pixie haircut remains the trendiest option for short hair, and for many decades, women of different ages have preferred it to other styles. If you decide to make this coiffure, you don't have many chances to get lost in the crowd since you will always attract tons of attention. Most women like to have long hair, considering it feminine and elegant. However, a pixie haircut is gorgeous and a bit eccentric and unusual, adding special charm to its owner.
Pixie Cut that Suits any Face Shape
You can choose a pixie hairstyle according to your face shape. Although many women consider that it suits only ladies with a model appearance, this is far from the case. It all depends on the style and hair length that is preferable for one or another type. For instance, ladies with square faces should make long strands along their cheekbones, highlighting them. Women with oval faces should better choose an asymmetrical style with long bangs. Styling a pixie cut is also not as difficult as it seems at first glance. The main thing is to choose an appropriate hair gel or mousse according to your hair type and use a blow-dryer. Even if you have never done such procedures, some experience will be enough to make a perfect coiffure. So, let's take a look at some advice about how to style your hair fast and attractively.
Boost Hair Volume with Styling Products
Do you feel the lack of hair volume? A pixie haircut can come to the rescue! If you used to have long hair but feel that it's not voluminous enough, cutting it is the first option that your hairdresser will recommend. Under its weight, the hair often becomes heavy, which makes it look less well-groomed and lush.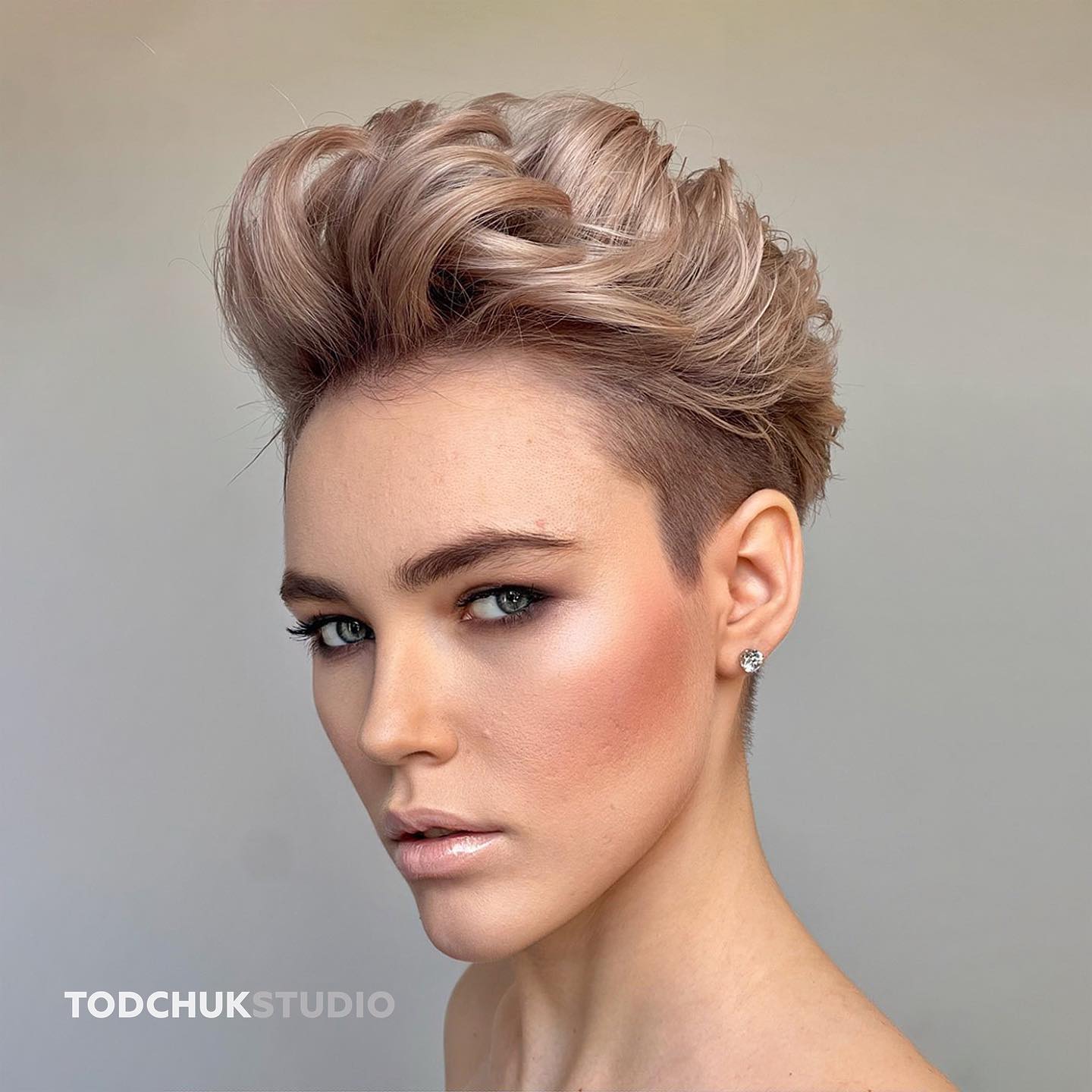 Of course, short hair requires more styling products, but it's not difficult to choose and use them. The most important thing is to select an experienced hair professional who will evaluate your skin type, and hair natural texture and recommend the best products.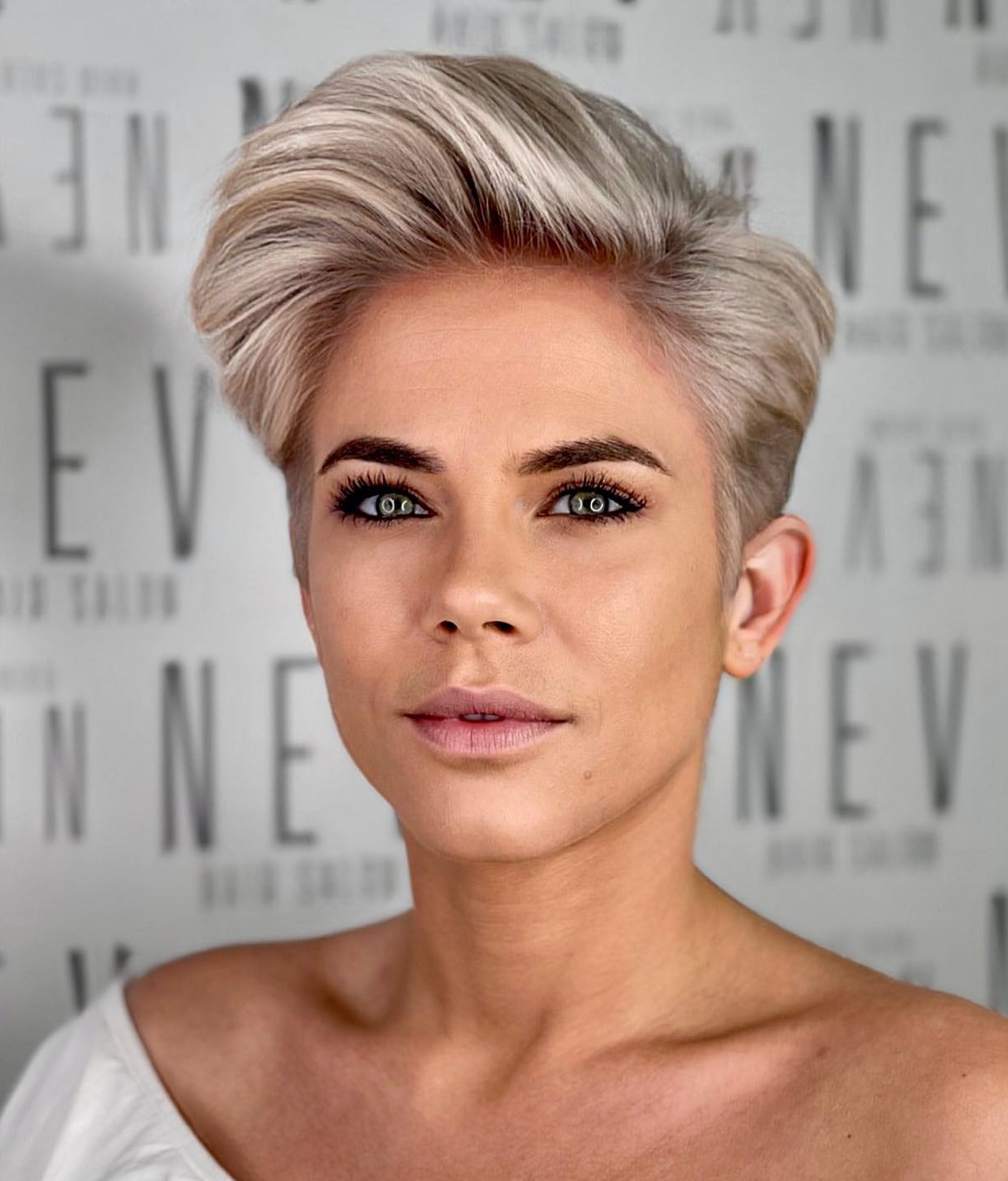 No special skills are necessary to style a pixie cut. The most important items you should have in your arsenal are a blow-dry and a hair spray. The latter is extremely significant, so make sure it has heat protection functions. If you have porous and unruly hair, use hair wax to get a stylish coiffure.
Get an Awesome Curly Pixie Cut
Curly hair always looks more elegant and romantic, and women prefer doing it daily. This task is easy for those with naturally curly hair since no special manipulations are required. A short pixie allows you to experiment with your appearance and be different every day!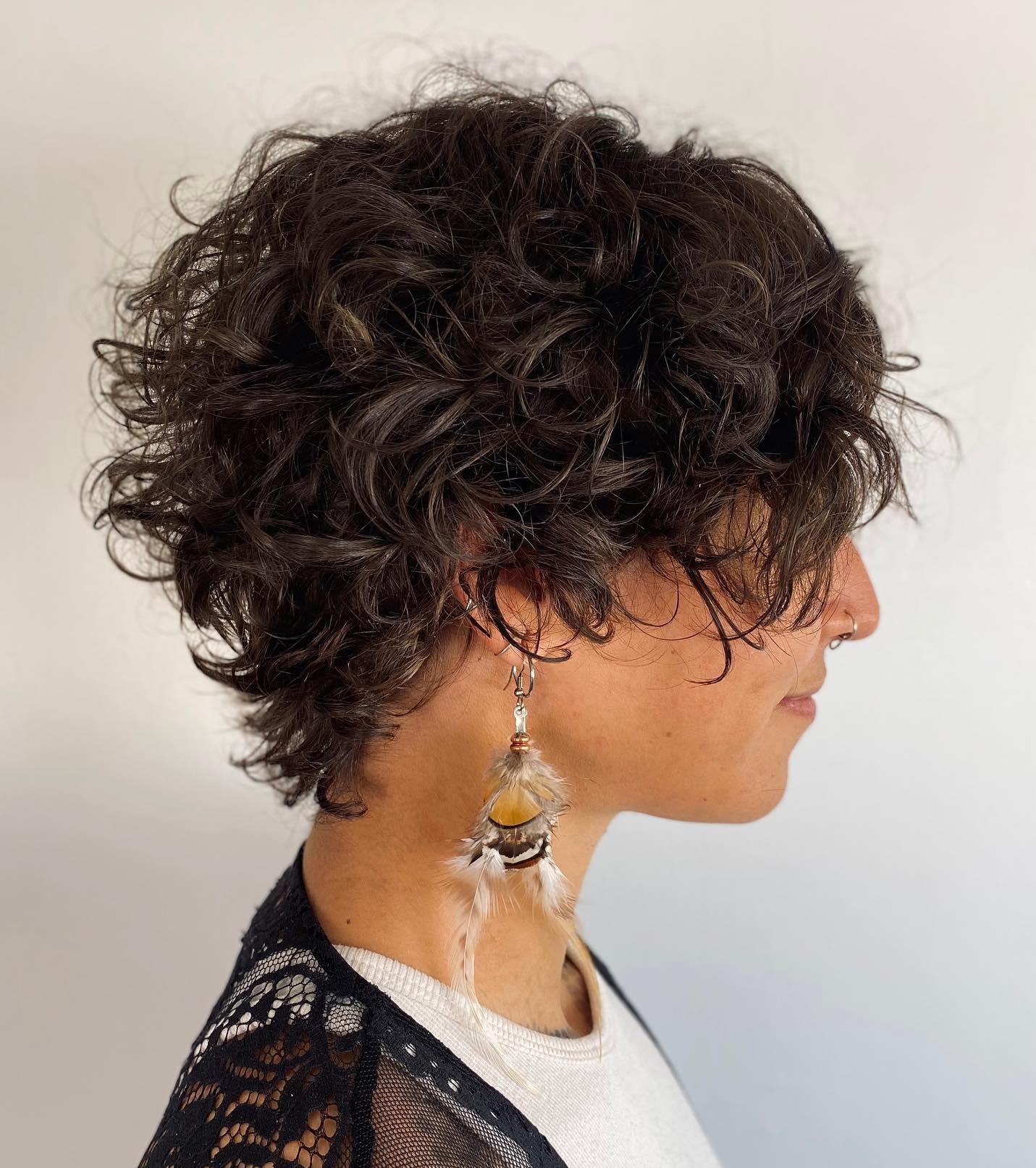 The head shape doesn't matter if you decide to make a short coiffure. To get a pretty curly pixie, have a curling iron and a volumizing spray. And if your hair is naturally wavy, just take a blow-dry and get an excellent curly pixie in ten minutes.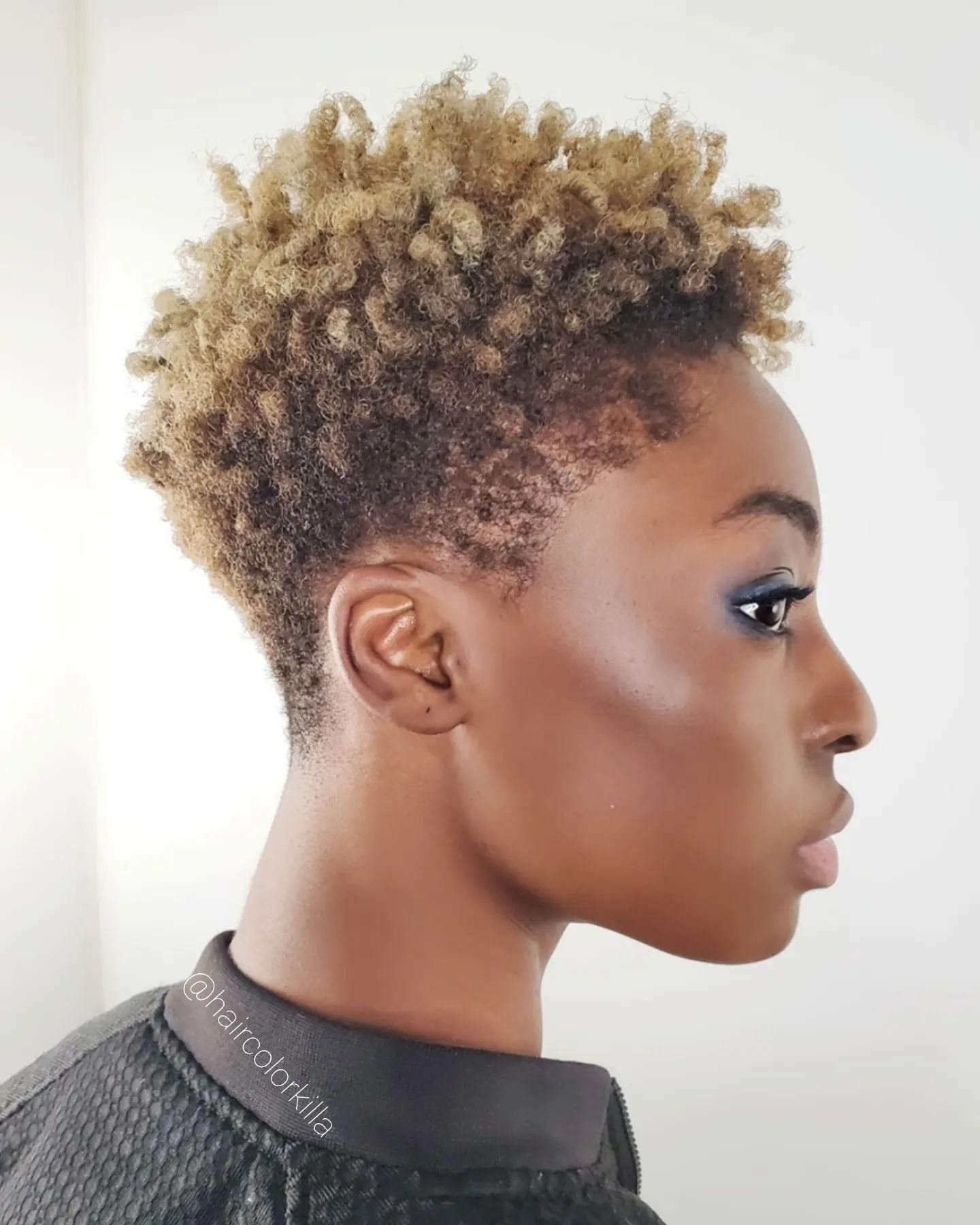 Wet Pixie for Stylish Looks
A wet-looking hairstyle looks greasy and unkempt for many women. However, we hasten to assure you that such an option has been at the peak of all trends for many years! You can easily get such a coiffure with any hair length, including a classic pixie cut. Women with such a hairstyle look boldly and stylish, attracting millions of admiring glances from the surrounding people.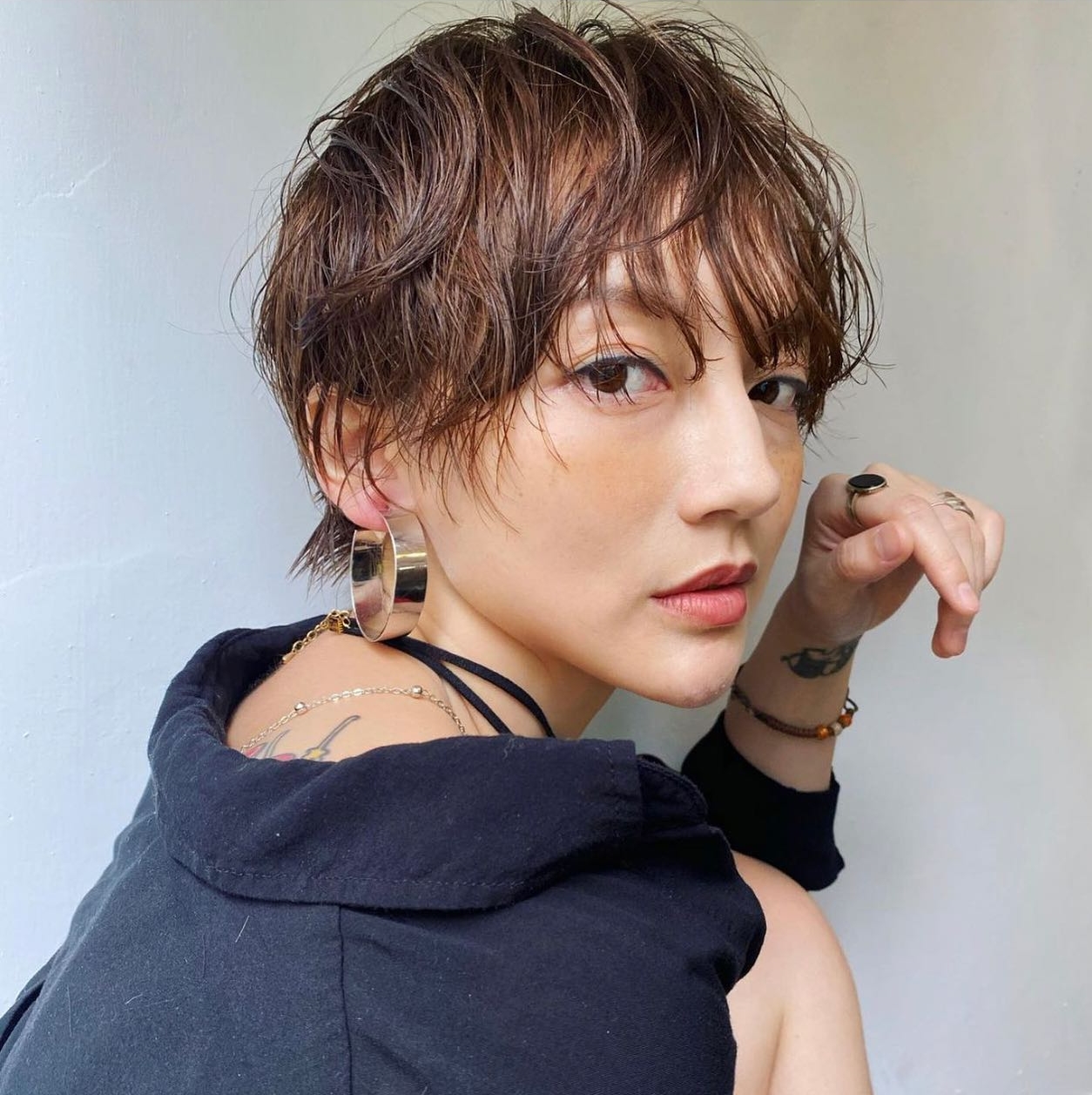 To get a fantastic wet hair effect, get a styling gel and hair volumizing mousse, allowing you to make a perfect hairstyle in a few minutes. Add the mousse before blow-drying and lightly dry your hair. After that, apply a lot of gel and let the hair as it is. You will get a tremendous natural effect and enjoy your coiffure.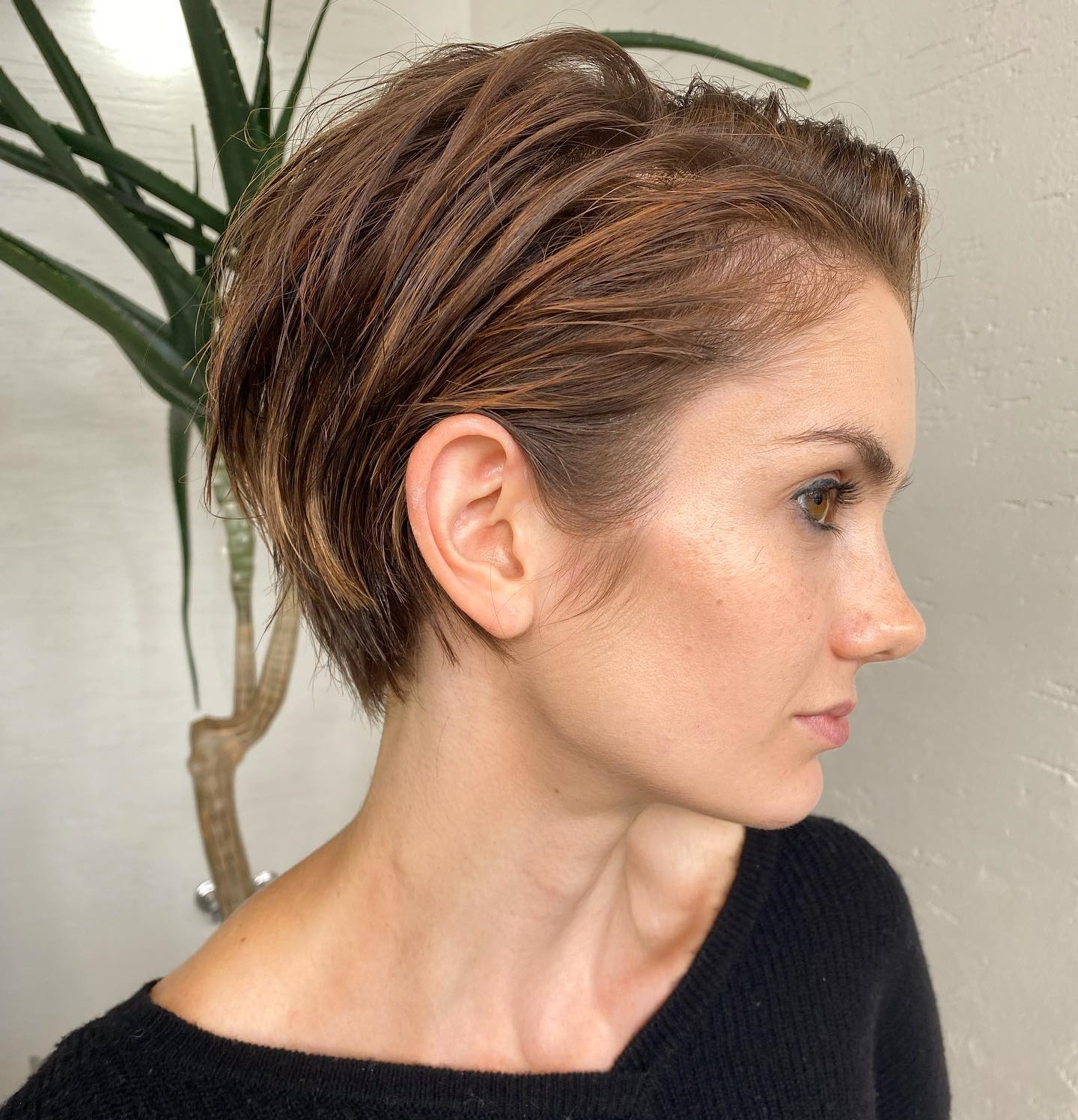 Wet-looking pixie has one more secret. Such styling is a great idea if you don't have the mood to wash your hair. Just add the styling mousse or gel and make the necessary shape. No one will notice this little tip, which will help you look excellent!
Best Styling for Spiky Pixie
Do you have spiky hair that is hard to style and are already disappointed in the possibility of making a great hairstyle? Don't hurry up to conclude! Even a very short pixie can be easily styled with only a blow-dryer and a mousse or a gel suiting your hair type. It is worth noting that it doesn't matter whether you have curly or straight hair.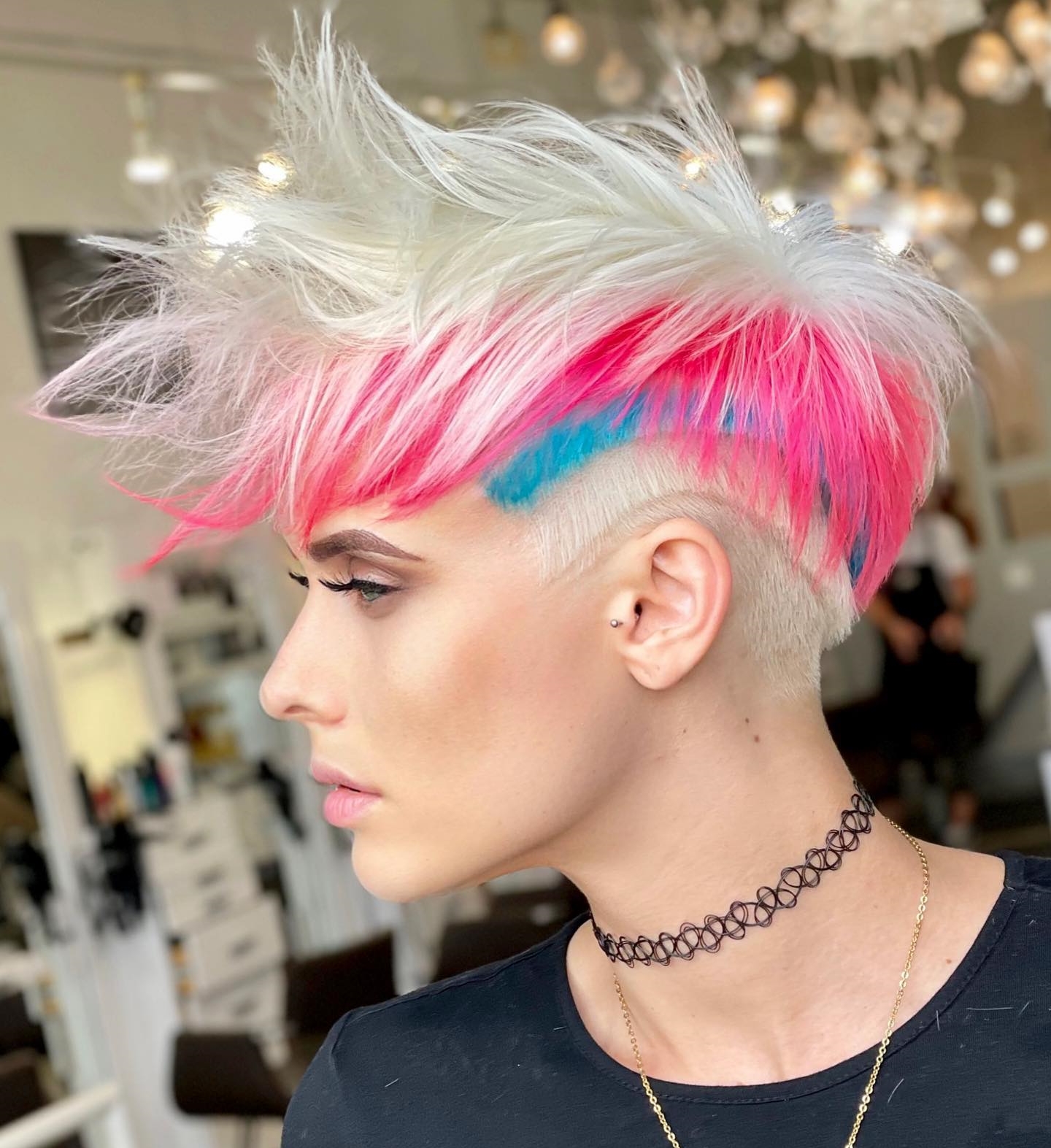 Those with straight hair can proceed with such a hairstyle easier since only a mousse and a blow-dry are necessary. It's worth noting that some women can cope with styling even without additional cosmetics. Thick hair is usually more difficult to style, but some experience will help you be successful in this deal.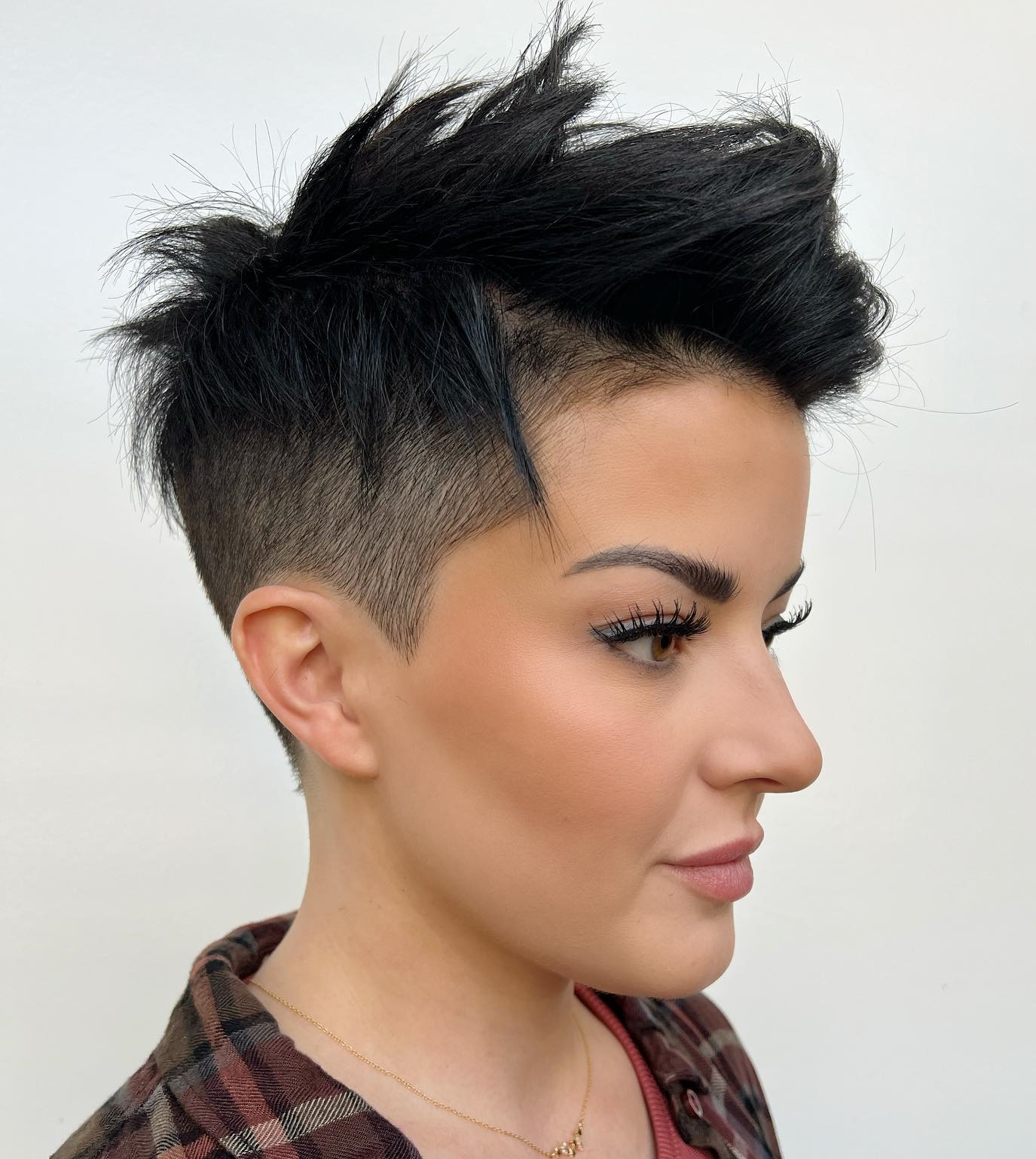 Create a Little Mess on Your Pixie Hairstyle
Naturalness is nowadays in trend, so making your hairstyle a bit messy is a great idea. It is worth noting that such a coiffure is suitable for ladies of all ages, including older women. Pixie style for women over 50 will make them look younger and more stylish, making a bold image of a woman following all fashion trends. Side swept bangs are also at the peak of popularity, so consider it when visiting your hairdresser!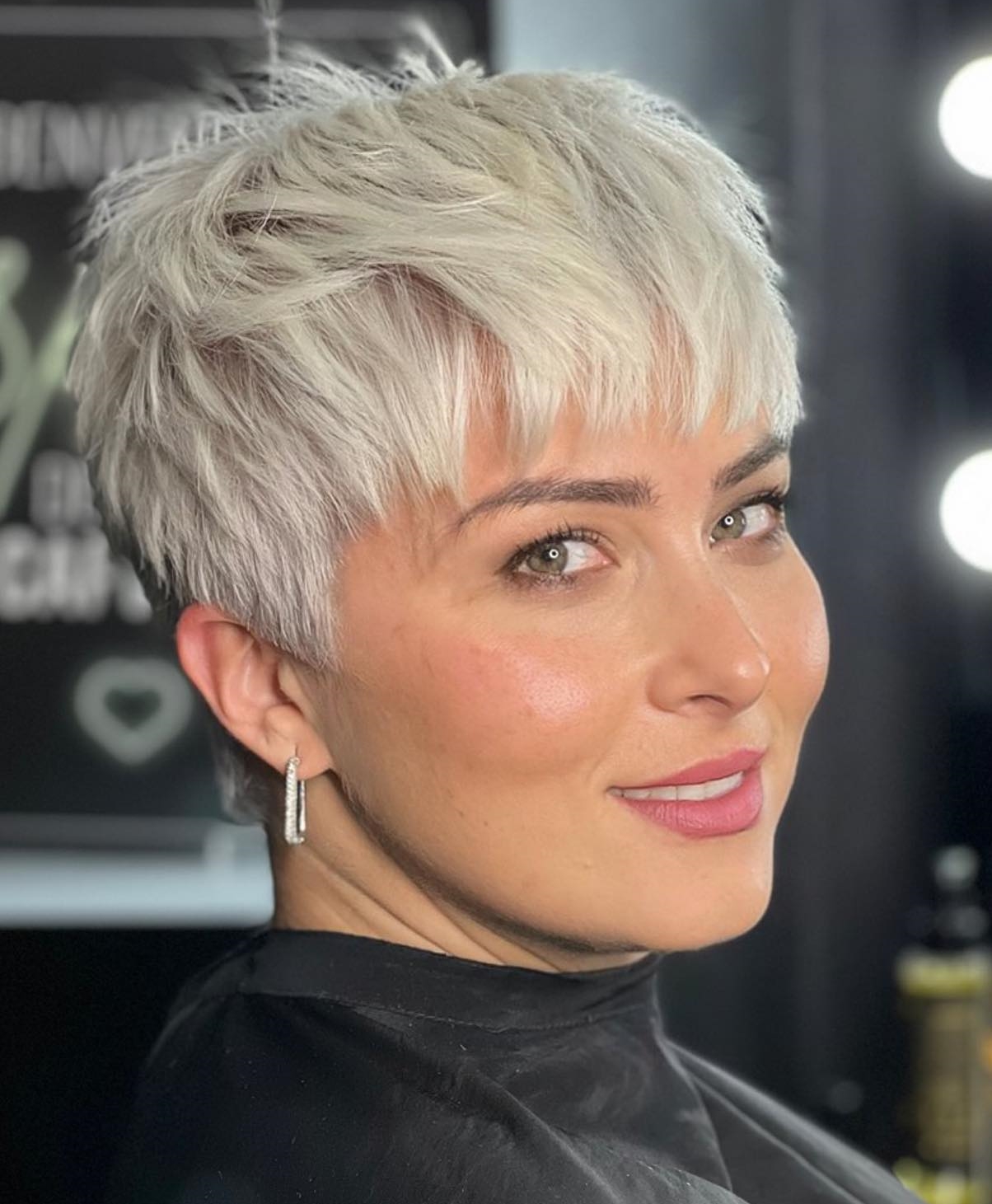 You won't have to spend a lot of time and effort to style your pixie haircut. However, it's worth noting that women with shorter hair face the need to wash it more often or even every day. After washing, take your favorite styling products and a blow-dry. Make the hair look chaotic: add mousse and style hair with your hands. After that, dry it. In most cases, it's recommended not to comb the hair and leave it as it is.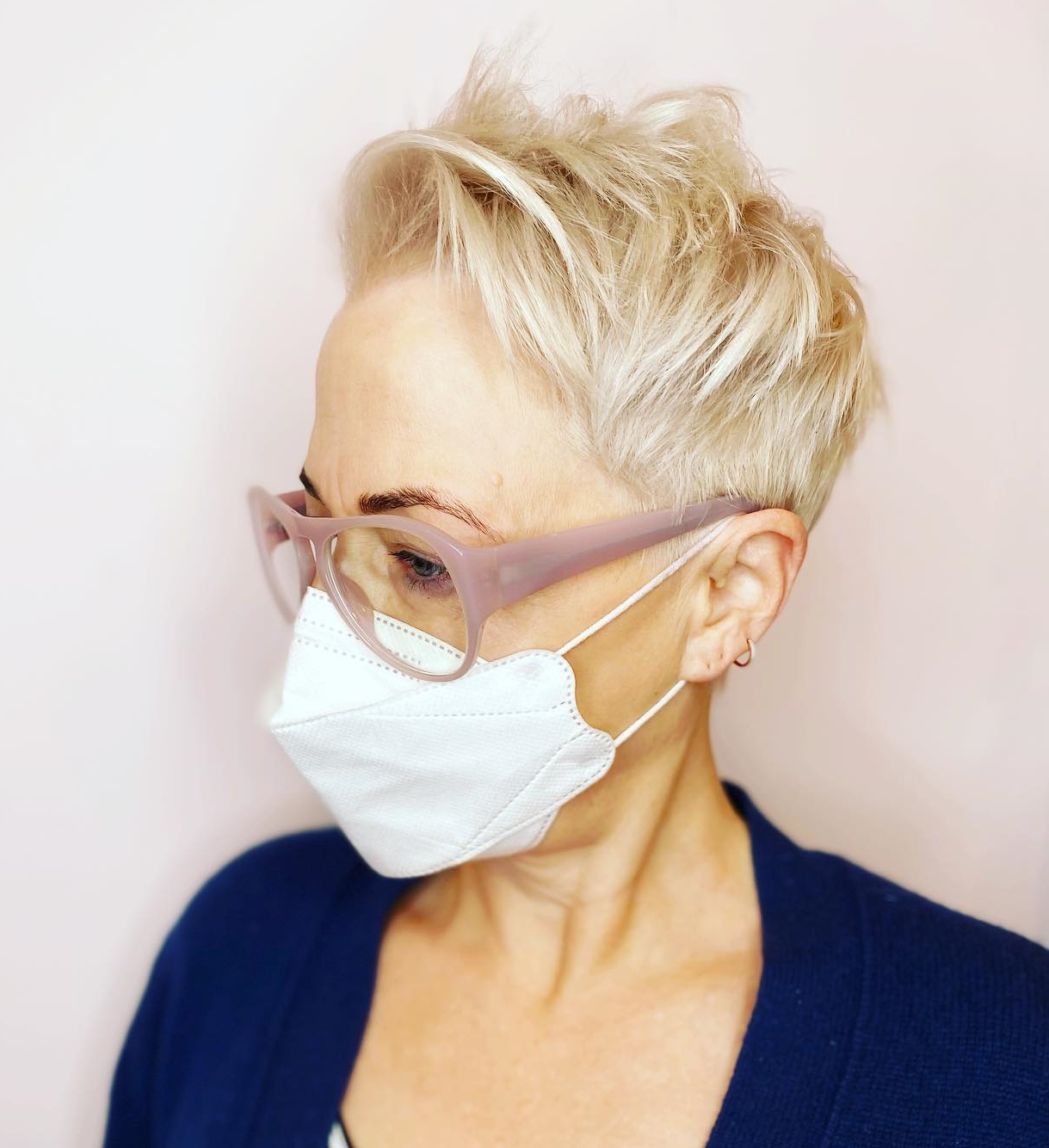 If you want to make blonde hair color and your natural shade is dark, you will have to lighten it. This procedure can impact your hair condition and require special treatment and extra cosmetics.