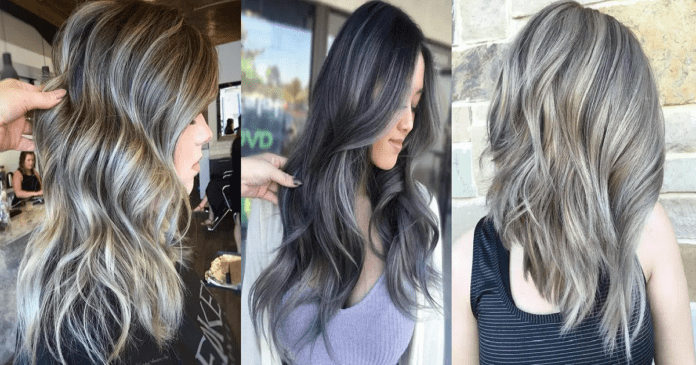 Silver highlights are glamorous, fashionable and a must-have for a funky, cool and trendier you! Up to now it has been kept as one of Mother Nature's top secrets but you can showcase its powerful effects, what have you got to lose?
Silver and Grey Highlights
When you sport a striking color, you tell the world that 'you' are the designer of your world and why not? Men have got away with grey for years and relish in the term 'distinguished'. Now, ladies, it is your turn to create the hottest fashion statement. Ask your hairdresser to jazz up your hair with some gray highlights and show off your beautiful crowning glory. Celebrities, models, and teenagers are sporting the silver look, so whether you are 16 or 90 take a look at just how transforming and liberating some silver streaks can be.
#1: Brownish Grey Enchantment
Source
Want to have a bit more pizzazz to your natural hair color? Forget the golden streaks and try some grey pieces instead. You do not need to have a lot, and they do not need to be thick. A minimal amount does make a difference. If you want more, you can always go back to your stylist
#2: Multi-Toned Sleek Bob
The micro ribbons of color blend shades of silver, cayenne pepper, cocoa and grey onto naturally black hair to transform this blunt bob. Lowlights captivate a unique blend of hues which marry the shades from the fall with cool wintery crispness. The overall effect is a soft voluminous style with a free-flowing finish for admiring glances wherever you go!
Source
#3: Grey Highlights for Light Brown Hair
Upgrade your two-tone brown hair with gray streaks. The mix of golden and silver ribbons is sophisticated and fresh. You get a beautiful style and you don't have to worry about root growth.
Instagram/ @habitsalon
#4: Silver and Brown Waves
A solid grey silver hair color is a bold choice not everyone is ready to make. Meanwhile, grey brown hair is a pretty and easy thing on its own, and it only improves when you divide the two shades as the main color and highlights. When your tresses are in need of a refresh, you can add thin white highlights for brightness.
Source
#5: Black and Grey Straight Lob
If you prefer to stick with a classic haircut, you can be more experimental with your color. Try enhancing your 'do with a unique dye job such as this grey balayage. The mix of light and dark grays adds a new dimension to the cut. The blend and distribution of the colors also make it clear that you haven't gone white prematurely.
Source