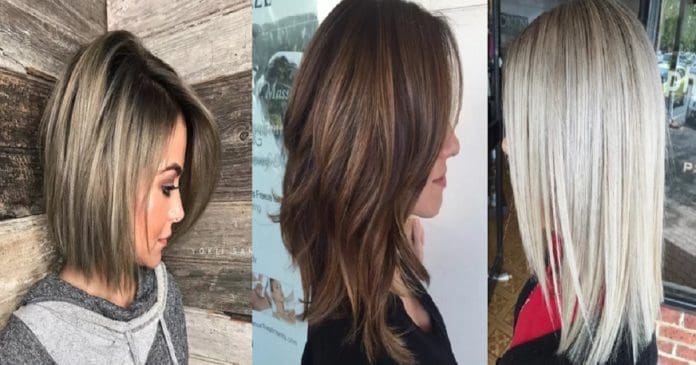 Haircuts for thick hair
The downside to thick hair is its monolithic appearance. A bad haircut for thick hair will make it look stiff and unnatural. For thick hair, it's best to expose the ends and give them movement. Avoid one-length cuts. Gradual and progressive cuts that have a shorter crown and longer nape will make medium and long hair look more dynamic. When dyeing thick hair, the main goal should be to feel movement. You can achieve this effect with ombre and baalayage techniques. Smooth transitions between similar hues give your thick locks dimension, motion, and lightness.
Sensational medium hair cuts
For thick hair, shags, pixies, and traditional bobs work well, no matter how curly or straight it is. These are the best haircuts for thick hair with medium length. These styles feature glamorous shapes, geometric lines and versatile textures. They also offer a wide range of sophisticated colors that are suitable for thick hair.
#1: Layered hair cut with medium layers
You will have a beautiful fullness to the crown with medium layers. Teasing is something many women attempt to achieve. This can be achieved naturally by the thickness of your hair, and the cut. To make the texture even more prominent, accentuate the layers with subtle balayage highlights.
#2: Lob with V Cut Choppy Layers
For thick hair, a straight-across bob is the best choice. It really highlights your hair's density. However, if you don't have layers, it can lead to a bloated look. This 'do has a feminine, yet slightly shaggy look when it is styled in a messy bun. This classic cut is suitable for all face shapes and can be worn with a variety of hair textures.
#3: Layered Dark Brown Lob
Layered lobs are a great choice for thick hair because they flatter all faces and make heavy hair feel lighter. You can still keep your color monochromatic with the layers, but it will not look flat or boring. To show off the various lengths, create a messy wave.
#4: Lob with Swoopy Layers for Face-Framing
For thick hair, medium length styles are flattering and easy to style. A swoopy lob with layers that frame the face is an elegant example. This cut is chic and sophisticated. You will always look polished.
#5: Brown Lob and Caramel Balayage
With thicker hair, a little color can make a big difference. You can add some shine to your shoulder-length style by adding subtle highlights that are one to two shades lighter than your base color. Balayage is a great way to achieve a natural look.
#6: Medium Shag to Thick Hair
Shag cuts are very popular, and it's not hard to see why. Layered waves look great with any hair texture and instantly add movement and style to your hair. Longer layers are possible for thick haired ladies.
#7: Shoulder-Length Lob With Layered Front
This lob has sharply angled sides and a straight cut. It is important to have textured ends for medium-thick hair, as it has been said. These will allow you to style your hair and give it a finished look.
#8: Textured cut for thick hair
Highlights are the best way to highlight texture in medium-length hairstyles with thick hair. Varying your hair's shades will bring out the layers and give you more dimension. Ask your stylist for help in choosing flattering shades that will give you that natural, sun-kissed glow.
#9: Medium Layers with Flipped Ends
Flipping the ends is a traditional way to style layers of hair. This will allow you to style your hair in a more natural way. It will soften your hair and add movement while still keeping it sleek. To achieve a polished look, blow dry your hair sections using a round brush.
#10: Feathered layers for straight hair
Thick hair has the advantage of being able to do heavy layered cuts without worrying about volume. This style is both straight and feathered, but has a retro vibe.
#11: Bouncy layers
Medium-length hairstyles are often criticized for being too flat or too "in transition". Layers can be gently fanned with a straightener to give the style some dimension and body.
#12: A Cut Solution to Thick Hair
You know what thick hair is not. You can lighten your hair by adding subtle highlights in a few shades lighter than your base colour to counter excessive fullness.
#13: Brunette Shag With Side Bangs
This one is for those girly girls with long hair. This look is best worn tucked in. It's a simple, elegant style that you can wear even on the days you don't feel like styling. Side bangs can soften the shag. It's best to ensure they fall properly.
#14: Mid Length Shaggy Hairstyle
Thin hair is often cut for one purpose: to thin it out. This shagged cut will give you modern layers and a length that is still manageable for ponytails. A shag is a style that you should only request from a trusted stylist. Too much of a good thing could quickly turn retro.
#15: Medium brown hair with an angled cut
The best bob you have ever had might be a long, angled one. Don't make things too short or severe this season. Instead, let your natural hair style shine with a bob cut. You can add a new color to your hair, such as a medium-brown shade that is great for fall or winter.
#16: Multicolored Sideswept Cut
This breezy, lightened style will make you feel like summer is always within. To make thick hair appear lighter, you can side-stitch and chop the ends. The blonde highlights frame and brighten the face.
#17: Side Parted Lob With Finely Chopped Ends
Textured ends are a great choice for thick hair. They give the hair more volume and shape. A bold side part adds movement and style to your hair.
#18: Add Shape to a New Look
While angles have been around for some time, they are still very popular when it comes to thick hair solutions. For stubborn, thick locks, layers with angles are an excellent choice.