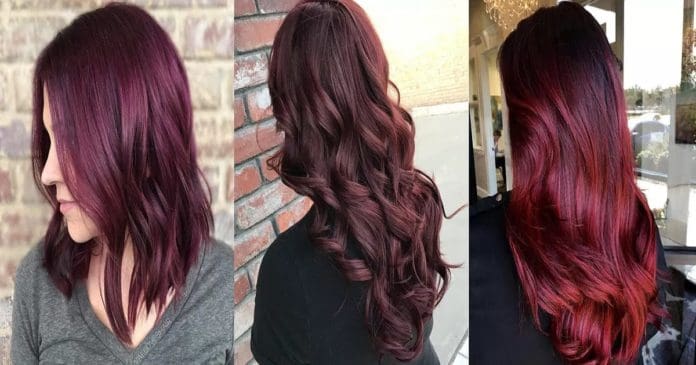 Burgundy (dark red, red wine color) is actively used for hair dyeing in brunettes. Blondes and women with medium brown hair sometimes also resort to this noble hue in order to appear brighter, well, much brighter. Even redheads may try some shades, reminding burgundy, but leaning towards the warmer tints with admixture of cinnamon. Classic, vivid or old burgundy, maroon or oxblood… so, which one to choose? Here are 50 illustrative examples of how you can use the dark red color, when dyeing your hair or refreshing it with colorist methods.
Fabulous Opportunities of Burgundy Hair Color
It livens your tresses, adds them a mysterious undertone or, on the contrary, the boldest shade you could ever imagine on yourself. Burgundy adjusts to your basic hair color and lets you achieve your goals. Do you want to be in the centre of everyone's attention? Create a smart retro look? Add a pop of color for the fall period that will look in tune with nature changes? Introduce some spice tint and shimmer for your brunette locks? No problem, look through the pictures below and choose.
Initially burgundy hue was considered a perfect shade for real brunettes. These days even some blondes dare to go that bright and eye-popping. If a step towards bold vinous color shades seems too challenging for now, but you are tempted to try something revolutionary, consider ombre in red and purple tones with demi-permanent dyes. They wash out after 24 shampoos, so you won't get bored with your flashy ends. This idea looks pretty cool on medium brown hair, for instance. Vinous highlights, as another compromise solution, are ideal for black, dark-brown and medium brown hair. Well, let's see some pictures.
#1: Dark Red Velvet
Source
Those red velvet cupcakes you love to devour can now be channeled in your hair, and the results are just as delectable. Pick a rich shade of burgundy red that blends out nicely in a pretty balayage effect. Can you say, "yummy?"
#2: Sunset-Inspired Balayage for Brunettes
Softer and less noticeable than the traditional ombre effect, balayage is one of the latest color trends that emulates the hair naturally lightened by the sun. Combine this trend with the burnt red sunset hues for a standout, artistic look.
Instagram / @pixie_glamstudio
#3: Bright Burgundy Locks
Displaying that burgundy purple hair you invested in is easier than you think. Give yourself a sleek, silky blowout and let the hair dye really shine. Just use a round or paddle brush and run it through a section of damp hair while following it with a blowdryer.
Source
#4: Deep and Dark Purple Hair
Dark red violet locks are about as close to natural-looking hair as you're going to get, without actually going natural. Try a shade that sports a subtle purple tinge that isn't incredibly noticeable… until you stand in the sun. Then, watch the sparks fly.
Source
#5: Dark Purple Loose Locks
Purple hair often brings up images of fluorescent violet locks. Go another direction and try deep, dark purple hair instead. This look is great: the rich shade is versatile enough to take you from summer to fall seamlessly.
Source
#6: Dark Red Ringlets
Mix your deep burgundy locks with your natural, dark roots for a dazzling hairstyle that's ideal for medium to olive skin tones. Try loosely curling the hair by wrapping it around a one-inch curling iron and leaving the ends free from heat. You'll get beautiful bohemian waves that scream "cool girl."
Source
#7: Deep Violet Highlights
Give your purple red hair a dreamy, ethereal edge by wearing it with jewel-toned highlights. The glistening strands of color will look positively enchanting and give "unicorn hair" a whole new meaning.
Source
#8: Dark Violet Cascades
Get playful with your hair color with maroon locks that pack a punch. The color is not quite red and not quite purple, but totally mesmerizing. Go ahead and try it and see if you aren't drowning in compliments immediately.
Source
#9: Espresso Hair with Red Wine Highlights
You can easily achieve burgundy hair by adding some red wine highlights to an espresso base. This creates a beautiful reddish purple hue that looks unbelievably striking when it catches the light.
Instagram / @gohardhairdesigner
#10: Barely There Burgundy Tint for Brunettes
If you like your deep brunette hair and want just a hint of red wine hair dye in your locks, no need to commit to a solid burgundy hair color. Throw in some very subtle balayage highlights to make your mane dimensional and colored as opposed to neutral. This more subtle dye job looks fabulous all year round with practically any complexion and outfit color palette.
Instagram / @studio16.jen
#11: Sleek Dark Purple Locks
Long, slick amethyst-colored hair is the stuff of dreams. Make it a reality by dyeing those long locks a crimson purple hue and letting them just hang down naturally. No muss, no fuss.
Source
#12: Exquisite Burgundy Tinted Brown Hair
The perfect all-over burgundy color, these tresses have been tinted to create red brown hair that makes the ultimate style statement. The good news is that this shade looks distinctive whether you have short or long locks.
Instagram / @kaoticcosmo
#13: Choppy Plum Brown Lob
Incorporating purple into your brown tresses is more daring and alternative compared to red burgundy. Less natural-looking and more fashion-forward than the traditional burgundy tones, it looks particularly breathtaking when paired with a choppy lob.
Instagram / @valloveshair
#14: Bright Burgundy Balayage with Black Roots
Two-tone and slightly more alternative, black burgundy hair provides a captivating contrast for brave, experimental individuals. To create a more synergized look between the two colors, opt for a balayage technique.
Instagram / @makeupbyfrances
#15: Spicy Burgundy Balayage Hair
To enhance the brightness of your burgundy tresses, you can ask your hairdresser to incorporate some spicy red highlights into your ends for a rather subtle look with a difference of tones. Due to the two-tone effect, it also makes your root hue appear shinier and healthier. Result.
Instagram / @hairbynoora
#16: Very Subtle Burgundy Brown Balayage
If you're new to burgundy locks, you can experiment initially with reddish brown hair. This can be achieved, for example, with a simple balayage through thin subtle ribbons of color applied over your natural brunette color, without previous bleaching. It's one of the best burgundy brown looks for beginners.
Instagram / @lovelylauren03
#17: Burgundy and Magenta Balayage
For a unique, immensely vibrant style, you can ask your hair colorist to adapt your tresses to the spectacular clash of magenta pink and deep burgundy with the base black color. Coloring your entire head magenta will turn out too overpowering, therefore it's all about opting for balayage.
Instagram / @glamhairbymarie
#18: Medium Black Hair with Purple Tint
A low-key burgundy style if you already have or want black hair with a twist, purple tint is understated yet seriously chic. It usually takes more to the ends, giving your tresses a darker appearance at the roots that gradually becomes lighter as it flows to the bottom.
Instagram / @thatprettyhair
#19: Rich Plum Red Hair Color
Medium and short burgundy hair can certainly be just as impressive as longer styles, especially if your locks are particularly rich in hue. For instance, this highly pigmented plum color enhances your features and ensures that you can easily be spotted in the crowd for all the right reasons.
Instagram / @melly_does_myhair
#20: Dark Chocolate Hair with Cherry Highlights
Completely different to having brunette hair with burgundy highlights, the dark chocolate and cherry hues create a tasty combination that's a treat for the eyes. Ask your hairdresser for subtle cherry highlights on dark brown hair for fun and quirky locks.
Instagram / @aimee_cuts_and_dyes
#21: Subtle Burgundy Balayage for Rich Chocolate Hair
You can opt for a subtler balayage solution if you feel like trying a more muted alternative to the dark chocolate and cherry coloring listed above. Still undeniably beautiful, it's better suited to those who already have rich chocolate hair and want to add a bit of extra flavor to it.
Instagram / @hairhunter
#22: Black Hair with Brown and Burgundy Highlights
If you have black hair, simply add warm brown and burgundy red highlights to develop a cool and unusual color resembling dark maroon. The variation of hues means that it doesn't look as brash as other effects, but still seriously chic.
Instagram / @hairbynoora
#23: Black Hair with Ruby Balayage
Classified as one of the boldest burgundy looks, black hair with a red ruby balayage is incredibly bright and sure to turn heads. It's not for the faint-hearted, but all you need to successfully rock it is confidence.
Instagram / @julissa_morasalon
#24: Subtle Merlot Balayage Wavy Hair
There are some instances where burgundy and brown make for the ultimate power duo, and this is certainly one of them. Add some soft merlot tones to the ends, along with some defined curves using a curling iron, for the cutest wavy balayage effect.
Instagram / @brittanynunan.hair
#25: Burgundy Shag with Copper Babylights
If you're a fan of dark red hair, perhaps this burgundy shag is for you. Designed to look messy and carefree, this hairstyle is dazzling when combined with copper babylights, which is a very fine color technique mimicking hair that has been naturally lightened in the sun.
Instagram / @maeipaint
#26: Elegant Purple Balayage for Black Hair
You can easily and quickly achieve subtle red purple ends just by applying the balayage approach to black hair. Softer and more natural-looking than an all-over color, this style epitomizes class and elegance while still being out of the ordinary.
Instagram / @aimee_cuts_and_dyes