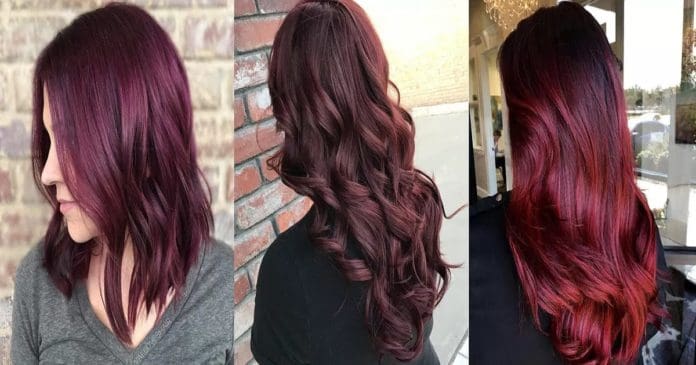 For hair dyeing brunettes, Burgundy is a dark red, or red wine color. This noble hue is often used by blondes and women with medium-colored hair to make them appear brighter. Redheads can experiment with a variety of shades. They may choose a warm tint that contains cinnamon, or reminds them of burgundy. You have to decide which color you prefer: classic, vibrant, old burgundy or maroon, oxblood, or even maroon. These 26 examples show you how dark red can be used to dye your hair, or refresh it using colorist techniques.
Amazing Opportunities for Burgundy Hair Color
It adds life to your hair, gives it a mysterious undertone, or makes them the most bold shade you can imagine. Burgundy can be adjusted to your natural hair color and helps you reach your goals. Are you looking to grab everyone's attention? Create a smart retro look? For the fall season, add a splash of color that is in keeping with nature's changes. Introduce some spice tint and shimmer for your brunette locks? You can look at the photos below to help you choose. The burgundy hue was initially considered the perfect shade for brunettes. Some blondes are now bold enough to be that bright and striking. You might be hesitant to take bold, vibrant, vinous colors, but ombre with red and purple shades using demi-permanent dyes is an option. You won't be bored by your bright, flashy hair after 24 washes. This looks great on medium-brown hair, too. Vinous highlights are another compromise option that works well for medium-brown, dark-brown, and black hair. Let's take a look at some photos.
#1: Dark Red Velvet
You can channel those red velvet cupcakes that you love into your hair. The results are equally delicious. Choose a deep burgundy color that will blend well in a beautiful balayage effect. You can say "yum!"
#2: Sunset-Inspired Balayage For Brunettes
Balayage, which emulates naturally lightened hair by the sun, is softer and less visible than traditional ombre. This trend can be combined with the red sunset hues to create a unique, artistic look.
#3: Bright Burgundy Locks
It's easier than you might think to show off the burgundy purple hair that you have invested in. You can give your hair a smooth, silky look and let the hair dye shine. Use a paddle or round brush to run through damp hair. Follow it up with a blowdryer.
#4: Deep and Dark Purple Hair
Dark red-violet hair is as natural-looking as natural, but not natural. You can try a shade with a subtle purple tint that isn't too noticeable until you get out in the sunlight. Watch the sparks fly.
#5: Dark Purple Loose Locks
Many people associate purple hair with fluorescent violet locks. Try dark, deep purple hair instead. This is a great look: The rich color can be used to transition seamlessly from summer to autumn.
#6: Dark Red Ringlets
For a stunning hairstyle, mix your dark hair with your natural roots. This is a great style for people with medium-to-dark skin. Wrap the hair loosely around a 1-inch curling iron, and let the ends cool down. You will get gorgeous, bohemian waves that shout "cool girl!"
#7: Deep Violet Highlights
You can give your purple hair an ethereal, dreamy look by adding jewel-toned highlights. These lustrous strands will make "unicorn hair look amazing" and give it a new meaning.
#8: Dark Violet Cascades
Maroon hair is a fun way to play with your hair color. This color isn't quite red or purple but it's absolutely stunning. Try it out and you'll be flooded with compliments.
#9: Espresso Hair With Red Wine Highlights
Red wine highlights can be added to an espresso base to create burgundy hair. This gives the hair a stunning reddish-purple hue that catches the light.
#10: Brunettes Need a Barely There Burgundy Tint
You don't have to go all out on burgundy if you love your brunette hair. To make your hair look more dimensional and colored, add subtle balayage highlights. This subtle dye job is great for any skin tone and any outfit color.
#11: Sleek Dark Purple Hair
It's the stuff of dreams to have long, smooth amethyst-colored hair. You can make it a reality by coloring your long hair a crimson-purple color and letting them fall naturally. No muss, no fuss.
#12: Exquisite Burgundy Tinted Brown hair
These tresses are the perfect burgundy-colored all-rounder. They have been dyed to make red-brown hair that is truly fashion-forward. This shade is great for both short and long hair.
#13: Choppy Plum-Brow Lob
Purple is a bolder and more creative option than red burgundy. It is less natural-looking than traditional burgundy tones and more fashion-forward, especially when paired with a long, choppy lob.
#14: Bright Burgundy with Black Roots
Black burgundy hair is a two-toned option. It's also an alternative that offers a more striking contrast. This color is great for adventurous people who are willing to try new things. A balayage is a way to create a more harmonious look between the two colors.
#15: Spicy Burgundy Balayage Hair
For a subtle, yet striking look with different tones, ask your hairdresser for some red highlights to enhance your burgundy locks. The two-tone effect makes roots appear healthier and shinier due to their natural shine. Result.
#16: Subtle Burgundy Brown Baalayage
You can try reddish-brown hair if you are new to burgundy hair. You can achieve this look by simply balayaging your brunette hair with thin, subtle ribbons of color. This is a great way to start with burgundy brown.
#17: Burgundy & Magenta Balayage
You can ask your hairdresser to create a stunning, vibrant style by combining magenta pink with deep burgundy and the base color black. Balayage is the best option, as coloring your whole head magenta can be too overwhelming.
#18: Medium Black Hair and Purple Tint
If you have black hair or would like to add a twist to it, a purple tint style is a great choice. It's subtle and chic but still looks good. It tends to take longer to the ends. This gives your hair a darker look at the roots and gradually lightens as it flows down to the bottom.
#19: Rich Plum Rouge Hair Color
Short burgundy hair styles can look just as good as long ones, especially if they are rich in color. This highly pigmented plum colour enhances your features, and makes you stand out from the crowd.
#20: Dark Chocolate Hair With Cherry Highlights
It's completely different from having brunette hair highlighted with burgundy highlights. The combination of dark chocolate and cherry colors creates a delicious look that is a delight for the eyes. For fun and unique locks, ask your hairdresser to add subtle cherry highlights to dark brown hair.
#21: Subtle Burgundy Hair Color for Rich Chocolate Hair
If you prefer a subtler solution to balayage, it's possible. It's still stunning, but it's best suited for those with rich chocolate hair who want to add some flavor.
#22: Black Hair with Brown Highlights and Burgundy Hair
To make your black hair look like dark maroon, add warm brown highlights and burgundy-red highlights. It's not as bold as other effects but it is still very chic.
#23: Black Hair and Ruby Balayage
Black hair with red ruby balayage, which is one of the most bold burgundy looks, is highly popular and will turn heads. This look is not for the weak-hearted. However, it's possible to rock it with confidence.
#24: Subtle Merlot Wavy Merlot Hair
This is one example of a situation where burgundy with brown makes for the perfect power duo. For the most beautiful wavy balayage effect, add soft merlot tones at the ends. You can also curl your hair with a curling iron to create defined curves.
#25: Burgundy Shag and Copper Babylights
This burgundy shag might be for you if you love dark red hair. This hairstyle looks messy but carefree and is perfect for those with copper babylights. It is an extremely fine color technique that mimics naturally blonde hair.
#26: A Purple Balayage for Black Hair
Applying the balayage method to black hair can quickly and easily create subtle red-purple highlights. This style is more subtle and natural-looking than an all over color. It's elegant and classy, but still stands out from the crowd.