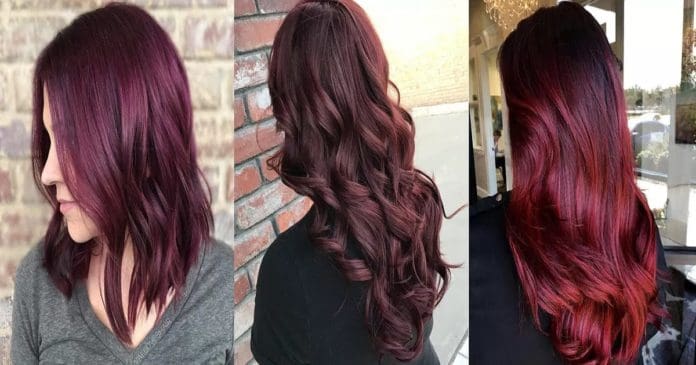 Burgundy (dark red, red wine color) is actively used for hair dyeing in brunettes. Blondes and women with medium brown hair sometimes also resort to this noble hue in order to appear brighter, well, much brighter. Even redheads may try some shades, reminding burgundy, but leaning towards the warmer tints with the admixture of cinnamon. Classic, vivid or old burgundy, maroon or oxblood… so, which one to choose? Here are 26 illustrative examples of how you can use the dark red color when dyeing your hair or refreshing it with colorist methods.
Fabulous Opportunities of Burgundy Hair Color
It livens your tresses, adds them a mysterious undertone or, on the contrary, the boldest shade you could ever imagine on yourself. Burgundy adjusts to your basic hair color and lets you achieve your goals. Do you want to be in the center of everyone's attention? Create a smart retro look? Add a pop of color for the fall period that will look in tune with nature changes? Introduce some spice tint and shimmer for your brunette locks? No problem, look through the pictures below and choose.
Initially, the burgundy hue was considered a perfect shade for real brunettes. These days even some blondes dare to go that bright and eye-popping. If a step towards bold vinous color shades seems too challenging for now, but you are tempted to try something revolutionary, consider ombre in red and purple tones with demi-permanent dyes. They wash out after 24 shampoos, so you won't get bored with your flashy ends. This idea looks pretty cool on medium brown hair, for instance. Vinous highlights, as another compromise solution, are ideal for black, dark-brown and medium brown hair. Well, let's see some pictures.
#1: Dark Red Velvet
Those red velvet cupcakes you love to devour can now be channeled in your hair, and the results are just as delectable. Pick a rich shade of burgundy red that blends out nicely in a pretty balayage effect. Can you say, "yummy?"
#2: Sunset-Inspired Balayage for Brunettes
Softer and less noticeable than the traditional ombre effect, balayage is one of the latest color trends that emulates the hair naturally lightened by the sun. Combine this trend with the burnt red sunset hues for a standout, artistic look.
#3: Bright Burgundy Locks
Displaying that burgundy purple hair you invested in is easier than you think. Give yourself a sleek, silky blowout and let the hair dye really shine. Just use a round or paddle brush and run it through a section of damp hair while following it with a blowdryer.
#4: Deep and Dark Purple Hair
Dark red-violet locks are about as close to natural-looking hair as you're going to get, without actually going natural. Try a shade that sports a subtle purple tinge that isn't incredibly noticeable… until you stand in the sun. Then, watch the sparks fly.
#5: Dark Purple Loose Locks
Purple hair often brings up images of fluorescent violet locks. Go another direction and try deep, dark purple hair instead. This look is great: the rich shade is versatile enough to take you from summer to fall seamlessly.