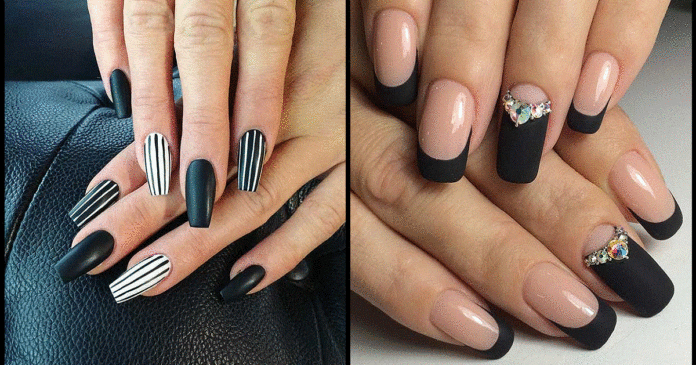 23 Edgy Black Nail Designs
Having the perfect nails is a must.  It's summer time but that doesn't mean you have to always wear bright colours, especially on your nails.  Many people choose to add colour with their accessories and outfit, instead of their nail polish.
1. BLACK LACE NAILS
Lace is always a lovely delicate design.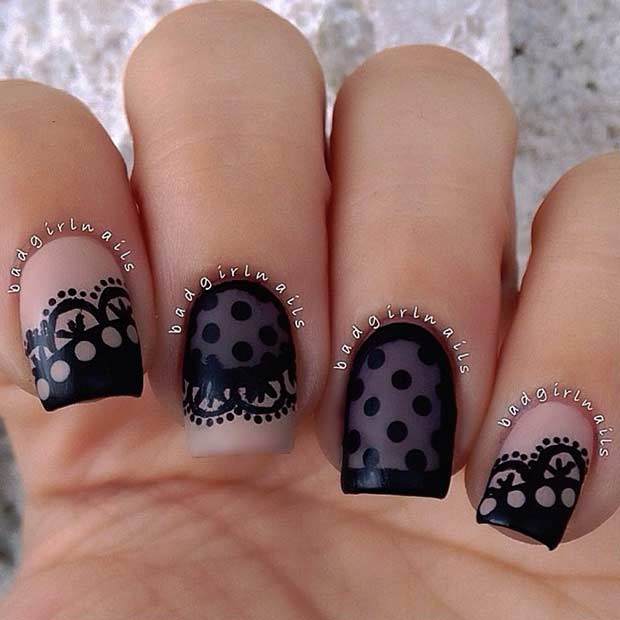 Instagram / badgirlnails
This is fun, girly and perfect for weddings.  This design will make you stand out from the crowd and we can guarantee you will receive so many compliments.
2. BLACK MATTE COFFIN NAILS
If you didn't know, matte nails are trending right now.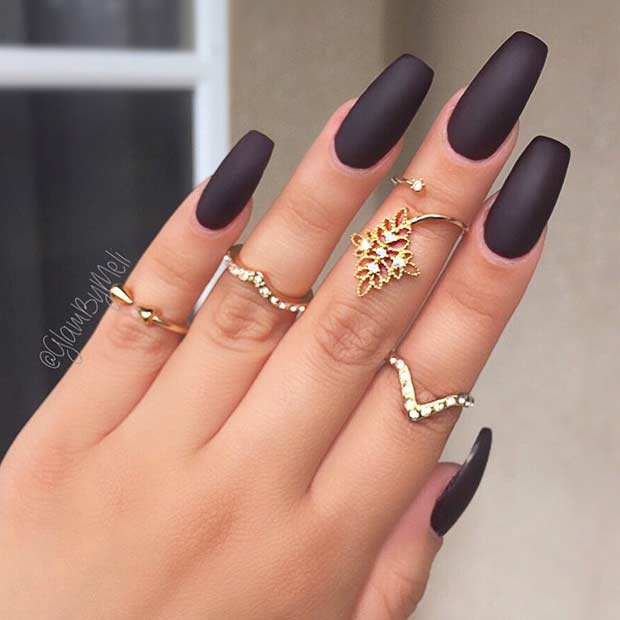 Instagram / glambymeli
The usual shiny glossy nails are still stylish but matte nails are far more dramatic.  They tell a mysterious story and work so well with black nail polish.
3. STRIPE NAIL DESIGN
Go for stripes.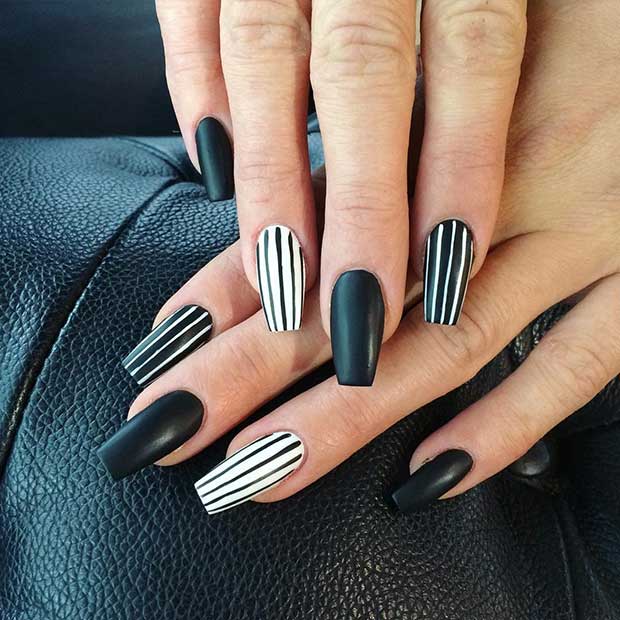 Instagram / adoredollsparlour
These eye-catching stripy nails will be trending wherever you go.  Try and alternate like the photo above by having a white base and then black.  The white base stripy nails will instantly catch people's eyes.
4. BLACK MATTE & NEGATIVE SPACE NAILS
These nails will certainly take the spotlight.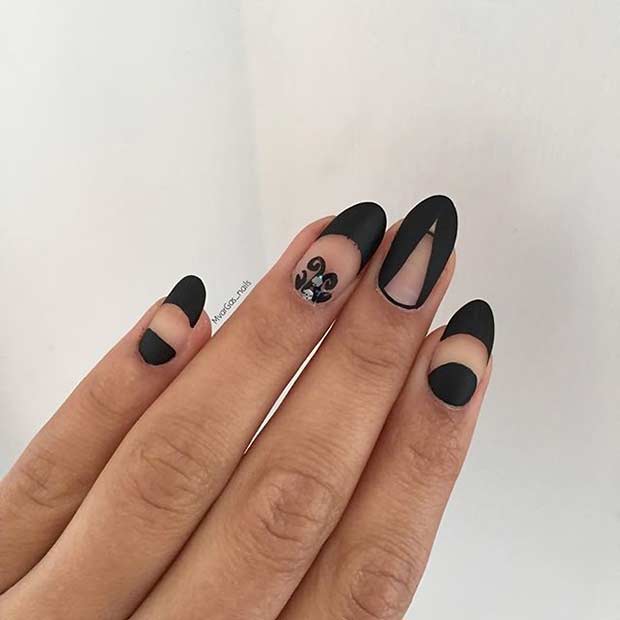 Instagram / mvargas_nails
Negative space nails are similar to cut-out clothing which are also trending right now.  Half-moon, centre gap and semi-circles are a few of the designs you could have. The bold black nail polish will enhance the designs so make you choose quirky and unique styles.
5. BLACK GLITTER NAILS
Add a touch of sparkle.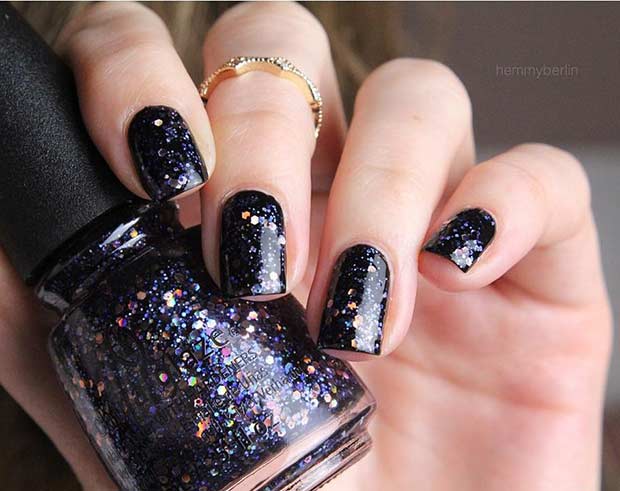 Instagram / hemmyberlin
Having a black base is striking alone but by adding the glitter, will immediately add a touch of glam and shine.
6. BLACK MARBLE NAILS
Marble nails look so details, yet they are so easy to do.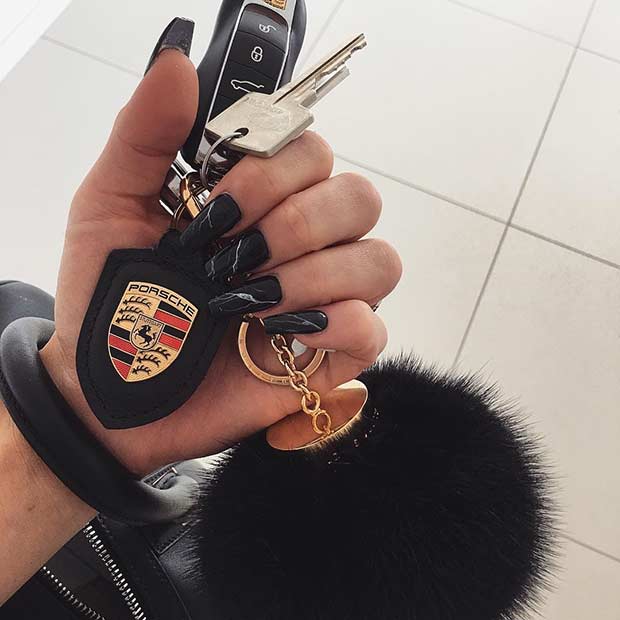 Instagram / tammyhembrow
Apply a few coats of black shiny nail polish.  Then you will need a second colour, either grey or white for the marble effect.  Pour a few drops of the second colour onto foil. Grab some cling film, scrunch it into a small ball and dab it into the nail polish on the foil.  Dab your cling film over your nail. To finish the look, apply a few marble lines with your nailbrush.
7. BLACK MATTE AND GLOSSY ZEBRA NAILS
Take a little nail inspiration from zebras.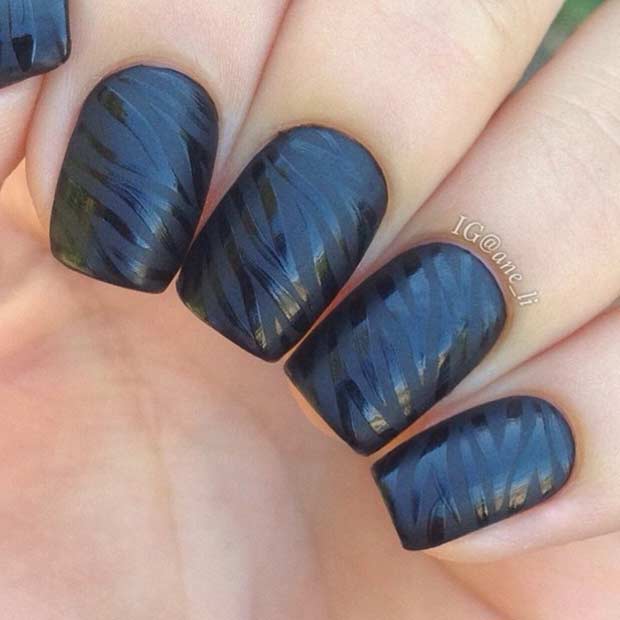 Instagram / ane_li
Don't go for the standard zebra colours, black and white.  Keep to matte and shiny black. This will create a dark subtle zebra effect that will look amazing.
8. BLACK & GOLD NAILS
Black and gold nails!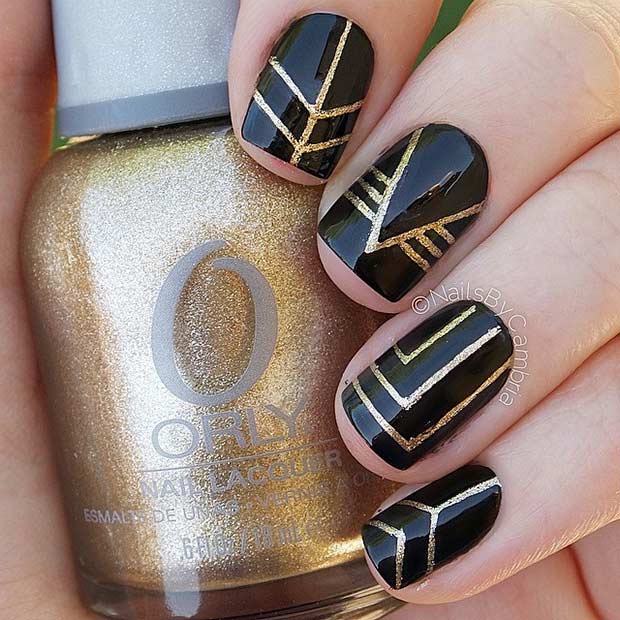 Instagram / nailsbycambria
What more could you ask for.  Black and gold are a great combination.  A shiny black nail polish base with a gold design will set you aside from everyone.  If you are unsure about the designs you would like, maybe having a doodle session with a pen and paper before you want to commit on your nails.
9. MATTE & GLOSSY FRENCH TIP
Black matte base with shiny tips look fabulous.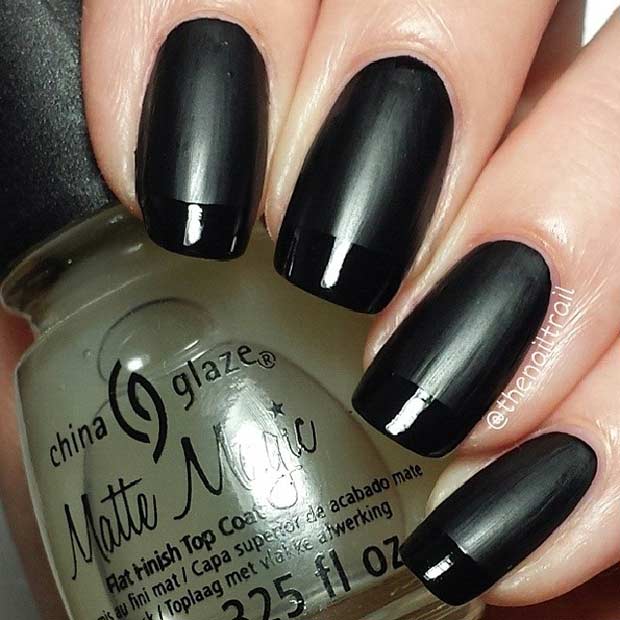 Instagram / thenailtrail
You can see how the shiny tips make the nails come alive.
10. MATTE BLACK STILETTO NAILS
Stiletto nails are trending and have been for a while now.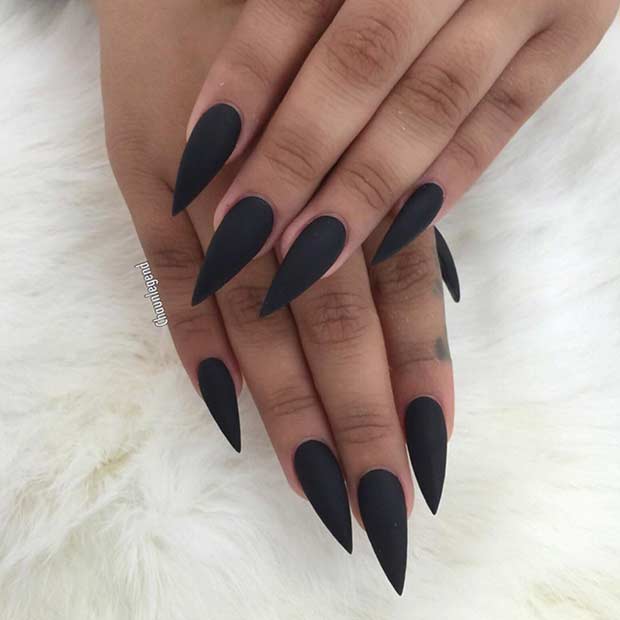 Instagram / chaunlegend
Everyone is going crazy for stiletto nails.  If you are unsure what stiletto nails are, the names kind of gives the game away.  They are pointy like stiletto shoes. They look sexy and vampy.
11. BLACK MATTE NAILS WITH A POP OF COLOR
Summer colours look bright and fun on a matte black base.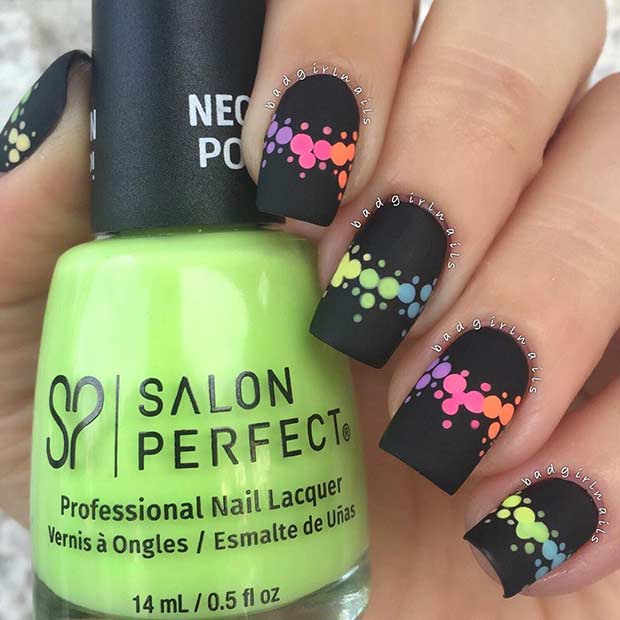 Instagram / badgirlnails
The vibrant colours instantly stand out and create a fun, bubbly design which everyone will love and envy.
12. BLACK FRENCH TIP + RHINESTONE ACCENT NAIL
Rhinestones will add the sparkle you need.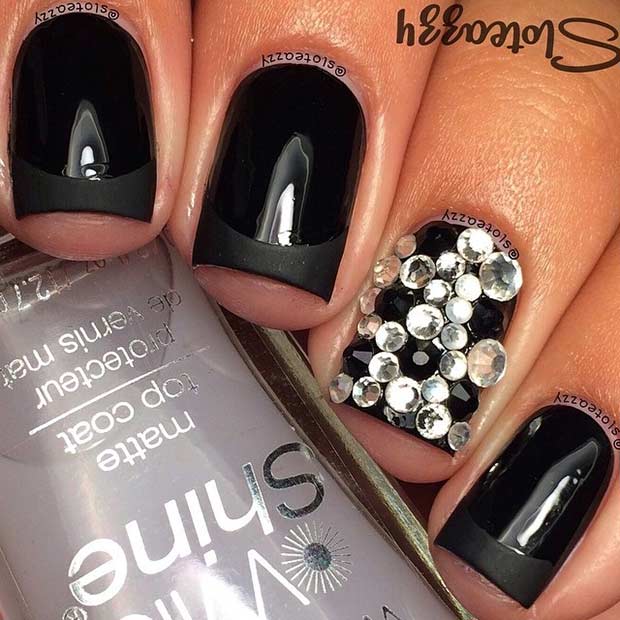 Instagram / Sloteazzy
Black nails can be a little harsh and dark for many people but we have come up with a solution.  Add rhinestones to one nail. This way you will still have the dark side from the black nails but you will sparkle.  Make sure you add shiny black tips to the matte black nails for that extra touch.
13. POP OF WHITE
If you're not feeling black nails, maybe you could add a little touch of white?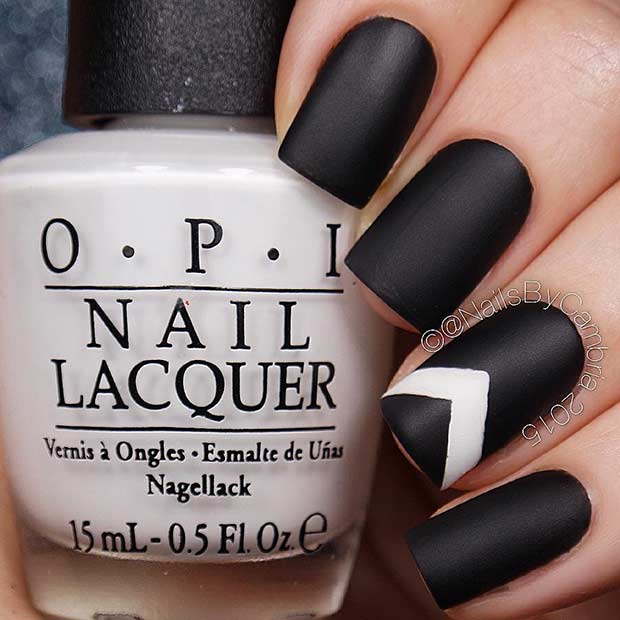 Instagram / nailsbycambria
This is perfect if you are wearing a white outfit.  You can team your outfit colour with your nails.
14. MATTE BLACK NAILS WITH GLOSSY DETAILS
Wow… this is all we can say about these nails.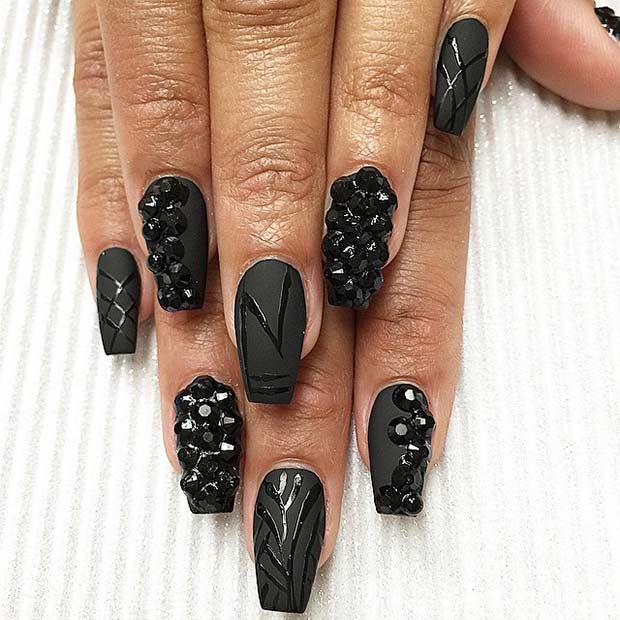 Instagram / nailsbygina
These nails look detailed and so intricate.  Unbelievably, these nails aren't hard to achieve.  If you look closer, you can see that these nails are all based on a matte black base with added extras.  The extras are nail gems, shiny black nail polish designs and that's it! This is simple to do yet so effective!
15. ZEBRA ACCENT NAIL
Animal prints are great designs for nails.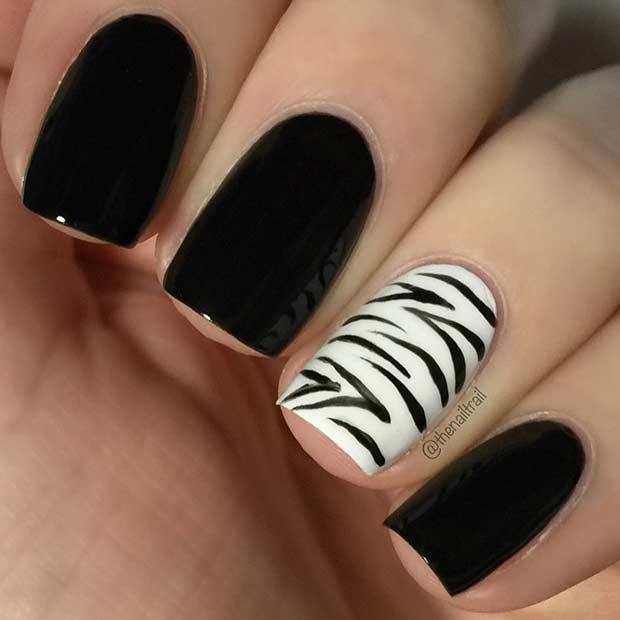 Instagram / thenailtrail
Zebra nails add that special something to your nails but in a subtle way.
16. BLACK MATTE NAILS + LACE ACCENT NAIL
Do you want to create a softer matte black design?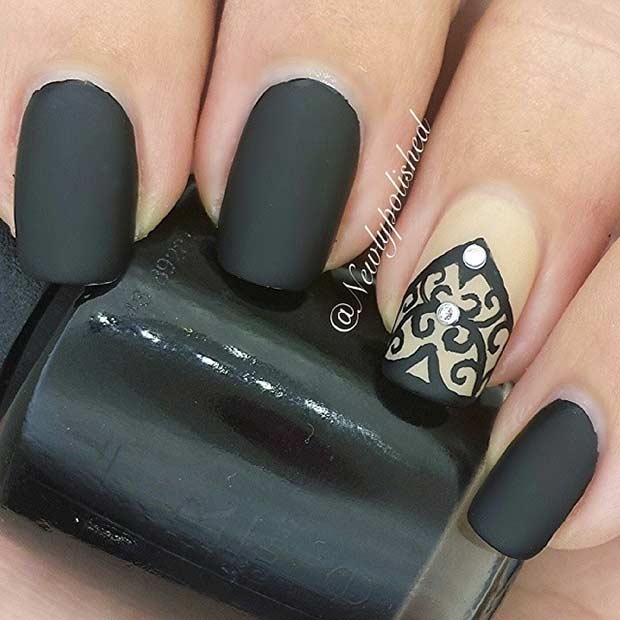 Instagram / Newlypolished
If you answered yes, this is the design for you.  Paint your nails matte black but keep an accent nail.  The accent nail will need to be painted a lighter contrast colour, for example an off white or ivory.  These colours work better with the black lace design. If you aren't confident on your lace freehand skills, you can always buy a lace stencil which will have the same outcome.  Just remember to wait until your base coat is fully dry before you start on the lace. To finish the look, add a few diamantes to your lace design.
17. BLACK MATTE FRENCH TIP
Nude and black nails look divine.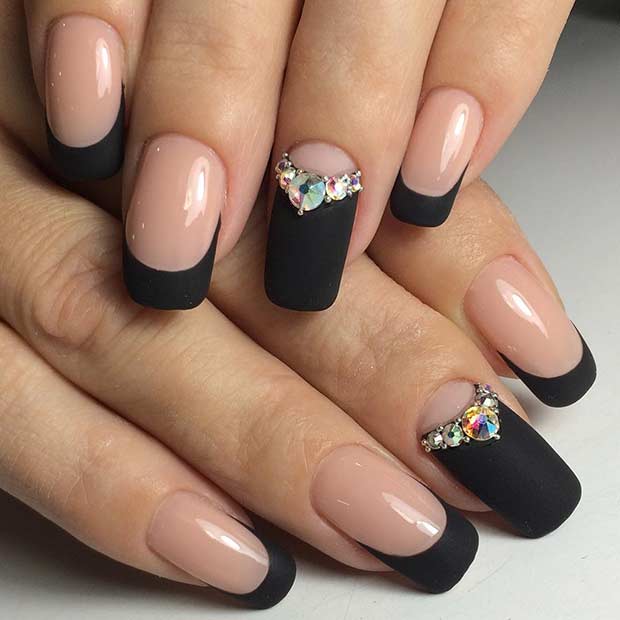 Instagram / kristina_beautynails
Nude base nails will show off your elegant and delicate side, whilst the matte black tips will create the intense side.  The accent nail is optional but we think it looks great.
18. BLACK FRENCH TIP STILETTO NAILS
If you tend to have stiletto nails, maybe you could try this.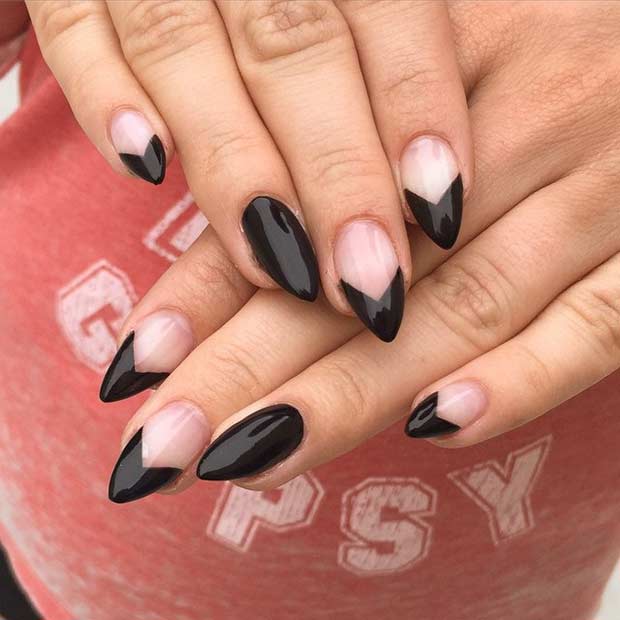 Instagram / malishka702_nails
This will show off your nails as well as the design.  By not painting all of your nails in a shiny black colour, you are drawing attention to the stiletto nails.
19. HALF MOON DESIGN
This works on short and long nails.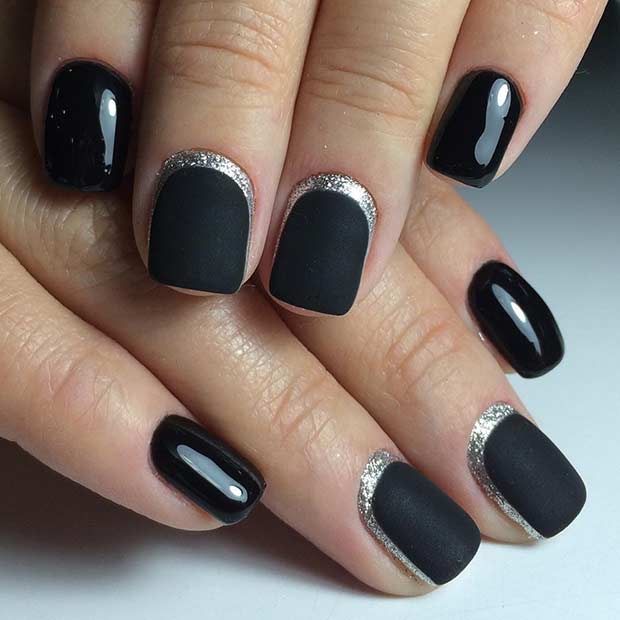 Instagram / kristina_beautynails
Mixing matte and shiny black will show off your character and style.  Adding half-moon designs to your cuticles boost your nails and make them stand out.
20. BLACK NAILS + WHITE MARBLE ACCENT NAIL
Accent nails will show off your design even more so.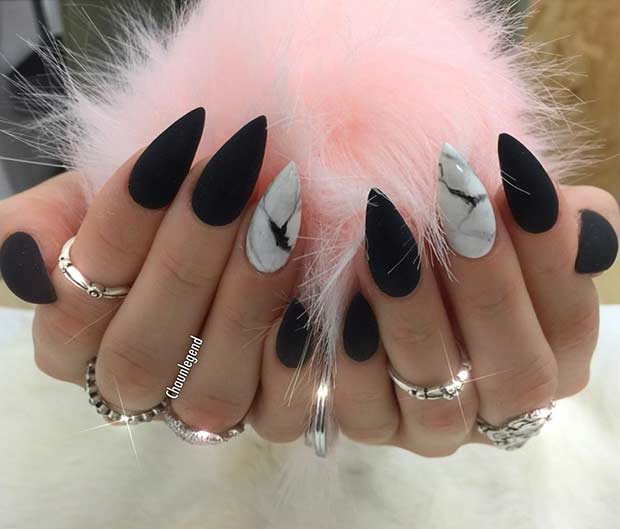 Instagram / chaunlegend
Having a contrasting accent nail looks fab!  Matte black stiletto nails with white marble accent nails look fierce.  This is screaming fashion and style.
21. BLACK QUILTED NAILS
We are loving these black quilted nails!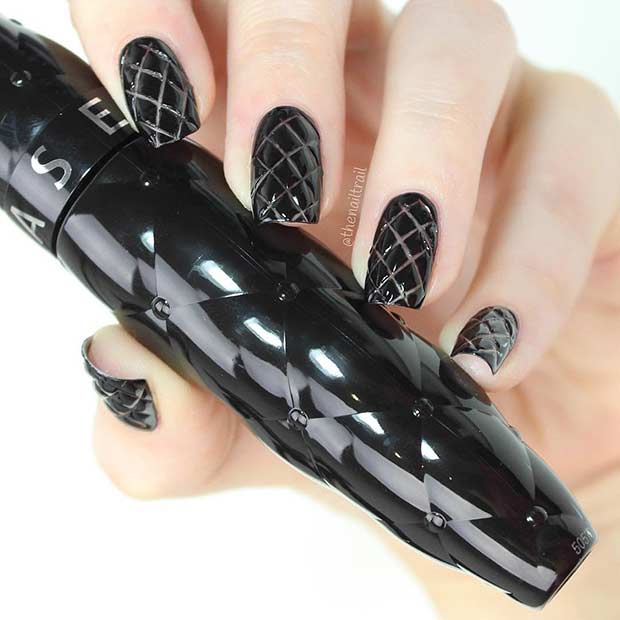 Instagram / thenailtrail
If you are thinking that these somewhat look familiar, maybe you're thinking of the quilted handbags!  We can see these nails are channeling the iconic Chanel quilted bag and we think it's amazing. This is quick and easy to do.  Apply two coats of black nail polish to your nails. Wait for a few mins until it's still soft to create the quilted lines. Then use a ruler to mark the lines, one way then the other.  Wait for your nails to fully dry then apply a top coat.
22. COOL DESIGN FOR SHORT NAILS
Do you have short nails and worry that they look as good as long nails?  Think again!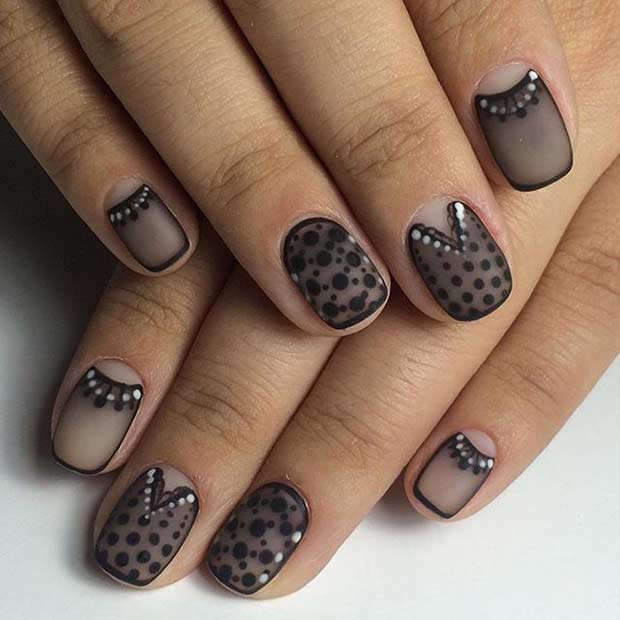 Instagram / kristina_beautynails
This is the perfect nail design for shorter nails.  The black outline will give the illusion that your nails are longer.
23. MATTE BLACK DESIGN
Matte black looks elegant and delicate.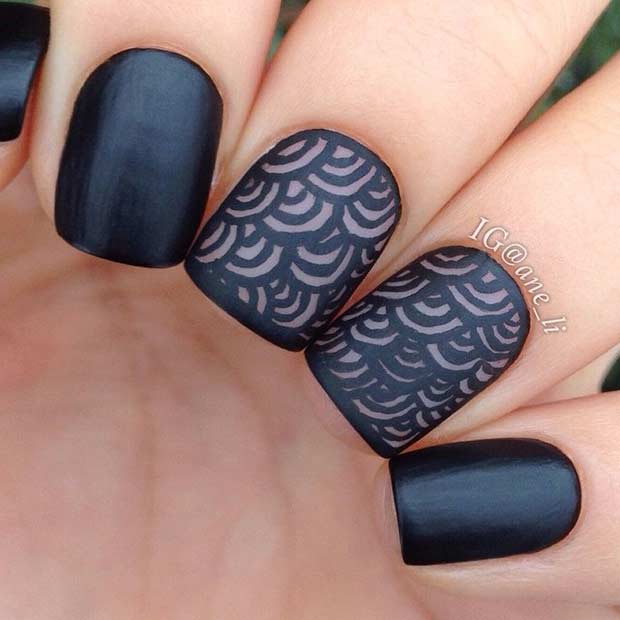 Instagram / ane_li
Team your matte nails with a gorgeous design that looks striking and unique.