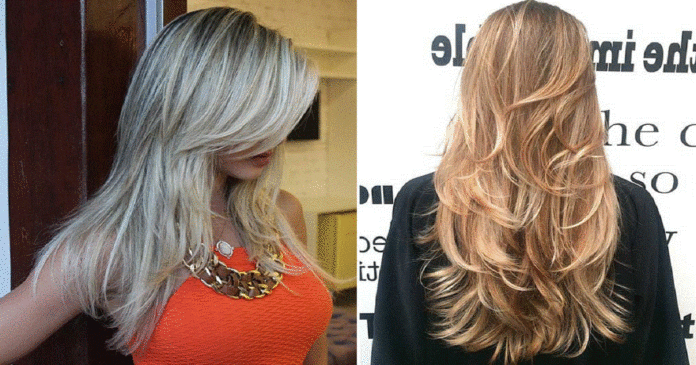 Hair can mean the world to us and it may takes us a long time to find a style we love.  Many of us have long, straight hair but want a change. Adding layers to your hair will not along change the style, keep the length but add volume and boost your fine strands.  Long layered hair looks dreamy and amazing. It is a simple hairstyle that every girl loves. If you have managed to get through the short stages of your hair and now have long, flowing hair, are you thinking of having layers?  Layers in long hair can make a huge change to your hair even though you will still have the length to play with. Opting for layers can reduce weight in your hair and this is ideal for thicker hair. You can have layers in curly or straight hair and we are here to show you.  Switch your hair up a little by adding layers.
1. LONG, LAYERED BLONDE HAIR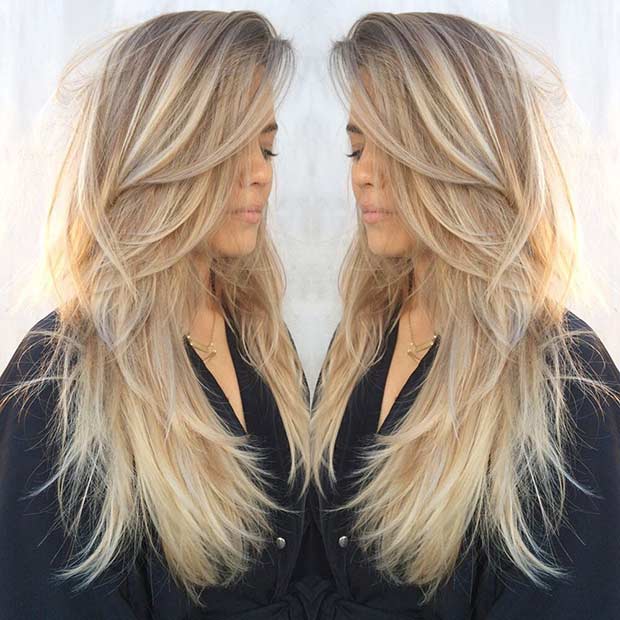 Adding layers to long, blonde hair looks stunning.  It is a versatile hairstyle and you can either wear your hair up or down.  The way you wear it is completely up to you and whatever you choose, your layers will look great!
2. WINDSWEPT LAYERS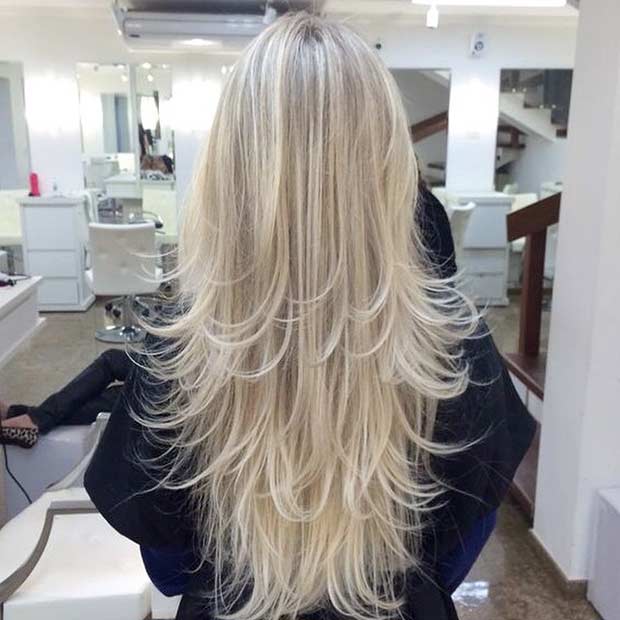 These windswept layers are fabulous for long hair.  They will release your inner Goddess and you will feel that there's a wind machines in front of you forming your gorgeous hair.  It is great for thin or thick hair. Windswept layers create a delicate and girly hairstyle, so go and rock your layers.
3. CURLY, HIGHLIGHTED LAYERS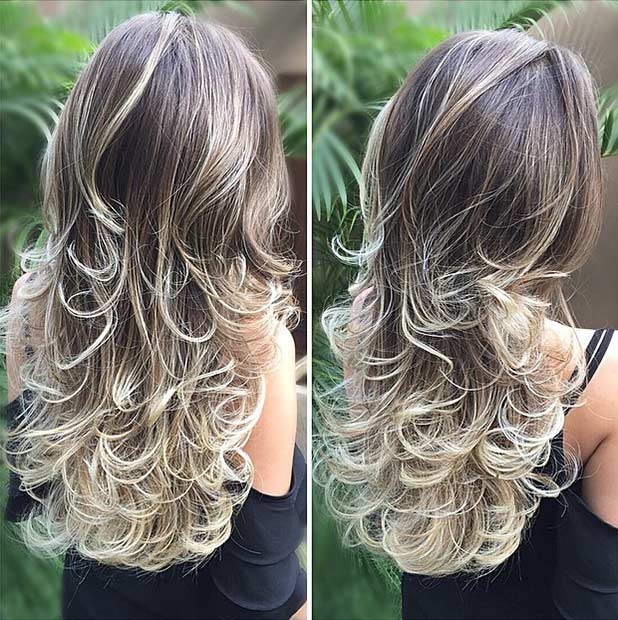 Have a look at this photo to show you that they look great!  The layers will form curly layers and will show off your hair even more so.  By adding highlights to the mix, the layers will stand out and shine. Keep the top of your hair a darker colour for the contrast and the highlights will speak for themselves.
4. LAYERED HAIRCUT FOR BRUNETTES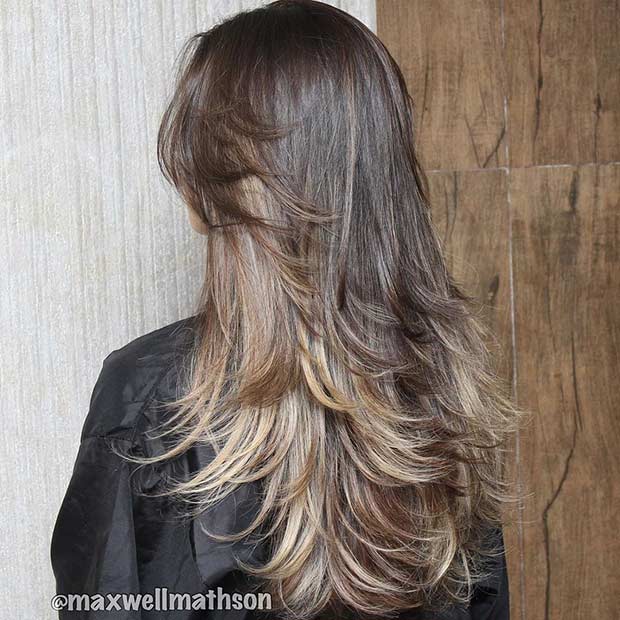 This is a great colour for long hair and layers.  The front layers will frame your face and the back just looks incredible from all angles.  If you do choose this style, keep your hair looking shiny and healthy by using a colour treated shampoo and conditioner.
5. LAYERS + BLONDE OMBRE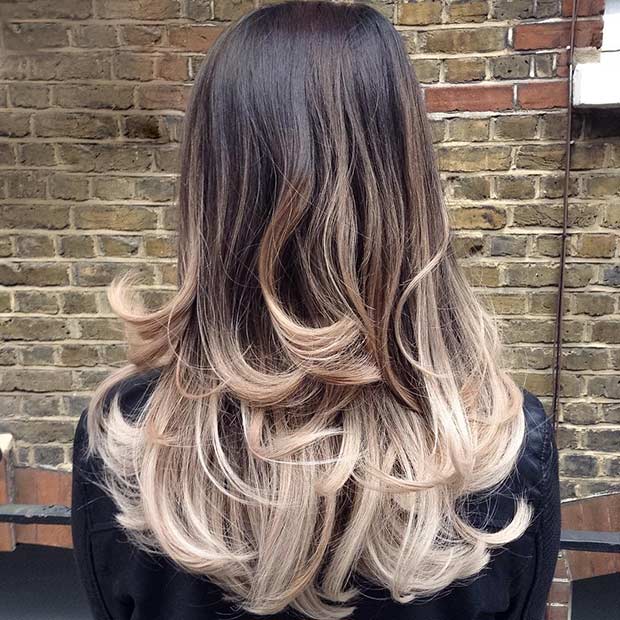 Layers and blonde ombre highlights are a fashionista's dream!  The blonde ombre highlights will show off the layers and complement your hairstyle.  This style looks amazing down, as you can see from the photo above but it also looks amazing tied back.  The highlights really do stand out.
6. CHOPPY LAYERS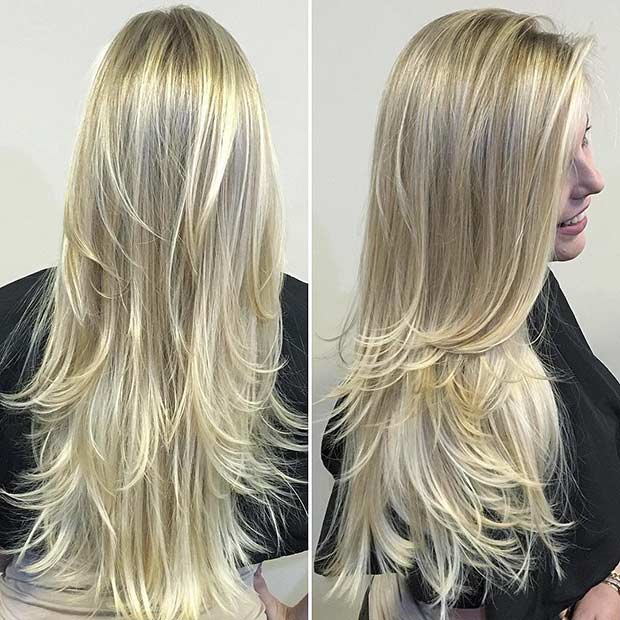 It will leave your hair looking healthy and fabulous.  Choppy layers will create gorgeous views from all angles.  This is one of a hairstylists favourite hairstyle to do at the moment.  It has an edgy and rocker chick vibe.
7. FACE-FRAMING LAYERS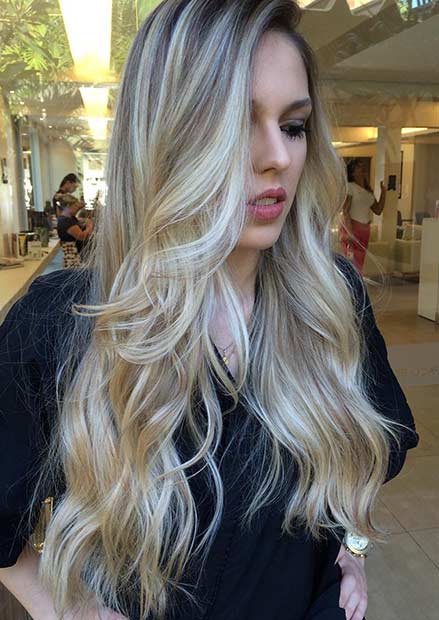 If you have straight down, long hair, add face-framing layers which will create more of a style.  It will highlight your face and your hair will feel fresh. You have transformed your hair into a trending style by just adding a few layers.  It will feel so different to you even though you have kept your hair length which will make you feel fabulous. Walk down the street like you are walking down the catwalk girl!
8. LAYERS + BALAYAGE HIGHLIGHTS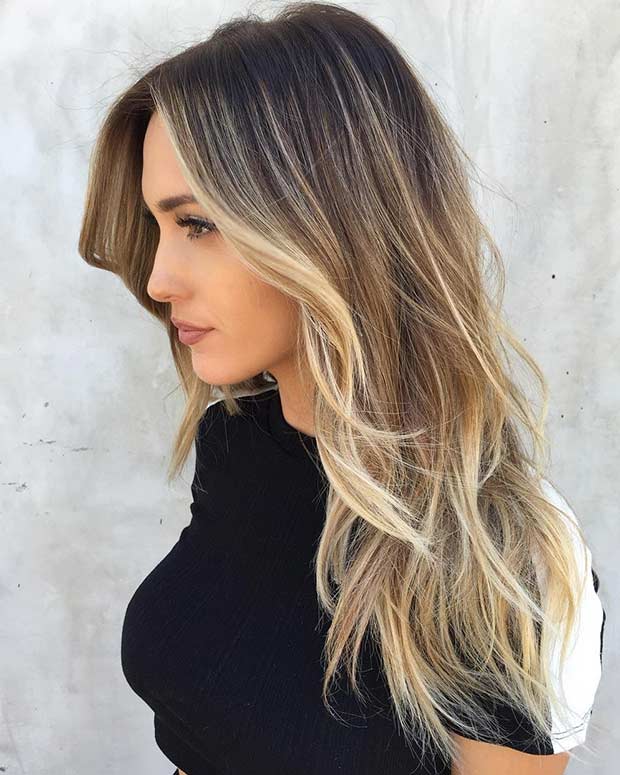 This is for you.  This is a gorgeous long layered hairstyle with balayage highlights.  These highlights are a natural way to add colour without looking too obvious.  This style of highlights is taking the hairdressers world by storm. Many people are opting for the natural look rather than the traditional cap style highlights.  The layers will complement your new technique of highlights and all of your friends will be the envy of your new hair.
9. BLOW-OUT LAYERS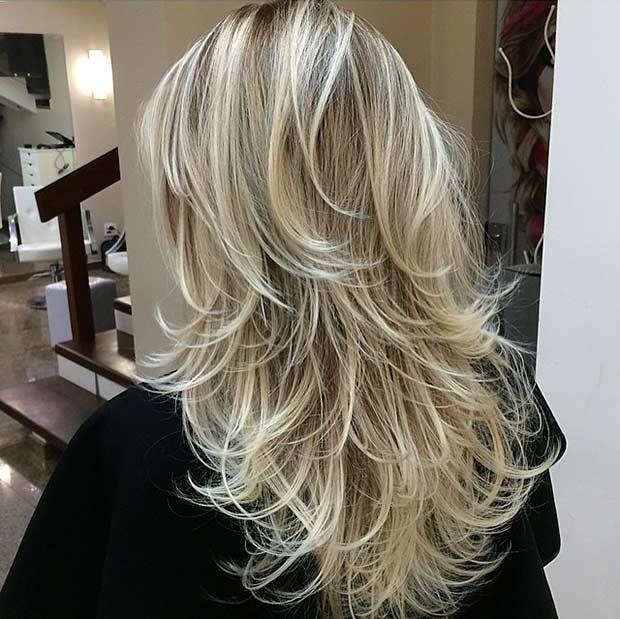 They have a magical appearance and will make you feel like you have visited your hair salon every day.  If the layers are cut like this, you are onto a winner and will look amazing every day.
10. TWO-LENGTH LAYERS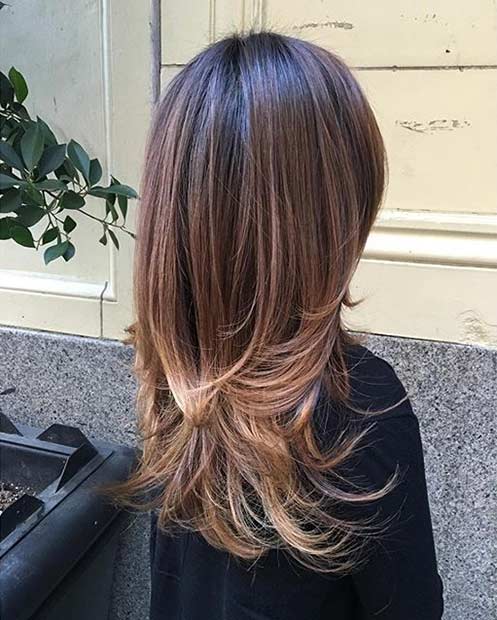 Having the consultation with your hairdressers, talking about that you want a layered style is easy but if you want a styled layered look, you need to elaborate.  This is a two-length layer style. It looks incredible with a hint of colour at the end of the layers.
11. FRONT LAYERS + BALAYAGE HIGHLIGHTS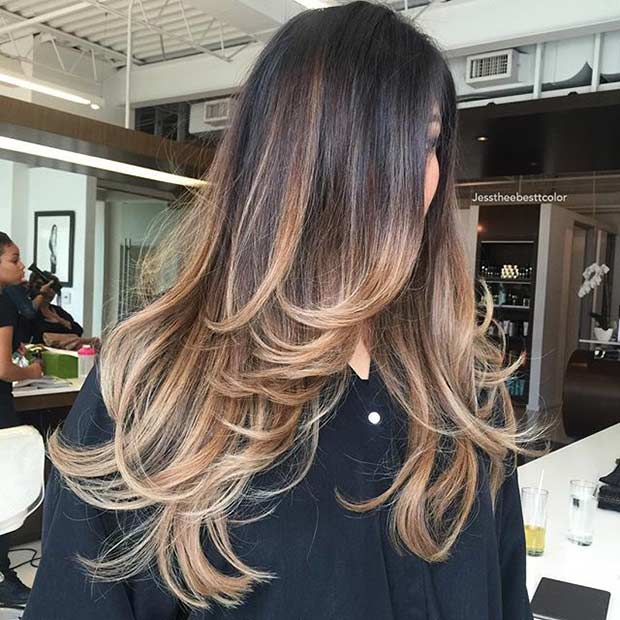 This is a good style to have.  It has long front layers and balayage highlights.  People will be instantly drawn to your hair and it will look amazing.
12. SIMPLE AND SUBTLE LAYERED HAIRCUT
To add volume and a little life, have a few simple and subtle layers.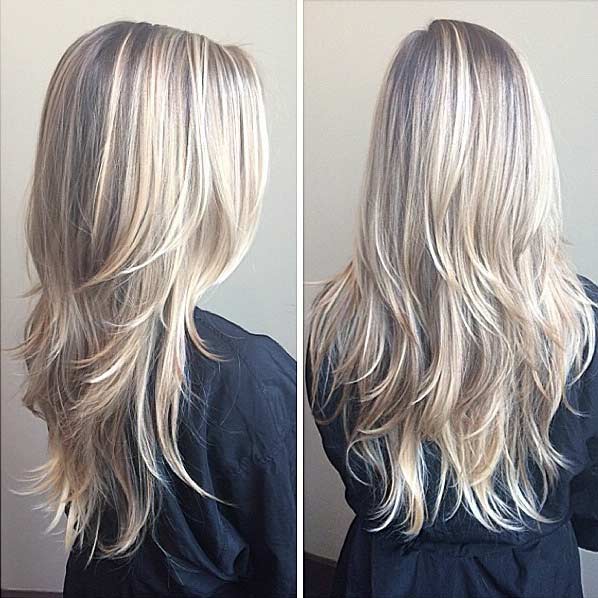 Just add a few here and there and you will notice the difference straightaway.  Your hair will get a new lease of life which will keep you and your hair happy.
13. LONG LAYERS + BALAYAGE OMBRE
If you have long hair, and when we say long, we mean long, maybe think about adding longer layers.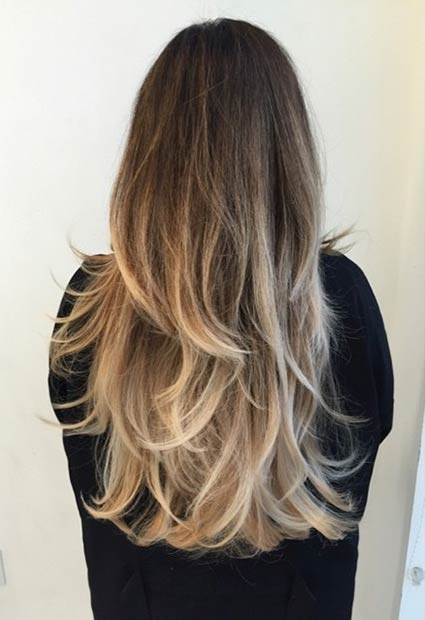 Long layers will make your hair look even longer and mixed with balayage ombre highlights, you will be trending with all of your friends.  This is for a fashion forward girl with fashion on the brain. You cannot beat this style for fashion trends and style.
14. CHIN-LENGTH LAYERS
Chin length layers will show off your hairstyle and make your hair look bouncy and healthy.
It is a style of its own and looks great up and down.  If you ever get bored of your chin-length layers, which we think you won't, you can always have a half up, half down hair do which will still show off your longer layers.
15. SLEEK AND STRAIGHT
Thin hair can benefit from having a few wispy layers.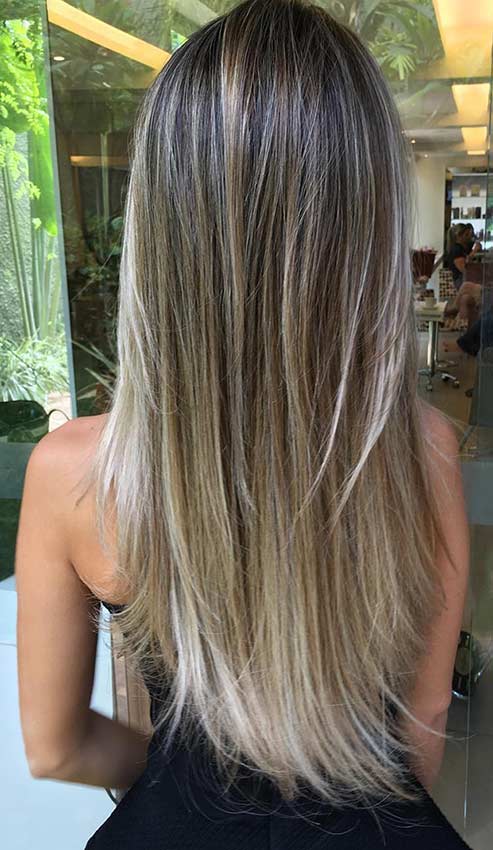 Try not to go overboard and have a lot of layers because we think less is more.  Thin hair with wispy layers can add style and show off your creative side. Keep the style quite simple and easy to maintain.  You have the length, the style so there is no need to add anything else to the mix.
16. CLASSY STYLE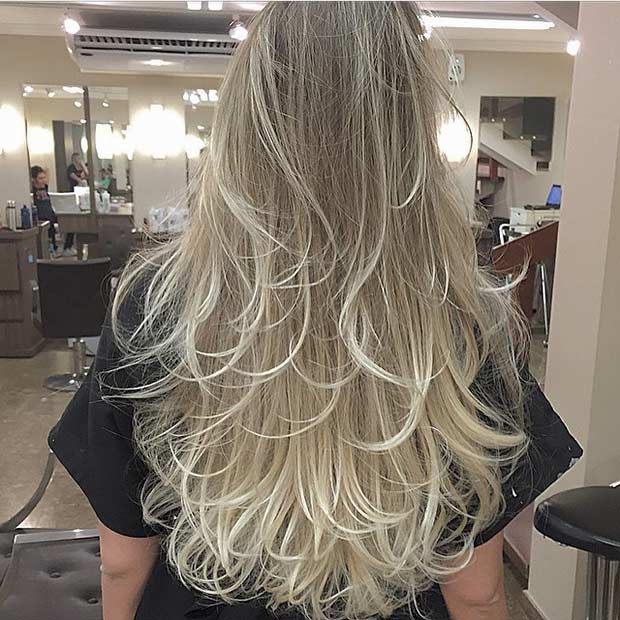 Adding layers to your long hair will show your classy side and it's timeless!
17. BRONDE, CHIN-LENGTH LAYERS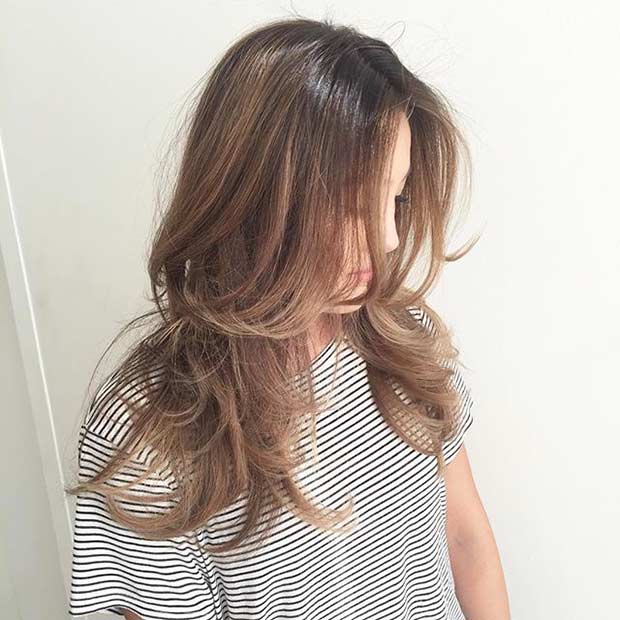 For all of you that don't know, bronde colour is a cross between blonde and brunette.  It is the new term people are now using to describe this colour. It is a lovely, natural looking hair colour and is perfect to team with chin-length layers.  It will add your style and character and is suitable for any occasion.
18. MULTI-TONED LAYERS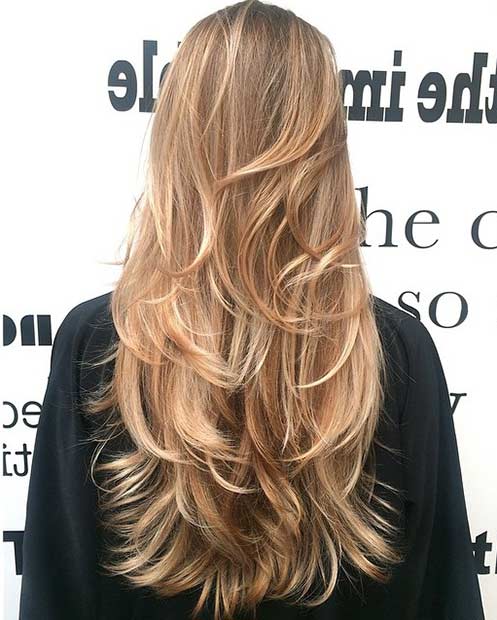 If you want to show off your layered haircut, add a few strands of colours to finish the look.  Your hair will look stunning when the light hits your tones. It will shine and stand out.
19. LONG LAYERS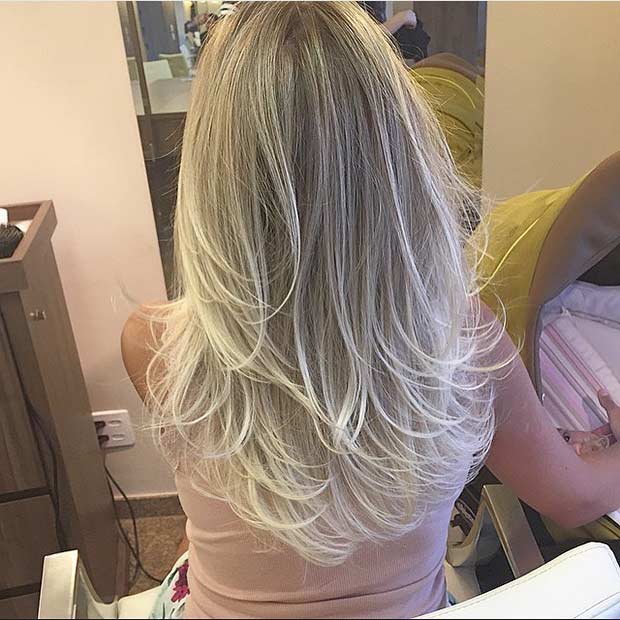 Longer layers are great if you are nervous about cutting your hair.  Many people like to keep the length and you can have the best of both worlds with this style.  The layers can come into effect quite far down so you still have the length around your face and you can still tie your hair back.  Many people have longer layers cut into their hair and once they have gotten used to them, they go back and have shorter layers. I guess you have to experience the longer layers before you go for the shorter ones.
20. LAYERED HAIRCUT WITH A TOUCH OF BALAYAGE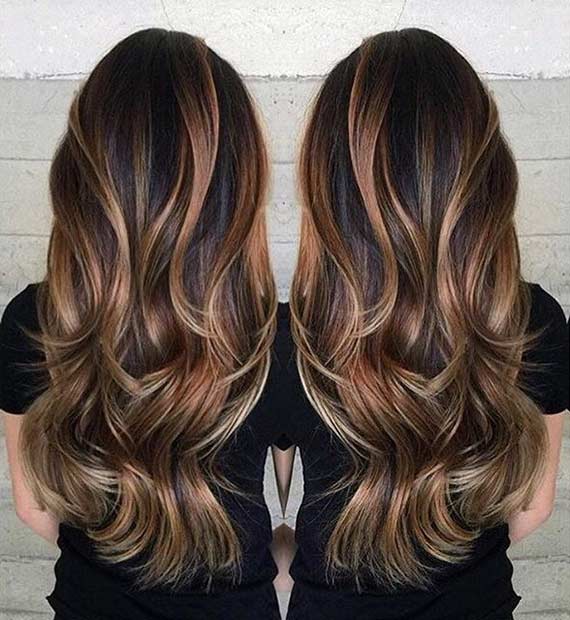 They are applied by free hand and your hairdresser will create a natural and gorgeous look.  Adding layers to the sections that are highlighted is also a great way to show off your style and colour.  Think of it as showing off your cut and colour in one hairstyle!
21. FEATHERED LAYERS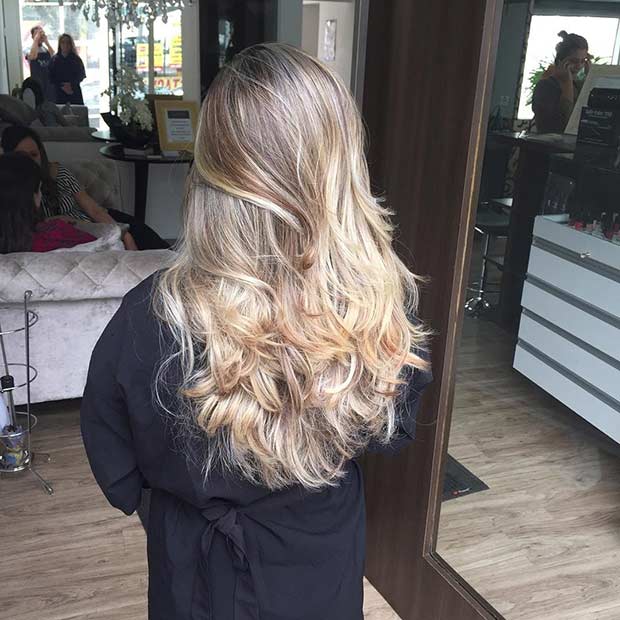 These layers are heavier than the traditional layers but create something special and girly.  They are feathered layers and your hair will flow so naturally when moving.
22. LAYERED HAIRCUT WITH LOWLIGHTS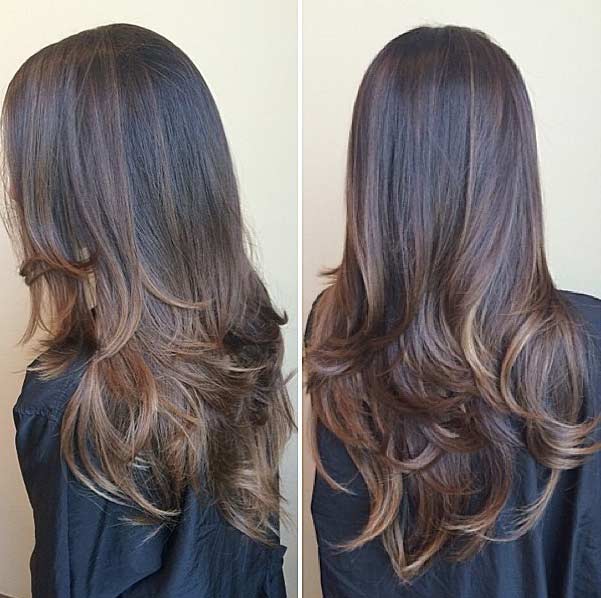 This layered style with added lowlights, look stunning.  They make your hair look silky and smooth.
23. SUPER LONG, LAYERED HAIRCUT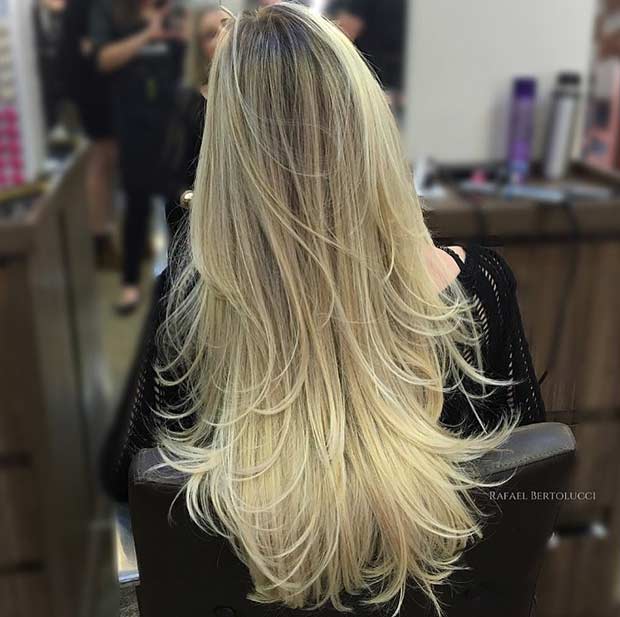 Having long layers in super long hair, looks great.  You can see the length is still there but the layers add a sexy style.
24. TEXTURED LAYERS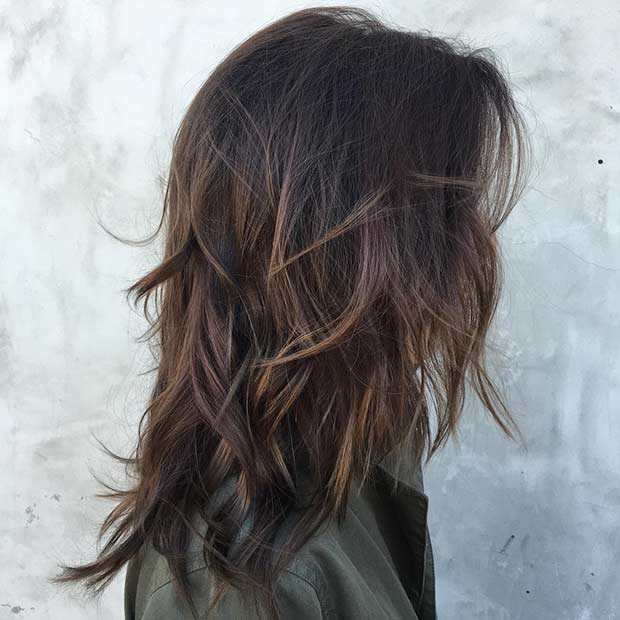 Your hair will become movable and it will have a lovely textured, layer style which looks great for any occasion.
25. LAYERED HAIRCUT WITH BABYLIGHTS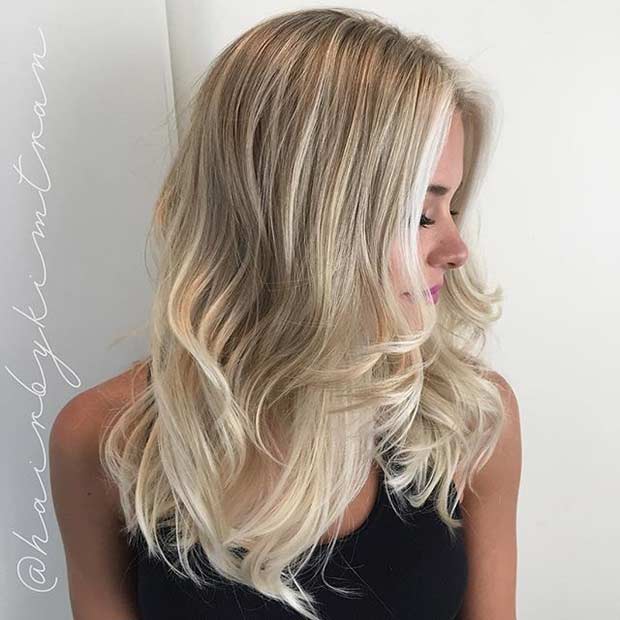 Having baby highlights will set off your haircut whilst showing a delicate and girly side.
26. LAYERED HAIRCUT WITH LONG SIDE BANGS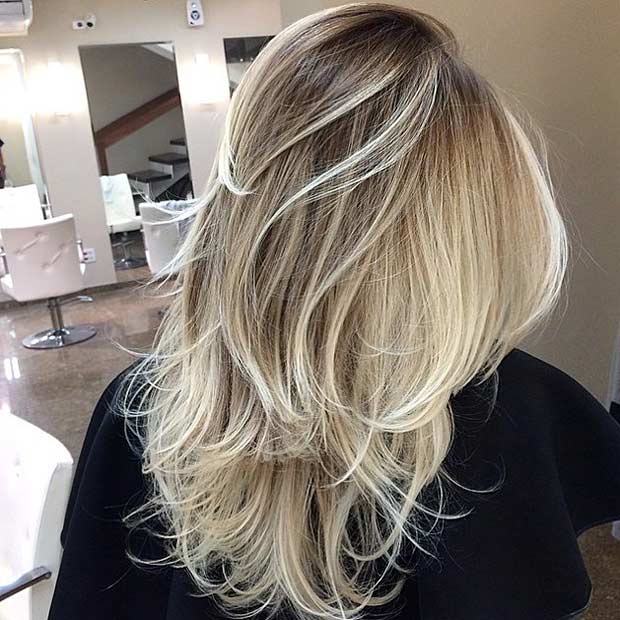 We all the know the feeling of wanting to change our hair but are too afraid to change it.  Whether this be due to not wanting to lose the length or are afraid of the change. Whatever you are feeling, choosing to have longer side bangs will ease your nerves.  If you want to change your long hair but want to keep the length and want to add a fringe, go for this. You will still have the security of the length and you will be able to tie you hair back if you wish to do so.  Taking the first step to having longer bangs, will be a great feeling. The layers will give your hair a natural bounce when you walk and you will look in the mirror and wish you had done this sooner! Don't wait any longer, call your hair salon and book that appointment in time for the lovely summer days!
27. SHOULDER-LENGTH LAYERS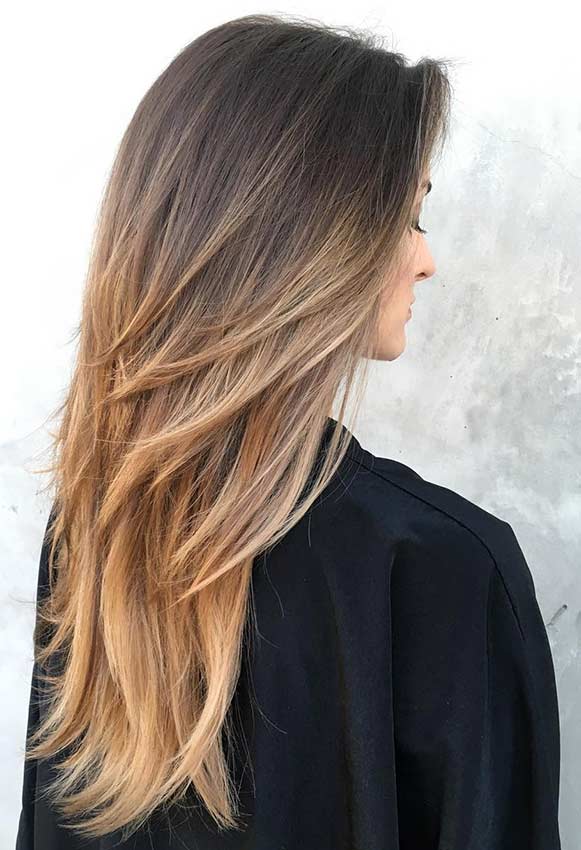 This may sound weird but we can see two styles in this hairstyle.  It has the long hair style and the shoulder length hair style. With shoulder-length layers, you are creating a gorgeous two-style haircut.
28. BLONDE LAYERS + SIDE BANGS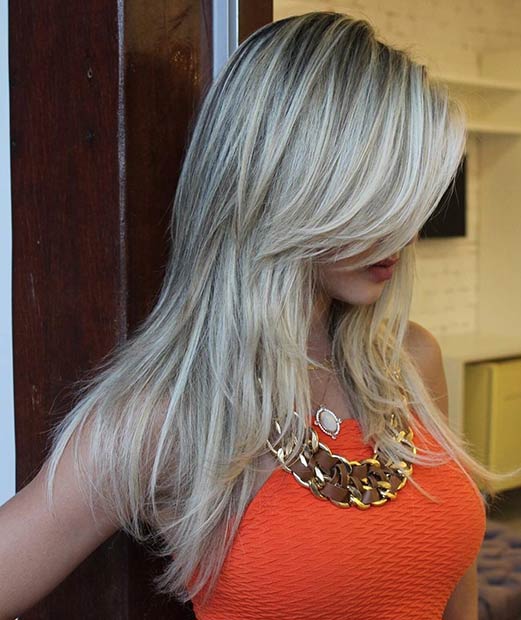 This is a sexy hairstyle with blonde layers and side bangs.  The side bangs will frame your face and the blonde will show off your hairstyle.