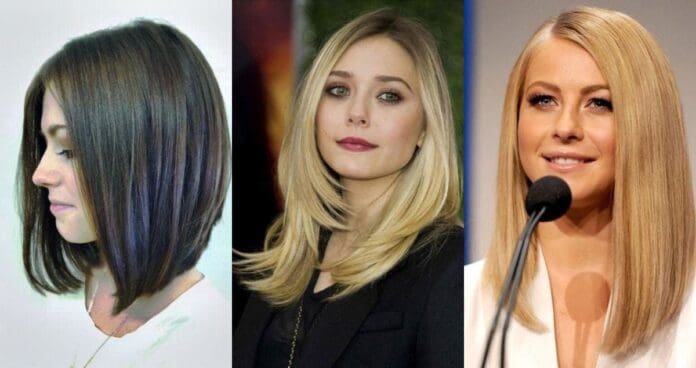 Long angled bob hairstyles are very fashionable. They have been gaining a lot of momentum lately among young women. If styled correctly, such bobs look great on any type of hair. They will look especially well on women with oval or round faces. However, girls with triangular, heart and square-shaped faces can also choose the right angled bob for themselves. These bobs go from wild and outrageous to strict and professional. All you need to do is take your best pick.
Modish Long Angled Bob Haircuts & Hairstyles
Whether you are a fan of long angled bobs or just decided to take a look at them, you have come to the right place. We prepared a list of 55 amazing long angled bob hairstyles for you to browse and choose from. Pay special attention to your face and hair type. Girls with triangular faces should go for shorter angled bobs, while ladies with round faces should consider longer ones. Remember, that the asymmetry is in style, so take a look at the asymmetrical bobs, which can make you look really fashionable. Also you can check other bob haircuts and hairstyles here.
1. Long and side swept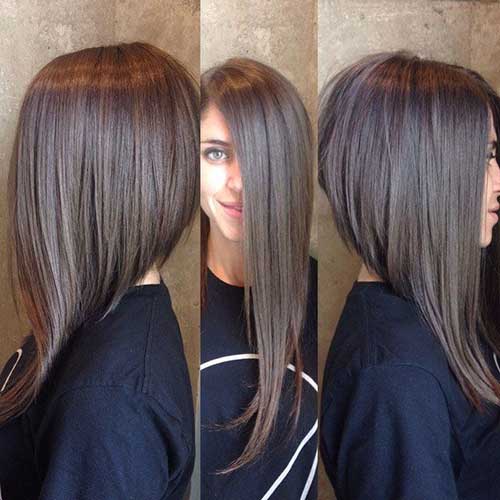 This long angled bob style is great for women with round faces. The hair is cut very short in the back, while one long angled part is created in front. The back hair is layered. Styling such bob is complicated, but the result really makes a long-lasting impression.
2. Shoulder length bob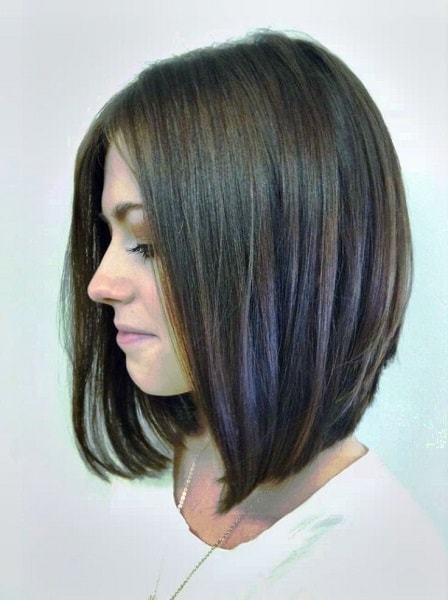 This is one of the most popular angled bob hairstyles. The hair is cut a little shorter in the back and becomes longer toward the front. This style is great for straight hair, regardless of its thickness. Daily styling is recommended.
3. Asymmetry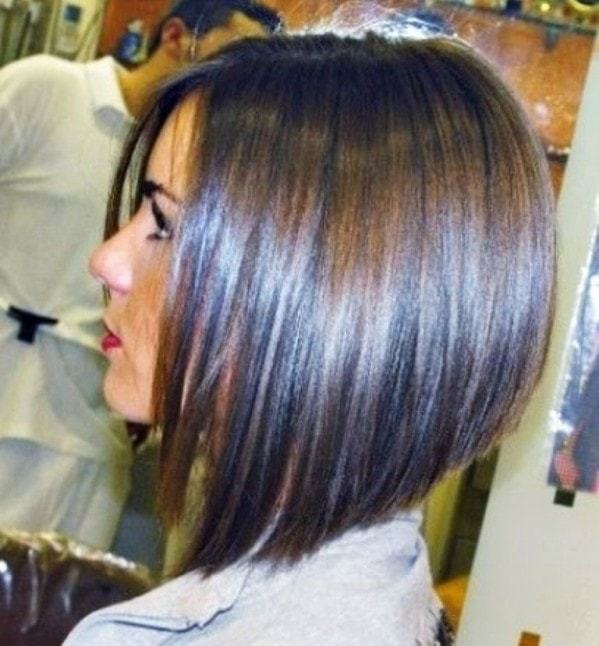 Classical angled bobs are shorter in the back and gradually become longer in front. There is also an asymmetrical variation. Several frontal strands are cut short in order to create a triangular look. Give it a try!
4. Ombre
Ombres look fantastic on any hairstyle. So, why not give one a try on the long angled bob? Dye your bangs and lower strands with darker color than the rest of your hair and your bob will get a fresh new look.
5. Burgundy and fabulous
Experiment with the color of your new angled bob. Burgundy bobs look fantastic on women, whose natural hair is dark. Colored hair usually gets drier, which can make it easier to style. Keep your burgundy bob neat with special hair cosmetics for dyed hair.
6. Blond and long
Blond is a great choice of color for many women with long angled bob hairstyles. Usually this color adds volume to the long bobs and makes the hairstyle easy to manage. Add some bangs to your bob to make it look even more fantastic.
7. Raven black with bangs
Messy raven black hair is considered very sexy. So, if you are going for a long angled bob, raven black will be a great option. Bobs are hard to keep neat. The choice of color frees you from this responsibility.
8. Creative highlights
If you want to make your angled bob really stand out of the crowd, go for creative highlights. Such bobs are often picked by girls who want to make a statement, so wild highlights are a great choice. Experiment, experiment, experiment!
9. Various angles
If you are a big fan of angeled bobs, but don't really like managing them, take a look at this hairstyle. This messy look is achieved by alternating angles. Even if you forget to brush your hair, it will still look amazing.
10. Outlined bob
If you want to outline your angled bob, go for special highlighting. Dye the frontal strands of your bob with a darker color than the rest of your hair, as shown in the photo. You will get a truly unique look, which will keep some heads turning.
11. Slight angles
Girls with thick hair can go for a slightly angeled bob. There is no reason to make a sharp angle to make this hairstyle look fashionable. Thick hair will look great with oblique angles. The longer the hair, the better it will look.
12. Straight and brown
Your natural hair color always looks fantastic. A long angeled bob will look amazing on naturally colored straight hair. Make sure to brush it often. This hairstyle looks great only when its neat. If you are not a fan of brushes, you need to go for other variations.
13. The classics
This classical long angled bob hairstyle is great for women with straight hair. There are no bangs and the angles are sharp. It looks best on dark hair, but can be a good idea for blonds as well. Don't know which style to choose? Go for the classics.
14. Side swept bangs
Long angled bob with bangs looks great if they are side swept. However, bangs still take the attention away from the angles. So, if you want to emphasize the angled part, try to avoid long and voluminous bangs.
15. Wispy bob for thin hair
If your hair is thin, you can go for a wispy angeled bob. Style your hair to have more volume by using a round brush and a hair drier. Don't make the angles too obvious, otherwise the thin hair will stand out.
16. Add some volume
Angled bobs look great with straight hair. However, they look even better with some volume. Make sure your stylist makes several layers on the back part of your hair. This way you can easily create volume by just using the hair drier.
17. Asymmetrical levels
Nowadays fashion equals asymmetry. So, when you have a chance to go asymmetrical, take it! Angled bob hairstyles look fantastic when the sides are different in length. The difference can be rather obvious or not too eye catching. Take your pick!
18. Layers
Layered long bobs look fantastic on women with any hair type. However, such hairstyle is quite tough to keep neat, so be ready to spend some time in front of the mirror. You will surely like the result.
19. Long eye-covering bangs
Eye-covering bangs create a sexy look for any angled bob hairstyle. If such bangs don't make you feel uncomfortable, you should definitely try them out. You can always side sweep the bangs away from your eyes, once you get tired of this hairstyle.
20. Rihanna style
This bob became popular thanks to Rihanna. It has all the qualities of a fashionable long angeled hairstyle. There is some asymmetry and neat wispiness. If you want to look stylish, follow Rihanna and you won't regret it.
21. Soft Waves
These soft waves look totally gorgeous. All you need to do is curl your hair with curling irons and then run a comb through the curls before adding any holding spray. This will give your curls a natural look.
22. Gorgeous Curls
These salon fresh curls look gorgeous with an angled bob cut. To get your curls to look this good, you will need to use heated irons on small sections of your hair. Curl for a few seconds, take your hair off of the iron, then set the curl with holding spray immediately.
23. Barely There Waves
This style only has the smallest hint of a wave. A small wave helps to give thinner hair a little bit of texture and volume which can help it to look less lifeless.