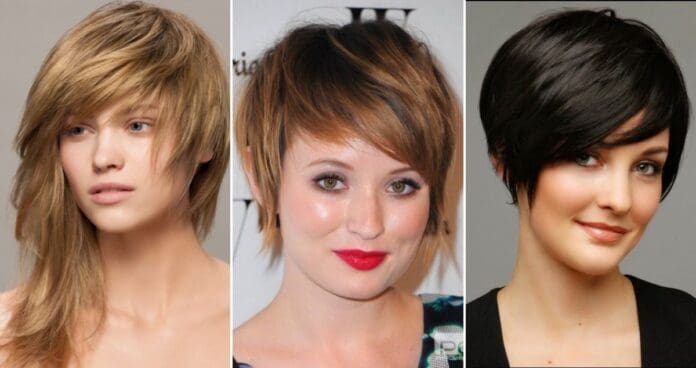 The Best Short Hairstyles for Round Faces
Some women with round faces want to draw attention away from the roundness, while others want to emphasize this special feature. No matter which camp you belong to, you will definitely find a suitable option among the short hairstyles for women with round faces that we are offering here. Let's take a look.
1. Voluminous bob
Bobs are usually the best choice to arrange short hair for round faces. In order to make the face seem a little elongated, the top part of of the bob is graduated to make some volume. The bottom part is just neatly arranged.
2. Long straight bangs
Long straight bangs are a great way to emphasize the best qualities of the round face while making the cut seem very stylish. The rest of the hair can be asymmetrical to add some more flavor to the style. However, this cut is very high-maintenance.
3. Over the shoulder look
This bold asymmetrical cut combines the pros of the bob and eliminates the cons of long hair. The hair is cut in a special way to allow a windblown bob to make a great combination with longer hair on just one side. This style can easily be turned into a regular bob, if for some reason you don't like it.
4. Soft waves with long bangs
Soft waves is one of the most interesting short hairstyles for girls round faces. The waves are neatly arranged to hug the face in such a way that the roundness is shown in its best light. Long bangs add a little square form.
5. Graduated straight bob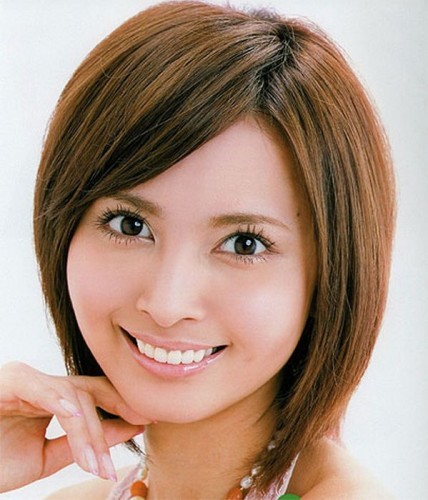 Straight hairstyles are often the best choice for women with round faces. Graduated bob without any volume to it will look great on a round face. In this case the face shape itself adds volume to the hair and not the other way around.
6. Asymmetrical bob
Asymmetry is the round face's best friend. It creates an impression of elongated chin, which counters the effect of volume the round face sometimes makes. The bangs should be brushed to one side in order to make more corners.
7. Graduated tousle
Graduated tousles are real saviors for women with thin hair and round faces. The layers produce the impression of a lot of volume on top, white short hair down the neck provides an elegant finish to the style.
8. Highlighted bob with asymmetrical bangs
Highlights are a great part of short hairstyles for round faces. Playing around with different shades of color will allow you to take the volume off the face and smoothly transfer it to the hair. Asymmetrical bangs are always great helpers.
9. Youthful bob
Such hairstyle can be called nothing but very cute. Such rounded bob will make any woman look youthful and vibrant. Long bangs add just a little wilderness to the look, while the different hair length lets the cut stand out of the crowd.
10. Voluminous pixie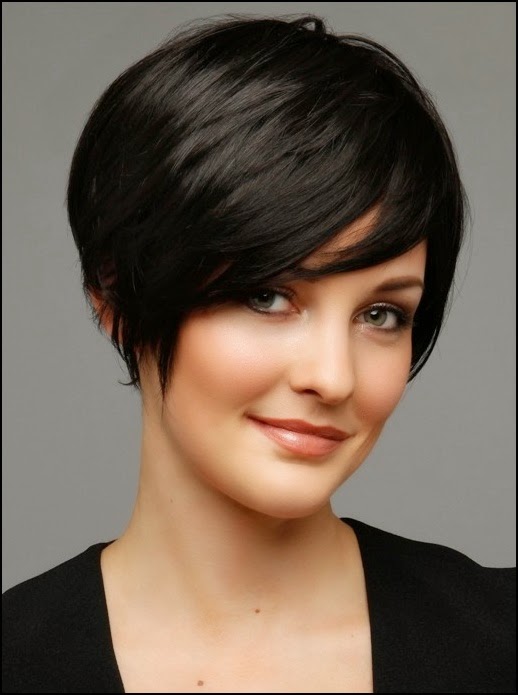 The voluminous pixie serves the purpose of accentuating the attention on top of the head, while making the face shape seem less round. The ears are partially covered which will appeal to the girls, who don't like their shape.
11. Straight shoulder length bob
This is a great look for women with thin hair. The style might need a little maintenance but it is truly worth it. This simple cut will make any woman with a round face look outstanding. Bangs can be played around with as well.
12. The short perm
Messy short curls do wonders to create a cute and a somewhat wild look in women with round faces. Natural curls might not need much maintenance, however, a perm will require some styling. If most of the curls are kept up top, the hairstyle with wonders for face elongation.
13. Layered pixie
A layered many short pixie is a great way short hair for round faces can be styled. The best part about it is the easy to achieve volume and minimal maintenance. Such pixie will make any woman look younger.
14. Short curly flip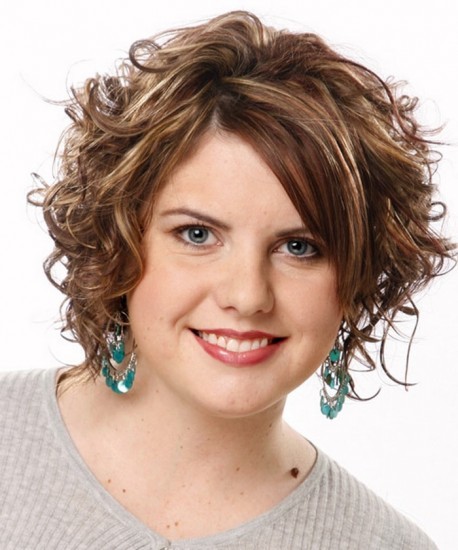 The lively nature of the short curly flip is very feminine and will add any woman some extra vibrancy. Due to the voluminous curls the top part of this model's face is accentuated, which makes an impression of elongated face shape.
15. Windblown bob
This is a very charming way to shape a bob. The windblown appearance draws attention to the hair and opens up the face. The style might be hard to maintain, but there is no other way to achieve such vibrant uniqueness.
16. Classical straight bob for women with round faces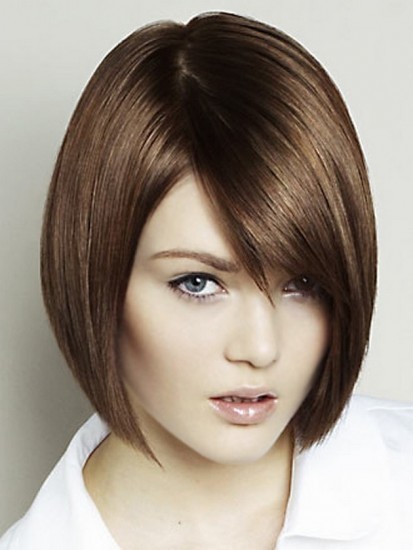 The classical straight bob is often a great style of choice for women with round faces. The hair accentuates the facial curves, however, the sharp straight ends make an impression of an elongated chin, which is great for the round face shape.
17. Hair extensions
Hair extensions is a way out for those women with round faces, who are tired of short haircuts. So if bobs and pixies have become dull and boring, hair extensions are the best choice. The longer the hair the less obvious is the round face type.
18. Wavy shag
Short wavy shag is a great way to emphasize the round or heart-shaped face while keeping a stylish and low-maintenance cut. Lucky owners of thick and wavy hair can make different shags of any length without losing any style.
19. Spiky highlighted tousle
Using spikes is a great way to reduce some roundness. Properly chosen highlights add any short haircut a lot of style. Spiky highlighted tousle is an amazing mix of three different approaches to making a short haircut look fabulous.
20. Elevated layers
Elevated layers make an unusual hairstyle, which will make you look amazing and stand out of the crowd. This hairstyle is great for special occasions and requires some serious maintenance. The vibrancy it creates will leave any woman satisfied.
21. Spiky pixie
A spiky pixie will make any women look younger and wilder. While this style might seem fit for the younger generation, women over 40 can easily try it and be amazed of the results. Proper highlighting is a must.
22. The wet shag
Shags are always a great choice for round faces. Playing around with shags will show you that one simple haircut can have any style. Adding a wet look to the shag will provide it with a special sexy look, which is quite easy to achieve.
23. Layered bob
This charming layered bob will fit women of any age. It is also great for any type of straight hair, since it makes an impression of neat volume. This particular bob is done with long layers which give it an impression of a straight haircut.
24. Wild colored undercut
An undercut is a bold enough choice for a woman. An undercut with wild colors is bound to be a hit. Playing around with different unusual undercut styles is a great idea for women with round faces. Spikes on top are a bonus!
25. A textured pixie
Pixies have a lot of amazing properties. First and foremost they will make any woman look younger. A textured pixie gives an impression of a more youthful style with a lot of volume on top.
26. Creative styling
Getting creative is always a great way to diversify your style and make yourself feel outstanding. Braiding long hair to make a short hairstyle, while playing around with highlights is a bold way to stand out of the crowd.
27. Braided hair
Making a run around braid is a great way to add some flavor to short hair. Not many women can do this on their own, but a visit to the hair salon is a thousand times justified by the result.
28. Keep it straight
Sometimes it is not necessary to come up with a complicated hairstyle in order to look your best. Wearing your hair straight and neat is one the best choices for women with the round face type. However, the shorter you keep them, the better.
29. Graduated shag
Graduated shag is a great way to manage the short hair for young teenage girls with round faces. Thick hair is often umanegeable, so the graduated shag with a messy look is the best option out there. The style doesn't need much hair cosmetics, which makes it even more attractive.