Short light brown hair is a faded brunette color, paired with a cropped pixie or a bob cut. This look is low-maintenance, benefits all hair textures, and suits most face shapes. Stylist McCall Dunn of Theory Hair Salon in Bozeman, MT shares a few tips relevant to this hair idea. "Take your face shape, hair density, and lifestyle into account when choosing the cut," says Dunn. Moreover, consider your budget as short haircuts require frequent trims, especially with a thicker mane. Ladies with pin-straight hair must avoid getting a pixie. These strands tend to stick out everywhere with a shorter-length cut. Dunn rather suggests "\a length between the ear and under the chin, then add some fringe." Short hair opens up the face, giving prominence to ladies' facial features. If your facial structure has strong attributes, consult your stylist before moving forward. "As for the shade, look what flatters your skin tone, eye color, and overall style," Dunn recommends. Women of any age can pull off this look as long as the execution is flawless. Styling tips and product knowledge are also crucial to get the style that best expresses you! Explore a new hair color and cut. Check out these inspiring photos of trendy short light brown hair ideas for inspiration!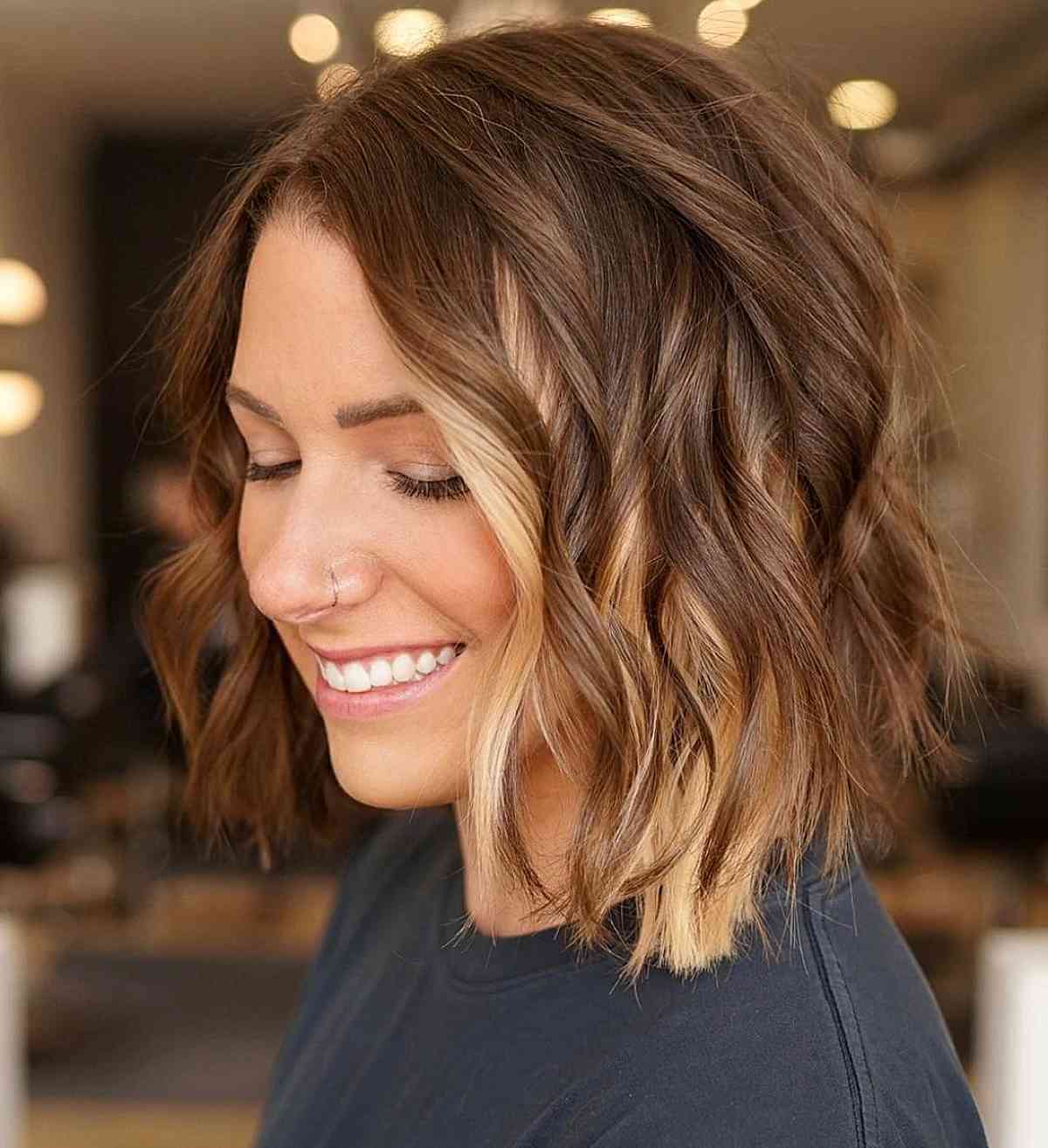 #1: Long Chestnut Brown Bob with Blonde Streaks
A long chestnut brown bob with blonde streaks brings the 90s back. This bold take on short light brown hair with blonde highlights makes this more than your average everyday look.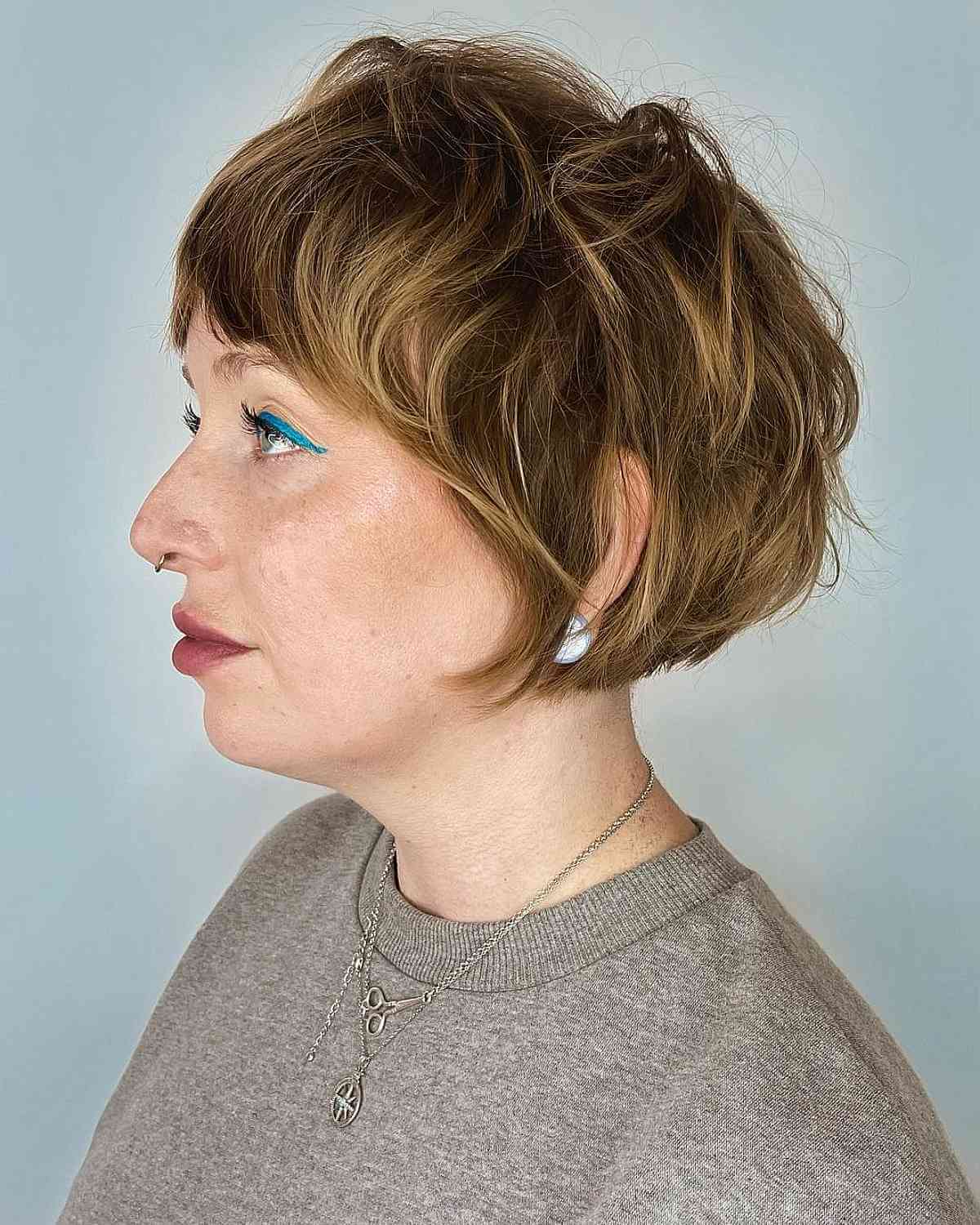 #2: Honey Brown French Bob with Shaggy Layers
A honey brown French bob with shaggy layers is a 70s-inspired dream. This feminine crop and funky hair color idea are retro and sexy.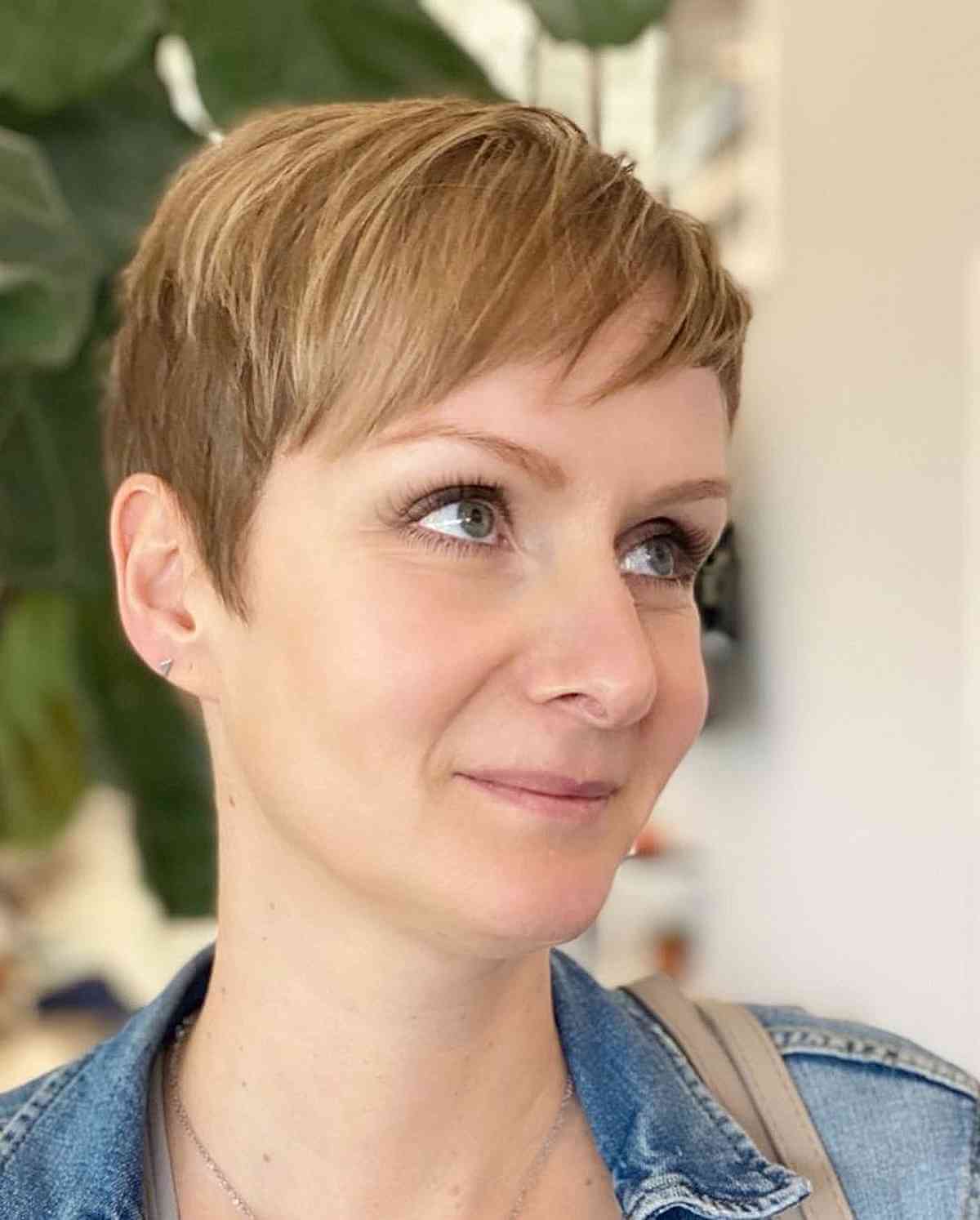 #3: Very Short Light Brown Hair
Very short light brown hair is a beautiful way to open up the face. Lighter tone highlights add more texture to the cut and elevates the lighter brown.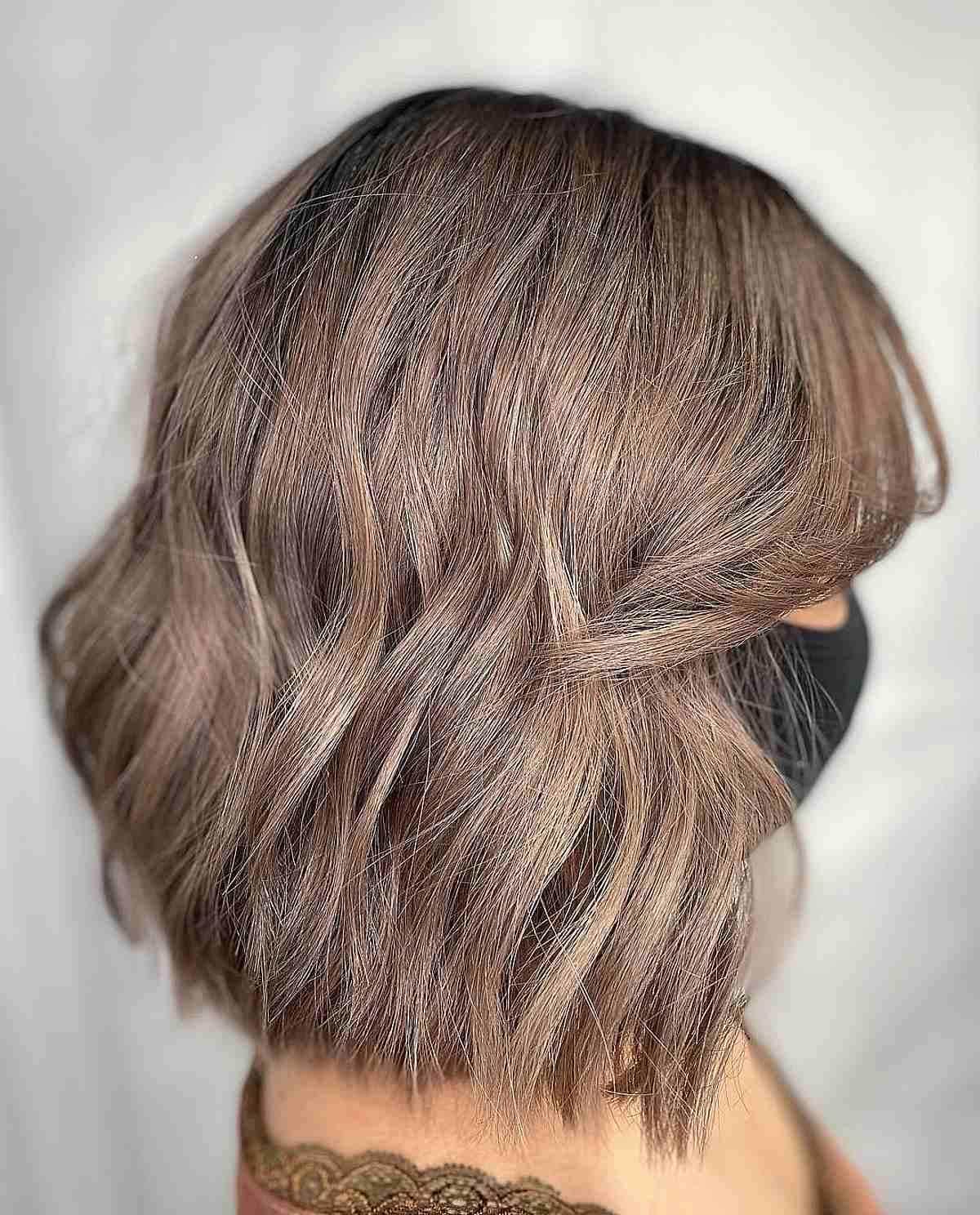 #4: Ash Brown Balayage on Short Hair
Getting a balayage that's ash brown can look amazing, especially on shorter hair. Light ash brown on short hair that's naturally dark could take several appointments to achieve. Plan for color touch-ups every 6-8 weeks.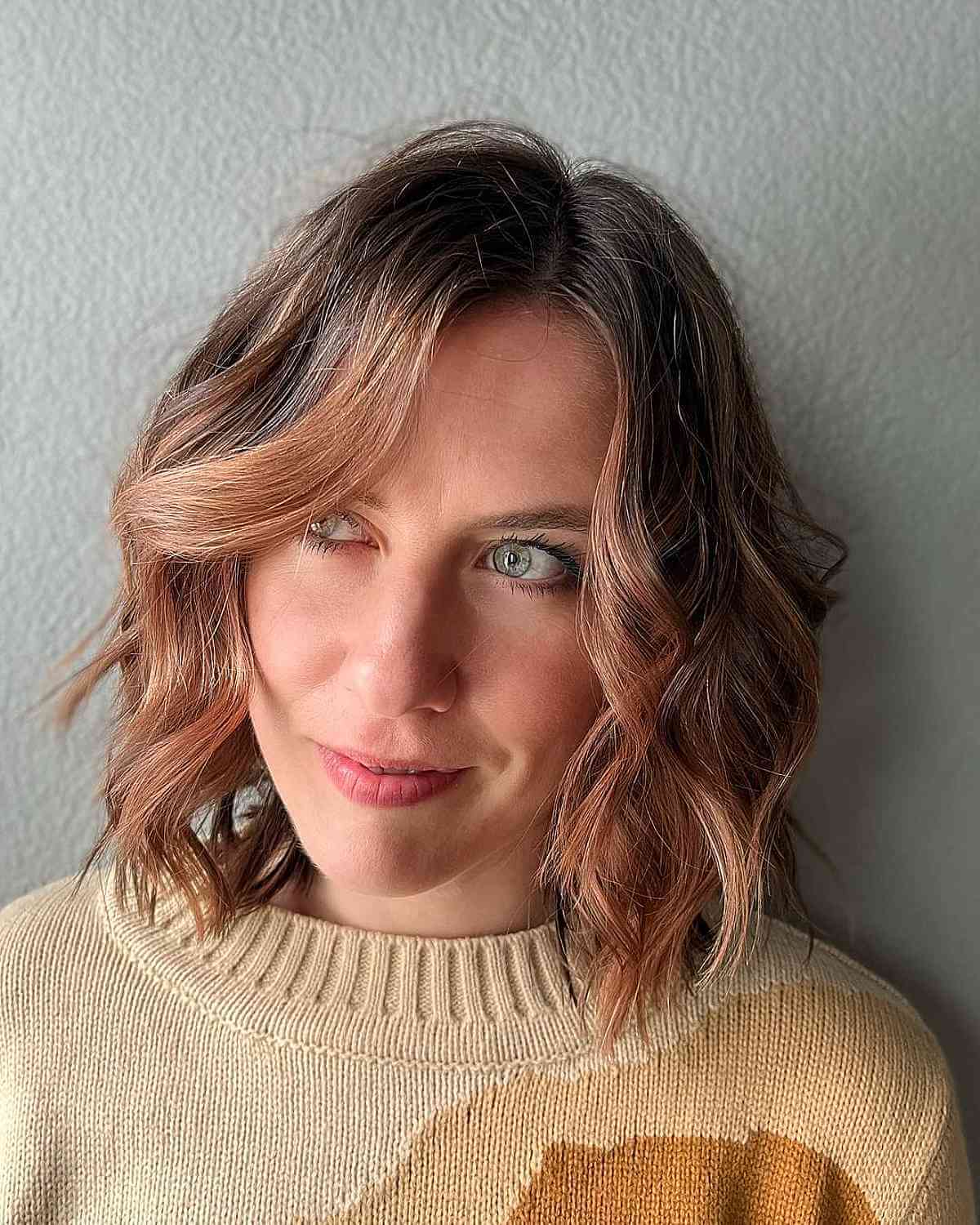 #5: Beige Brown with Dark Roots on Short Wavy Hair
Beige brown with dark roots on short wavy hair really makes light eyes pop. This short hair with dark roots and light ends is a bolder ombre kind of vibe.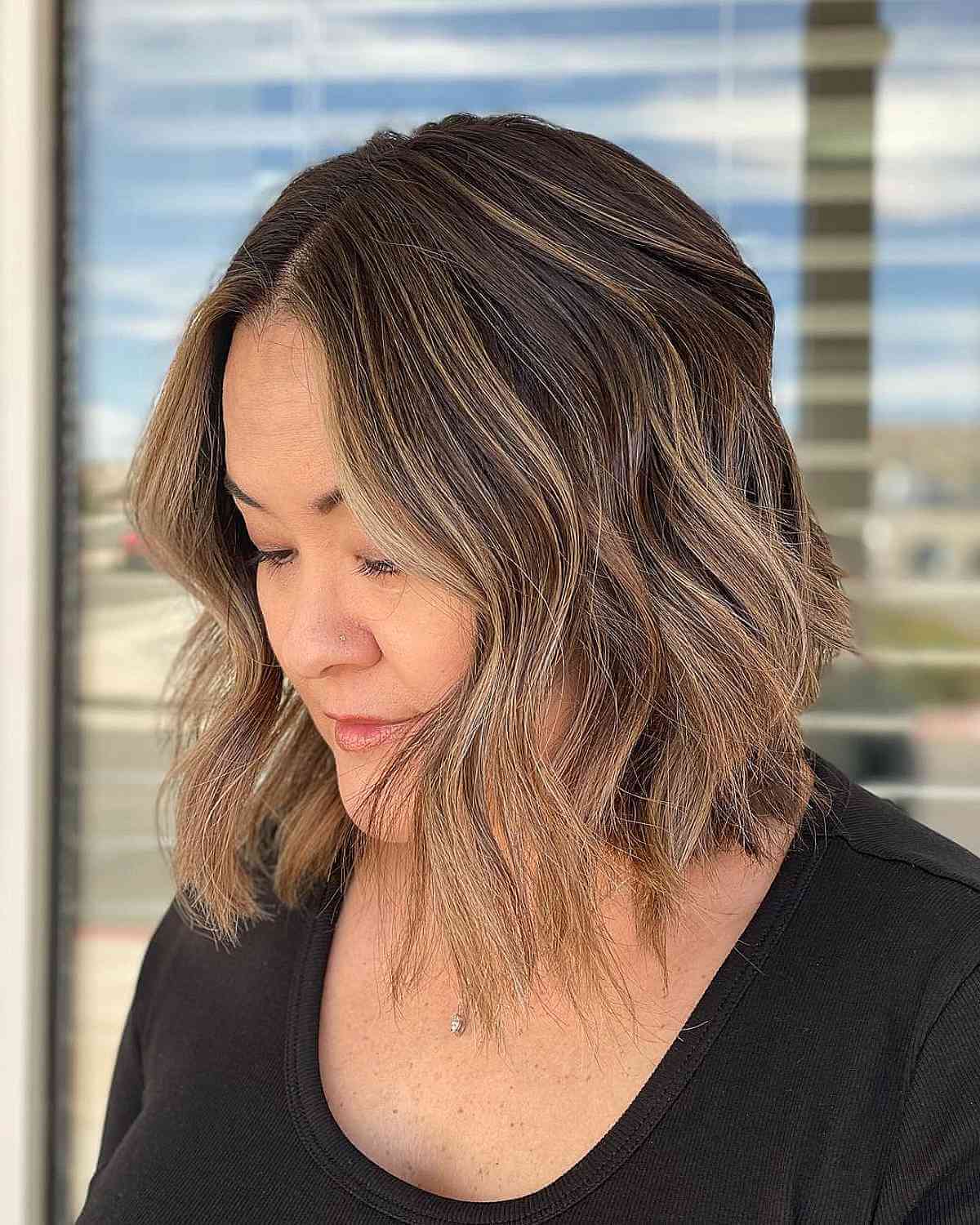 #6: Short Brown Balayage Hair for Women Over 40
Short brown balayage hair is perfect for women over 40. Try this short light brown hair with highlights throughout at your next appointment to add brightness and break up your base color.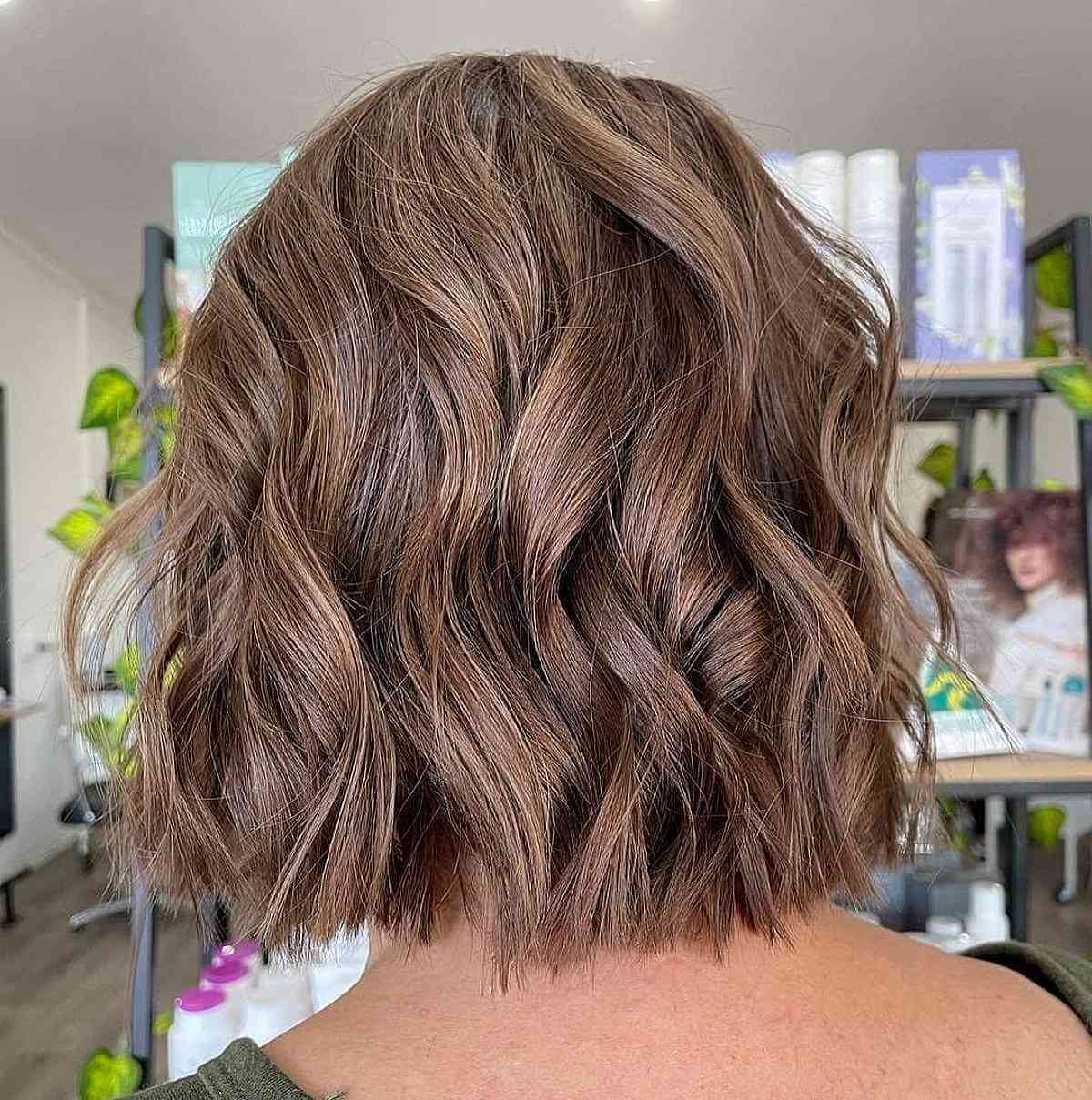 #7: Mushroom Brown on Textured Wavy Bob
Mushroom brown on a textured wavy bob makes this cut more unique. This brunette bob cut is classic but stands out.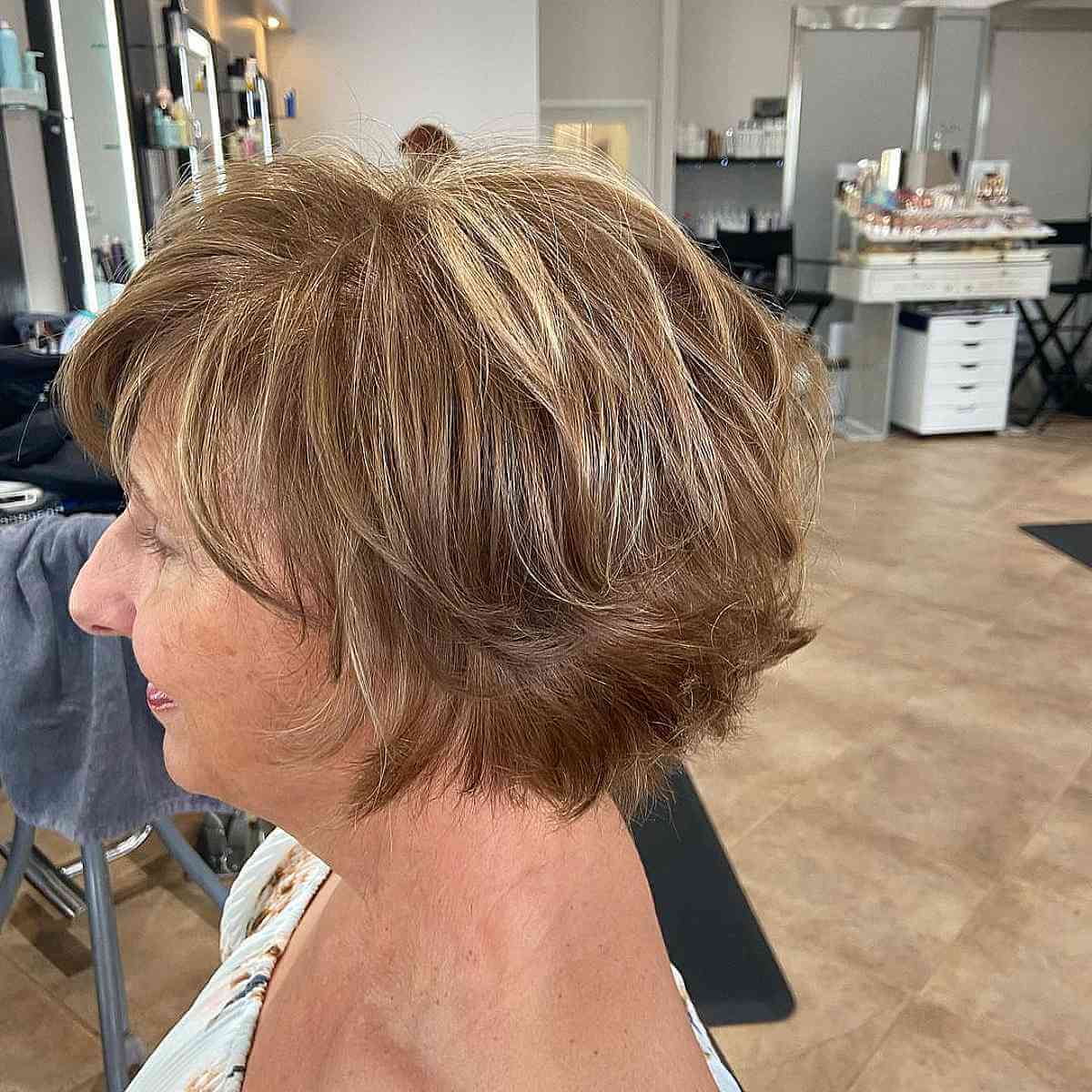 #8: Short Golden Brown Hair for Women Over 60
Short golden brown hair for women over 60 is fresh and adds a warm glow. This flippy hairdo is a great short haircut and full of style.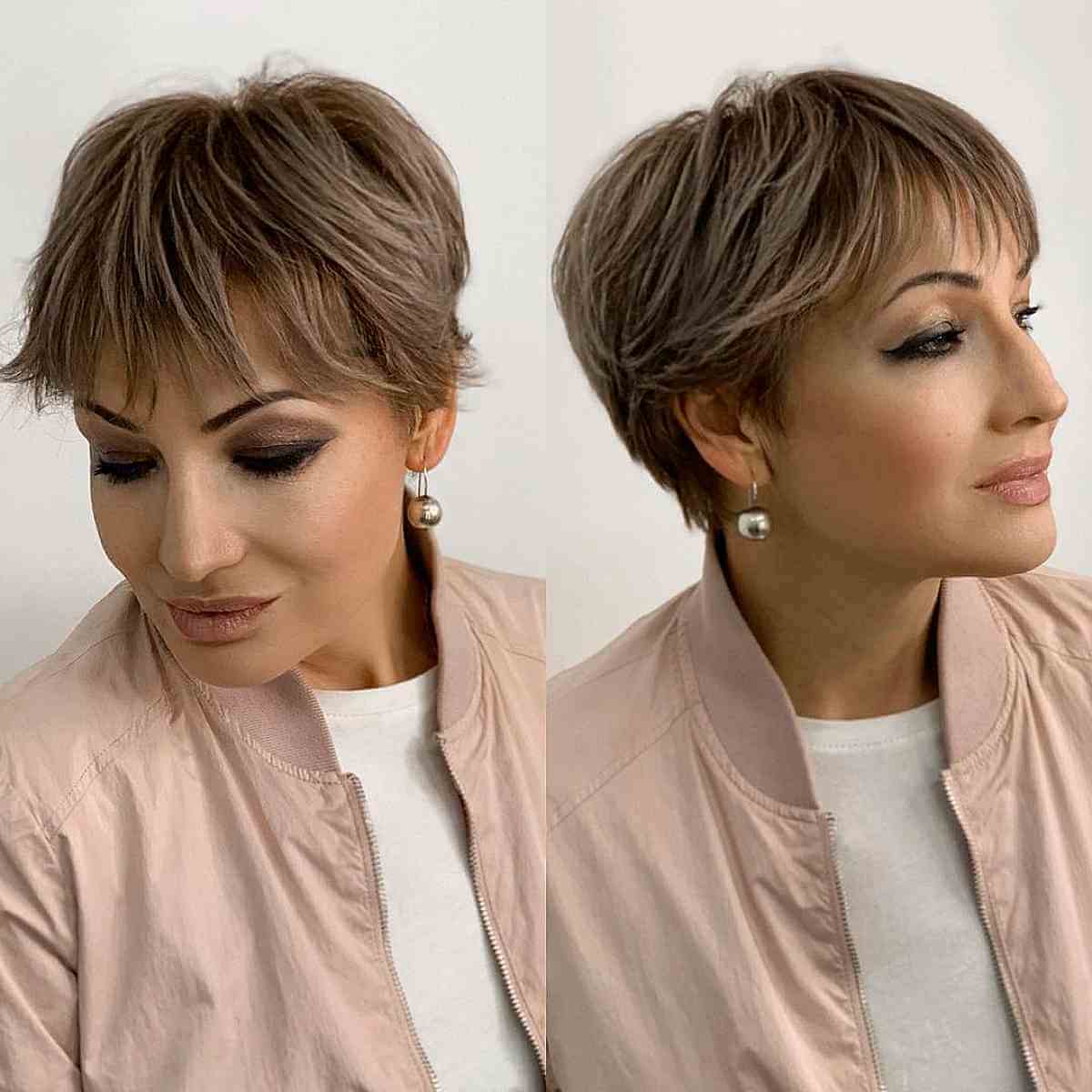 #9: Ash Brown on Feathered Pixie Hair
Ash brown on feathered pixie hair compliments cooler skin tones. Light brown hair color can compliment a wide range of skin tones, this depends on the amount of warmth or coolness within the color. A pixie cut can be done regardless of the color.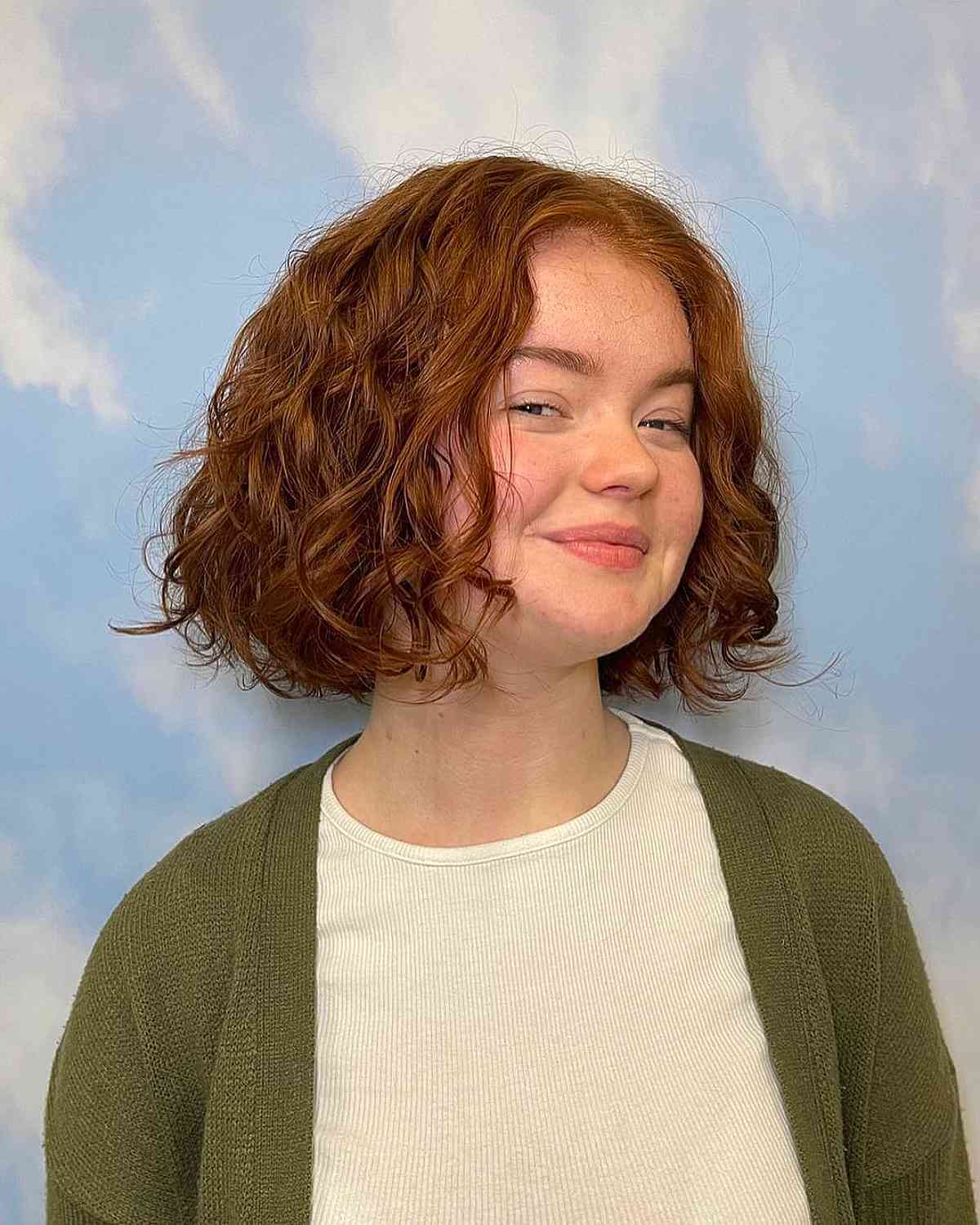 #10: Ginger Brown Curly Bob
Go for a ginger brown curly bob because it's trending. Ginger brown is the perfect baby step into the copper color family. This light brown short curly hair is chic and playful.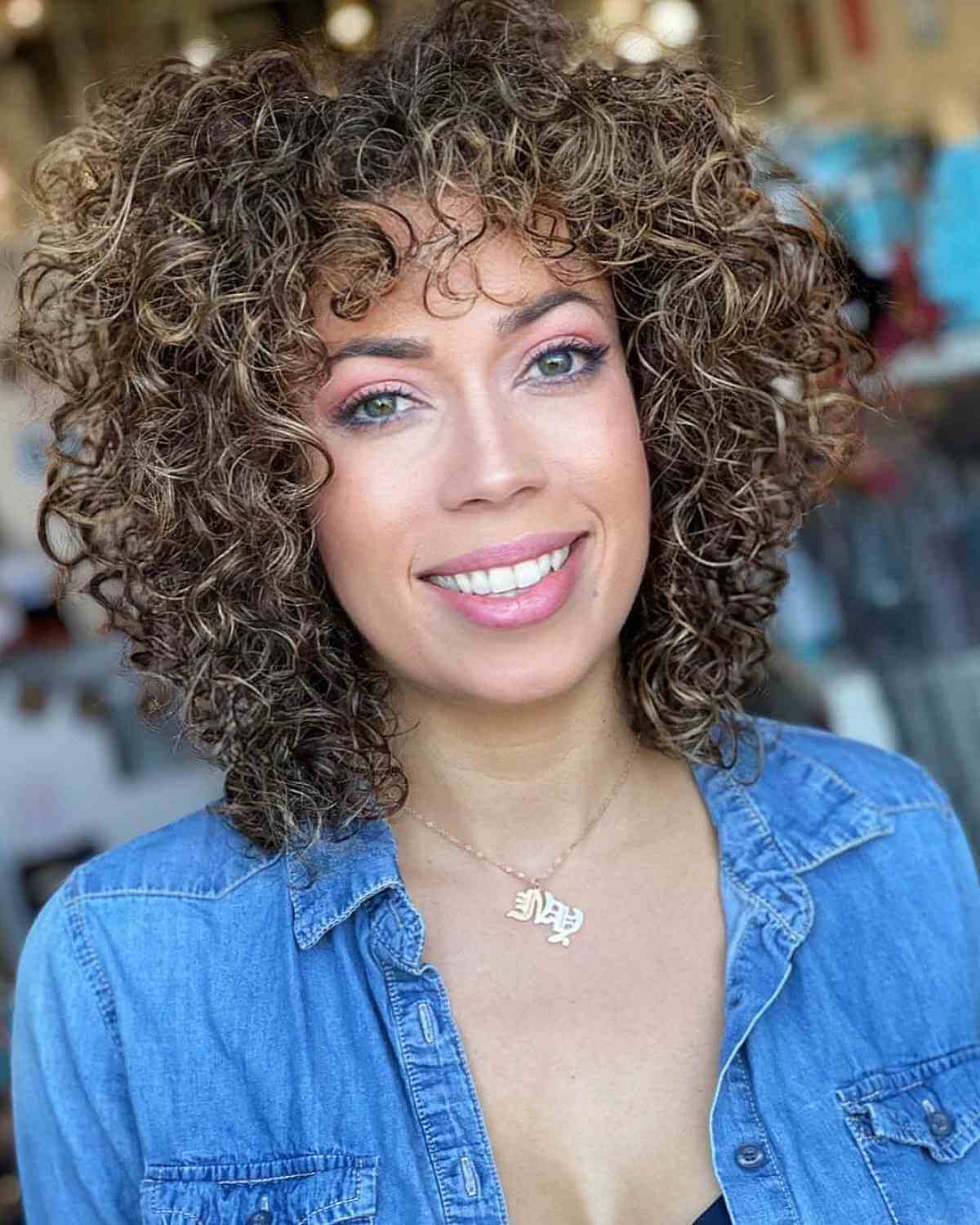 #11: Brown Curly Hair with Blonde Highlights
Try blonde highlights on brown curly hair for extra definition. This light brown shade makes this short cut more interesting and fun!
#12: Wavy Brown Ombre Lob
A wavy brown ombre bob will have women ready for summer. This hair color looks natural and sun-kissed. Great for ladies wanting something low-maintenance.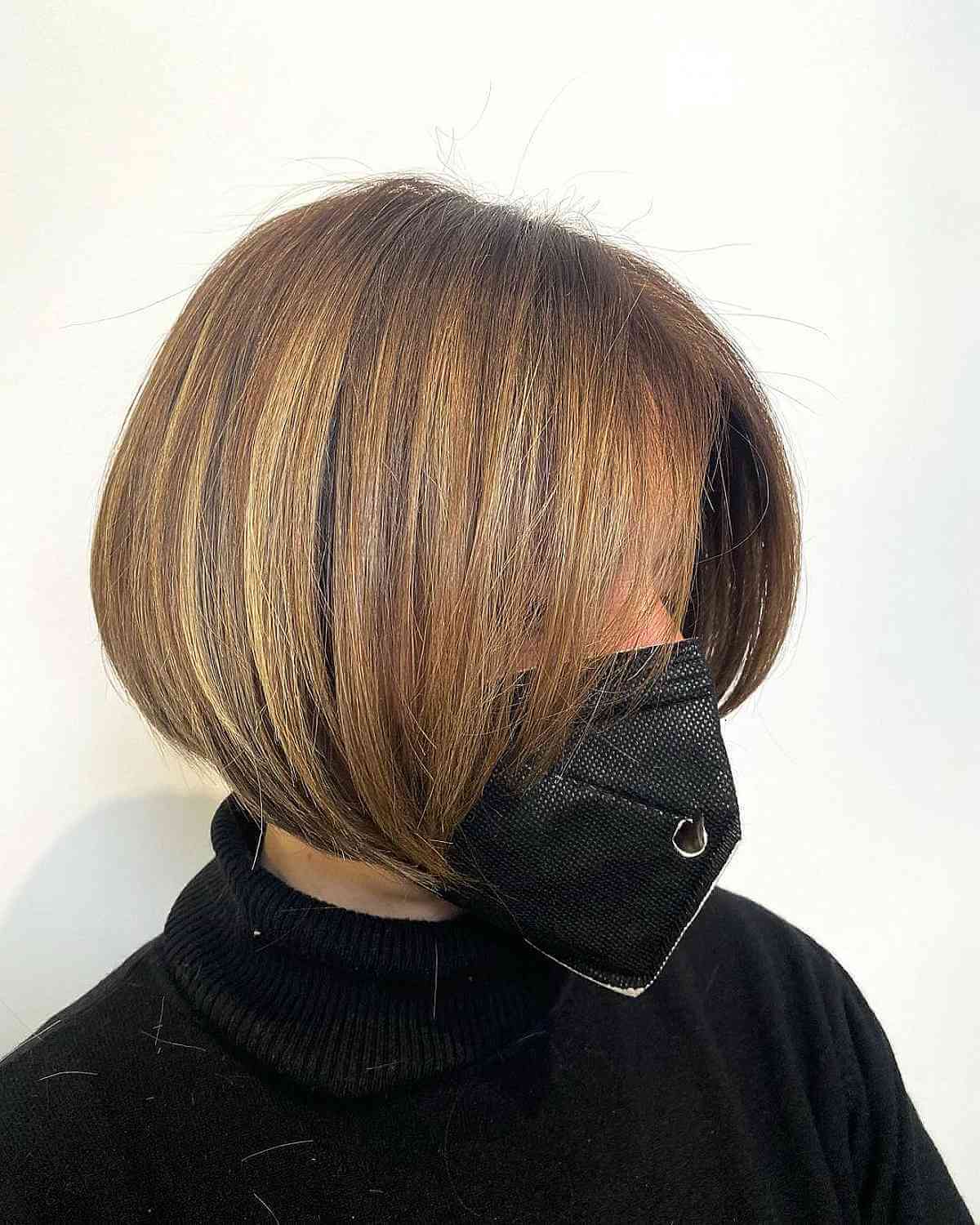 #13: Short Bob with Light Brown Babylights
A short bob with light brown color enhances this fun cut. Light brown hair color is easier to maintain than your reds or blondes. This is a great step into hair color if you've never done it before.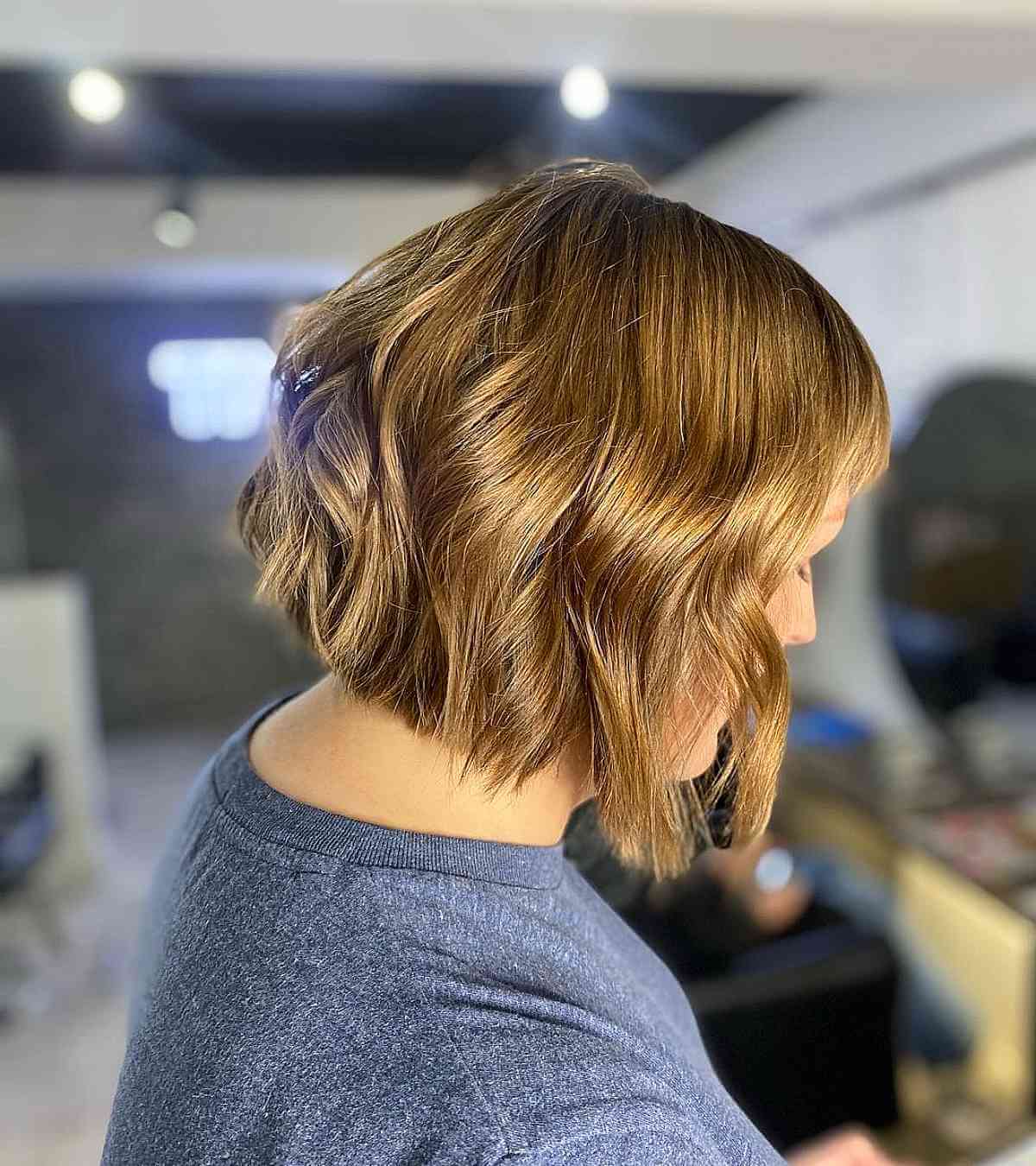 #14: Light Brown Bob with Soft Waves
Try a light brown bob with soft waves at your next appointment if you want to give being blonde a break. Usually, a few lowlights and a gloss to tone the brown color down will do the trick to get a gorgeous shade of light brown hair.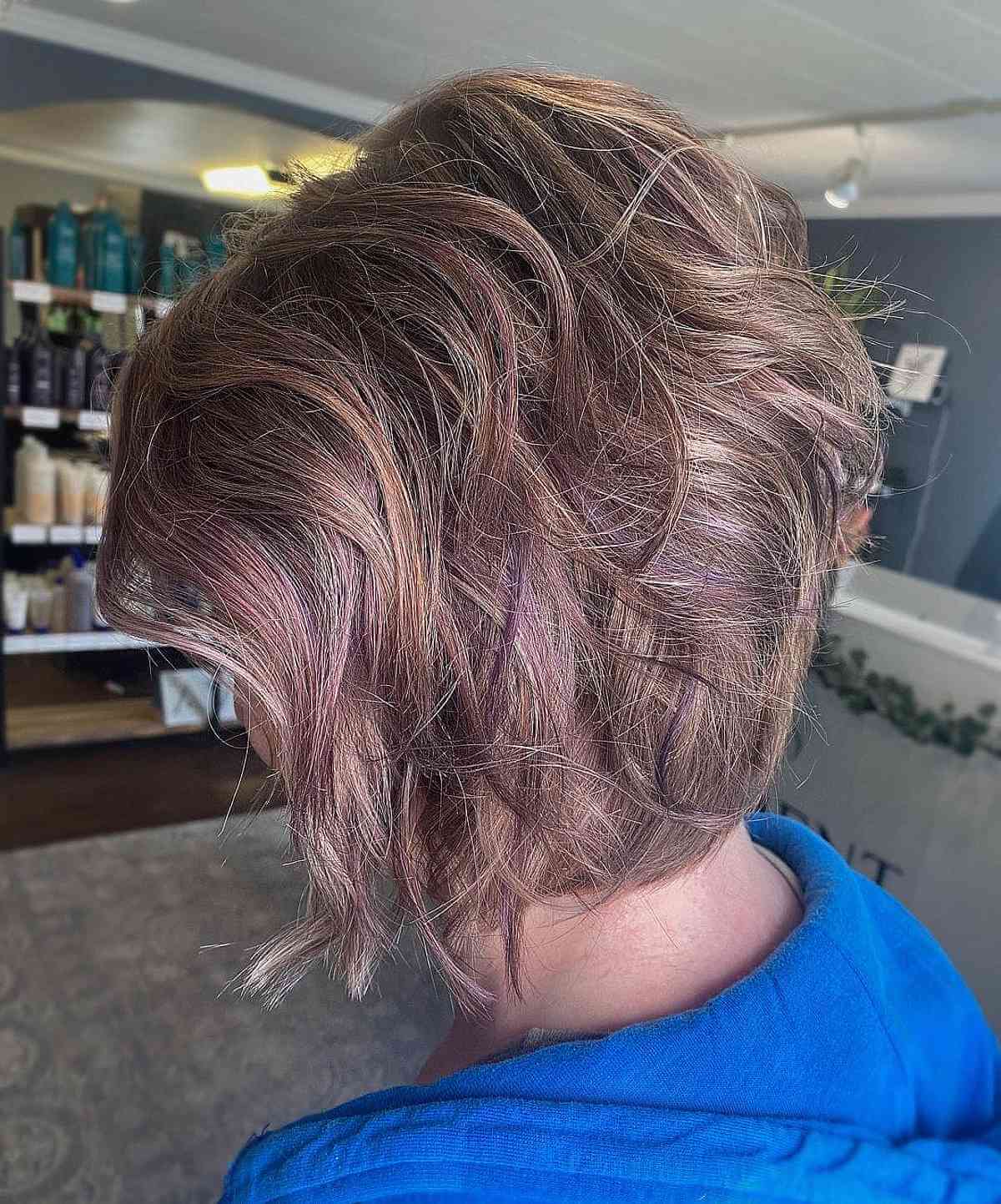 #15: Short Brown Layered Hair with Purple Highlights
Short brown layered hair with purple highlights adds a fun pop to your regular color. Short hairstyles are the perfect time to play around with different hues. The colors wash out over time and are easily changed.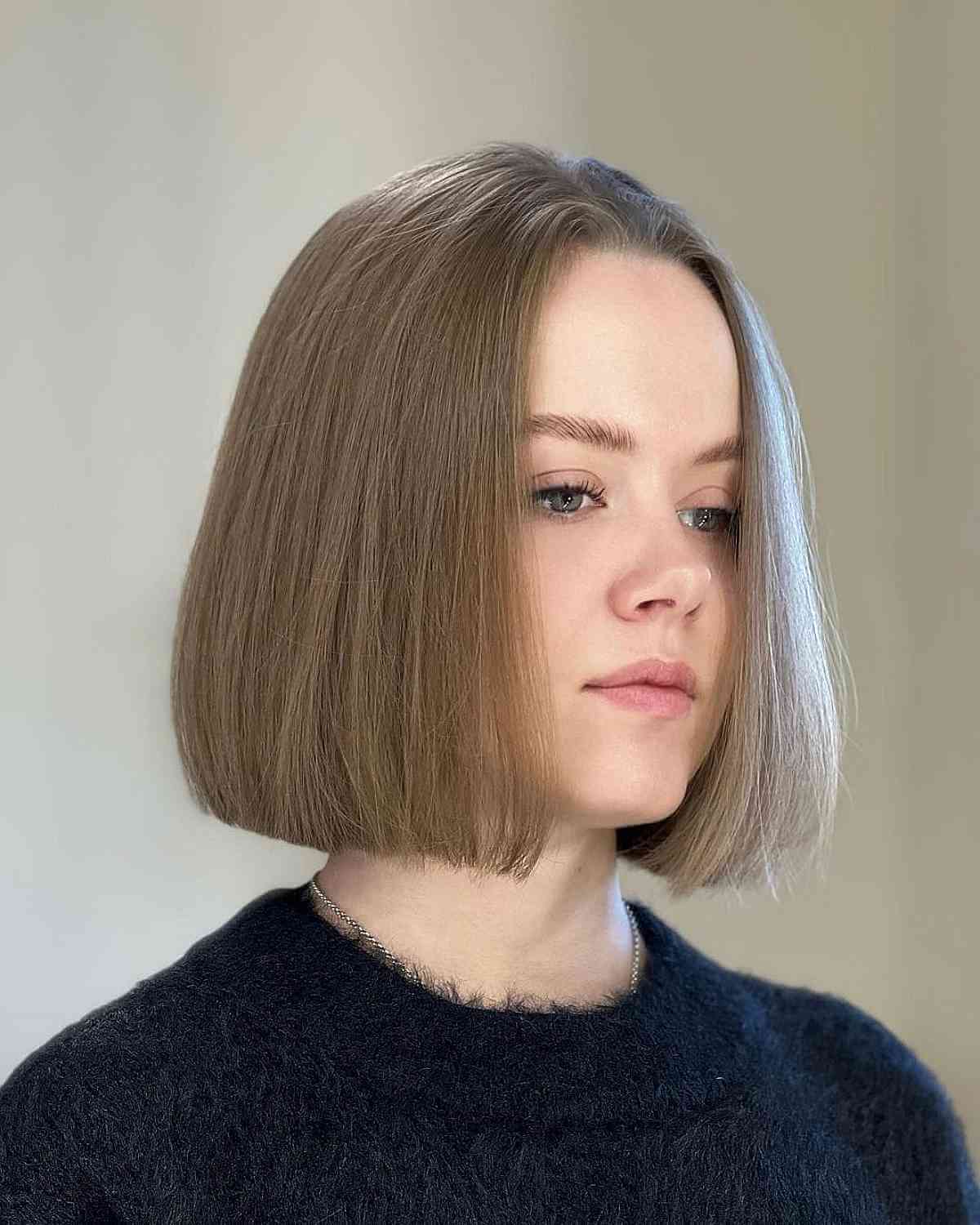 #16: Neck-Length Brown Blunt Bob
A neck-length brown blunt bob is great for fine hair. The blunt cut helps hair look its absolute fullest and gives natural brown hair a chic style.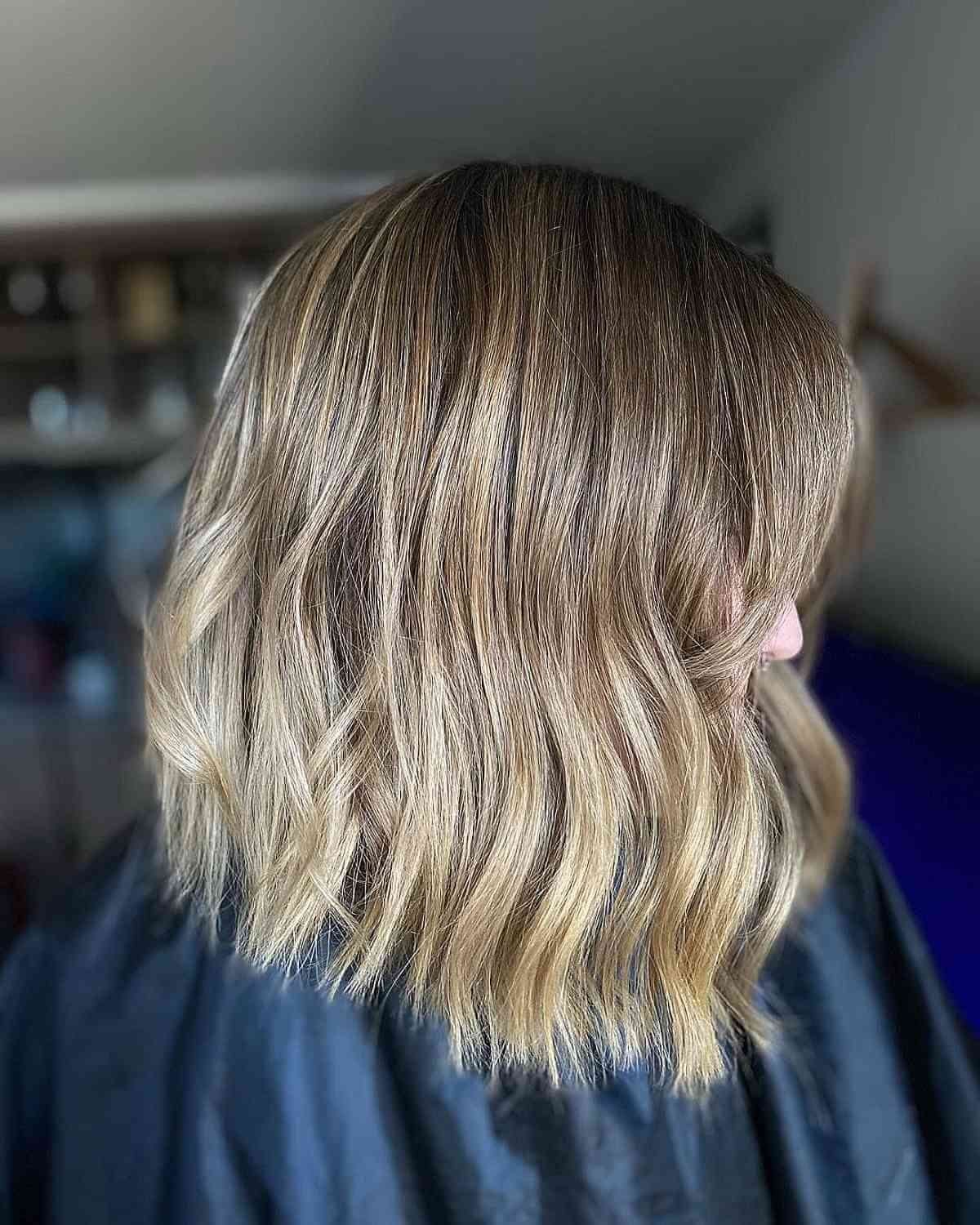 #17: Bronde Color Melt on a Lob Cut
A bronde color melt on a lob cut is the ultimate low-maintenance pair. The light brown ombre color melt gives a lived-in feel and a lob hair cut has room to grow out.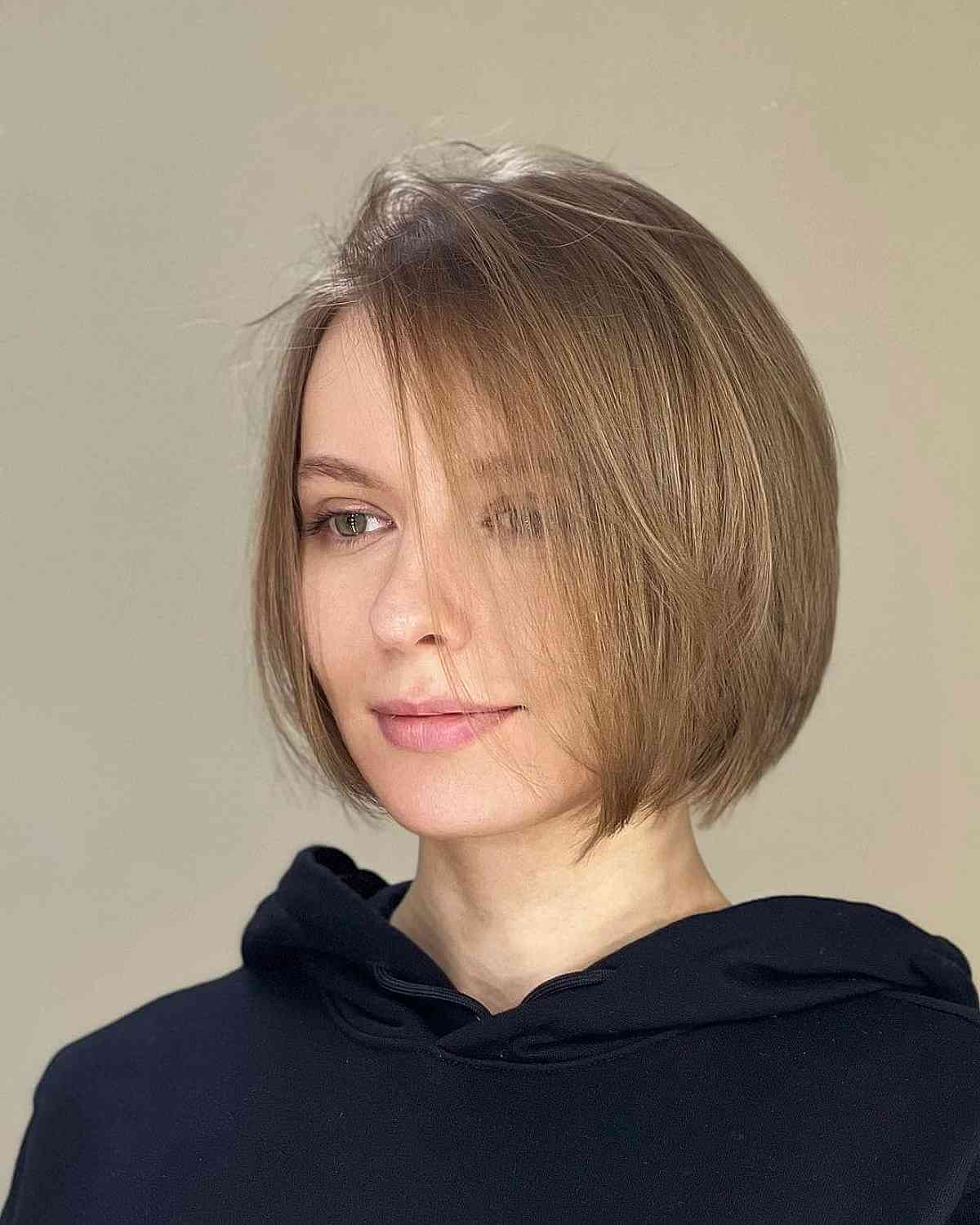 #18: Chin-Length Bronde Hair
Chin-length bronde hair is daring and feminine. Short hair with light brown highlights looks fresh and stylish. The highlights adds more texture and dimension to the haircut.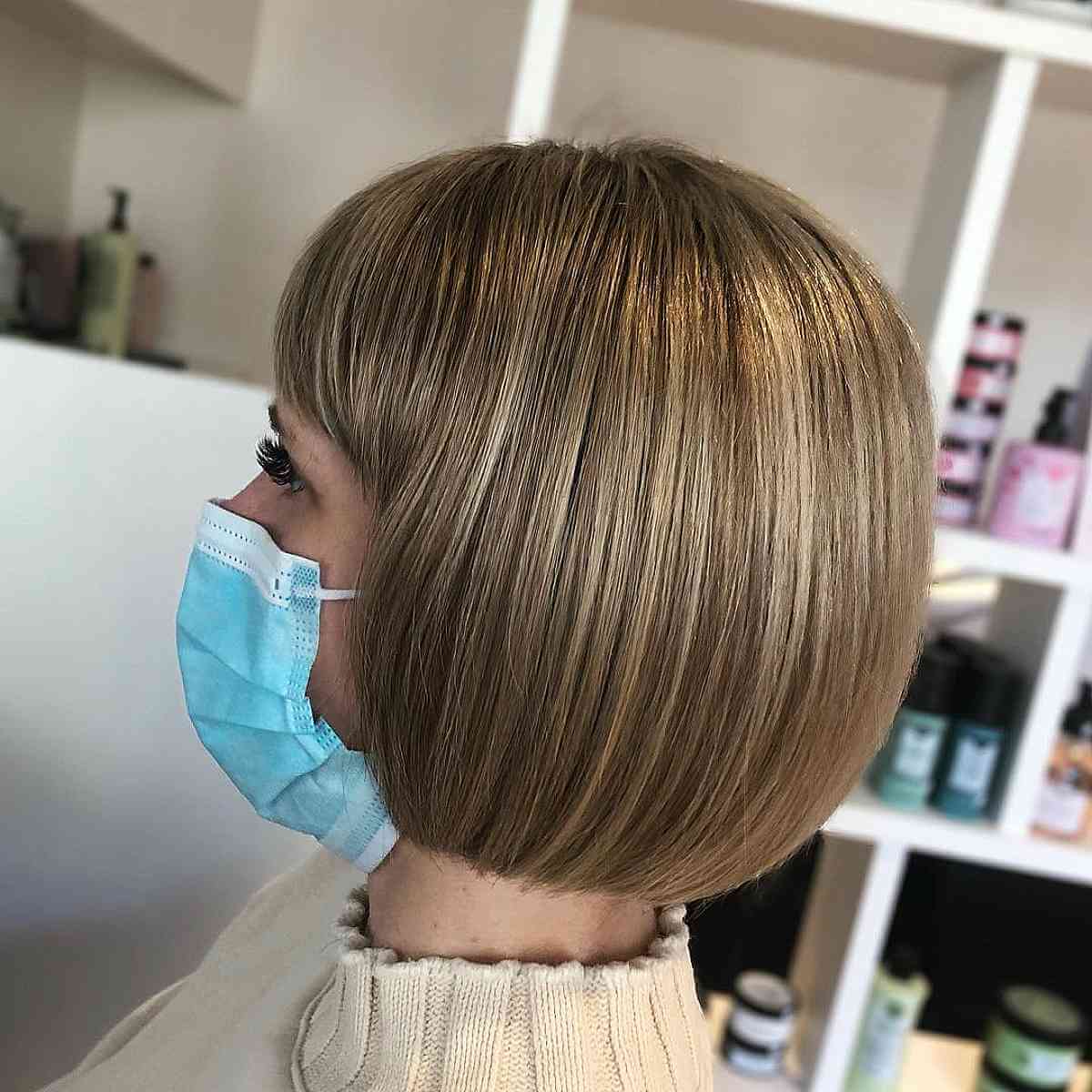 #19: Light Brown Straight Bob
A light brown straight bob on short hair is shiny and dimensional. This color would compliment both warm and cool skin tones.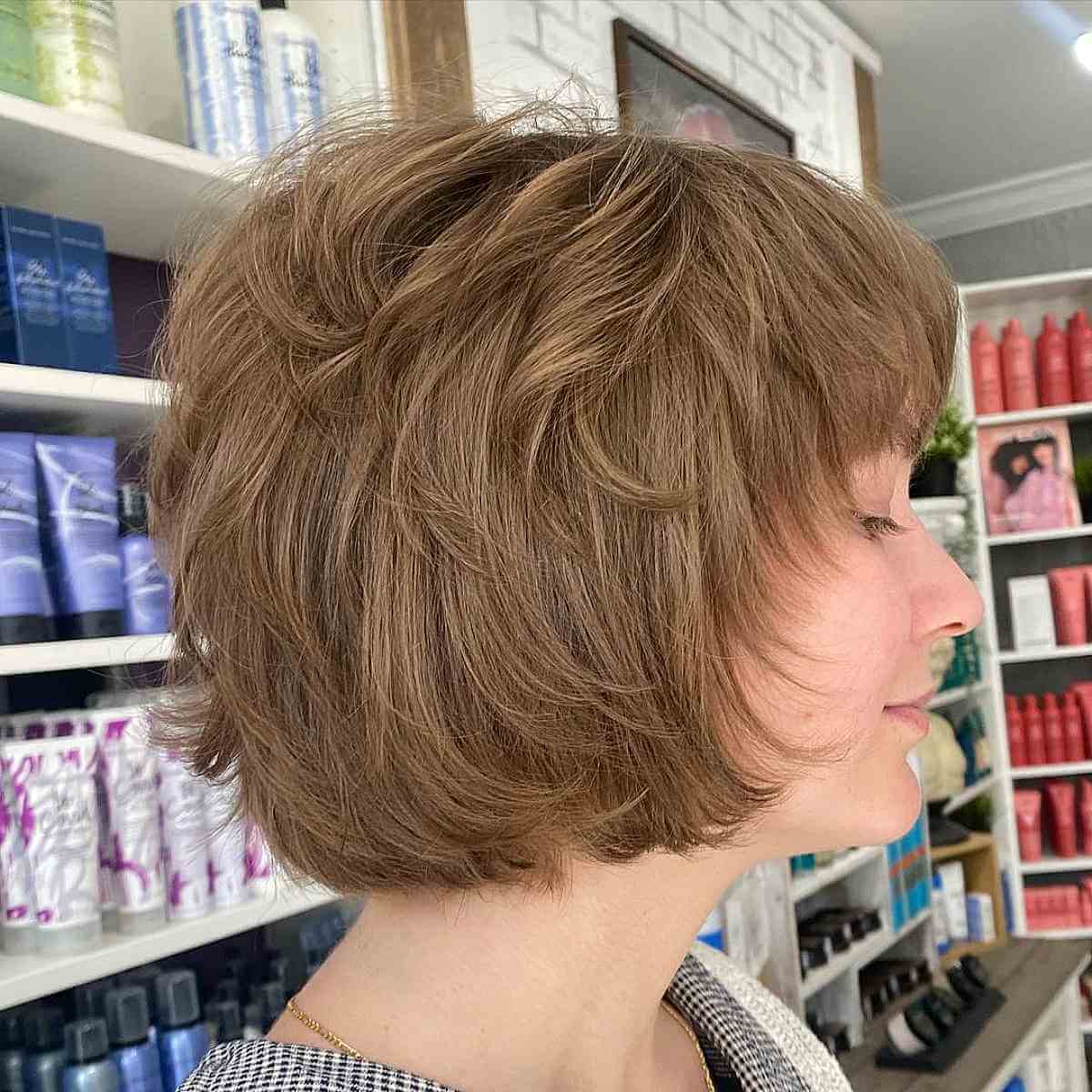 #20: Sandy Brown Color on a Jaw-Length Shag
A sandy brown color on a jaw-length shag adds softness to the sharp texture. A square face shape is complemented by a round haircut.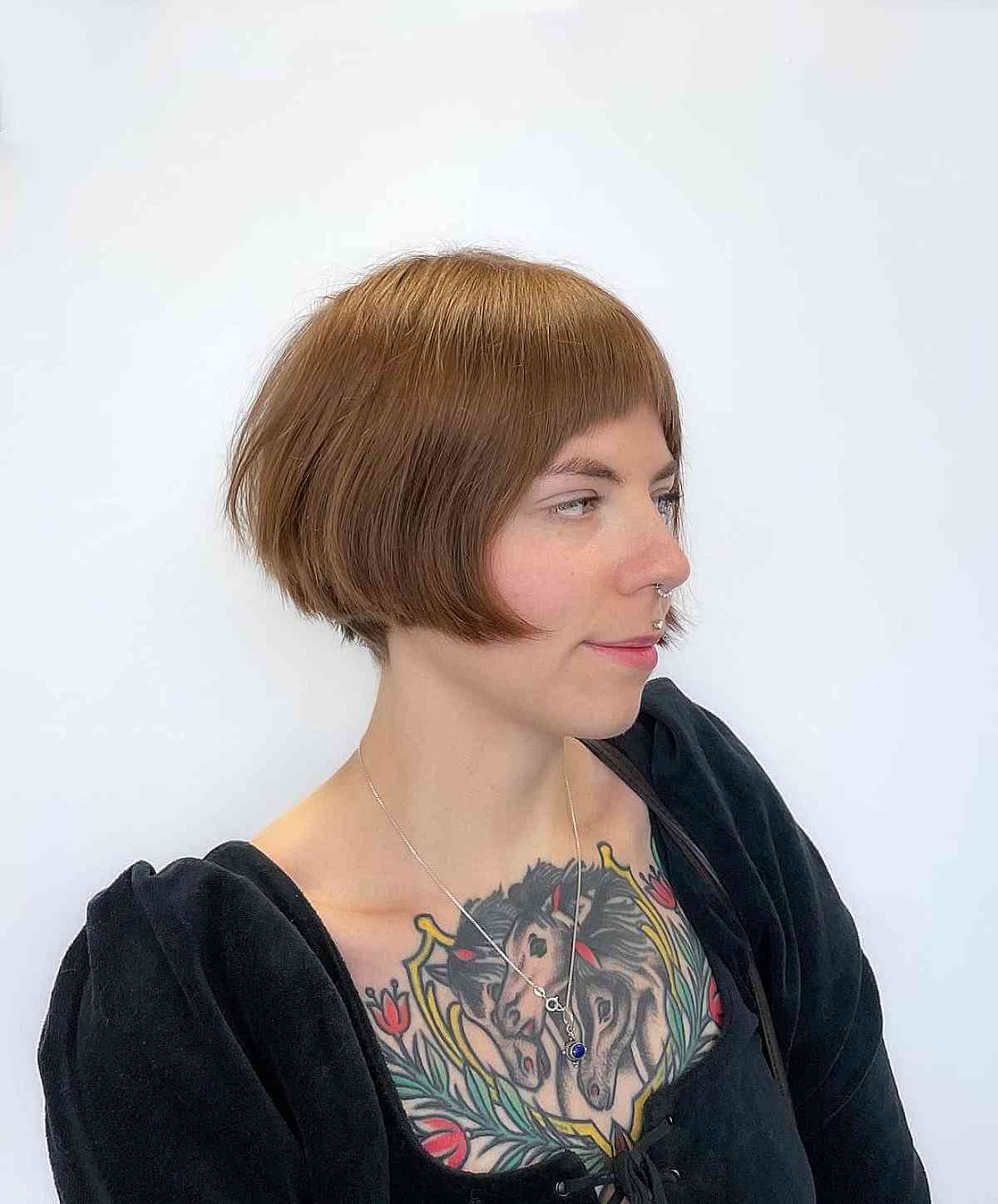 #21: Ear-Length Bob on Light Brown Hair
An ear-length bob on light brown hair is the perfect duo. The lightest brown hair color stands out from your typical brunette. This is great for ladies who want to be lighter without being blonde.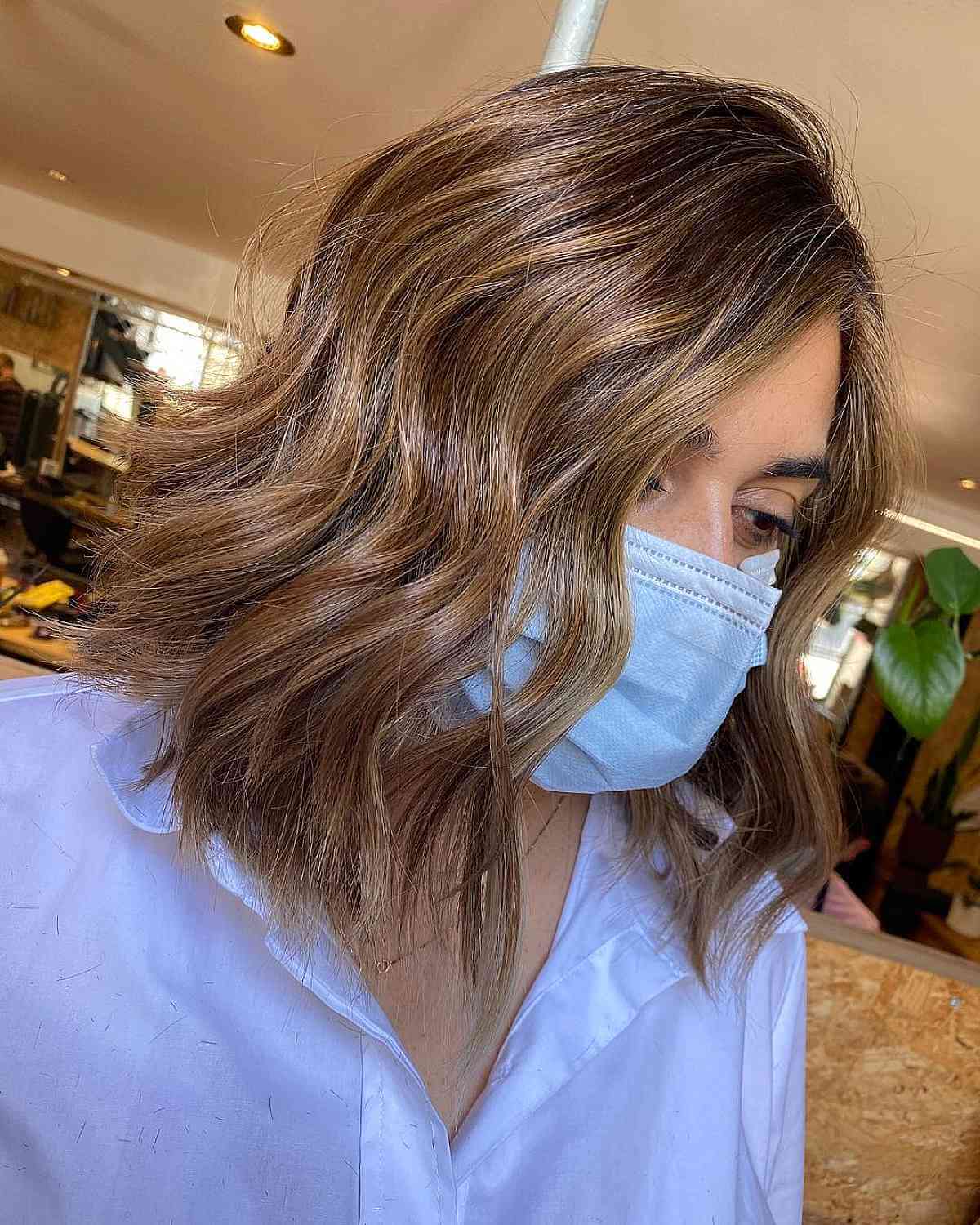 #22: Choppy Brunette Lob with Caramel Highlights
Mix a choppy brunette lob with smooth caramel highlights for a dreamy hairstyle. Light brown balayage hair warms up any skin tone with its glowy, golden hues.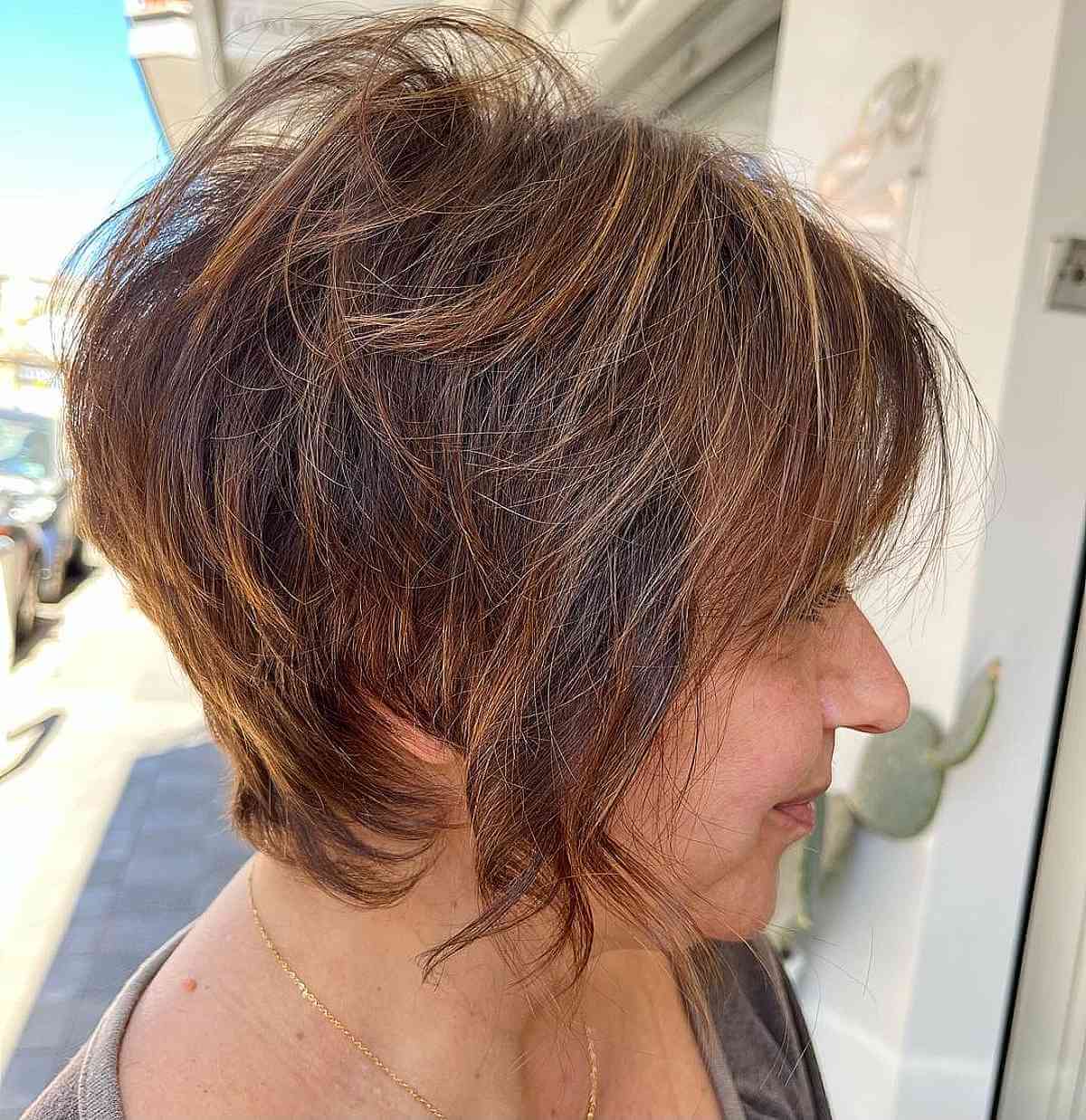 #23: Tousled Caramel Brown Pixie for Women Over 50
A tousled caramel brown pixie for women over 50 is playful and fun. Short brown hair with highlights and lowlights adds youthfulness to a shorter hairstyle.