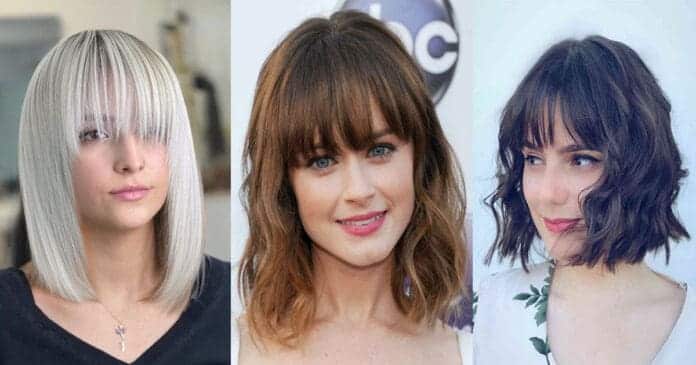 Wispy bangs on short hair are light, thin fringe that gives bobs and pixies a softer look. These bangs are a great addition to spice up your style without committing to a whole new chop. Haircut expert Marybeth Moran in Conshohocken, PA recommends the look to women with a prominent forehead. According to Moran, the fringe serves as a face frame while hiding any forehead lines. It softens any haircut and draws attention to women's eyes. When cutting thinner bangs, use light tension using a razor. Carve the fringe longer than your preferred length while it's wet. "You can always take more off after it's dry," Moran assures. Hair texture is a factor to consider. For wavy and curly hair, this chop will require daily blow-drying. Cowlicks can also be a hindrance as you'll have to smooth them out every day using a heat tool. Moran loves the wispy fringe on straighter hair for easier maintenance and styling. Surprisingly, climate can affect the style, too! "Short hair and bangs aren't ideal during the humid days or if you're someone who perspires a lot," Moran states. Looking for a cut to upgrade your short locks? Photos here exhibit the best, trendy styles to pull off wispy bangs on short hair.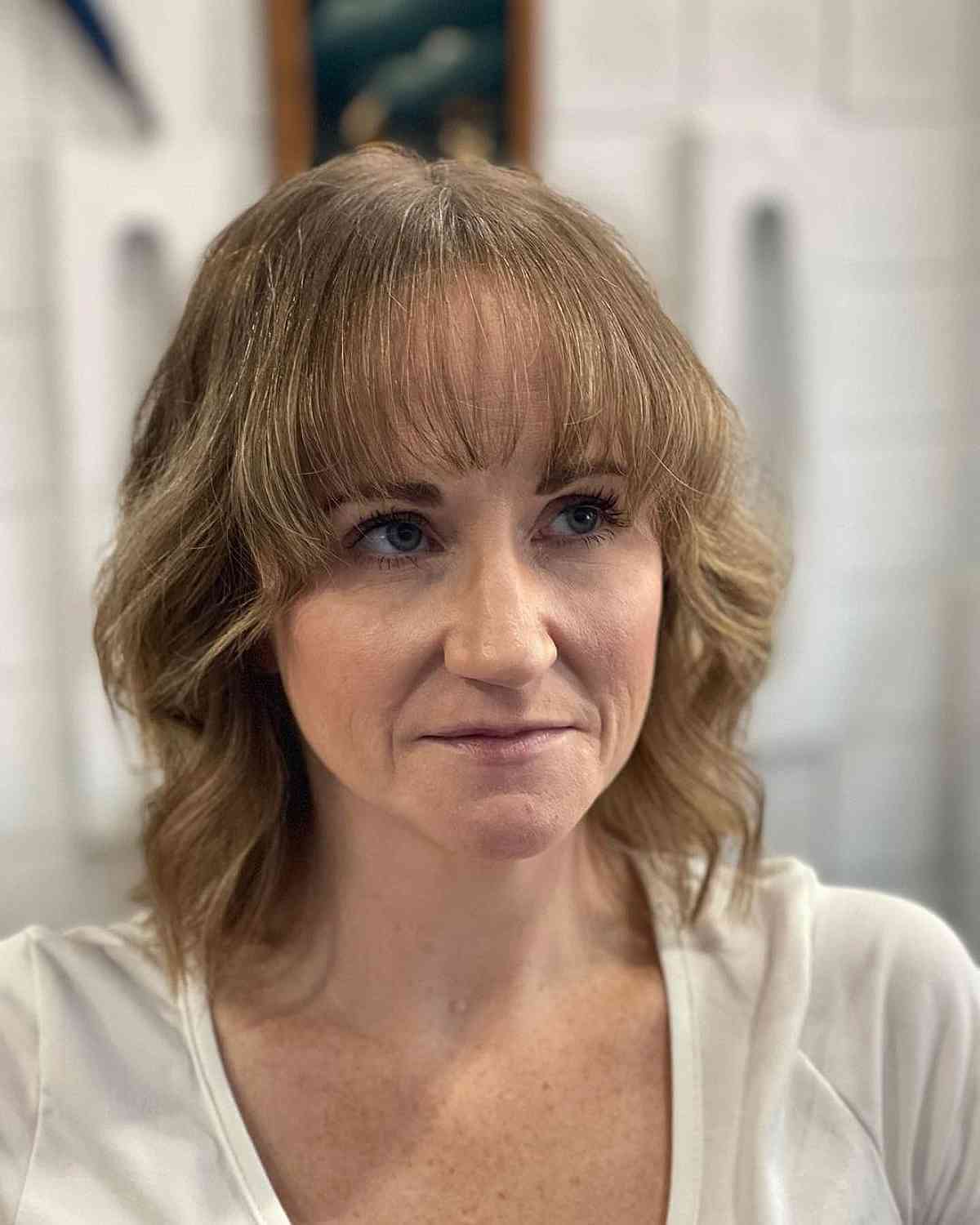 #1: Short Shaggy Hair with Wispy Fringe
A short shag with wispy bangs is a fun, low-maintenance cut for most hair types. Try adding curls to enhance the shaggy layers.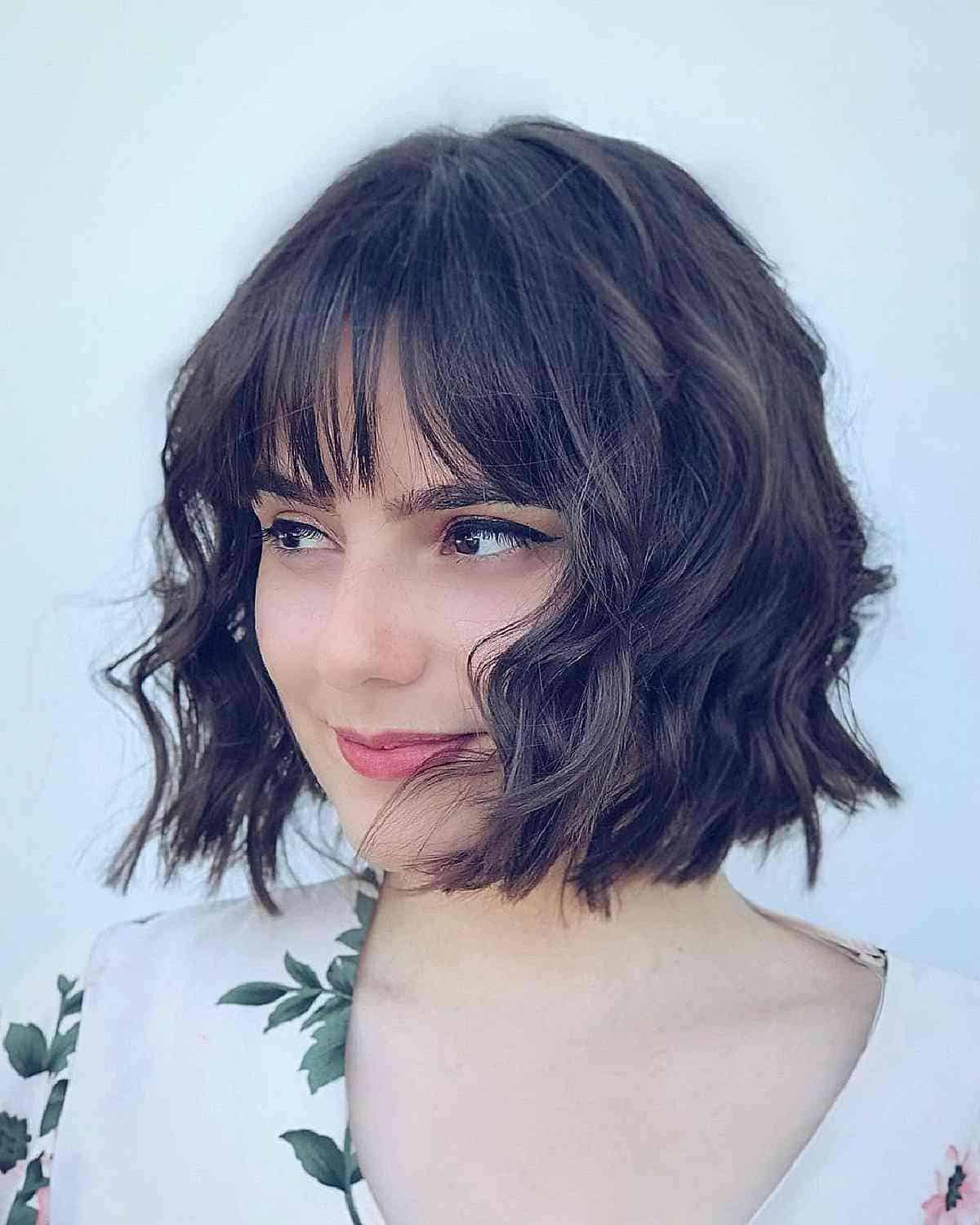 #2: Thin Bangs on Short, Wavy Hair
New to fringe? Try thin bangs on short, wavy hair! These brow-length bangs are great for first-timers because they don't require as much of the hair to be cut, as a full bang. Thin bangs, or wispy bangs, are also easier to grow out of if you decide they're not for you.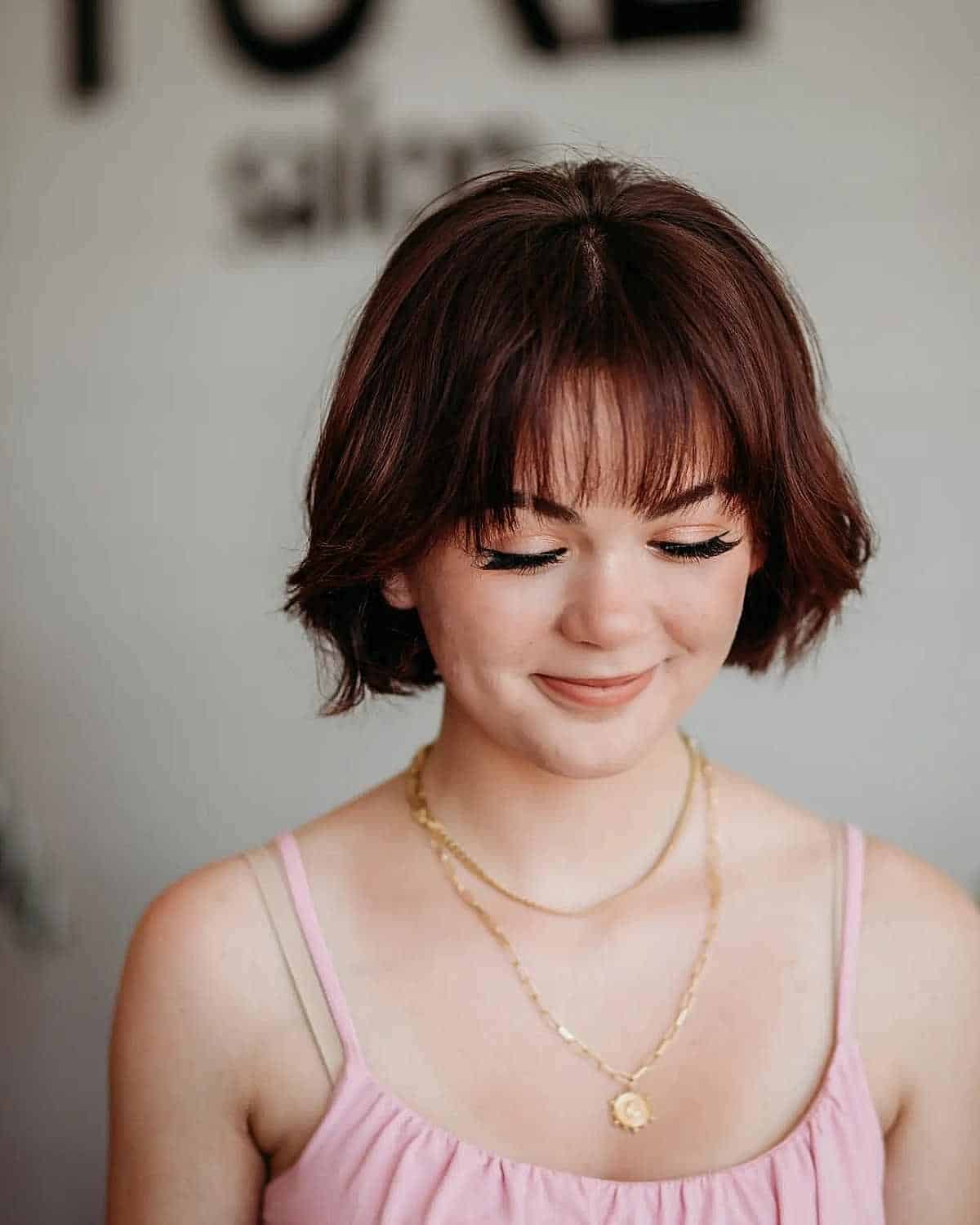 #3: Extra Short French Bob with Wispy Fringe
Don't be afraid to go extra short with a French bob with a wispy fringe. The short bob adds shape to your hair and will become more manageable. Wispy bangs will add softness to your face for a playful touch. Use some sea salt spray to get some tousled texture.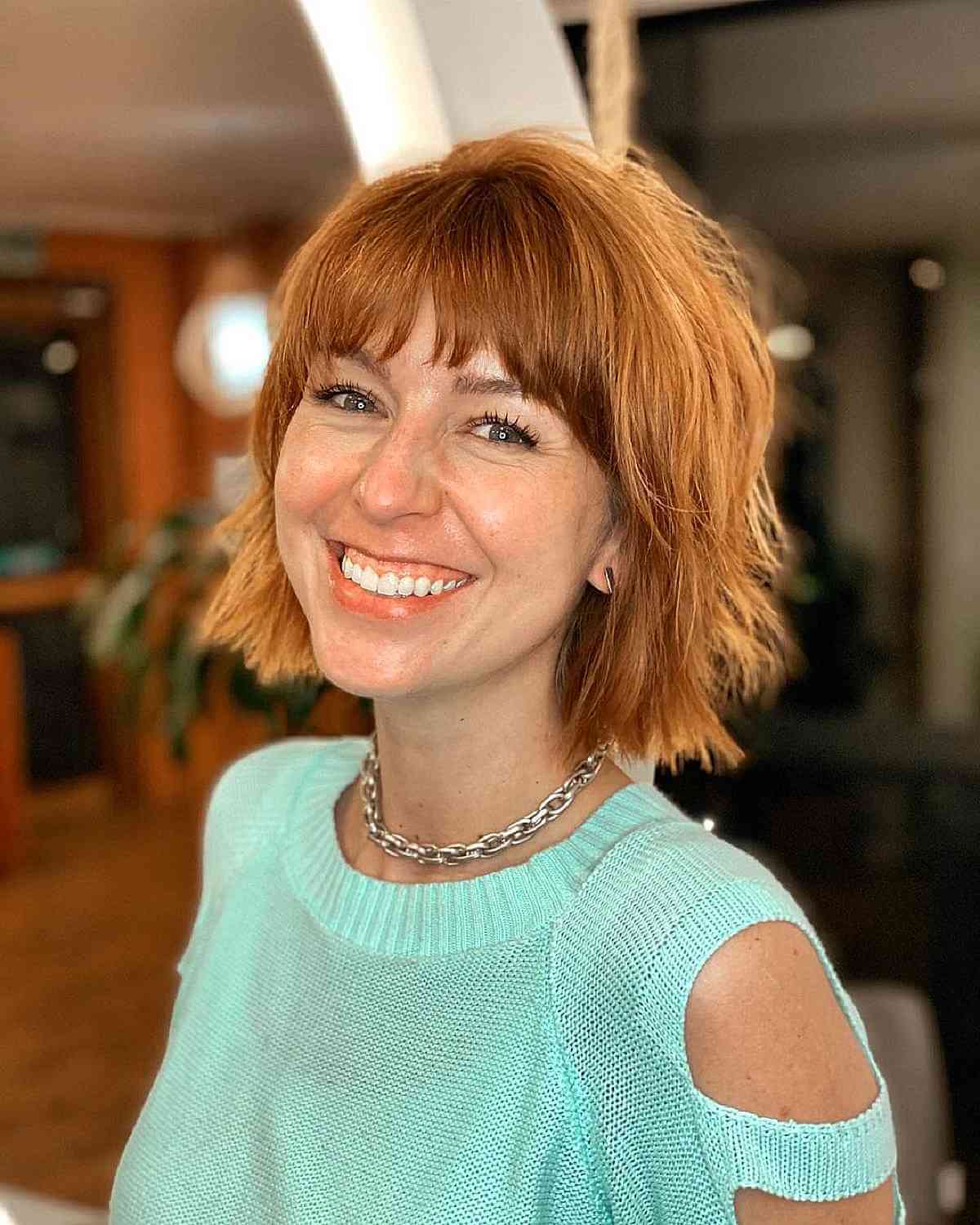 #4: Textured Bob with Bangs for Small Forehead
A textured bob with bangs is perfect for women with a small forehead. This short bob with wispy bangs helps hide the forehead, elongates the top of the face, and makes the area appear larger.
#5: Short Layered Cut with Curtain Bangs
Women looking for a versatile hairstyle should try a short layered cut with curtain bangs. The addition of wispy curtain bangs on short hair can help you change up your look whenever you desire. Tuck them back for a sleek style or blow them out for something more romantic. The options are endless!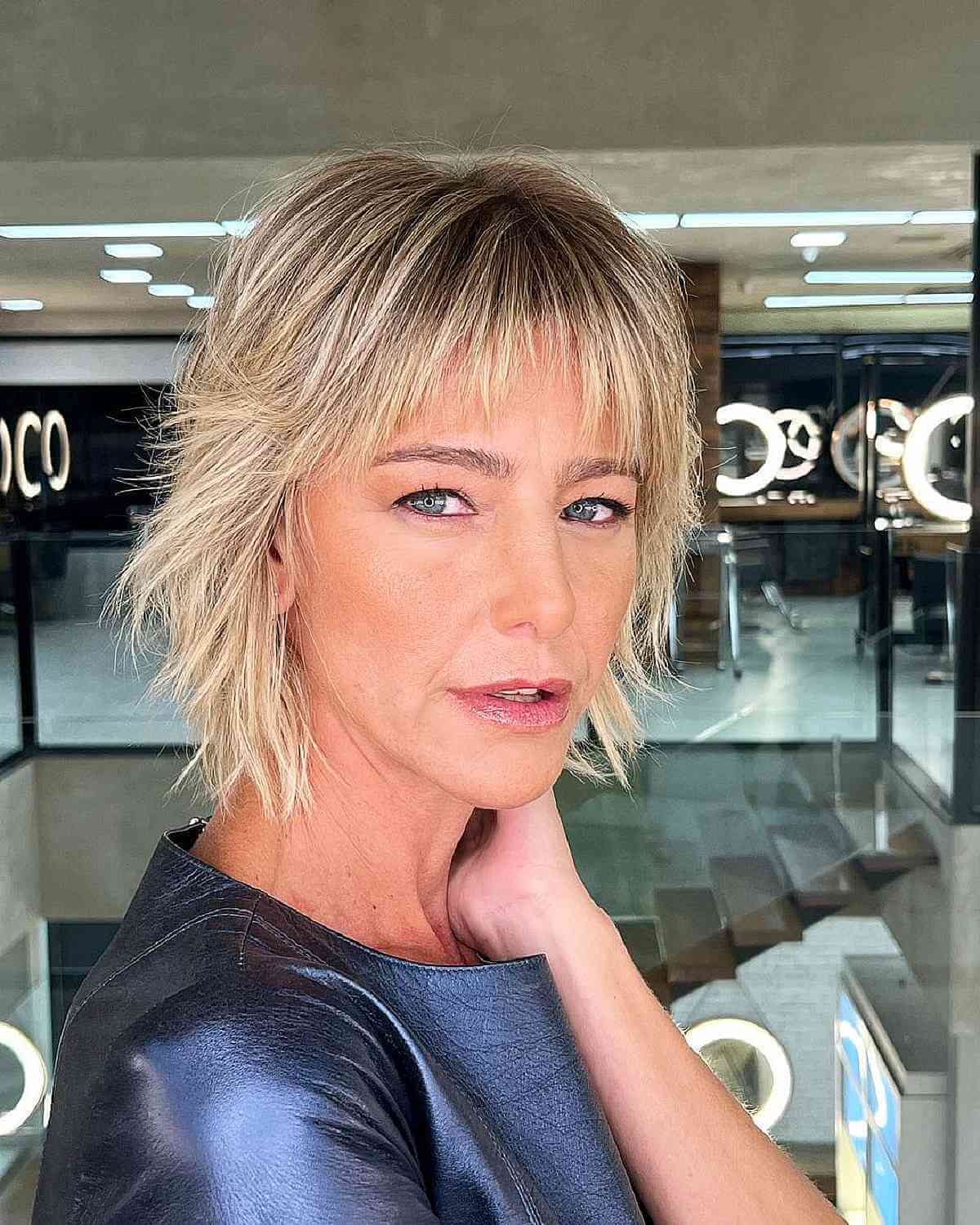 #6: Short Choppy Haircut for Women Over 40
Women over 40 will love a short choppy haircut. This wispy style will turn back time with its youthful bounce and choppy bangs.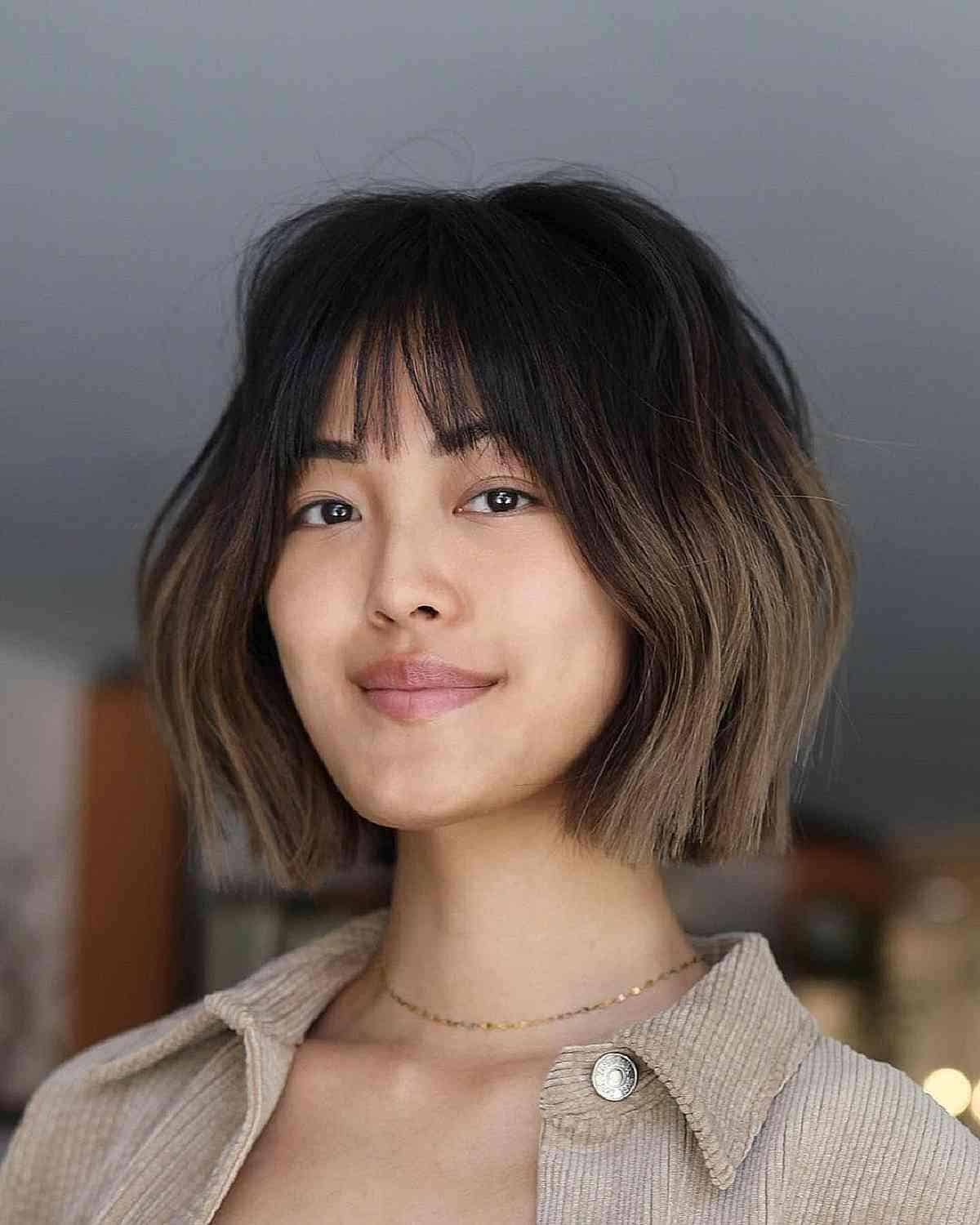 #7: Neck-Length Blunt Cut with Light Bangs
A neck-length blunt cut with light bangs looks extra-sharp when paired with a soft balayage. The placement of the color allows the angles of the crop and the short wispy fringe to stand out. These see-through bangs are a great choice as they are also incredibly easy to style or grow out if you change your mind.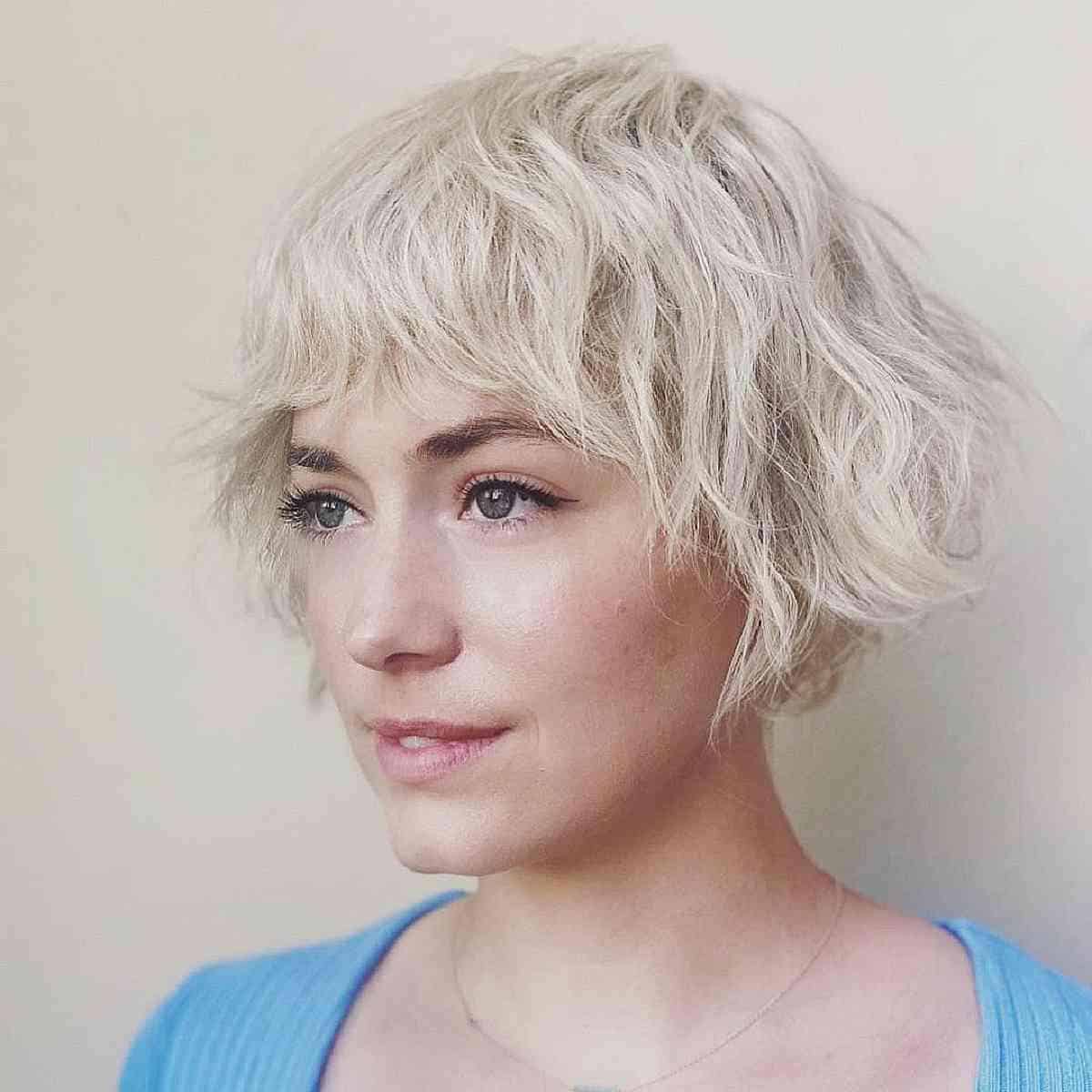 #8: Shaggy French Bob Cut
Women looking for an updated short haircut should try a shaggy French bob cut. Shaggy styles are not only easy to maintain but also uber flattering. Combined with the French bob classic, this crop is a classic yet on-trend.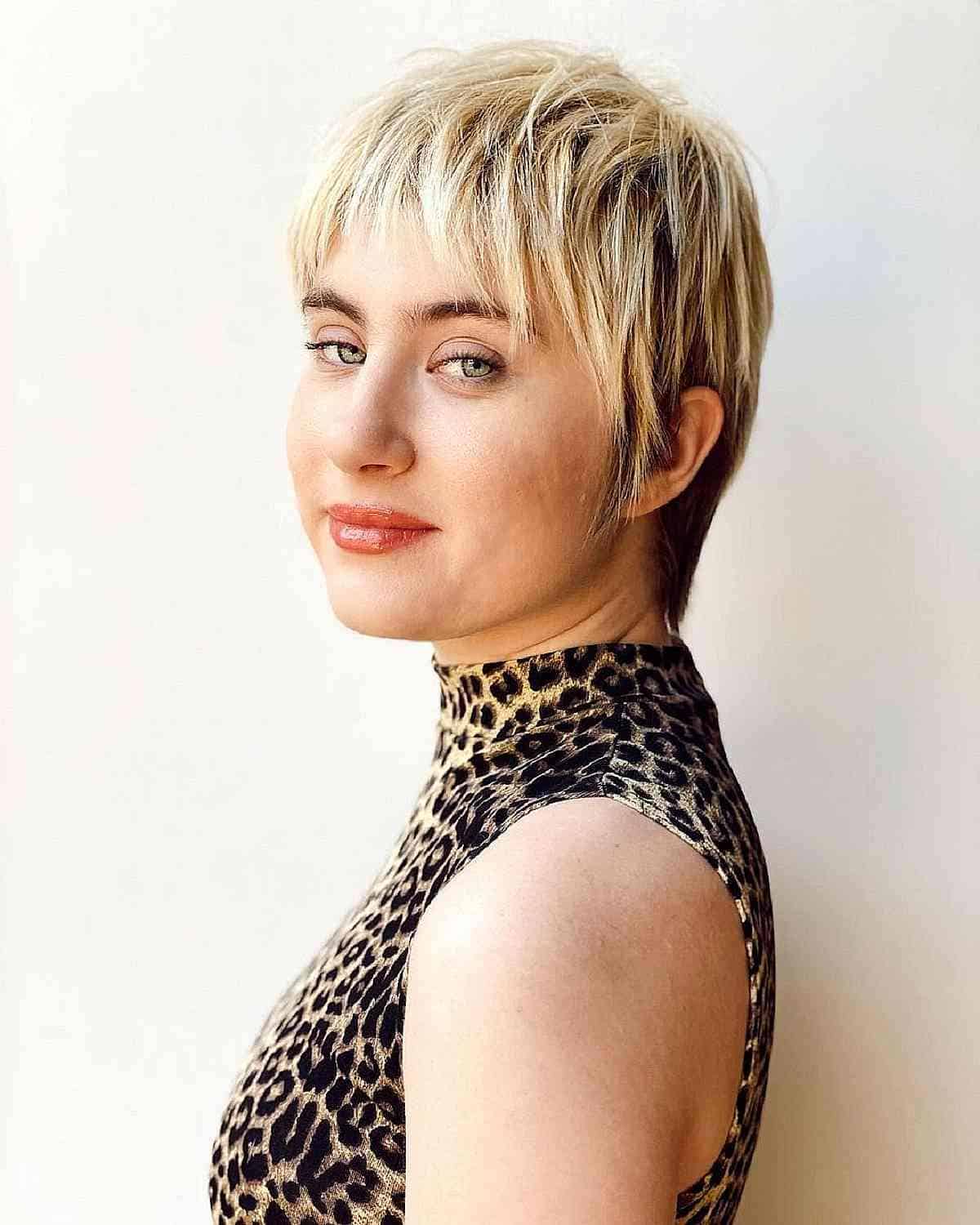 #9: Razored Pixie Cut for Round Faces
Women with round faces look best with a razored pixie cut. Typically, a pixie cut with wispy bangs isn't recommended for a round face, but this crop proves that it's all in how you style it! To offset your face shape, ask your stylist for extra length and texture around the ears.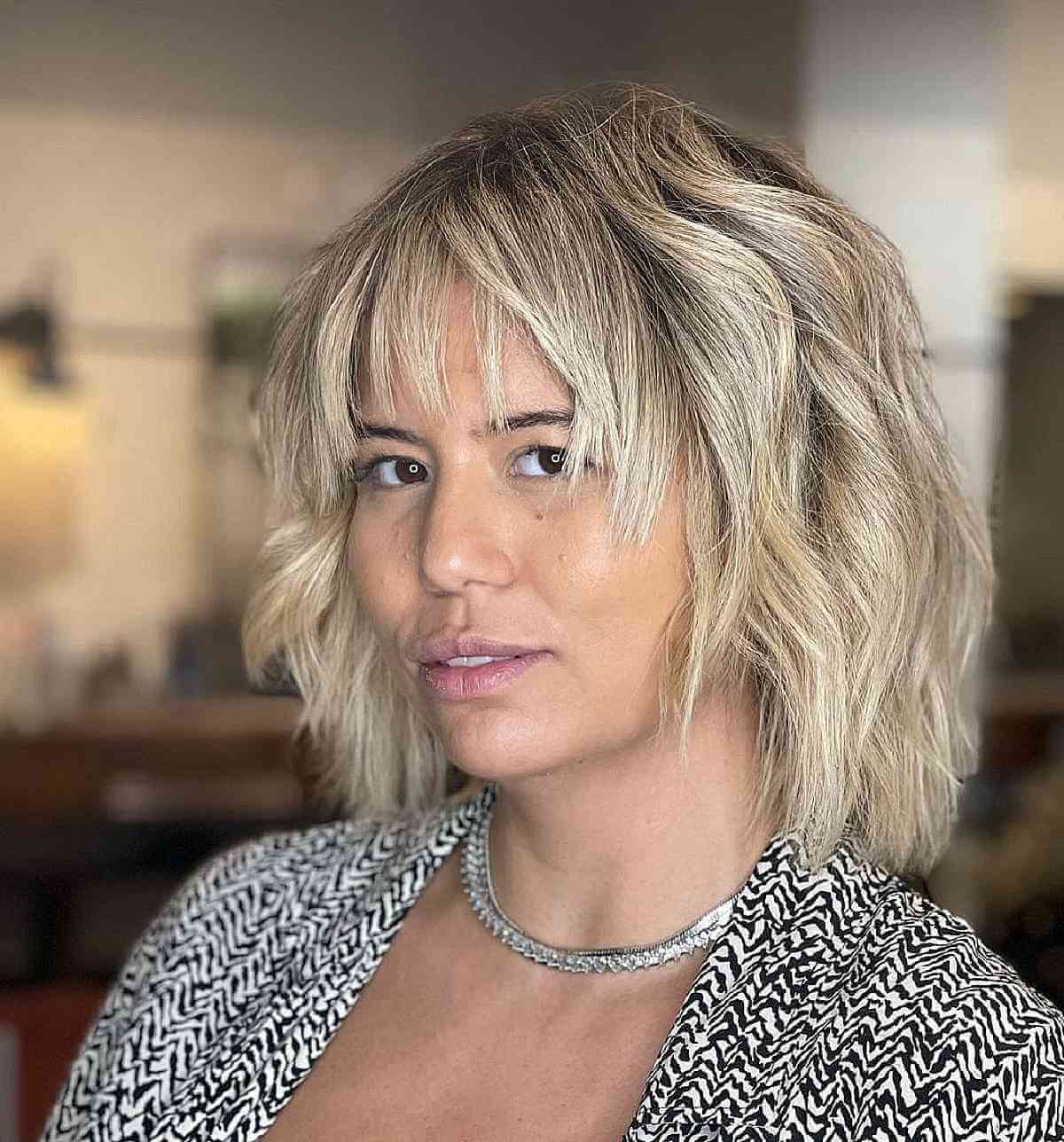 #10: Piece-y Bangs on Textured Layered Hair
Piece-y bangs look beautiful on textured layered hair. For ladies with thicker locks, a short cut will help remove weight, thus creating more volume at the crown and more body through your lengths.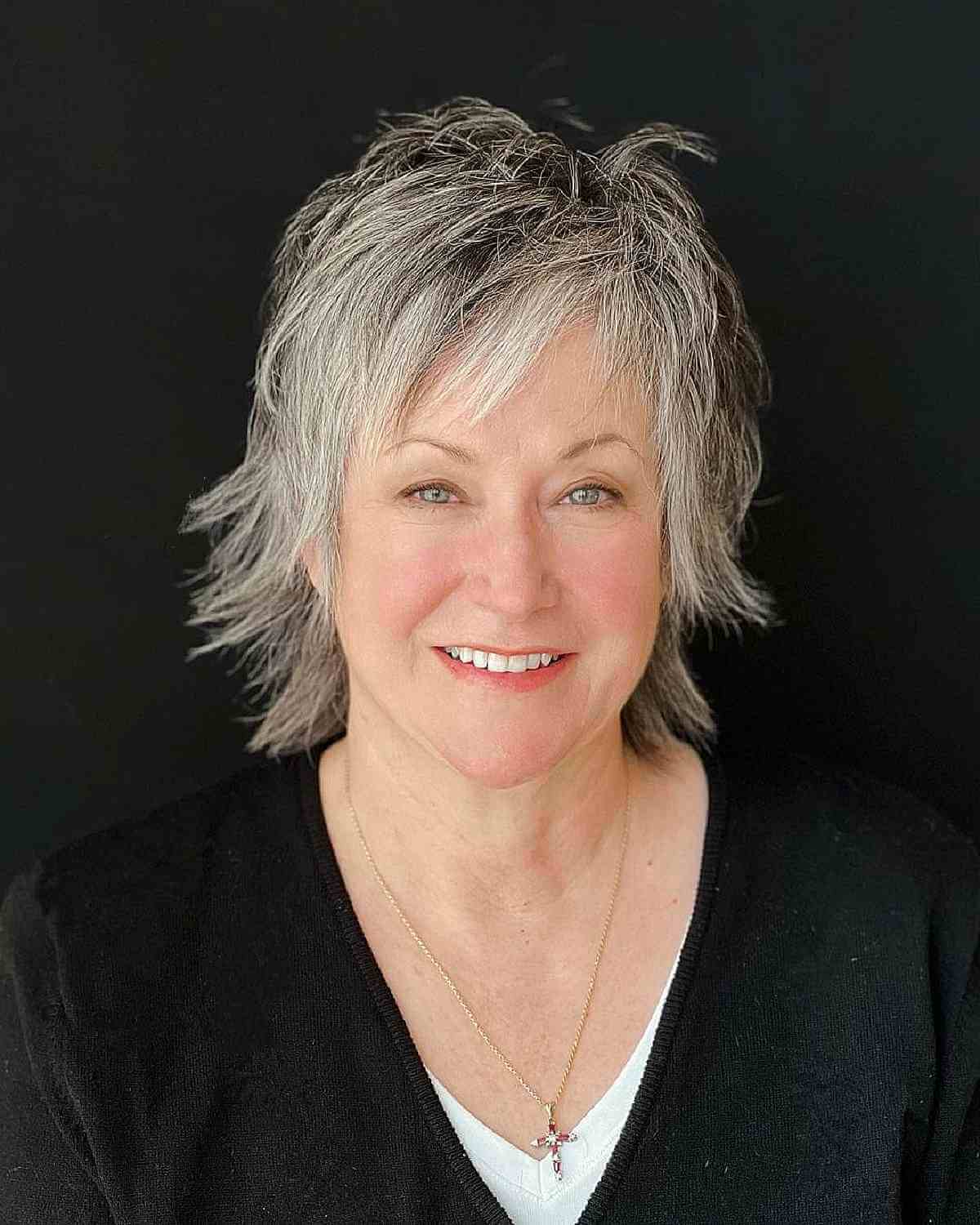 #11: Soft Shag with Side Bangs for Women Over 50
A soft shag with side bangs is a flattering cut for women over 50. Wispy side bangs on short hair are a great match for aging locks. This is because bangs will help hide any sign of a thinning hairline, and a shorter length will make the rest of your crop appear thicker and fuller.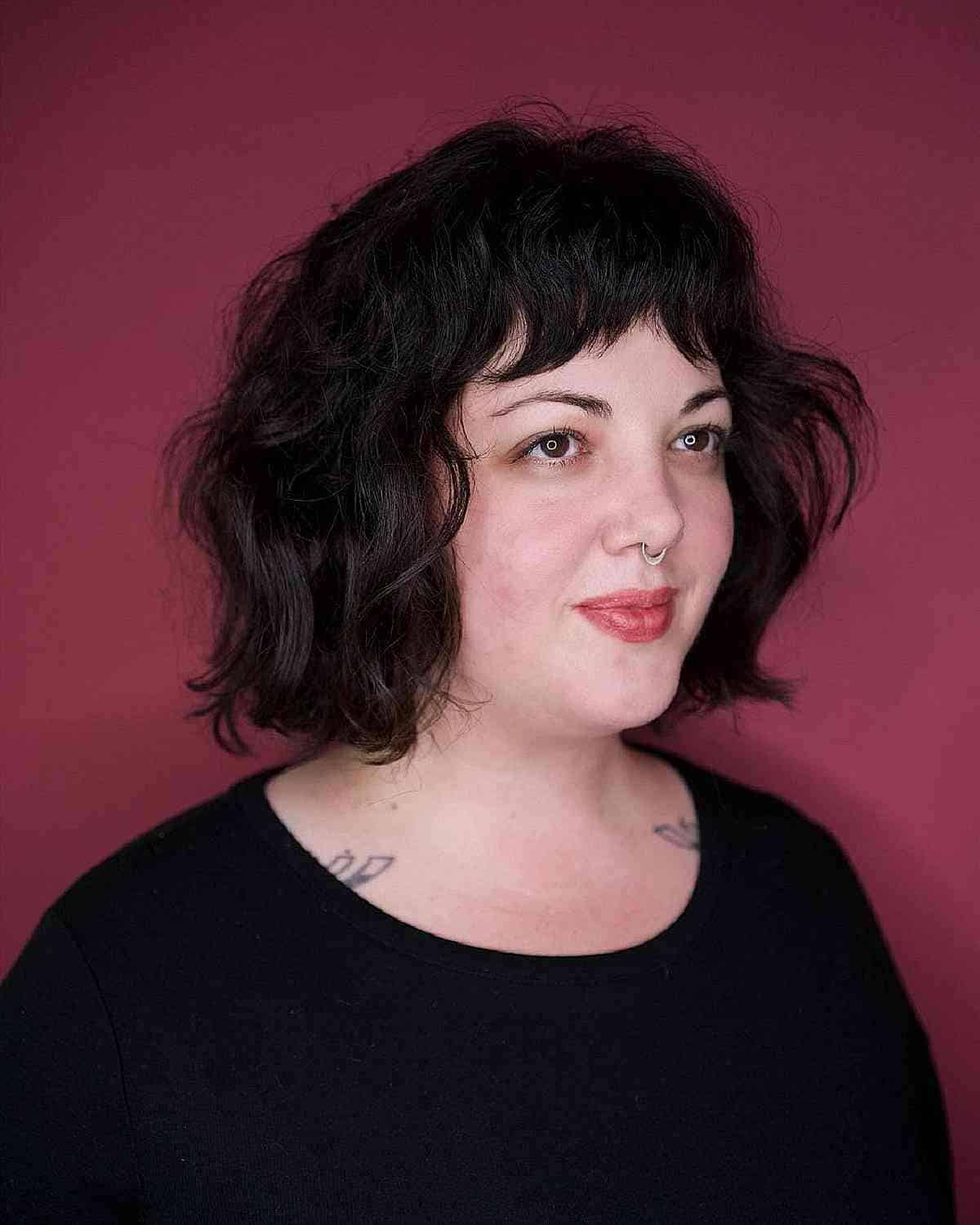 #12: Wavy Lob with Short Bangs
A wavy lob with short bangs is a universally flattering cut, especially with short feather bangs. A feathered fringe creates a much softer line along the forehead, making this style of bangs more approachable and wearable.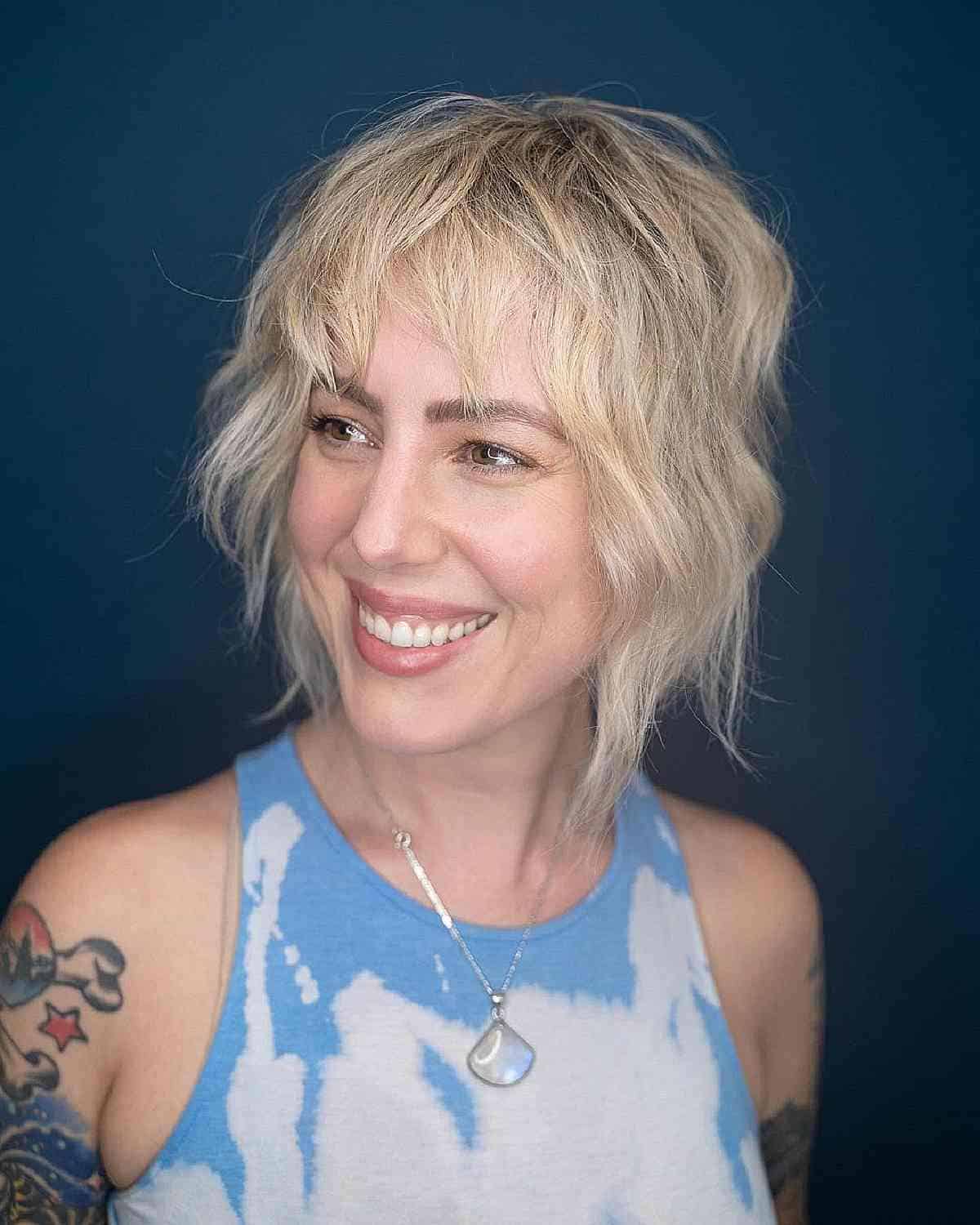 #13: Short Messy Hair with a Fringe
Women should opt for messy hair with a fringe as their next short hairstyle. It's an easy-to-style and maintain wispy cut. Just ask your stylist for product recommendations to style at home.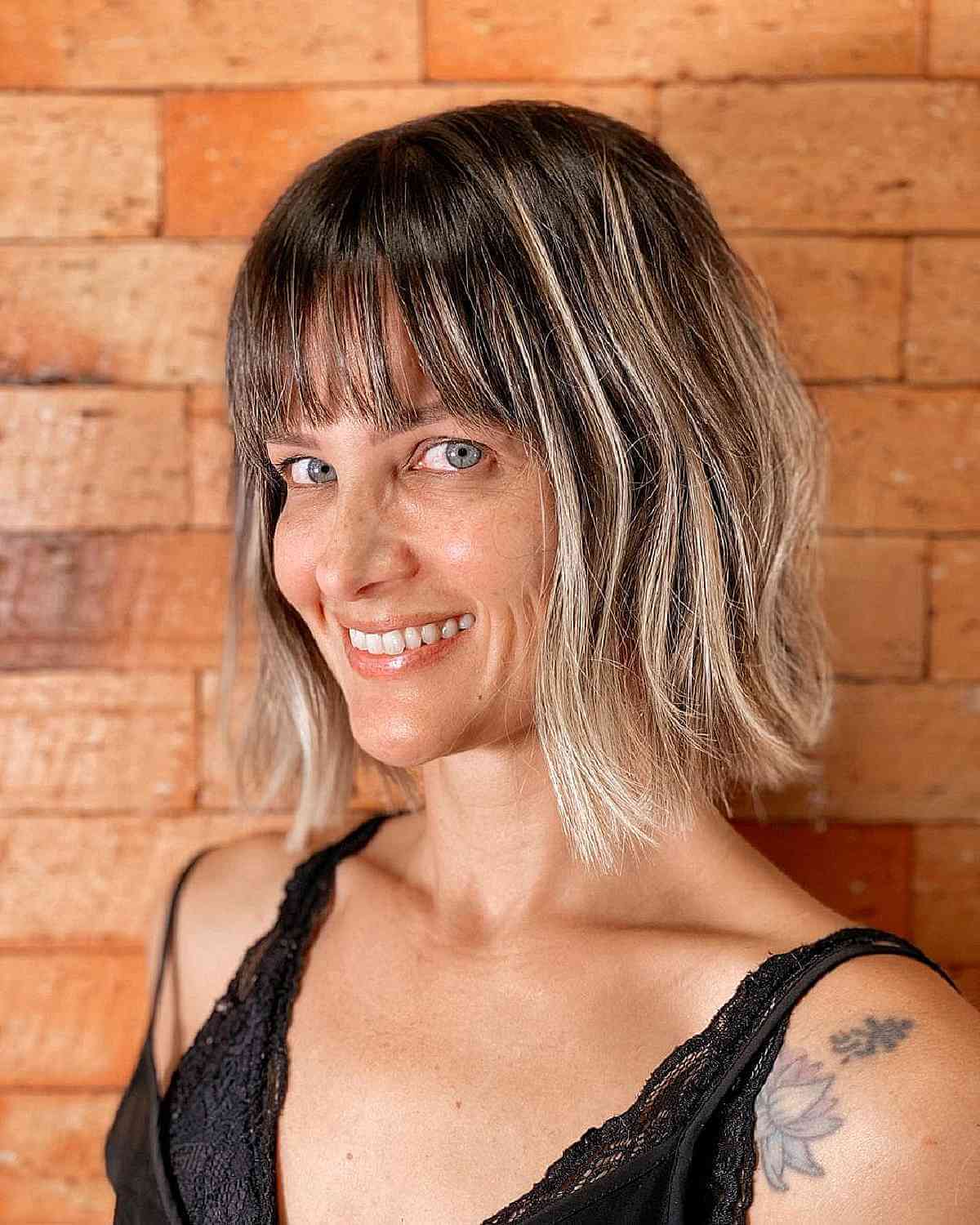 #14: Bob with Wispy Bangs for Thin Hair
Women who desire thicker hair should try the bob with wispy bangs for thin hair. Short wispy hairstyles with full bangs will make fine hair look fuller and are easier to style.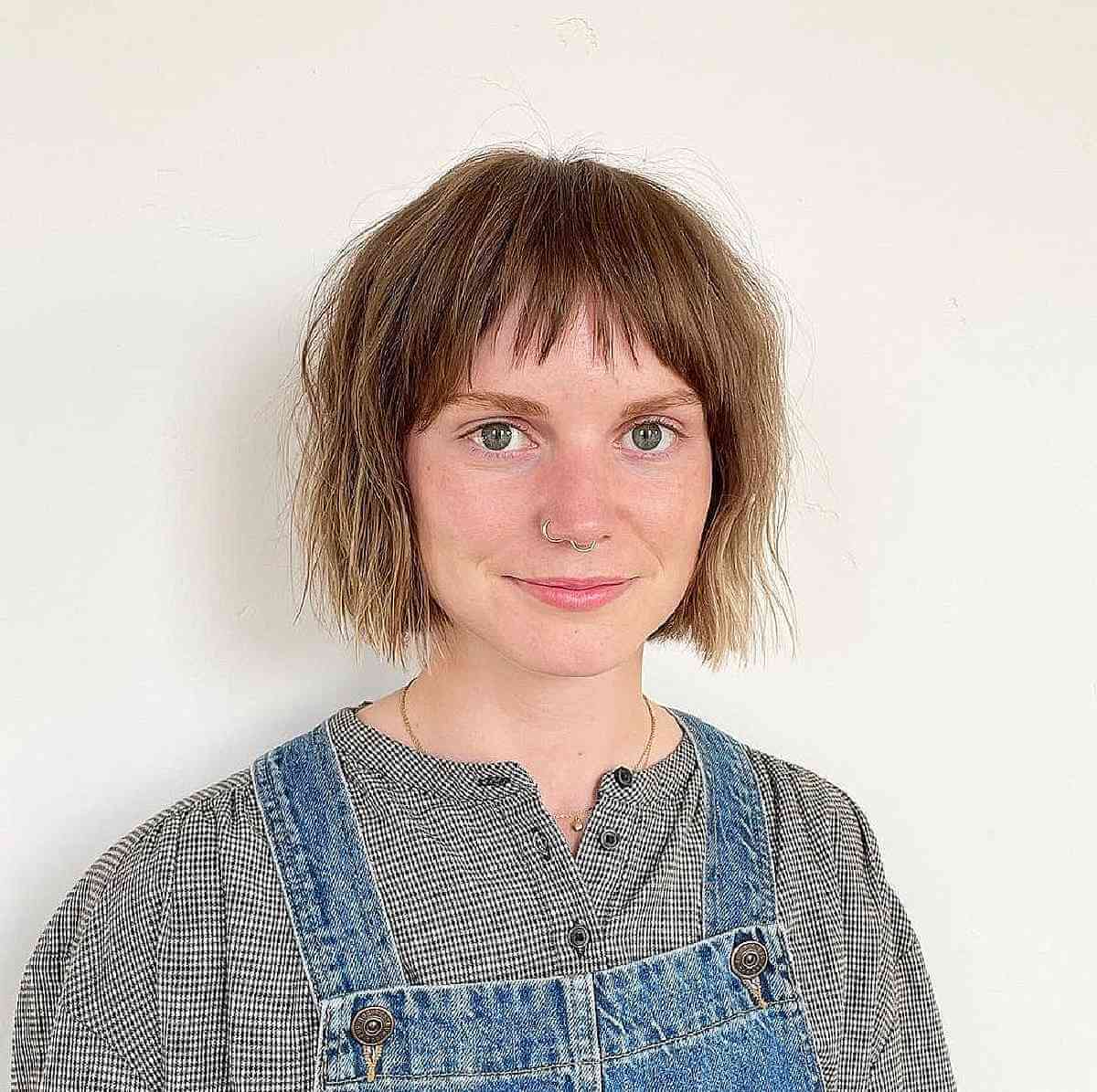 #15: Shaggy Bob with Baby Bangs
Women looking for a trendy haircut should opt for a shaggy bob with baby bangs. These short wispy bangs have been on the rise, just like the short shag. So why not combine these two style choices for the ultimate on-trend look!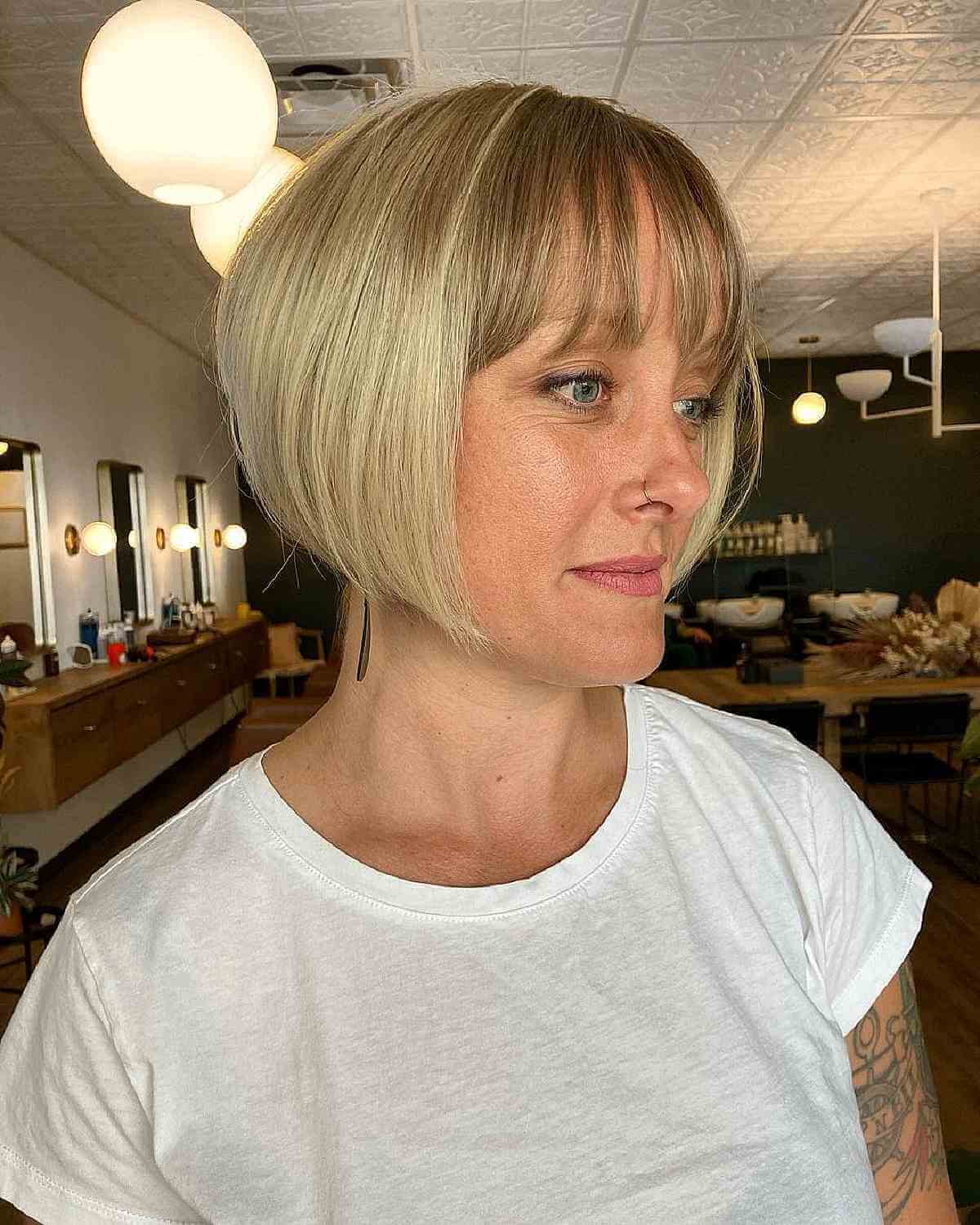 #16: Angled French Bob with Long Bangs
An angled French bob with long bangs looks spectacular on any woman. These types of wispy long bangs for short hair can make any angled crop more unique.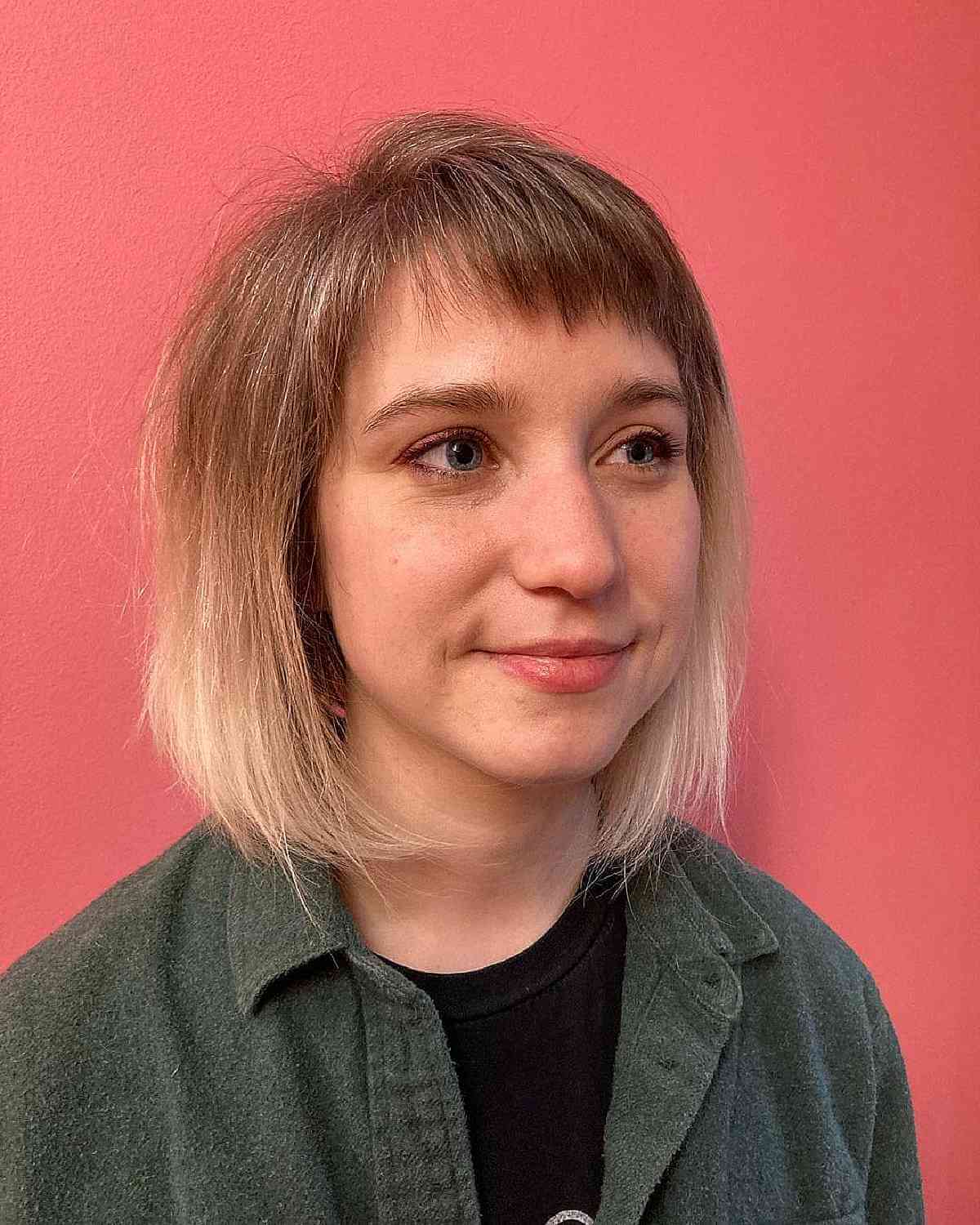 #17: Low-Maintenance Bob with Micro Bangs for Fine Hair
A low-maintenance bob with micro bangs is the perfect short haircut for fine hair. Short wispy haircuts lend themselves to finer hair as they create an illusion of fullness. The addition of micro bangs also helps prolong the time between salon visits due to how short the fringe is kept.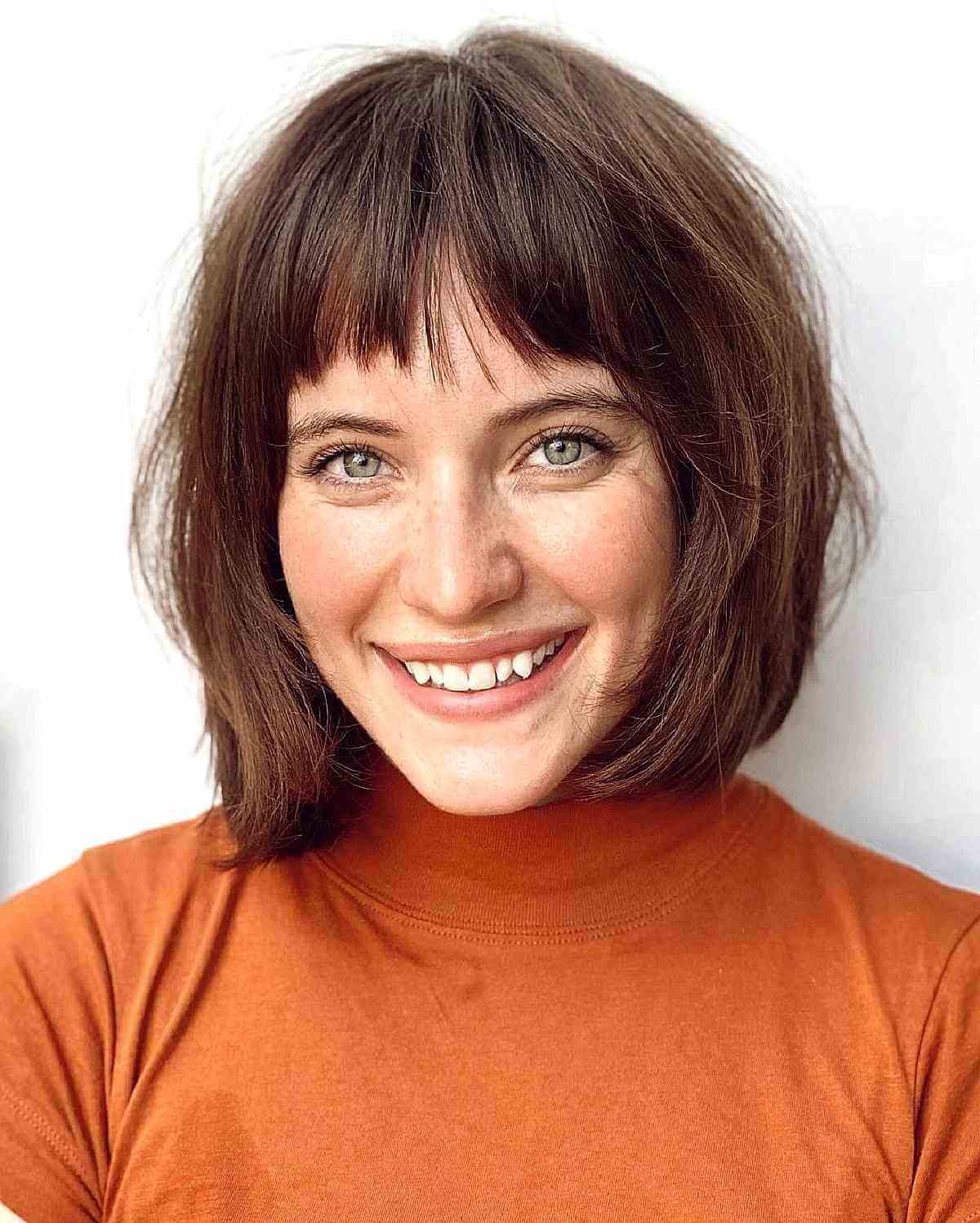 #18: Chin-Length Tousled Cut with Bangs for Oval Faces
Women with oval faces look stunning in a chin-length tousled cut with bangs. Usually, a chin-length bob with wispy bangs isn't recommended for oval faces, but this square version actually helps offset the roundness and length of the face.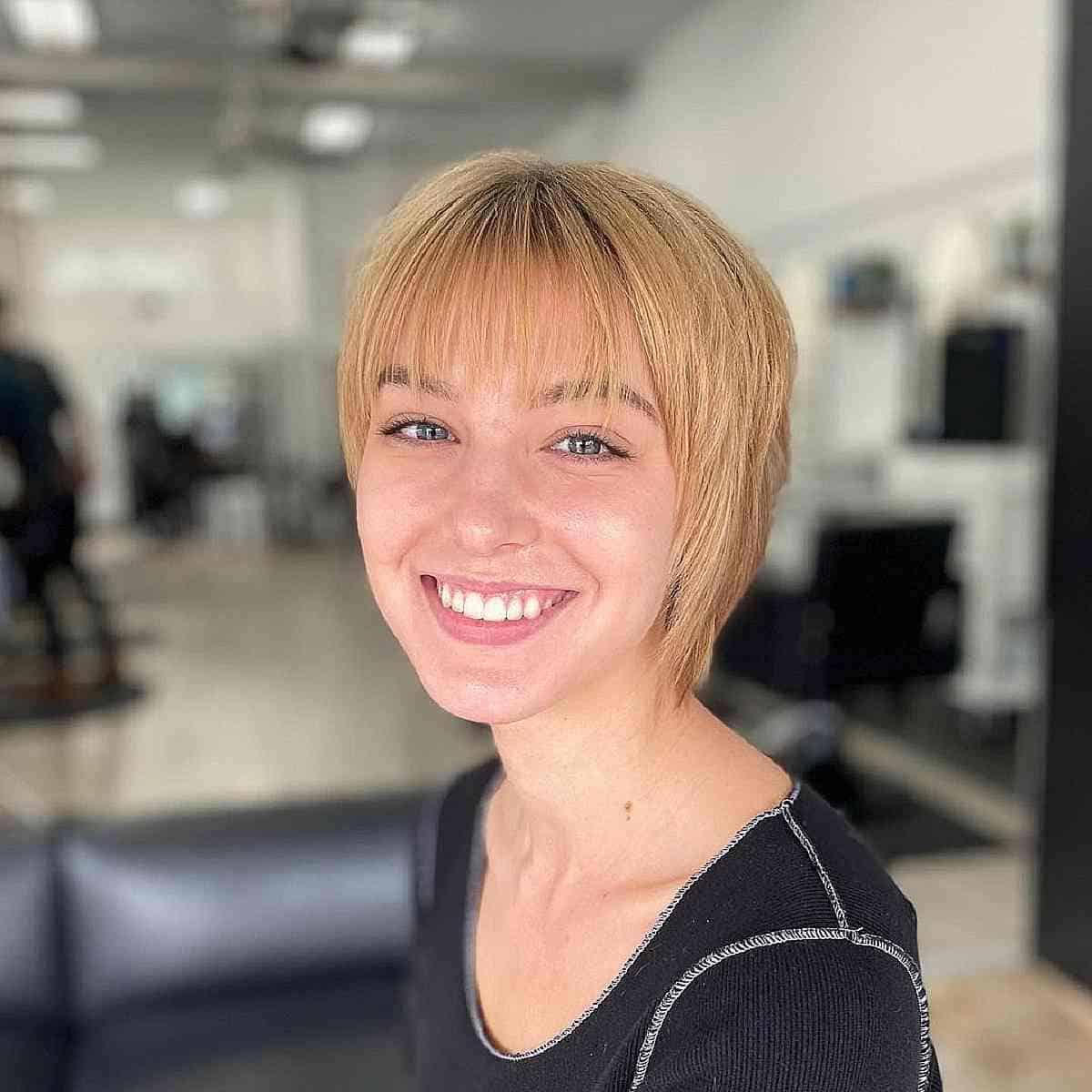 #19: Pixie Bob with Bangs for Straight Hair
Try a pixie bob with bangs if you have straight hair! Also known as the "bixie," this short cut lends itself to straighter hair textures. Additionally, utilizing wispy fringe for short hair will also make your locks appear denser.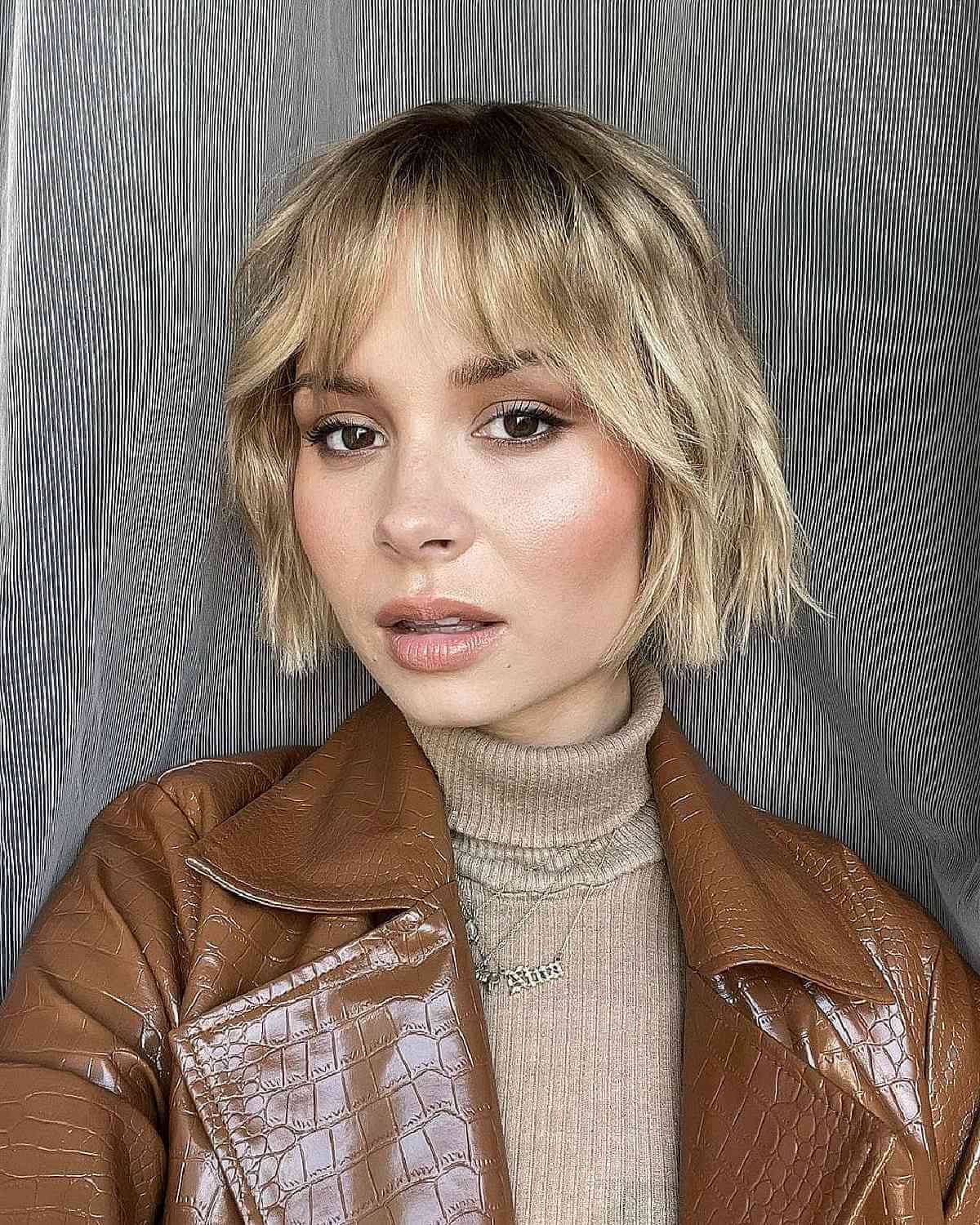 #20: Short Blonde Bob with Soft Beach Waves
For a sharp, trendy look, try a short blonde bob with soft beach waves. The wavy texture and soft bangs pair perfectly to create a wispy hairstyle that looks beautiful on any woman.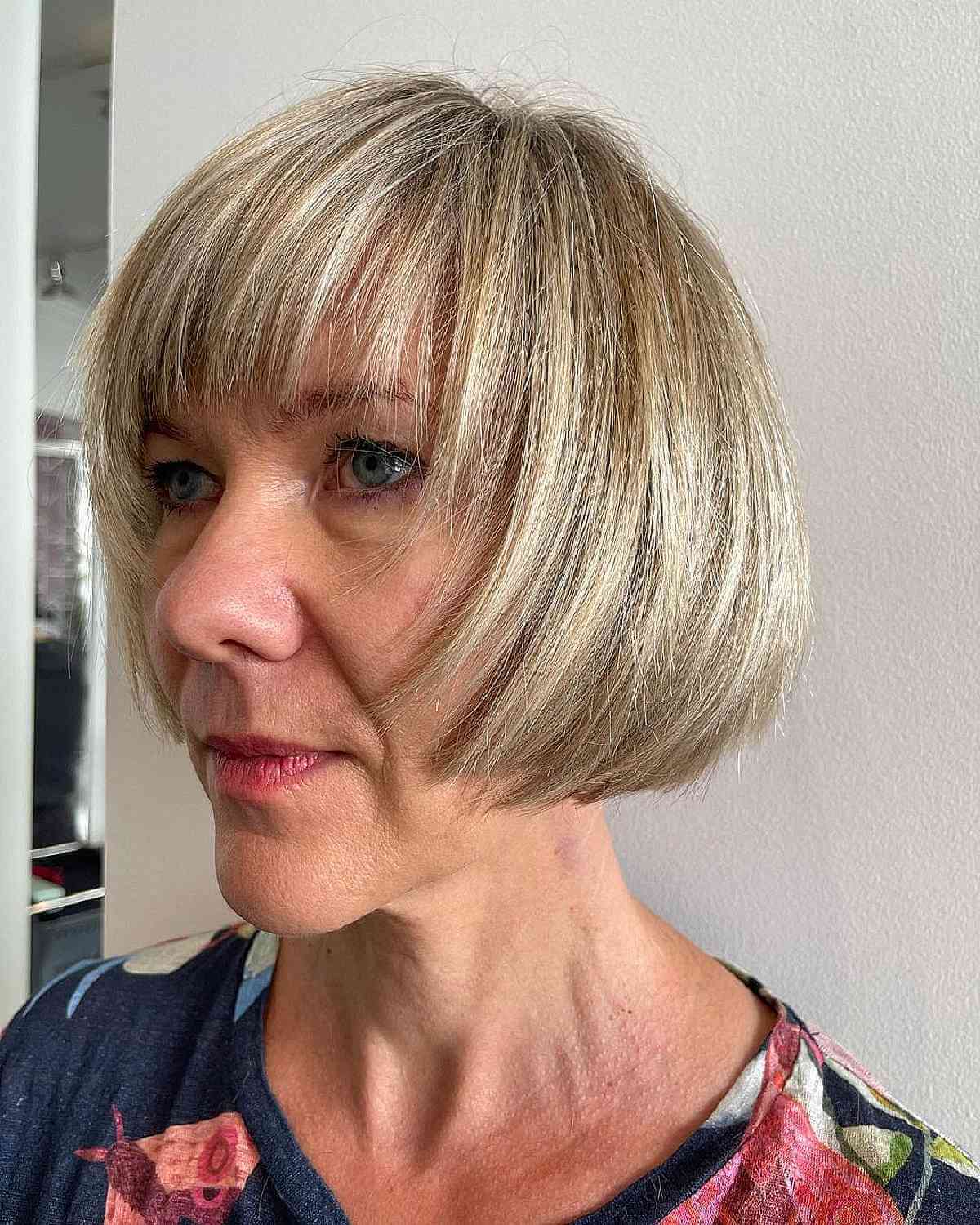 #21: Jaw-Length Textured Bob for Women Over 60
A jaw-length textured bob for women over 60 is the ultimate short style with side-swept bangs. If a short crop is what you're looking for, then this short hairstyle is a must-try!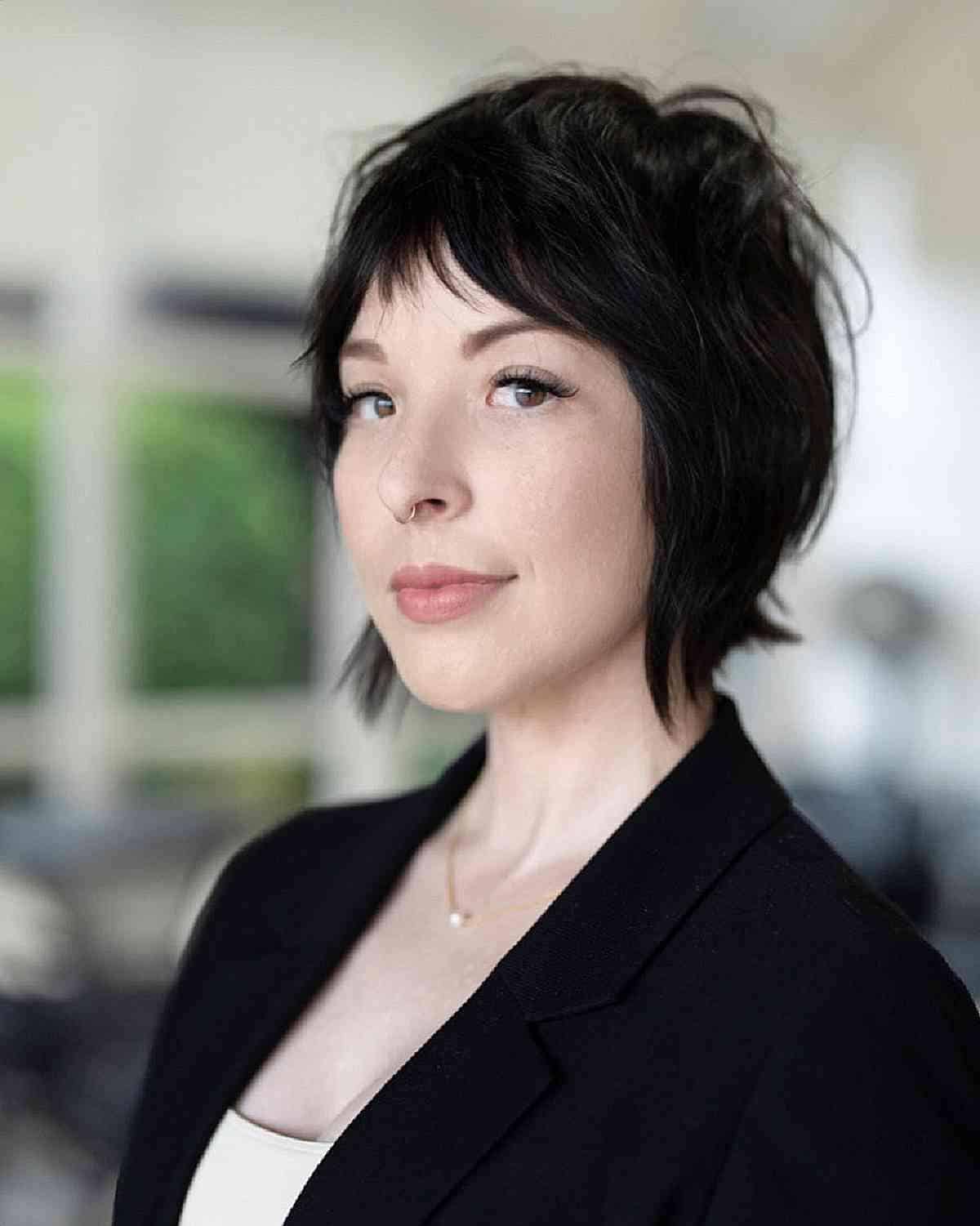 #22: Short Shaggy Bob with Textured Bangs
The short shaggy bob with textured bangs is a trendy hairdo every woman should try! Women who like short cuts will find this crop to be quite the head-turner, and easy to style.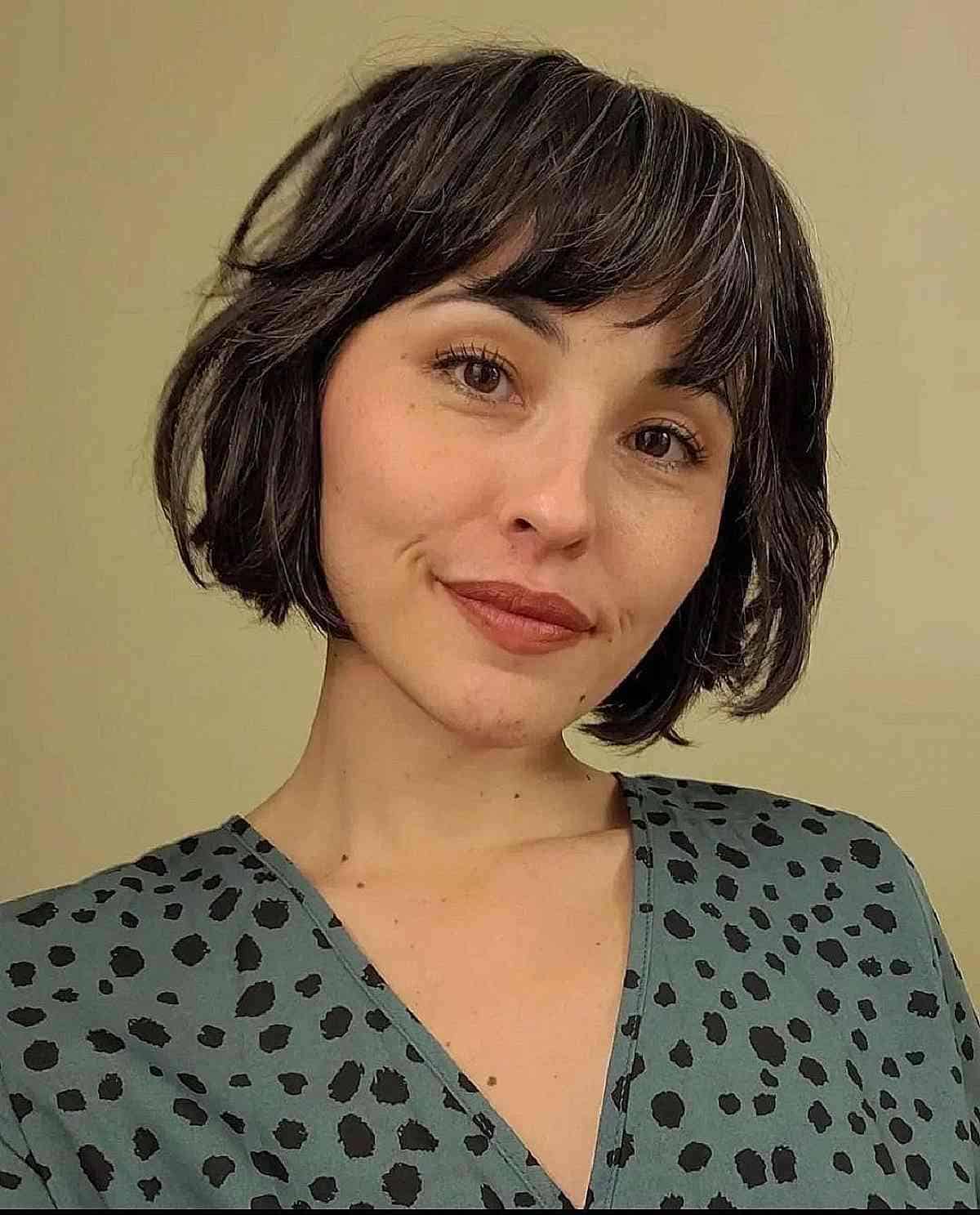 #23: French Bob with Layers and Bangs
The queen of short wispy layered hairstyles is the French bob with layers and bangs. This cute crop has been incredibly influential in the beauty and movie industries. Feel like a movie star with this wispy 'do!