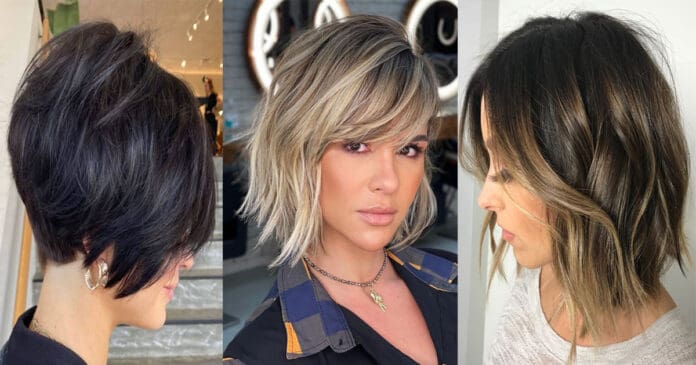 Short choppy haircuts add amazing texture that will take your style up a notch. Whether you have a bob, pixie, or an a-line haircut, adding some grit or disconnected layers into your look will really change the shape and make it more interesting. You'll be amazed by the versatility that these gorgeous choppy haircuts have to offer! The world of choppy texture is versatile, flattering, and beautiful! Grab your pomade, wax, or texture spray to enhance your new chunky or razored cut. Now is a fantastic time to have short hair! Be realistic when choosing short hairstyles for yourself. Ask yourself if your personality really wants a rocker and edgy hairstyle, or more of a soft and feminine style. If you're not sure, opt for a longer hairstyle that has more versatility instead of pigeonholing yourself into one look. Most of these short choppy cuts are super easy to style. Who doesn't want a wash-and-go look? Before your next hair appointment, check out these pictures of the best ideas for short choppy haircuts!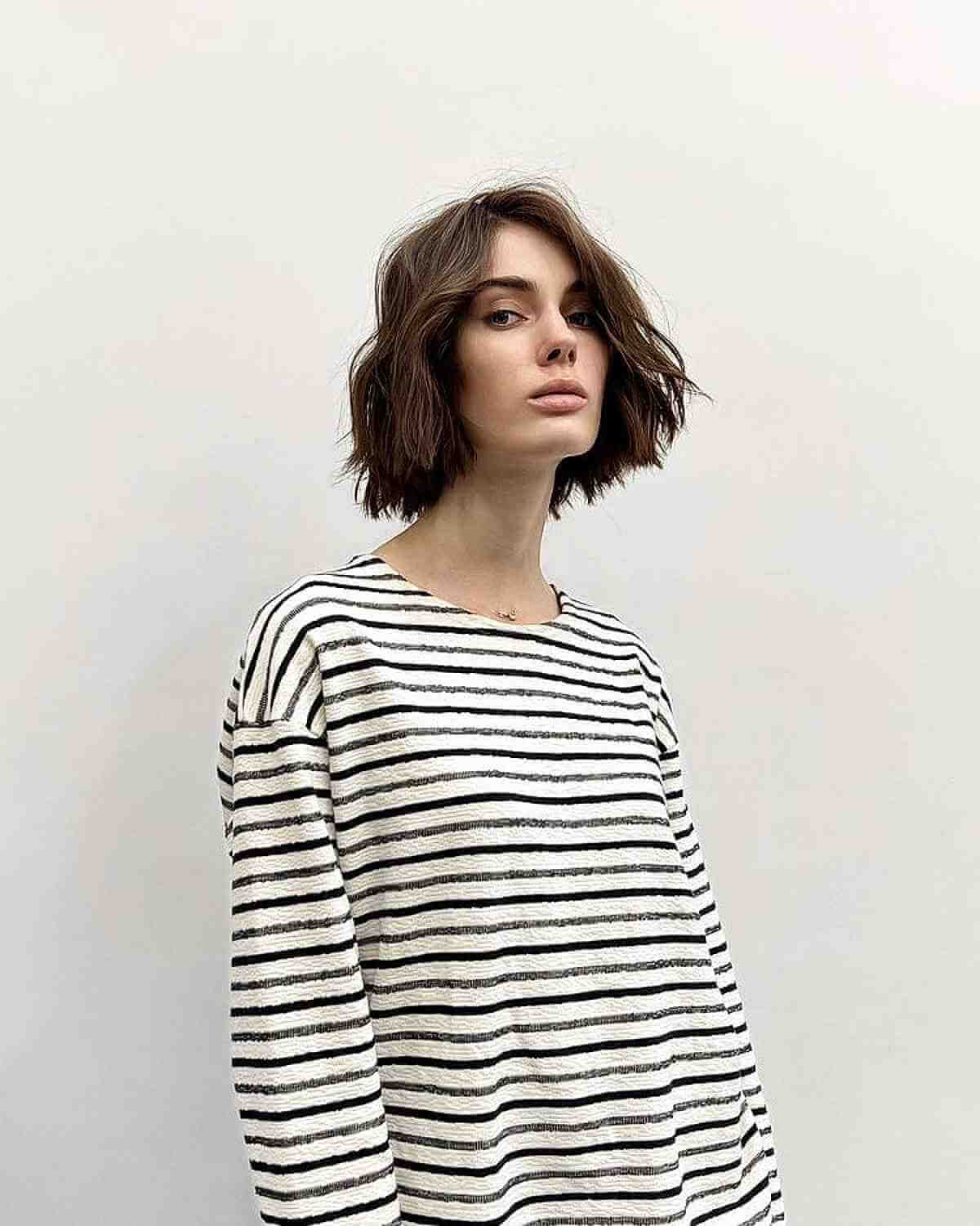 #1: Chin-Length Choppy Bob
A chin-length bob is an easy low-maintenance bob option. The choppy layers help remove weight and create an edgier appearance. Try styling with flat iron waves and finishing with a texture spray to enhance the layers.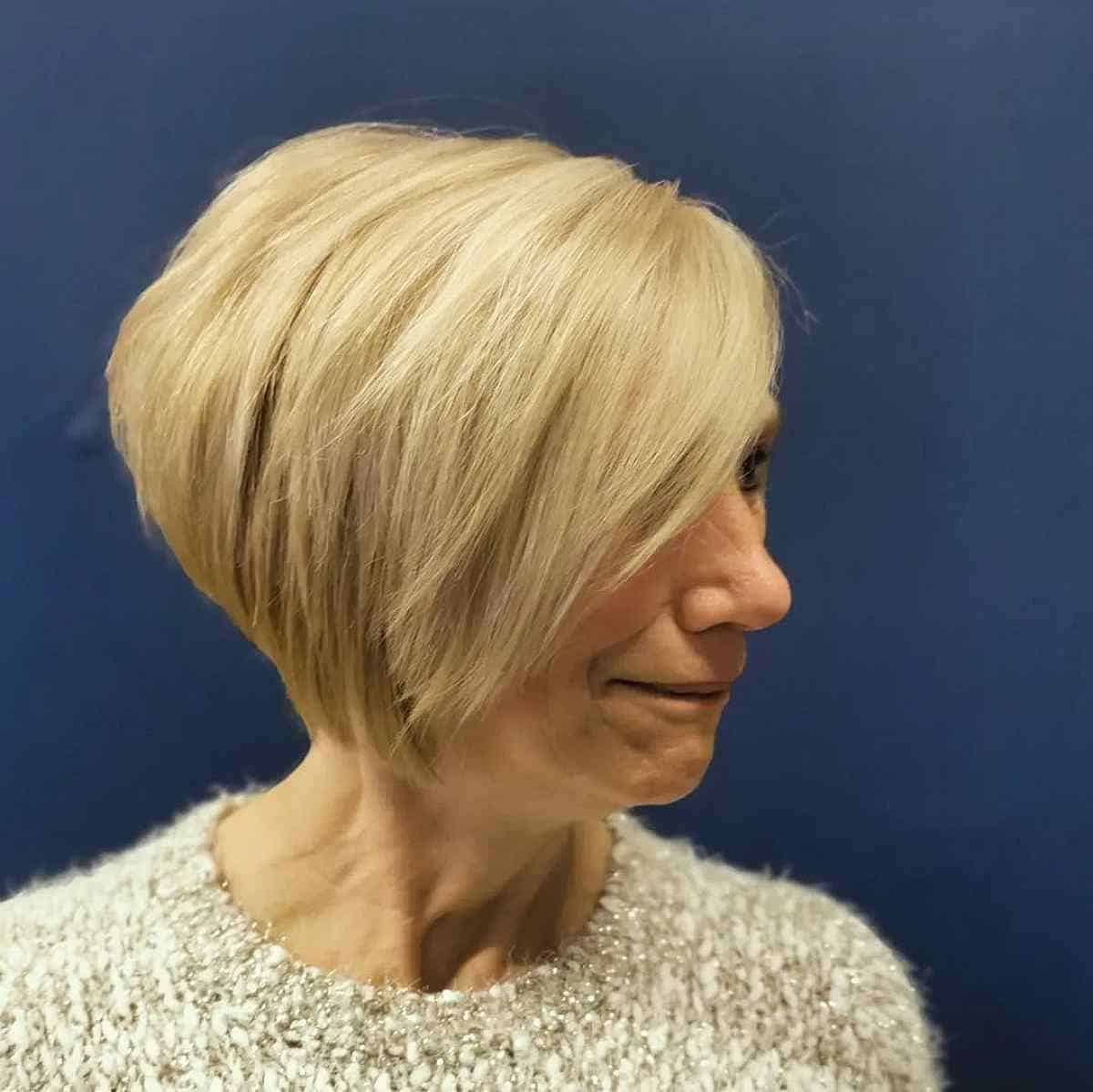 #2: Short Choppy Haircut for Women Over 70
If you're a woman over 70, try a short, choppy haircut. Keep a tousled look by using the Wax Blast Spray by Redken while styling.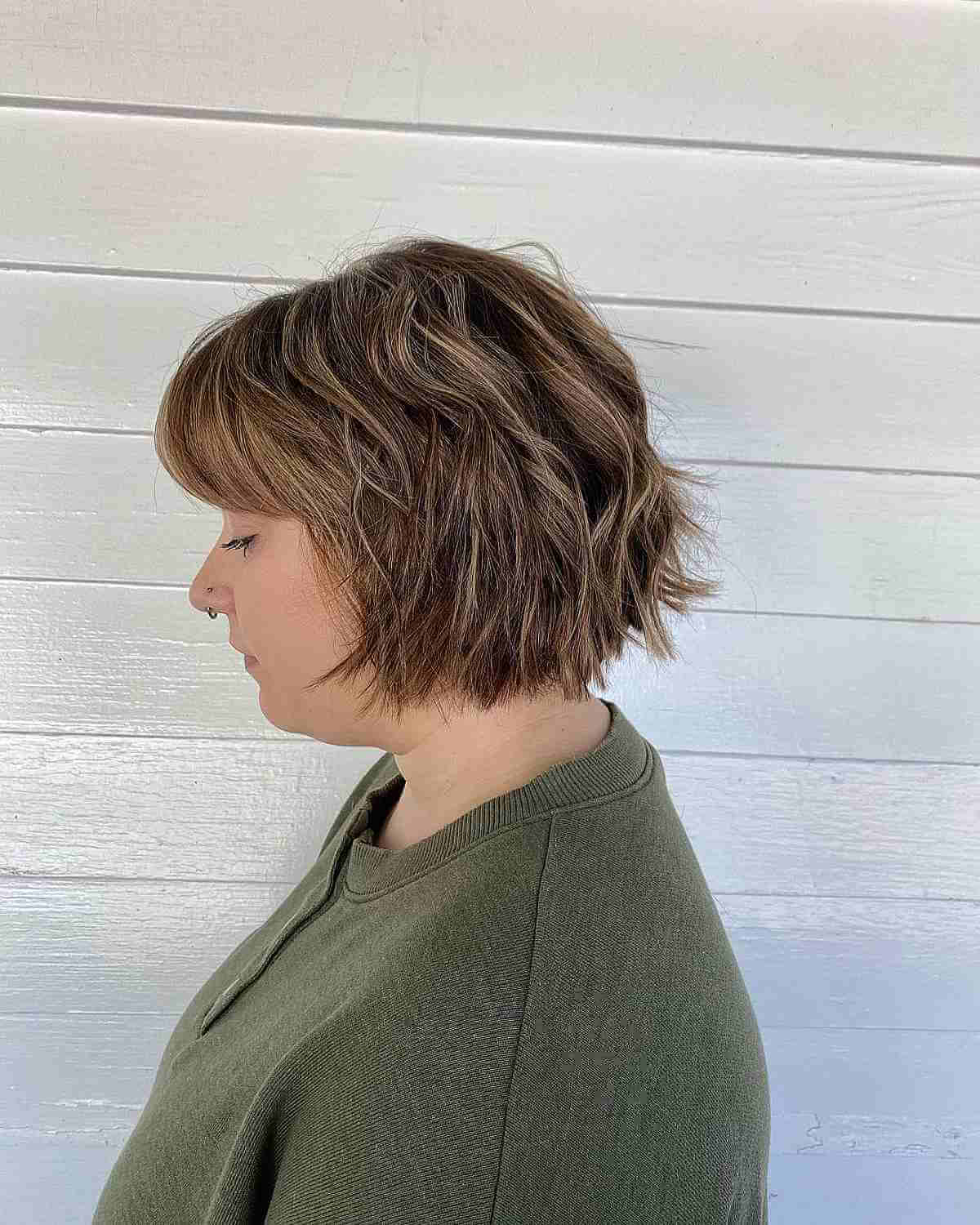 #3: Jaw-Length Edgy Choppy Bob
A jaw-length choppy bob works best on naturally wavy hair. When tousled, it makes for a fun and edgy haircut.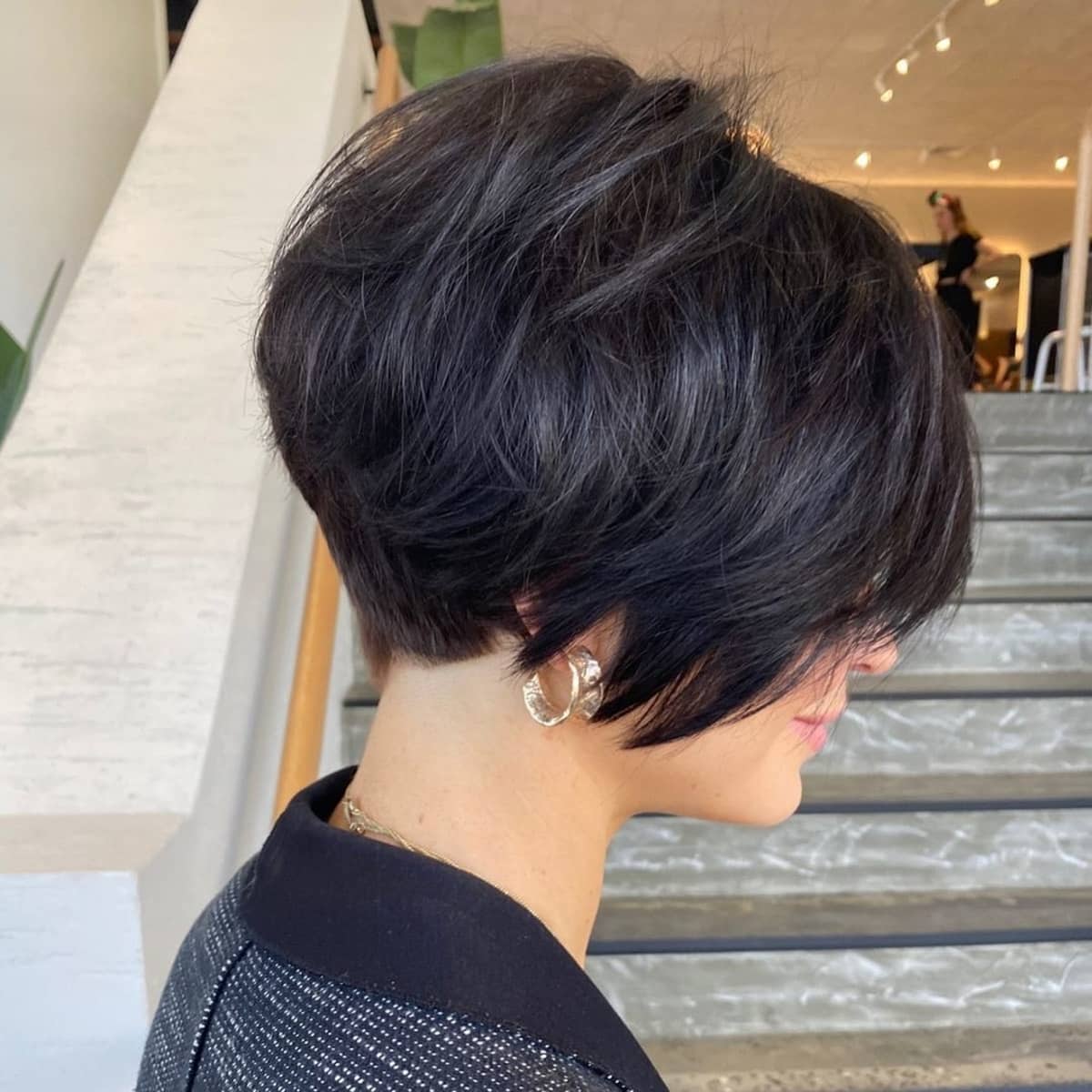 #4: Short Choppy Pixie Cut with Choppy Layers
This short choppy pixie cut with choppy layers has layered strands that are kept at the chin line or slightly below. At the back of the short choppy pixie, the strands are streaked, thus ensuring movement to this cut that is made close to the nape of the neck. To enhance your short choppy layered hair, opt for an ombre or balayage.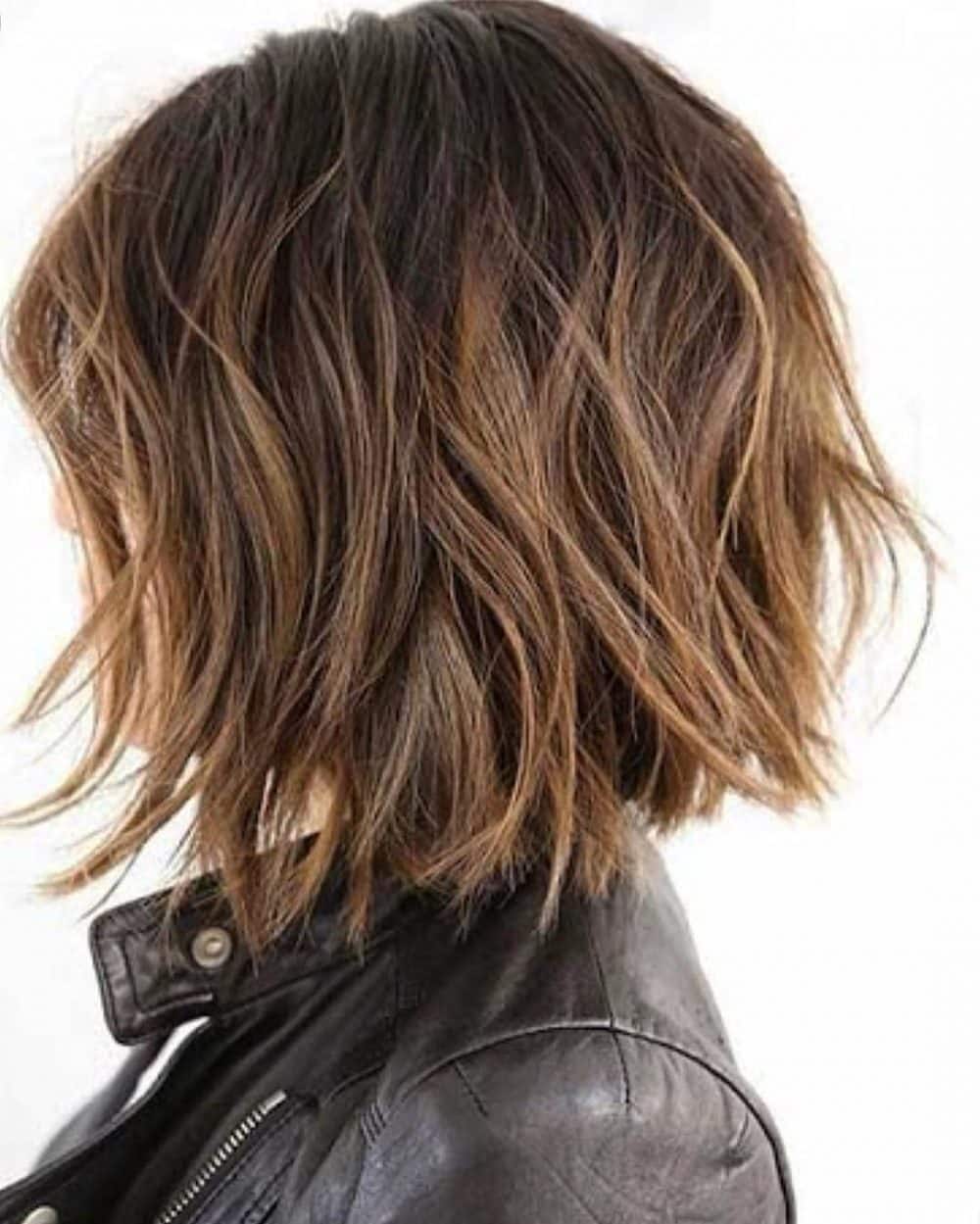 #5: Choppy Cut for Thick Hair
Messy, short choppy haircuts for thick hair are a stunning way to remove the bulk off your locks but still keep the volume you naturally have. Add highlights of blonde or brown to your darker mane to pull off dimension. This all-time chic and choppy bob style doesn't need a certain face shape to make it work.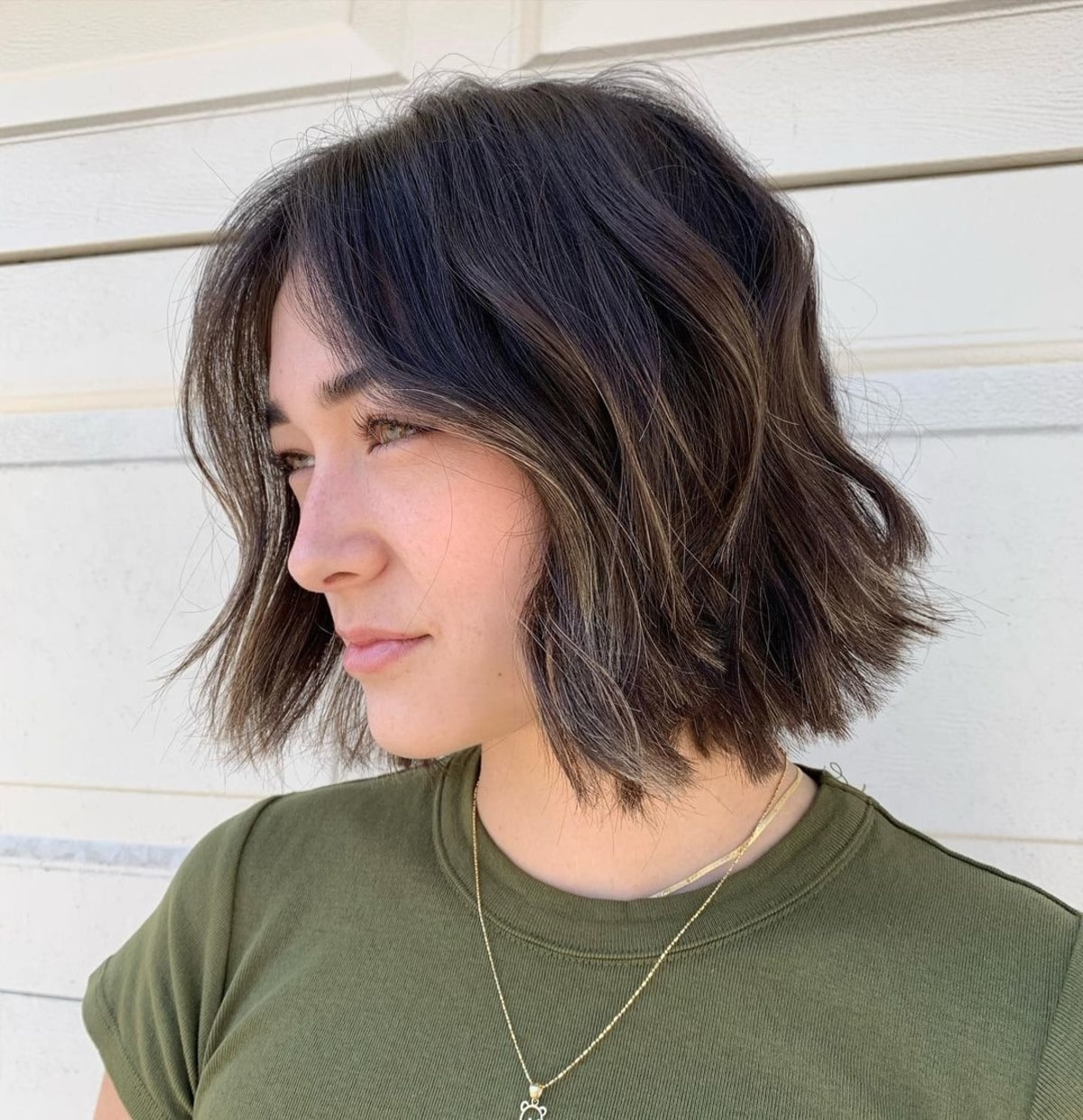 #6: Short Textured Choppy Hair Style
A short textured choppy hair style that brushes right below the chin is sassy and chic. A cut that can work for all textures. If your hair is thick, don't be afraid to get a choppy short cut. Adding a ton of texture and weight removal will do the trick. Short layered hairstyles especially those when layers start from the cheeks down, provides movement and face-framing features.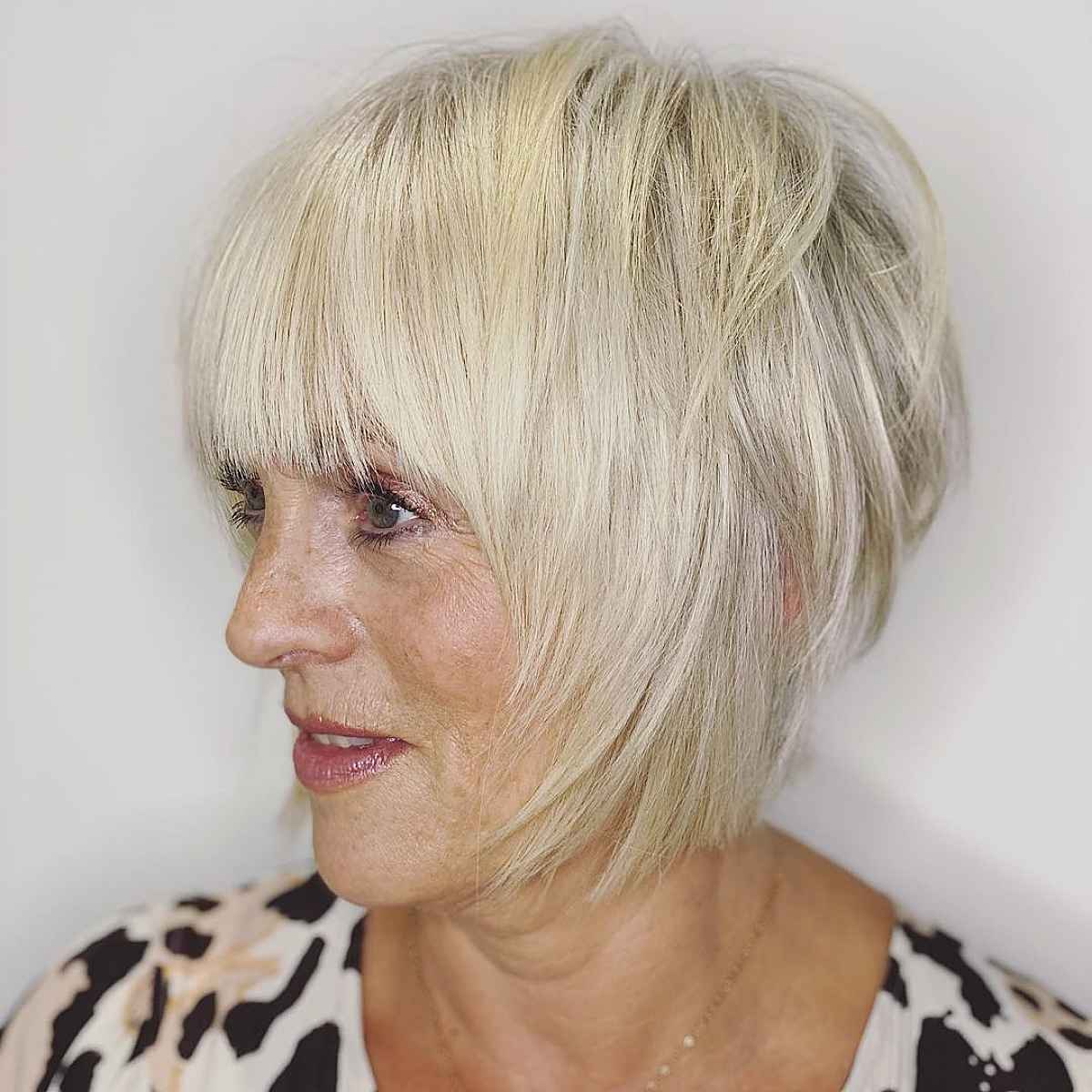 #7: Asymmetrical Choppy & Jagged Hair
Don't you love choppy cuts? Dry-cutting choppy short haircuts help you see the form and texture better. You can create many visual points in the hair. This is a very textured short cut without being too choppy. To style, just blow dry with a little over-direction for body. Use the cool air setting to help the hair piece together. Then finish with a texture spray or flexible hairspray.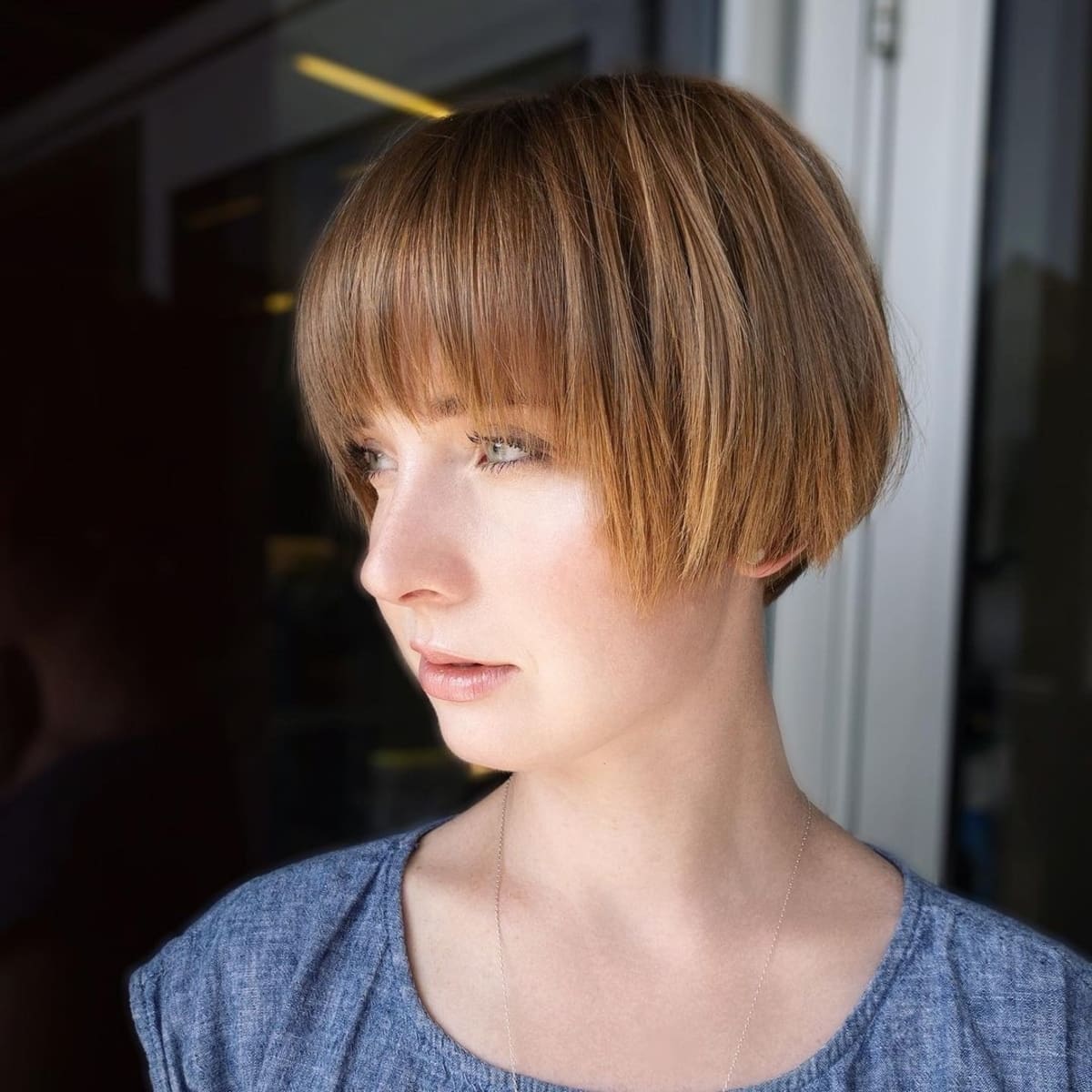 #8: Short Choppy Hair with Bangs
Short choppy hair with bangs brings lightness and balance, transforming the conventional bob into a modern and stripped-down option. Short hair and choppy bangs look best with a slight wave, too.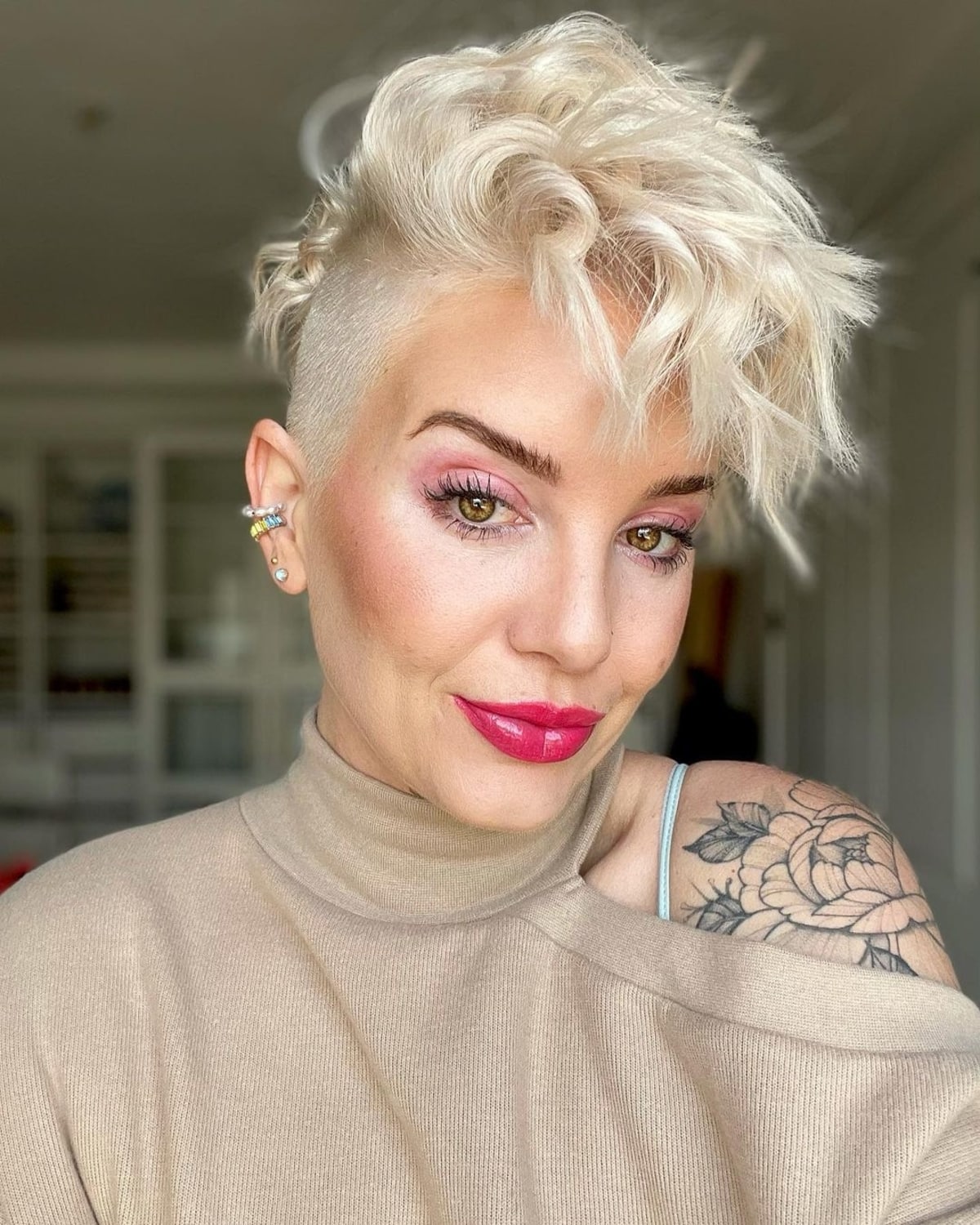 #9: Blonde Choppy Undercut Pixie Haircut
A blonde, choppy undercut pixie haircut is super trendy right now. The characteristics of this short pixie are very low sides, cut mostly by machines, and the top part is long with choppy layers. This short haircut has low maintenance and is easy to style. A pomade leaves the texture messy and modern.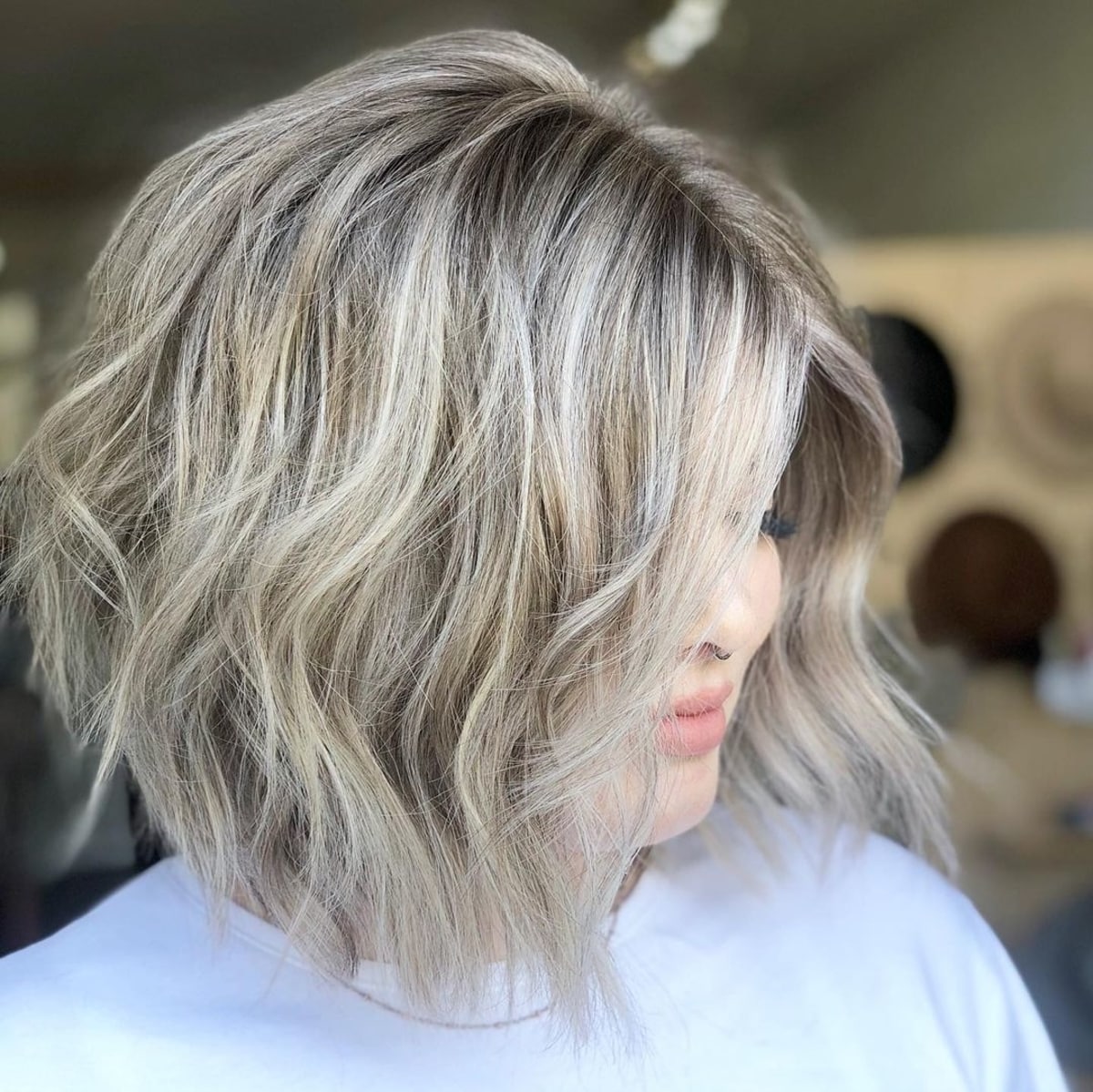 #10: Short Choppy & Messy Bob with Balayage
A short, choppy, and messy bob with balayage is a very flattering cut for those who want a versatile and short choppy hairstyle. You can style with pomade, wax, or texture spray. Short choppy haircuts love texture!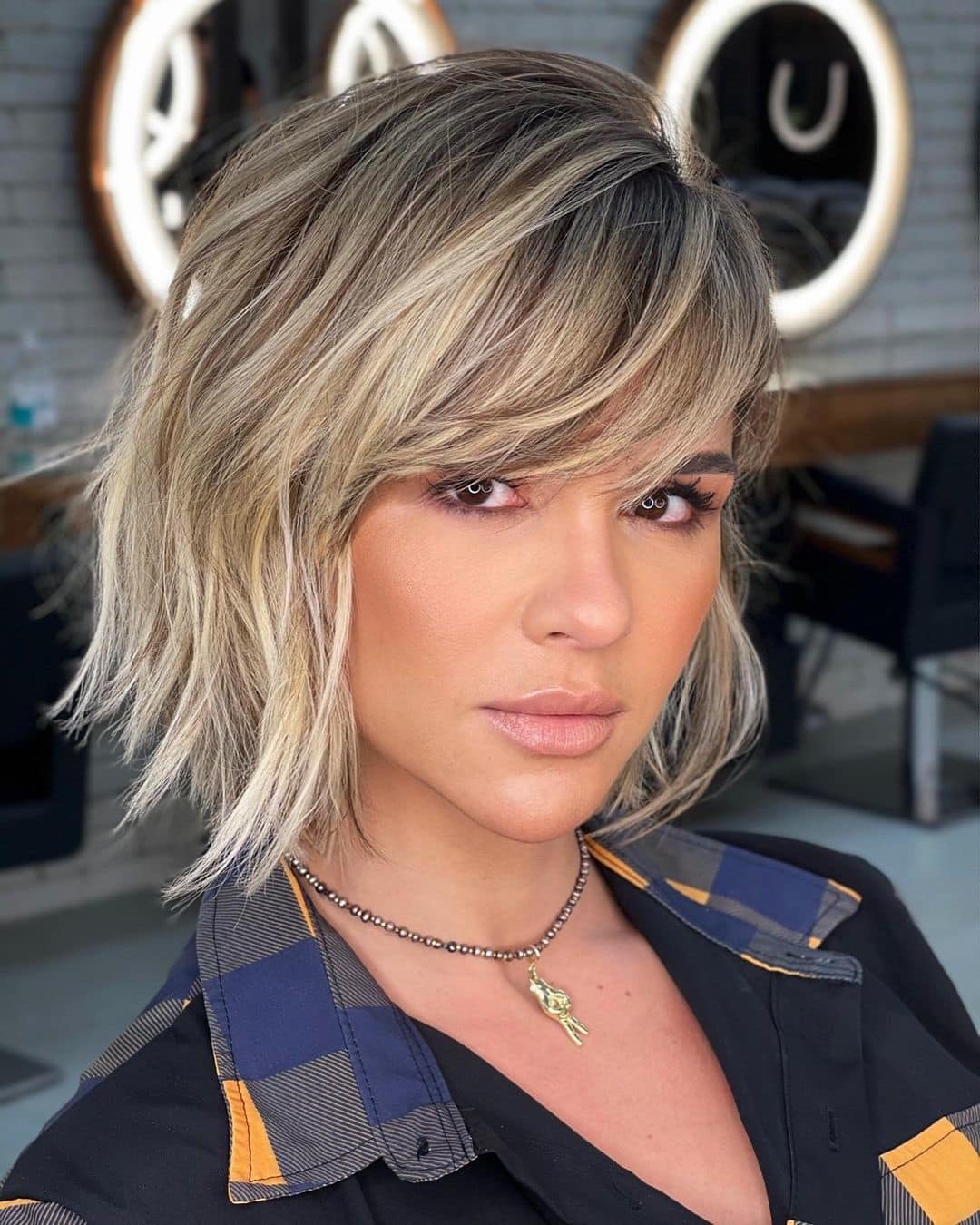 #11: Choppy Blonde Cut with Side Bangs
Try a playful choppy blonde cut with side bangs for an ultra-seductive style. The great thing about choppy layers is that they add texture to the hair. These layers emphasize that tousled style we all love with a shorter length. The addition of side bangs is a great option if you have a square face or prefer covering up a longer forehead.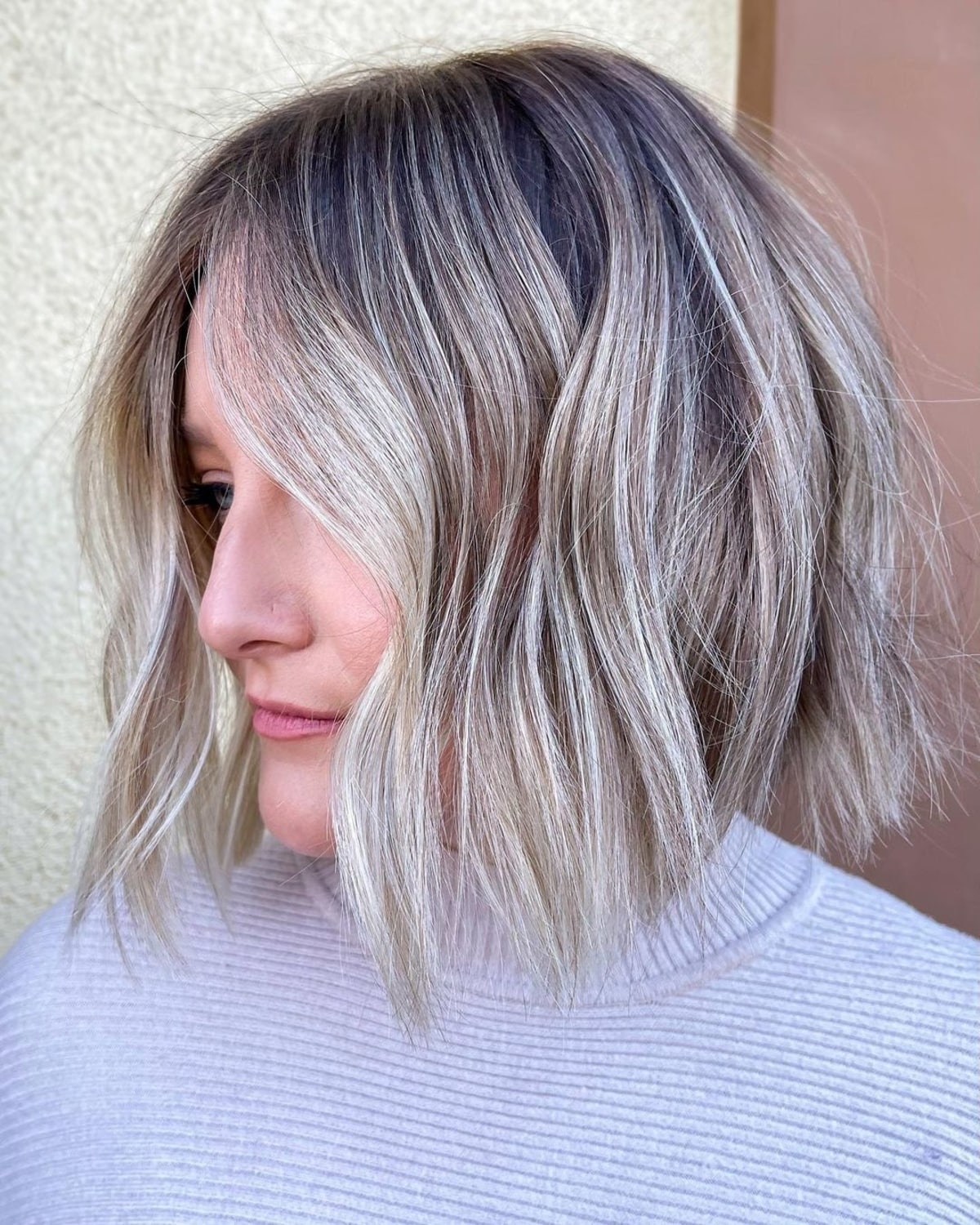 #12: Ash Blonde Wavy Choppy Bob
An ash-blonde wavy choppy bob gives you a carefree look without a lot of maintenance. Toning highlights to ash-blonde can come with a little bit of at-home maintenance, but nothing too hard for you to handle! Throw a few fun waves in for a fun, lived-in style, and you'll look like you spent hours on your hair.
#13: Chopped A-Line Lob
A chopped A-line lob is a shoulder-grazing chic style. While a lob can feel like an in-between length, it's a great way to feel empowered with shorter hair without going the whole mile. If you have a finer texture, keep the style one length with some shape around the midface. For coarse hair, get it a little thinned out for added texture.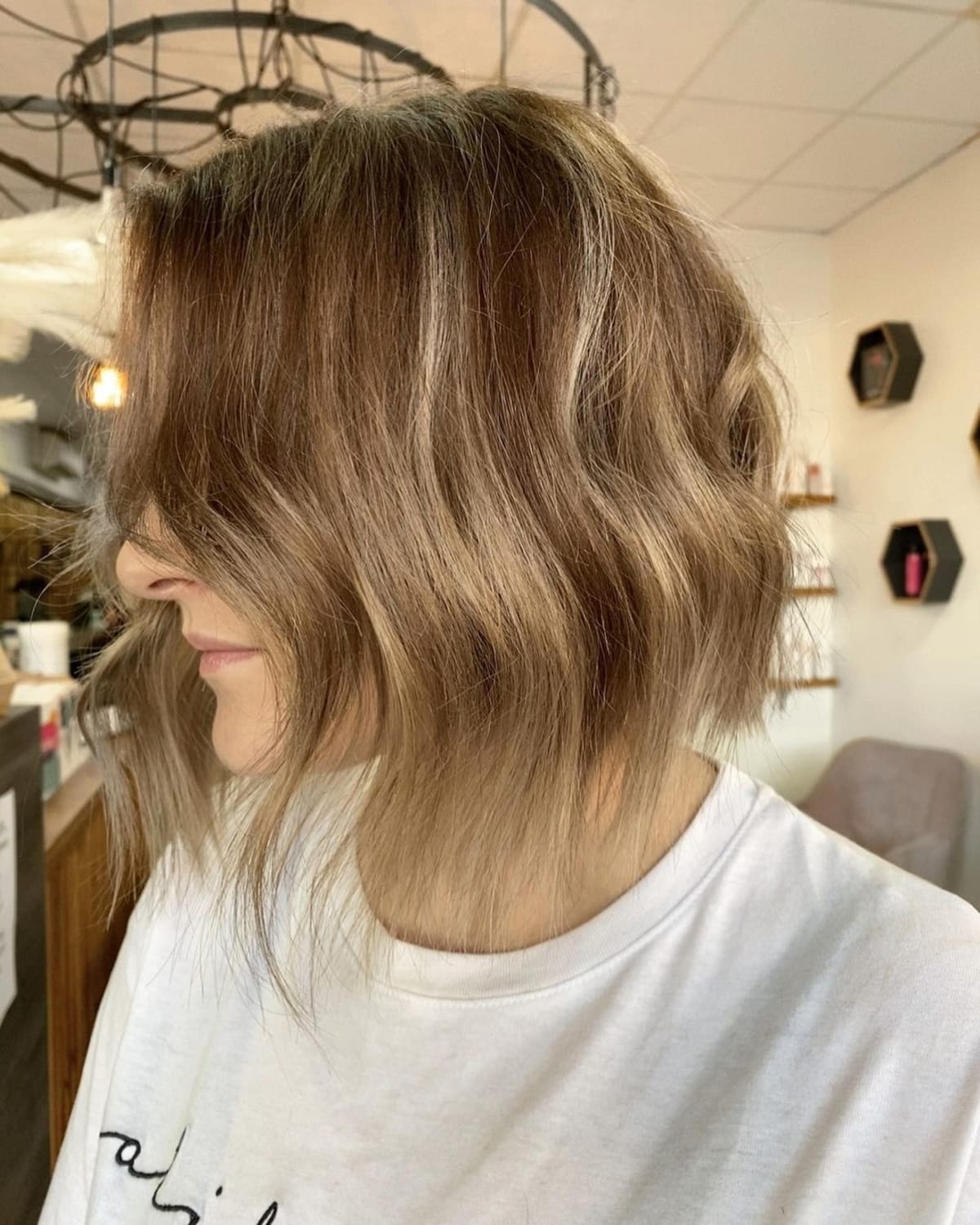 #14: Short Lived-In Choppy Shaggy Bob
A short lived-in choppy shaggy bob is an effortless, modern take to a classic haircut. This short choppy hairstyle is an eye-catching hair trend made by Australia-based stylist Stacey Wright. This bob is achievable on both fine and thick tresses—even curly! The length at the front helps any face shape look elongated. Feel free to add a split fringe for more shape around the face. This cut has chipped ends that are beneficial for ladies with finer density the most. "The chipped ends make the hair feel as though it has texture without losing the bulk," says Wright. Soft and bold! This short haircut is made even lovelier with a soft natural balayage, too. He explains, "We wanted this color to grow out softly yet feel textured with pairing it with a choppy concave lob."
#15: Short Choppy Layered Cut
Featuring a short choppy layered cut that offers an elegant finish. It's a razored short and choppy bob haircut, which looks great with a bit of a texture. This short choppy haircut is flattering on most women.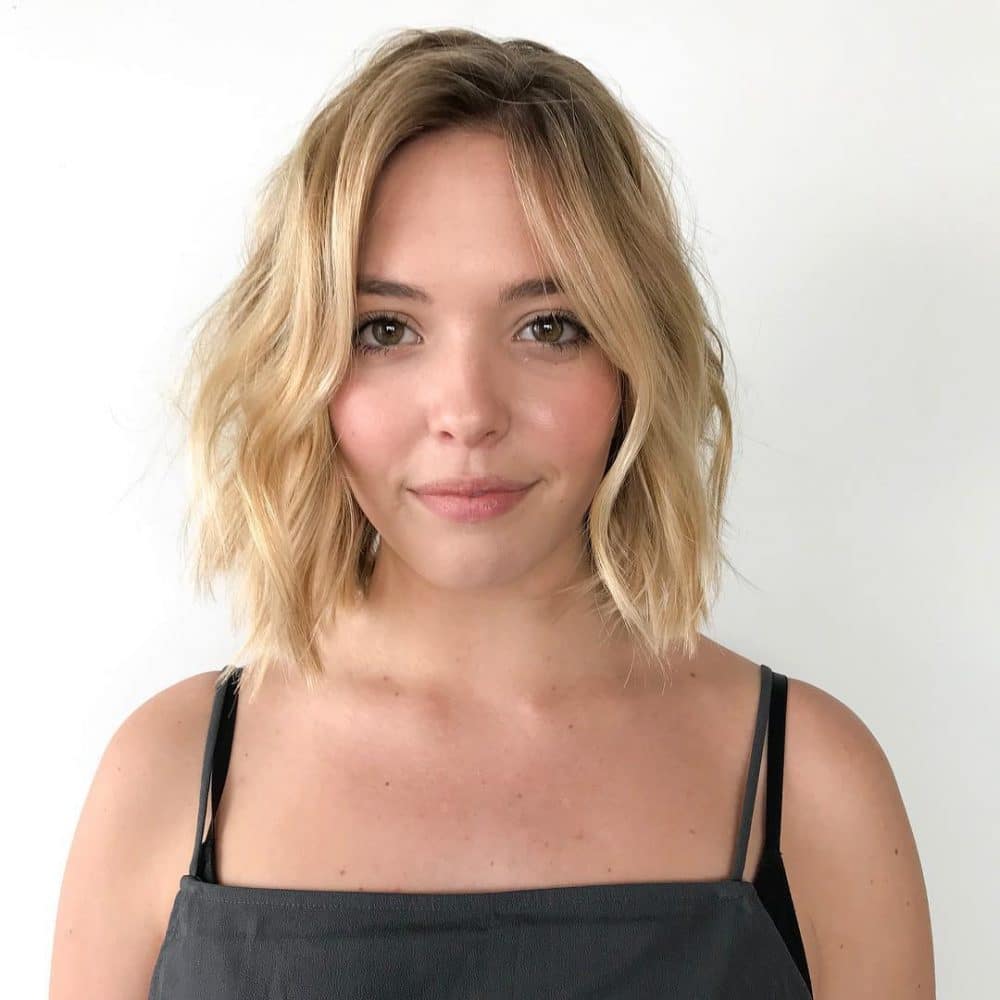 #16: Choppy Cut for Fine Thin Hair
This short choppy cut is a tousled blunt bob on fine, thin hair. It's disheveled yet can be dressed up or down. It was created by hairstylist Asuka Jacqueline Takei of Manhattan Beach, CA The messy waves are created by "denting", in different directions all over. "Since it's a messy short crop, you don't have to worry about making those perfect dents with whatever tool you're using. It can be created by flat iron, curling iron, or wands," explains Takei. Adding highlights to short choppy haircuts will brighten around the face, and soften everywhere else to minimize crazy visible regrowth. That way you can go for a few months without refreshing the color. "This choppy haircut is especially good for women with thin hair that's short. The blunt ends will give a fuller look. If you have thicker hair, having more texture taken out will still give this fun short choppy bob without being too bulky," she adds.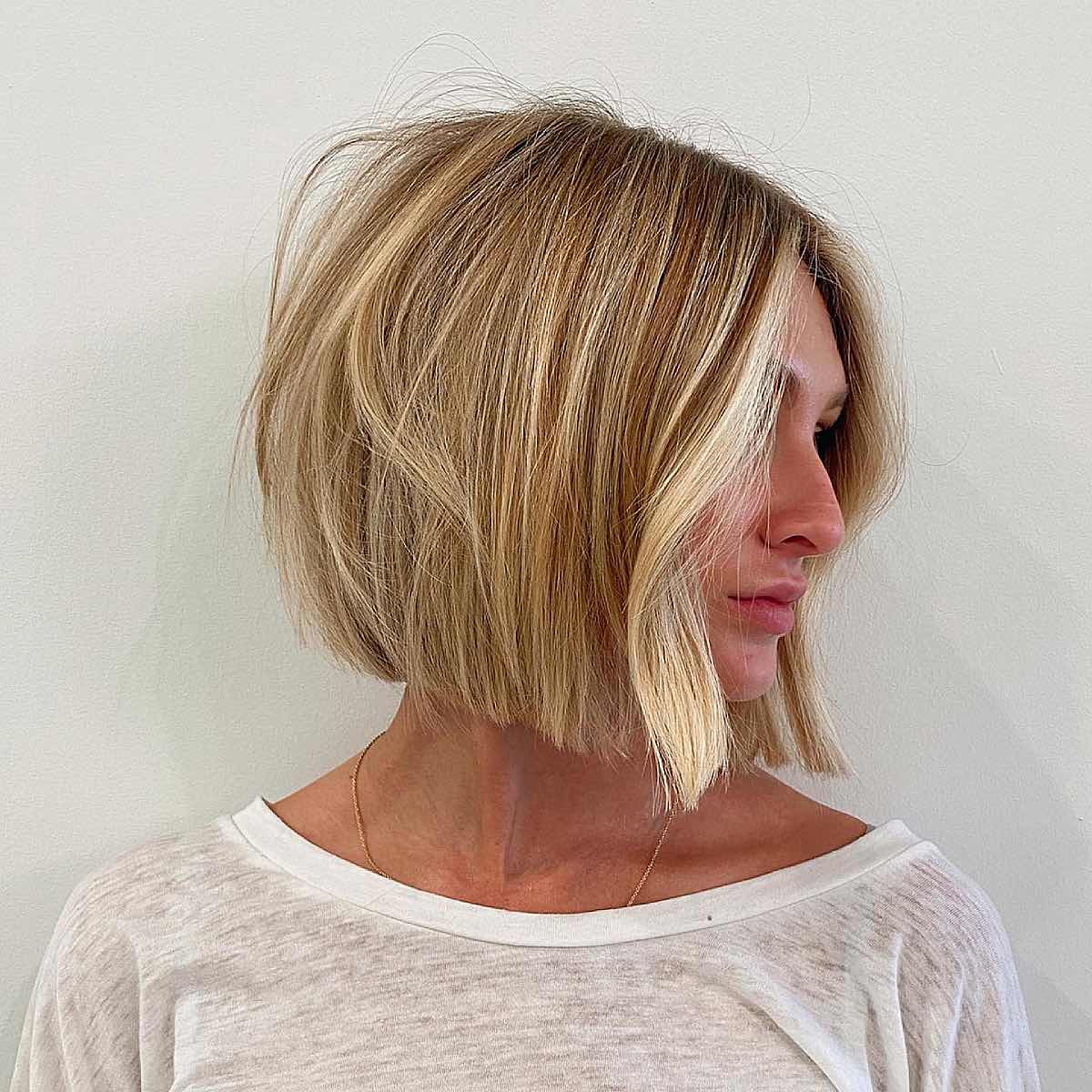 #17: Beautifully Short Cropped Textured Hair
This short textured haircut is a go-to look for its super low upkeep and versatility for styling. If you want a wash-and-go choppy layered bob, add some beach waves and a balayage to your natural hair color. It will look amazing as it grows out.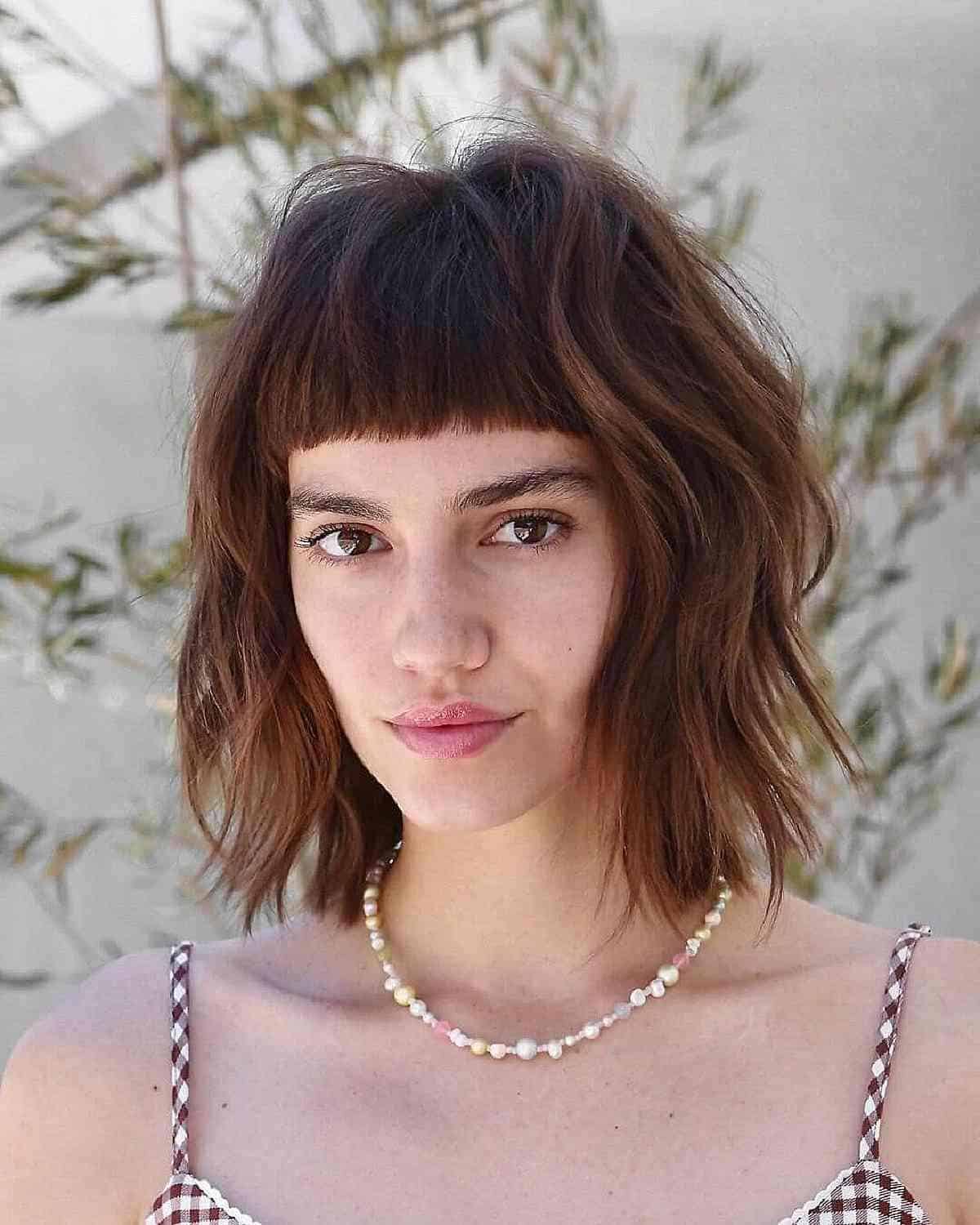 #18: Edgy Textured Short Choppy Layered Hair
Opt for short choppy layered hair with short bangs that's a fun flirty brunette textured bob. It's a pretty classic trend as far as the cut goes, above the shoulders, a little a-line, however, the interior is seriously texturized using slide cutting. Short choppy hairstyles are often a low-maintenance cut, but some require a good amount of styling to look like this photo every day. To recreate this choppy wavy bob, use a moisturizing cream, flexible hairspray, texturizing hairspray, and a 1/4″ Marcel iron.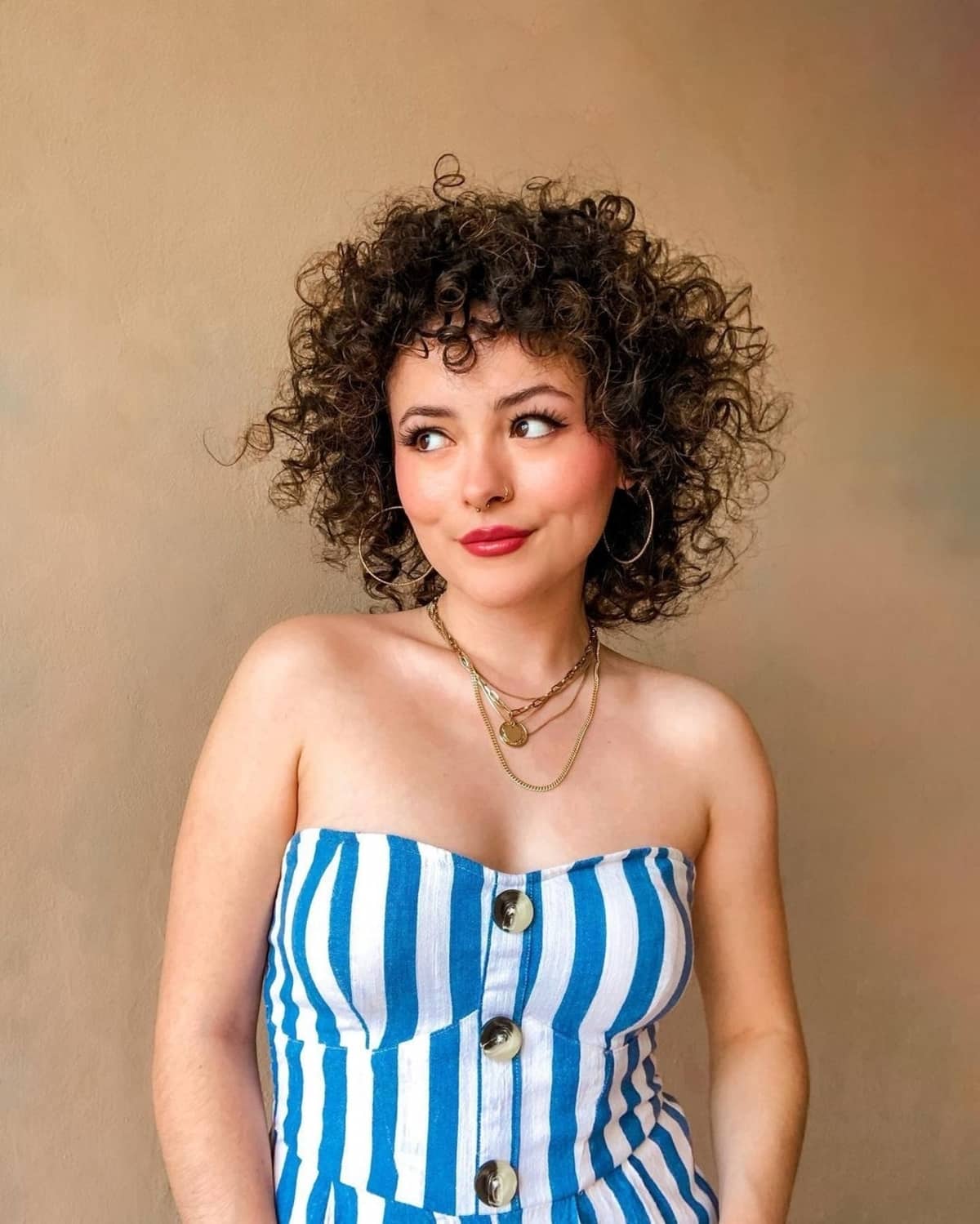 #19: Short Choppy Shag for Curly Hair
One of the more popular short choppy haircuts for women with curly hair is a shag. Short curly shags get rid of the triangle shape that tends to appear by rounding out layers and keeping a softer length on the ends. This cut looks beautiful with round and square face shapes. Use Afterworld Organics "Moisture Lock" to hold your curls in place. You can diffuse a No- Low heat setting to eliminate frizz. Apply GM Reverie's Ever oil after scrunching the hair to soften the curls and break any cast that may have formed by curl holding products.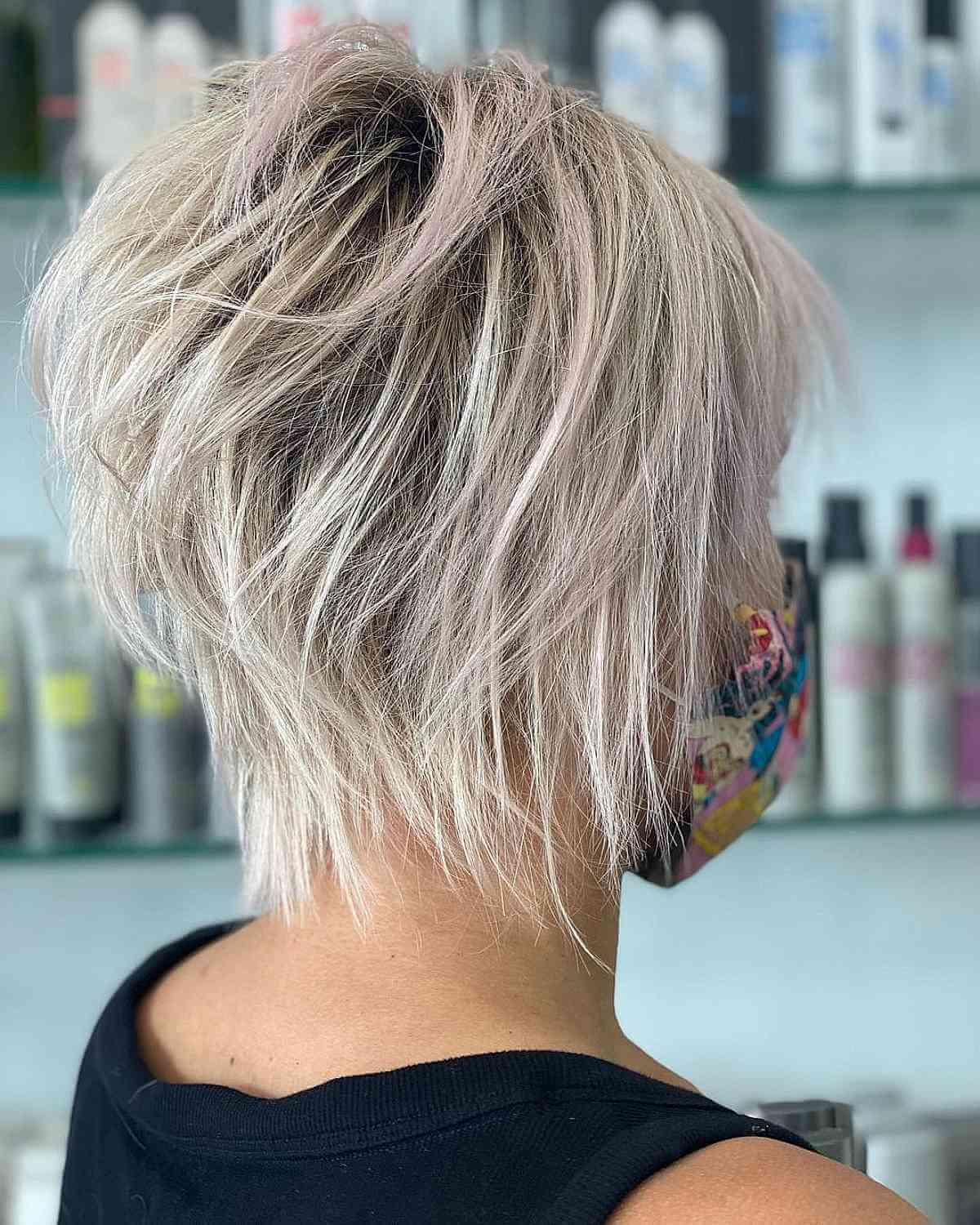 #20: Choppy Hairstyle for Women Over 60 with Straight Hair
A gorgeous choppy short hairstyle for thinning hair women over 60 is an all-time favorite straight cut bob. Dark roots and blonde highlights for natural grey hair, plus long layers, create an illusion of depth and volume.
#21: Cute Choppy Short Bob for Women Over 50
This choppy short bob for women over 50 offers a super chic and youthful vibe. It's a razor cut that gives hair more movement while removing the bluntness. It looks cute and natural with long bangs and when styled with texture. This choppy short hair with bangs creates a lovely dimension when classed up with highlights. This choppy bob hairstyle for a woman over 50 is a short, but sexy cut. It was created by hair stylist Elisha Rene Bosch of Scottsdale, AZ. "This choppy bob has an undercut that was graduated at the nape. Soft pieces hang over the undercut, so round point cutting was done around the crown. Finally, free hand slide cutting was done around the face," explains Bosch. This chopped bob is good for women over 50 who want a wash-and-go easy style. The texture gives it a sexy vibe. Just use some mousse or root boost before blowdrying, then texture spray to finish.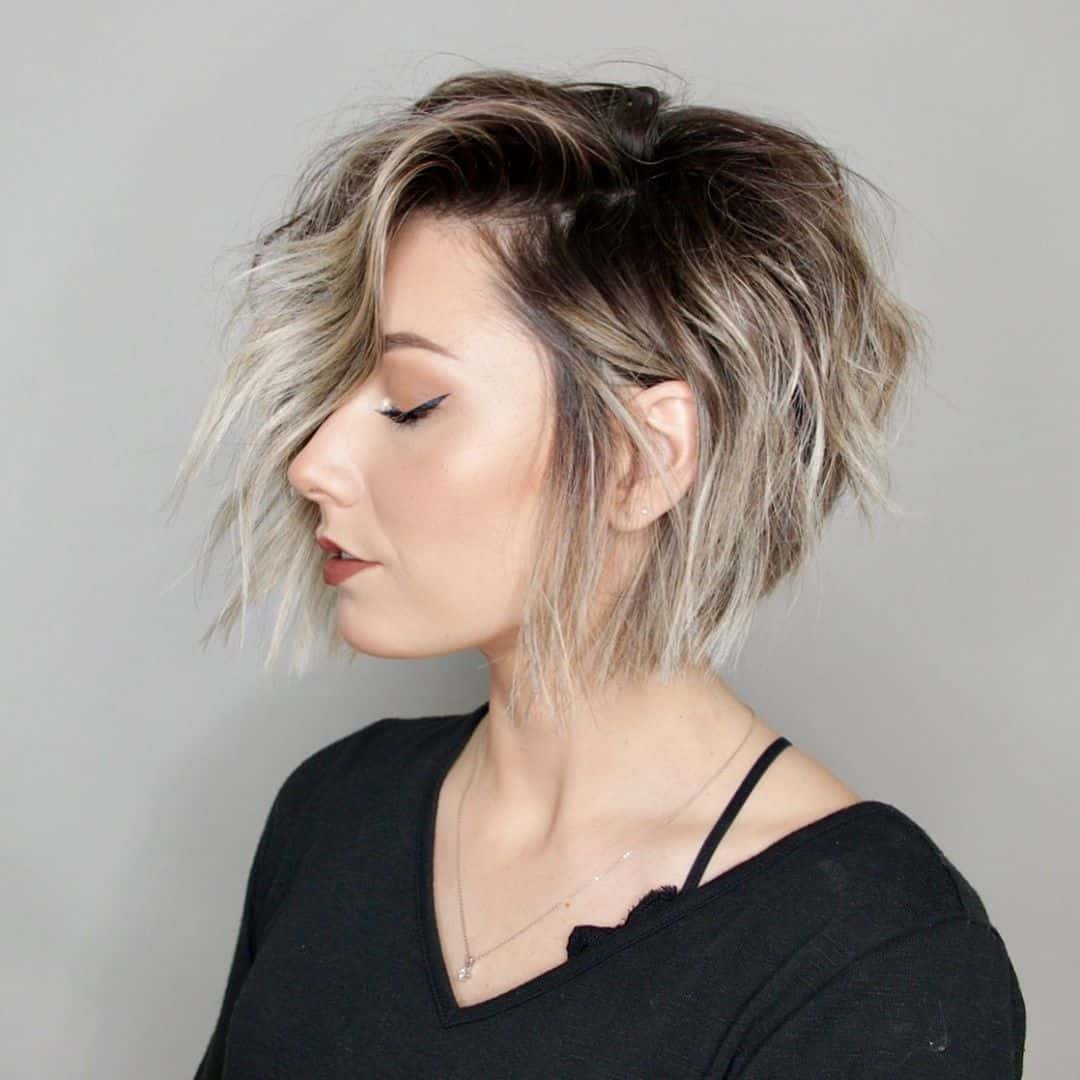 #22: Short Chopped Haircut For Fine Hair with Silver and Dark Roots
This short chopped haircut for fine hair can't get any better. Its choppy, wavy style allows the thin, short hair to appear thicker than it is. For maximum elegance, class it up with a black-rooted silver blonde shade.
#23: Short Chopped Layers for Thick Wavy Hair
This is a textured bob with chopped layers for thick wavy hair. It was created by hairstylist Cindy Earl Covic of Royal Oak, MI. Short choppy haircuts with layers are great for all face shapes and hair types. To maintain this length it's best to see your stylist every 8 weeks. Covic suggests you try Bumble and Bumble Thickening Full Form Soft Mousse. Oribe Grandiose Hair Plumping Mousse is also good. "This bob style is not for a ponytail girl," she adds. "You'll only be able to do half up or a half up top knot. If ponytails are your thing, you can do a longer version (Lob aka long bob) for a low pony. Whatever your lifestyle, short choppy bob hairstyles can be as low or high maintenance as you want."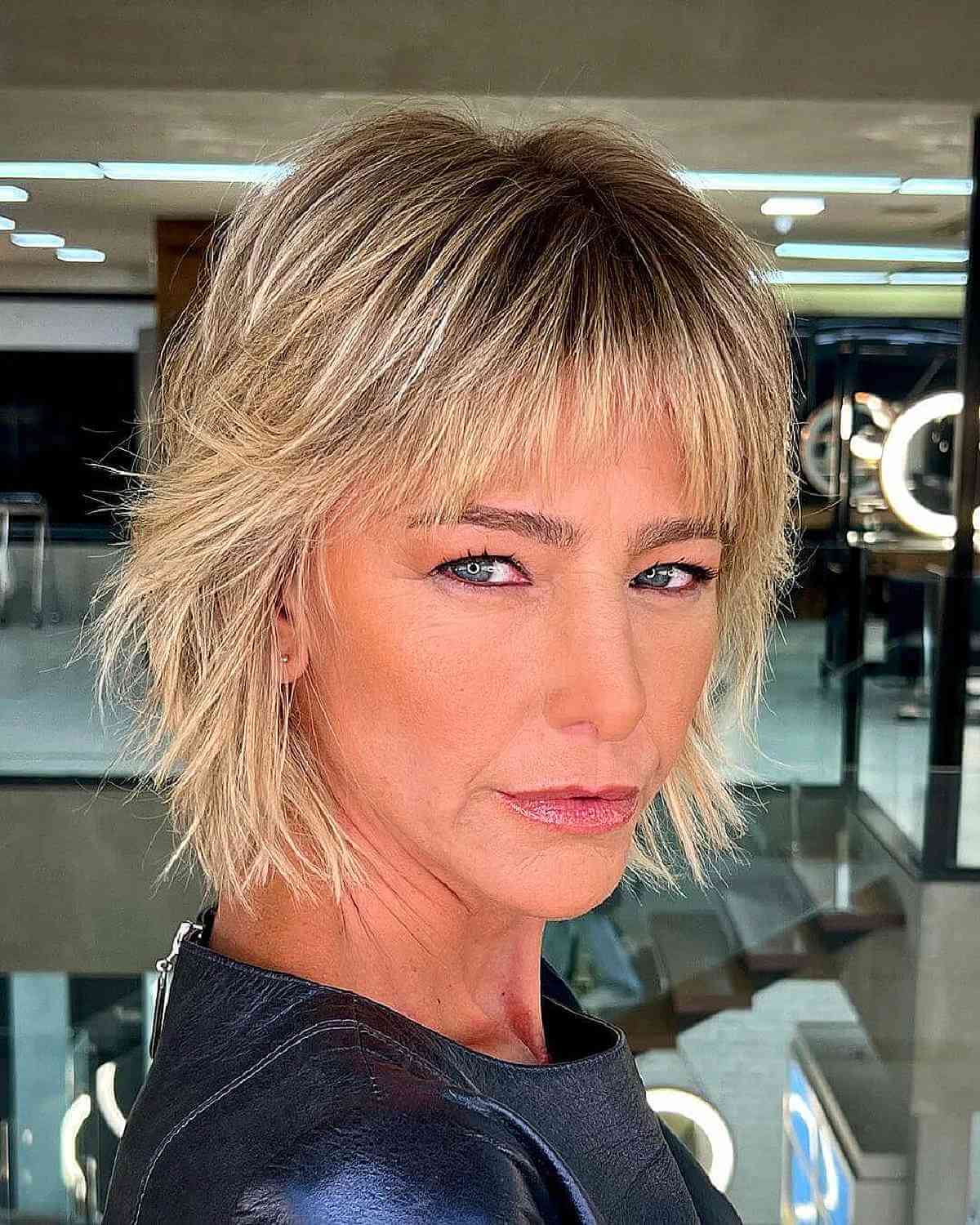 #24: Short Choppy Bob for Women Over 40
A choppy and short haircut is great for ladies over 40. Much like a choppy bob, it's all about texture! Make sure you talk to your hairstylist about products you should have at home to achieve the in-salon look on your own.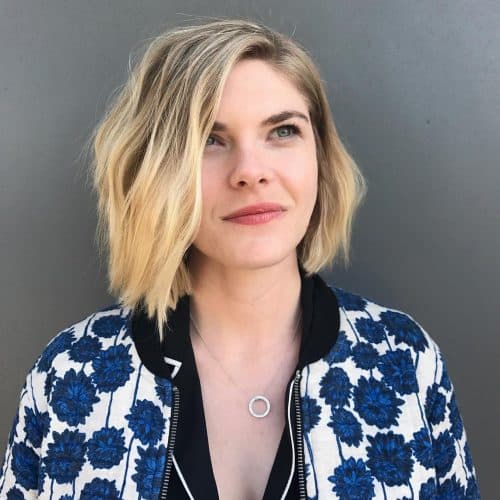 #25: Choppy Short Cut for Round Faces
Hairstylist Dori George of Los Angeles, CA created this beautiful short and choppy hairstyle for women with round faces. "It gives the classic beachy blonde hair style an edge. The bluntness of the cut gives you an automatic style with little effort," says George. Short choppy hairstyles are perfect for women who want versatility! The shorter length gives even fine hair a fuller appearance. "You can style it straight for a more professional appearance or you can use a flat iron to create messy waves. A texturizing spray like Kevin Murphys "doo-over" is essential to play up the messy style," she adds. Short and choppy haircuts can be stylish and sophisticated!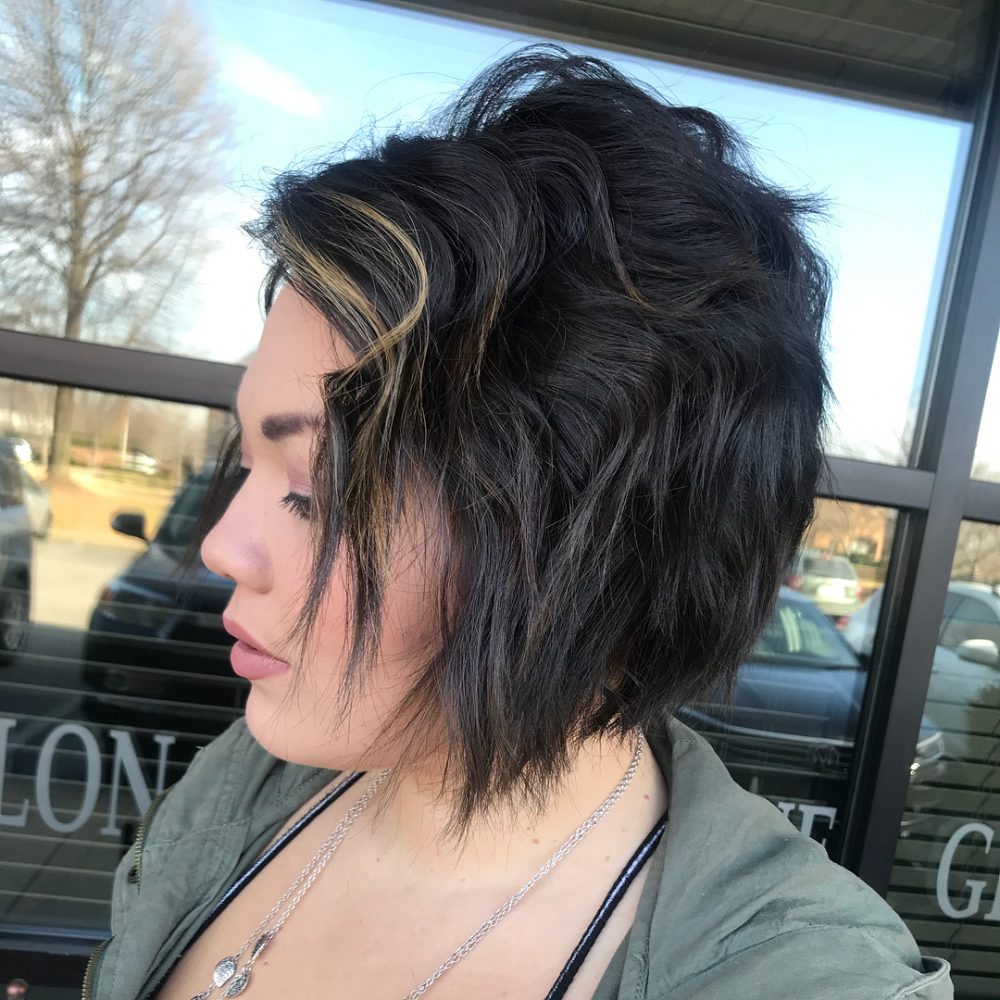 #26: Short A-Line Choppy Bob for Fine Hair
This short choppy A-line bob cut is funky, fun, and trendy! It was created by hairstylist Hannah Goble of Franklin, TN. "It's actually a short style that is extremely easy to style and manage," says Goble. "Throw in some texture spray and a couple of flat iron curls and you are good to go! Styling takes ten minutes from start to finish." Styles like this are ideal for an oval face shape and a carefree personality!
#27: Short Choppy Crop on Top
A short choppy crop on top is going to give you ample amounts of volume and texture. Short choppy hair is created by a variety of techniques that soften the bluntness of a short haircut but also give moving softness. A short choppy hairstyle loves a light texture cream like Aveda's defining whip.