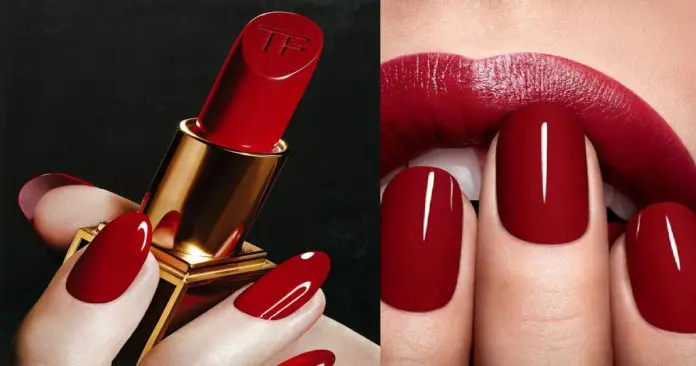 So how do you choose the right red nail designs? With basic red nails, there are two questions you need to ask yourself. The first is "What shade of red?" Red comes in lots of different tones. Bright cherry reds are great for summer and the holidays. Dark wine reds and oxblood are good for dramatic impacts like formal events and winter manicures.
The second question is "How long?" A short red manicure lets you go to that Saturday picnic without worrying about how you're going to function with the frisbee. A long stiletto manicure is perfect for your front row tickets to the concert of the year. A coffin style nail is trendy, but solid red helps it transition from day to night.
And that's just solid red. When you start adding nail art designs, red becomes even more versatile. Accent nails look great with a splash of white. Glitter and red are absolutely made for each other. Red and gold give your manicure a luxe, vibrant look you don't get with many other colors. There are just so many different nail designs.
Are you a nail addict? (We are.) Do you need nail ideas? We've put together a list of 50 of our favorite manicures to help you get a little inspiration. There are manicure types for everyone and the perfect nails for you for spring all the way through the holidays. Let's find your next nail polish idea.
1) Red Acrylic Nails With A Pop Of Gold
Simple, classic red nails get a luxe upgrade with this creative nail art design. Paint half-moons at the base of the nail with gold polish. Choose one with a small grain glitter finish for a light-catching flourish. It goes from the boardroom to the dance floor with no trouble. Keep them medium length for impact.
2) Sporty Pink, White, And Red Nails
Remember those fabulous college sweaters from the 1950s? Girls headed to class with a flouncy ponytail and high style? These nails recall an era of sporty high fashion and preppy innocence. Use a high gloss red base coat with pink and white stripes, just like those prep school sweaters. Sporty and fun.
3) Classic Red Long Acrylic Nails
Every famous, stylish woman from Marilyn Monroe to Meghan Markle has sported a long red nail at some point in their public appearances. It's the ultimate nail style, one that fits any scenario, any outfit, and any mood. Take it to the next level by filing the tips to a point for high drama and eye-catching fashion.
4) High Gloss Square Long Acrylic Nails
Similar to the classic style above, but with a trendy twist. Long square acrylic nails are back in fashion, and these are a show-stopping nail design. It's a traditional acrylic nail design with an update. Bonus tip: the longer the nail, the bigger the trend.
5) Mid Length Square High Gloss Nail Design
Still classic, these red nails pack a punch because of the bright red and high gloss. They take advantage of the square acrylic nail trend without going too extreme. It's a little more buttoned up without giving in to the man completely.
6) Chunky Red Glitter and Short Nail Manicure
You've got a traditional, short red nail, but you need something with more wow. Paint half your nails with your favorite red and the other half with a neutral or clear coat. On top of the clear coat, use a combination of small and super chunky glitter on the tips for an eye-catching surprise.
7) Gold Olive Leaf Crown – Grecian Inspired Red
This design is another minimal look without the snores. Classic, mid-length nails get a little pop of color on an accent nail. Paint a Grecian olive leaf design on the ring fingernail with solid gold paint or polish. Keep it ultra minimal, just like Athena's golden crown. No fuss. All style.
8) Unique Red Ballerina Nails – Go Big Or Go Home
High drama requires bold choices. There are a time and place for short nails, and this time isn't it. The longest of long square nail complements the high gloss, cherry red. It's not for the faint of heart. This style is excellent for all your studded jewelry, black leather, and sky-high stilettos. Be bold.
9) Ultra Pretty Medium Oval Red Nails
Red nails can also be sweet. These rounded, medium length nails bring those classic 50s cocktail dresses to mind. They look just like Marilyn's white dress, flirty and innocent but with an exciting flair. It doesn't get any better than this classic red manicure. It just doesn't.
10) Burberry Inspired Long Pointed Designer Nails
Burberry's classic look is replicated on a high fashion accent nail. Use long red pointed nails as the perfect accent to for a Burberry tweed inspired look. Use a natural almond base for shimmery red with black and white stripes. The ultra-luxe cashmere scarf of manicure designs.
11) Red Ultra Long Coffin Nails
The coffin nail trend isn't going anywhere. Take it to the extreme with this ultra-long manicure. Red provides the perfect base for this bold design choice. It's got a bold Paula Abdul feel. Pair it with some gold accent rings for a fun weekend look or go ultra minimal for a black tie affair.
12) Cool Red Nails With Gold Cuticles
Take a classic short red nail and vamp it up by inverting your French Manicure. Use an ultra-shiny gold polish for a half moon shape at the base of the nail. If you wear stackable rings, it'll look like one more jewelry layer, or add some rich accents on bare fingers.
13) Mid Length Classy Barbie Manicure
Barbie is a fashion icon, and more often than not, her nails are a classic red. Take some cues from a woman that's done everything and been everywhere. A classic nail is one of the best manicure decisions you can make. These dial back the drama in length but sacrifice no fashion. Choose a darker cherry red for the most impact.
14) Extreme French Manicure With A Pop Of Red
French manicures are beautiful, but let's shake it up a bit. Take a natural nail base with a little bit of gloss and paint the tips bright lipstick red. What's the twist? Keep your nails long with an extreme rounded tip (almost a point). It's a French manicure that refuses to be well behaved.
15) Elegant And Simple Red Nails – Dynasty Edition
We don't love the hair of Dynasty, but we do love their brazen drama. Keep the drama but not the terrible hair with this long nail design. File them to a point on the end for a bold, fashion-forward choice that looks great with some bling or just a pair of jeans.
16) Classic Red Long Coffin Nails Design
What do you get when you put lipstick red with this season's trendy design, the coffin nail? You get an edgy but minimal manicure. Keep the red bright and fun for a beautiful and classy design. Long, red coffin nails are one kind of manicure that will never go out of style.
17) Picnics And Apple Pie Short Nail Design
Summer is almost here, and we're dreaming about all that sun and fun outdoors. You don't want your nails to get in the way of a good time, so keep this one short. Trimmed square nails are a great complement bright red, high gloss nails. There are all fun and sun and endless summer.
18) Sweater Weather Mid Length Oval Acrylic Nails
When fall comes, you need a little more oomph peaking out from below your sweater sleeves. Mid-length nails in a soft oval are traditional and go well with your cashmere sweater. Think chocolate and marshmallows, the fireplace, and the cool night air. This manicure is warm and everlasting.
19) Glitter, Stripes, And Dots Nail Art Design
Red doesn't have to be minimal. Give it a fun little twist by using different designs on each nail. One nail is white with an adorable red dot at the base of the nail. The next is chunky red glitter. The middle is a white base with red stripes. The final nail is a red nail with a little white dot. Cute and fun.
20) Classic Red Coffin Shaped Nails
What's the perfect complement to diamond rings and formal attire? The most popular manicure color, red, of course. You don't want to give up all your style, though, so add a little pop of trend with mid-length coffin shaped nails. They're black tie appropriate, but not your mother's red manicure.
21) Cute Kisses Red And White Lips Nail Design
Sometimes you just want a cute and pretty nail design that doesn't take itself too seriously. Here, you can add fun little lipstick marks all over your bright red nails. It's fun. It's adorable. It's perfect for that weekend at the music festival or for meeting your boyfriend's mom for the very first time. Not everything has to be so dramatic.
22) Cool And Popular – The Grown Up Manicure
You may not have all your business together. You might not have retirement accounts set up. You might have spent your last dollar on those fabulous (on sale) shoes. With a manicure like this, you might not have things together, but your manicure will always look put together. Let everyone wonder how you keep everything floating so effortlessly. Only your nails will know.
23) Look Into My Eyes Red 3D Swirl Round Nails
There are several minimal red manicures on the list, but this one has an interesting twist. First, paint the nails with a bright cherry red. Make sure they're short and rounded to a classic oval design. On the accent nail, use clear 3D gel polish to create a swirl right on top of the red polish. It's a fun, rose inspired design that looks great and doesn't take itself too seriously.
24) Santa Claus is Coming – Red Matte And Glitter
The stockings are hung. Presents are wrapped. The tree is covered in ornaments. Take inspiration from some of the best decorated Christmas trees with your manicure this winter. This uses both matte and glitter for high fashion impact. Keep some nails a matte paint with a slight shimmer, just like an ornament. On others, use natural almond acrylic nails as a base with a red glitter tip.