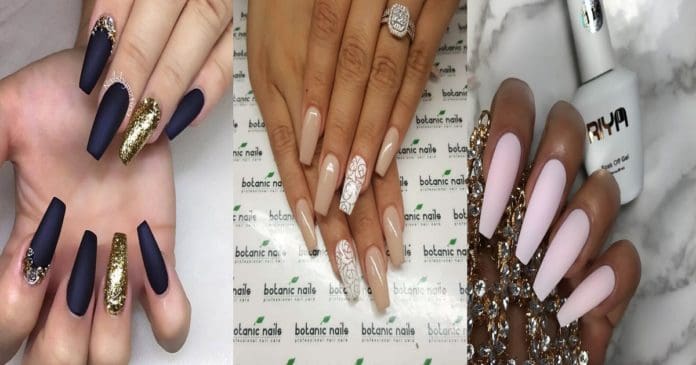 So what's a coffin nail? For as long as people have been getting manicures, there have been two primary shapes: round and square. We are ready for different nail designs. Rejoice, fellow nail addict, because we finally have something new. Coffin nails, or sometimes ballerina shaped nails, are a trendy new look for manicures. They curve in almost to the tip where they're squared off to create visual interest and edge. If you're sick of plain round nails and the formal look of square nails, coffin nails are an excellent in-between look and this year's best trend.
Coffin nails look awesome, especially with a long nails, but you don't have to have long nails to take part in this trend. Coffin acrylic nails are especially fancy with plenty of nail designs for fantastic manicure types. In fact, we've found enough nail designs that you'll be set all year.
Short coffin nails are great nails for you if you need a trendy, but understated look during the week. Long coffin nails are classy, and the best nails for you if you need some extra drama. Glitter coffin nails blend two of this year's trends into one. Matte black coffin nails are another popular trend mashup. You can go all out or do the subtlest design, and either choice looks fashion forward.
We've put together a list of our favorite coffin nail designs to give you enough nail ideas to last forever. We've got glitter coffin nails, french tip coffin nails, designer nails and everything in between. Don't worry fellow nail addict! We've got you covered. Let's find your next best coffin nail ideas and amp up your existing nail polish idea too.
1) "These Are Not The Droids" Space Age Nail Design
Our first coffin nail idea is a space-age shimmer design. Use a shimmery mother of pearl polish on most of your nails for a futuristic glow. On the accent nails, load up on glitter and rhinestones in the same mother of pearl shade for a rainbow effect within some serious sparkle.
2) Ballerina Pink For Ballerina Nails
If you've ever watched ballet, one of the most beautiful pieces of their style is the shoes. Those pretty pink shoes we all wish we had are the inspiration for these ballerina shaped nails. Keep the shade a soft pastel and use a matte shade for some serious drama. Classy and elegant.
3) Natural Ombre With A Sparkle Detail
Minimal colors don't have to be boring. Coffin nail ideas can turn the neutral manicure on its head by using two different neutral shades of pink in a fun ombre effect. On the accent nails, paint the entire nail the darker of the two neutral colors and add rhinestone designs for extra sparkle. Subdued but not boring.
4) Yellow Ombre Nails With Diamond Details
This manicure is the opposite of neutral. Bring all that springtime glory into your manicure with a sunny, bright yellow tip that fades into an almond nail base. Attach small rhinestones to the bottom of the accent nails in a triangle shape for a manicure that gives a bit of sparkle and a lot of carefree fun.
5) Pastel Pink Natural Manicure With A Twist
Pastel Pink is a great neutral color, but don't stop there. Use negative space to create little designs in several of the nails for visual interest. You can use big or small stripes, chevron patterns, or x shapes, but everything coordinates well because the forms are just a clear coat. It's a pretty workplace manicure without the office politics.
6) Mother Of Dragons Green Manicure With Glitter
We all want to be Daenerys. She's powerful and gutsy (and still alive). Make the same bold choices with your manicure by using her Dragon family as inspiration. Integrate solid greens with glitter and rhinestone designs for a manicure that's light-catching and eye-catching. The different nail designs coordinate because of the edgy green.
7) High Gloss Gold and Tailored Rhinestone Nail Art
Need a black tie look that doesn't sacrifice style? These nails begin with an almond and pink ombre. They are accented with chunky gold glitter on other nails. On two accent nails, draw a simple black line down the middle and accent it with rhinestones. It pairs well with that formal designer gown and the flashes of paparazzi cameras.
8) Turquoise Studs Weekend Nail Design
Turquoise is a hot color, and one of the best nail colors of the year. Give it some serious glamour with accent nails stuffed full of rhinestones. Keep the turquoise a matte shade for extra contrast and visual interest. It's a weekend look that's casual "turned up to 11."
9) Elegant Luxe Pink Glitter And Diamonds
This manicure uses coordinating shades of pink from light to dark to create a beautiful, luxe manicure. Use a light, medium, and dark shade of pink on different nails with one accent nail in pink glitter. The final touch is a triangle of small rhinestones at the base of your light pink nail. It's a less precious and more glam version of the classic pink manicure.
10) Snow Queen Light Pink Shimmery Glitter
Not all winter manicures have to be a dark nail color. While those might be striking, lighten things up around the holidays by taking inspiration from the Nutcracker's Snow Queen. Ultralight pink nails look great against an accent of snowy glitter. It reminds us of the way snow falls at night and looks so fresh first thing in the morning.
11) Pretty In Pink Silver Sparkle
What's it going to take for a pink manicure to be something a little more unique? On some of your nails, paint a thin silver stripe for something very refined and elegant. On the accent nail, turn up the drama by using a glitter polish with a slight pink hue to catch the light. It's a cool way to style a formal manicure.
12) Black and Gold Coffin Nail Design
Take some inspiration from the luxe style of Egypt's ancient royalty. Use a high gloss black as a backdrop for some serious gold bling. A mix of delicate and chunky gold glitter helps the manicure raise drama and have a bold style. It's not for the faint of heart.
13) Ombre Pink and White Coffin Nail Design
Sometimes you need a simple design. It doesn't have to be a French Manicure. You can use a simple pink and almond ombre design to satisfy those minimal urges but still retain a lot of refined styles. It's an unexpected way to downplay the manicure without sacrificing any of your personal style.
14) Minimal Manicure with a Cute Twist
Take minimal up one notch with this fun, nude coffin nail design. Use an ultra pastel pink with high gloss for most of your nails. On the accent nail, use a shimmery, opal pattern for visual interest. The opal is a luxe look against the pure pink, but it's subdued enough to take it to Sunday brunch with your new boyfriend's mom.
15) Natural Ultra Long Coffin Nail Design
Go the opposite of maximal with these stylish, nude coffin nails. Extra long coffin nails look great with a basic white nail in a somewhat sheer color. The skin of your finger shows through the nail base and gives the nail an ombre look. Trendy without trying too hard.
16) Like Diamonds Rhinestones and Shimmer
The shape of coffin nails looks very good with rhinestones. Go all the way with this nail color by attaching rhinestones to more nails than just an accent nail. Stud at least half of your nails. On the others, use a shimmery mother of pearl polish to keep everything sparkly and full of light.
17) Ultra Long Matte White, Glitter, Rhinestones
In a twist on the previous manicure, start with a matte white nail. On two nails, use a shimmery fine glitter polish. On the rest, stud the nails with rhinestones for the max amount of glitter you can get. It's a luxe but monochromatic long nail design that fits well with many different fashions.
18) Baby Blues Sweet Pastel Blue Long Nails
Non-traditional nail colors are in, and they look amazing with coffin nails. Choose a cool color like powder blue for an unexpected manicure that fits well with different types of fashion and occasions. Blue is classy, cute, and unexpected. This manicure satisfies cute easy nail designs you can do yourself.
19) Ultra Glitter Pink And Orange Ombre Nails
Coffin Nails are made for ombre. The shades accentuate the tapering nail shape. Choose a bright pink and a bright orange for an ombre nail design. On top of the colors, use a clear glitter polish for extra fun shine and a can't-take-your-eyes-of-it style.
20) French Manicure Inspired Ombre Natural Nail
French Manicures are the epitome of refined taste. Take that inspiration and use it here in an unexpected way. Instead of defining the tip of the line, use the white to fade into the neutral pink of the nail base gradually. It's classy and works well with your best work clothing or formal wear.
21) Pink Manicure With Rhinestone Accents
Need a wedding manicure? This is the perfect manicure for that. Use a dusty pink nail base with gloss and keep the nails long. Use a few rhinestones to accent a couple of nails. Keep the rhinestones to just a few on a couple of nails so that you keep everything classy and elegant.
22) Beachy Coral And Glitter Nail Design
Summertime needs fun bright colors. This is a great color for vacation in the sun. A bright coral accentuates light peach glitter on alternating nails. It's an excellent way to lighten up the manicure for the fun, carefree days of summer. Keep your nails medium length so they won't interfere with your frisbee playing.
23) Oxblood And Rhinestone Elegant Manicure
Oxblood is the newest trend in red, and this manicure uses it for a super dramatic effect. The dark red bounces off the rhinestone accents. Keep them at the base of the nails for a rich, elegant look that's made for formalwear or those winter holiday parties stacking up on your schedule.
24) Super Long Pink White Ombre Manicure
Casual Friday just got a whole lot better. Don't sacrifice any of your style for a simple manicure. Coffin nails look great with ombre, and they give this minimal manicure an unexpected style. Style it with diamond studded accessories but casual clothing for the most visual interest.