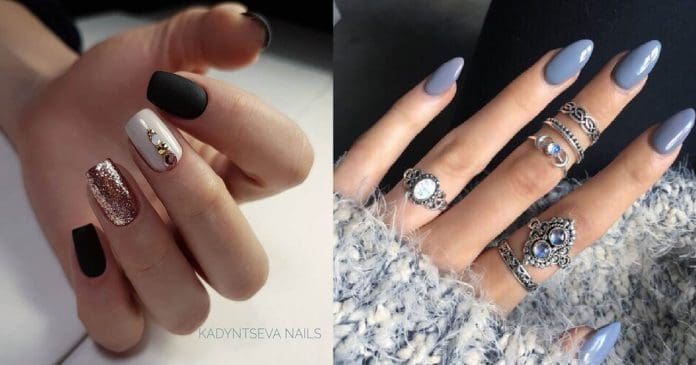 Simple has always been in style, even as other fashion trends come and go, in clothes, in hairstyles, and now in nail styles as well. While trendier nail designs can be a lot of fun, the simpler, understated looks are all set to stand up to the test of time, and the woman who rocks these classic, elegant looks will always be in style.
If you are looking for simple yet elegant nail ideas to increase your fashion sense, then one thing that some people neglect is to take care of your nails. Your nails say a lot about your personality. Depending on how your nails are cut people can determine if you work in a specific profession. If you work on putting together the absolute perfect outfit for a night out leaving your nails dull and unpainted can throw the entire ensemble off. Merely lathering your nails in a beautiful tone of lacquer will add to the look that you are attempting. Elegant nail ideas aren't hard to come up with either.
People also use their nails as an individual way of expressing themselves. Different cultures have different looks that they try to achieve using their fingernails. The Frech love an elegant look that is feminine while the Japanese youth tends to lean toward adorning their nails with different types of accessories, crystals, and even noisemakers. The fun thing about your nails is you get to decide how you want to express yourself and it is so easy to achieve. There are countless ways to make them look functional but also elegant. The nails on this list are all clean, classy, and creative, just waiting for you to give them that last twist to make each style into a work of wearable art that's completely your own! Keep reading on to see 50 fashionable but simple and elegant nail ideas.
1) Pretty And Pink With A Sparkly Twist
The first of our 30 nail designs is this set of nude pink nails with a sparkly accent nail to give it a little kick. The simplicity of the other nails is offset by the bright shimmer of the third nail, and the end result is every bit as cute as it is eye-catching!
2) Skip White French Tips And Add Some Sparkle
Forget the old-school French Manicure, these nails trade in plain white for a bit of shine! The nude, natural gloss of the nails is offset by the pop of sparkle at the tips, and what could have been just another "more of the same" style is given a modern twist by the brush of .
3) A Simple Well-maintained Manicure
Not all that glitters is gold, and not every nail has to be sparkly in order to be absolutely gorgeous. This elegant nail design features nude pink nails that have been polished to a shine, so that they look almost liquid against the skin, with a slight color fade to really capture everybody else's attention.
4) Using A Solid As The Accent Color
Pretty much the exact opposite of a lot of the nail designs on this list, this reverse-accent nail art design is a good example of how nail polish ideas can be changed to suit each different nail addict! Cute easy nail designs like this one can easily be flipped to create a whole new look.
5) Stripes Are Very In Fashion Currently
For when you want gold nails that are still more quiet and understated, these striped gold nails give just enough of that classic metallic glint to be eye-catching, but not so much that they come across as overwhelming. The single stripe idea can also be applied to other nail polish ideas as an accent-color stripe.
6) Metallic Nails Replicate A Mirror Look
And on the other hand, so to speak, if you want bold, dazzling, designer nails, then these are the nails for you! A gold or silver nail design with a metallic gleam can be a look you can build your whole outfit around, with enough glint and glam to make anyone do a double take.
7) Using Pale Tones To Offset Some Glitter
Combining gold and pink sparkles on nude nails, these designer nails are all different colors, but they combine to make a set of pretty, shiny nails that don't look disconnected or random at all. The glitter on the accent nail ties most of the colors together, making this easy nail design look intricate and detailed.
8) A Bright Matte Finish
The bright, robin's egg blue color of these nails creates a springy, almost flower nail design that is rendered truly elegant by its sheer simplicity. A long nail design that isn't so complicated that it can't be completed quickly, this design draws from classic manicure types to create a finish that's simultaneously sharp and sweet.
9) Neutral Nudes Compliment Any Outfit
Some nail ideas are gorgeous because they're intricate and highly detailed. These nails are gorgeous because, well, they aren't. If you're tired of nail designs that seem like they only match one very specific outfit or look, these nice, neutral nudes have just enough shine to let them effortlessly match almost anything in your wardrobe.
10) Textured Nails Can Draw Attention
Nail designs don't have to be flashy or dramatic in order to be beautiful. The pretty, knit design on these accent nails are a perfect match for the rich, dark colors of the other nails, so that the black nail design doesn't overwhelm the viewer, and the soft, delicate pattern is still breathtaking in its reserve.
11) Metallic Stripes Add A Bit Of Glam
For different nail designs, metal highlights can be used to highlight the simplicity and shape of the nail or to draw the attention to the wearer's hand. These nude, natural nails are set apart by the splash of light and reflection in the single, clean cut of the metallic stripe, enough to catch someone's eye without being too loud.
12) Combining Both Matte And Metallic
For a lot of different nail designs, any combination of old styles and new flairs is going to be a winning combination. These matte and metallic nails, for example, combine an old-school French manicure with a modern, metallic twist in order to create a look that's as every bit as new as it is familiar.
13) Using Metallic For A French Tip
Similar to the above example, these metallic French tips are another example of how classic nail ideas can be given a modern twist. The subtle pink sparkles of nude colored nails are picked up in the golden glint of the manicured tips, and just a few cute finger rings are enough to tie the whole look together perfectly.
14) Canter Tips With A Brassy Accent Nail
Asymmetry is always appealing, and nail designs like the one pictured here give a good reason as to why that is. The shine of the brassy accent nail is echoed in the slashes of metallic glitter paint, and the pale, pretty nude color of the underlying base coat is enough to set that golden gleam off to absolute perfection!
15) High Gloss Nudes Are Simply Gorgeous
For every flower nail design or super-flashy glitter nail design, there's an absolute gem like this design—warm, quiet, and flattering with any shape of nail or cut of clothing. These nude nails are polished to an almost liquid sheen so that every move you make will be underscored by their flash of shimmering color.
16) Abstract Art On Your Fingernails
Whether your taste in art runs towards Impressionism, Surrealism, Cubism, Realism, or some completely different type of "ism"—no matter what your favorite style of art may be, this abstract black nail design is a guaranteed masterpiece. The geometric shapes and lines move the eye around, and the bold, blocky colors on the other nails provide a perfect frame.
17) Cute Spring Easter Colors
For a look that's nearly nude, but still provides a bit of fun, springtime color, this long nail design features a soft lavender or lilac that's perfect for nearly any pastel look, with just enough of a blue undertone to render it cool and reserved, but just enough red to brighten it up a little.
18) A Top Accent In A Brassy Tone
Instead of highlighting the tips of the nails, a simple, A-frame highlight at the nail bed can create a cute chevron or arrow pattern that still has the same effect—catching the eye and drawing it towards the clean, classy shape that long, well-trimmed nails have always seemed to have had a way of providing.
19) Nude Champagne And Sparkly Accents
For a splash of shimmering color that hints at casual, high-class decadence, try accenting more than just one nail with a light dusting of glitter that perfectly matches the nude champagne color of the underlying nail. Nail designs like this one may seem complicated, but it won't take more than a few extra minutes to get that extra gleam.
20) Crystals On White Nails And Glitter
Like some of the other nail designs on this list, this nail art designs takes elements of glitter nails, sparkly nails, and shiny nails to create a look that's totally unique! The glitter on two of the nails is reflected by the crystals on the other two, and the glossy finish keeps both designs feeling fresh.
21) Arrows Are Always In Current Fashion
White matte nails are always pretty and sweet-looking, but it's the cute gold chevron on the accent nail that takes this nail design from classic to cute as can be! For the nail addict who doesn't have the time for a full set of glitter nails, just a simple little accent can be enough to set your nails apart.
22) Gothic Colors With A Coffin Shape
"Gothic Colors" doesn't always have to mean "black". The nail color of these clean, simple nails is just dark enough to be dramatic, while still colorful enough not to be a total downer! If you like the darker styles of gothic fashion, but still like bold, rich colors, then these are the nails for you.
23) Mixing Mattes With High Gloss Tapered
Who says you can't have it all? One of the best combinations of old and new that we've seen, this gold and silver nail design blends bold matte paint with a high gloss metallic finish, and the asymmetrical design takes the best of both metallic nails and matte nails alike to create a striking image.
24) An Ombre Confetti Glitter Is Stunning
Ombre may be a trend that really took off a few years ago, but this short nail design combines glitter, gold, and gloss to show why it's a trend we're still rocking in 2018! Nude color nails provide the perfect backdrop for the sparkly nails design, and the end result looks natural, relaxed, and elegant.