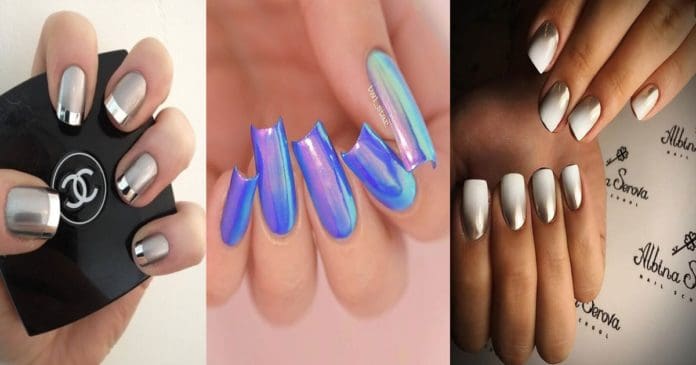 Chrome nails are a metallic, high-polish manicure style that takes reflective and high-polish to new levels. Instead of a traditional metallic nail polish, chrome polish isn't actually a polish at all. In order to achieve the chrome look, you use a normal base color with a chrome powder applied to them. The effect you get from this layering process is a finish that almost looks like a 3D reflection of light. It's smoother than glitter and more sparkly than a metallic polish. It's the best of every world if you love glamour. Depending on what powder you use and how you apply it, you can get anything from a holographic to a mirrored effect.
Chrome powders are a little more difficult to apply than a polish, but it's a technique that absolutely anyone can learn to do with a little effort. Powders can be applied gently with a sponge applicator, whereas you can do some looks by simply dunking the entire nail in the powder. Since you layer chrome powders over a regular base nail polish, you have an unlimited variety of possibilities for your own chrome powders! You can put pink powder over a pink polish, or you can mix colors for an extra unique look! If you need a little inspiration, we've gathered a collection of 50 cute easy nail designs inspired by chrome for you to start trying ASAP.
1) Short Silver Chrome Nail Manicure
If you're digging the chrome nail trend, but want to keep things understated, go for a solid silver chrome nail. It's glamorous and beautiful enough to garner loads of compliments, but not so glitzy that it doesn't work with every lifestyle. Manicure types that everyone can achieve are always an awesome choice and a great place for beginner's to start.
2) Baby Pink w/ One Metallic Chrome Nail
One way to do chrome nails is to add it to only one nail. Baby pink glossy nails look excellent with one chrome nail popping out from all the rest. It's sweet-looking and will be less time-consuming than your average chrome manicure. Adding in some matching pink rhinestones will make them look like designer nails you can do yourself.
3) Extra Pointed Green Chrome Nails
Another way to spice up your manicure is to go for unusual chrome nail colors, like this deep blue-grey-green hue. It's unusual and unique, so it's worth trying for anyone who needs something new. Plus, they look even more daring filed to a sharp point. It's the perfect manicure for women who pull no punches and apologize for nothing.
4) Sophisticated Pink-Silver Chrome Nail Ideas
Nothing looks better with a sparkling new engagement ring than a set of freshly manicured nails! Go metallic with a delicate pink-silver hue that complements your dazzling new diamond. It's feminine and a beautiful way to incorporate chrome polish in your manicure for your biggest days and most special occasions.
5) Subtle Peaches-and-Cream Ombre Chrome
Chrome nails don't have to be super flashy. Instead, a gentle peaches-and-cream ombre color scheme is an easy chrome design that looks both natural and pretty. Not only are these cute nails achievable for everyone, but they look good on all nails. For those who like to keep their nails short and subtle, this lovely design gives you just enough charm.
6) Extra Sharp Peach Pointed Nails
Getting nails that almost match your skin tone does wonders to make your fingers look longer, especially when they are pointed. Solid colored chrome nails in a stunning peach color are glamorous and beautiful. Mirror powder nails like this are all the rage, and they are much easier to apply than they look.
7) Pointed Jewel-Toned Blue Nails
The perfect accent for gold jewelry is a chrome nail in a jewel tone like a deep green or blue. Keeping them filed to points gives them an extra sassy and playful feeling that works for any woman in need of a little pick-me-up. It is an excellent confidence booster, and it's one of the easiest long nail designs.
8) Square-Tipped Long Black Chrome Nails
The classic black nail will never go out of style. Slightly reminiscent of the '90s, it's a nostalgic look that is clean, straightforward and suits everyone. It looks great with all outfits because black always matches everything. Giving it a twist by making it chrome really amps up a classic and simple look.
9) Short Square-Tipped Metallic Gold Nails
If there's anything better than silver, it's gold. Gold is the color often associated with success, wealth, and royalty—therefore, there is no better place to put it than on your dainty nails. Metallic powder nails are like bling for your manicure. They are a great way to make your short nails stand out.
10) Simple Square-Tipped Aqua Nails
The brilliant gleam of water looks even better on your fingers than it does in the ocean. With a color like teal or aqua, chrome nails look way too cool for how easy they are to achieve. All you need is a little chrome powder, and voila. You have lovely and brilliant nails in a fun, artsy color.
11) Adding Glitter to Pink Nails
Chrome is a delightful way to add shine and extra polish to your nails. You know what else can add some sheen to your manicure? Glitter. It's like chrome's long-lost sister, and they go together like peanut butter and jelly. Accenting pink chrome nails with random nails on either hand is a creative way to dazzle all your neighbors.
12) Witchy Holographic Green Pointed Nails
For those who like to channel their inner witch, you probably keep your nails extra-long and extra sharp. Make it even more mystical with green holographic nails that will mesmerize everyone who looks at them. It's so ethereal looking, it looks like magic on your fingertips—just maybe a little more Elphaba than Glinda.
13) Sequined Chrome Accents with French Tips
If chrome isn't enough for you, add a little extra brilliance with some baby sequins. Sequins on top of a chrome finish give your manicure a fun little pop. It's an interesting look that even looks good as an accent for natural nails or nails with a tiny French tip.
14) Dark Grey or Black Chrome Nails
If you don't like super flashy nails, keep them short and trimmed and add a darker grey to gleam them up a little. They'll look polished and neat without attracting too much attention. They aren't as stark or intimidating as black maybe, but a little more mature than a bright silver.
15) Long and Sharp Baby Pink Chrome Nails
For all the ultra-feminine ladies out there, baby pink is the perfect color to choose for chrome manicure types. It's the perfect accent for all your favorite accessories, whether it's your rose gold rings, your matching phone case, or your luxe fur coat. Keeping them sharp and pointed, though, gives a little edge to a gentle and dainty color.
16) Long Hot Pink Nails w/ Square Tips
Baby pink may not be enough for you, but that doesn't mean you don't have any options. Pink comes in many different hues, and something like hot pink or rose gold nail polish with a square tip can bring out your extra diva. Instead of going for something sweet and delicate, you'll look like a real boss lady.
17) Long Lavender Metallic Nails
Nail polish ideas don't have to be difficult. Purple is a color that represents enlightenment and royalty, making it the perfect color for mature, sophisticated women. Long nails are one of the best places to showcase such a brilliant chrome color. It even looks great with your diamond or silver jewelry.
18) Short Square Copper Metallic Nails
The best choices for chrome nails are always the metallic colors and choosing a non-traditional color such a copper is a real show-stealer. Copper is vaguely reminiscent of antique treats and is awesome for 2018 if you are over millennial pink or rose gold nail polish. This short nail design is an easy and classy manicure that everyone will love.
19) Cotton Candy Pink and Blue Nails
Sometimes you just need some different nail designs to keep things interesting. Alternating between baby pink and turquoise is an innovative way give your nails a fresh and fun feminine twist. This way, even solid chrome colors can look exciting and sensational, and anyone can do them.
20) Matching Metallic Silver Toes and Fingers
Being extra invested in the look of your nails means putting time into both your manicure and pedicure. Silver is the perfect metallic nail powder to achieve flawless mirror nails. Polished looks like this deserve to have a matching set, and it hardly takes any effort at all to achieve the same effect on your toes.
21) Gothic Holographic Dark Purple Nails
If you have a little bit of a darker side, then purple holographic nails are the nails for you. They have a sexy gothic vibe that adds mystery to your everyday look. It's not a manicure for the faint of heart, but if you don't shy away from bold and mature nail polish ideas, you're sure to love it.
22) Holographic Oil Slick Nail Ideas
There are few things more mesmerizing than short, trim nails with a multi-chrome finish. Often called the oil spill manicure, it is a creative, and yet extremely easy cool trend that runs no risk of running out of style. It works for people who like darker looks and different nail designs. All in all, it's a one-size-fits-all manicure.
23) Sharp and Pointed Green Nails
Extra pointed nails in a dark green chrome finish are the best color for nail addicts to add to their repertoire. Filing them to such a fine point adds a level of boldness that works perfectly with such a confident and mature color. If feminine colors aren't your thing, this color is the perfect manicure for you.
24) Long Silvery Purple Chrome Manicure
Nails that combine purple and silver are iridescent enough to stun all your friends and neighbors. Long nails with a subtle square tip are somehow both sassy and mature and complement this fun nail color well. This shiny color looks like a unicorn fantasy on your fingers, perfect for the extra creative and mystical nail addict.