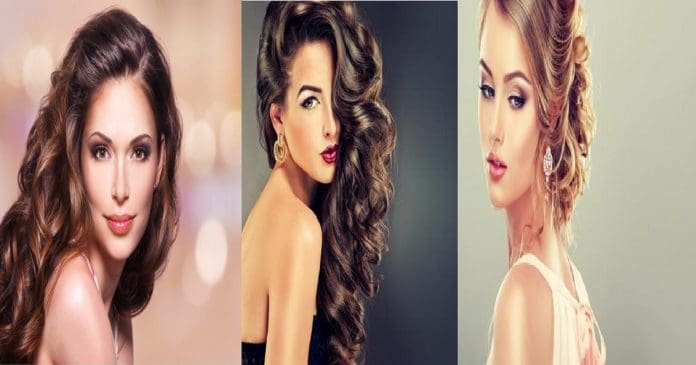 The key to being truly breathtaking in any hairstyle, short and long, is to wear your new hairstyle with confidence. Own your style and do not let it own you. Ask your stylist for his or her advice to help you to choose a look which suits your face shape, hair texture and hair colour, but don't feel constrained by their advice. Sometimes the coolest short or long hairstyles for girls are the styles where the girl has thought outside of the box and chosen their own path. Below are some splendid haircuts and hairstyles for girls with both short and long length hair to look cute, elegant and gorgeous all at once!
#1: Short Braided Bun
A plaited bun is a stunning up-do for a wedding or other formal event. It can be hard to achieve this look alone, so get a friend or stylist to help. Plait your hair into a basic French braid, then twist up into a bun.
#2: Long Wavy Hairstyles
Long thick hair is spectacular with a natural-looking wave. If your hair is naturally straight, rag-roll it overnight, and wake up with beautiful waves. Scrunch a little bit of hair product through it to help it to hold its shape all day. Check out some short curly and wavy hairstyles too.
#3: Short Curled Updo
This short curly bridal hairstyle is very popular for wedding hair, as it looks beautiful, without looking too manicured. Pull your hair back before styling in extra curls. Leave a couple of locks of hair down to frame your face.
#4: Wedding Bun
A sleek bun is a classy and elegant up-do which is perfect for any formal occasion. Leave your fringe loose when you are pulling your hair back, and then pin it up later to add a little softness to the look.
#5: The Tousled Tresses
An amazing long wavy hairstyle for women. Who said that tousled tresses were just for a day at the beach? Run your fingers through your hair to separate your tresses, and then spray with hairspray to help them to keep their individual shape all day long.
#6: Long Loose Curls
Give your hair extra volume by blow-drying it. Then add loose curls by using a barrel brush with your hair dryer on a high heat. Browse short loose curls styles here.
#7: The Natural Look
Style your hair to give it a breathtaking natural look. This works for both long and short hair. All that you need to do is enhance your natural look with a little smoothing product, or product that will help you to hold a little curl or wave. This will help you to look stunning all day.
Best Medium Length Layered Haircuts and Hairstyles
#8: Twisted Bun
Straighten your hair, but ensure that it still has a little texture and volume to it. Take thick sections of hair and twist them loosely before drawing each section back into a bun. Pin your fringe up last.
Adorable haircuts and hairstyles for little baby girls
#9: Afro Curls
A trendy long hairstyle for African American young girls. Beautiful tight curls are a natural look for many people with afro-textured hair. If your hair is more inclined to grow upwards or outwards, talk to your stylist about getting it relaxed slightly, then permed to allow a more flowing style.
#10: Bob Haircuts for Teen Girl
This short and long uneven bob haircut is a fantastic choice for people with shorter hair who want to stay ahead of the fashion trend next year. Cut your hair very short and the back, and have a longer fringe section to make your cheekbones really stand out.
#11: Curls of paradise
A mind-blowing hairstyle for girls with long hair. To achieve big, bold curls like these, either use a good quality curling iron or invest in a set of heated curlers. Spray setting product on each curl right after it is done, to keep them looking their best.
#12: Delicately curled updo
Sweep your hair back into a loose ponytail, then curl the ends with delicate loose curls. Bring each section around to your head and pin it down, to create a loose waterfall style bun.
#13: Accessorize
Once your hair is up in a fantastic do, you can make it even more special by adding accessories. Depending on the event that you are going to, you can choose beads, jewels, diamonds, flowers or something else. You can also put accessories in your hair whilst it is down, or in a half updo.
#14: A day at the office
This breathtaking long hairstyle would be great for a day at the office. Wear your hair down, and use a curling iron to give yourself loose natural curls at the bottom.
#15: Weird and Wonderful
Make sure that all eyes stay on you by getting your hair stylist to create this signature look for your next high fashion moment.
#16: Subtle Curls
Another very appealing long hairstyle for women with style. If your hair has a lot of volumes, run your hair around a barrel brush and hold for a moment whilst you are concentrating your hair dryer on it. This should leave you with subtle, yet breathtaking curls.
#17: Half Up Half Down Curls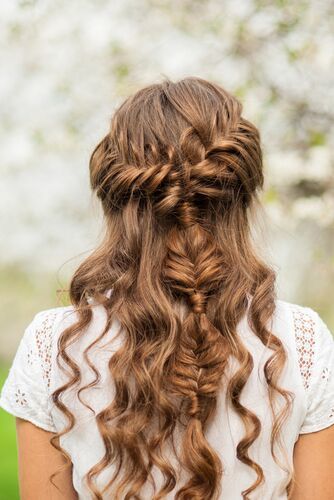 Loosely curl your hair, and separate it out into individual sections. Take few sections of curls from either side of your hair and draw these together. Cover your hair ties with a loose knot of hair.
#18: Straight and Sleek
If you have thick hair it can be difficult to get it looking straight and sleek, but when it does, it looks breathtaking. Use ceramic straightening iron and heat protect serum for the best effects.
#19: Classic Wedding Beauty
Draw your hair back loosely and put in some very subtle curls. Take each individual section and pin it up. Leave a couple of strands down to frame your face. Add hair accessories if you wish.
#20: Very Long Wavy Hairstyle
Really long hair looks truly breathtaking, no matter how you style it. Growing your hair down to your waist naturally can take a long time, so consider getting extensions put in instead if you want this hairstyle in the coming year.
#21: Big Barrel Curls
Blow-dry your hair upside down using a paddle to achieve volume, then use a wide barrel curling iron to put in big barrel curls. This long hairstyle is becoming a trend for young girls.
#22: Black Long Hair Beauty
Short and long hair can look breathtaking in dark brown or black. If it is not your natural hair colour, take care to consider your skin tones before choosing these shades, or you could look washed out.
#23: Maximum Volume
Bigger is not always better, but it can be if your style is on point. Big, bold waves and curls can help to give you the illusion of volume, but if you need another boost, get your stylist to add extensions.
#24: Seductive Side Sweep With Long Hair
Show off your back and shoulders, and add extra volume to your hair by sweeping everything over to one side. If volume is your goal, curl your hair before sweeping it over, and spray each section to get it to hold its shape.