Who doesn't love thick hair? But managing long, luscious hair can be quite a task. The knots and tangles that you'd have to deal with would be a nightmare. Styling it would be another huge concern. It's a hassle. My advice? Just cut it short. Before you gasp, hear me out! Thick hair has the dimension and texture that short hair needs. And with all the edgy and playful short hairstyles doing the rounds these days, I'm sure some of them must have caught your eye. In short (pun intended), short hair is all the rage right now.
Ready to go edgy and bold? Read on to find 25 stunning short hairstyles that will make you run to the salon in awe!
25 Incredible Short Hairstyles For Thick Hair
1. Blunt Wavy Bob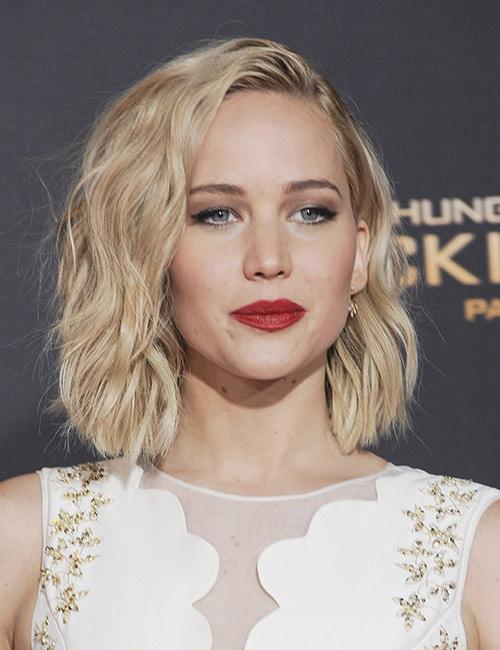 Shutterstock
Jennifer Lawrence has impeccable style, and it's that style that makes her numero uno on this list. Show off your luscious locks with this blonde wavy bob. The blunt ends add volume to her hair while drawing attention to her jawline.
How To Get The Look
Curl your hair by keeping it in the curling iron for about 5 seconds. Brush out the curls to loosen them up and turn them wavy. Don't forget to spritz hairspray before and after you style your hair. Part your hair on one side to flaunt its volume and add height.
2. The Lob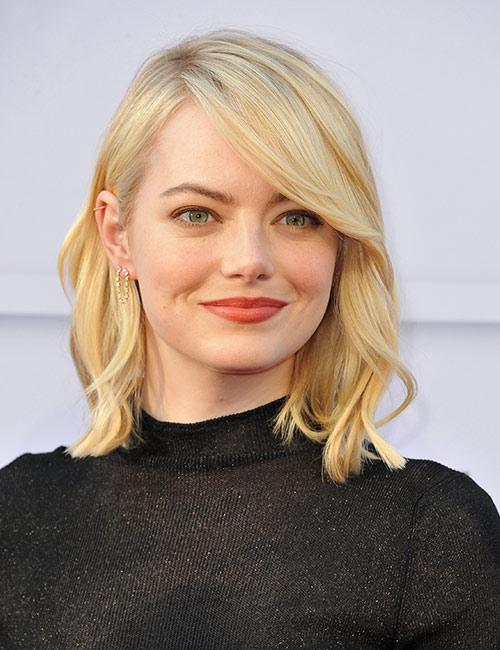 Shutterstock
I love this whole ensemble that Emma Stone is sporting. It looks brilliant! The long bob ('lob' for short) is in demand right now. It is perfect for those long hours at work and late night parties. The slightly flicked out ends accentuate her straight locks and give them that perfectly curved shape.
How To Get The Look
Wash your hair and allow it to air-dry halfway through. Keep your blow dryer on a low or medium setting to prevent your hair from heat damage. Take your round brush, keep it in between your hair and head. Blow dry your hair on a medium or low setting while brushing your hair down and flicking it outwards at the ends.
3. Double Braids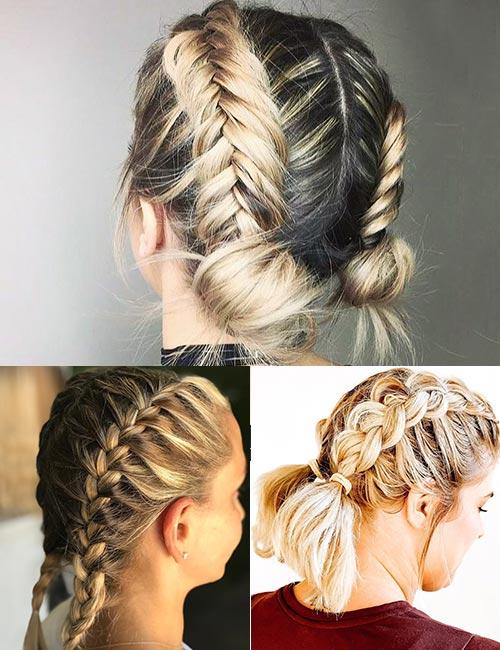 Instagram
Double braids look so hardcore. When you see a woman with Dutch braids, you don't mess with her. It's just a given. With a wide range of braiding styles to choose from, this hairstyle is versatile and fun to play around with.
How To Get The Look
Divide your hair in half from front to back. Weave both halves into Dutch, French, or French fishtail braids. You can braid them till the end, roll them in buns at the ends, or tie them in ponytails at the back.
4. The Stretched Mohawk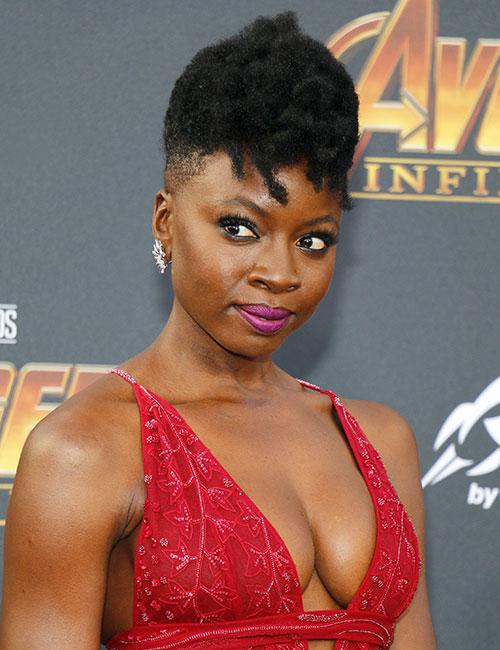 Shutterstock
It's no secret that Danai Gurira is a badass. But did you know that she is also a playwright? Awesome, right? She's always sporting short hair, and it's no surprise that this inspiring woman is on this list. This faux mohawk perfectly suits Danai. She looks stunning!
How To Get The Look
The look can be achieved with a razor and a comb. Shave the sides of your head neatly, taking all the time you need to get it right. If you're having second thoughts, go to a salon. Divide the rest of your hair into sections and comb them gently, stretching them out as you go. This is a great alternative to using a blow dryer as it can damage your hair. Finally, brush your hair together at the top to create a stretched out mohawk.
5. Wavy Lob With Bangs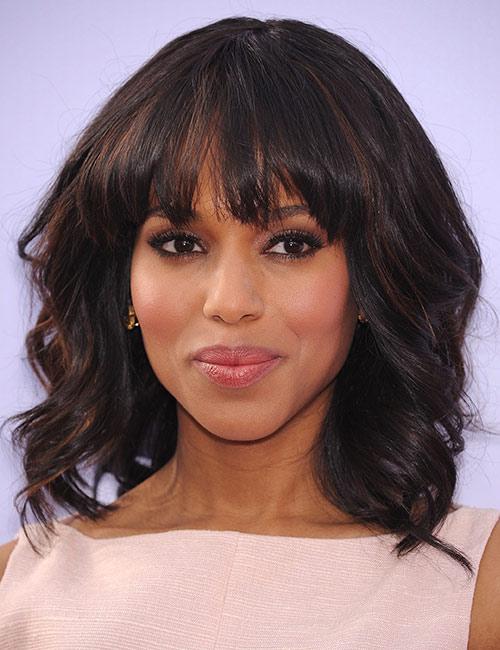 Shutterstock
There is no crisis that Olivia Pope can't solve. So, it's no wonder that women love her and her debonair style. The actress who plays her is no less stunning! Kerry Washington's wavy lob is an absolute showstopper.
How To Get The Look
Keeping a round brush between your forehead and bangs, brush your bangs out and downwards to give them a nice curve. Curl your hair in large sections with a curling iron. Spritz on some hairspray to set the curls in place.
6. The Pouf Pony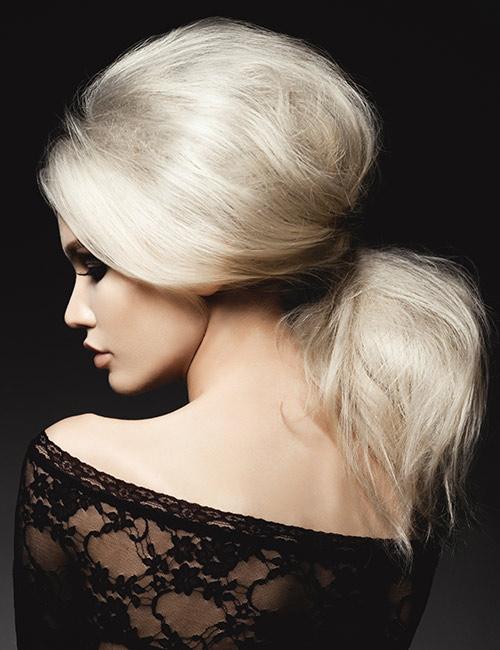 Shutterstock
I love this classic vintage hairdo. A half pony, a braid, or a bun – you name the hairstyle, and there's no way a pouf can't jazz it up. This big pouf and messy ponytail is a brilliant hairstyle for those thick tresses.
How To Get The Look
Tease the hair at the top and crown of your head. Comb down this teased hair neatly to smoothen it and tie all your hair in a low ponytail. I have to say, this hairstyle is giving off some serious Amy Winehouse vibes.
7. Volumizing Bob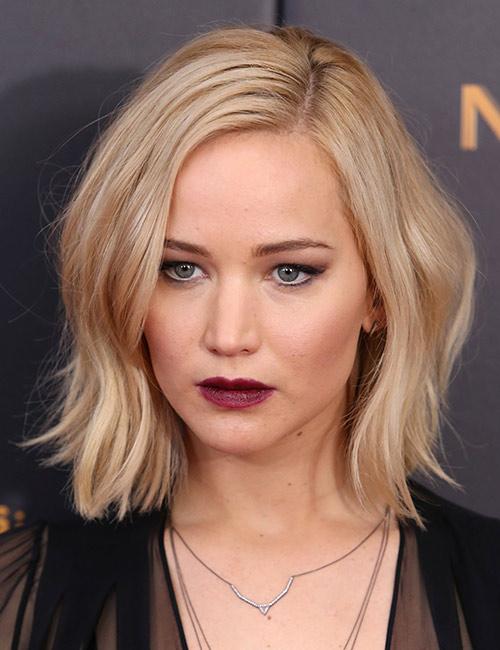 Shutterstock
If you've seen Jennifer Lawrence with long hair, you know she looks vastly different with short hair. I love how short hair looks on her. If you have thick, straight hair, try this bob. The feathered ends give her hair a soft appearance.
How To Get The Look
Get your hair cut in a feathered bob haircut at a salon. Use a curling iron or a straightener to swoop out the ends of your hair. If you have colored hair, a deep side parting will show off your natural dark roots.
8. Thick Center Bangs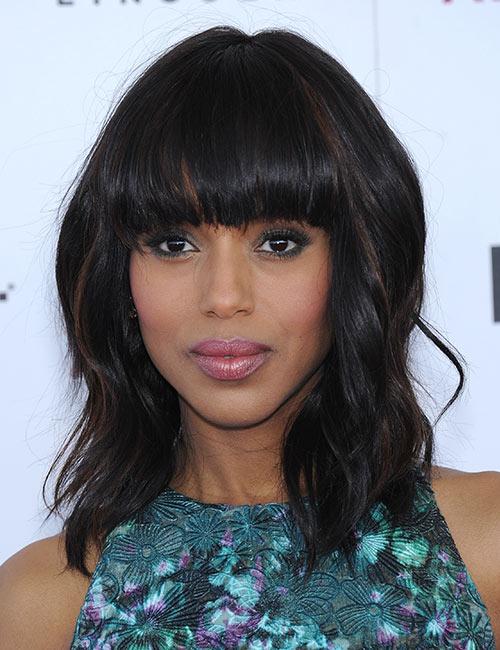 Shutterstock
Let's be honest, you can't pull off thick center bangs unless you have thick hair. Getting them on fine hair will make them look scanty and feathered. Add a light color to your hair give it some texture and showcase your natural hair color.
How To Get The Look
Style your hair in some loose waves. Run your finger gently through your waves to loosen them up. Curve your bangs with a round brush.
9. Twist In The Front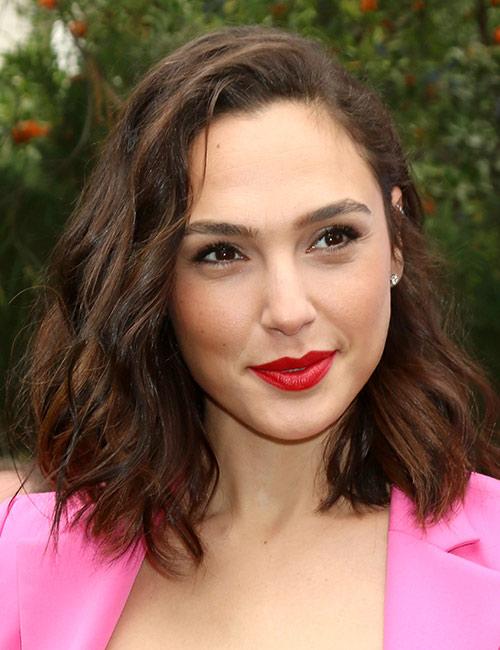 Shutterstock
If you have thick straight hair, this is the hairstyle for you. After all, Gal Gadot is sporting it! From her pink suit to her red lip color, this Wonder Woman has her style down to the T.
How To Get The Look
Style your hair in waves. Flip your hair over and shake it out while combing it down with your fingers. Part your hair on one side and twist it in the front with a curling iron.
10. Twirled Bob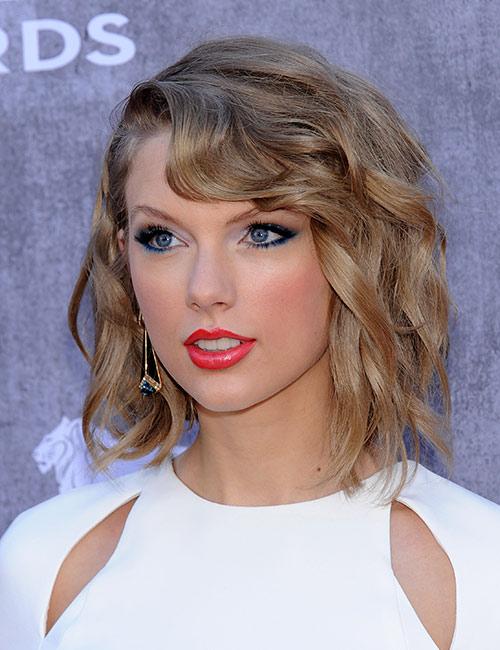 Shutterstock
I got that red lip, classic thing that you like. We all love Taylor Swift's style, hair, and red lip colors.
How To Get The Look
Spritz on some hairspray and heat protectant all over your hair. Style your hair in twirly curls with a curling iron. Spritz on some hairspray again. Use a straightener to style your bangs in waves.
11. Retro Waves
Shutterstock
I love Emma Stone's wardrobe in La La Land, and it's amazing that she decided to go vintage for the Oscars. This gelled style was achieved with the help of a comb, some mousse, a round brush, and a blow dryer. You might be thinking, "What? It's that simple?" Let me tell you that this hairstyle requires attention to be done right.
How To Get The Look
Apply some mousse to your hair and comb it down from the roots to the ends. Applying mousse instead of gel will give your hair a smooth, non-greasy look. Use a round brush and a blow dryer to create those waves.
12. Chin Length Bob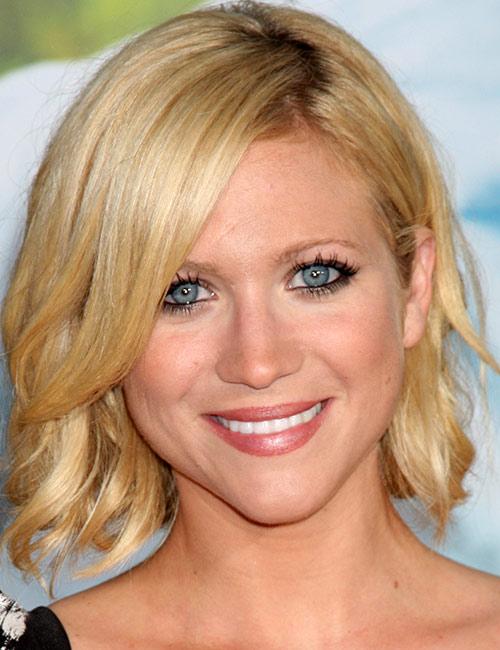 Shutterstock
Blonde hair and blue eyes – yes, that is aca-girl Brittany Snow. She knows her hair is one of her most incredible features, and she is not afraid to try new hairdos.
How To Get The Look
Remove all the tangles and knots from your hair. Curl the ends of your hair with the help of a curling iron or velcro rollers. Notice how the side sweep does not start right at the beginning of her hairline, but a little away, and her hair on the other side is gently tucked behind her ear.
13. Spiky Hairdo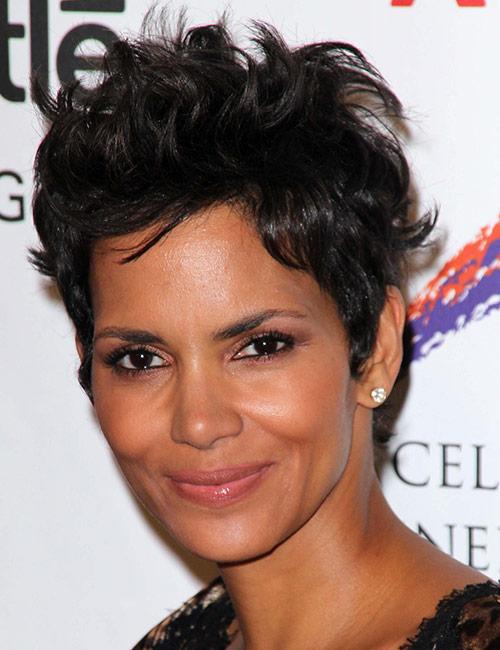 Shutterstock
Halle Berry is the poster child for thick, short hair. The stunning actress really knows how to style her short locks. With the sides sleeked down and the top spiked up, this spiky do is clearly only for the thick-haired.
How To Get The Look
Apply some gel, mousse, or foam to your hair. Brush the sides down, and, with your fingers, spike up your hair at the top. If you have a large forehead, try slightly side-swept bangs.
14. The Rachel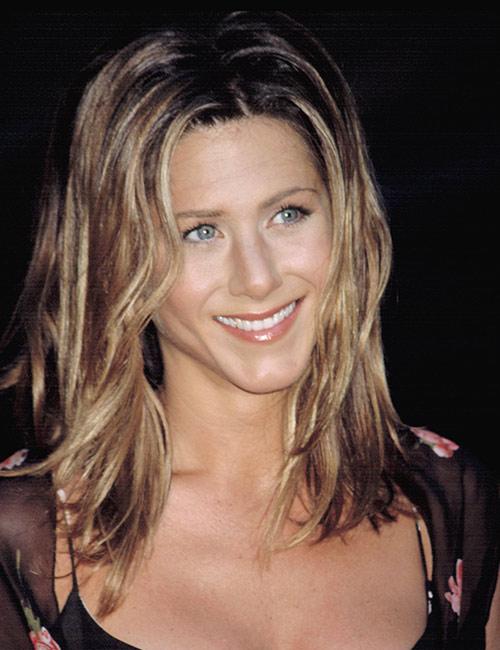 Shutterstock
I had to add this in! The Rachel is a '90s hairstyle that is almost as iconic as Jennifer Aniston herself. The truth is that Aniston's hairstylist was high when he gave her this cut. Layers are totally a win for thick-haired ladies. It really showcases your hair volume.
How To Get The Look
Go to the salon and ask for a layered shag hairstyle if your hairstylist lives under a rock and doesn't know about the 'Rachel.' This hairstyle needs regular styling. Using a round brush and a blow dryer, you can achieve this look every day. The top needs to be brushed down while the ends need to be flicked outward.
15. The Classic Shag 'Do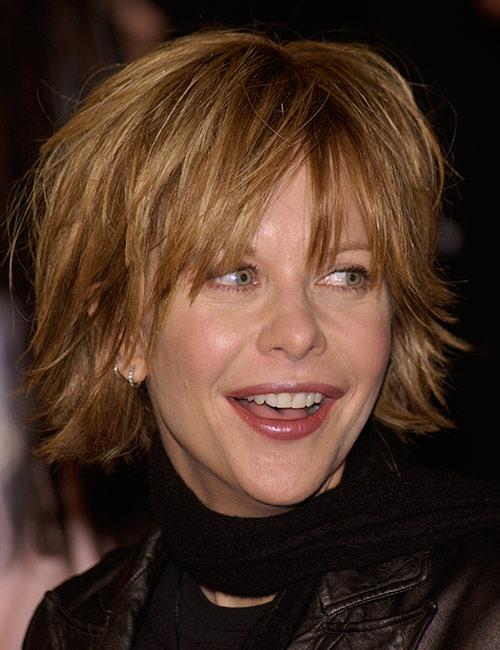 Shutterstock
This hairstyle should be renamed after Meg Ryan as it's her signature hairstyle. She has sported this hairstyle in Addicted To Love, You've Got Mail, French Kiss, Kate & Leopold… the list goes on and on.
How To Get The Look
The shag hairstyle has layers from below the crown that are feathered at the ends. I wouldn't advise cutting your own hair to get this look. Get it cut by a professional hairdresser.
16. The Low Bun Updo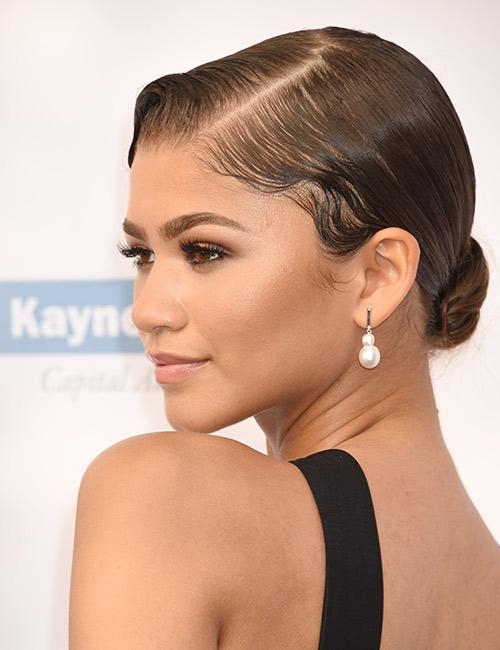 Shutterstock
Zendaya has floored everybody with her acting, singing, and style. Her hairdos are always on point. Whoever said short hair can't be styled in updos needs to take a lesson from Zendaya.
How To Get The Look
Part your hair on the side, creating a deep side parting that slants to the center. Comb down your hair with some gel. Wrap your hair in a low bun (you can keep it at the center or to the side). Pair it with pearl earrings, a gown, and some light makeup to make heads turn.
17. Feathered Bob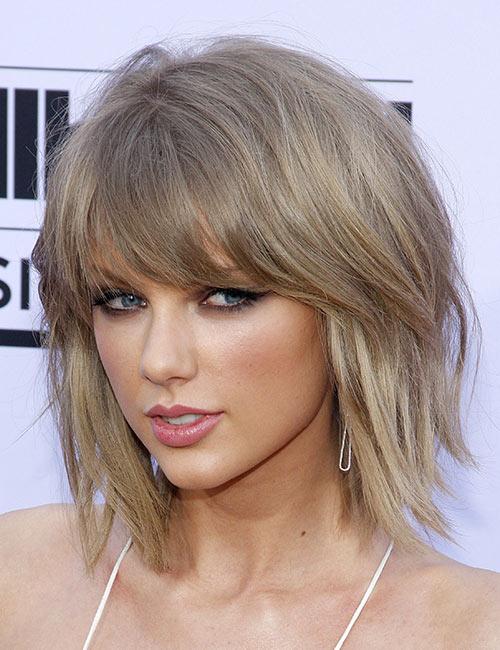 Shutterstock
When Taylor stunned us with this look, every girl wanted it! I don't think this craze will end anytime soon.
How To Get The Look
Feathered ends really accentuate the volume of your hair, and dirty blonde hair looks amazing. The feathered ends add a nice soft touch to your hair. If you want to try cutting your own hair, use the point cut method to get those feathered ends.
18. Asymmetrical Bob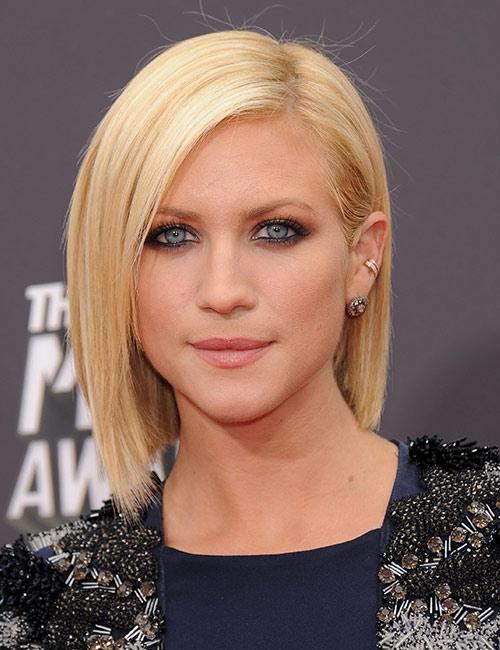 Shutterstock
Brittany Snow is teaching us something here – a little makeup and a great hairstyle can go a long way. The asymmetric bob has got women from every part of the world hooked. If you have thick, luscious hair, try this slick straight look.
How To Get The Look
Get an asymmetrical bob cut at a trusted salon. Straighten your hair perfectly. A straightening iron is the best way to go. If you have slightly wavy hair, wash your hair and let it air-dry. When your hair is damp, hold a section out and brush it down. Do this to all your hair while standing under a fan until it has dried completely.
19. Sleek Back Hair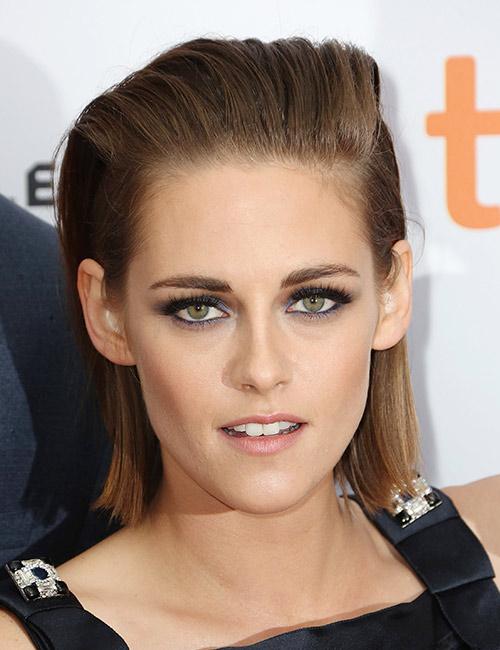 Shutterstock
Kristen Stewart is known for her edgy short hairstyles. Gelled back hair suits thick hair like a dream. It can make thin hair appear very flat and make your face look bigger than it is. Thick hair looks brilliant in a slicked back hairdo.
How To Get The Look
Apply gel, mousse, or foam to your hair and comb it down. If you have straight hair, use gel as you can apply it to the roots easily. If you have curly hair, use a foam or mousse as it is easy to apply on thick curls. Comb the sides back and then down. Lift the hair in the center as you comb it to create a faux mohawk look. Spritz on some hairspray to set the hairdo in place.
20. The Low French Twist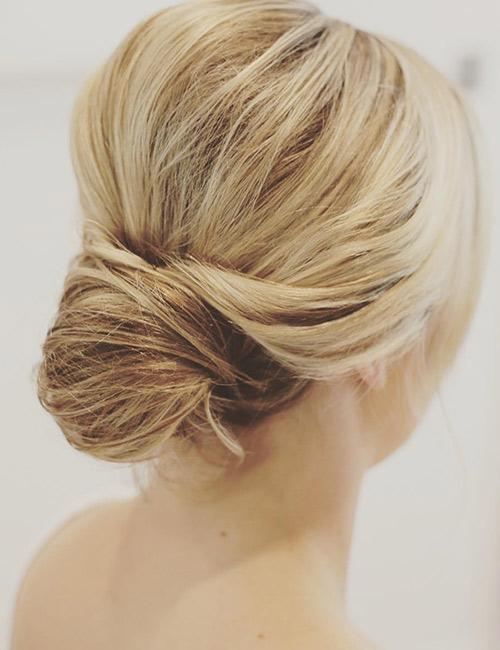 Instagram
This is a nice variation of the French twist, and it's great to showcase your thick tresses.
How To Get The Look
Detangle your locks with a comb. Tease the hair at the crown of your head to create a pouf. If you have layers in the front, leave them out to style at the end. Hold the rest of your hair in a low side ponytail and open it in your hand to flatten it. Roll your hair around with the other hand, pin it up, and pancake it. Take the hair that is left out and tuck its ends into the bun.
21. The Blow Out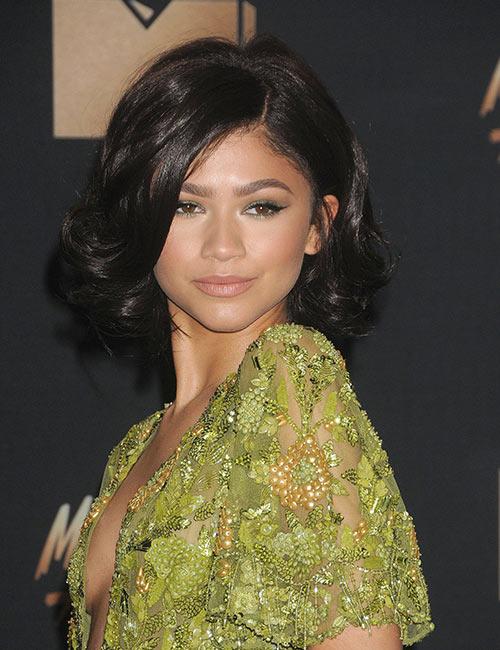 Shutterstock
Zendaya went for a Jackie Kennedy look at the 2017 MTV Movie Awards, which was quite different from her usual bolder look. She added her own flavor to the look with her sharp eyebrows and minimal makeup.
How To Get The Look
Blow dry your hair at a low setting until it is 80% dry. Clip up half of your hair, leaving the lower section free. Making sure the round brush has a good grip on your hair, begin blow drying your hair on a medium setting. You want to run the brush from your roots, curling it at the ends and holding it there for 3 seconds before you leave it. This will give it a nice blowout. Backcomb the hair at the crown of your head to create a pouf.
22. Swept Back Hair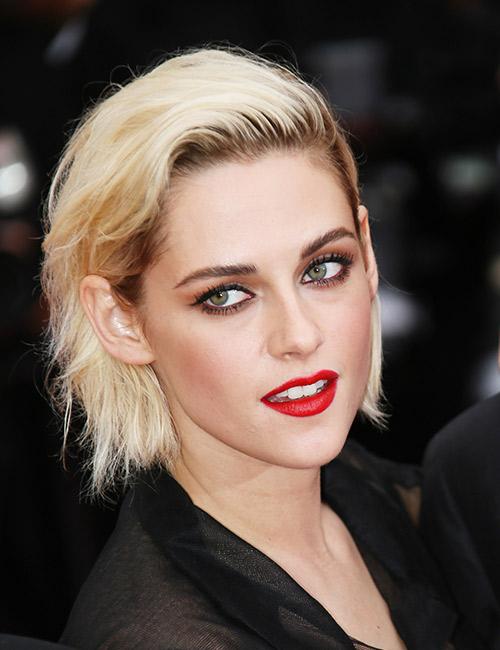 Shutterstock
Kristen Stewart strikes again with this brilliant hairstyle. The dark roots add a nice contrast to her platinum blonde locks.
How To Get The Look
Spritz on some dry shampoo to add texture to your thick locks. Brush your hair to the side with a round brush to give it some lift. Spritz on some hairspray to keep the hair in place. Pair this hair look with a lovely red lip color and the world will fall at your feet.
23. Twisted Low Updo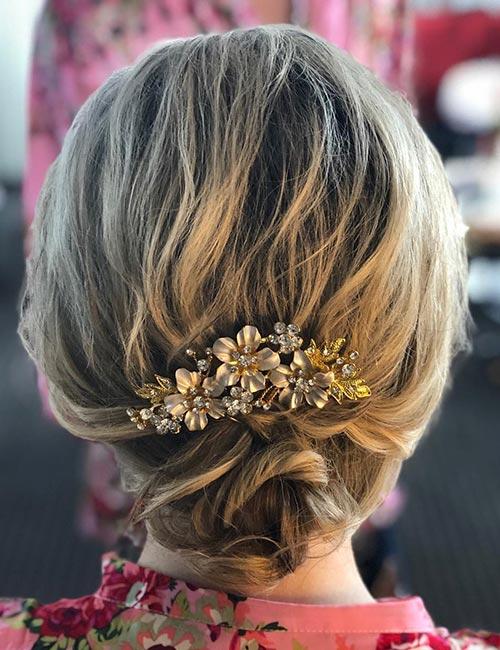 Instagram
This is a very simple yet elegant hairdo. Thin-haired women need to pancake their hair to achieve a perfect twisted bun, but thick-haired women can nail it instantly!
How To Get The Look
Style your hair in waves (with rollers or a curling iron) and ruffle it with your fingers. Twist your hair in sections and pin it at the back to form a low bun. Don't forget to accessorize!
24. Side Swept Front Wave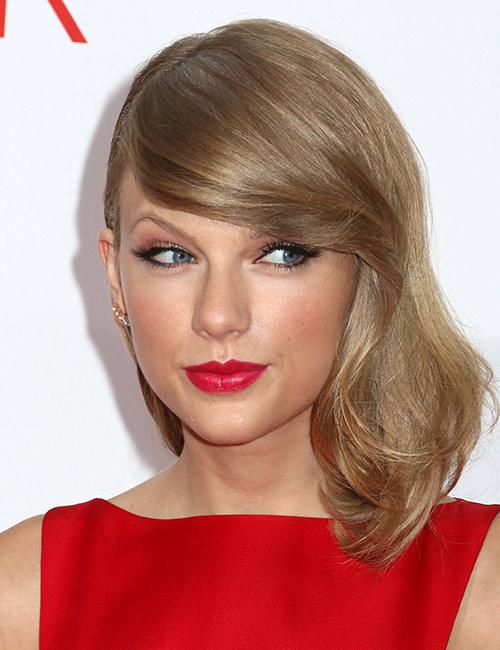 Shutterstock
Love her or hate her, you can't deny that Taylor Swift's style is on point. To paraphrase her song, she'll never go out of style. At the beginning of her career, she stuck to her long thick locks. But, she's been opting for shorter, edgier looks recently and she looks S-T-U-N-N-I-N-G!
How To Get The Look
This look can be easily achieved with some mousse, a round brush, and some hair pins. Apply some mousse to your hair and comb it down. Using a round brush and a blow dryer, create that brilliant swoop in the front. Sweep all your hair to one side and secure it with hair pins.
25. Undercut Braid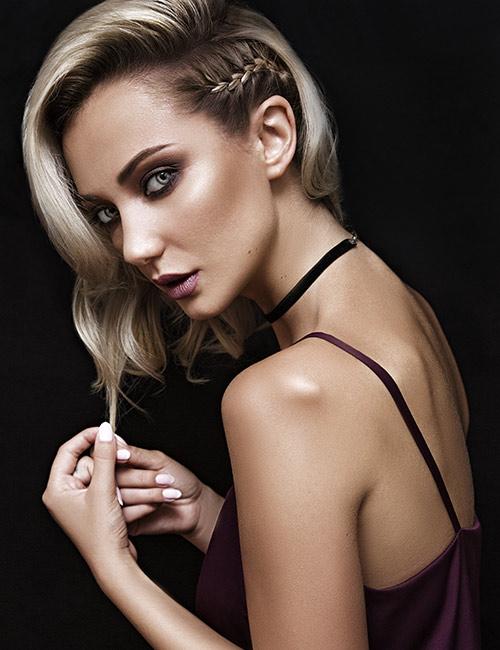 Shutterstock
This braided hairstyle has got young women all over the world on their toes. It is super fierce and badass.
How To Get The Look
Comb your hair to detangle it completely. Using a rat-tail comb, section off hair from one side of your head. Clip up the rest of your hair. Begin French braiding this side section of hair. When you reach the back of your head, pin the braid under the rest of your hair.
Now that you know the best short hairstyles for your thick and luscious locks, here are some maintenance tips to keep those tresses strong and thick.
How To Maintain Thick Hair
Use a shampoo and conditioner that cater to specific hair issues that you're facing.
Don't use too much shampoo or conditioner. Using a coin-sized amount of product is enough. The same goes for gel, mousse, or foam.
Try to stop using heat styling tools to style your hair. Instead, try using rollers to style your hair.
If you're using a heat styling tool, apply some heat protectant before you begin to prevent heat damage.
Use a natural leave-in conditioner to keep your hair hydrated and moisturized. It will keep your hair strong without the help of strong chemicals.
Deep condition your hair at least once a week. Apply conditioner to your hair, cover it with a shower cap, and continue with your shower. The steam will help the conditioner deeply penetrate your hair cuticles. Wash off the conditioner with cold water to close the cuticles and lock in the moisture.
When combing your hair, start from the ends and slowly work your way up. This prevents hair fall and breakage.
Oil your hair with warm oil every week. Massage your head as you apply the oil. Leave it on for at least an hour (or overnight) to nourish your hair.
If you have frizzy hair, wrap your hair in a thin cotton t-shirt or a silk scarf before you go to sleep.