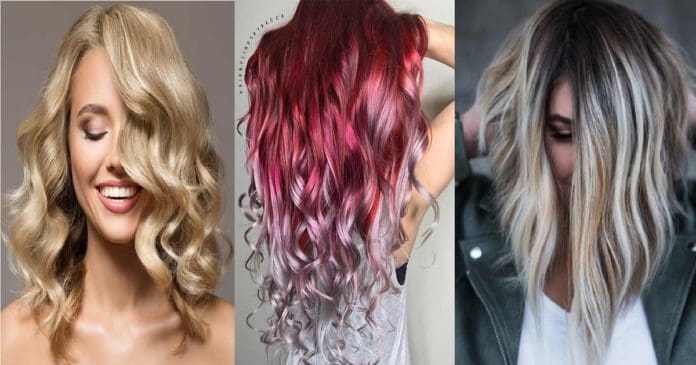 Caramel, midnight blue, mocha – these are some exotic colors that have taken over the world of hair coloring. There are so many colors to choose from these days. I mean, each color has multiple shades, and you can mix and match colors as well. So, how do you pick the best color? If only there were a list that could tell you which colors were trending! Well, lucky for you, I love lists and have made one for you!
Read on to find out which of these 50 best hair color trends you would love to try.
50 Breathtaking Hair Color Trends Taking The World By Storm
1. Rose Gold Hair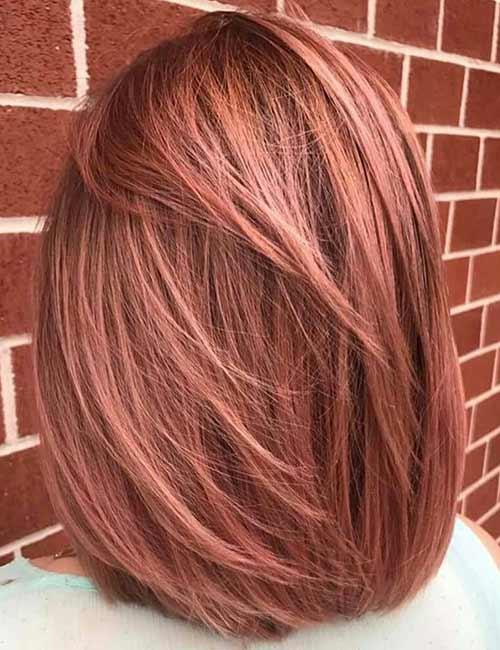 Source: www.tukuoke.com
Oh, to live la vie en rose! Let's start with a color that has taken the world by storm. This lovely rose gold hair shade works with all skin colors but looks especially fantastic on warm skin tones. Perfect to get heads turning!
2. Blush Pink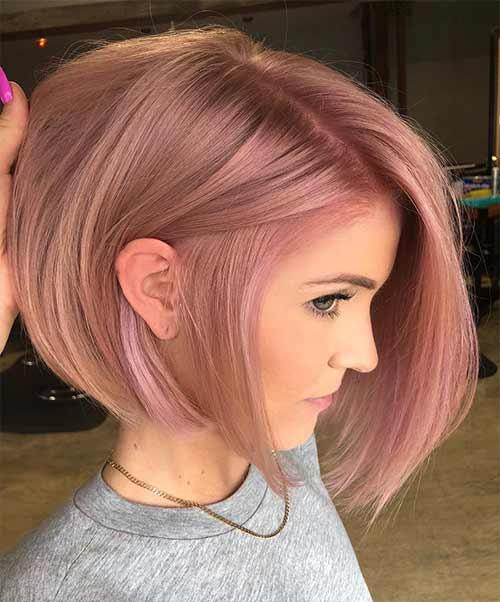 Source: Instagram
This beautiful shade of pink is sure to liven up your life. This blush pink hair color has a warm undertone, which is why it works well with warm skin tones. If you have hazel, green, gray, or blue eyes, this color is sure to accentuate them.
3. Black-Purple-Silver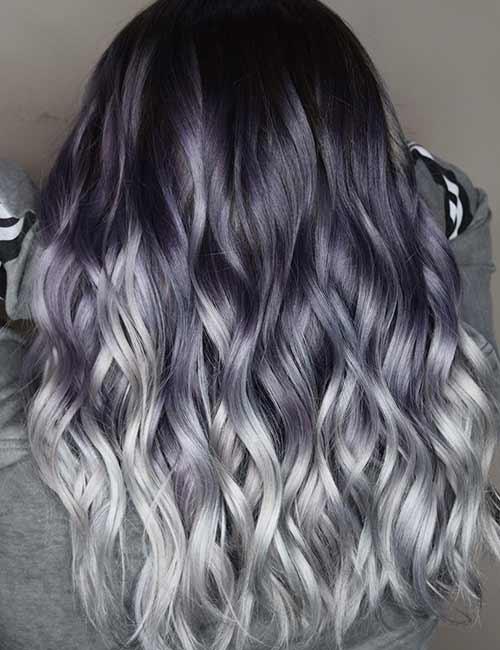 Source: Instagram
Who doesn't love the thrill of mystery? That's what this blend of colors is all about! Black roots melt into purple streams that end with frosty tips, giving it the ideal hint of intrigue. Once you start staring at it, you just can't stop!
4. Plum Cherry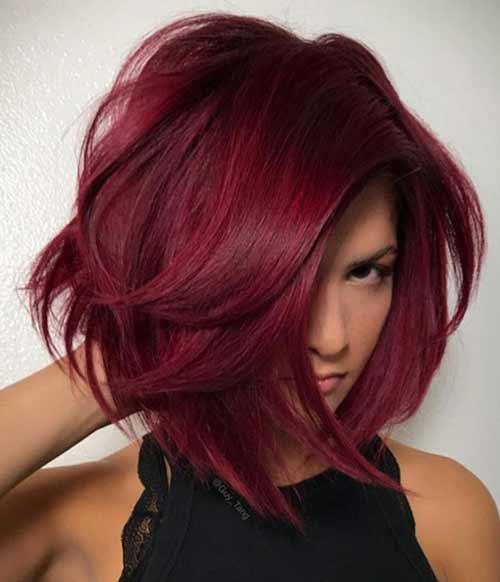 Source: www.tukuoke.com
Let's be honest. We've all wanted to try out this plum cherry shade since we were teenagers as a way to rebel against our parents and authority. Vibrant and playful, this shade will make those brown and green eyes pop.
5. Black And White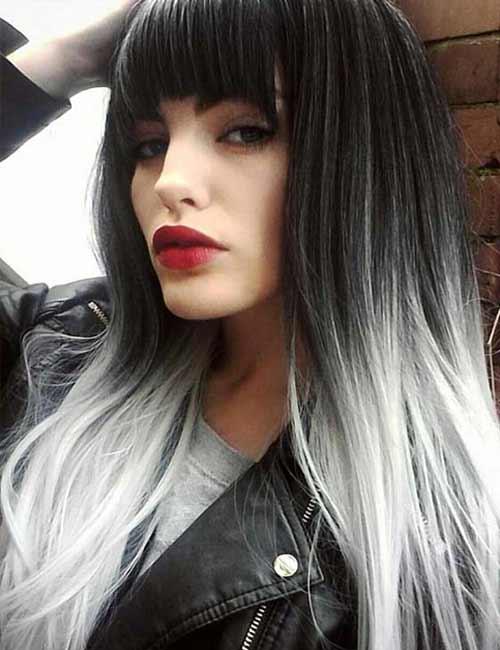 Source: typesvogue.com
Michael Jackson sang it right. It doesn't matter if you're black or white! So, why not choose both? Monochromatic designs are ruling the world, and we love them. Black and white locks meet to create a bold color trend that you need to try out.
6. Candy Cane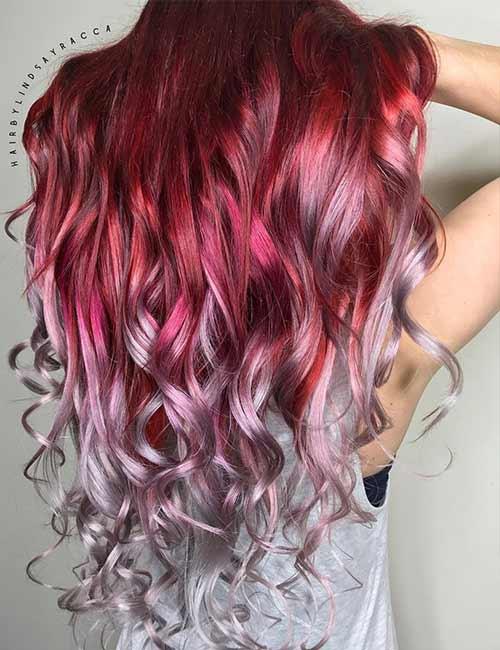 Source: Instagram
Think feminine with a hint of sophistication. Candy pink and pastel lavender are the colors you're probably thinking of. This hot pink to lavender ombre is ideally styled in those perfect twirls of hair, making it a mesmerizing waterfall.
7. Auburn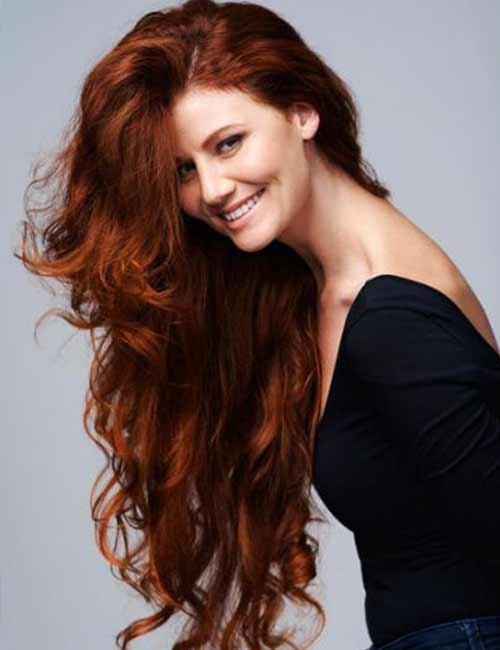 Source: www.kahkul.net
'Fiery' is the word! Auburn hair is the perfect warm color to brighten up your winter or those everyday blues. No wonder we see so many actresses sporting it! Let your inner diva out with this gorgeous shade of red. Go fierce!
8. Brown Balayage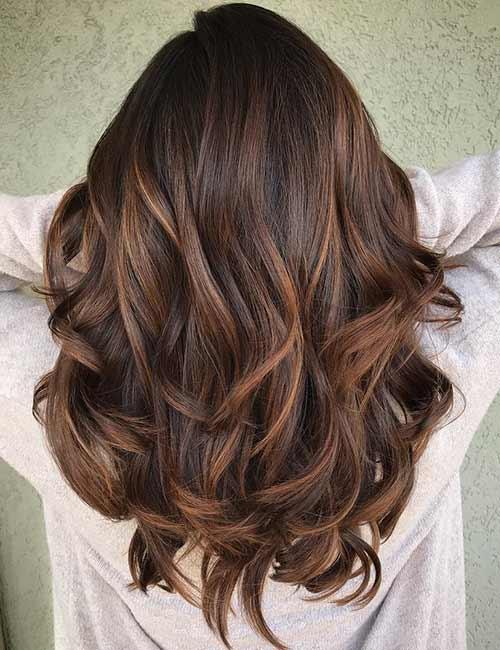 Source: Instagram
Ahh, chocolate! It is indeed the best thing in the world. If I were an alien, chocolate would be why I'd invade Earth. Add that gooey richness to your hair too. Dark chocolate hair with partial milk chocolate highlights will make your hair look luscious and thick.
9. Lilac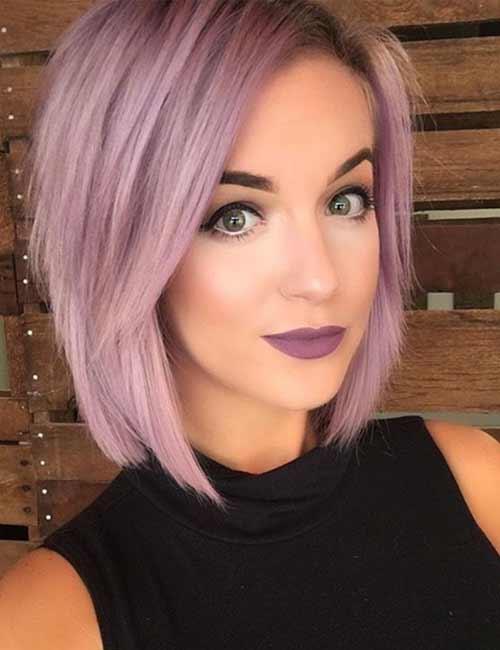 Source: www.modernsalon.com
Happiness and tranquility – that's what lilac symbolizes. Going by this picture, I totally agree. Lilac has taken the world by storm. This cool tone makes green eyes pop. It's a great way to make your hair appear soft yet vibrant.
10. Turquoise Ombre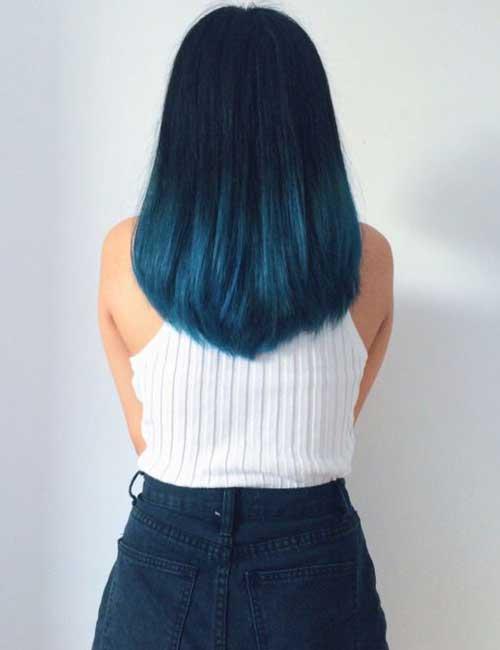 Source: www.womensweekly.com
Close your eyes and envision the best vacation spot. I can hear the swoosh of those blue waves. Now imagine that on your hair! Pretty darn perfect, right?
11. Green And Black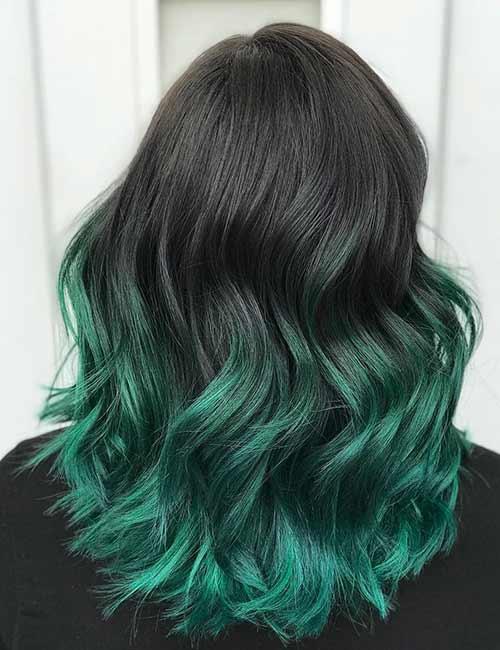 Source: Instagram
Green is such a bold and robust color. No wonder The Hulk and The Statue of Liberty are green! Green hair is the best rebel-with-a-cause hair color trend. If you have black hair, you have to try this beautiful blend. It's definitely on my list.
12. Purple And Blue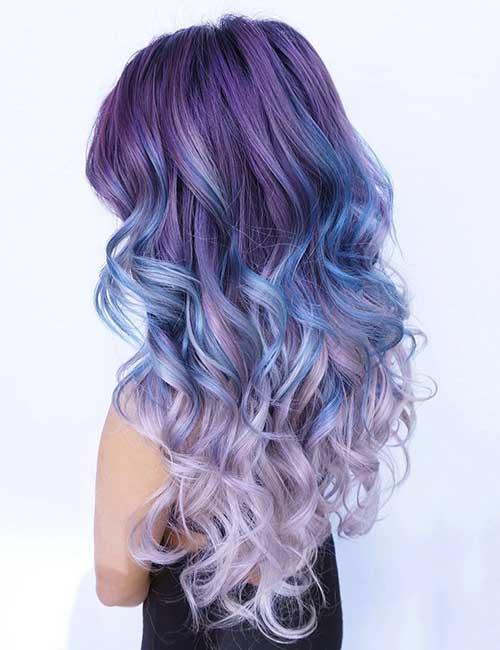 Source: Instagram
I'd like a unicorn frappuccino on my hair, please! Vibrant purple, coupled with soft blue, is the ideal sweet-and-sour combination to change your look.
13. Silver Bronde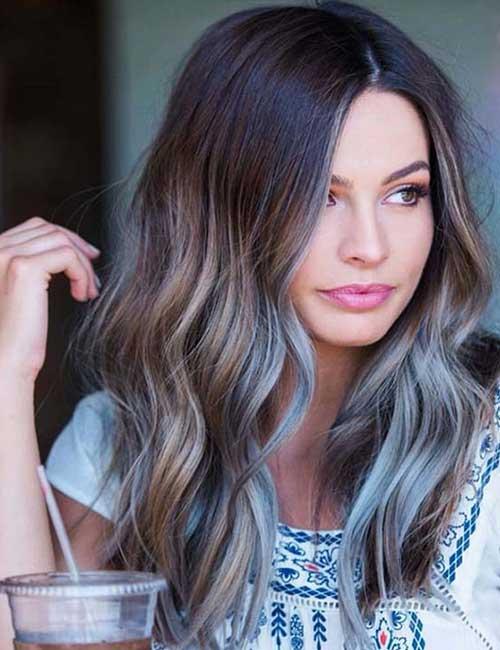 Source: www.bayperwa.com
I get why 'silver spoon' is an expression now! Silver is a rich and royal color. It only gets better when you throw in a bronde mix. This silver bronde balayage is a great way to warm up those cold days with style.
14. Denim Blue Ombre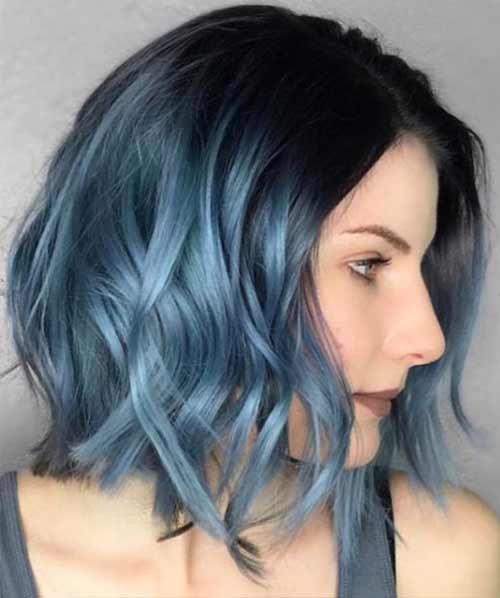 Source: modaellas.com
Denim is one trend that has been around for ages and is never out of style. Color experts have taken it a step further, allowing us to transfer this denim obsession to our hair. And we love it!
15. Wine
Source: www.marie-claire.es
This enticing wine shade makes me agree with Andre Tchelistcheff, who said, "The devil indeed made Pinot Noir and I can feel the temptation winning." If you don't think a complete switch to wine will suit you, consider wine highlights. They're a great way to make your natural hair shade stand out.
16. Blue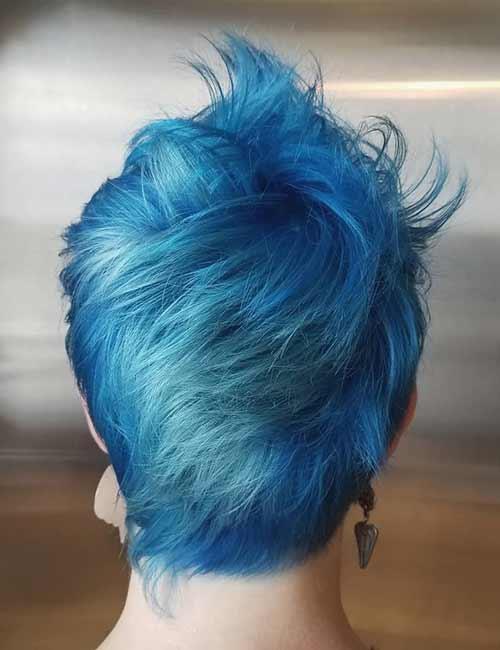 Source: Instagram
Did you know that the first interior designer in the world was also the first woman to sport blue hair? Lady Elsie De Wolfe Mendl dyed her hair blue in the year 1924. That's right, blue hair has been around for that long, and it's absolutely brilliant.
17. Aqua Blue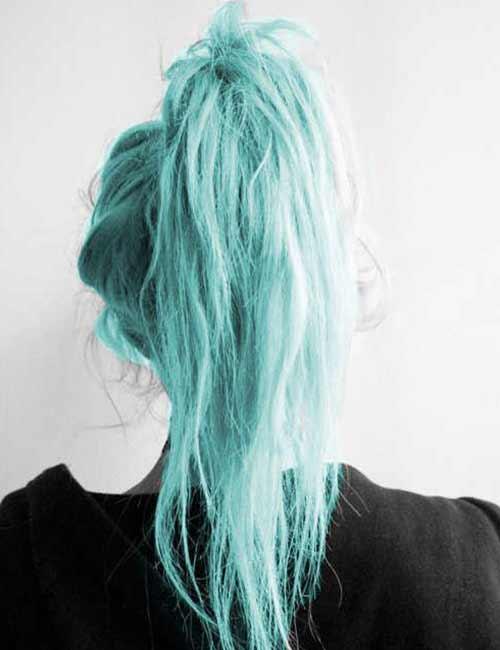 Source: weheartit.com
This aqua blue hair color will make you look like a stunning mermaid. To get this shade of blue, you will have to bleach your hair and then dye it aqua blue. Weave it in a fishtail braid or a high ponytail, and you are aqua-ready to floor everybody.
18. Purple Ombre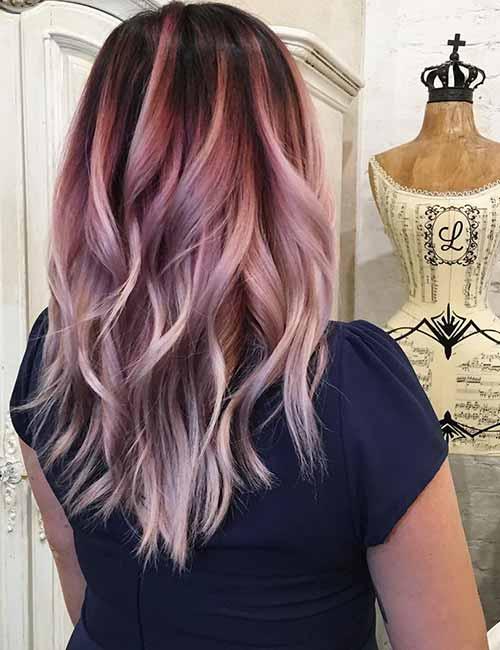 Source: Instagram
This purple ombre is vibrant and lush. You can feel the playful vibes through this picture. Starting dark at the roots, this ombre bleeds out color at the end to leave behind bleached tips. This purple ombre is the perfect summer hair look.
19. Electric Purple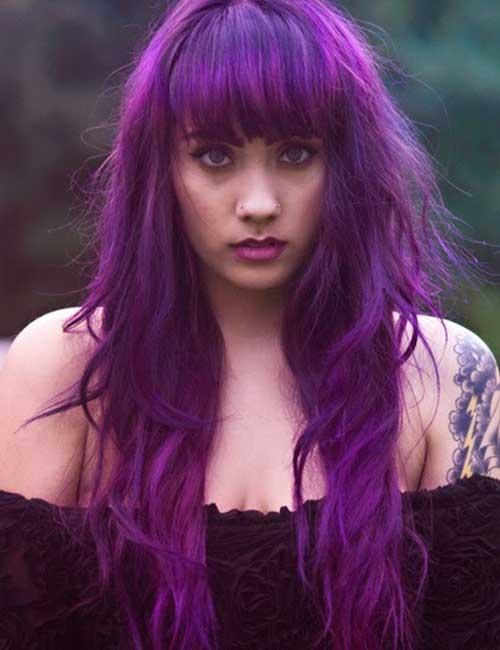 Source: lifestylei.com
Robert Frost once said that freedom lies in being bold. And nothing screams bold like this electric purple hair shade! Give your hair a royal makeover with this gorgeous color.
20. Aquamarine Hair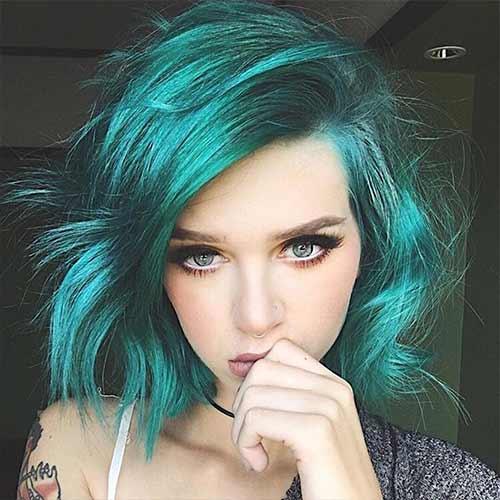 Source: Instagram
Nothing is more unique than an aquamarine gemstone. If you love the outdoors, this shade is perfect for you. With hair like this, you are guaranteed to have all eyes on you.
21. Deep Rose Tones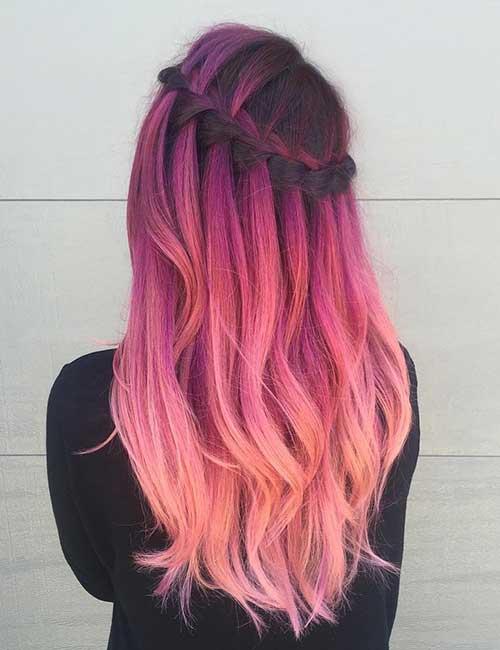 Source: Instagram
Blend two feminine elements – roses and the color pink. What do you get? This incredible hair color concoction. This deep rose hair blend epitomizes fun like no other color.
22. Bronde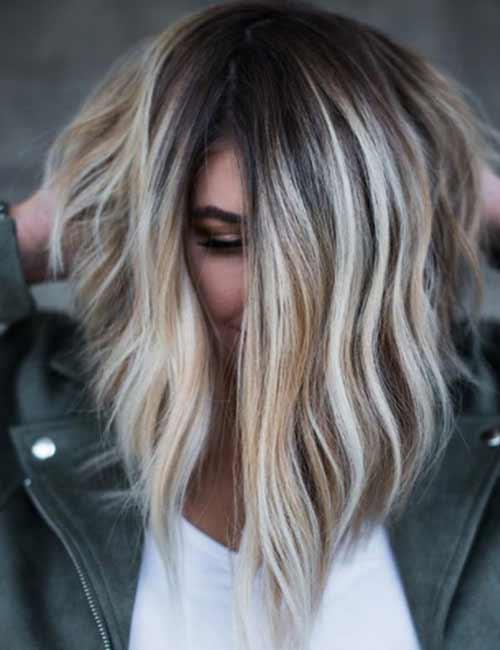 Source: behindthechair.com
This is the answer to that unsolvable question – blonde or brunette? Get the best of both worlds with a high contrast bronde mix. The dark roots accentuate the blonde hair while framing your face perfectly.
23. Toni Topaz Hair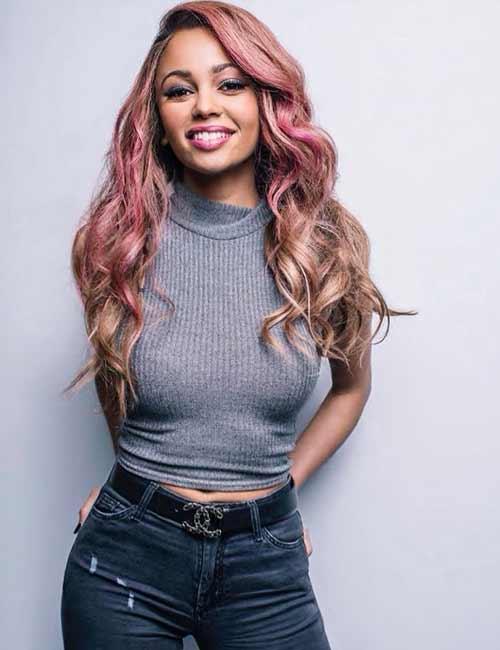 Source: Instagram
The minute Toni Topaz appeared on Riverdale, women everywhere fell in love with her pink hair. Pink has always been associated with femininity. While it is gentle and playful, it is also fierce. All in all, the perfect way to describe a woman.
24. Metallic Silver Hair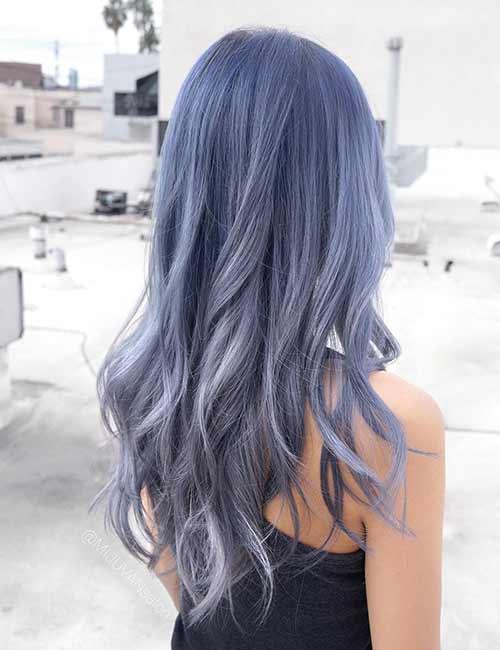 Source: Instagram
As a child, I always wanted to be treated as a grown up. I wanted everyone to believe that I was mature. The moment you think of a mature woman, you think of someone old with white hair. Well, this deep silver color is the millennial version of that look.
25. Night Shades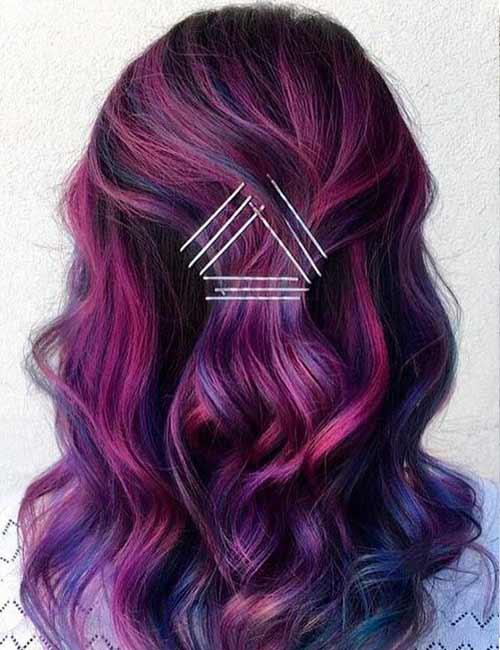 Source: weheartit.com
Doesn't this color job look like the night sky missing a few stars? You can feel the serenity and calmness emanating through it. Well, that's why this balayage is trending. It is perfect for the traveler in you.
26. Rosé Gold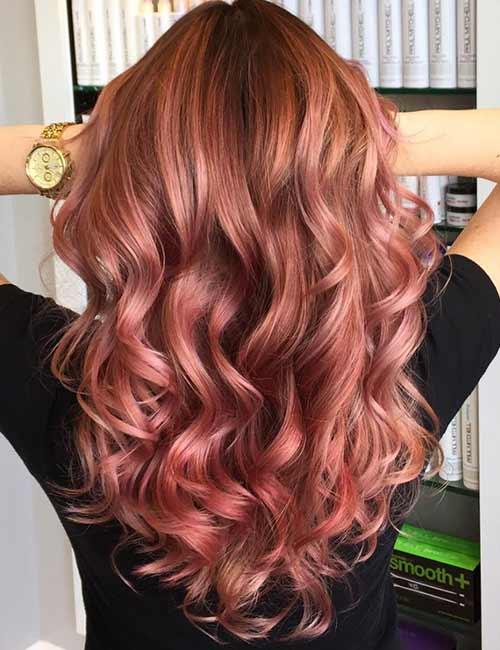 Source: www.hairiz.com
Pleasure is a glass of Rosé in hand. Now imagine taking that pleasure to your hair! Sounds pretty awesome, doesn't it? This hair shade is definitely on my must-try list.
27. Purple Amethyst Tones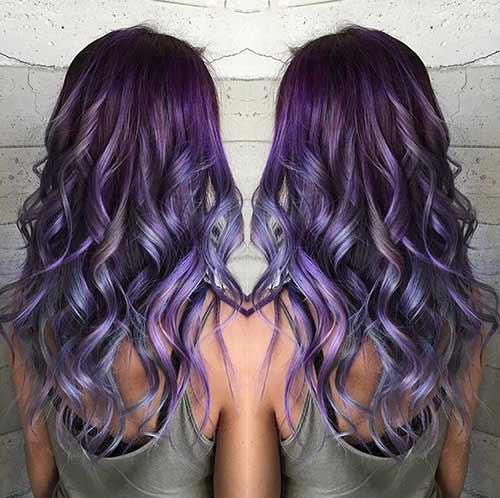 Source: Instagram
Women gravitate towards shades of purple like amethyst. Not only is it the color of royalty, but it also symbolizes feminine energy. Give your hair a royal do-over with this lovely shade.
28. Midnight Hair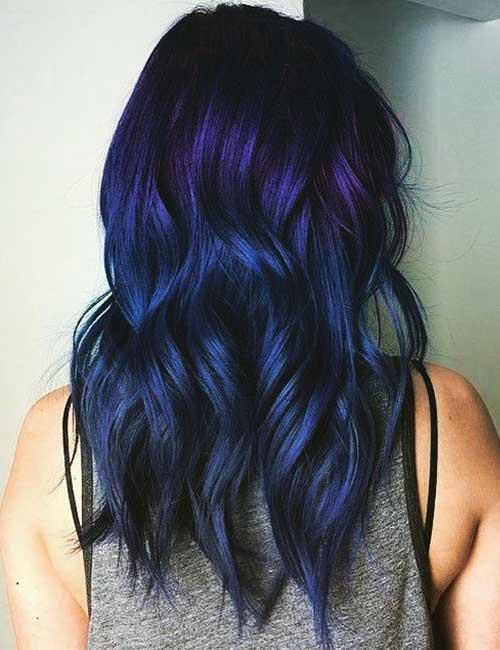 Source: Instagram
Shades of blue painted in a balayage style form this serene midnight curtain. It is the perfect blend of casual and formal, which is what every woman needs.
29. Light Lilac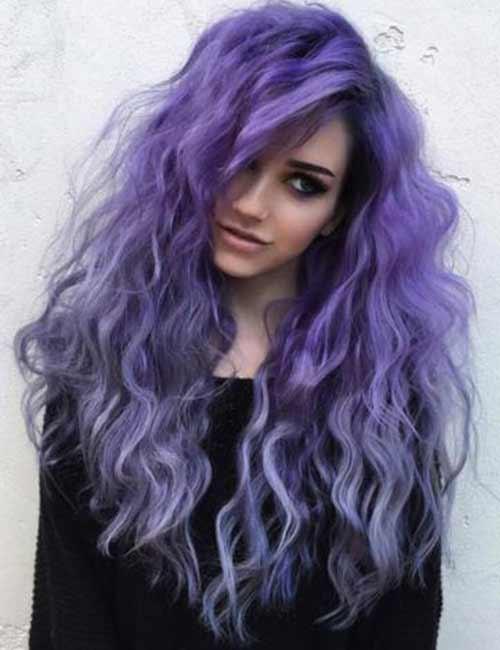 Source: www.inkhair.com
This light shade of lilac seems to have taken over everything from interior decor to drinks. So, it seems only fitting that it's now reached our hair. Look young, wild, and free with this spellbinding lilac hair look.
30. Pixie Hair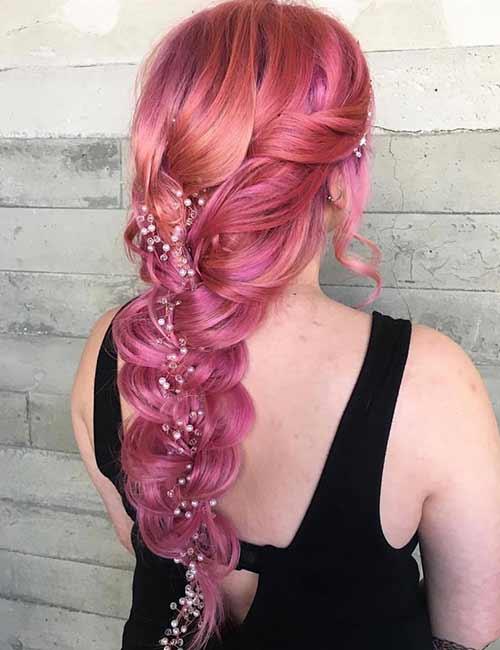 Source: Instagram
Pixies are mythical creatures that love dancing and having a good time. This blend of pink and purple with hints of orange sums up that pixie energy very well.
31. Pastel Purple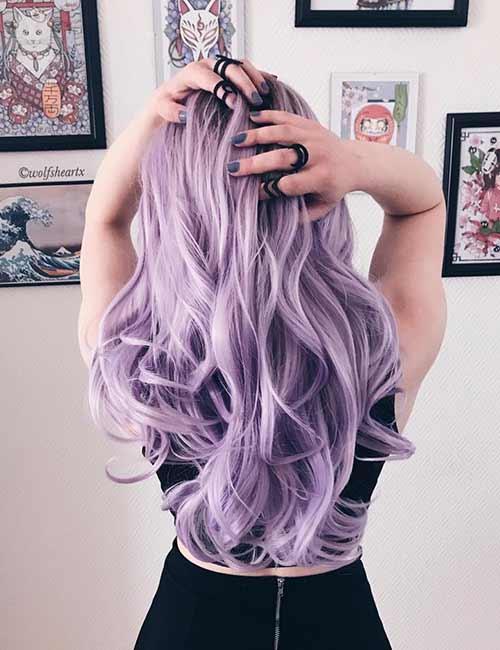 Source: Instagram
Purple hair is clearly aiming for the win in this list. This light purple shade has a wild grunge feel to it that is ideal for a badass leather clad femme fatale.
32. White Blonde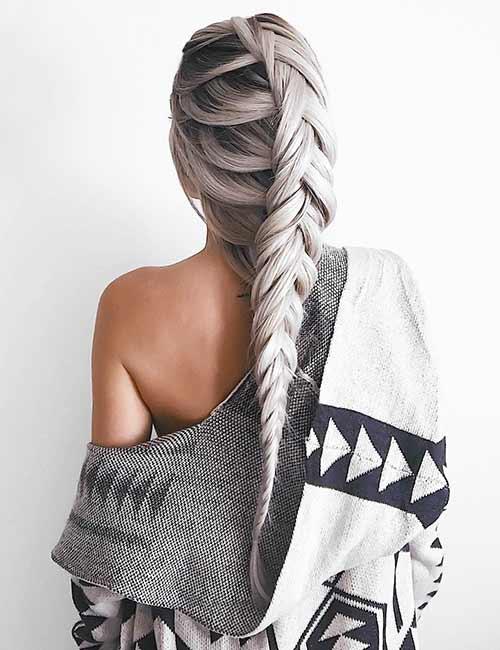 Source: Instagram
Imagine you're at the beach. You can hear the waves and feel the sand under your feet. You have the perfect swimsuit and sandals. But, what about your hair? Bleached blonde hair dyed white is the ideal beach hair color. Being light, this shade will look surreal in sunlight.
33. Purple Wine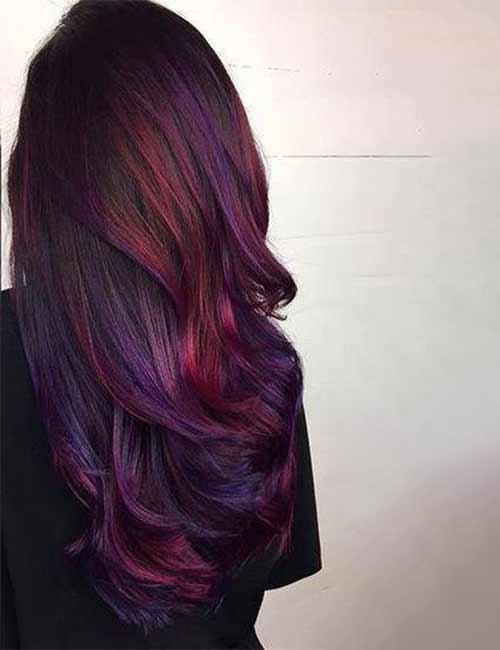 Source: img.etsystatic.com
Purple signifies feminine energy while wine makes for a good time. Combine them, and the hair look it creates is the cherry on top! Your personality bleeds out from this hair color job, and it's fantastic.
34. Lavender Pink Ombre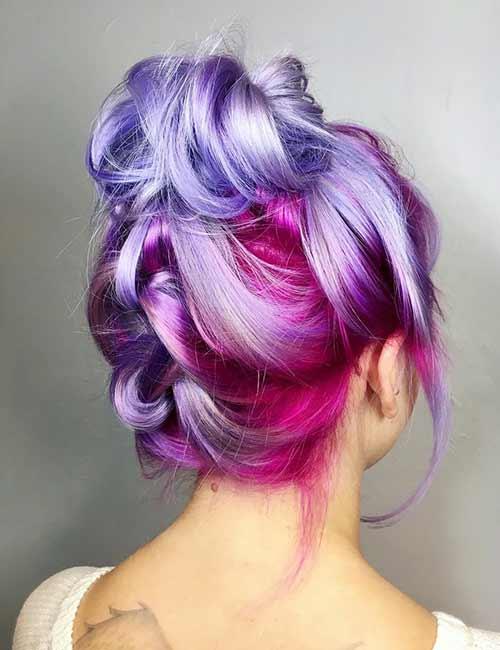 Source: Instagram
Some women feel like they have too big of a personality and a simple hair color won't do them justice. I agree, which is why I bring you the lavender-pink ombre. This color job is a force to be reckoned with.
35. Black Blue Ombre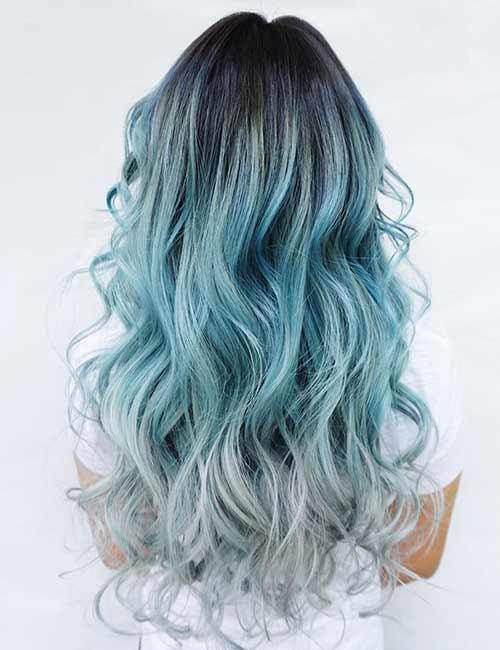 Source: Instagram
If you want to look picture perfect, here is a tip – go for dark roots. They accentuate the color they're paired with. The black roots here make the light blue hair come across like a force of nature. Sublime!
36. Pastel Pink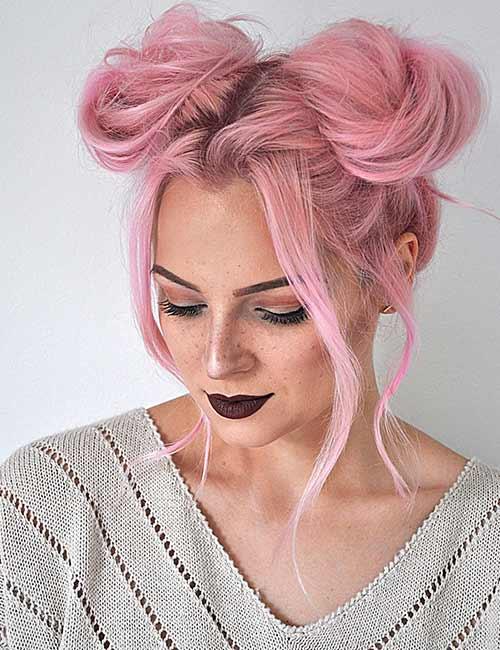 Source: mayalamode.com
Pastel pink is extremely à la mode. You will definitely find this shade everywhere. It's a refreshing and vibrant color. It works best with cool toned skin and looks stunning when coupled with gray eyes.
37. Black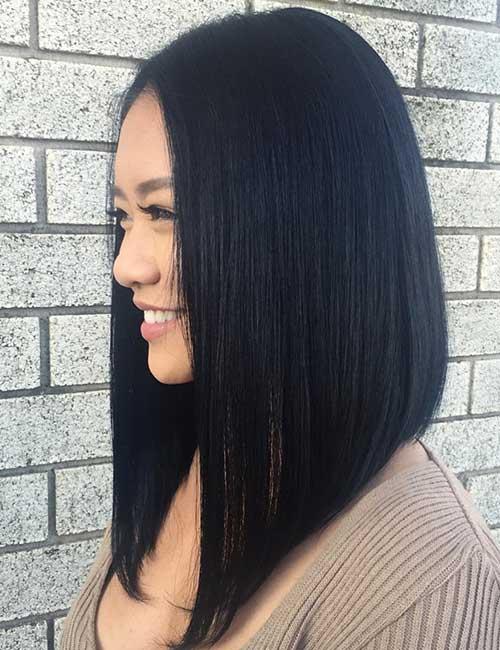 Source: Instagram
Classy, sophisticated, and utterly fashionable – black is the new black. It will never cease to be chic. Black hair accentuates all eye colors and complements anything you wear.
38. Dark Highlights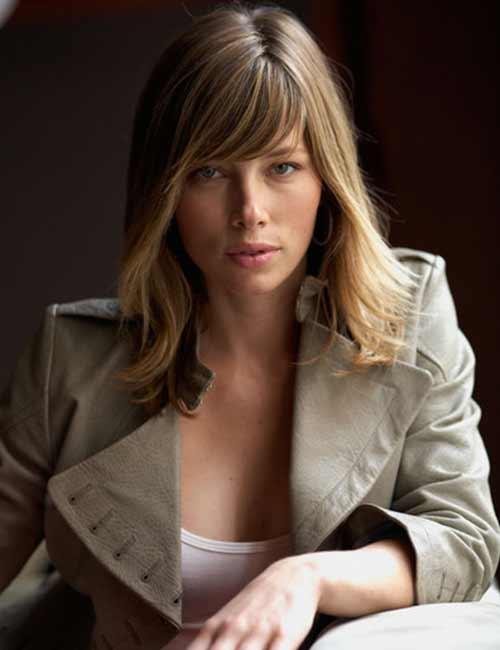 Source: www.zimbio.com
Dark highlights help frame your face by adding definition to it. When paired with light hair, they can help define your jawline. They're also a great way to showcase your natural hair color.
39. Navy Blue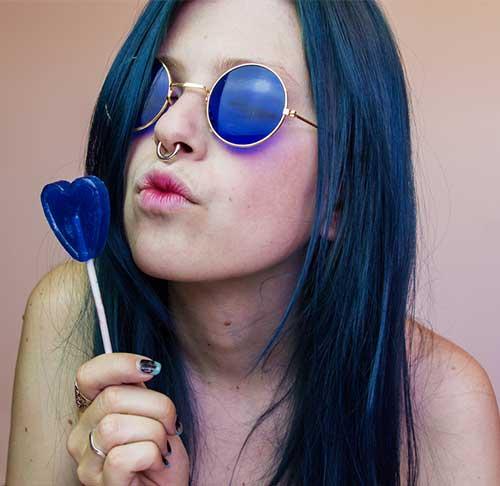 Shutterstock
Beauty lies in simplicity. Nothing describes navy blue better. It's a versatile and vibrant color that boasts sophistication. Take this versatility to your hair, and it will not disappoint you.
40. Dirty Blonde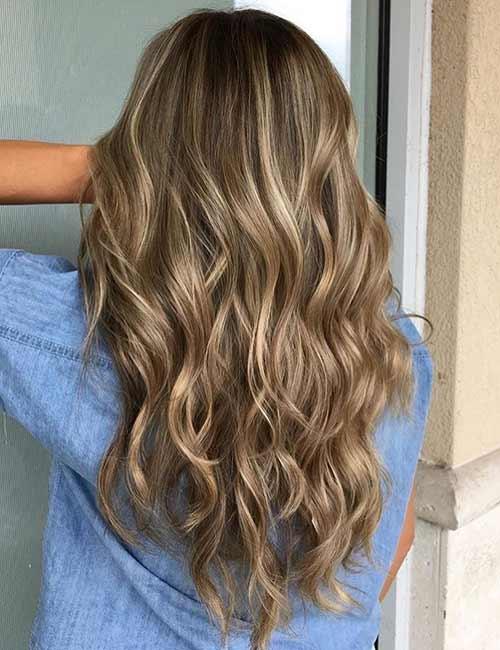 Source: Instagram
Dirty blonde hair creates the perfect beachy hair vibe. It gives off a sun-kissed look. Style your hair in waves to look like a flawless beach babe. Hands down, this is one hair look you need to try!
41. Fiery Phoenix Hair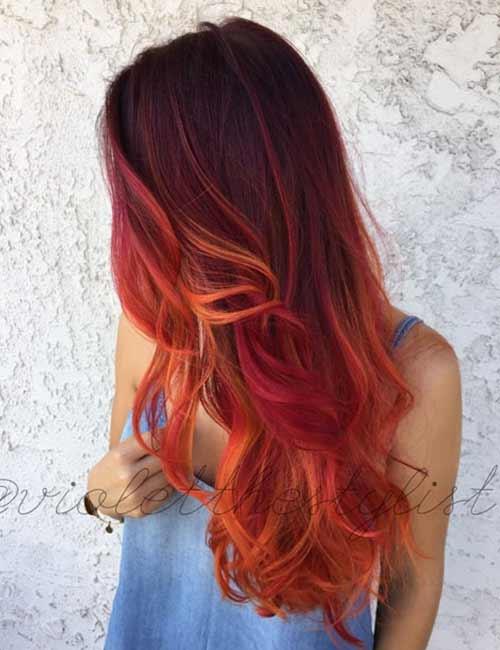 Source: www.beautylaunchpad.com
The phoenix is a mythical beast that's born from the ashes of its predecessor. When you feel your hair looks terrible and want to chop it off, give it a fiery makeover instead with this blend of orange, pink, and red. Be brave, be bold!
42. Blonde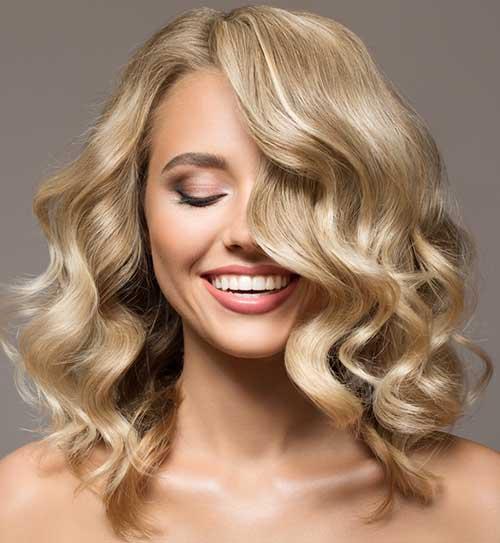 Shutterstock
If you have naturally dark hair, the best way to change your look is to go blonde. While it is a hair change that requires serious thought, it's a total head-turner. Talk to a hairstylist to know which blonde shade will suit you best. Remember, blondes are the life of the party!
43. Ash Hair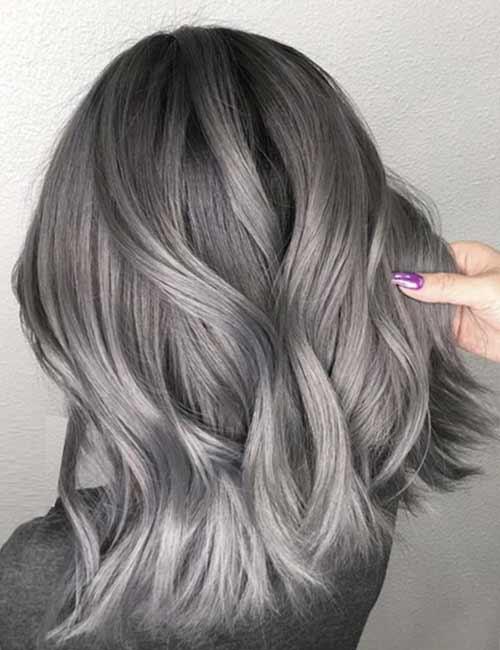 Source: www.cleverstyling.com
Mystery with a hint of drama – that's what this ash ombre is all about. Increase the dramatic effect with some smokey eye makeup, and you are good to slay anything and everything coming your way.
44. Silver Blue Balayage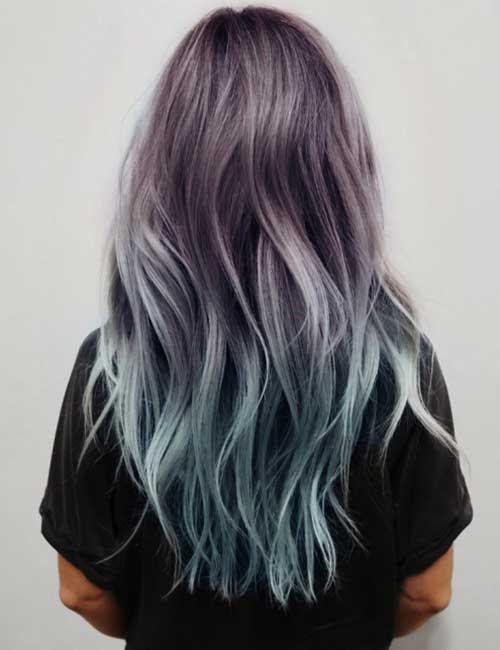 Source: teapotsandroses.tumblr.com
This silver blue balayage is as cool as it gets. It suits cool and neutral skin tones well. Leaving your roots dark, bleach the rest of your hair. Dye the top half of your hair a silvery-purple shade, and the lower half in a light blue hue.
45. Dark To Platinum Blonde Ombre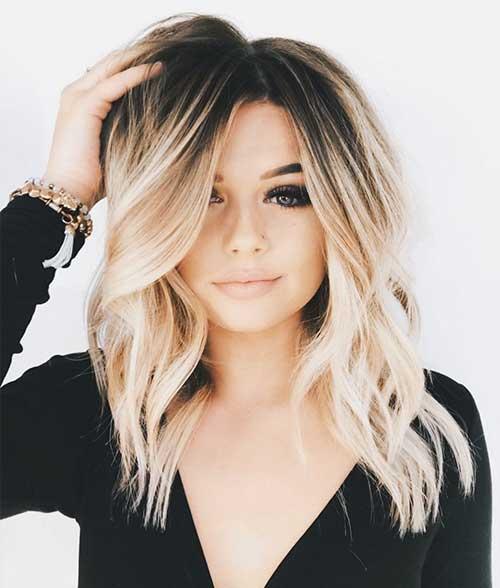 Source: www.bigbeautifulbroke.com
Dark roots with platinum blonde hair is a popular choice. The dark roots lengthen your face while platinum tresses slim down the lower half of your face. This color combination walks that fine line between casual and formal.
46. Caramel Highlights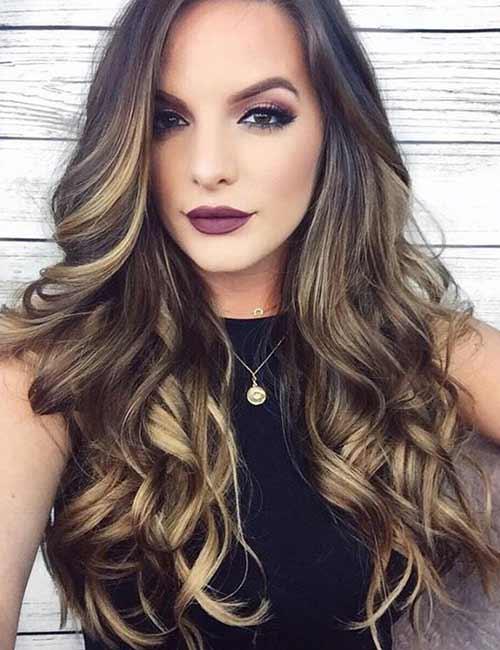 Source: www.hairiz.com
Caramel adds the perfect flavor to chocolate and coffee. It's no surprise that it can transform your hair as well. Caramel highlights on natural hair look extremely alluring. Style your hair in waves to make it look flowy.
47. Dark To Light Blonde Ombre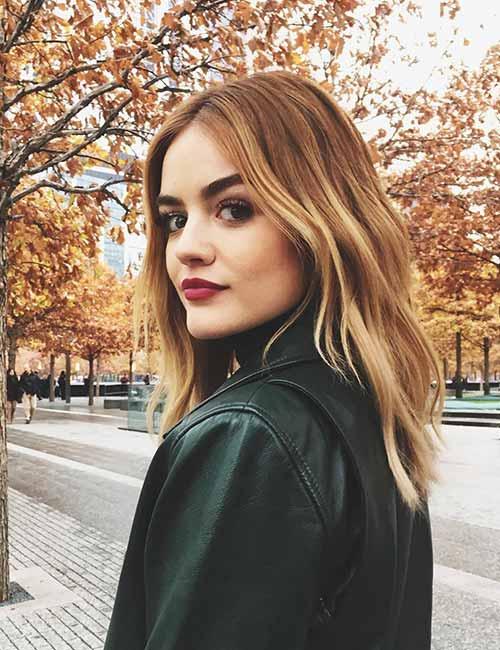 Source: Instagram
I love Lucy Hale's style. It's so effortless and beautiful – just like her warm dark to light blonde ombre. Paired with that incredible red lip color and leather jacket, and the whole look is to die for.
48. Platinum Blue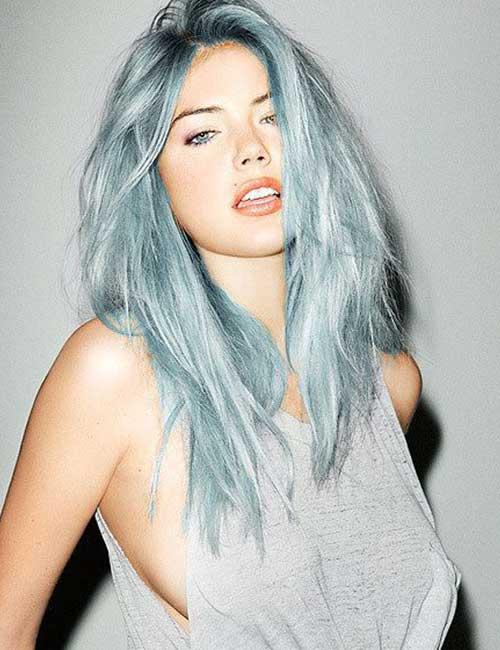 Source: rebloggedbabes.tumblr.com
Platinum blue is the perfect hair color for that moody grunge style. If you have black, hazel, blue, or gray eyes, this color is for you. This color works well on cool and light skin tones.
49. Blonde Highlights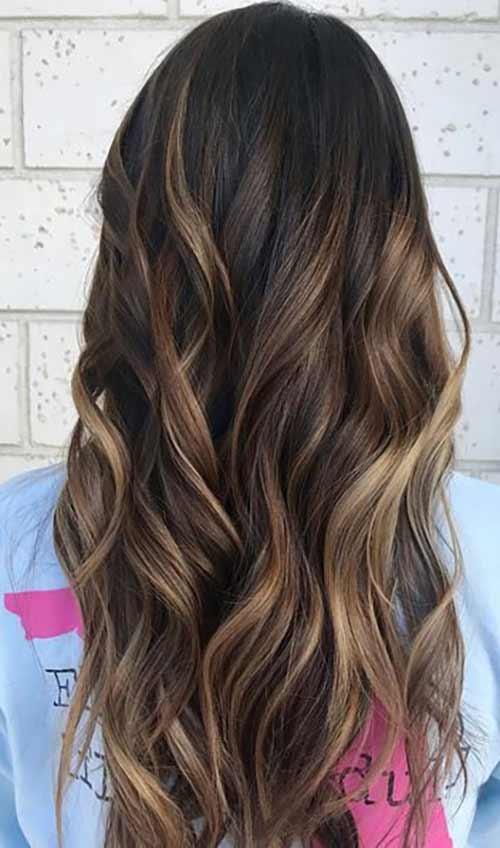 Source: www.bloglovin.com
If you're looking for a simple change, this is it. Blonde highlights are a great way to show off your naturally dark locks. Blonde highlights near your face help in slimming it down, making it look lean and long.
50. Red Hair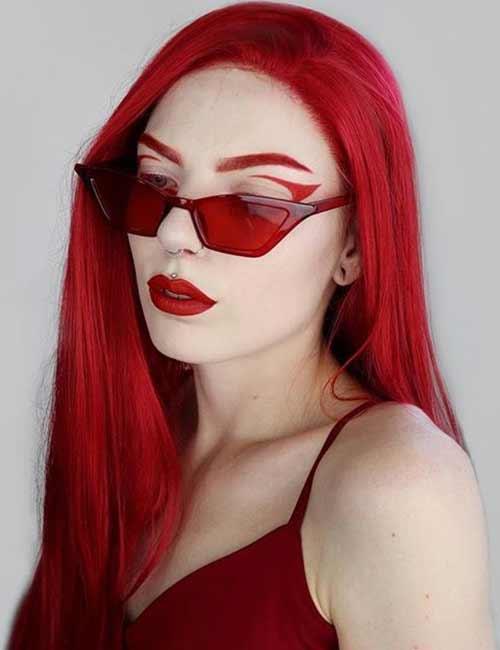 Source: Instagram
Red – the color of love and danger at the same time. It's the perfect descriptor for a woman – a reason all women love red hair. It's the quintessential femme fatale hair color.