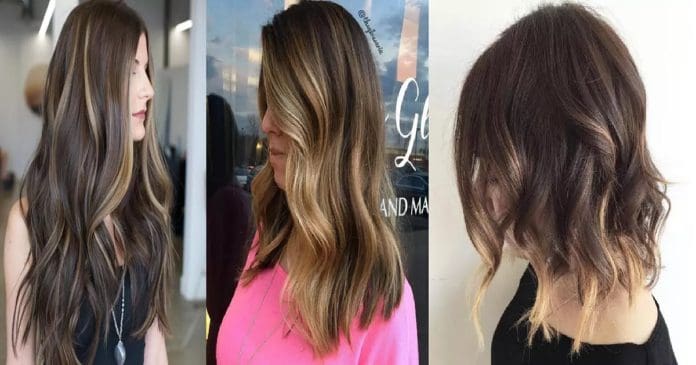 A partial balayage is a freehand coloring technique when you apply highlights only to specific areas instead of throughout the whole head — generally, the top layer, or just around the face. Let`s see the best examples of this trend!
The Benefit of Partial Balayage
There are many reasons why one would choose a partial over a full balayage. One being, there is not as much bleach involved, which means less potential damage to your gorgeous tresses. This makes it a smart option for people who have never colored their hair before but want to achieve that trendy look. Another reason is that fewer highlights can be understated, because more of your natural hair shows through. You can play with bright and unusual shades without them overpowering your hairstyle.
#1: Subtle and Wavy Partial Balayage Hair
When considering a full balayage vs partial, one thing to decide is what sort of impact you want your style to make. Are you trying to be bold or more understated? By not committing to a standard balayage, you really give yourself an opportunity for a very subtle, yet still notable, change to your hairstyle.
#2: Brunette with Light Brown Highlights
Highlights are a beautiful way to add depth to dark hair. If you want a more natural look or don't want to damage your hair with too much bleach, opting for the entry-level balayage gives you the best of both worlds. Just take your strands a shade or two lighter for a fresh look.
#3: Brown Hair with Soft Hairpainting
When you consider partial or full highlights, you need to think of maintenance. With full highlights, you have to make sure your hair is moisturized and that everything looks natural when your hair grows out. In case it is only partial, there won't be as much dye, and when your tresses grow out, the lighter strands will look like sun-kissed locks.
#4: Long Brown Locks with Partial Highlights
A partial balayage doesn't always have to be the top layer. Sometimes, as an exception, you can have them on the underlayer and they'll be a pleasant surprise when they show through your curls or waves. Think of the highlights as hidden treasures.
#5: Caramel and Cinnamon Highlights
Spice up brown hair with cinnamon and caramel-colored accents. Strewn throughout dark locks, they will create a luscious mix of colors. With only the top layer of hair colored, it really accentuates the contrast between dark roots and the lighter shades — and it's a sexy look. The medium length keeps the total image simple yet chic.
#6: Blonde Balayage on Brown Locks
With a partial balayage, highlights are often just on the top layer of hair. The lighter streaks are beautifully blended when you wear your hair in beachy waves. As a bonus, those loose waves give your mane irresistible body and movement.