If you're looking for a fun way to add color to your life, then it's time to get into rainbow nail art. This is one of the hottest trends, and for good reason, it makes your nails bright and cheerful. This is a great way to experiment with different colors and techniques to express yourself and show off your personality. The great thing about this piece of art is that there are so many different interpretations, allowing you to choose what you like. For those who prefer a more subtle and understated look, you can paint your nails in different pastel shades or choose just the tips. If you want to make a statement, have some fun with a few patterns, funky prints, and emojis. Or try interesting spacing techniques. Keep reading to find inspiration for your next must-have manicure.
1. Pastel Rainbow Nails
Why choose one color when you can use them all? The rainbow nail trend is something people dream about because it is so dreamy and gorgeous. Pastels are a long time favorite because they are comfy and girly, but you can update this classic by applying a different nail polish to each nail for a rainbow effect. From muted green to pale pink, this look will suit just about anyone and can be worn just about anywhere.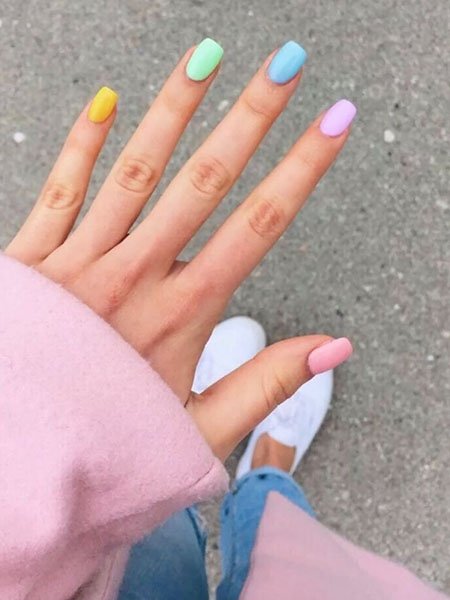 2. Watercolor Effect Rainbow Nails
If you're looking for the perfect nail art for your next manicure, then the watercolor effect is the way to go. The design mimics how paint mixes and dries on canvas; the combination of this and bright colors makes it a feminine and fun option. To keep this design simple, you can opt for nail decals, but if you're the kind of woman who likes to experiment with your favorite polishes, then choose a base coat and let it dry. Then add a coat of white polish and once it's dry you can use the brush to apply your chosen shades. Add a few drops of each color to a piece of tinoil and add it in with the brush. After each shade, dip the brush into the acetone and then into the polish of your choice and repeat the process with the other color.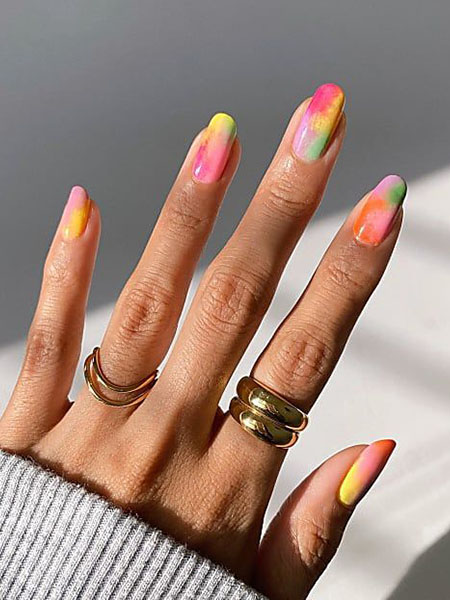 3. Rainbows With Other Patterns Nail Art
There are so many great models to help you create a fun and creative look. While the rainbow nail art trend is incredibly gorgeous, if you're the kind of girl who can't pick one trend, you don't have to. Have fun and experiment by drawing your own set of patterns on each nail. It can be anything from polka dots to animal print. Different patterns will clash, creating a spectacular and interesting look. There's so much love in this look, but it's definitely not for the faint of heart, so wear it with confidence and know you're getting a lot of attention! For this reason, it's best if you make sure your hands are well taken care of.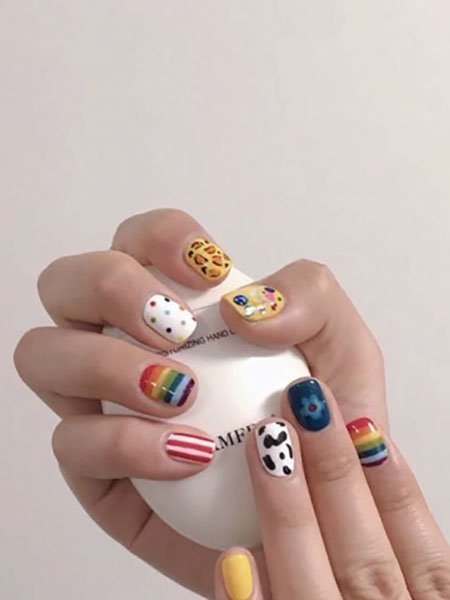 4. Rainbows With Clouds Nails
Rainbows with cloudy nails are the girly look you've been dreaming of. Recreating this sky-inspired manicure will leave you with beautiful and trendy nails. You don't have to paint every single nail, and the ones you choose don't have to have the same effect. In fact, incompatible nail art with rainbows and clouds from different angles will only create a visually more interesting look. You can play with the colors of your clouds; maybe you want classic white or you prefer a range of soft pastels. Feel free to experiment and have fun with this social media approved design.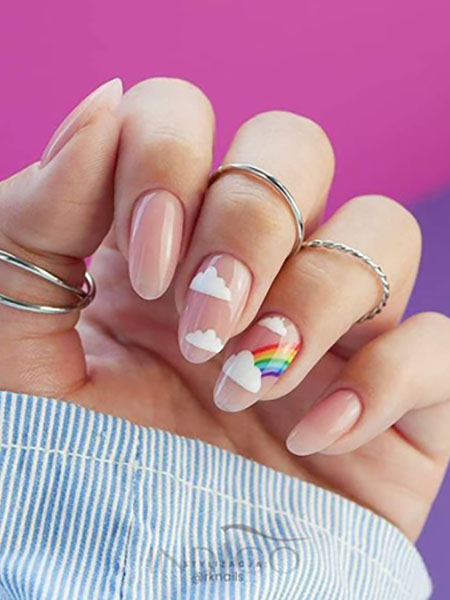 5. Rainbow Smiley Faces Nail Art
What better way to bring a smile to your face and joy in your life than a rainbow nail emoji? The great thing about having something joyful on your nails is that it can serve as a reminder to look on the bright side of life. We see our hands all the time, so why not create a manicure that will highlight your individuality and creativity. You can draw faces using different colors, including yellow, a hue often associated with happiness and warmth. The placement of your artwork can be in the center of your claws, or you can experiment with different angles. Base coat is another way to personalize the look to your liking. If you want something bold, choose a bold color like red or green, and for a subdued look, a clear or nude polish will work wonders.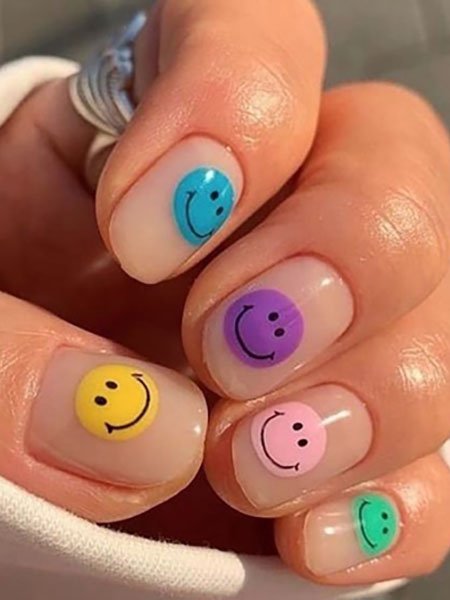 6. Rainbow Art Across the Nails
When it comes to rainbow nail art, the possibilities are endless. There are so many ways to try this look, some subtle and others bold. The great thing about this is the versatility of the trend, allowing you to choose what suits your style preferences. A rainbow nail design is a beautiful option that creates an interesting space. You can add various other images including clouds. Stick to a nude base to make your manicure really come alive, and for a more subdued look, highlight two or three fingers so they stand out and keep the other two simple.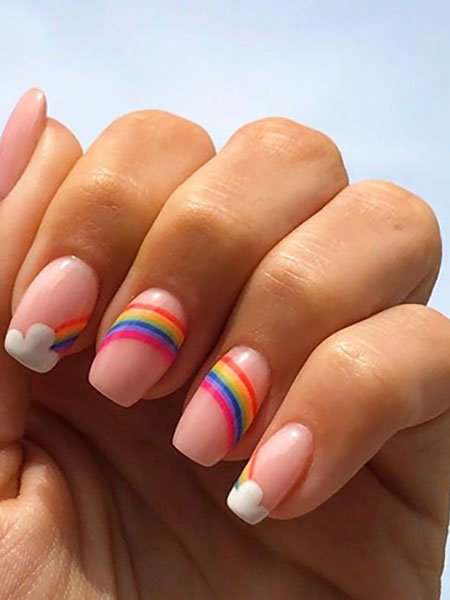 7. Ombre Rainbow Nails
Ombre refers to a shading technique in which colors blend brilliantly with each other, from dark to light, and this effect is popular in nail art. Ombre rainbow nails are all the rage and are a great way to add color to your nails. Most ombre nails tend to be darker at the cuticle and lighter towards the tips, but you can also experiment by doing this from one end of the nail to the other, for example, working from left to right. While you can use any bright polish, matte pastels are a feminine and classy option. Your nails play an important role in creating a chic look, and this manicure will definitely help you with that.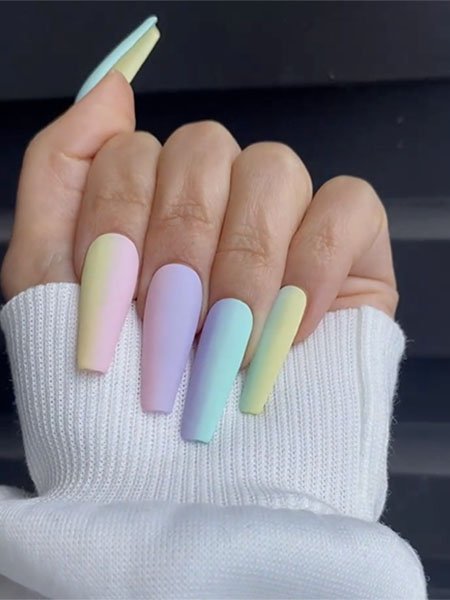 8. Fun and Cute Rainbow Nails
There is a time and place for neutral nail polish and solid colors, but the rainbow nail art trend is not. This work is designed to add color to your life and bring a smile to your face. This is a great way to show off your personality and add a fun and cute design. Choose your favorite colors and get creative. You can paint different patterns on each nail or stick to a specific theme; for example, a rainbow on one nail, a cloud on another, and a sun or a pot of gold on the other. There are no rules about what you can and cannot include. The key is to update your manicure with things you love.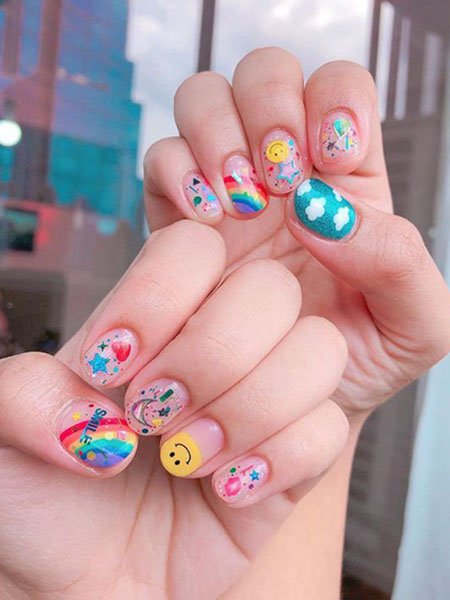 9. French Rainbow Manicure
The French manicure has been around for decades and remains a timeless classic. However, there are ways to make this style modern and vibrant by replacing the traditional white line at the tips with brighter shades. An interesting use of color and spacing makes this piece fun yet versatile and very comfortable to wear. This is a way to use rainbow nail art without being too dramatic and is easy to do from the comfort of your own home. If you want a simple yet incredibly chic design, look no further!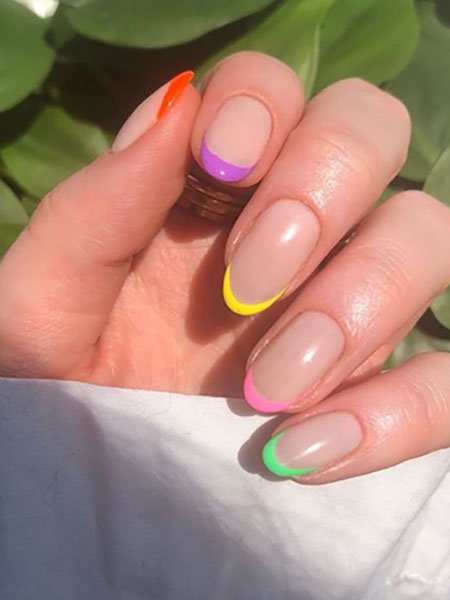 10. Black and rainbow Nails
Rainbow and black nails have a very retro look and this combination is sure to be noticed by people. Black is such a strong color, it is associated with strength and sophistication. Painting your nails with this polish immediately catches the eye, but this shade also goes well with other designs, including iridescent ones. This is great for a base coat because it really lets the color stand out. Adding stripes to the tips of the nails creates a bright and beautiful look that is perfect for a date or party and is sure to become a real talking point.