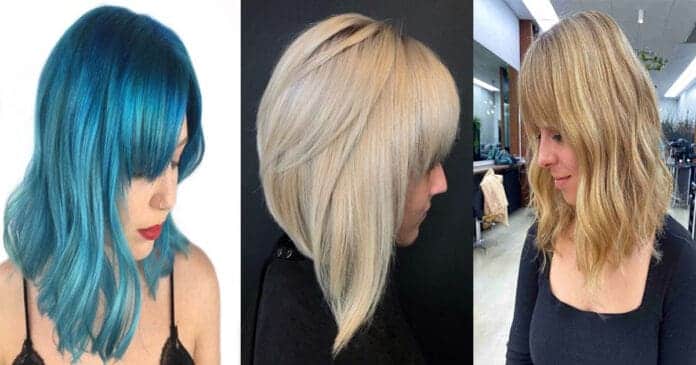 A long bob with bangs is a great haircut that can complement any woman's face shape and hair texture when cut and styled correctly. Before Getting a Long Bob with Bangs, Here's What You Need to Know: Neckline: Pay attention to how low your neckline is. To determine the right bob length for you, look at the front and the back of your neckline. The lower your neckline is in the back, the longer your bob haircut will need to be. Layering: Talk with your hairstylist about adding layers to avoid ending up with a triangular bob shape. You'll want to do how much layering should happen depending upon your hair density as well as face shape. Layering throughout the hair can help alleviate the difficulties of thin/fine hair as well as thick hair. Adding layers around the face can help balance out round and long/oblong faces. Bangs: The first quest to ask yourself is "does getting bangs fit my lifestyle?" Bangs require regular trims, which means more time and money. If you have an active lifestyle, be prepared with lots of hair clips to clip the bangs back or to the side. Lastly, depending upon your face shape, you may need longer bangs which could get in your way as you look down at your phone, computer, cooking, etc. If you're convinced getting a long bob with bangs is for you, then check out these pictures of some of the best ways you can get this trendy haircut!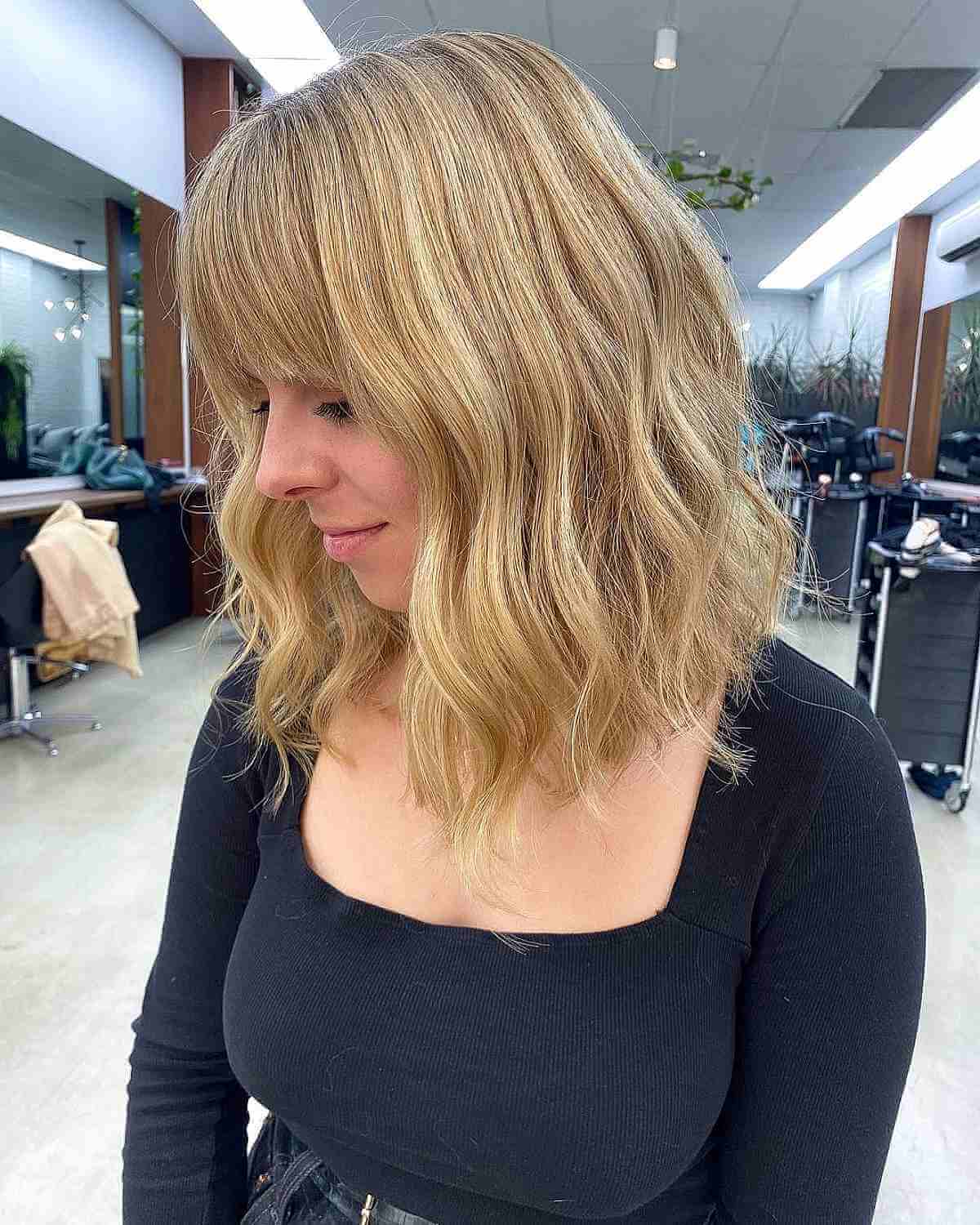 #1: Buttery Blonde Wavy Lob
Consider a buttery blonde lob if you want an easy everyday hairstyle. A buttery blonde tone is one of the best colors to do because it's easy to maintain. It's achieved by getting a full highlight and a buttery golden glaze to give that perfect natural blonde tone. A lob with bangs is great on just about everyone, but you should avoid this cut if you have very thick hair because there is minimal layering and it could look too square-shaped because there is more hair concentrated towards the bottom of the cut.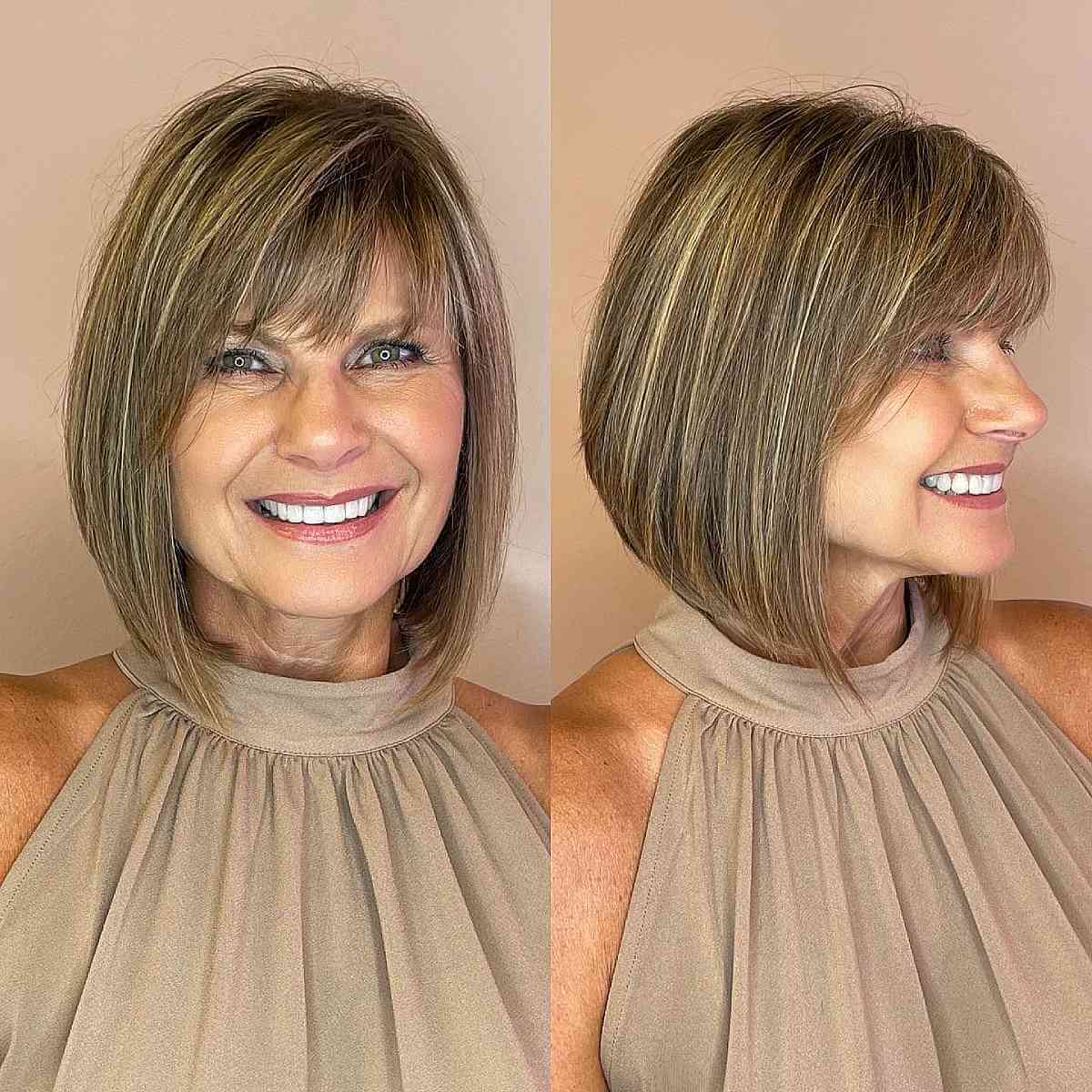 #2: Gorgeous Lob with Highlights
#3: Extra Long Bob with Full Bangs
An extra-long bob with full bangs is a sophisticated style with a bit of an edge. The bob with bangs is always a sharp statement look that stands out. This cut is great for thick or thin hair and is easy to style. Blow-dry with a flat brush and add a straightener to get extra smooth and sleek. Maintenance will be a trim every 4 to 6 weeks.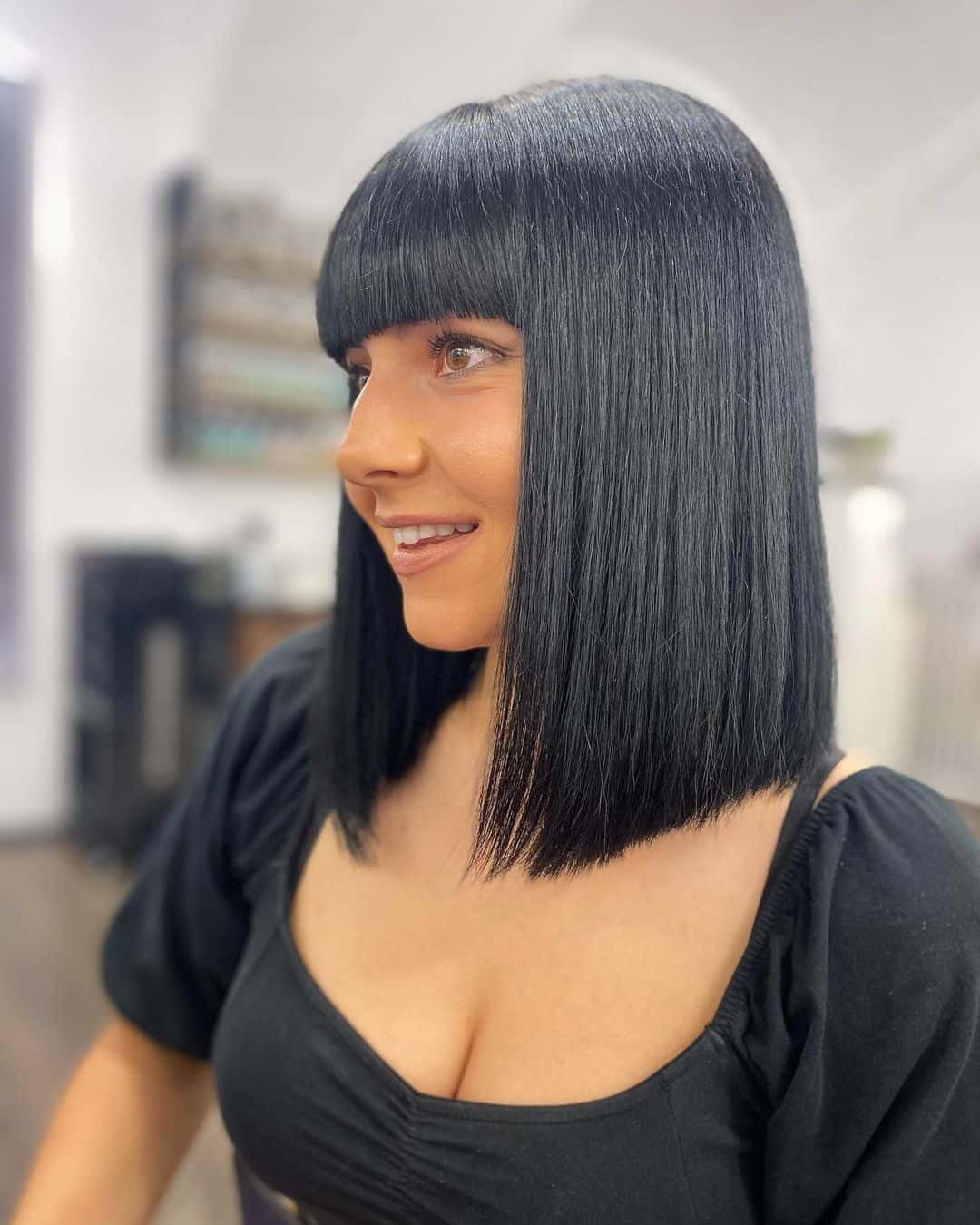 #4: Sleek Blunt Bangs on a Long Bob
This sleek lob with bangs is cut shorter underneath and longer on top, making it more fitting for women who are looking to add a little edge to the popular lob trend. Remember to consider how much time you're willing to spend styling it in the morning. A fringe with a long bob is more maintenance but can be so edgy and fun. It's a great way to change your appearance without making a big chop.
#5: Messy Layered Lob with Very Long Bangs for Fine Hair
The messy layered lob with very long bangs for fine hair is effortless to create. Pulling off a long bob with bangs like this one is totally doable by adding lots of layers to create volume. This makes the super trendy messy bob look like it's coming out of L.A. It also looks more natural on a dirty blonde shade.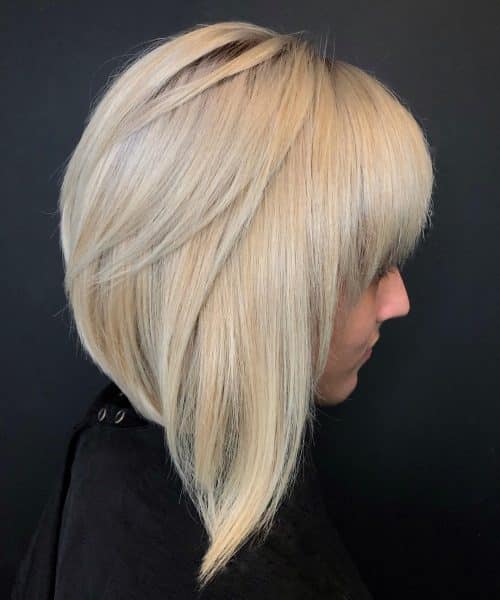 #6: Blonde Lob with Bangs for Thick Hair
"The lob cut is an edgy haircut when the front is longer than the back." Lindsay Porteus who's a hairstylist at the Capricci Ricci Salon in Winter Park, FL tells me this. "Bangs with a long bob are maintenance, but if you ask your hairdresser to really show you how to style them, it could be a game-changer. Her styling secret? "To style the bangs, a good round brush will do the trick."
#7: Voluminous Curly Long Bob with Curly Bangs
Rocking a curly bob with curly bangs is a chic way to flaunt natural hair texture. Go for this long bob style if looking for an easy-to-maintain haircut for kinks. It's best to keep the length where it touches the shoulder to maintain its body and fullness. This long curly bob with bangs needs a boost of moisture to look its best. This curly bob with curly bangs is a rëzocut. The 3D bangs have volume and were styled with rëzo Curl Control Shampoo for intense hydration. Try rëzo Curl Define Hair Gel for perfect definition. Rëzo bangs really are perfect for all hair types. They're versatile and so can be worn to either the right or left side. Or they can be worn as big dimensional bangs, regardless of where you normally part your hair. The dimension of rëzo bangs is customized depending on the face structure. A little longer frame at the bottom with seamless elevations will soften a round face.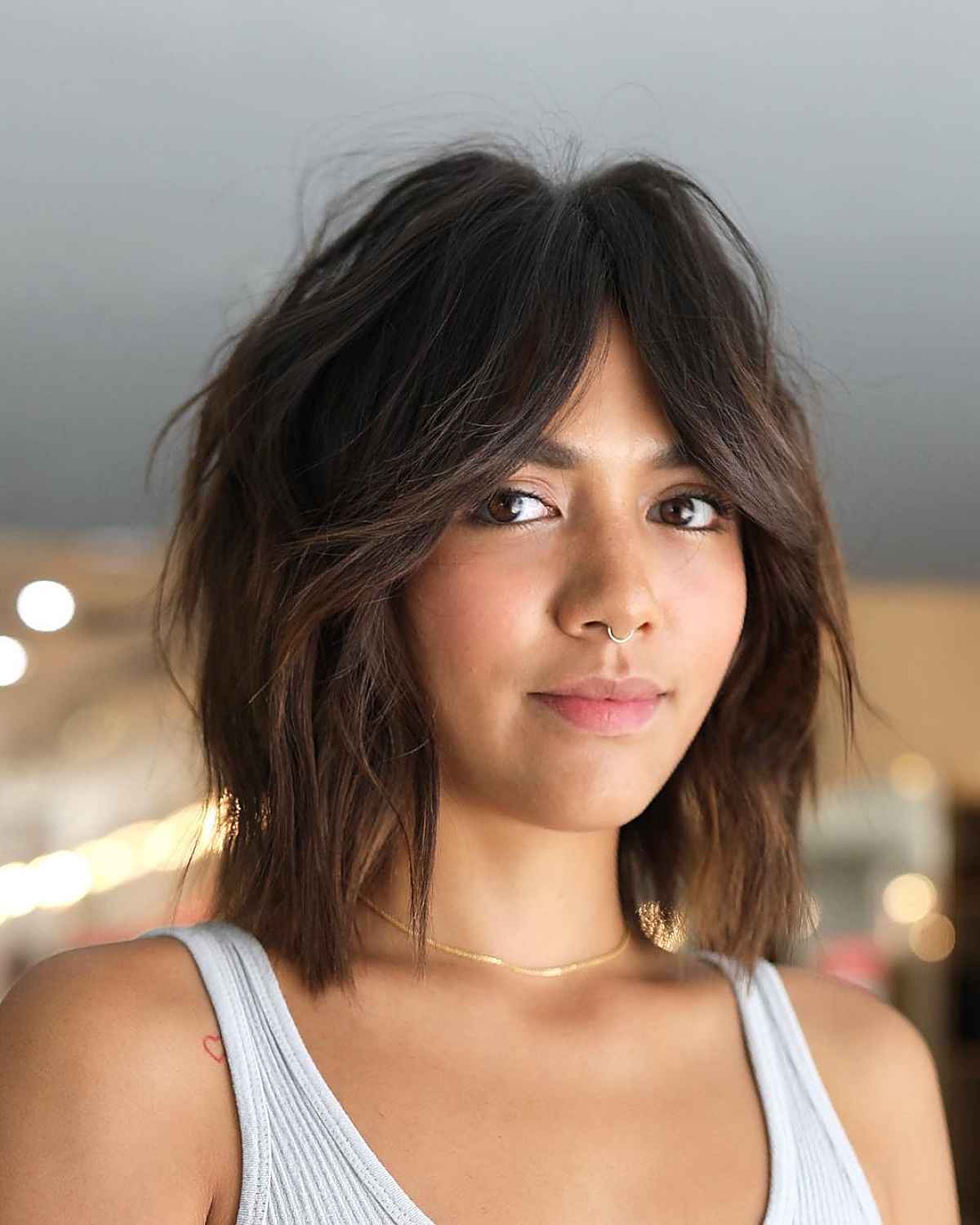 #8: Brunette Textured Lob with Curtain Bangs
The middle part, curtain bangs on a long bob is perfect for those with small foreheads but want the bangs experience.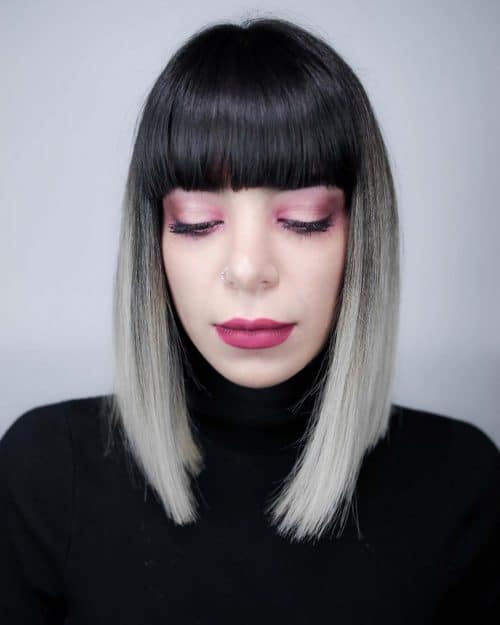 #9: Elegant A-Line Long Bob Cut with Blunt Fringe
This A-line lob with fringe haircut is strong and elegant. Hairstylist and colorist Leo Telaku from the Salon Contrasto in Florence, Italy interviewed with me for this haircut. From his experience, "a long bob and bangs can help to make the face look longer on women who have more of a round shape." "The strong deep fringe is good for women who want to give more value to their face," he adds.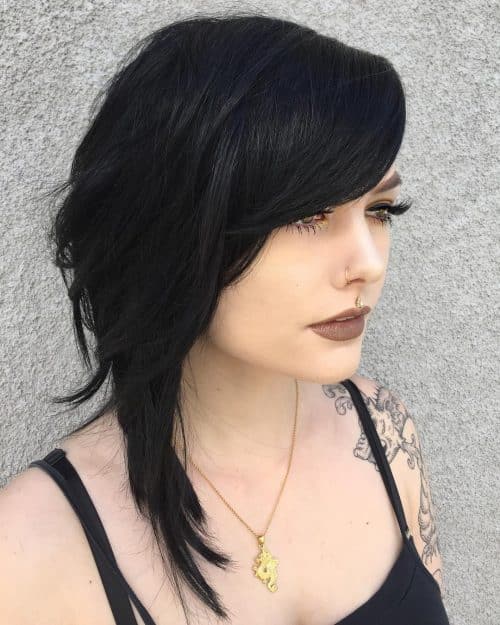 #10: Razored Asymmetrical Bob with Long Bangs
This is a stunning asymmetrical long bob with side bangs and razored layers. It was created by Noelle Weatherwax the Owner of Concrete Rose Salon in Santa Cruz, CA. To style this long bob with long bangs, Noelle suggests using a smoothing cream "to ensure a sleek and shiny blowout and finish with a dry wax to piece it out and shatter it a bit." To finish, "blow dry up and away from the face with a large round brush to create soft movement and volume." Noelle said this long asymmetric bob with side bangs will help elongate a round or heart-shaped face. It does this "because of the dramatic angle and length around the face and the height added by the shorter layers."