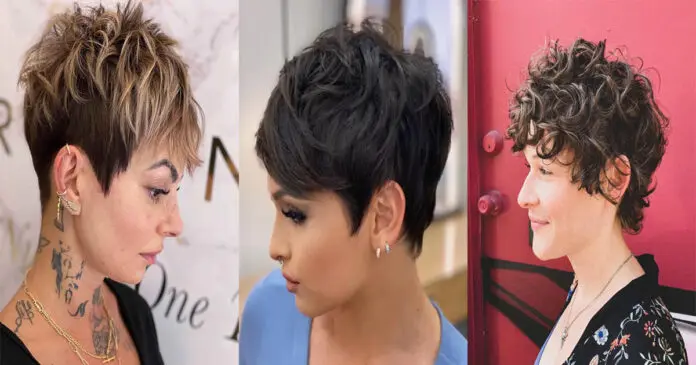 A shaggy pixie cut is a very short haircut created with textured and choppy layers. The pixie shag is a great haircut to get if you have thin hair and want to make it appear thick. Whether you're the boyish kind of woman or the typical girlish one, you can pull off the shag trend. It shows boldness and is sure to flaunt your strong character. Achieving a wash-and-go haircut is one of the reasons to love this kind of pixie. If you're blessed with natural wavy or curly tresses, this works wonders. It's the short shaggy cut that will boost your hair texture and bring out more movement than ever. You can consider adding a fringe to your haircut to complement your face shape. Feel free also to try a different color apart from your natural one to match your skin complexion. Make the best use of this low-maintenance cut, and opt for a balayage coloring technique.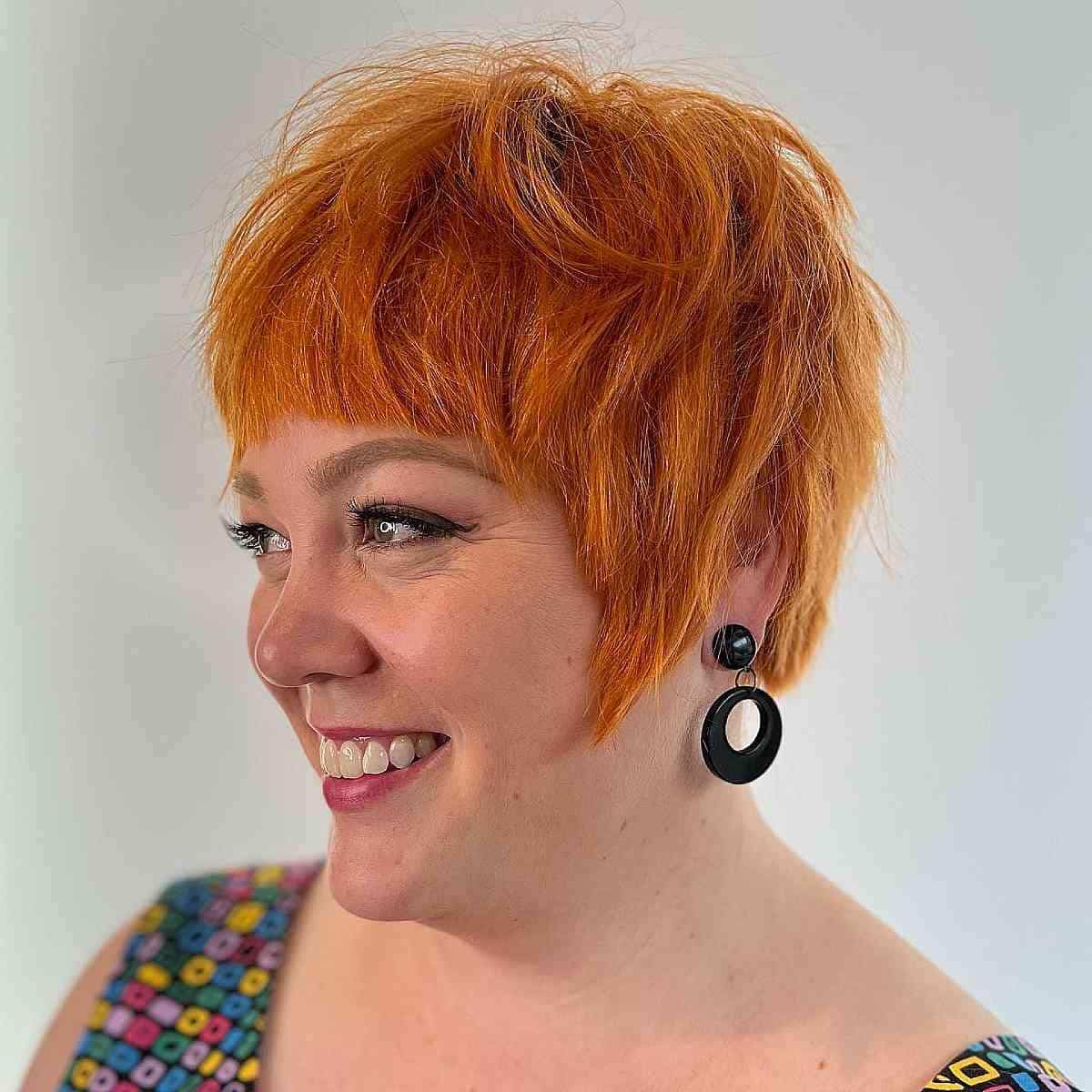 #1: Bright Copper Lixie with Bangs and Sideburns
A lixie paired with bangs and sideburns is a super cute and feminine way to wear your hair. You can have a clean-cut outline to frame around your face in the front, but then go crazy with texture and volume by adding a bunch of shorter layers. One of the best ways to achieve texture and create shorter layers is to ask your hairstylist to use a razor, thinning shears, or a point-cutting technique with regular shears when getting into the interior cutting and the crown of the head.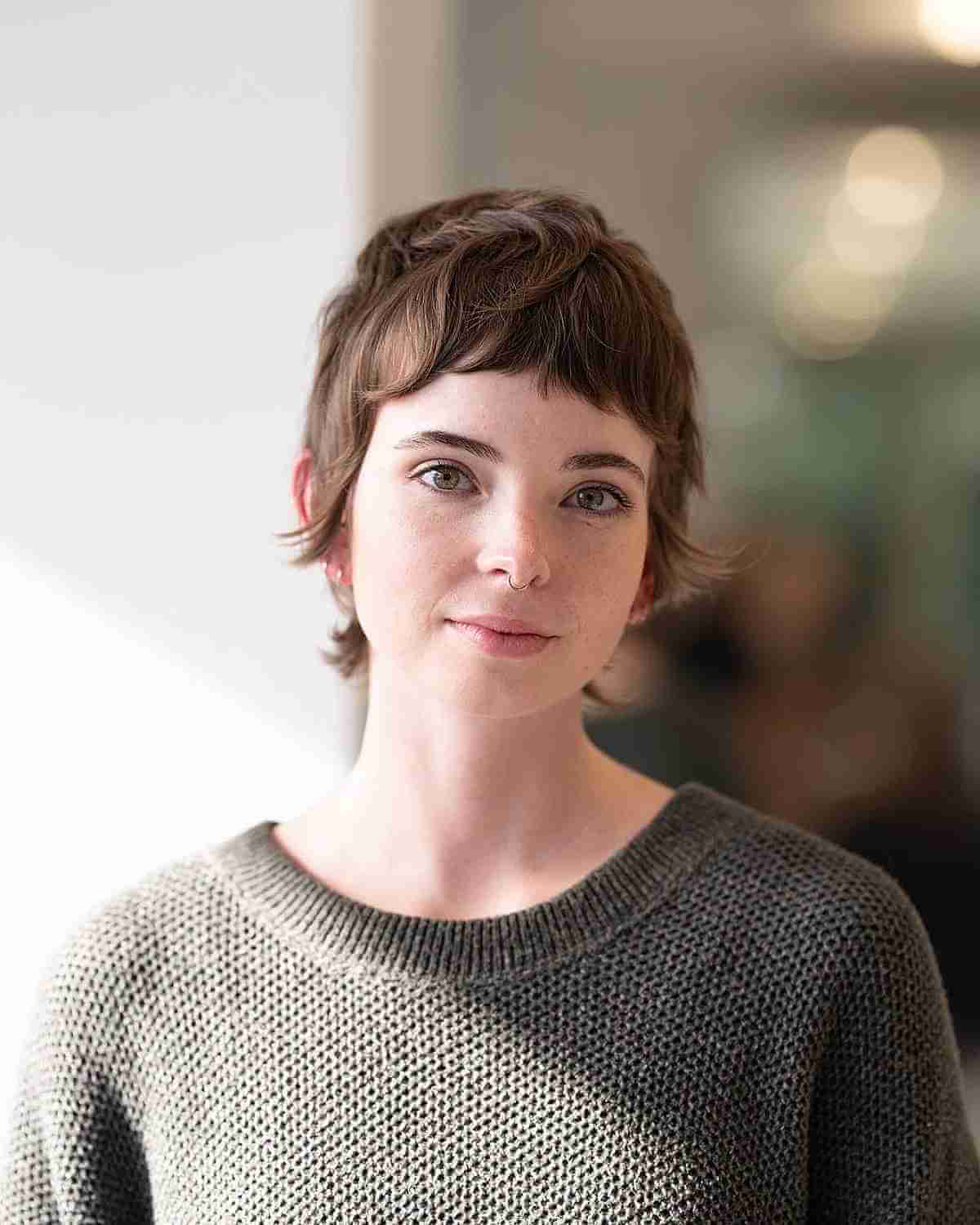 #2: Shaggy Pixie Mullet
A shaggy pixie mullet might be just what you need to shake up your look right now. It's low-maintenance and easy to style, as it embraces your natural hair's wave pattern for the ultimate cool-girl vibe. Work in a product like Bumble and Bumble Don't Blow It and shape the hair with your hands, then let it air dry.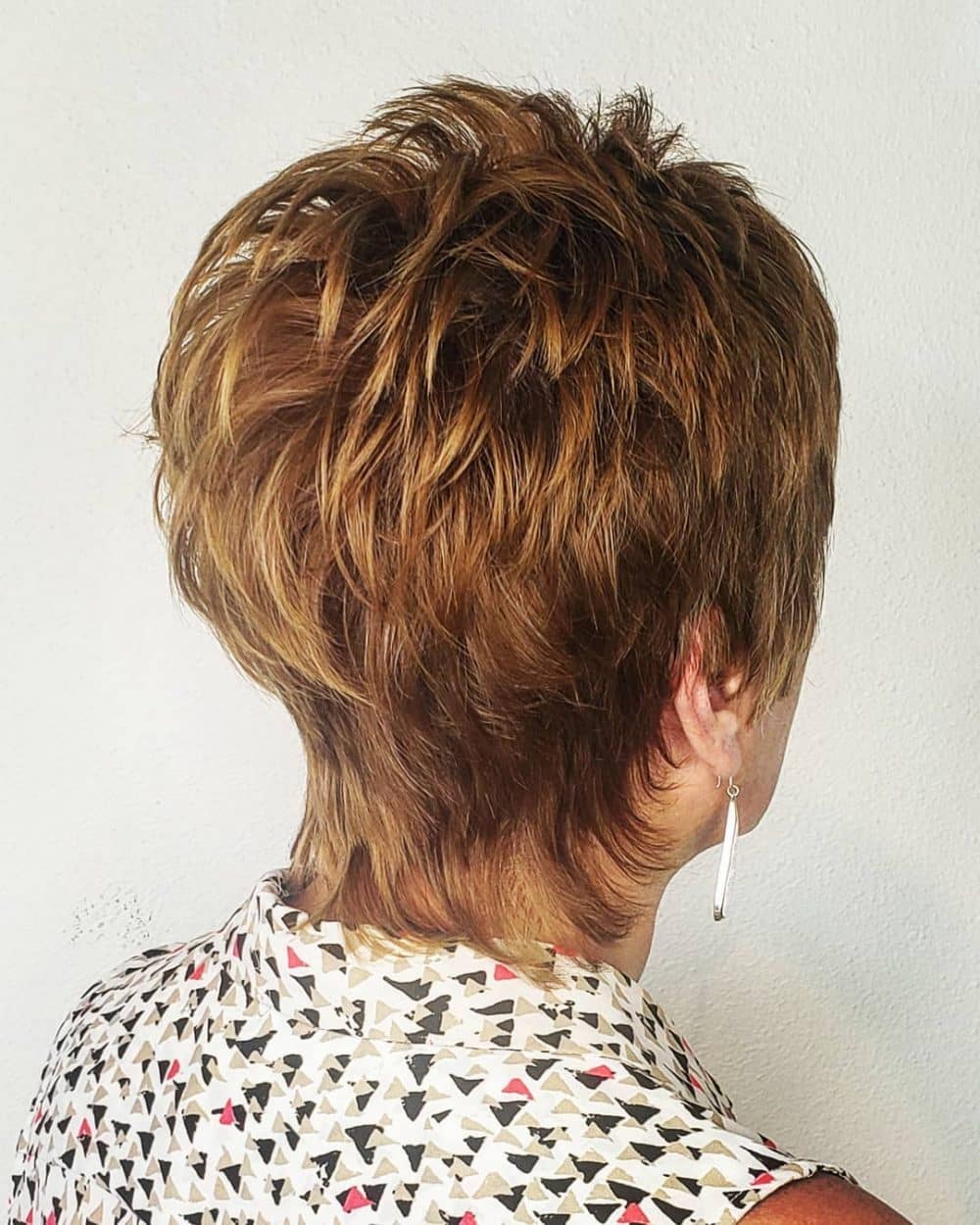 #3: Long Shaggy Pixie Cut
Opt for a stunning long shaggy pixie cut. The cut allows your hair to have a textured finish with a subtle effect of movement. To enhance the fullness of your chop, a volumizing mousse can help you get your desired outcome.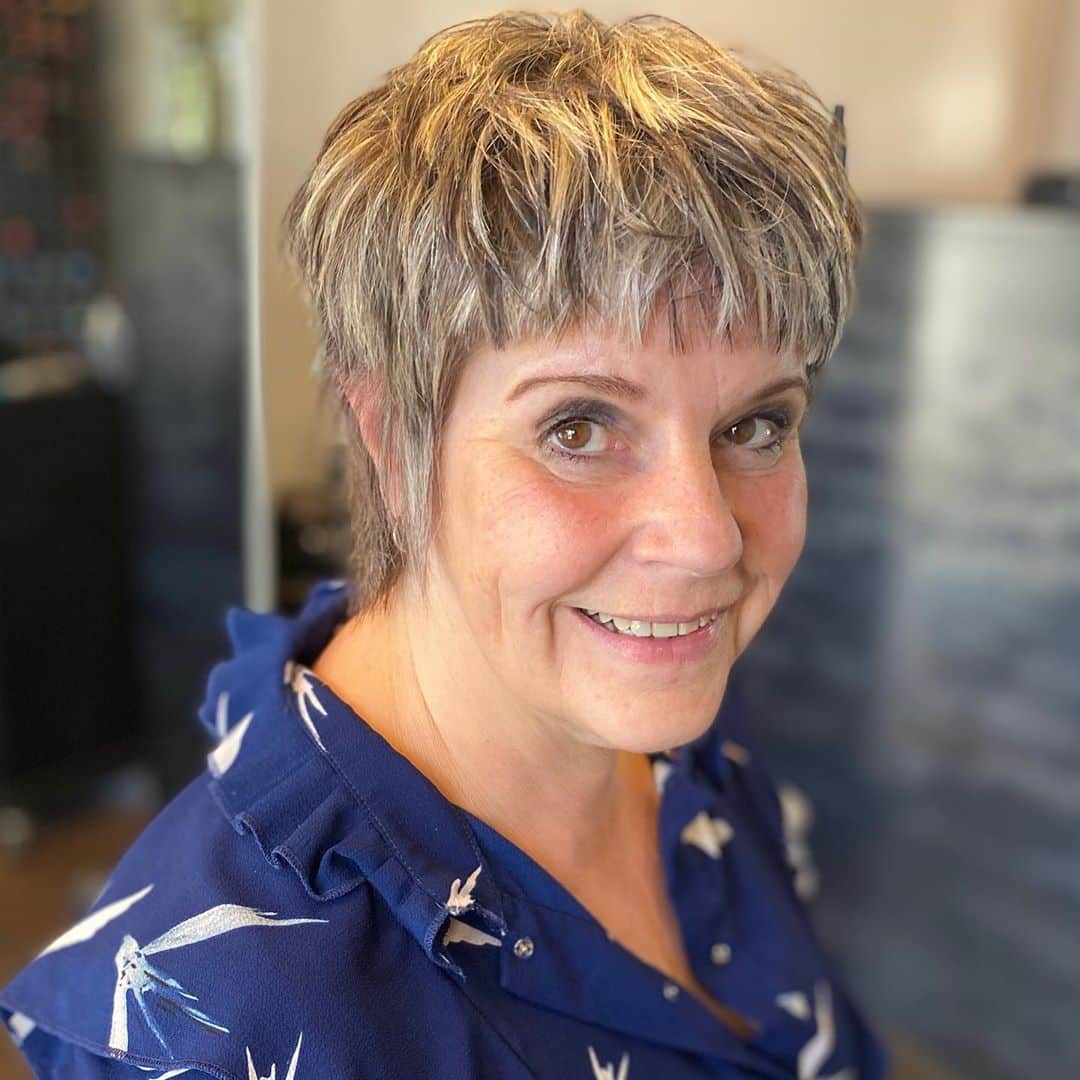 #4: Shaggy Pixie Cut for Square Face
Go for a great shaggy pixie cut for square face shapes! A short chop features side-swept bangs to accentuate your eyes and cheekbones. It even offers shorter layers that give a movement to your locks when styled with texture.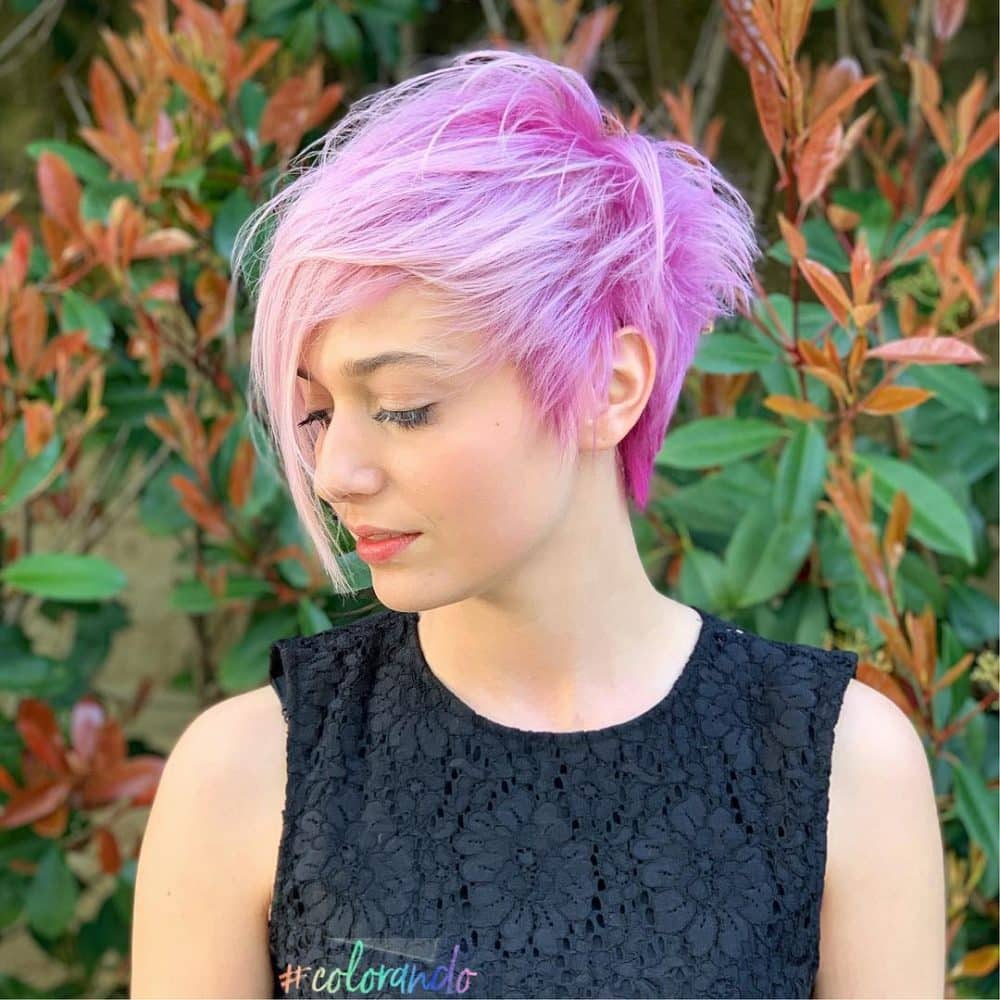 #5: The Asymmetrical Shag
An eye-catching asymmetrical shag in the form of a pixie cut. It's the lavender-pink shade that makes this whole look very youthful and vivid. Feel free to style your locks with some texture for the layers to pop even more!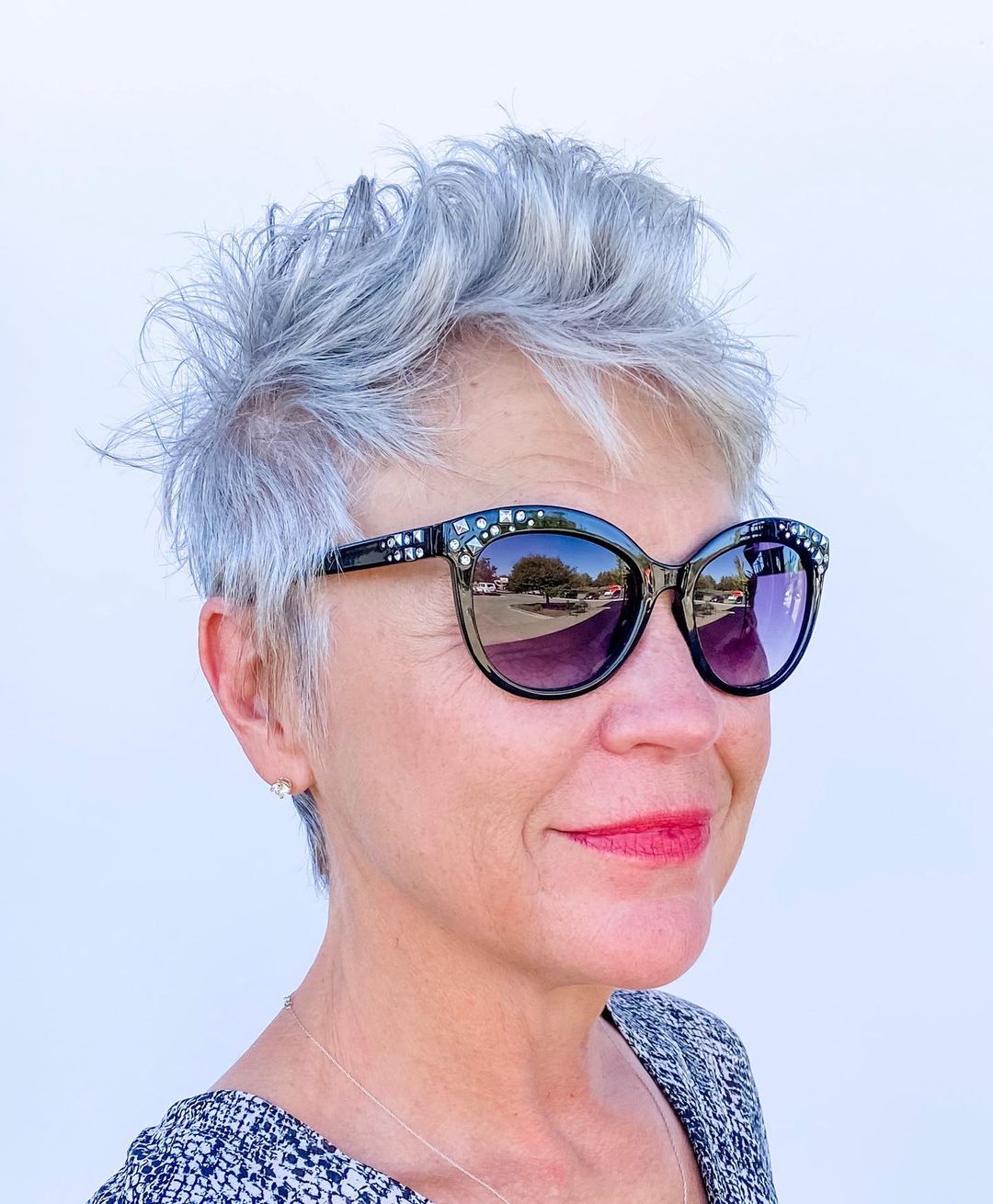 #6: Trendy Shaggy Pixie Cut for Older Women
Go for one of the best shaggy pixies for older women in their 50s and 60s right now. Its layers will add volume and dimension to thin, grey hair.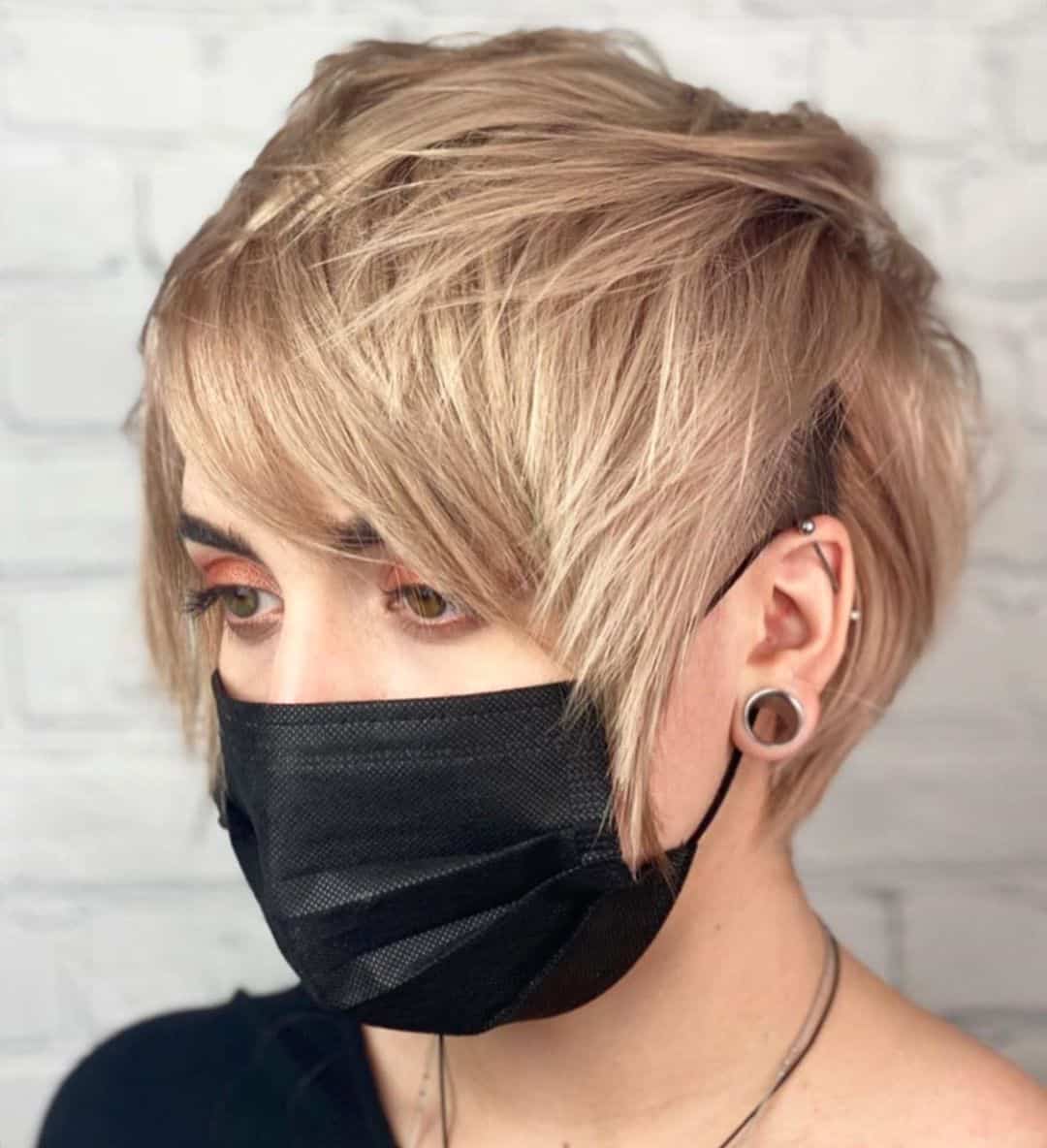 #7: Long Pixie with Shaggy Bangs
A long pixie with shaggy bangs is super modern. It offers shorter layers at the top to enhance your natural root volume. With this look, you'll be a total trendsetter!
#8: A Very Short Shaggy Pixie Bob
A very short pixie bob with a shag shows off sophistication. Opt for this look if you think that this is the long and voluminous side fringe you ever needed!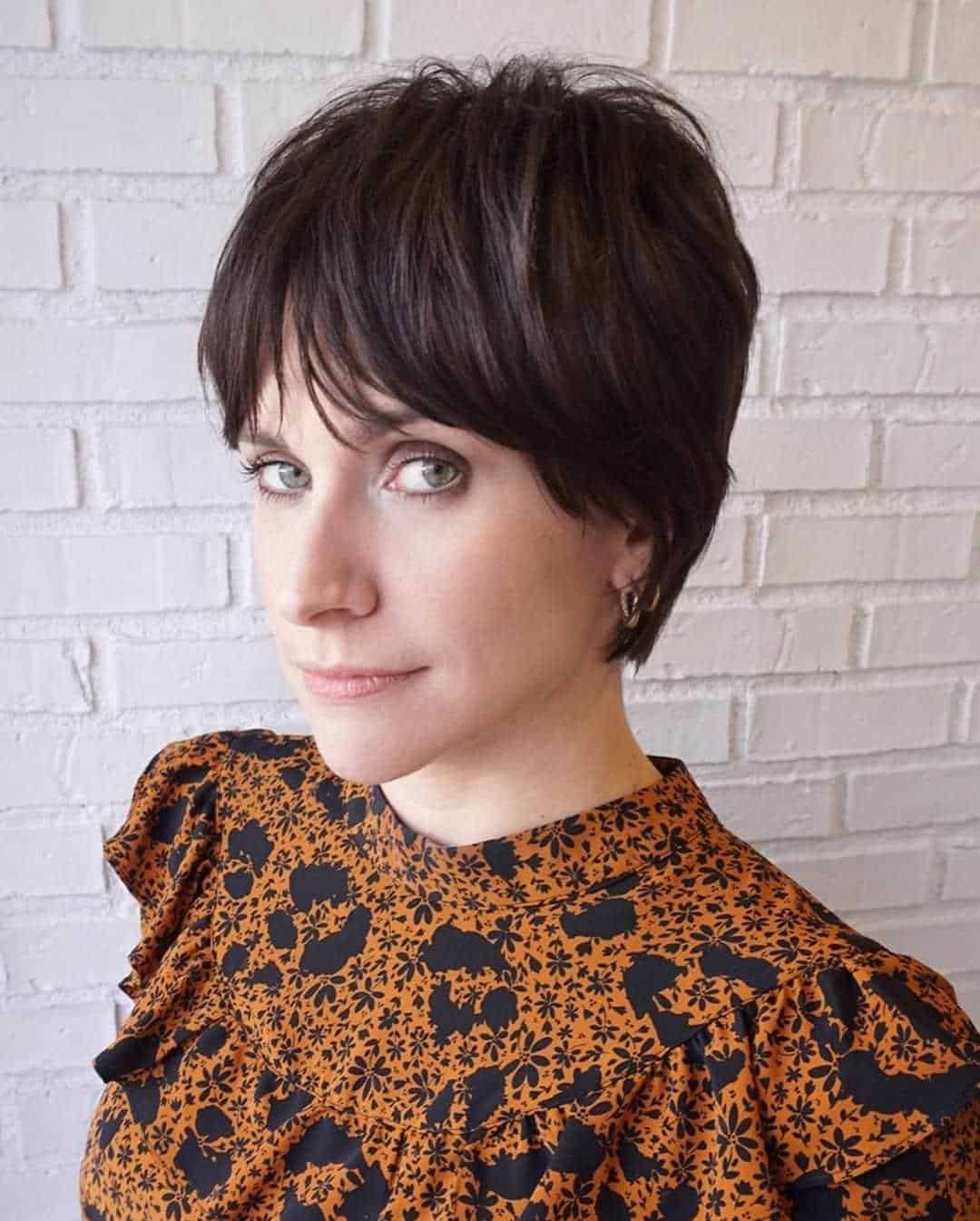 #9: Shag with Long Bangs
Are you one of those babes who adore soft pixies? If yes, a shag with long bangs must be your next hair goal! The layers will boost the volume of your black hair. You can style it with minimal texture, and you'll still look impressive and suave!
#10: Shaggy Pixie Cut for Fine Hair
Consider the perfect shaggy pixie cut for fine hair for your next haircut. With texture added at the top, this look will give your thin locks fuller-looking style!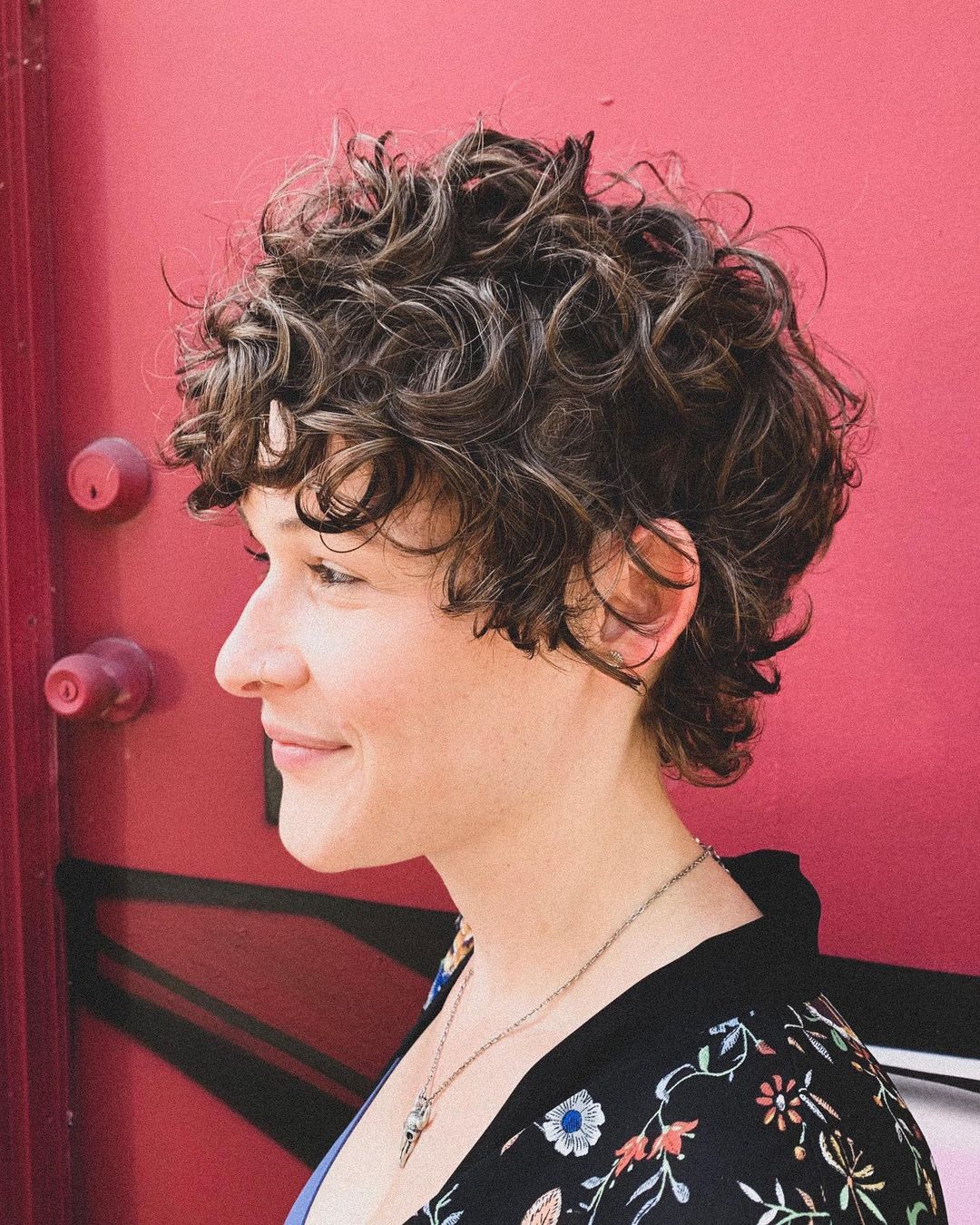 #11: Cute Curly Shag
Feel confident once you flaunt your natural hair. For a voluminous and textured pixie, give this cute curly shag a try. Keep your brown tresses hydrated and use a sea salt spray for a bouncy-looking result.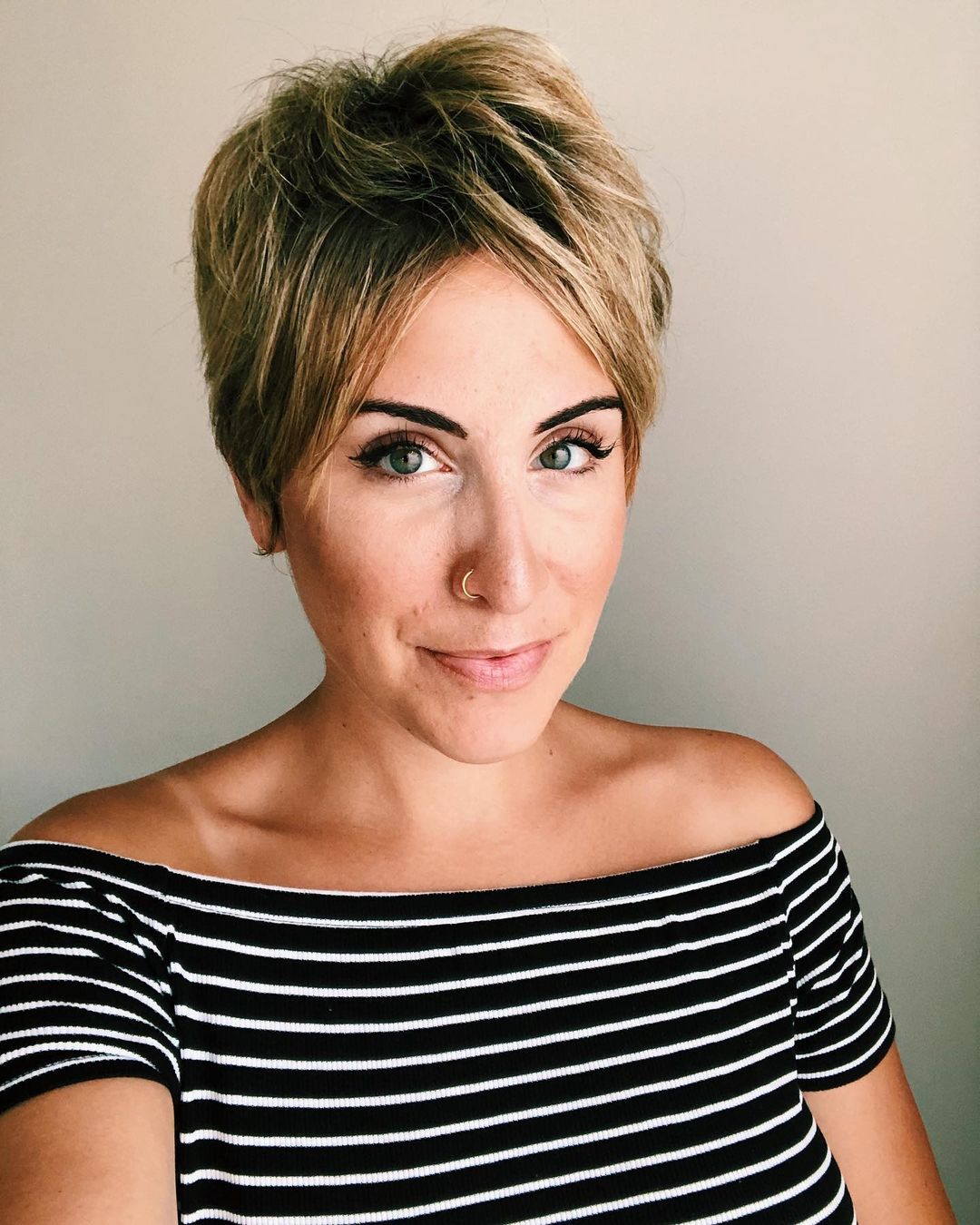 #12: Flattering for Oval Face Shapes
A shaggy pixie cut flatters oval face shapes because the split bangs make the face appear more symmetrical. Its textured finish works hand in hand with curtain bangs that both offer a fresher edge. If picking the best hair color to complement your fair skin tone, never be afraid to go for a copper one.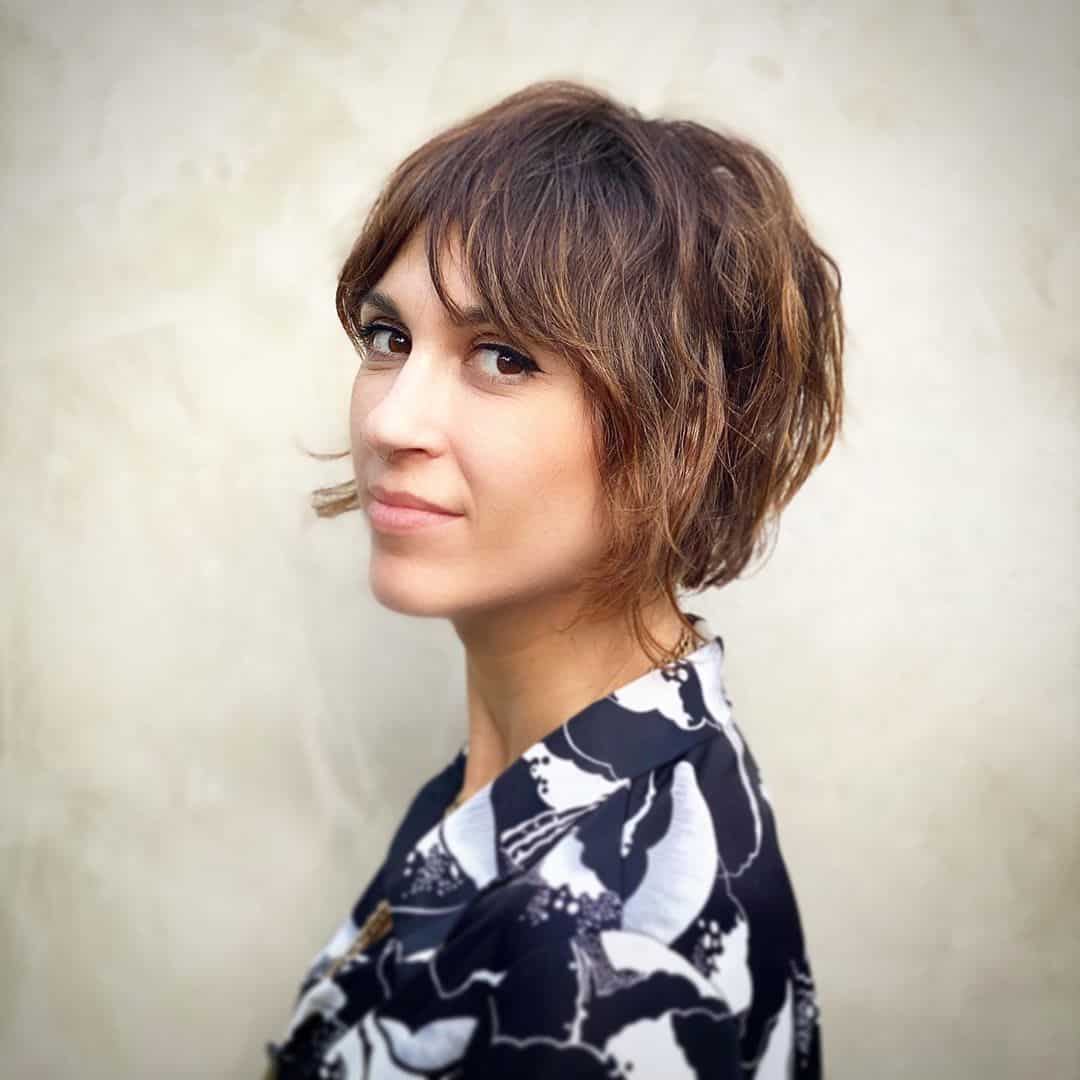 #13: The Layered Shag
Pull off a short layered shag like this, and feel the funky vibe it offers! Achieve this pixie by opting for a razor cut technique to boost the fullness of your dark tresses. Add texture to the layers because everyone loves a style that screams liveliness!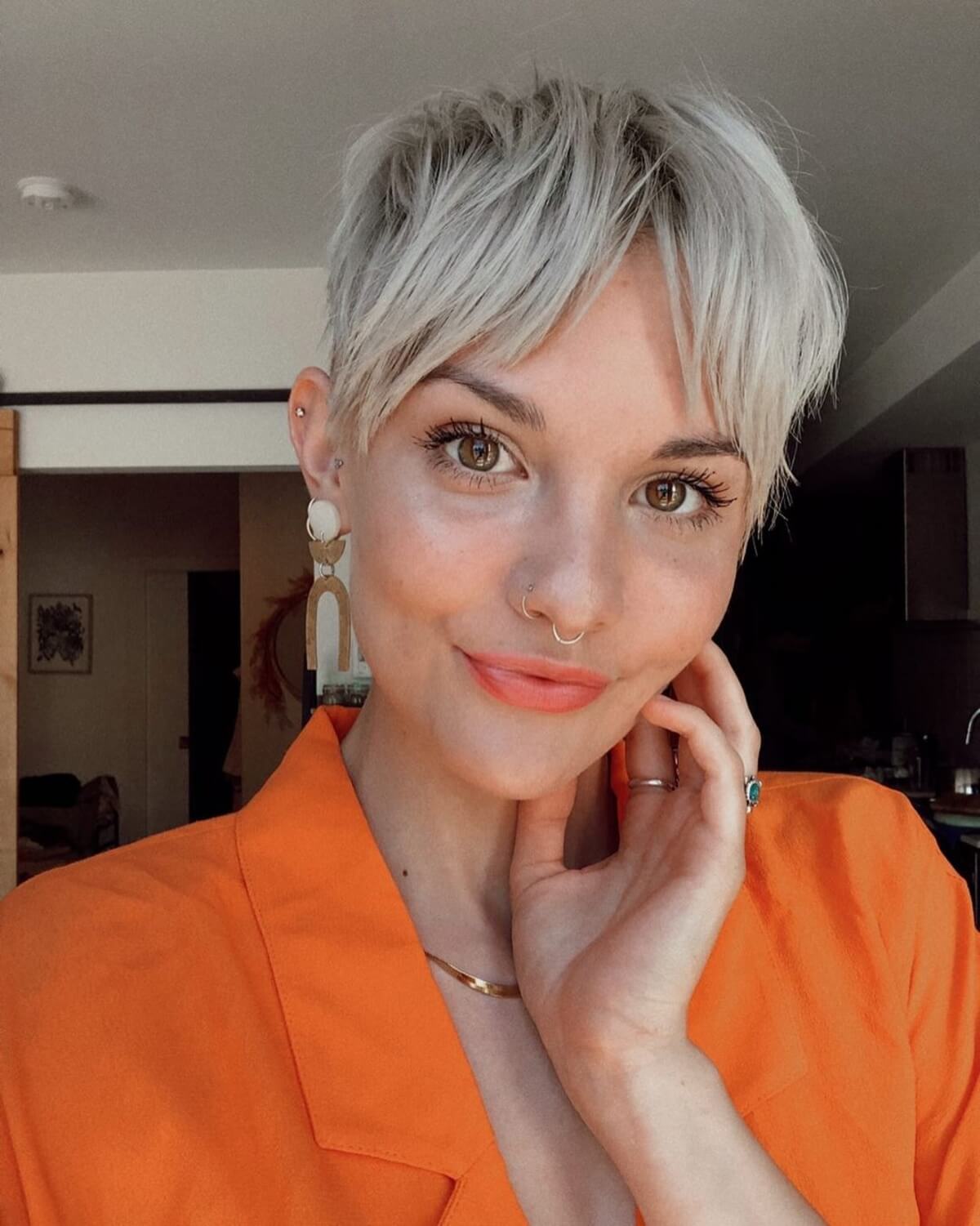 #14: The Best Shaggy Pixie for Thin Hair
A short, shaggy pixie haircut works best for women with thin hair. It requires minimal care routine if you have slightly wavy tresses. Spray on a sea salt spray to secure your hair's natural texture.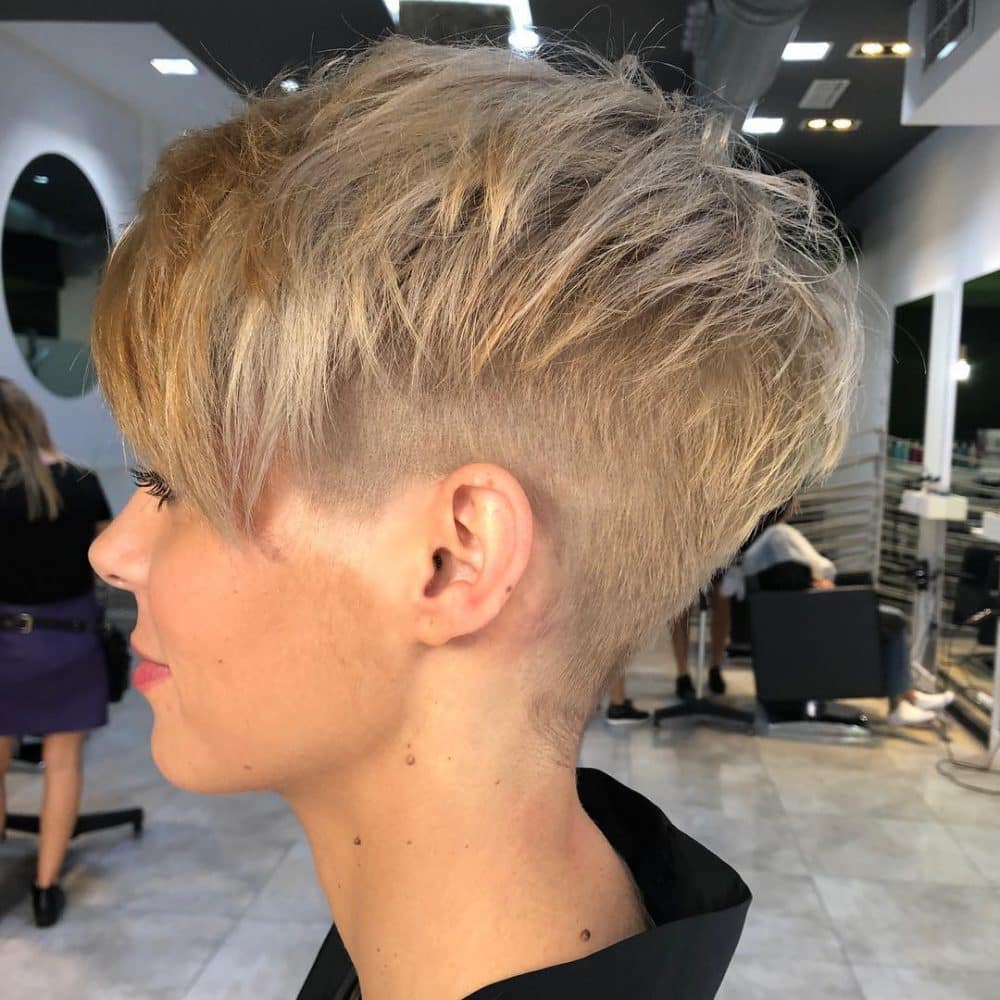 #15: Edgy Messy Shag with Undercut
Try an edgy messy shag pixie with an undercut that works great on fine tresses. It offers various lengths of layers to lessen the weight of your thick hair, making it look so light.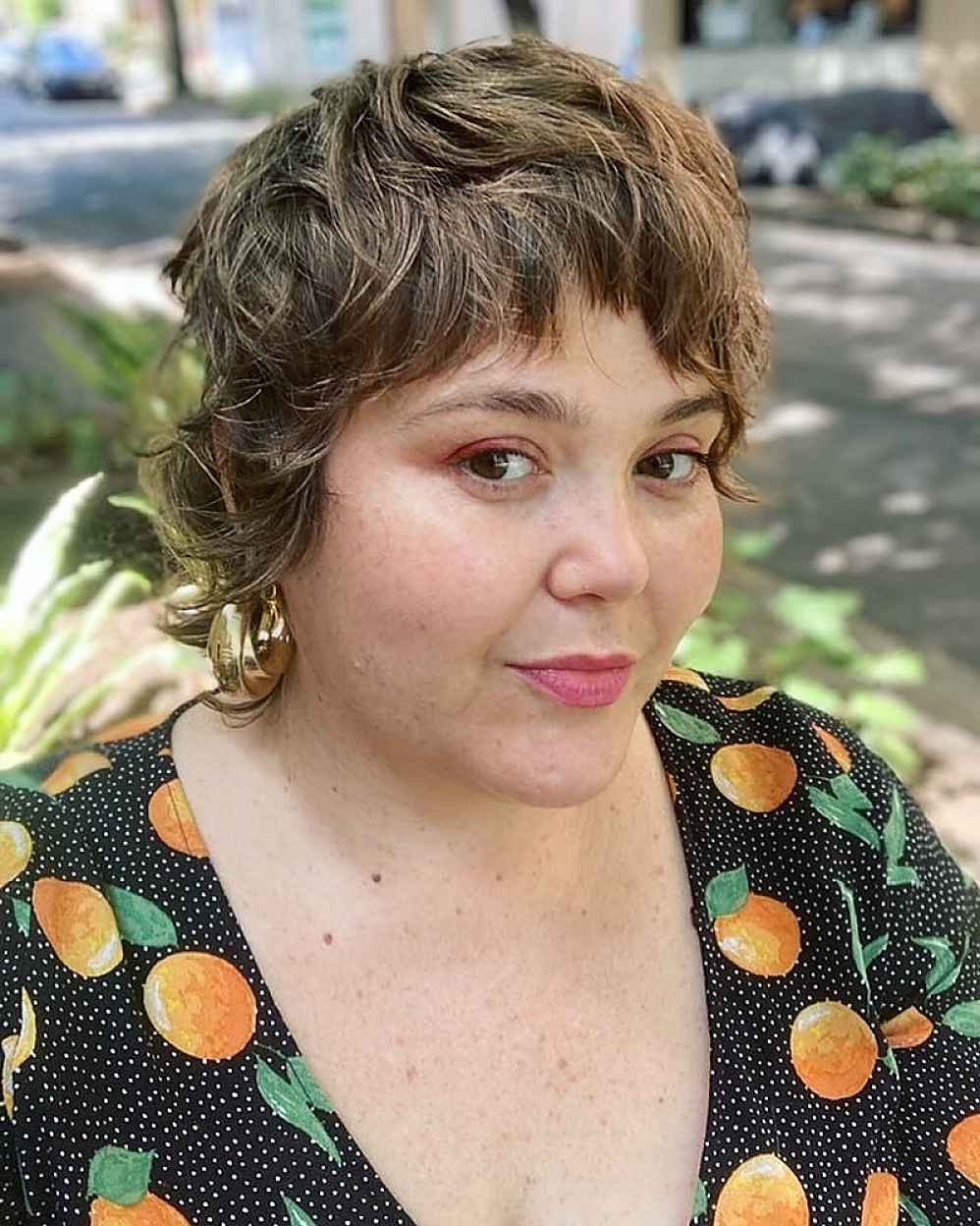 #16: Perfect Pixie for a Round Face
Pixie shags give an excellent overall shape without losing too much length. The layers/texture you see are previously cut in but just reworked it to further soften the layers from being too heavy. The hairstyle is great for everyday wear. The graduation in the back already has a built-in shape, so individuals don't need to worry about blow-dry the back too much. Most face shapes can be used for this particular cut. Although, take note that with rounder faces don't take the front areas too short. It's more for mid-density hair types. If too thick and coarse, the hair may result in too much volume. When done correctly, this cut gives a really nice silhouette which can shape the facial features quite nicely.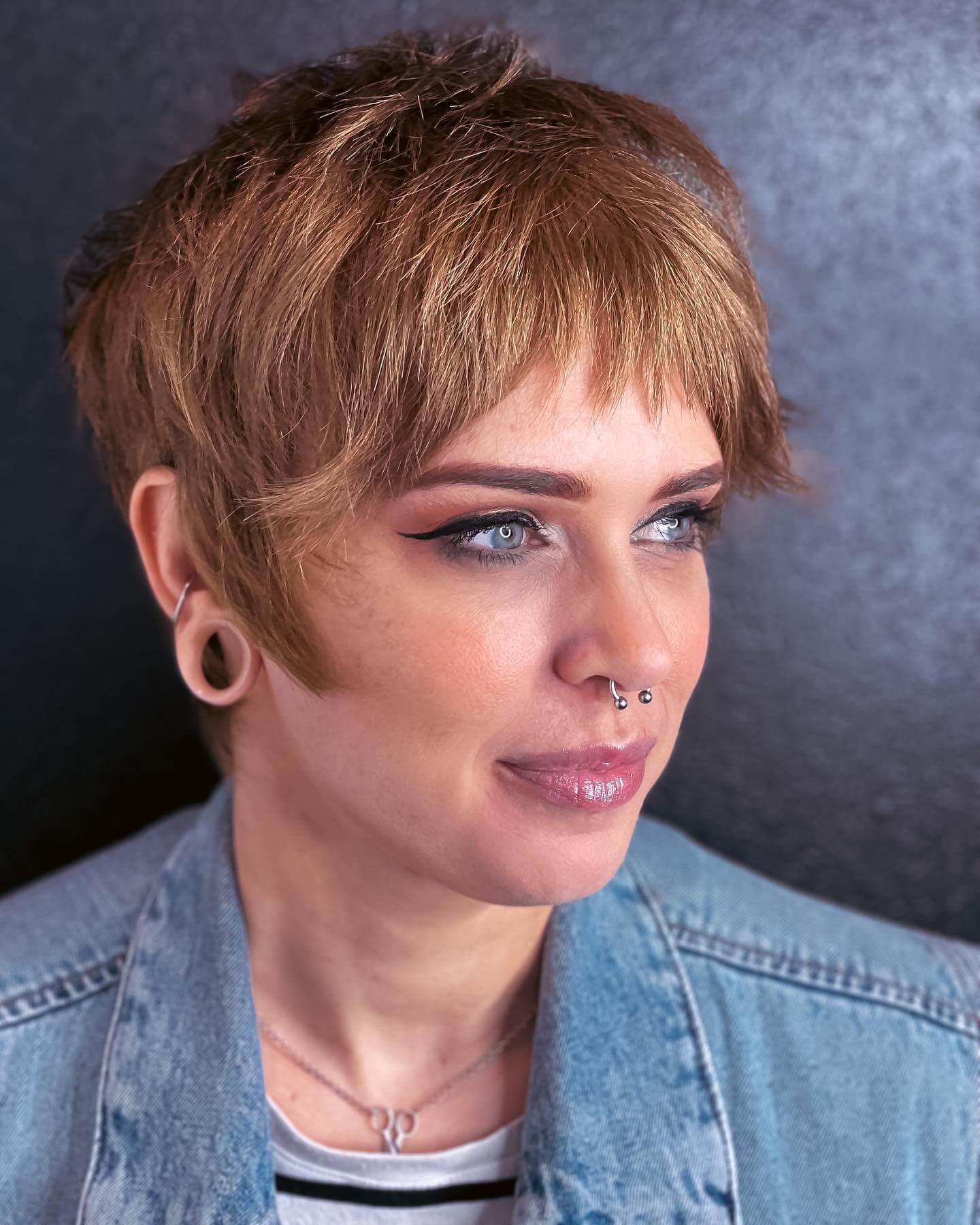 #17: Best for Thick Hair
A pixie shag haircut is best for women with thick hair. Plus, it's easy to style and great for growing out. If you have very thick hair that allowed me to get a lot of texture with the layers. With fine hair, you may need to do more styling to achieve the look and adjust the cut a bit. Show your stylist the inspo pic, discuss your options, have an open mind, and work with a trusted hairstylist.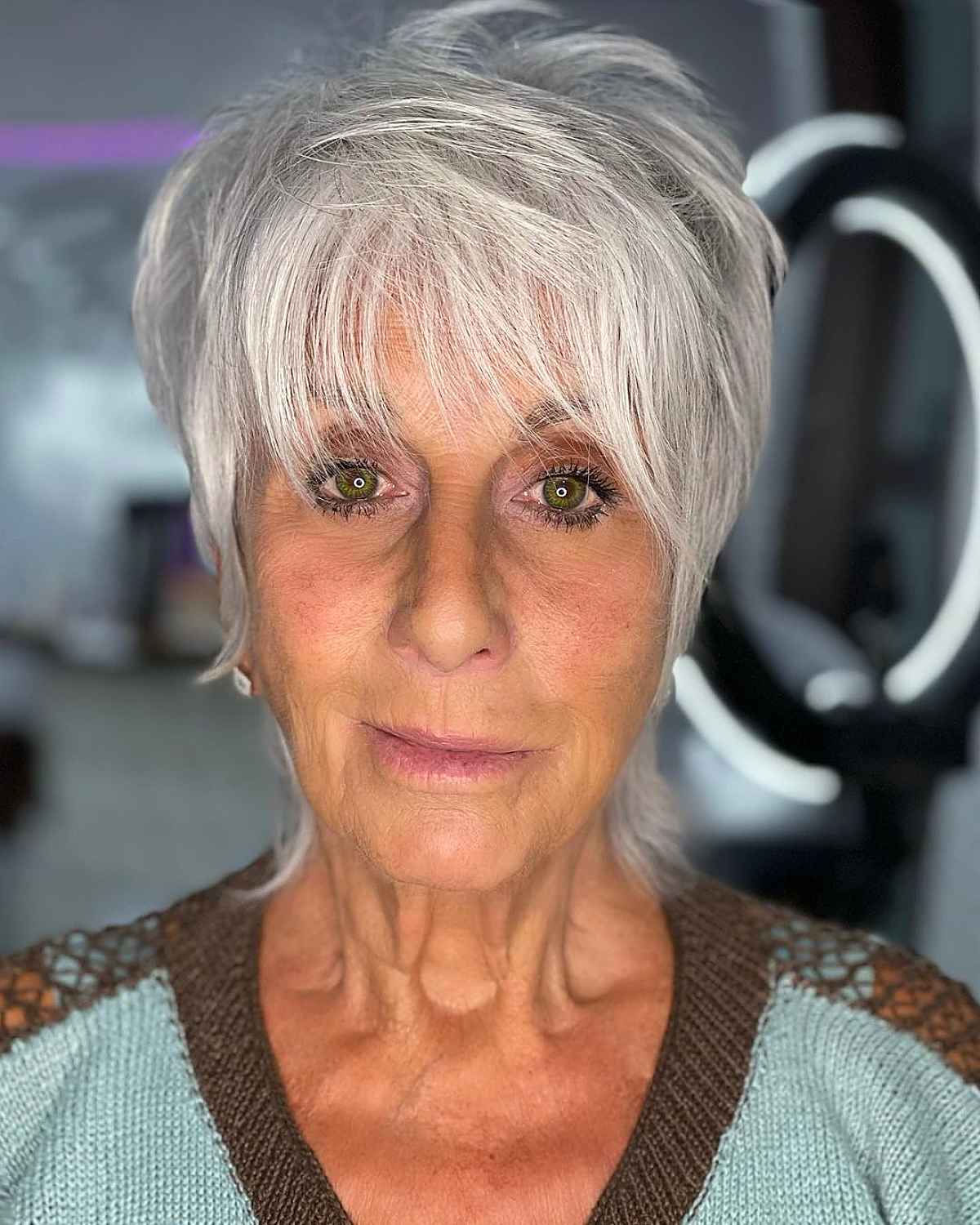 #18: Extra Long Shaggy Pixie Cut
An extra-long shaggy pixie cut is a great mashup of the early 70s and modern-day magic. The key to this relaxed style is to not overdo it. It's ideal for medium-thick hair with little to no curl. Blow hair forward and round brush where necessary to give the long bits a little kick.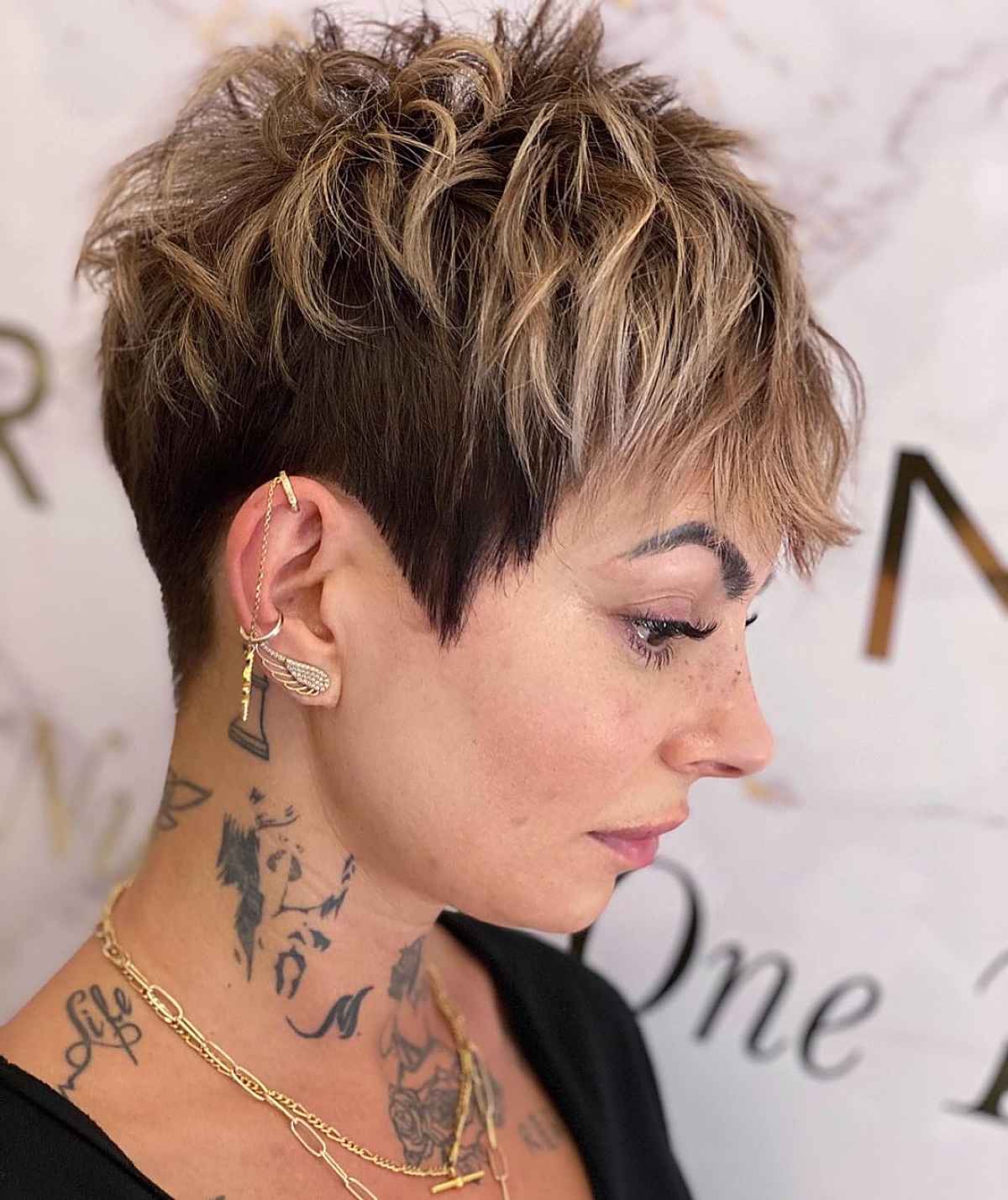 #19: Short Pixie with Blonde Balayage
A short pixie with blonde balayage adds drama to your short style. Creating dimensions with complimentary colors exaggerates the length difference and shaggy layers.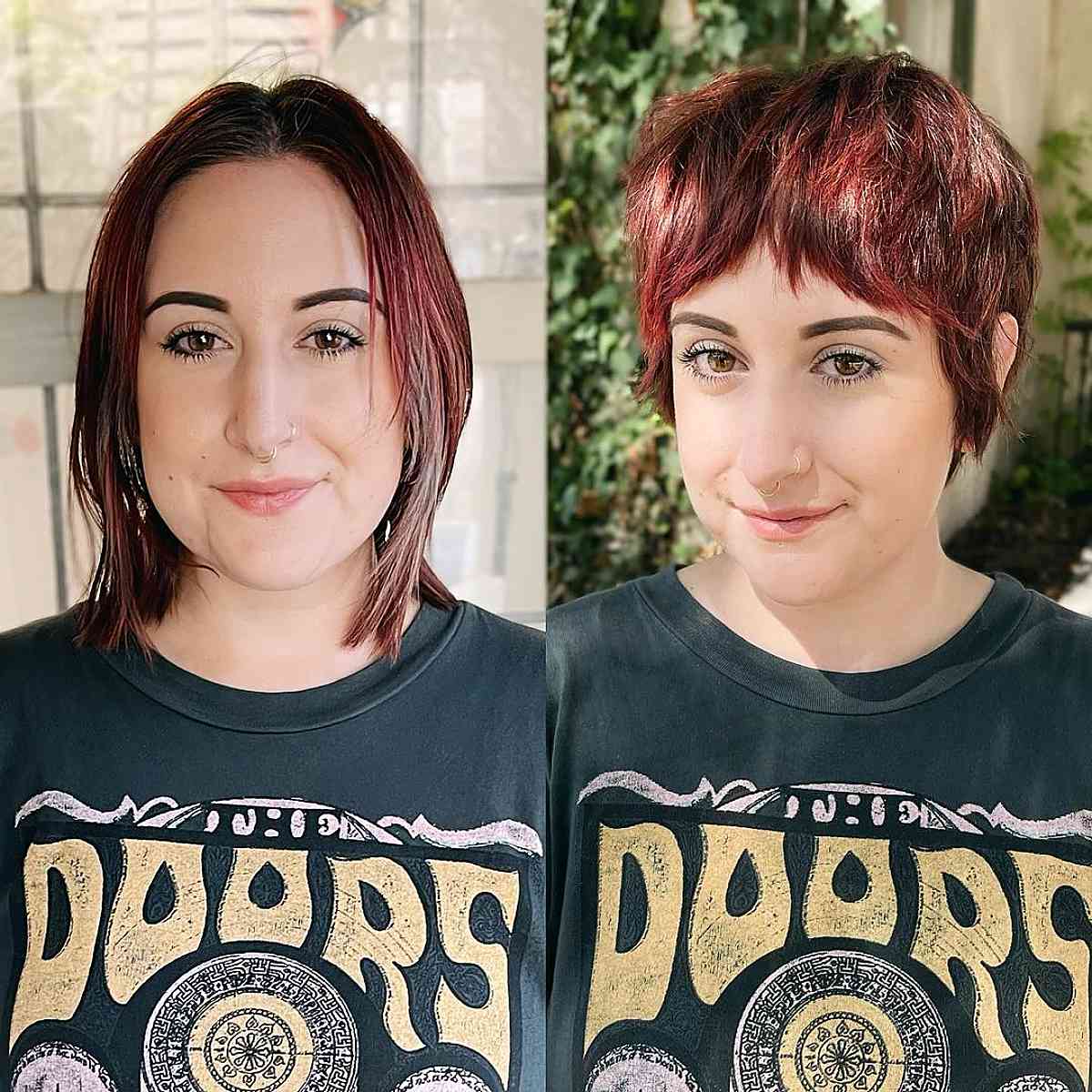 #20: Pixie Shag with Curtain Bangs
If you have thin hair and are looking for more density, a pixie shag with curtain bangs is a definite must-try. The choppy texture of the layers will help to create a thicker, more voluminous look to the hair. The shaggy curtain bangs can both hide problem areas on your forehead and help to create a more flattering face shape.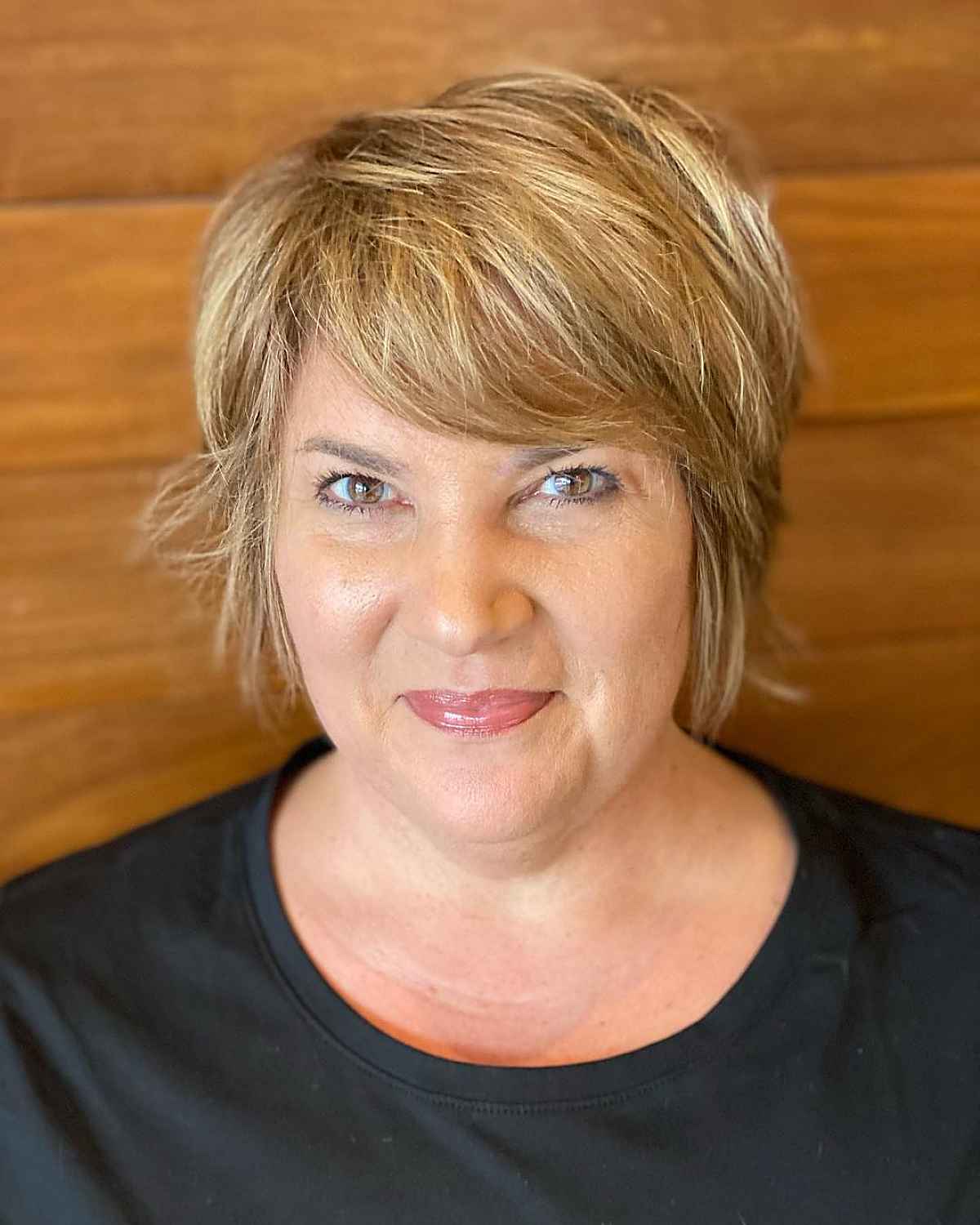 #21: Pixie Shag with Side-Swept Bangs
Try a pixie shag with side-swept bangs for the carefree and messy look while still remaining classy and elegant. Women who are more mature but want a fresh and youthful hairstyle would suit this cut perfectly as it is easy to style, easy to maintain, and has a lifting effect while still being relaxed and natural-looking. The side-swept bangs can work really well to slim the face and brighten up the eye area. Try using a soft texture paste along with scrunching to add some movement.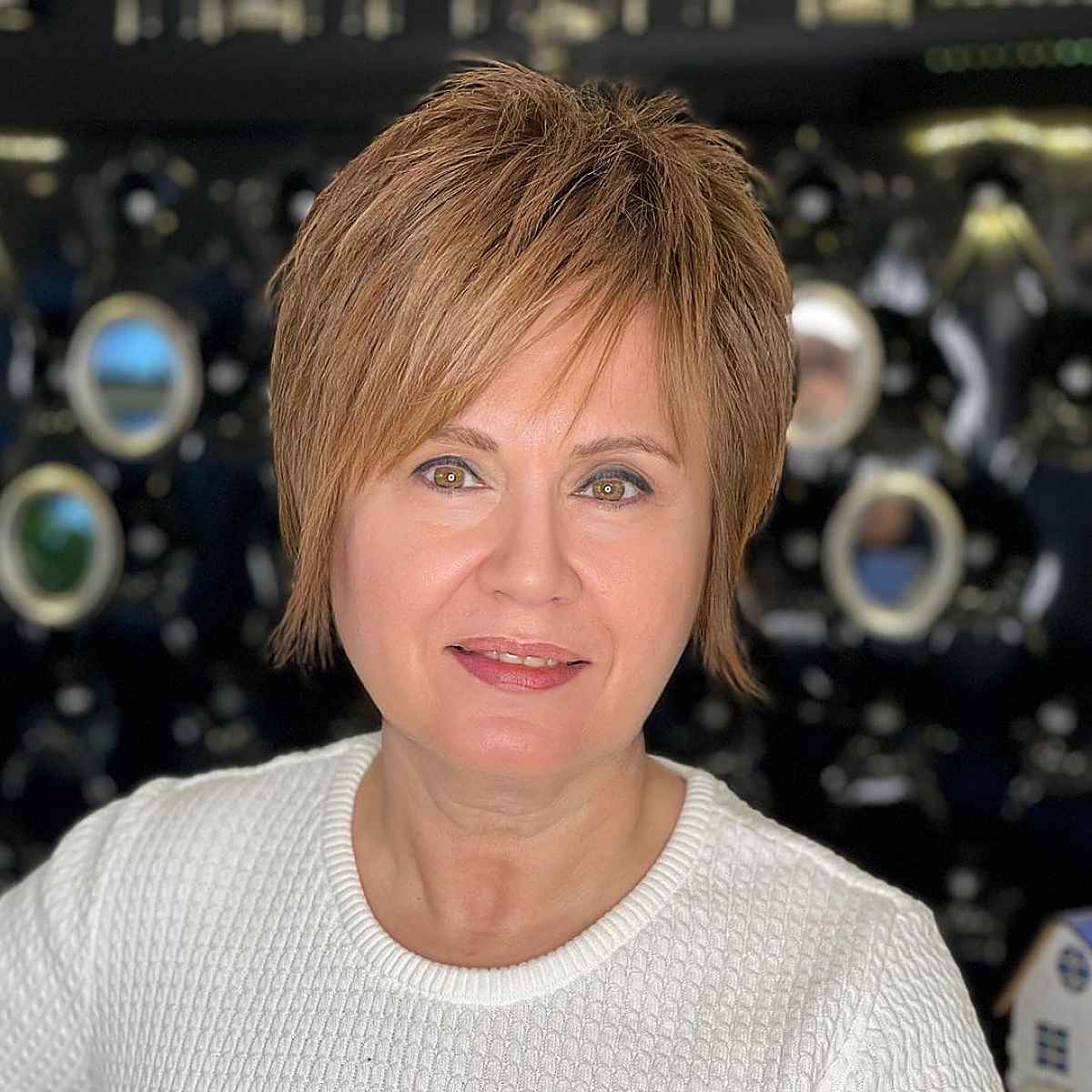 #22: Long Shaggy Pixie for Women Over 50
A shag that is a bit longer and softer is a great choice for women over 50. Longer lengths around the face soften features and still give you a trendy appearance. This shape works well on fine hair and the shorter layers on top give you a fun texture. Try using a wax product emulsified in your hands then applied to the dry hair to create the most texture.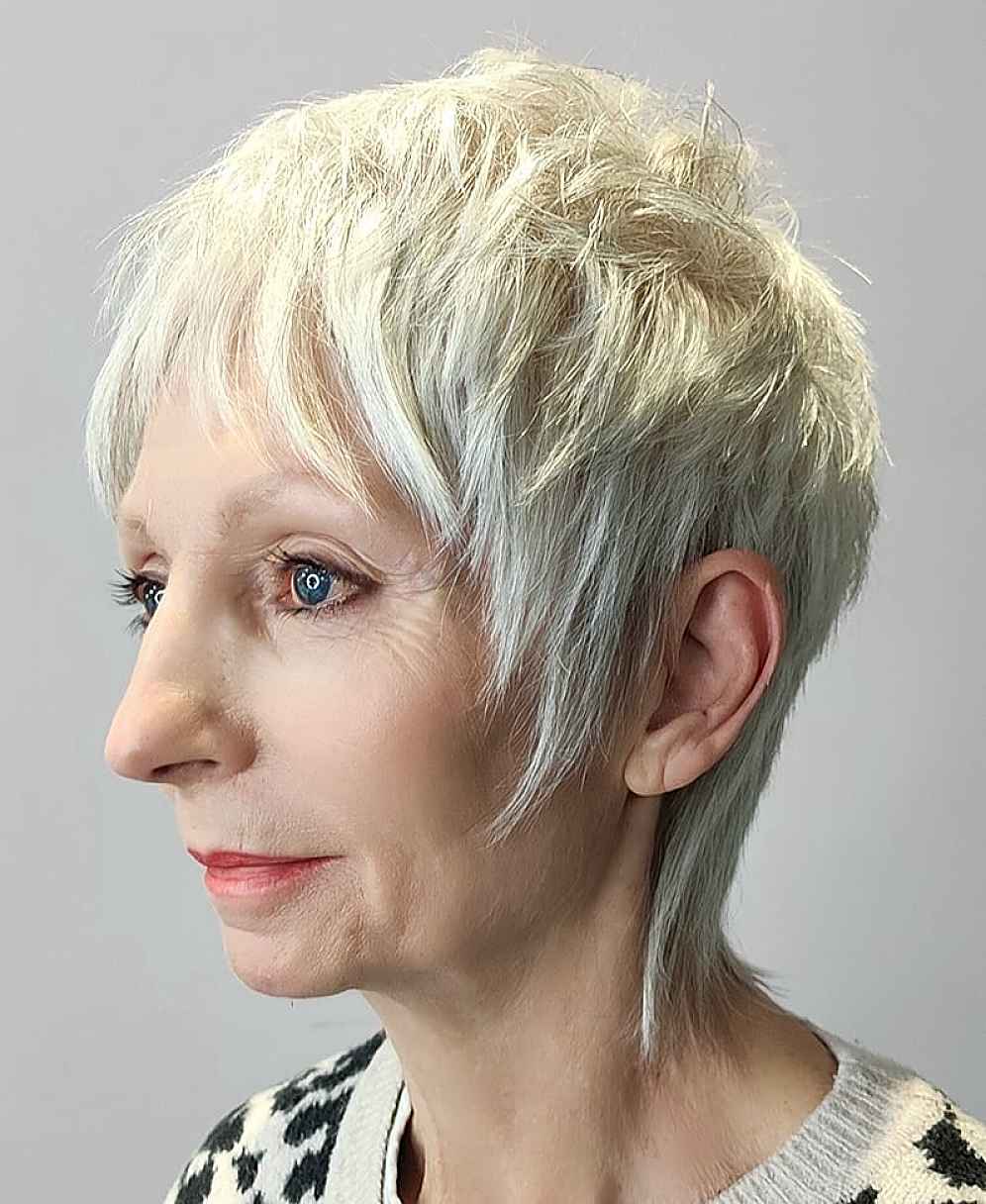 #23: Edgy Shaggy Pixie for Women Over 60
Edgy shapes such as the shaggy pixie, can be worn beautifully by women over 60. Short hair has so many benefits including faster drying time, making hair appear thicker, and taking years off your appearance. Try leaving the back a tad shaggy for the most relevant pixie. Styling is a breeze with a bit of hair wax added for texture.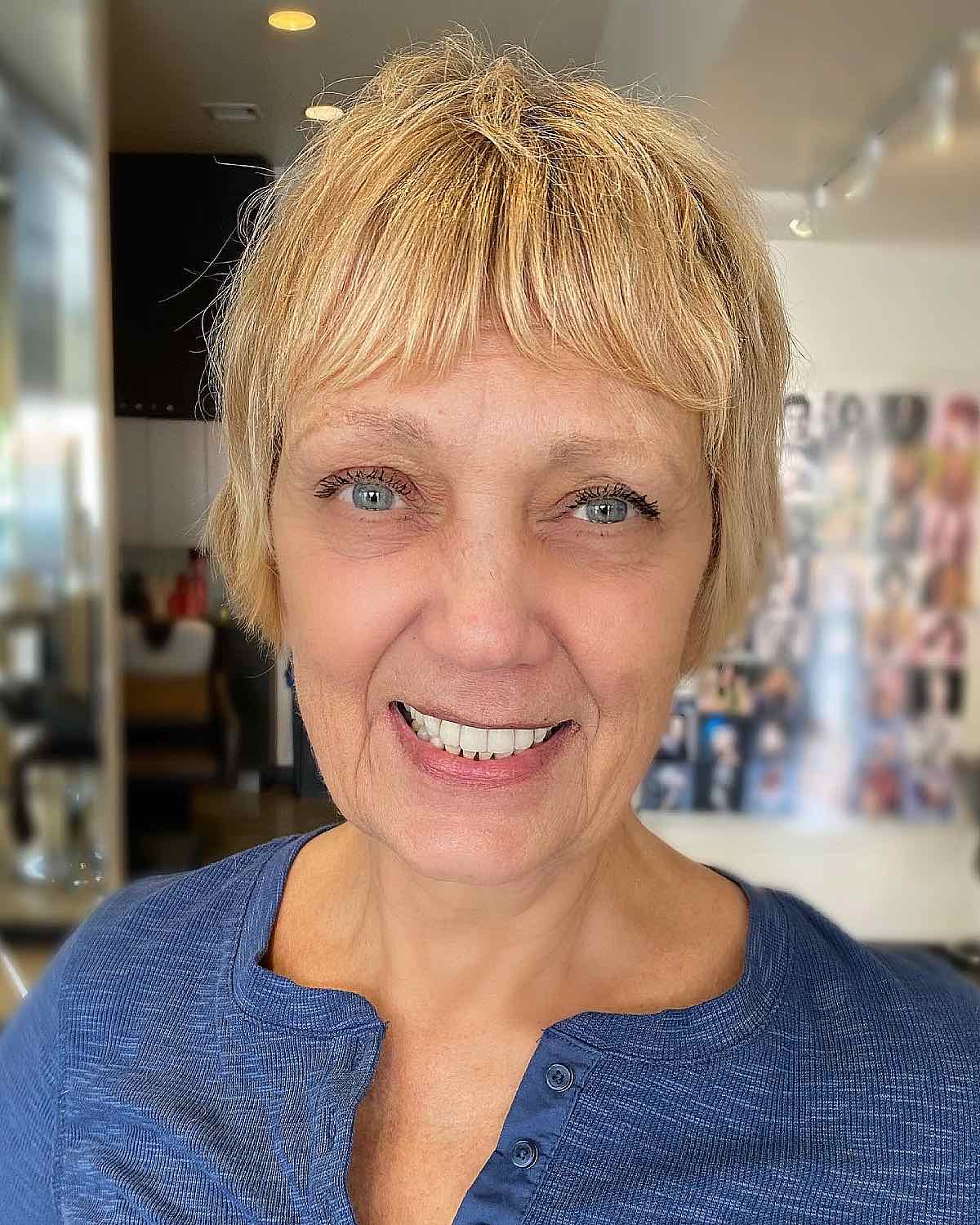 #24: Shaggy Bixie for Older Women
A shaggy bixie for older women is a modern twist for that in-between stages of bob and pixie. Shaggy bixie hairstyles make an intentional statement that can be customizable per face shape and client preference. Photos of inspiration during a consultation will help to create a bespoke style.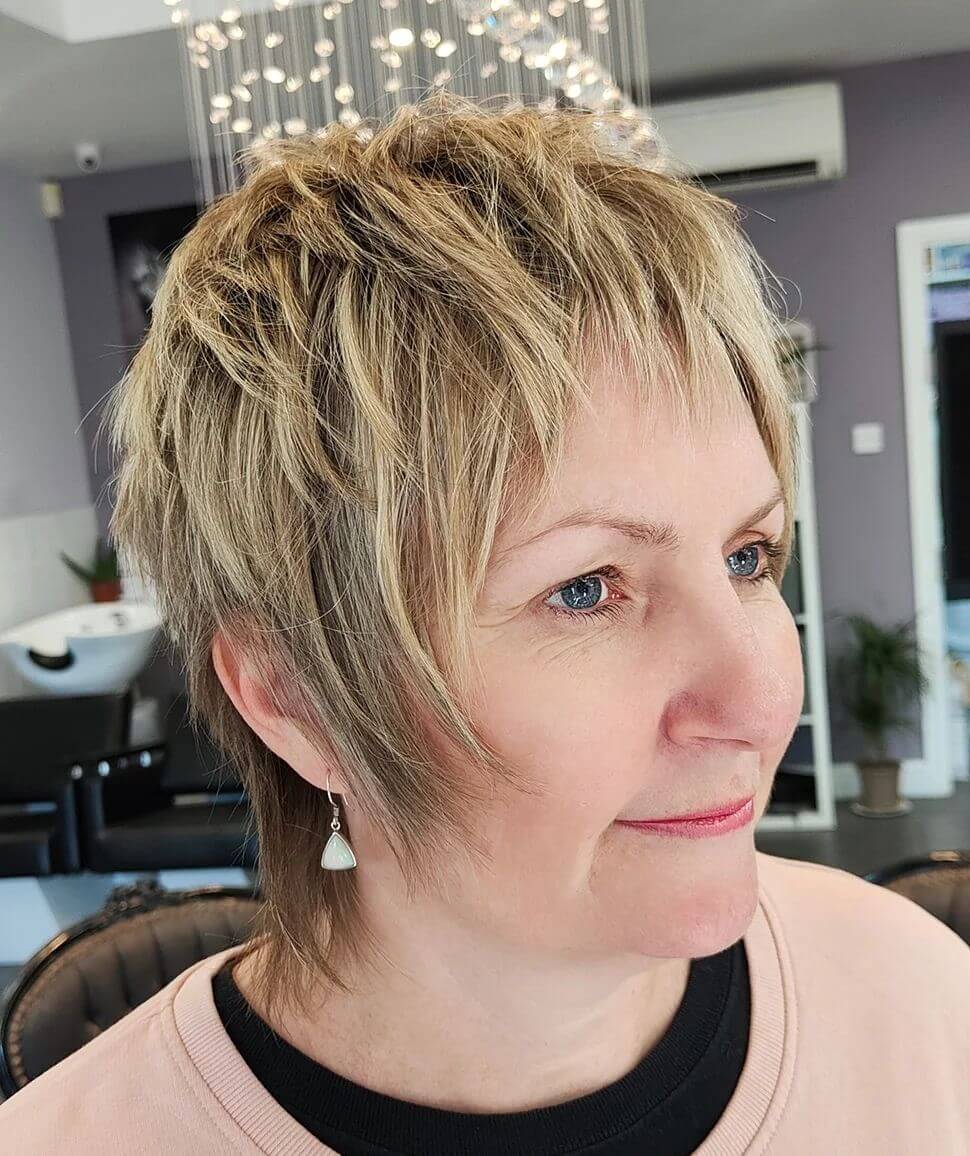 #25: Blonde Shaggy Pixie with Dark Roots
A blonde shaggy pixie with dark roots is a rocker-chic take on the modern pixie hair cut. With shaggy pixies, there are plenty of layers on top – but leaving the hair around the ears and neck longer adds an edgy mullet vibe. A short, shaggy haircut pops even more with dimensional color so consider adding highlights if you have dark hair to really help this look shine.