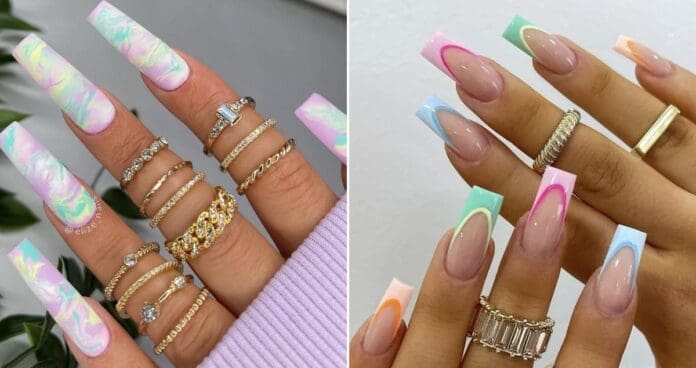 If you want to draw attention to your hands, one of the easiest ways to do this is with acrylic nails. They are created from a mixture of liquid monomer and powder and then applied to your natural nails, but the best thing about acrylic is its versatility. You can experiment with different lengths and shapes. Longer nails lengthen the fingers, but they also allow for great nail designs. If you're a woman who likes to change up her manicure and wants something modern and fun, consider colorful French manicures, baby art, and sweet-tooth-inspired designs. Or you can make it easier with dreamy pastel polishes and neutral swirls. There's something here for every taste and style, so you can put a smile on your face or make a powerful statement. Keep reading to find inspiration for your next manicure.
1. Oriental Nail Design
The Orient has long been a source of inspiration for fashion and beauty, so it's no surprise that Oriental nail designs are one of the trendiest looks. The style is often defined by bold colors and details and may include one or more popular images. For example, on one nail there is a dragon, on the other there are patterns, and on the other, there is sakura or lotus flower. The combination creates beautiful and vibrant works of art that are sure to draw attention to your hands. Feel free to experiment with different colors and prints to create the look you like, celebrate your heritage or honor the Orient as a source of creative and artistic inspiration.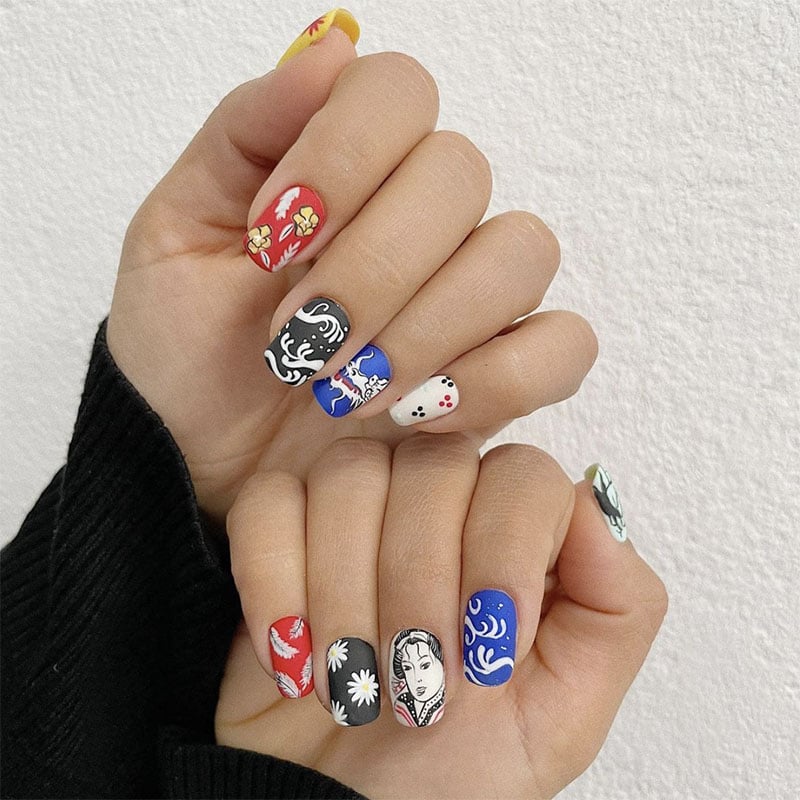 Instagram @Yeswhatnails
2. Soft Pastel Matte Ombre Nails
Soft pastel matte ombre nails are the perfect look for the woman who wants something subtle and pretty yet modern. Pastel shades are timeless and are used in fashion and beauty every year. They are easy to wear, feminine, and dreamy. On the other hand, ombre is a way to have fun by mixing two colors, one light and one slightly darker. This creates an interesting finish and adds a twist to your standard manicure.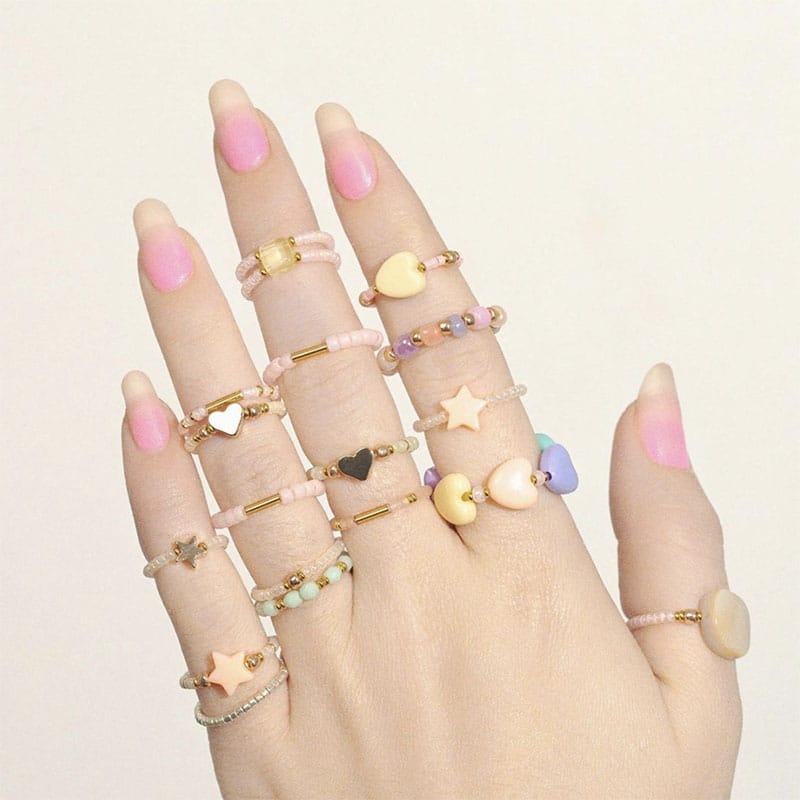 Instagram @Cassmariebeauty
3. Bandana Inspired Nails
Fashion has long inspired nail art, and both are a great way to express your personality and show off your sense of style. Bandanas are used to hold the hair in place in style, and in addition to being very practical, they often come in a variety of colors and paisley prints. If you want your nails to stand out then this is a great choice. You can stick to one color scheme or paint each nail a different shade for a wonderful blending and matching effect.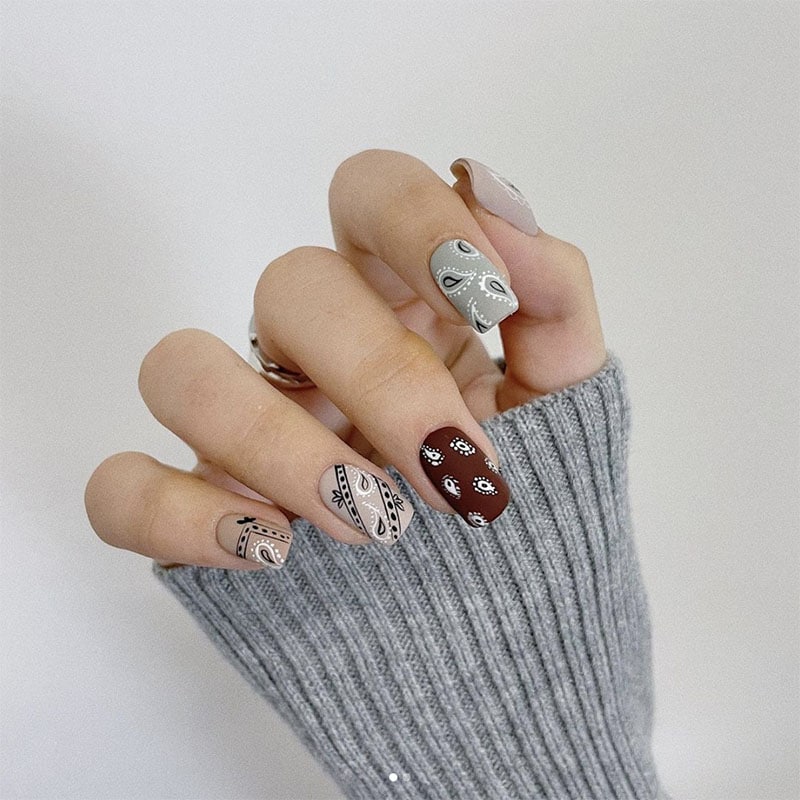 Instagram @Yeswhatnails
4. Girl Power Nails
Your nails play an important role in your appearance and are a way to express who you are and what you love. Girl Power nails are an opportunity to celebrate what it means to be a woman. It encourages women's empowerment, independence, and self-confidence and makes an important statement. The fantastic thing about this piece of art is that it can be simple, with two different colors and minimal detailing, or you can add rhinestones, glitter, or fun stickers. This slogan celebrates unity and shows the support of women all over the world, so girl!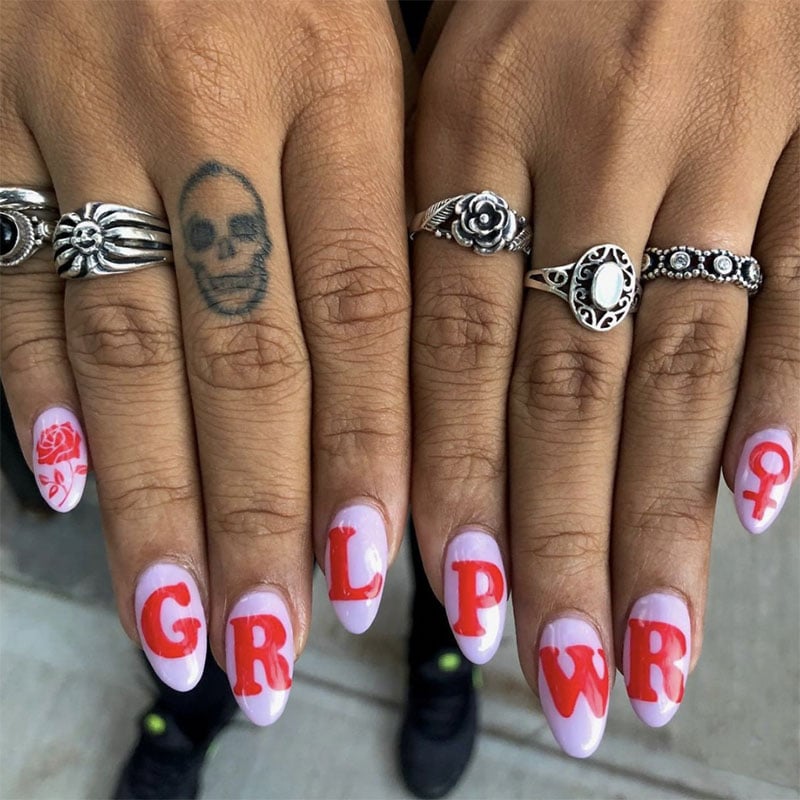 Instagram @Ajackdannie
5. Unique French Manicure
White tips define a classic French manicure; If you are a woman who loves color and wants something more modern, let me introduce you to a unique French manicure. This look is a fun way to play with different colors and is especially effective when paired with a sheer or nude base coat; this allows the flowers to appear. It is easy to wear and relatively easy to create and personalize. Play with different colors to find the right combination. Put on your favorite rings and draw attention to your hands for an eye-catching look.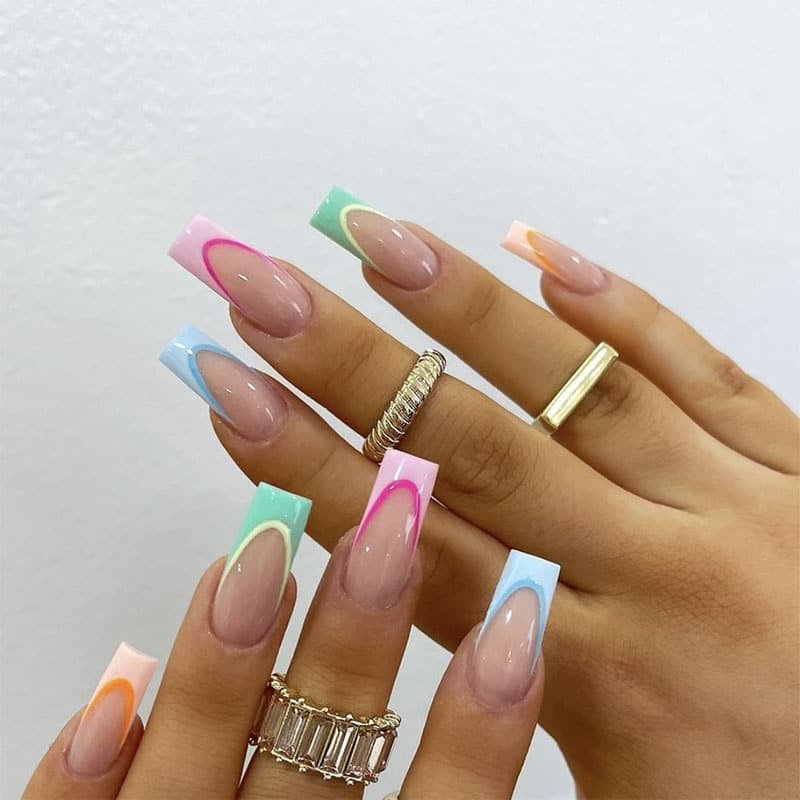 Instagram @Beautystudio
6. Stripes
One of the most classic patterns is stripes. They are the basis of style for fashion and also make fantastic nail designs. Choosing stripes is a fun yet subtle way to experiment with different colors. Depending on the desired result, you can choose several shades for one nail or limit yourself to two or three. These can be complementary colors or contrasting hues to create a dramatic effect. It's incredible how something so light can be so dramatic, so pick your favorite shades and create this manicure for yourself.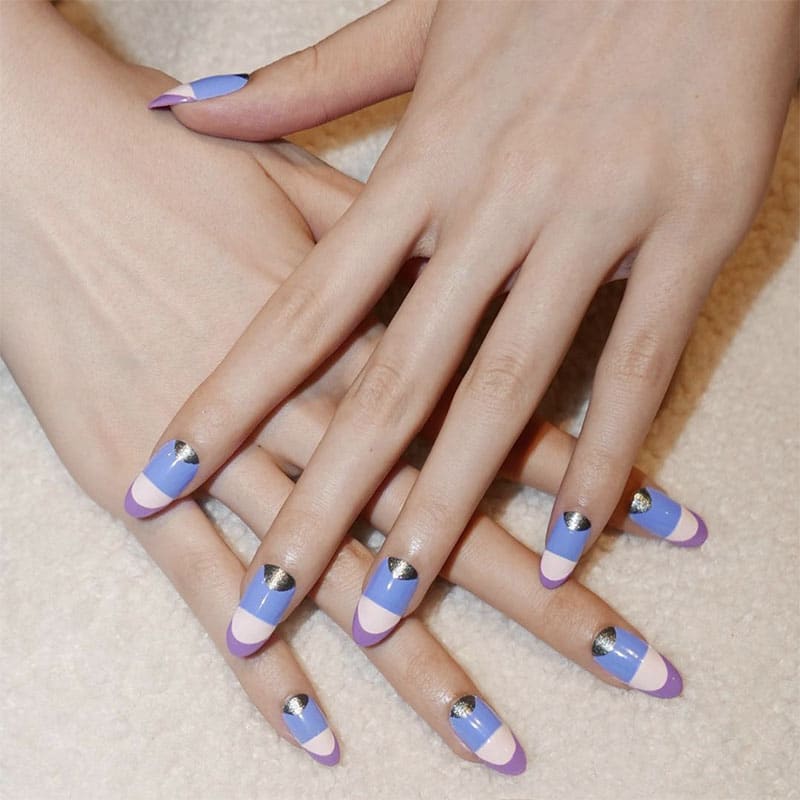 Instagram @Aliciatnails
7. Silver Feature Nails
For a stylish and slightly futuristic look, silver nails are great. Deciding to highlight one or two nails with bold or shimmery hues will make them stand out. Maybe you want to draw attention to your engagement ring? Or perhaps you want a simple yet fun manicure that is easy to wear. Silver is a color associated with glamor and sophistication, but it has an ultra-modern and robotic look, giving your nails a very edgy look. Because of its simplicity, this look works best with longer nails to accentuate the acrylic. However, nothing stops you from trying it with shorter nails too.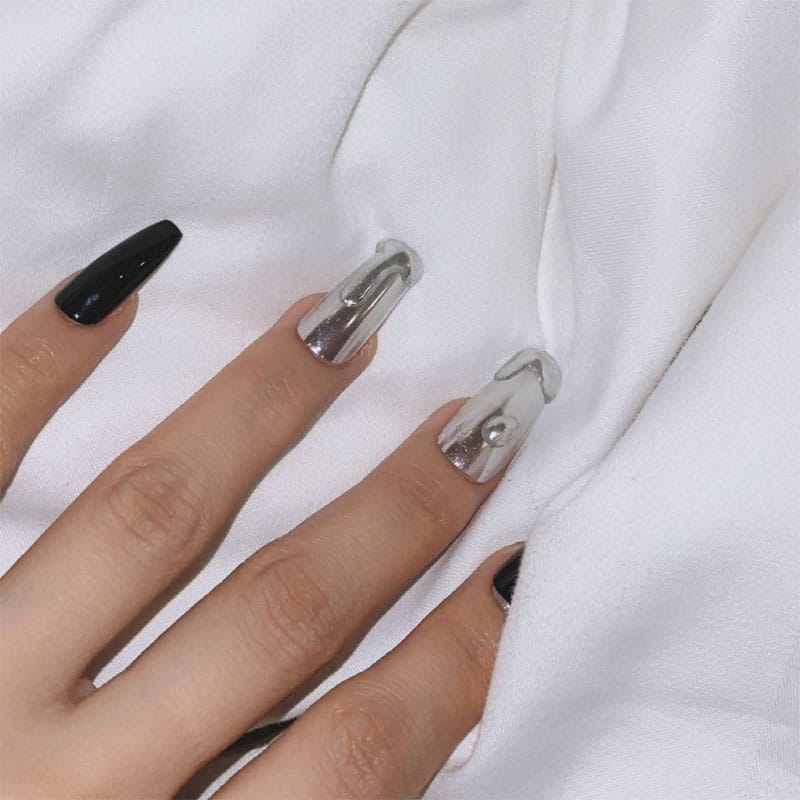 Instagram @nail_unistella
8. Kidcore Nail Art
What better way to channel your inner child than with baby nail art? The great thing about this piece of art is that it draws on your playful side. If you want bold and bright nails and something that will put a smile on your face, this one is definitely for you. While it may not be the most practical manicure, and probably not work-appropriate, it is a way to show off a more casual and fun side of your personality. Plus, it's perfect for when you want to make a statement. Enjoy vibrant colors, cute stickers, and all the glitter and gems you can get.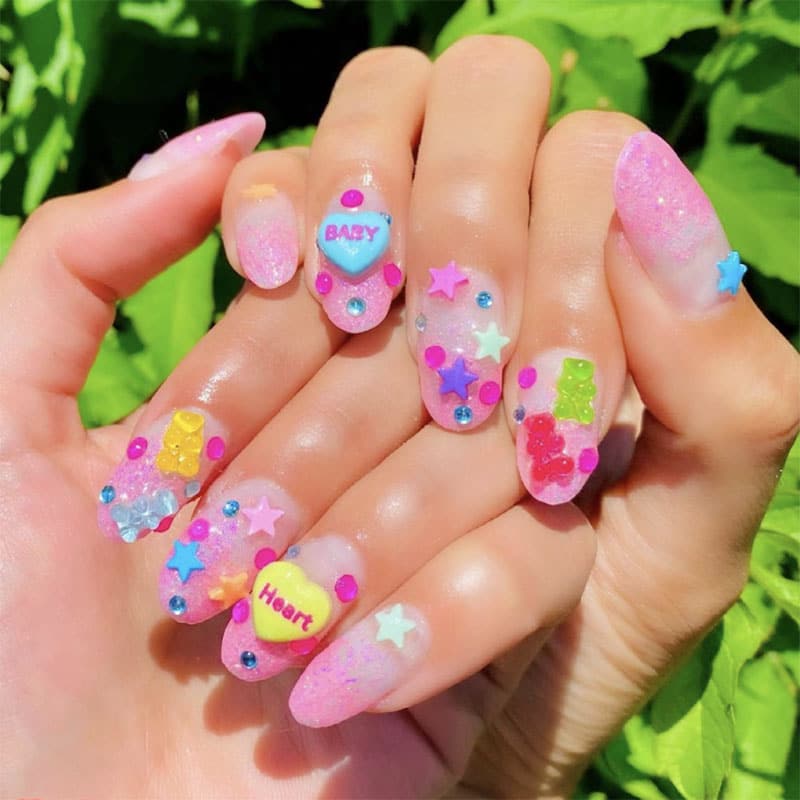 Instagram @Britneytokyo
9. Fluorescent Nail Art
Fluorescent nail art requires attention because the pigments are so bold and vibrant. If you want a manicure that is bold and eye-catching without much effort, then this look is for you. While there are many colors to choose from, one of our favorites, especially during the summer months, is yellow. This is a shade that immediately demands attention because it is one of the brightest colors and evokes joy and optimism.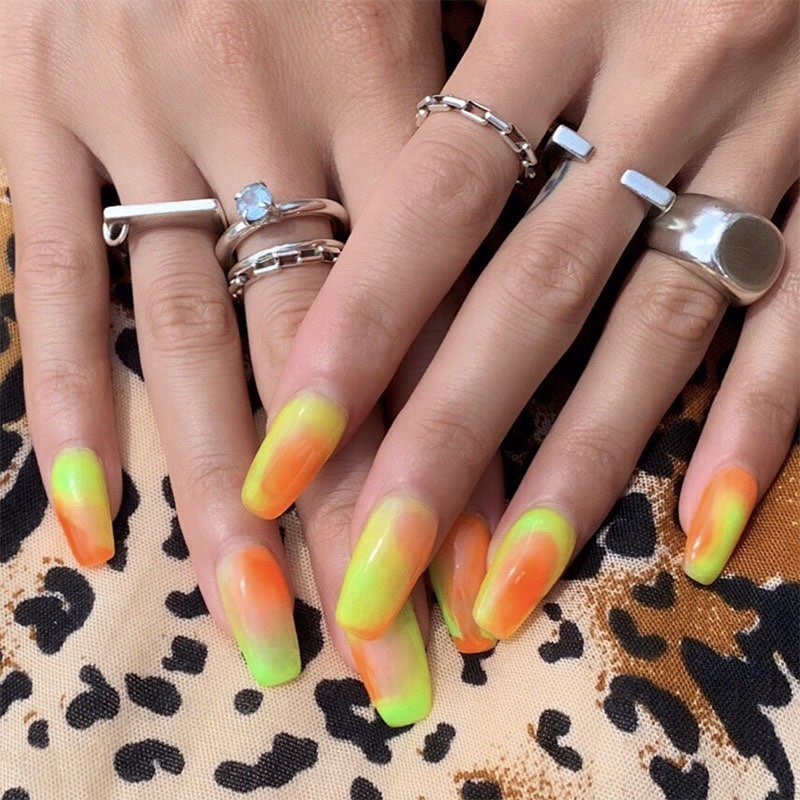 Instagram @Ladyfancynails
10. Watercolor Effect Pastel Nails
Pastel shades are great because they are so dreamy and feminine. They are also incredibly easy to wear due to their softness, but if you want to update this look with something different, pastel watercolor effect nails are one of the best options. This technique mixes colors just like paint on a canvas, creating a beautiful and eye-catching combination. Complete them by wearing a matching outfit in pastel colors, or soften your look with solid neutrals.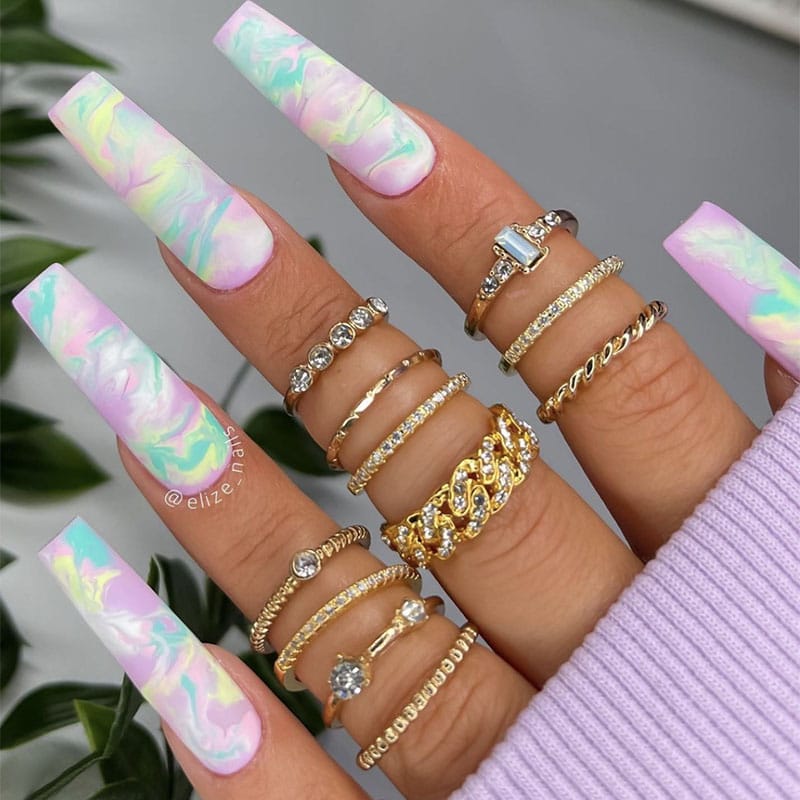 Instagram @elize_nails