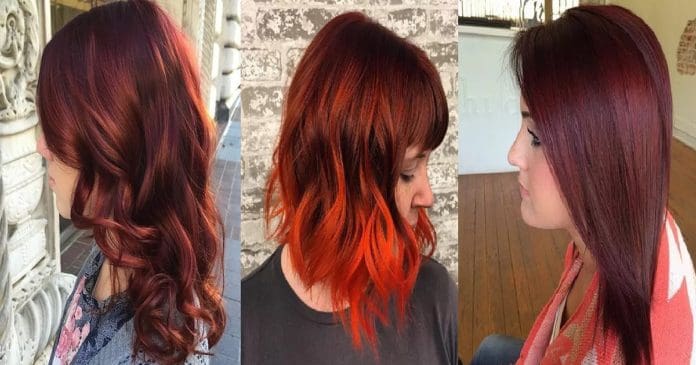 No other hair color is as suitable to rock in autumn as auburn. Whether you want to go for a dark red or just add subtle auburn highlights, this is the best time to do it. Auburn hair color looks amazing with black coats, it peeks nicely out of a hat and it makes any turtleneck sweater look ten times better. If you're on the hunt for color ideas, you might want to consult a color chart as well as see the colors on pictures. The images below will give you this chance. Taking into consideration your complexion and natural hair color, as well as your preferences, let a hairstylist help you to achieve the hottest hair color this season.
Auburn Hair Color Inspiration
Today the hair dye market is so rich in the variety of hues it offers, that you'll be surprised to see how many fantastic reds can be found out there. Depending on your skin tone, you can choose a cooler or a warmer red, go for a lighter or a darker shade, throw in babylights in the mixture or play with balayage highlights and lowlights. The following auburns and browns with a reddish tint are amazing!
#1: Lovely Copper Balayage
Source
If you have naturally wavy hair and you're looking for a modern take on the auburn hair color, this well-blended balayage is the perfect choice. Go with a medium brown for the roots and a beautiful auburn, as the main color, gaining its intensity towards the ends.
#2: Honey Blonde Balayage
The key to believable auburn hair color is highlights of similar hues. Honey blonde will warm dark hair and blend harmoniously with auburn streaks. With balayage thick hair looks less heavy, and fine locks appear more dimensional.
Source
#3: Cool Auburn Curls
Some believe that red hair has to be extremely warm and wouldn't look good on certain complexions, but that's not always the case. A cool-toned color can be achieved with a purplish brown color as the base and auburn as balayage highlights. It may be hard to do this on your own, so unless you are a professional, it's best to make a salon appointment.
Source
#4: Caramel and Auburn Lowlights
As an alternative to a common auburn hair color, you can try inserting chunky caramel highlights against a contrasting dark brown with a plum red undertone. This works perfectly with brown eyes and medium skin tones, adding warmth and a touch of sophistication to the overall look.
Source
#5: Auburn Hair with Apricot Streaks
A more relaxed version of the classic auburn hair is the delicate cool-toned auburn with babylights. It goes without saying – this works best on long slightly wavy hair. The final result is an effortless look that brings out green eyes perfectly.
Source