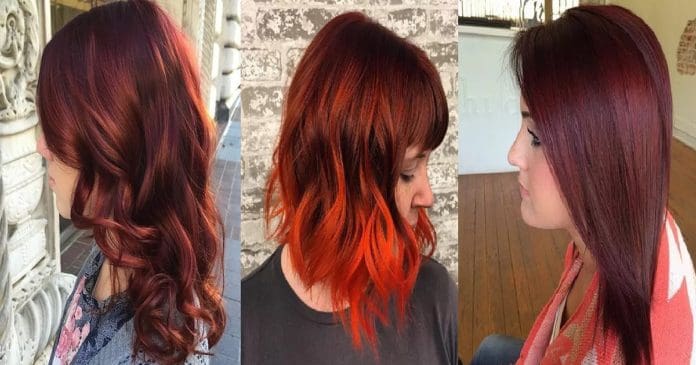 Auburn is the best hair color to wear in autumn. This is the perfect time to experiment with auburn highlights or a darker red. The Auburn hair color is great with black coats. It peeks out from a hat, and makes any turtleneck sweater look ten-times better. You might also want to consult a colour chart and see pictures of the colors if you are looking for inspiration. These images will help you to do this. Let a hairstylist assist you in achieving the best hair color for this season by taking into account your skin tone and natural hair color.
Inspiration Auburn Hair Colors
The hair dye market today is so diverse in its range of colors that it's hard to believe how many amazing reds you can find. You can choose a cooler, warmer, or darker red depending on your skin tone. You can also add babylights to the mix or use balayage highlights or lowlights. These auburns and browns have a reddish hue are stunning!
#1: Lovely Copper Bathalayage
This well-blended blend balayage is perfect for those with naturally wavy hair. You can choose a medium brown color for your roots and an auburn as your main color. The intensity will increase towards the ends.
#2: Honey Blonde Balayage
Highlights of similar colors are the key to convincing auburn hair color. Honey blonde will complement auburn streaks and warmen dark hair. Balayage makes thick hair look lighter and more dimensional.
#3: Cool Auburn Curls
Red hair is often thought to be too warm for certain skin types. However, this is not always true. You can achieve a cool-toned look by using a dark brown color as your base and auburn as the balayage highlights. This can be difficult to do on your own so it is best to book a salon appointment.
#4 Caramel and Auburn Lowlights
You can also try chunky caramel highlights on top of a dark brown hair color with a plum undertone. This looks great with medium skin tones and brown eyes.
#5 – Auburn Hair with Apricot Streaks
The delicate, cool-toned auburn hair with babylights is a more relaxed version. This works best for long, slightly wavy hair. This creates a natural look that perfectly highlights green eyes.
#6: Deep Chocolate Auburn
The color will take on a more purplish hue the darker it is. This is a great option for women who want a little bit of edge but still work in a conservative environment. It is vibrant enough to make an impact, but not too loud to blend in.
#7: Dark Copper Hair Colour
Not everyone can wear light auburn hair colors. Medium or dark auburn shades will suit you better if your skin isn't very pale. These shades are sure to make heads turn with their bright, shiny colors.
#8 – Seductive Chocolate Hair with Highlights
Natural dark brown hair can be given an auburn hue without the need for babylights. Avoid bright reds and opt for dark caramel highlights. These will complement your natural color without making it too dramatic.
#9 – Dark Reds for Thin Hair
Even if your hair is fine, you can still choose dark auburn hair colors. You'll love the sophisticated copper tones of the dark plum color. This hair color is great for displaying in loose-flowing updos.
#10: Wavy Auburn Lob
If you have a tight schedule, beach waves are the best style to go for. Just braid your hair or put it in a bun at night and then do it again the next morning. You can also show off your warm highlights with a tousled texture.
#11 – Sexy Auburn Ringlets
The long crimson curls will definitely catch the eye. You can avoid a Ronald McDonald moment by balancing your roots with a darker auburn or muted burgundy color. This creates a highlight ombre that really stands out.
#12 – Auburn Hair with a Sideswept Fringe
A full fringe is incredibly seductive. Think Dakota Johnson's shaggy hairstyle in 50 Shades of Grey. The reddish-brown hair is enhanced with fiery cinnamon highlights. If you have a busy schedule, a half-updo is able to take you from day-to-night.
#13 – Sparkling Soft Brown Curls
Warm auburn colors like amber, copper, and caramel can look great on pale skin tones. This color will look great with a shorter or longer haircut. You'll be able to frame your face with soft, bouncy curls. You don't have to do any highlights. A gloss treatment will keep your hair shiny and healthy for many months.
#14: Vibrant Auburn Mane
Auburn hair with highlights, dark brown hair with auburn highlights. These variations can vary depending upon your preference and your face shape. If your hair is thick it may be difficult to wear a dark cut that doesn't look too stiff. For a more lively look, add subtle layers to frame your face and balayage highlights to give it some shine.
#15: Medium Auburn Waves
High shine waves don't require long hair. A medium-choppy haircut will look amazing with a bold color and texture. This is especially great for women who have fine or thin hair and need more body.
#16: Auburn & Blue Contrast
This unusual combination will make you break all the rules. For the roots, choose dark auburn hair and add some electric blue highlights to the ends.
#17 – Auburn to Orange Fade
Orange-red hair doesn't require layers for bounce and movement. Waves will enhance the color and add volume to your hair. You can make your hair look even more dramatic by choosing a darker shade of red for the roots, and then having it faded to the copper color of your choice.
#18: Merlot Tips
When you want to give your locks more volume and vibrancy, two-tone coloring or mixing different shades is a good idea. What goes well with chocolate? Merlot in a glass! If we're talking about hair, Merlot-dyed tips please excuse us.
#19: Glossy Medium Auburn
Long hairstyles with Auburn red hair look great. You can go with a more solid color if you have thicker hair, but highlights are recommended for finer hair.
#20: Blunt Burgundy Bob
The year of the short hair is 2023. The bob looks great on all hair types and shapes, from chin-length to medium. A vine tint will make your cut stand out.
#21 – Dimensional Auburn Waves
This feminine, soft brownish color is a must-have for ladies this season. It gives you a natural look that is perfect for wild nights out. The idea of looking young, beautiful and fresh 24 hours a day is something that genuine brunettes will love!
#22 – Russet Color Melting hair
Imagine mixing together your favorite shades and creating a stunning combination. You can achieve this stunning auburn color by mixing different colors, like honey, copper and dark chocolate. Tip: Regular hair care is important to keep your hair looking beautiful and healthy.
#23: Vibrant Ombre for Medium Hair
A great shade of brownish-red can make you stand out at parties. You have the perfect time to change your boring hair color and go for fiery reddish highlights. There is no reason to change your hair color. Just get an idea of what shade you would like before coloring it.
#24 – Auburn to Chestnut Layers
It's easy to get a medium auburn color. You'll be aware of how expensive hair care can get if you're involved in hair color schemes. You only need to use a few products to maintain your natural auburn brown hair.
#25 – Textured Copper Lob
Soft reddish brown hair highlights your face and warms your heart. This auburn hair color is reminiscent of Emma Stone's gorgeous redhead looks that we can see in her photos. TIP: To keep the auburn hue in place, use a professional color-depositing hair shampoo. This will help to prolong its life.
#26: Cinnamon Sheen For Medium Hair
Have you ever tried a lighter shade of cinnamon? As the name suggests, this lovely brownish hue is reminiscent the delicate and soft color of aromatic cinnamon. Hack: Warm things up by adding this cinnamon hair color with an inspiring mix of auburn highlights.