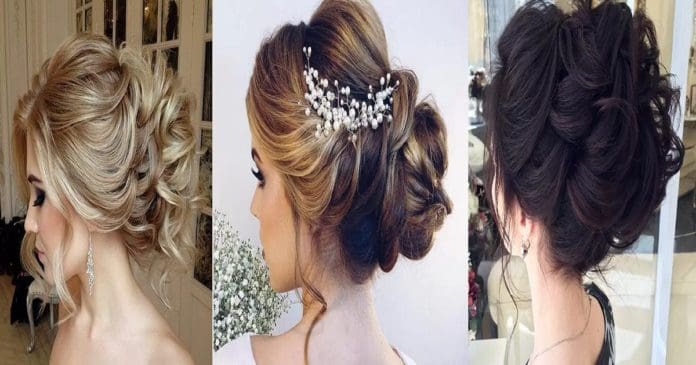 The most popular hairstyle for brides is the wedding updo. It is simple to understand why updos are so popular. They not only make a beautiful bridal look, but also provide a practical way to do it. A traditional combination of an updo and a long, floor-length gown is a classic look that highlights the beauty and elegance of the bride's image and silhouette.
For long and medium hair, try these wedding updos
After reading our reviews of the best bridal updos, it will be easy to decide what style you want for your big day. Here are some examples of the most elegant updos for medium and long hair. Please enjoy our gallery, dear brides-to be, and get inspired!
#1: Wonderful Wild Waves
You must consider how your wedding will look together when planning. For a more casual look, loose curls and drop earrings are best paired with strappy dresses or necklines. You can go smoky with your eye makeup if you are looking for something more glamorous.
#2: Pretty in Pearls
Because pearls add texture and shine to the hair, they are a beautiful addition to bridal hairstyles. The color is also compatible with your white wedding gown. The milky gem can be worn with any style, no matter how loose or chic, and will go well with any hair color.
#3: Gorgeous Blonde
It can be difficult to get a polished look for a wedding with short hair without extensions. It really all comes down to your expectations. Although you may not want a long, messy ponytail or a big bun, you can still have a style that suits you well. Don't overdo it with accessories.
#4: Dressed Down Drama
You don't need to make your bridal hair look slick and polished. If you are more bohemian or free-spirited, your best bet is to keep your traditional preferences for your wedding day.
#5: Sweet Beehive
This updo is a more elegant choice for brides hosting lavish black tie ceremonies and receptions, as it's a different style to the one before. A few delicate face-framing pieces can balance out a sleek, voluminous look.
#6: Woven updo with Tendrils
You can see how thick her hair looks with this style. It has a beautiful look thanks to the different parts weaving in and out of the mass hair. Your stylist can adjust your hairstyle to suit finer hair.
#7: Wavy low bun with hair accessory
Many people think of wedding updos as having very tight and sleek hairstyles. Bridal hair can look even more beautiful with a looser finish. This is the only thing that prevents these waves from falling down. It is a romantic touch.
#8: Wedding Low Bun
The large, looped bun looks elegant and casual all at once. The messy bun's loops and imperfect side twists look great together. Even if you have medium hair, they will give you a more voluminous look.
#9: Embellished Caramel Blonde Chignon
You don't have to limit your choice of wedding veil to just one option. There are so many options. You should test any clip that you like and matches the style you have chosen.
#10: Soft Wedding Updo With Headband
Although elegant updos can be simple and beautiful, they can become something extraordinary with the right embellishment. This cute headband looks great with her elegant wedding hair. It could also be made by yourself.
#11: White Blonde Twisted Hairdo
Twists, no matter how small or large, add the perfect amount of style to any updo. For visual interest and variety in your hairstyle, you can combine twists with a low pony or a braid. You can choose to have it contrasting with your hair or the same color for a soft, delicate look.
#12: Large Curly Bun With Beaded Clip
The stunning updo looks effortless. It's almost as if the Hair Fairy has done it herself with her magic wand. These effortless hairstyles require professional expertise, but you are free to try it yourself if you're considering other options for wedding hair.
#13: Curly Bridal Bun With Veil
A bun is a timeless style for wedding hair. Low bridal buns look more traditional. However, you can still pin a veil underneath your bun if you lift it from the crown to the nape. To balance the draped, tulle-covered hair, leave a few layers of your front hair unpinned.
#14: Swirled Wedding Updo With Embellishment
This hairstyle is so beautiful! The hairdresser has not pulled the bun too tight. Instead, she has relaxed the twist slightly to show you how the hair curls around itself.
#15: French Twist Updo With Baby's Breath
Flowers don't have to be for your bouquet. Flowers can be used for your hair, too. While crowns are popular for brides, you can also use other delicate options. The French twist she used was complemented by a little bit of baby's hair. This gave her a stunning look at the base of the classic updo.
#16: Sleek Bridal Style with Floral Barrette
It is important for brides to find wedding hairstyles that are not dated. Because they are timeless, chignons updos are the most popular elegant hairstyle. A sleek chignon with a bouffant, well-placed clips and a sleek chignon will still be attractive 20 years from now.
#17: Curly Updo and a Bouffant
Instagram is filled with amazing bun ups. This style is made with wavy hair and features a twist wrap and a pearl hairpiece. If you have a long, low-cut style, a bouffant can help balance the style.
#18: Formal Curly Updo With Bangs
Corkscrew curls are a great way to style your hair. To achieve a bold Mohawk, pin the sides of your hair up. This will show off your jawline and killer cheekbones.
#19: Voluminous Side Wedding Updo
It can be difficult to decide between a bridal updo or a style with your hair down when it comes to styling your hair for the big day. This asymmetrical, loose-fitting updo is great for indecisive women. Your shoulders are shown by the hair pulled up and down.
#20: Unone Low Bun with Floral Headband
Flowers are one of the most romantic things so they look great in bridal hair. It doesn't matter if they are fake or real blooms. It doesn't matter if they are real or fake, the important thing is that they match the rest of your style. The soft, low bun with the floral headband is just as beautiful as the bun.
#21: Voluminous Bridal hairstyle
A hairstyle like this doesn't require any pins or clips. Although it looks complicated, it's really just one large braid with the ends tucked into. The softness of the back is enhanced by the loose tendrils at the sides.
#22: Embellished Twisted Bun For Brides
Many brides believe that elegant updos are important for weddings. Although you can make a messy, intricate or even messy back bun, the front and top of your hair should look perfect. Bridal hair is elegant with flowers added to it.
#23: High Updo and Jeweled Headband
Many brides feel like princesses when they get married. A floral headband can be worn as a crown, but a traditional tiara may seem too boring. You can make the accessory the focal point of your hair by putting it up in a soft bun.
#24: Bridal Chignon With Headband and Veil
It's possible to wear a long veil, a headband, and earrings without worrying about adding too much accessories. It's important to keep your accessories simple and not compete for attention.
#25: Vintage Asymmetrical Wedding
Long hairstyles are versatile for weddings. Pin your hair in a cascade curling to one side, reminiscent of past decades. Modernity is maintained by the asymmetrical arrangement. Add a hair jewel to complete the look. A contrast clip is a good choice if you are a brunette.
#26: The Princess Bride
You can jazz up medium-length hairstyles in many ways, but curls and a delicate accessory are the best. The perfect accent for short and flat updos for wedding is this thin pearl tiara. It adds sparkle but doesn't overpower the style.