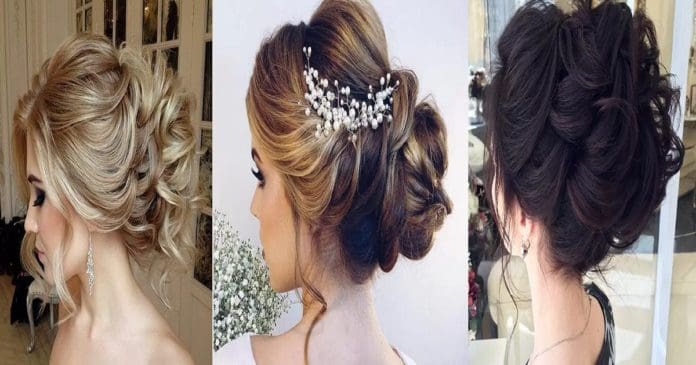 Wedding updos have been the top hairstyle picks among brides of all ages worldwide. This phenomenon is easy to explain: updos are not only practical, but they do complete a delicate bridal look better than any other hairstyle type. An updo and a floor-length bridal gown are a traditional duo that brings out the grace and delicacy of the bride's silhouette and image in whole.
Wedding Updos for Long and Medium Hair
Having looked through our review of the most elegant bridal updos, you will easily make up your mind about the hairstyle you want to wear on your wedding day. We'll show you the examples of the best updos for long and medium hair. Dear brides-to-be, please, enjoy our gallery and get inspired!
#1: Wonderful Wild Waves
Source
When thinking about your wedding look, you must take into account how everything will look together. Strapless dresses or detailed necklines pair best with loose curly updos and drop earrings. If you want something a little more glamorous, try a smoky eye makeup.
#2: Pretty in Pearls
Pearls are a pretty addition to bridal hairstyles because they add shine and texture without overwhelming the look. Plus, the color will match well with your white gown. Whether you want loose and flowy hair or a sleek and chic updo, the milky gem will work with all looks and all hair colors, too.
Source
#3: Gorgeous Blonde
For short hair, it can be hard to achieve polished updos for wedding without adding extensions. But, it really comes down to expectations. You may not have a huge bun or long ponytail, but you can have a sweet and chic style that will suit you perfectly. Just don't overwhelm it with extra accessories.
Source
#4: Dressed-Down Drama
Bridal hair doesn't have to be overdone and super polished. If your fashion sense tends to lean more towards bohemian and free-spirited styles, it's best to stick to your tried and true preferences on your special day.
Source
#5: Sweet Beehive
In contrast to the previous hairdo, this slick updo is more appropriate for elegant brides who are hosting a lavish black tie ceremony and reception. Balance out such a sleek and voluminous look with a few wispy face-framing pieces.
Source