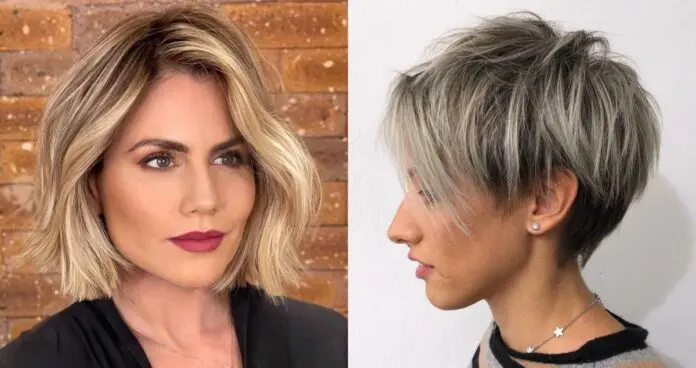 A chin length bob is a bob haircut that ends near the chin and mid-neck. Chin-length bobs are also known as a medium bob hairstyle. This bob length works with almost all face shapes, but it flatters narrow faces the most. If you're looking to widen the appearance of your jaw-line, this bob cut is ideal for you!
Chin-length bob hair is suitable for women of all ages. Hairstyles in this length complement all face shapes and hair textures. If you're a fan of short hair or thinking about going shorter for the first time, we've compiled a list of 26 Best Chin-Length Bob Hairstyles that are sure to encourage you to make your next appointment.
Some people may find this length of bob hard to come up with diverse styling options and get stuck in the trap of "it's too short, I can't do anything but just leave it straight." Not the case! Take a look at these styles for a little inspiration.
Effortless Chin-Length Wavy Bob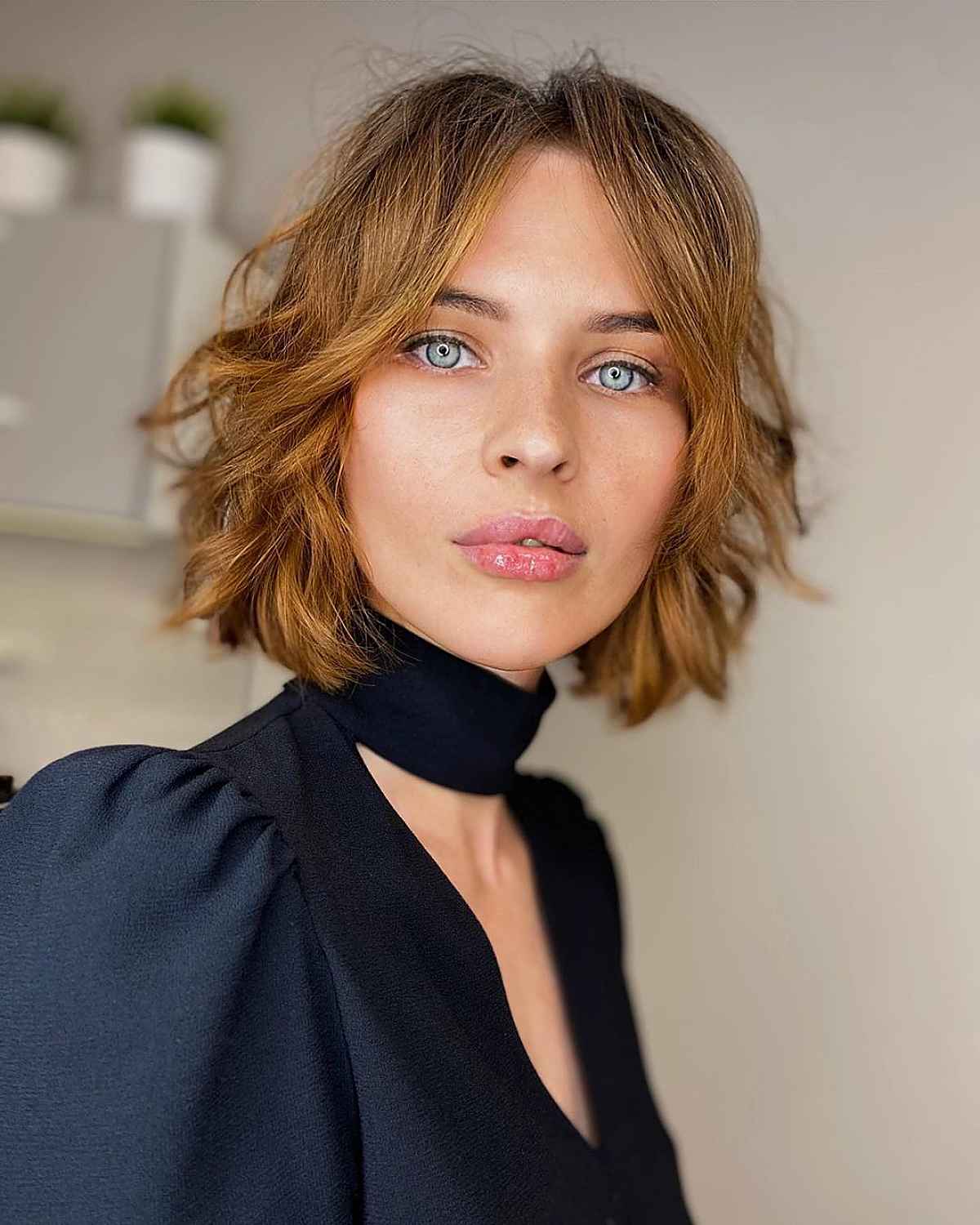 Instagram @lak_salon
The best way to describe this look is effortless chic. My favorite thing about it is how striking chin-length blunt bobs look.
For women without a natural wave, it's easy to throw some curls in and shake the hair out for an easy, messy look. Try R+Co Trophy because it is both a shine and texture spray, almost like a spray wax. Use it to shake the curls up and give the hair some body. It also smells unreal!
The entire look straight is also very doable, and that's where the striking "chic" look comes in. It's got a more fashion-forward look to it and, when cut totally even and blunt, is extremely beautiful.
Pink and Red Chin-Length Blunt Bob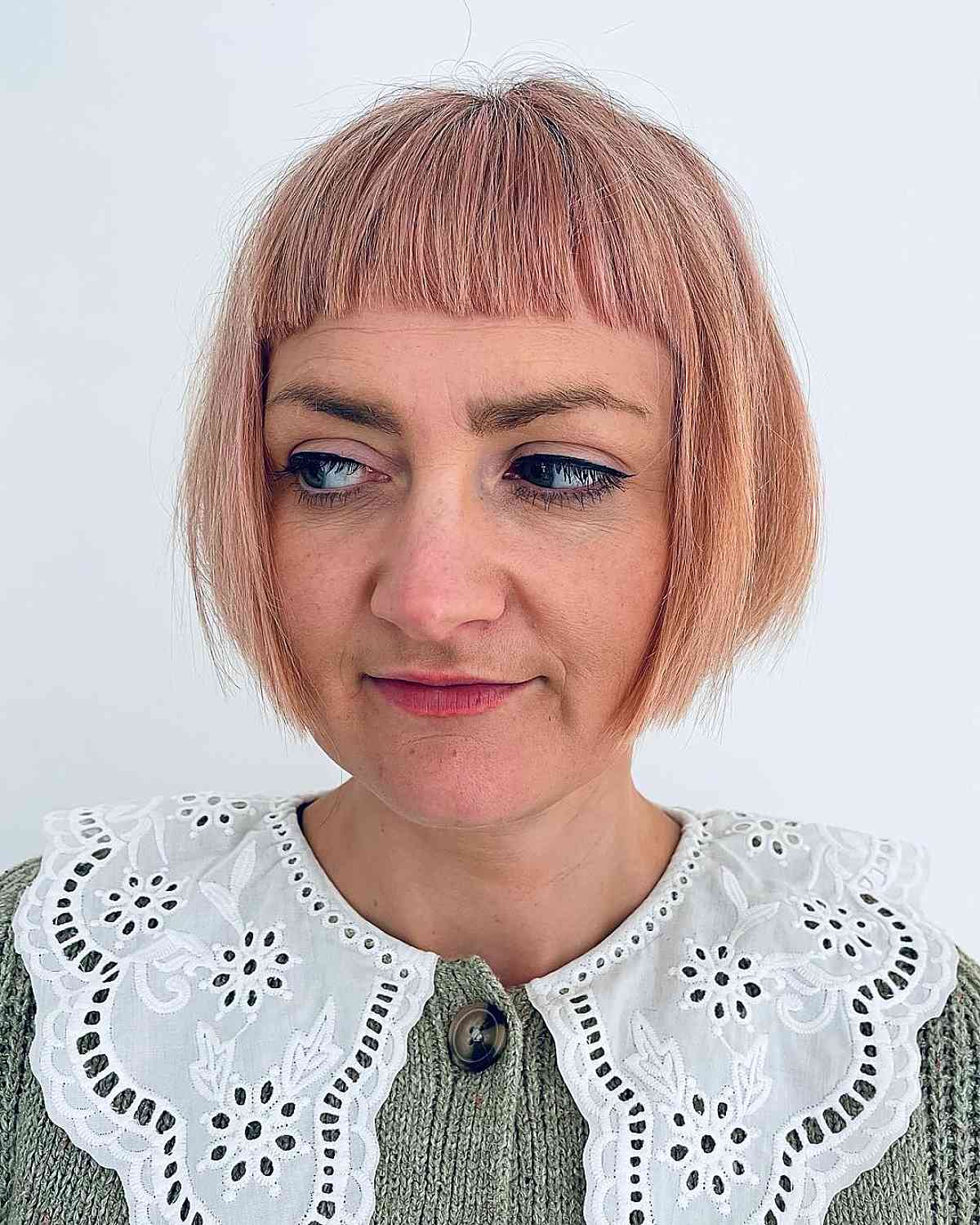 Instagram @kelly.numberthree
Consider a chin-length blunt bob with lots of texture and blunt bangs. Ask your stylist to bleach it out and give it some rose and peach hues to create this pink color. Although this length is very flattering on most, it is still something to keep in mind.
Timeliness, Lived-in Chin Length Bob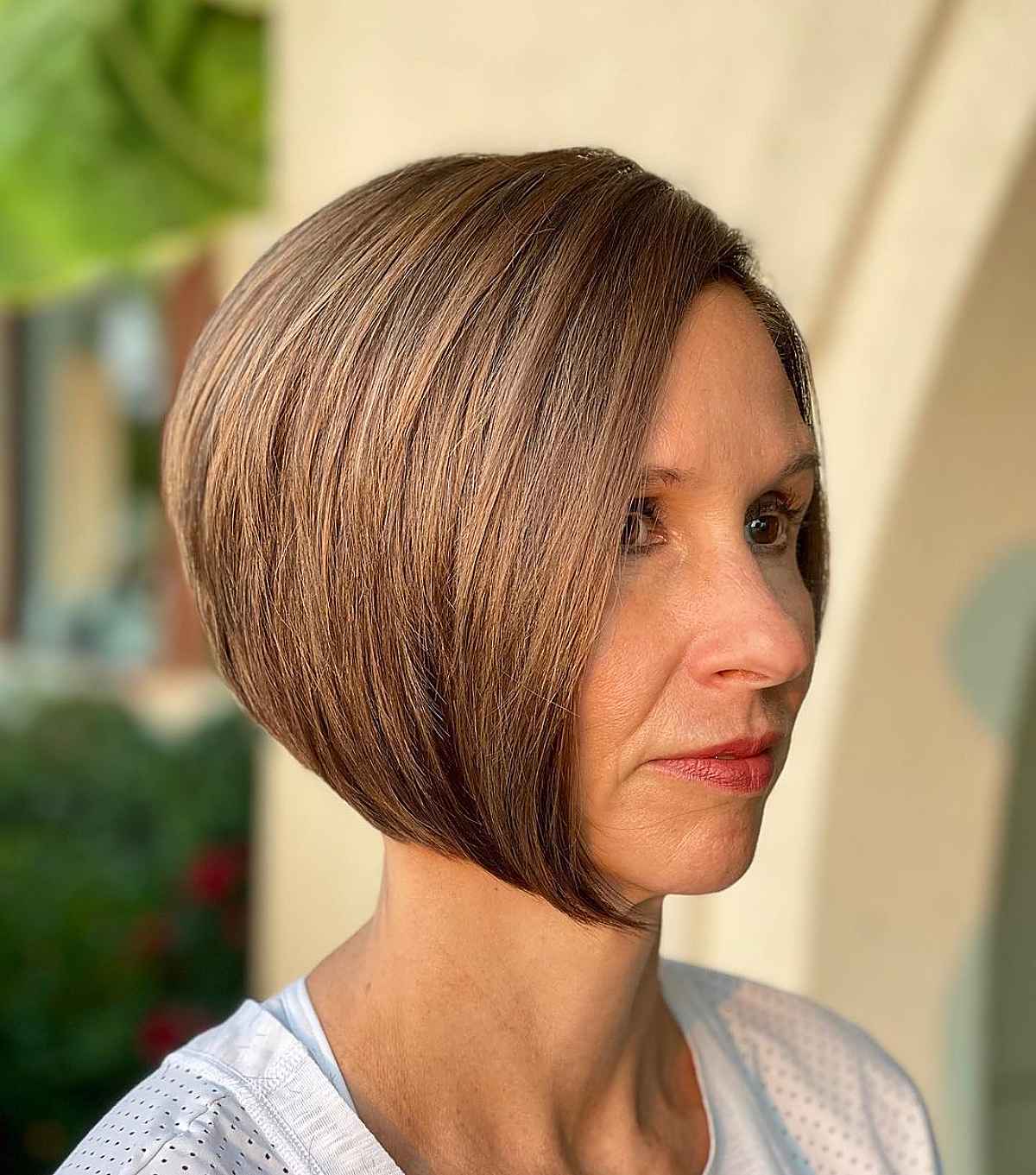 Instagram @hairbyjanetbiggers
This haircut is versatile and timeless. It can be worn sleek and modern like shown above, or tousled and texturized for a more lived-in look.
This style is something that any hair type or personality can enjoy. Whether you want something sassy and fun or polished and professional, this shape is easy to maintain for any lifestyle.
The best tip for anyone considering this shape or who already has it is to have fun with it! Hair is an accessory and should express to the world who you are.
The best way to recreate this style at home would be to start with a pre-dry after applying the product, then using a flat wrap technique (which is moving the hair around the head in both directions) until the hair is about 90% dry. At that point, re-section the hair and style with a flat iron or round brush to create bounce and shine. Otherwise, you can flat wrap the hair until it is completely dry and use your flat iron to create some really fun texture and movement.
Fashion-Forward Chin-Length Bob for Older Women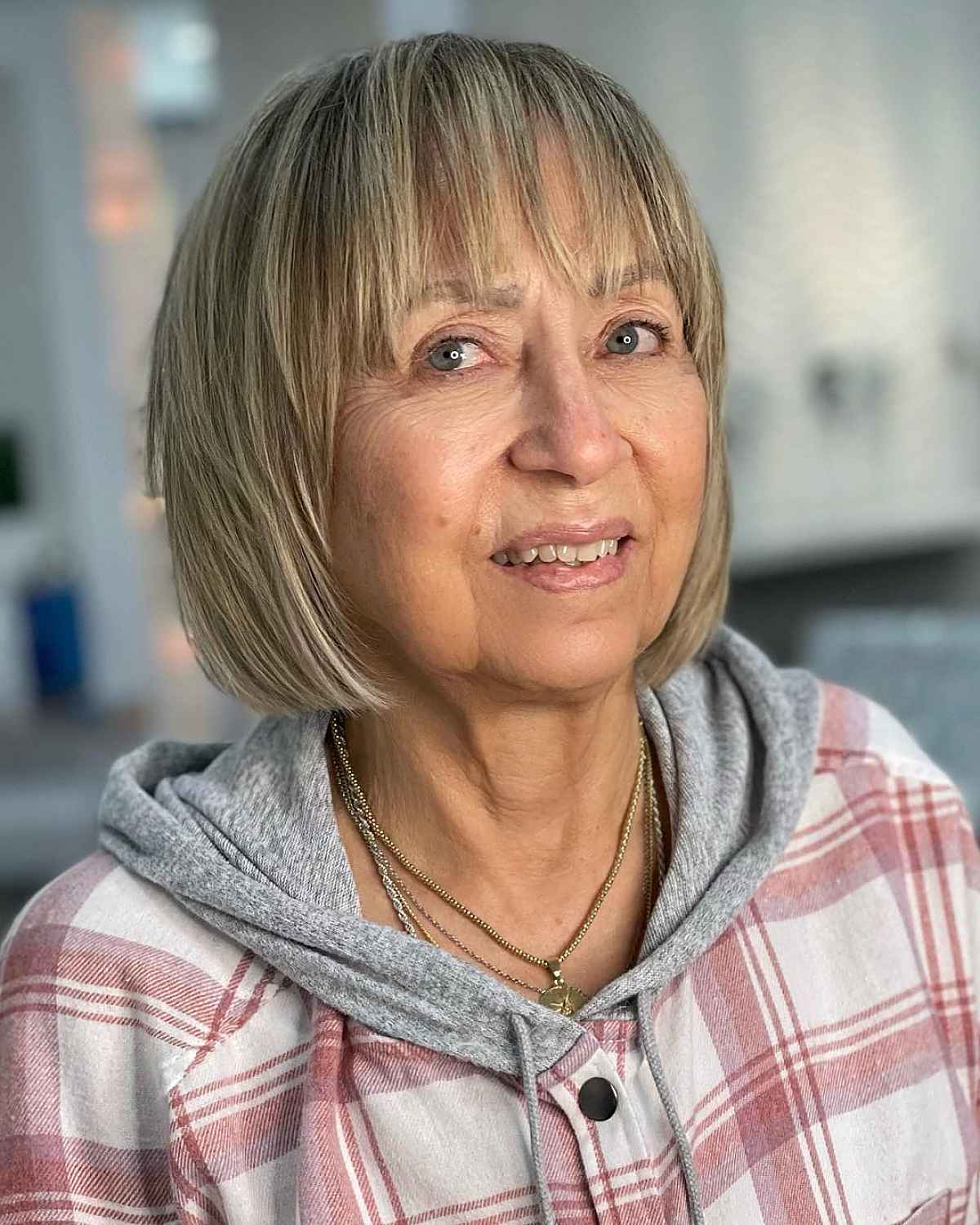 Instagram @midnight_carole
It's a very fashion-forward and chic look. I love how sophisticated and classy it looks.
I definitely recommend a smoothing serum or oil (depending on hair type) and an anti-humidity hairspray for finishing.
Any working woman or even a stay-at-home mom can rock this. An oval face shape looks the best with a bob. If you have a cowlick in the front, I do not recommend going for the full fringe!
Punk Chin-Length Bob Haircut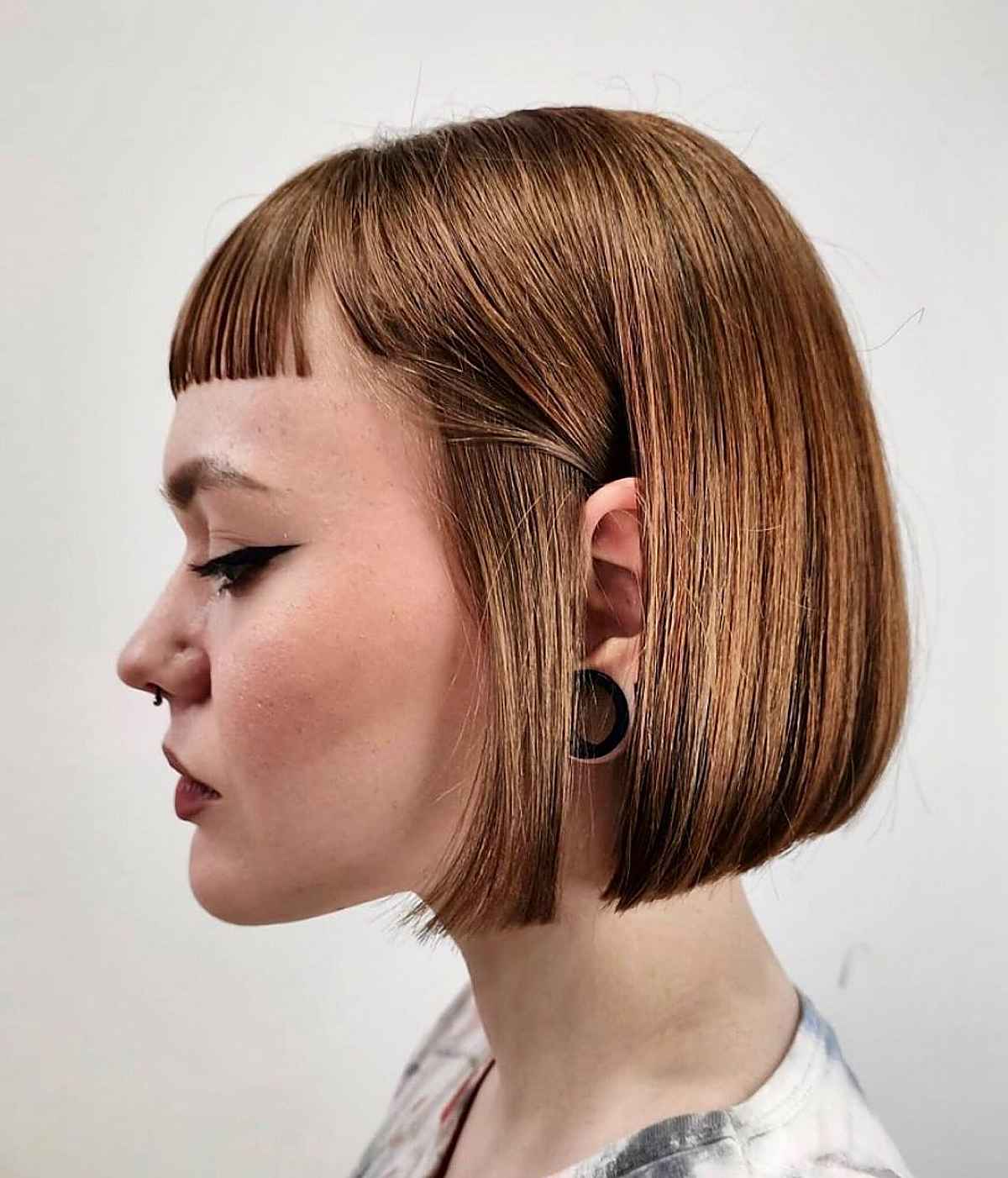 Instagram @style_club_studio54
Opt fo a punk-inspired chin-length bob with micro bangs framing the face.
Adorable Chin Length Asymmetrical Bob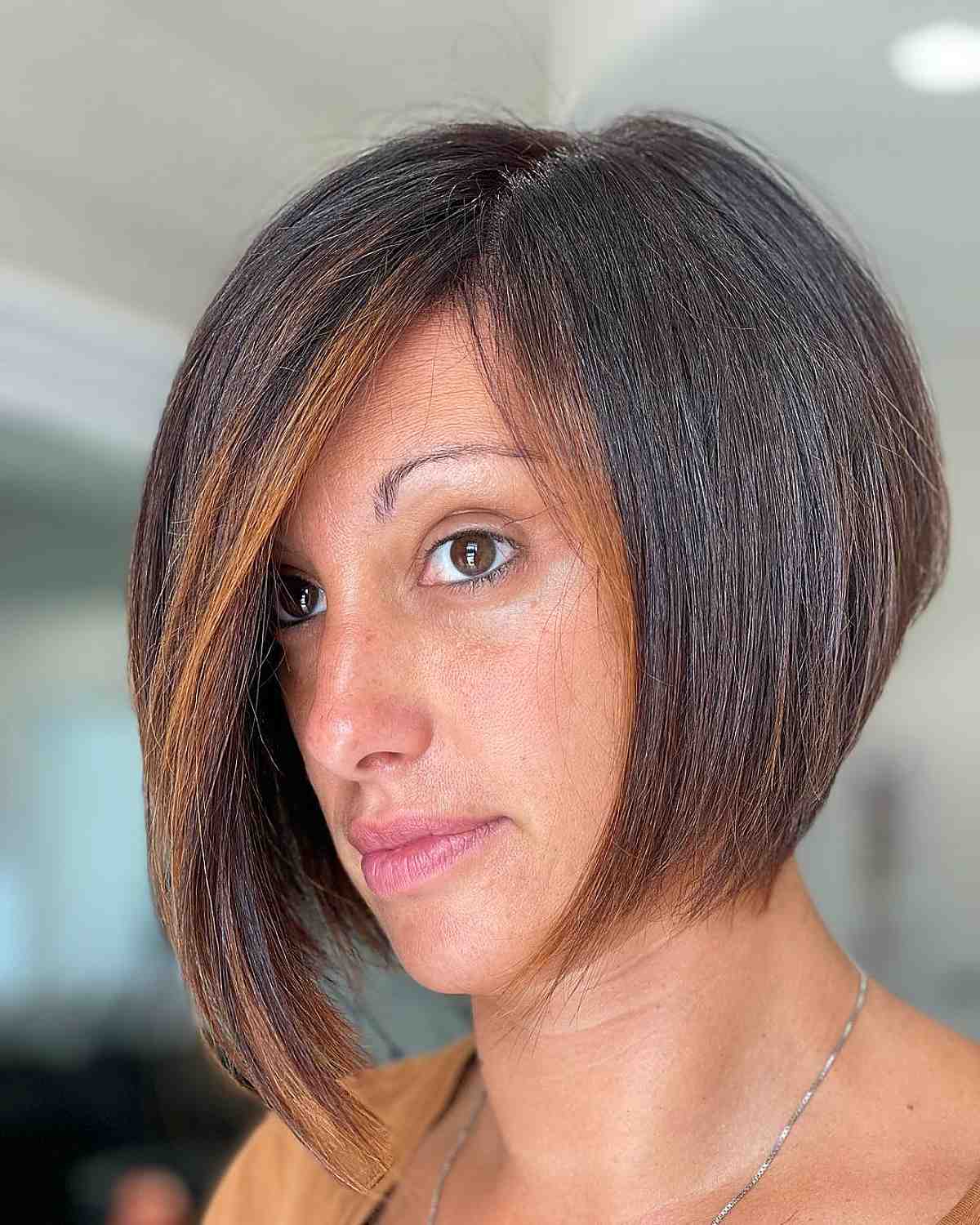 Instagram @evokehairstylingsalon
This is such a fresh cut. It's perfect for who have a coloring history. If you've done much previous coloring and bleaching, it will be great to get rid of those dry ends! I love the asymmetry of it and I feel that that complements the new color perfectly.
The ideal woman for this cut would have straight or wavy hair. This cut is very versatile and can be worn smooth or with beach waves. If you have wavy hair, you could easily blow dry this using a paddle brush and round brush to get a smoother look. If you like the asymmetry, make sure the stylist has at least 3″ of length difference from the left to the right side. Any less and it just looks like a mistake!
Flawless Chin Length A-Line Bob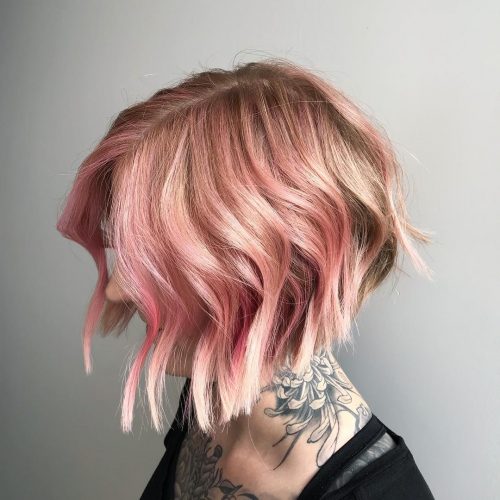 Q&A with style creator, Rebecca Llewellyn
Owner & Master Stylist @ THE HIVE at Citizen Salon Studios in Calgary, AB
How would you describe this look?
This is a modern, fun bob with an interesting twist.
I definitely love the color most. On her highlighted blonde hair, the pink tone adds some personality, but because of the different porosities in her hair, this pink turned out more dimensional than one flat color.
For this client specifically, we wanted a low commitment color, so once this temporary tone fades out, she will be left with her original rooty blonde highlights.
Any advice for someone considering it?
The pink tone is temporary so be ok with the fade, but the modern, clean A-line bob cut will be the star of the show when the color goes away.
For those with thick hair, I would recommend a small undercut in the back to remove a lot of weight and to get a more uniform a-line. This client has that, you just can't see it.
For those with less than thick hair, the undercut isn't as necessary. I love a good strong bob and believe that there's a shape for almost any face shape and hair type.
Fresh Chin Length Choppy Bob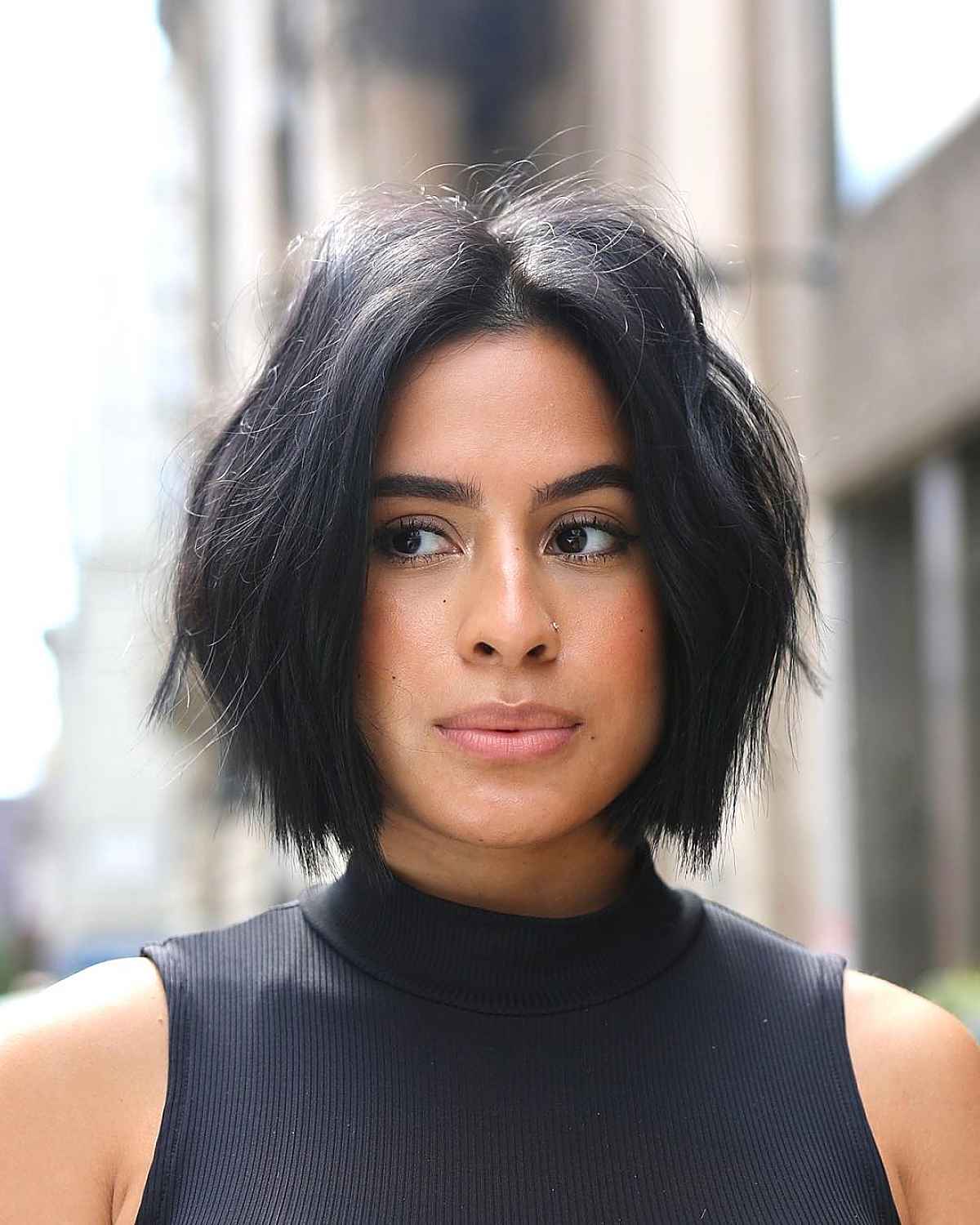 Instagram @hirohair
Everything in this chin-length choppy bob was cut with a razor.
Use a texturizing spray and volumizing powder for any type of short fun hairstyle. The curtain bangs complement the short style. They don't have to be cut on everyone. You can opt for other types of bangs.
New Wave Chin Length Bob with Bangs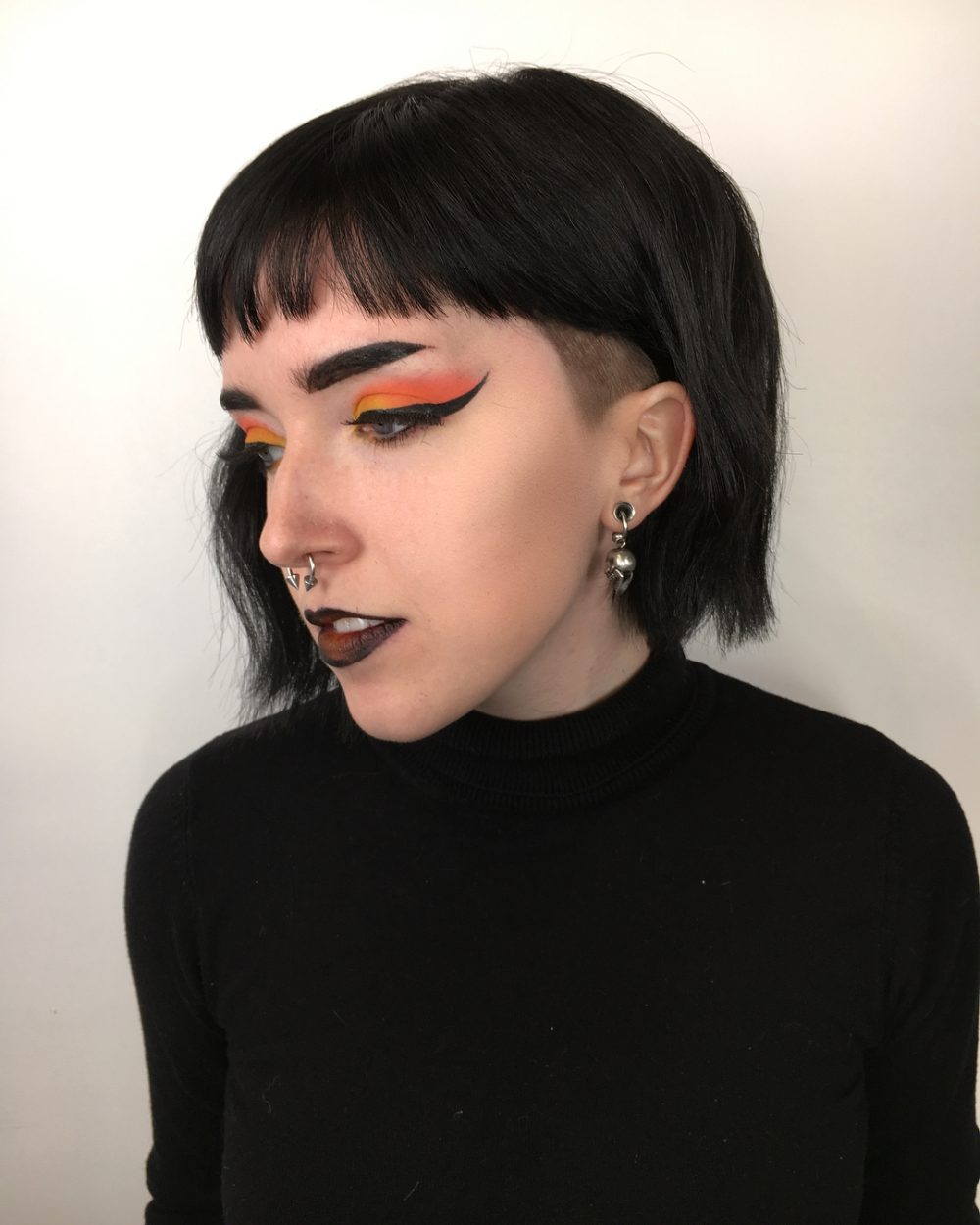 Q&A with style creator, Ashley Wylie
Hairstylist / Barber @ Melrose & Mcqueen Salon in Atlanta, GA
How would you describe this look?
I describe this look as a new wave approach to a blunt cut 60s bob.
I like that the look is somewhat classic, but throws in a modern touch with the bob undercut shaved all the way around. This also takes a lot of weight out of my model's very thick and heavy hair.
Any advice for someone considering it?
The thicker the hair, the better. A lot of my model's thickness was taken out where we shaved it underneath, therefore if a client has thinner hair, it's going to completely take away from the bluntness we achieved with the rest of her cut.
I also look for someone with straighter hair for a cut like this. It's much easier to give straight hair texture than it is to smooth out curlier hair to show the blunt bob line at the chin. Because my model has the straight hair, it's very easy for her to manage this style on her own.
If you've got the straight, thick, almost coarse hair that my model has, I would achieve the style by using a couple of different products. Right now I'm loving EVO hair products all around. I threw in Day of Grace leave-in and also some End Doctor (which is a smoothing sealant) before blow drying. Get the hair dry with a round brush and blow dryer, but only smoothing out the parts of the hair that tend to get fuzzy.
Once it's dry, then you can worry about getting that undone texture with Salty Dog salt spray, also by EVO. Scrunch just a bit into the hair in sections, let dry, then use a flat iron to create a slight bend all over the head by pulling straight down a section of hair with the iron while slightly bending the iron in and out. Rake through the hair with your fingers and you're done!
Playful Yet Professional Bob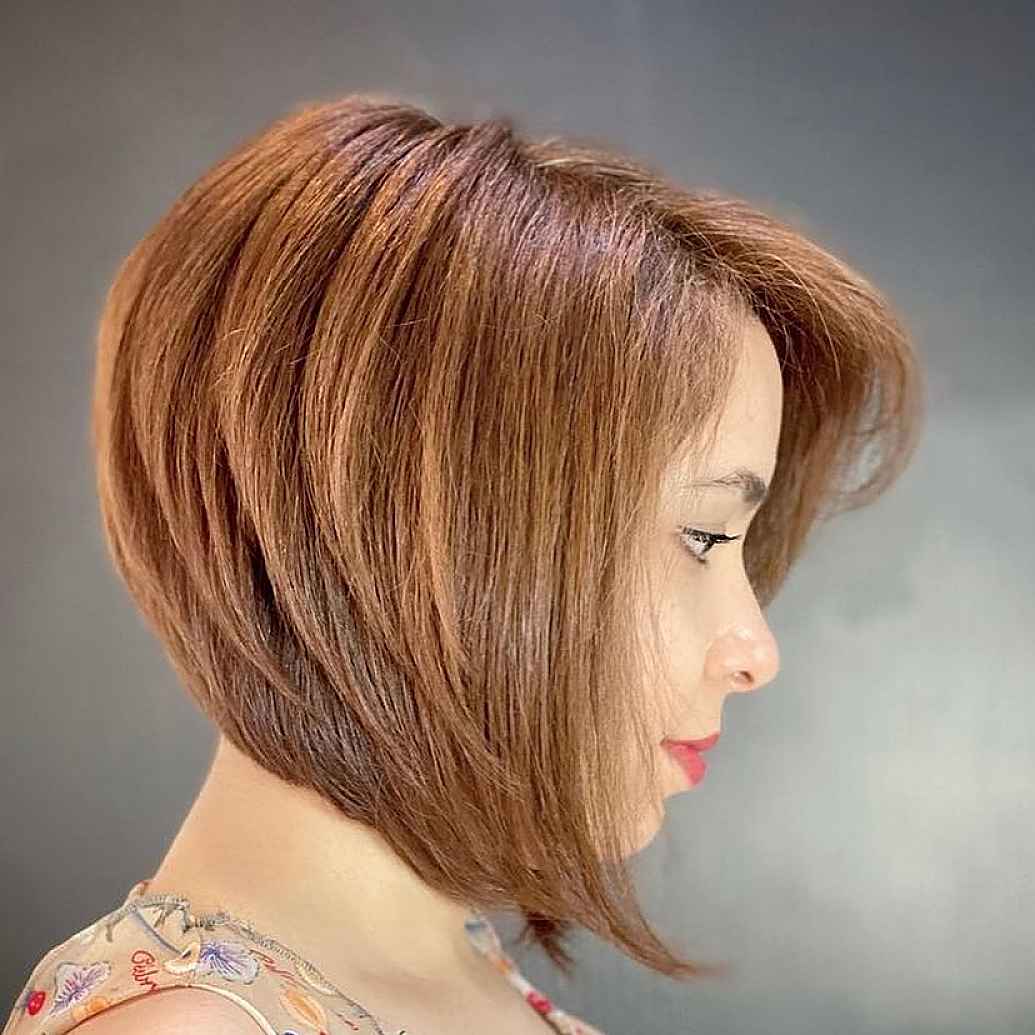 Instagram @alineramos.studiodebeleza
This look encompasses the complexity of all that characterizes a bob. It's precise yet deconstructed, playful yet professional, and classic yet creative.
On this cut, a line was created just below the jawline. This cut exposes the neck, so if you're not fond of your neck, you might want to consider a long bob.
Think about where you part your hair. If your part is versatile, consider having your stylist cut your bob down the middle so you can easily wear the bob three different ways (left part, center part, right part). However, if you have worn your hair parted on the same side for the last several years, make sure your stylist cuts your hair using that part. If not, you will always struggle with a piece hanging on the wrong side that's too long.
Just remember that your bob doesn't have to be totally even on each side to look amazing! Part your hair differently to play with asymmetry and tuck one side back to play with balance and proportion.
Blunt Chin-Length Bob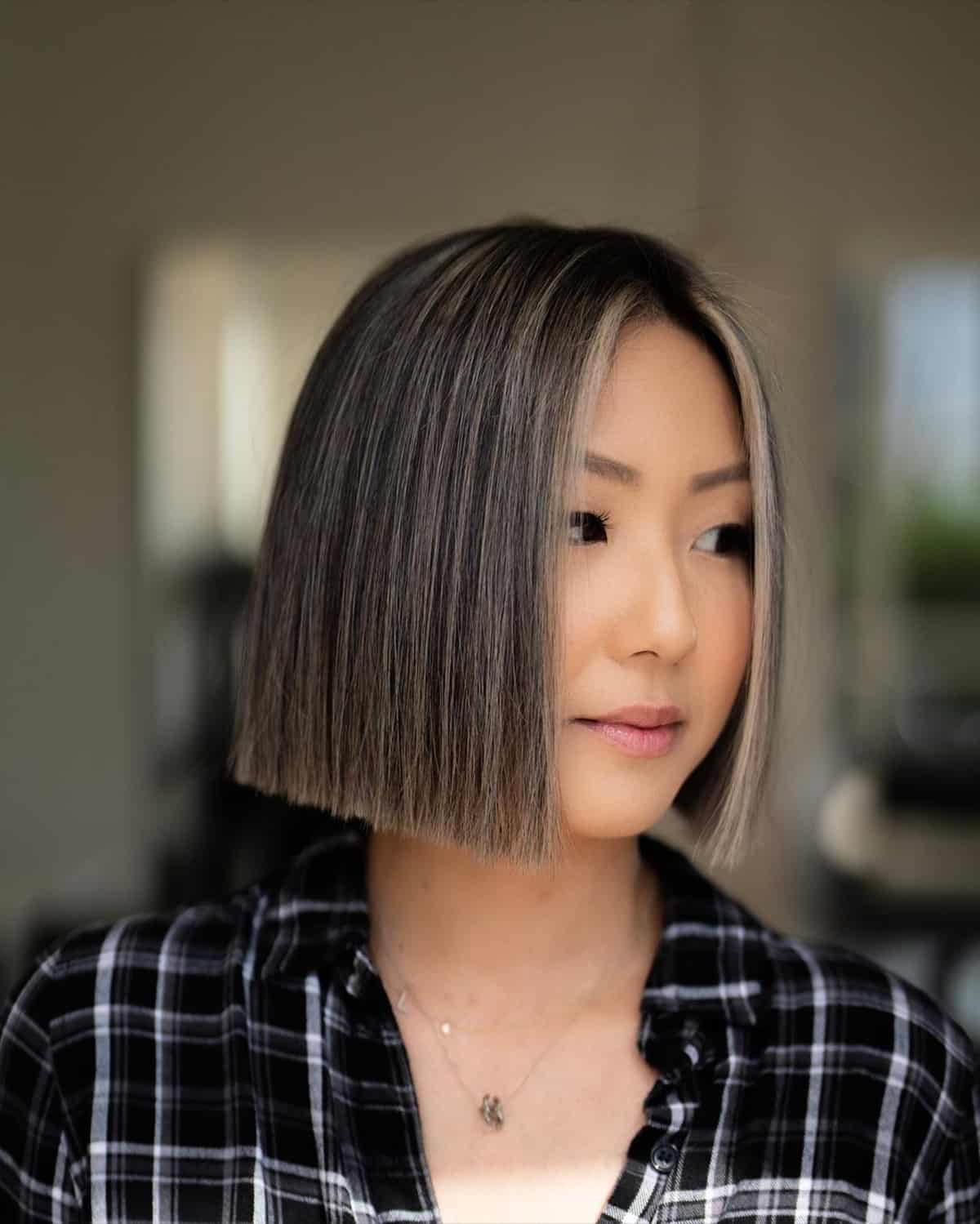 Instagram @brianaguilarhair
A blunt, chin-length bob is great for oval, heart or inverted triangle face shapes. It broadens the jawline and chin for those face shapes with a slighter chin. This cut might not work if you have extremely thick and/or curly hair.
Women with wavy hair should not be afraid of this cut! The versatility of going from straight to wavy is so fun.
Blunt Cut Bob with Straight Bangs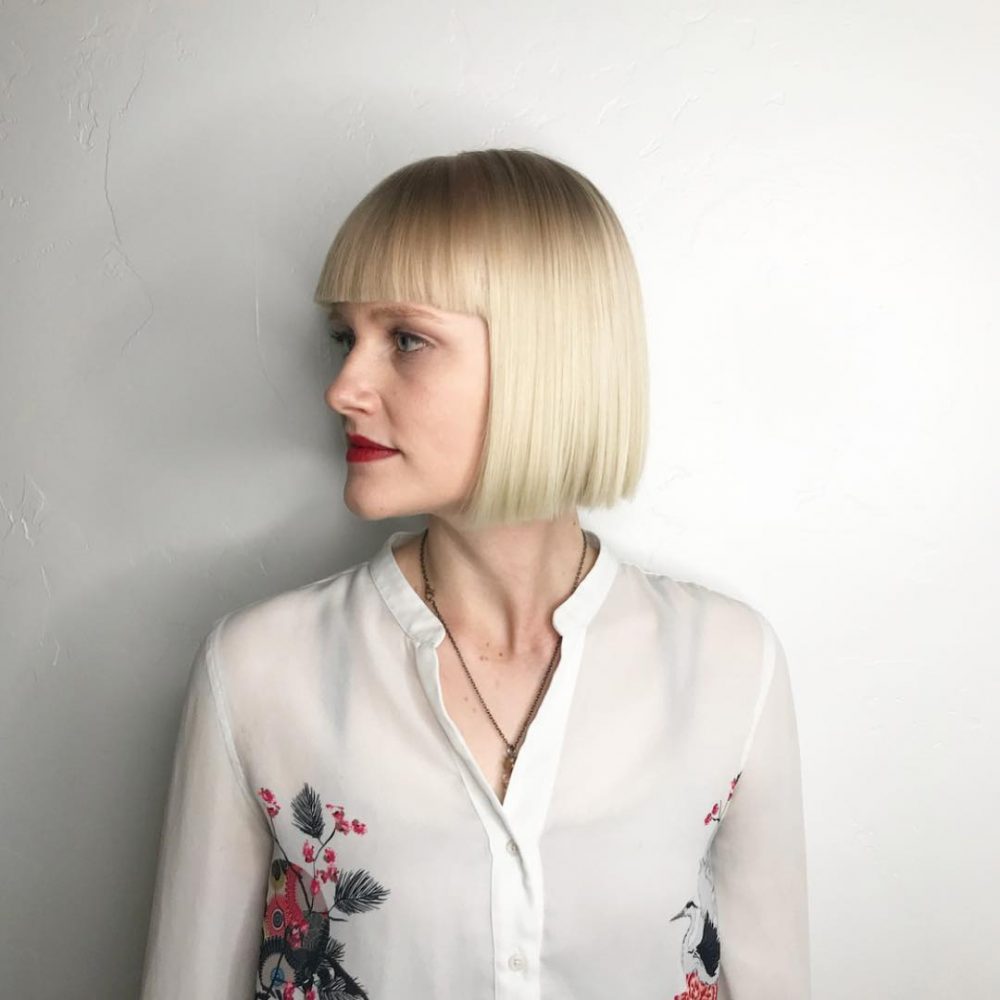 Q&A with style creator, Nikita Dutson
Creative Stylist @ Lunatic Fringe Salon in St George, UT
How would you describe this look?
I would describe this style as a blunt cut bob with blunt bangs. My favorite thing about this cut is how it presents the person wearing it classy and edgy with a little sass. It will always stand out in a room.
Any advice for someone considering it?
The chin-length bob is great for showing off a strong jawline and cheekbones. It's good to determine your face shape when considering a bob. For round or square face shapes, you want your bob to be no shorter than mid-neck to draw attention away from the jaw or cheeks.
If you have curly hair and don't like to wear it curly, there will be a lot of work involved in styling this cut. Any bob can be worn with curly hair textures and look fierce. Clients with straight hair can have this cut and it is very low maintenance.
When deciding if you want bangs, keep in mind the upkeep of cutting them often and styling them daily. I love styling this cut with a thermal protectant cream, a lightweight oil for shine, and a moisture mousse for a touchable style.
Sci-Fi Bob
Q&A with style creator, Megan Lacy Sullivan
Hair / Make-up / Lash Artist @ Megan Lacy Does Hair in Mentor, OH
How would you describe this look and what is your favorite thing about it?
This is my own interpretation of the "Sci-Fi Bob". It is a blunt, slightly angled razored bob with internal layering to reduce bulk. The hair on top should be long enough to accentuate the blunt ends and style easily.
I love how this cut is a little different with each person. Using a razor gives me the ability to sculpt and shape the cut to each person's bone structure and hair texture. It's a wash and wear, low maintenance styling dream. However, to maintain the exact look, shape up appointments are required more often.
What products do you recommend to maintain and recreate this look?
I used IGK's Car Service to protect and give control during the blow dry. When the hair is almost dry, use a paddle brush and dryer to wrap the hair to one side, then to the other. This will ensure the hair lays with your head shape. Use a 1-inch curling iron to curl just the top half of your hair to maintain the length of the hair. When curling, leave out the last one inch of hair to blend with the bottom layer.
Set the style with IGK's Intern Hairspray for a touchable hold, and work in a drop of Expensive to break up the curls and add a piecey shine.
What type of client would you recommend this look for?
This look is ideal for anyone who doesn't like to spend much time styling, but is looking for something trendy and easy to recreate at home. This client in particular has finer hair that tends to lay flat. By taking her hair shorter it creates a balance that give the illusion of fuller hair.