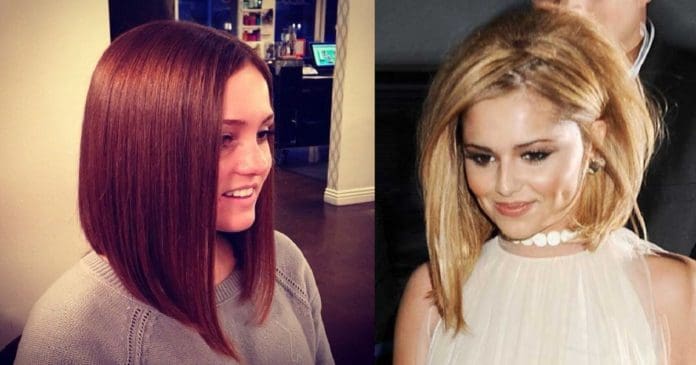 Best Inverted Bob Hairstyles for Stylish Women
Bob hairstyles are already popular among teen girls and working women. Inverted bob haircuts and hairstyles have given this bob hairstyle a new twisted look that got huge popularity. Here are 28 gorgeous trending inverted bob haircuts and hairstyles to give you some fresh ideas.
1. Long Inverted Bob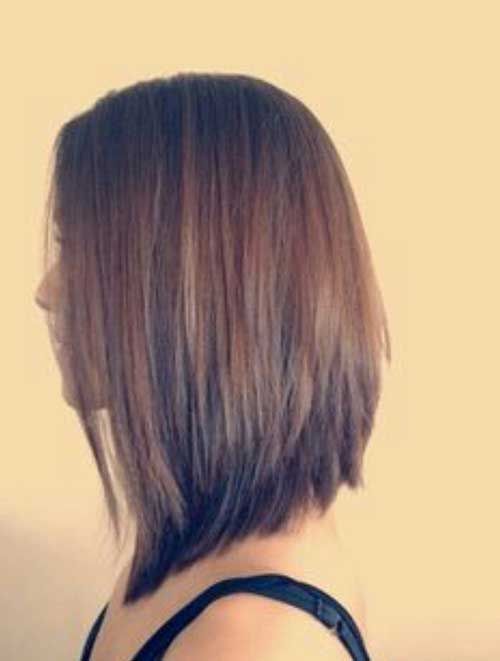 The long inverted bob style is great for people who still want longer hair but like the look of a bob. It still uses stacked layers in the back. From the front, you have the look of long hair. It creates a very elegant look.
2. Shoulder Length Inverted Bob
This type of bob doesn't necessarily need to be used with long hair. As the model here illustrates, it can also be used with shoulder-length hair. Bobs don't need to be flat either. The model illustrates well that with a little teasing, this hairstyle provides a full look. It is great whether you are in the boardroom or out on the town. It is extremely easy to make the transition.
3. Angled Bob
This type of bob provides a different look depending on the angle that you are viewing it from. The pictures below illustrate that well. From the side, you are able to easily see the bob. From the back, you get more of a shoulder-length look. No matter how you are looking at it, it provides a very low maintenance hairstyle.
4. Short Gradual Bob
We have discussed that a bob looks great at any length. Our next model is a great example of that. She is wearing a very short bob that is very gradual. It works very well with the natural curves of her face.
5. A-line bob with an ombre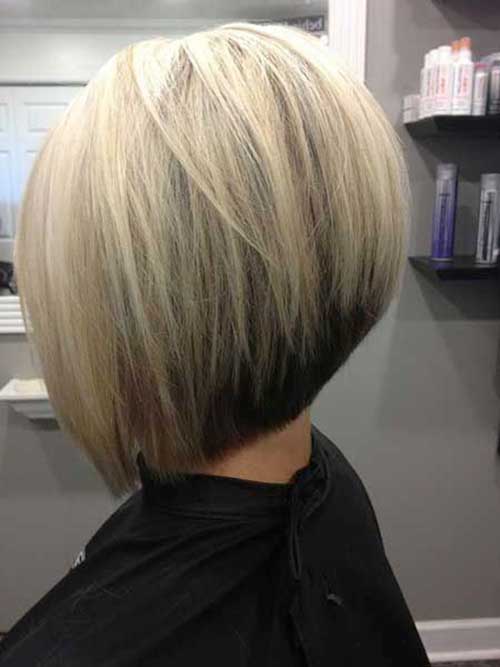 This cute a-line bob will look great with an ombre. If you have dark hair, ask your hairstylist to dye just the top layer of it, while leaving the rest natural. This ombre will really make a great impression. Just make sure to keep it neat or the color border will be lost.
6. Cheryl Cole Inverted Bob
There are as many different combinations available for every type of inverted bob discussed in this article as there are people. Cheryl Cole is a great example of that. We discussed the long inverted bob earlier. Cheryl adds her own style to it by lengthening the front, to give the look of long hair. She also has the bobbed even further. From the back you would think she has short hair. This is a great look to keep everyone guessing.
7. A Line
A line might not initially seem like a bob. But, there are many similarities between A line, graduated, and inverted bob. In fact, a hairstylist of 40 years explained to me that they are essentially the same thing but offer different looks. She even stated that inverted is just another term for graduated. No matter what you call it, our example illustrates that it creates a very alluring look.
8. Short Inverted Bob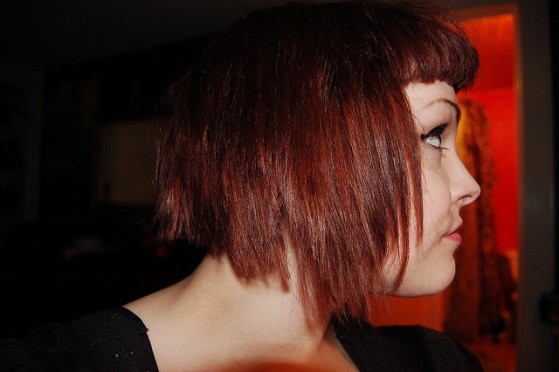 This type of bob doesn't have to be used with long hair. That is what makes it so versatile. Our model bellows shows off a short inverted bob. It still offers layering around the back of the neck. The front is cut short to make this hairstyle even more low maintenance. It is also great for women with faces that are short and round. It provides the same "framing" effect as the round bob that we discussed earlier.
9. Asymmetrical Bob
This type of bob is the newest trend in 2015. This is due to many extremely famous celebrities walking the red carpet in different versions of it. It can be cut long, short, or medium length while still providing an extremely attractive look. One of the draws for this type of style is that it works for women of all face shapes.
10. Jourdan Dunn Bob
Jourdan Dunn's hairstyle is yet another example of the versatility of the inverted bob. She has it very short in the back but keeps it long upfront. This is great for fashion models because it makes wonderful photographs. Anyone viewing her pictures will be immediately drawn to her rounded face and beautiful eyes. But, you don't need to be a fashion model to rock this style. It is perfect for anyone with a rounded face that almost resembles a triangle.
11. Straight Inverted Bob
We have seen several examples of how you can style an inverted bob to frame the face. It also can be worn straight. It offers the ease of preparation that comes with a bob. It is also great for women that tend to have flat hair and find it difficult to get a fuller look.
12. Medium Length
The medium length bob haircut provides a great medium between the shorter look that we saw in #9 and the longer look that we just saw in #11. It still offers the benefits that come with a haircut that properly frames the face and that is simply easy to care for. It also allows you to style it in multiple ways to create everything from a very "old school" to a very elegant look.
13. Long "Non-Bob"
We have stated multiple times that the bob is one of the most versatile cuts out there. This model illustrates just that. She is sporting a longer bob that we like to call a "non-bob". We like to call it that because you have to look very closely to even notice that it is a bob. But, it offers the same benefits as the long and flat bobs. If you look closely at her left shoulder then you see how her hair still is bobbed in the back.
14. Long Bob with Bangs
Bob with bangs is yet another wonderful illustration of the inverted bob's versatility. Our model has a slightly rounded face. The sides of the bob frame that well. But, she also wants to take attention away from her forehead. By letting the bangs grow and cutting them level with her eyebrows, she is able to still properly frame her face.
15. Great Medium Bob
A bob is a great way to provide options when styling your hair. We have seen long bobs of several different lengths, some were teased to create a big hair look, and some were flat. This model is showing the greatest example of a medium bob that we have seen. It frames her face well and provides the benefits of not having hair on your neck. It wouldn't take her long to get ready in the morning or after work.
16. Wavy Bob
Wavy hair poses some challenges. Unless you want to spend a large amount of time curling or straightening then it can be difficult to find a cut that works with your natural curls. But, we are all strapped for time these days. So, any option that is lower maintenance is wonderful. That is exactly what you find with the wavy bob. Our model has done some straightening but you can still see how her natural waves, around the middle and ends, creates a very classic look. She explains that this look is "straight out of bed".
17. Wavy Highlighted Bob
There are many different ways to add depth to any hairstyle. This is true about the bob. Our model has created a look of hair that has incredible depth by using highlights with her bob. The look of great depth and body is aided by her wavy hair. The light hits the highlights in such a way that her hair's natural body is accentuated. This is a wonderful example of how the bob can be used to accentuate the natural traits of any hair.
18. Long Swing Bob
This is a hairstyle that is extremely popular right now. If you are looking for a hairstyle that provides you optimal performance then you should consider the long swing bob.
19.  Another Short Bob
Why would we include two short bobs? We did this because we wanted to showcase that a bob is more about the shape of your face then it is your body type. Our model here illustrates that a short bob works well, no matter what body type you are.
20. Dark Hair Bob
This bob is an illustration of how it works with all hair colors. Our model has very dark, wavy, and shiny hair. This is quite the combination to find the right hairstyle for. But, as you can see, the bob is perfect for her. It creates a very beautiful, versatile, and easy to care for look.
21. Messy blond bob
This messy medium-sized blond bob is great for women who have wavy hair and are not ready to go to great lengths to keep it neat. This bob is initially created to look great when messy, so there is no need to worry about daily styling.
22. Rounded Long Bob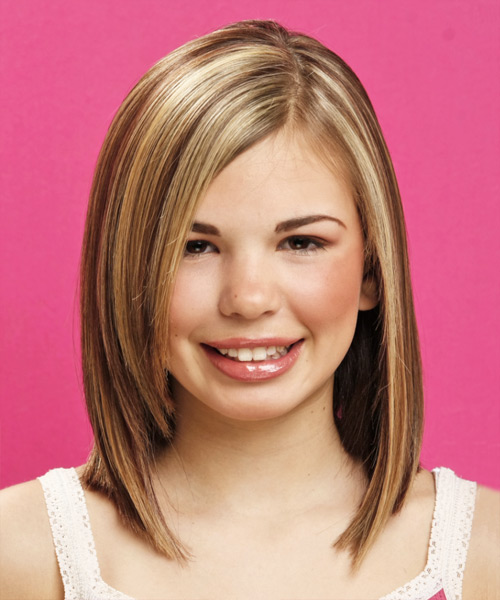 This type of bob style is great for women that have a round face. The hair curves towards the ends. The length pairs with the curve to properly frame the face. As you can see with the model below, you don't even initial notice the hairstyle. Your eye is immediately drawn to the model's face. This is exactly what you want in a great hairstyle.
23. Creative color play
If you are looking to make a statement or are just tired of standard looking haircuts, go for creative color play. You can color just the frontal tips of your inverted bob to make your hairstyle fresh and unique. Experiment with different shades!
24. Get red!
Wild hair colors might seem out of the question for some women. However, you should try everything at least once, so why not start with your hair? Girls with light skin will look great sporting a bright red bob with side swept bangs.
25. Blunt bangs
If you are ready to do some daily styling, then blunt bangs are a wonderful choice. Such bangs look great with an inverted bob, since they do wonders for outlining your eyes. Blunt bangs do a great job hiding forehead wrinkles.
26. Hair extensions
Tired of your short bob and are looking for ways to improve it? Go for hair extensions. A weave can turn your bob into a real long hairstyle, so you can flaunt the long locks you've always wanted. Hair extensions need regular touch ups.
27. Long bob
Inverted bob hairstyles don't have to be short to look perfect. If you don't want to cut too much of your hair off, you can try a longer bob. The front parts can fall down your chest as low as you wish. Just make the back short and stacked.
28. Long, straight and angled
If you want a really impressive hairstyle, you can go for a long, straight and angeled bob. While looking truly original and stunning, this hairstyle requires a lot of care. In order for the angles to look neat, you will need very frequent brushing.