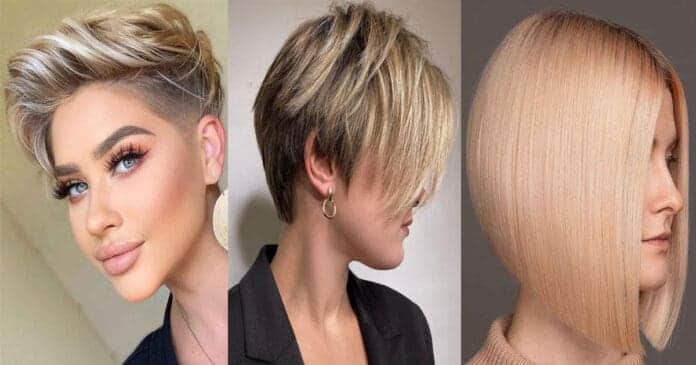 Low-maintenance short haircuts are easy to style and won't demand strict upkeep. The length ranges from a shaved head to a wide array of pixies, bobs, and lobs. The length options are limitless, flattering women's features in the best light possible. Christine Sandella, a hairstylist in Toms River, NJ, shares some perks with short hair. "It's fast to dry and simple to style, making it a low-maintenance cut," she says. "With short-length cuts, fine hair appear stylish, fuller, and voluminous in an instant." Sandella identifies hair products as your best friend when styling short haircuts. "You'll need to use hair products to style and provide texture, bounce, and volume to your tresses." A limited styling repertoire is a drawback that Sandella sees when handling short hairstyles. "You'll need to style it daily since you can't just pull it up in a ponytail," she notes. "If you like switching up your style now and then, a low-maintenance short haircut might not work well for you." A one-on-one, in-depth consultation with your stylist is highly suggested. "Be certain that your preferred cut enhances your hair texture, face shape, and won't be a hindrance to your lifestyle," says Sandella. Trimmings are vital to keeping the shape of the cut. Make it a habit to ask your stylist about the styling and upkeep commitment that each cut necessitates. Browse through these inspiring images of low-maintenance short haircuts. Share your top three picks with your stylist and keep an open mind to their suggestions.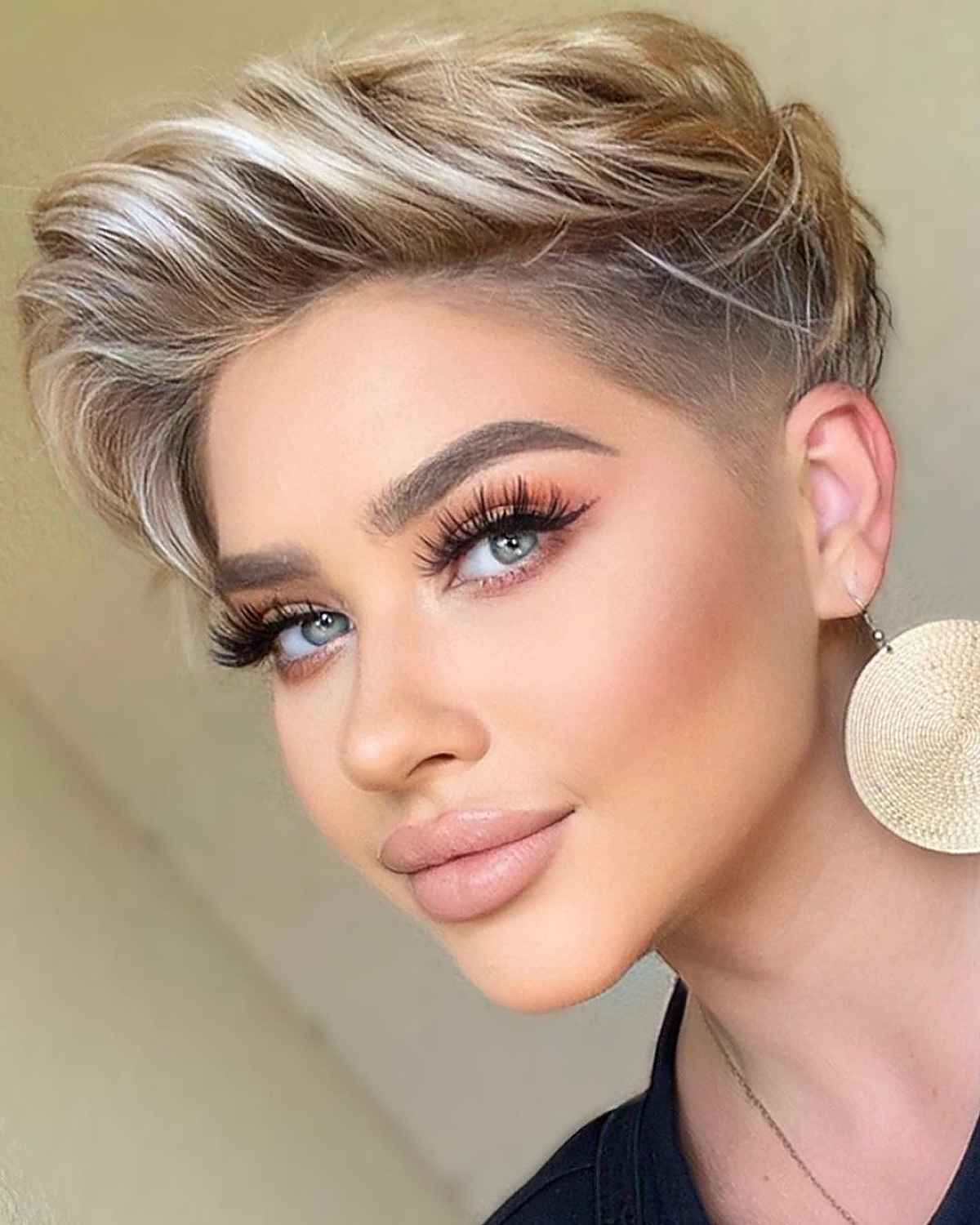 #1: Simple Undercut for Women with Thicker Hair
A simple undercut for women with thicker hair is an easy low-maintenance haircut for short hair. Ask your stylist to show you how to style for soft volume on top.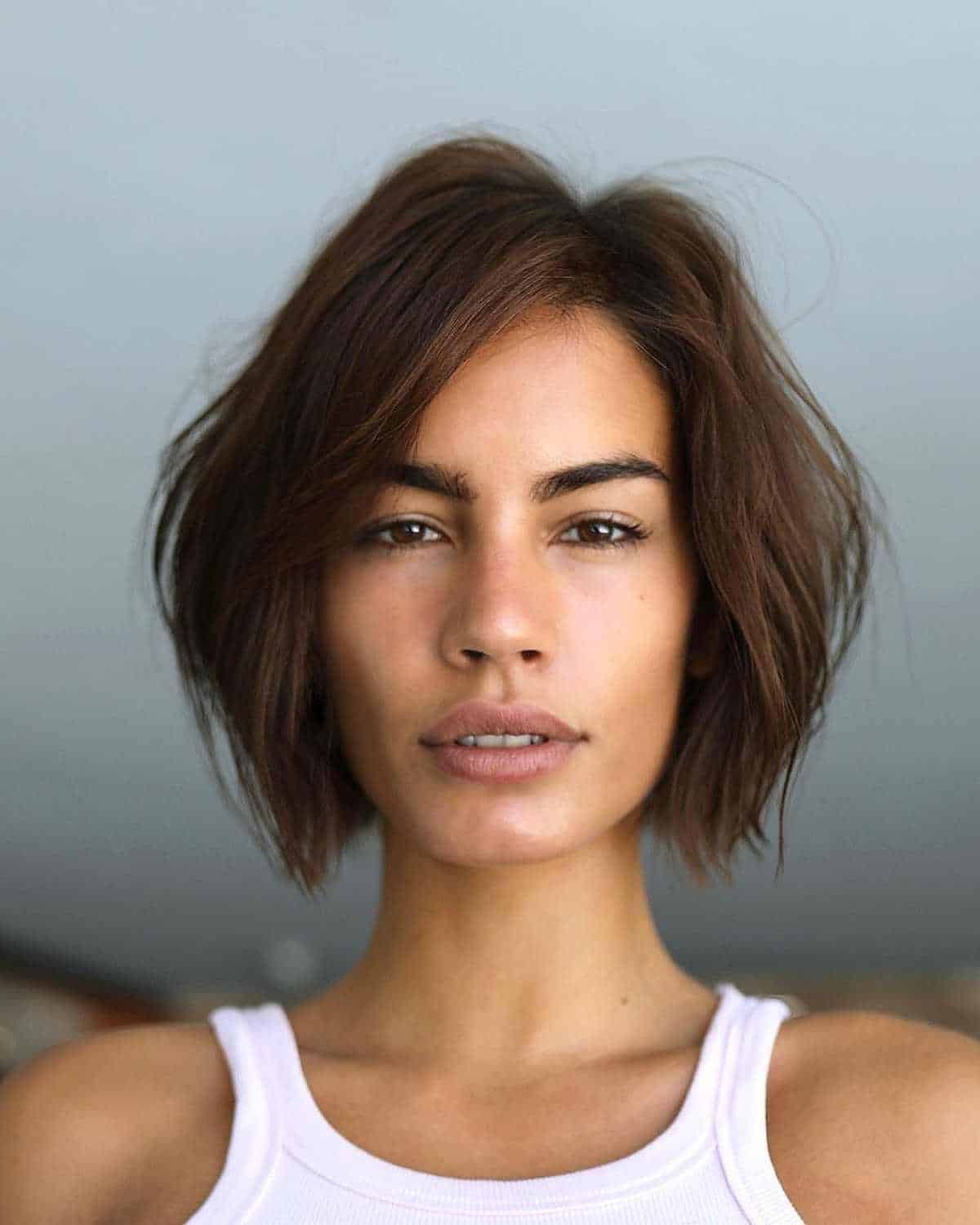 #2: Modern Brunette Chin-Length Bob
If you're looking for a low-maintenance haircut that looks great on most face shapes, then consider a modern brunette chin-length bob. A slight undercut at the nape creates a seamless angled forward perimeter. Ask your stylist for internal texturizing and softly razored ends for an effortlessly tousled look.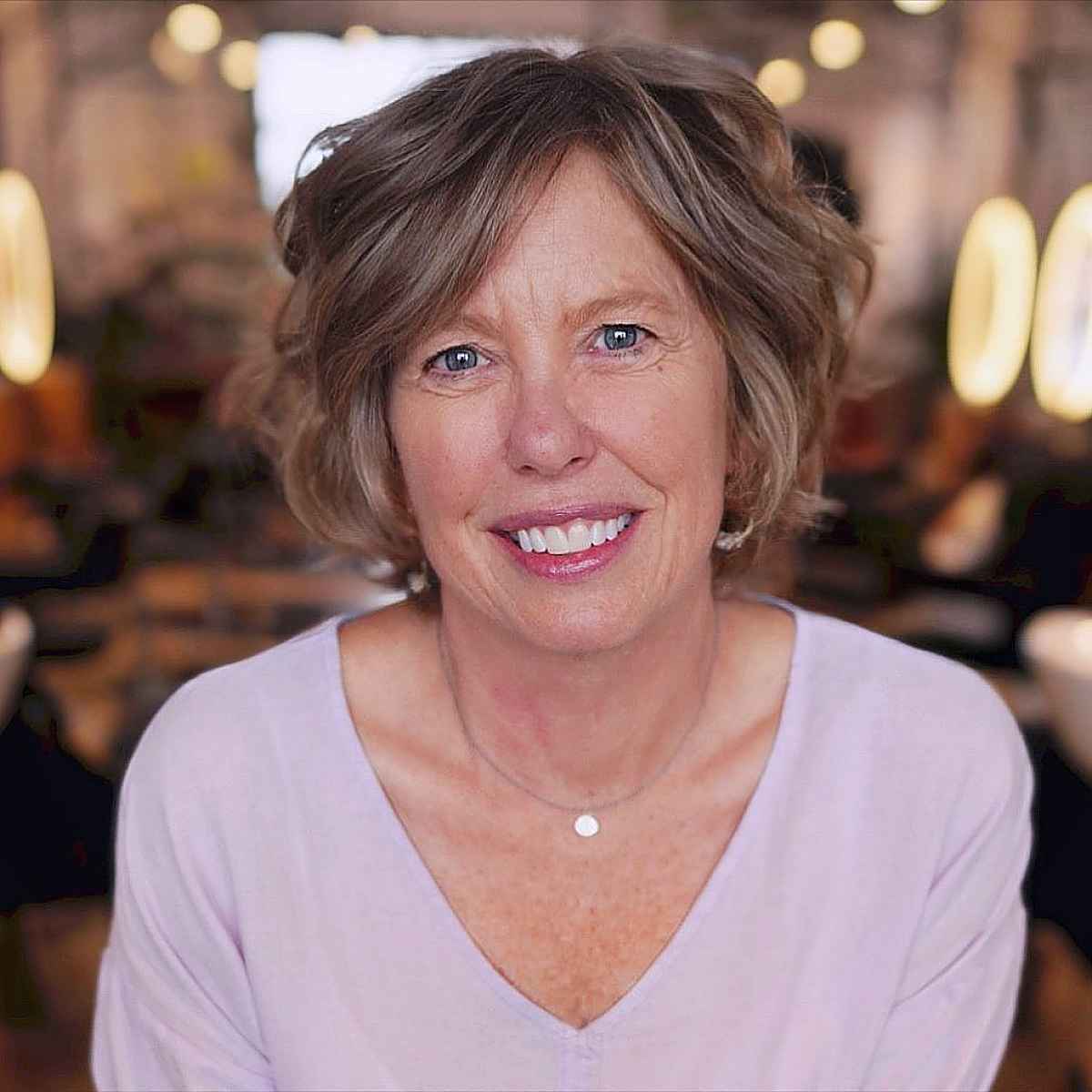 #3: Younger-Looking Bob for Women Over 60
A younger-looking bob for women over 60 is sure to be a head turner. A bob haircut is always in, and since it's a low-maintenance short hairstyle, it will fit right in with your busy schedule.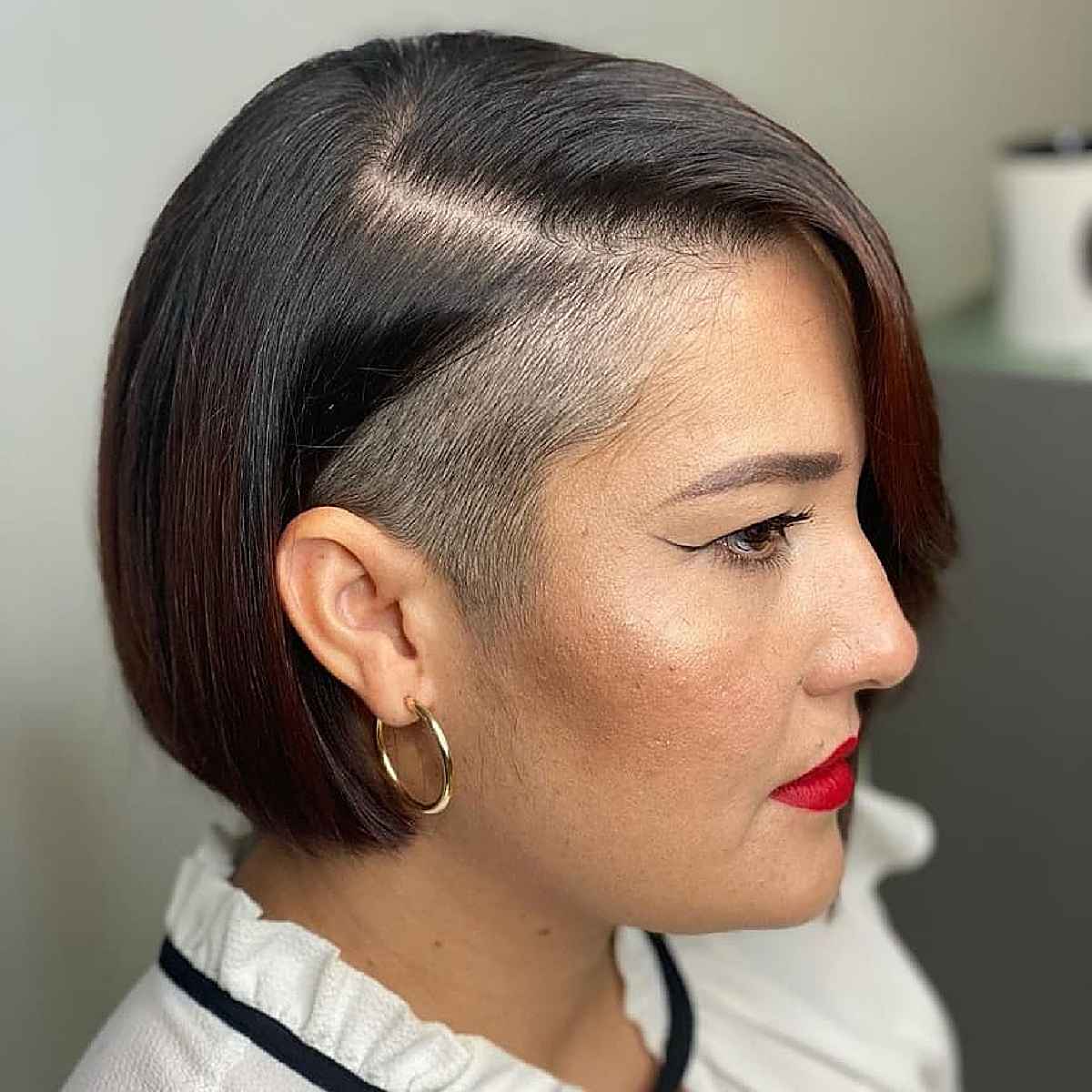 #4: Short Bob Cut with Shaved Sides
A short bob cut with shaved sides can mean an easier getting-ready process. Short low-maintenance hairstyles can make it a breeze to simply wash and go.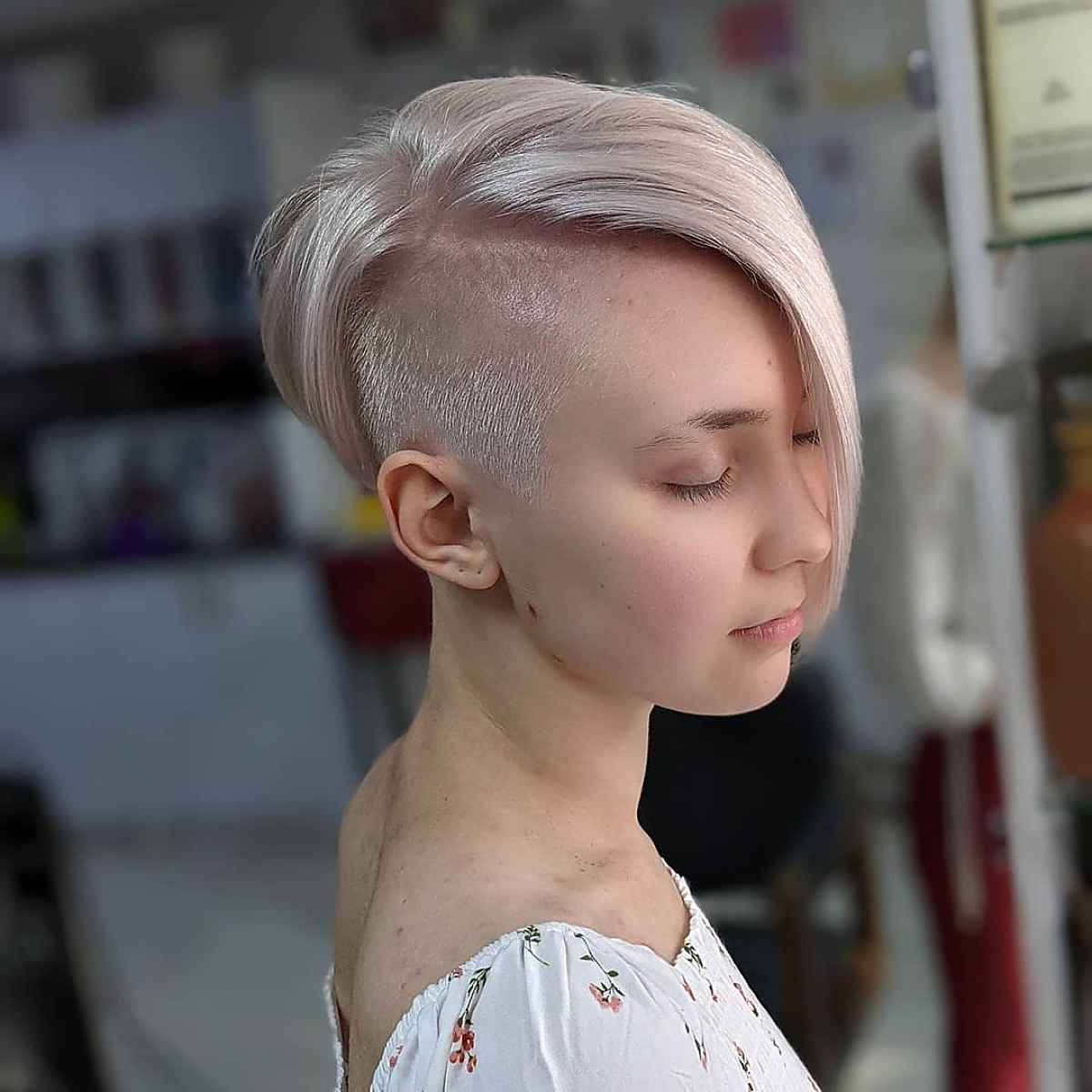 #5: Long Blonde Pixie Bob with an Undercut
Time to give a long blonde pixie bob with an undercut a try. Shaving a section of your hair can give you a drastically new look and less hair means less maintenance.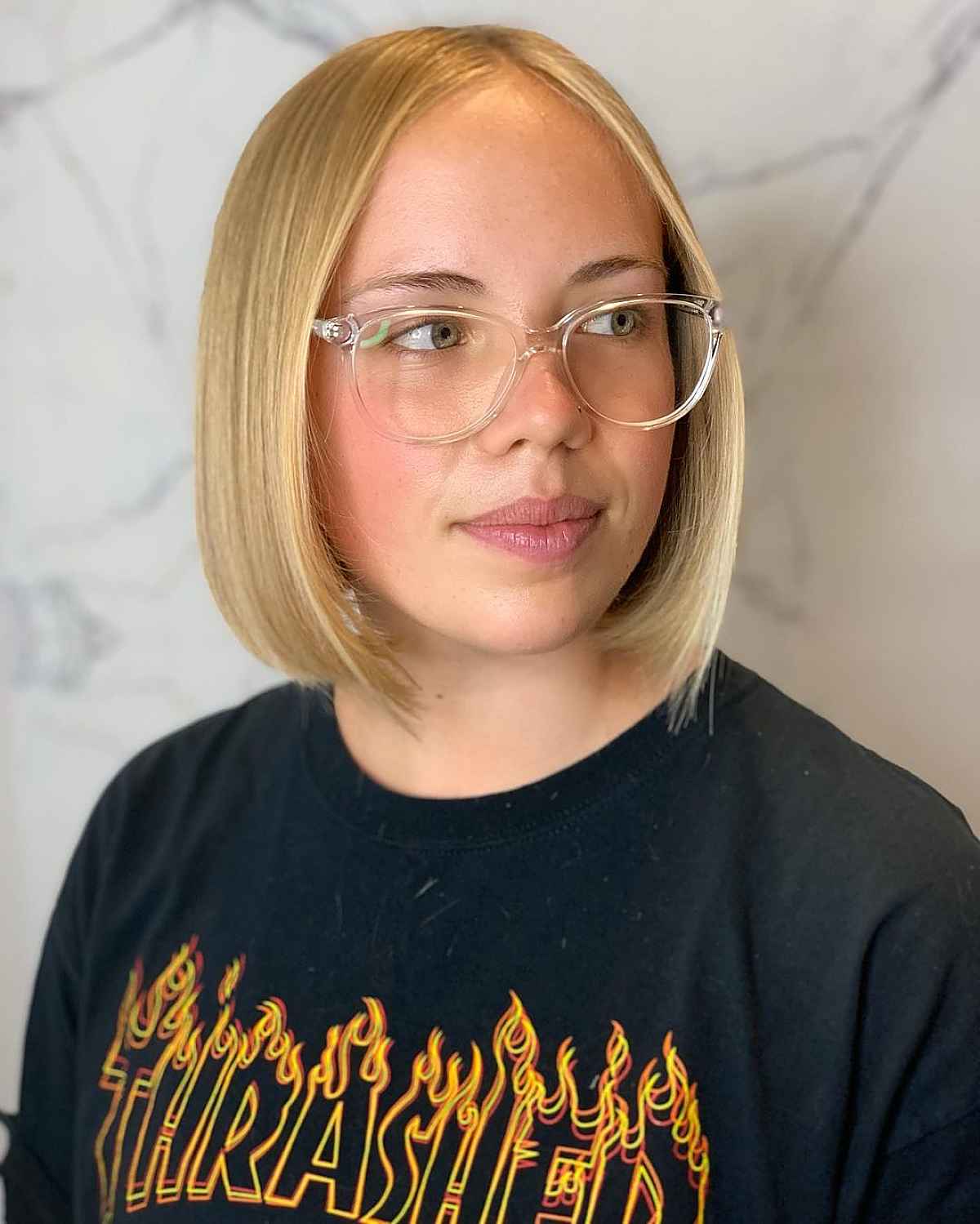 #6: Short Lob for Women with Glasses
A short lob for women with glasses is a great haircut to enhance frames. Wearing eyewear can be the focal point and looks best on fine and short hair.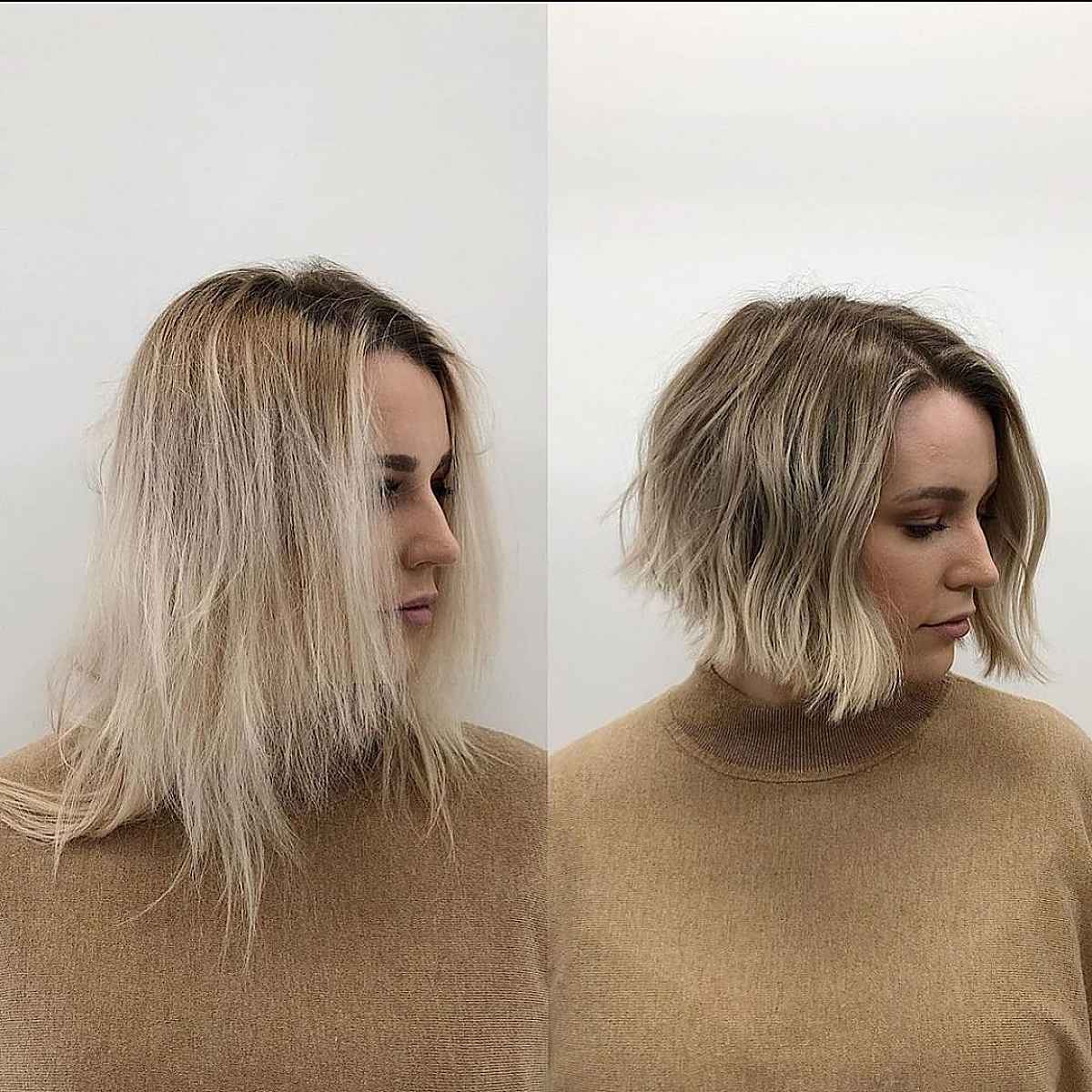 #7: Low-Maintenance Brown to Blonde Ombre
Try a low-maintenance brown to blonde ombre to embrace a short, textured cut. Low-maintenance cuts for short hair are easily styled with little effort but show off soft tousled ombre hair.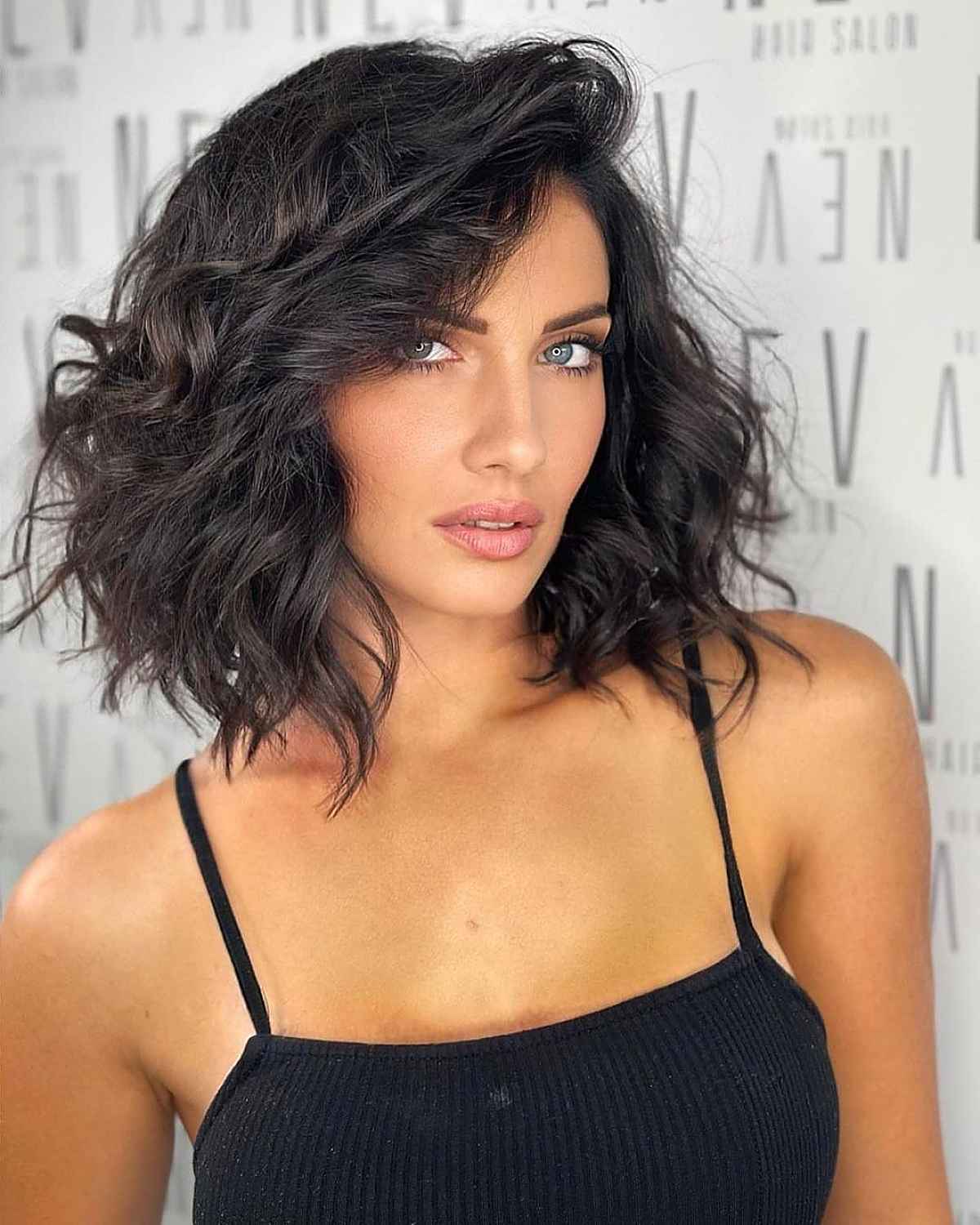 #8: Tousled Beach Waves for Women with Wavy Hair
Try tousled beach waves for women with wavy hair to enhance a layered haircut. Giving effortless body, a low maintenance short cut is great for naturally wavy hair or heat-styled waves.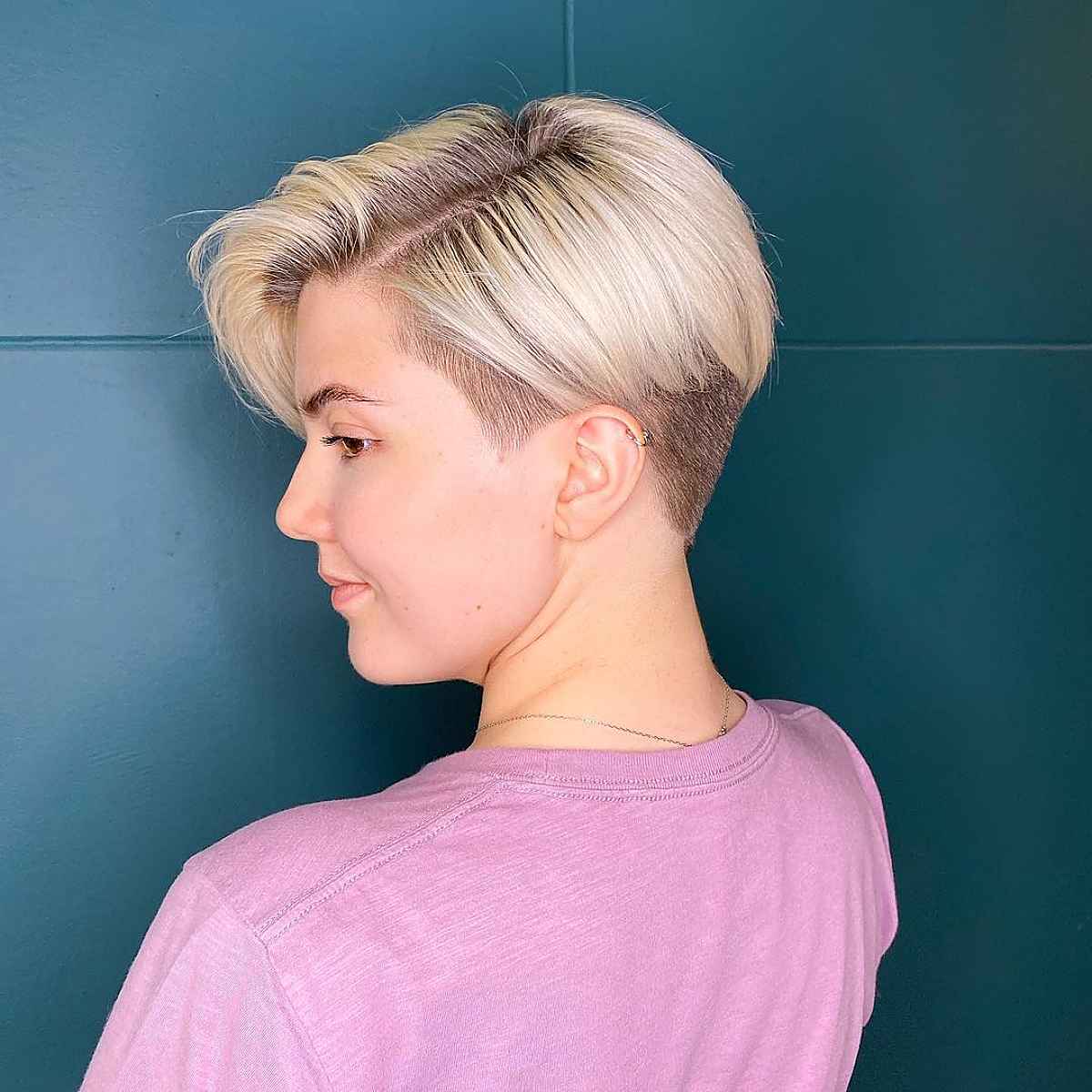 #9: Edgy Pixie Bob with Shaved Undercut
Try an edgy pixie bob with shaved undercut for a soft and easy style. Best suited for fine or medium hair, low-maintenance hairstyles for short hair are great for a quick blow-dry and go routine.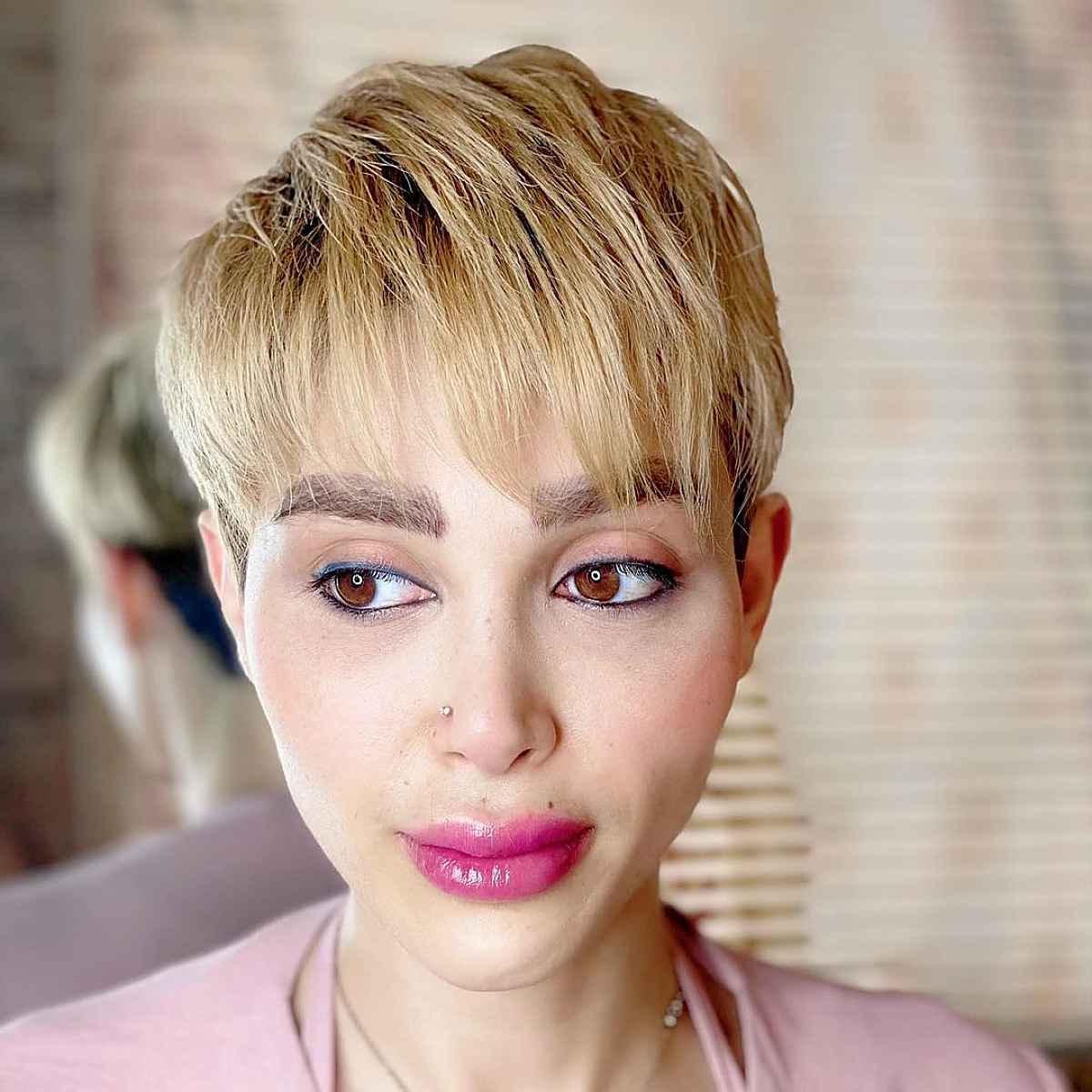 #10: Very Short Pixie with Long Bangs
A very short pixie with long bangs is perfect for women who want to keep length around the forehead, and shorter around the neck. Asking for a close cut around ears and back of the head but keeping length on top, will give you a low-maintenance style for short hair.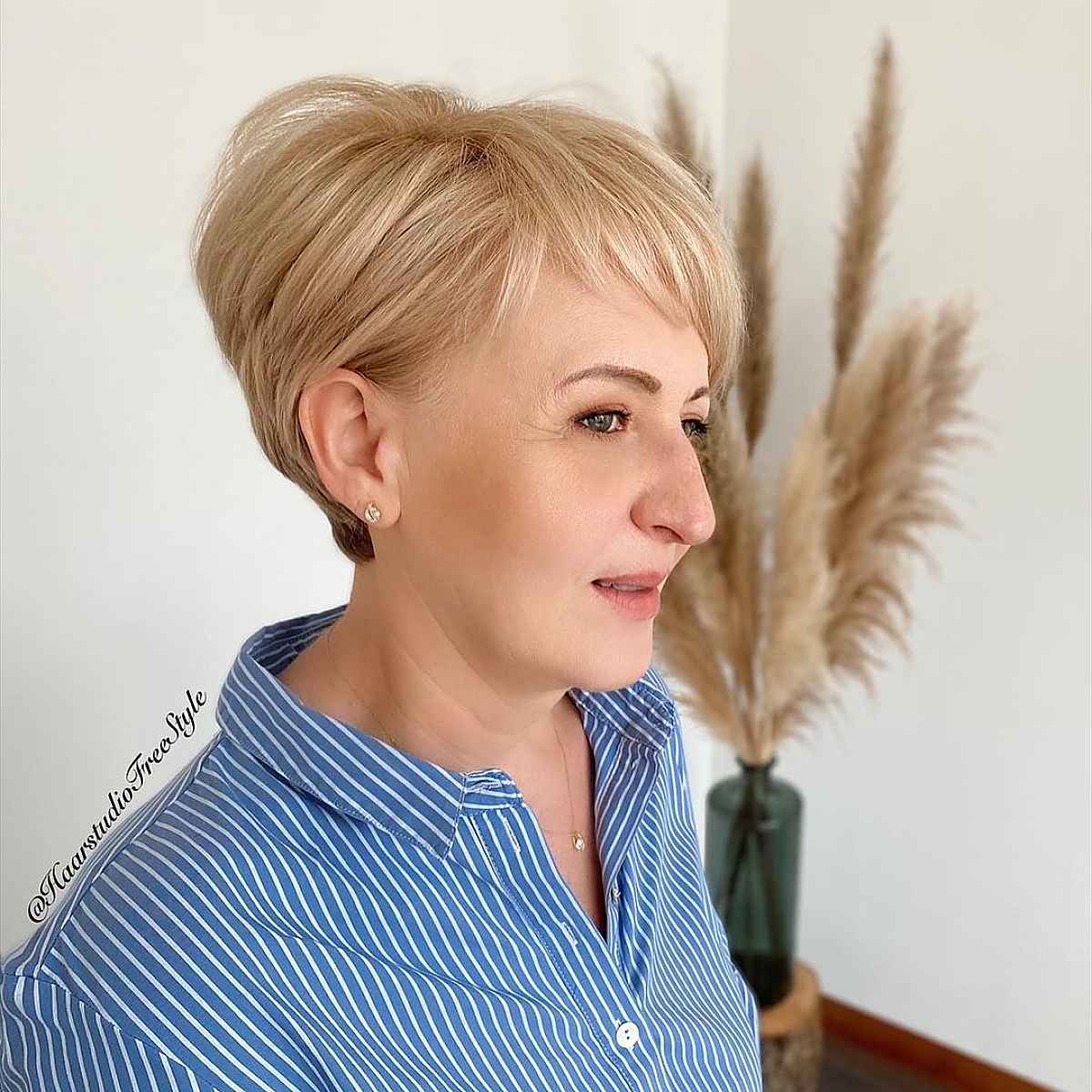 #11: Low-Maintenance Pixie Bob for Women Over 40
Try a low-maintenance pixie bob for women over 40 for a youthful and effortless cut. Great for fine or thick hair, short low-maintenance styles require little styling time.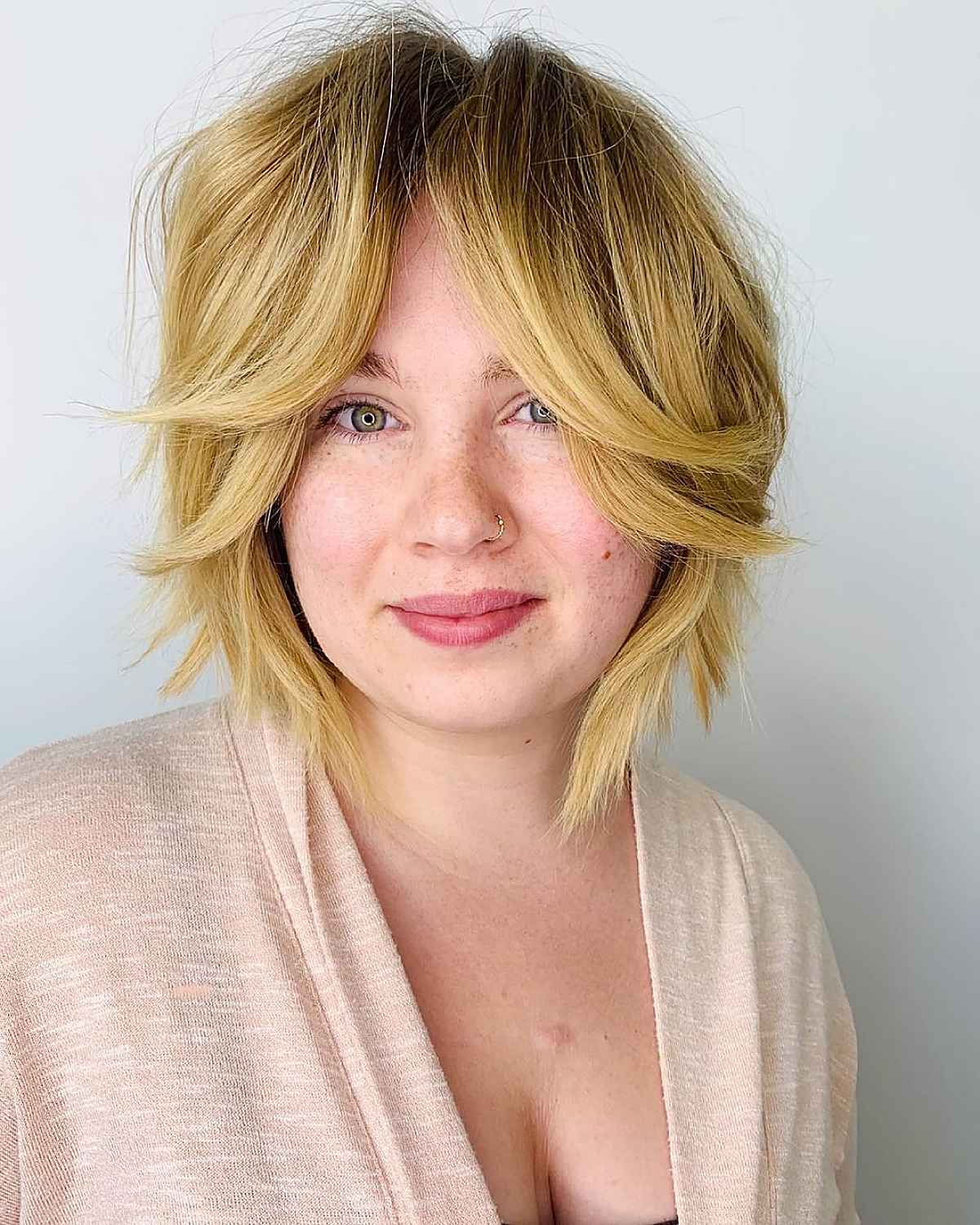 #12: Short Shag with Curtain Bangs
A short shag with curtain bangs is a beautiful layered haircut to add softness and fullness. Low-maintenance haircuts for short hair are perfect for women who want volume but don't want to spend a lot of time styling.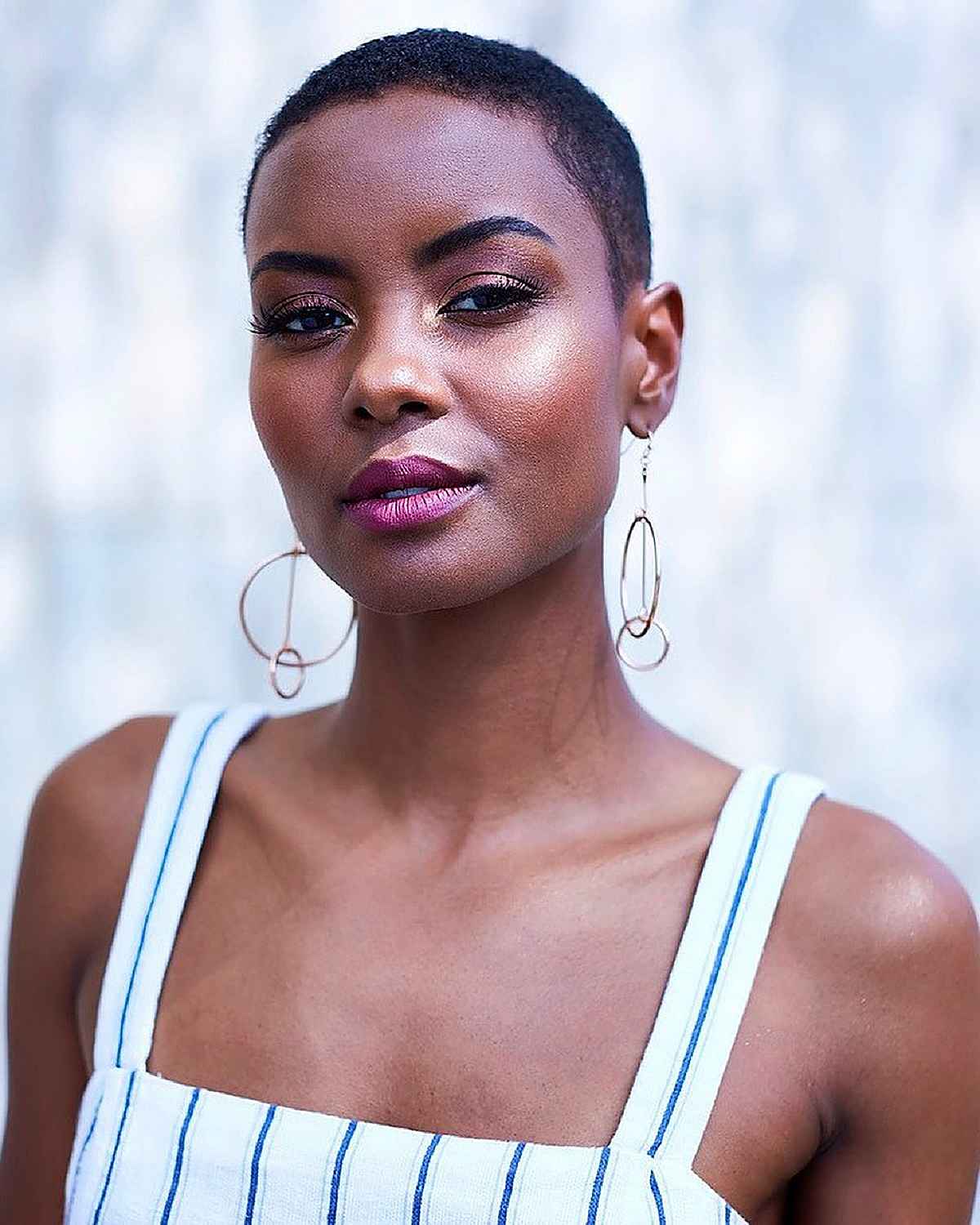 #13: Low-Maintenance Short Buzz Cut for African-American Natural Hair
Try a low-maintenance short buzz cut for African-American natural hair. A shorter haircut enhances facial features and has little to no styling time. Ask your stylist for the shortest guard on clippers for an edgy close-to-the-skin cut.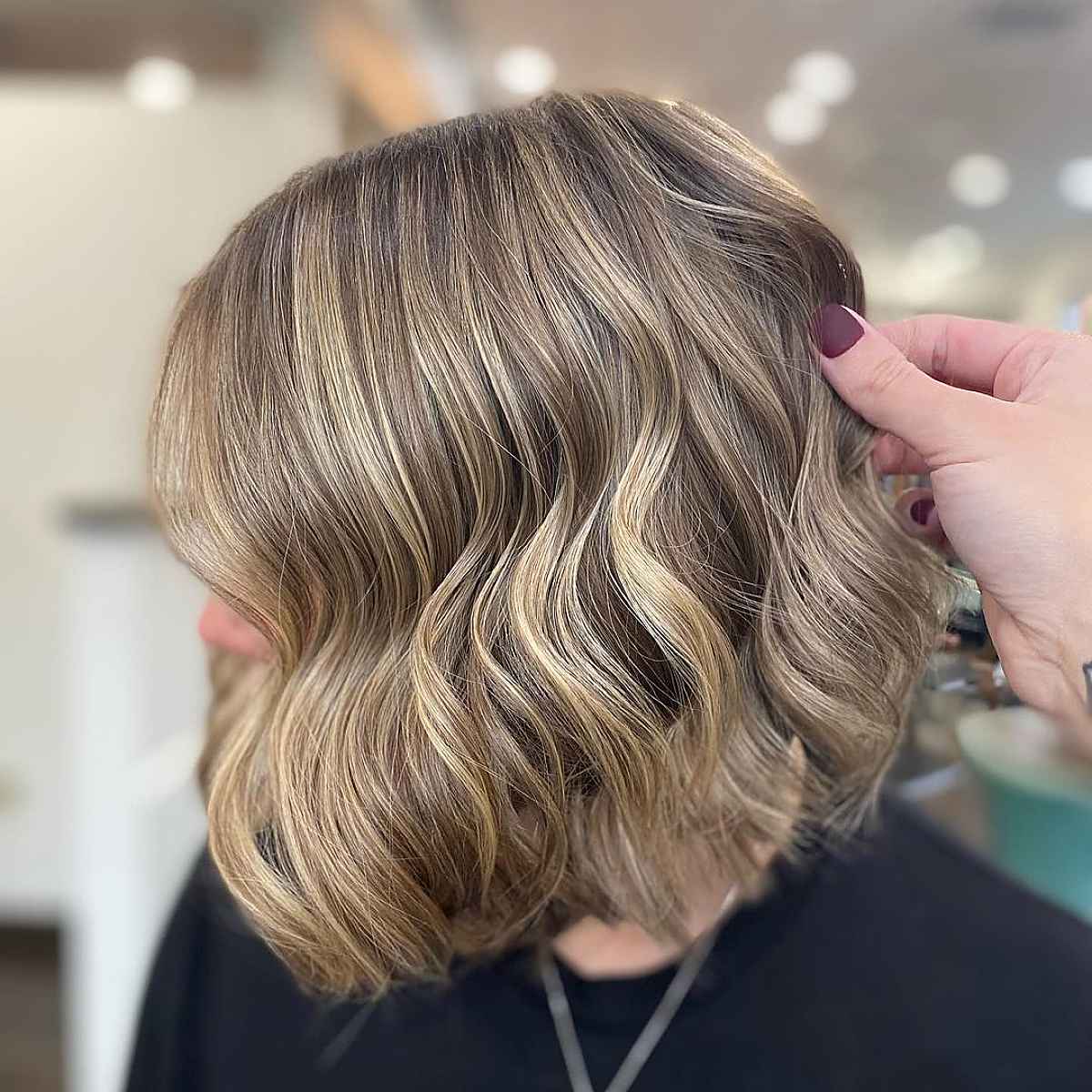 #14: Low-Maintenance Short Cut with Balayage
Try a low-maintenance short cut with balayage to get a soft contrast without the length. Balayage is great for any hair type and adds to the low-maintenance hairstyle for short hair.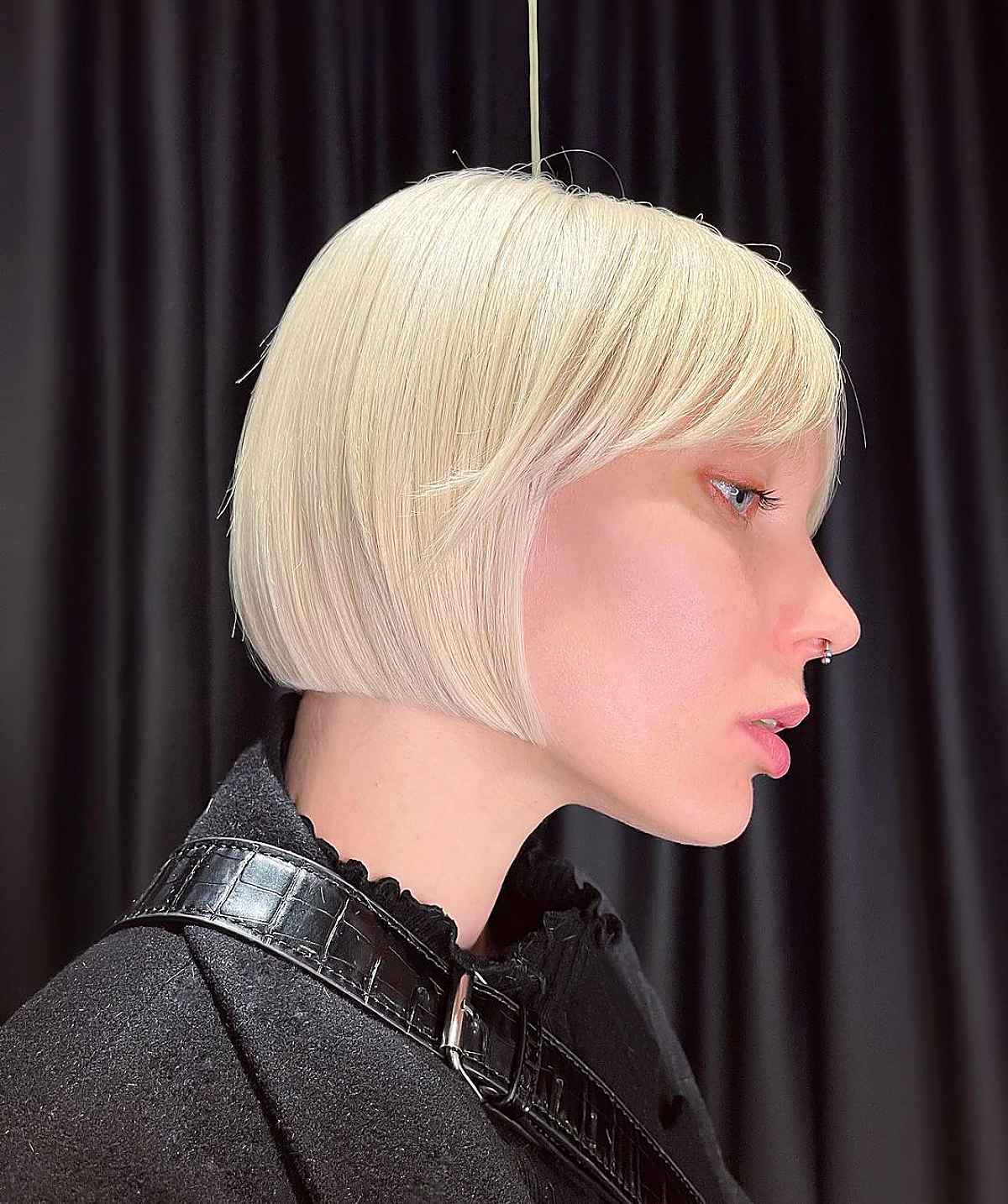 #15: Jaw-Length Short Bob Hairstyle
Try a jaw-length short bob hairstyle for a more defined look. Perfect for fine hair, low-maintenance short cuts can have precision and sleekness. Minimal products may be needed, as well as a hot tool, so ask your stylist for their advice.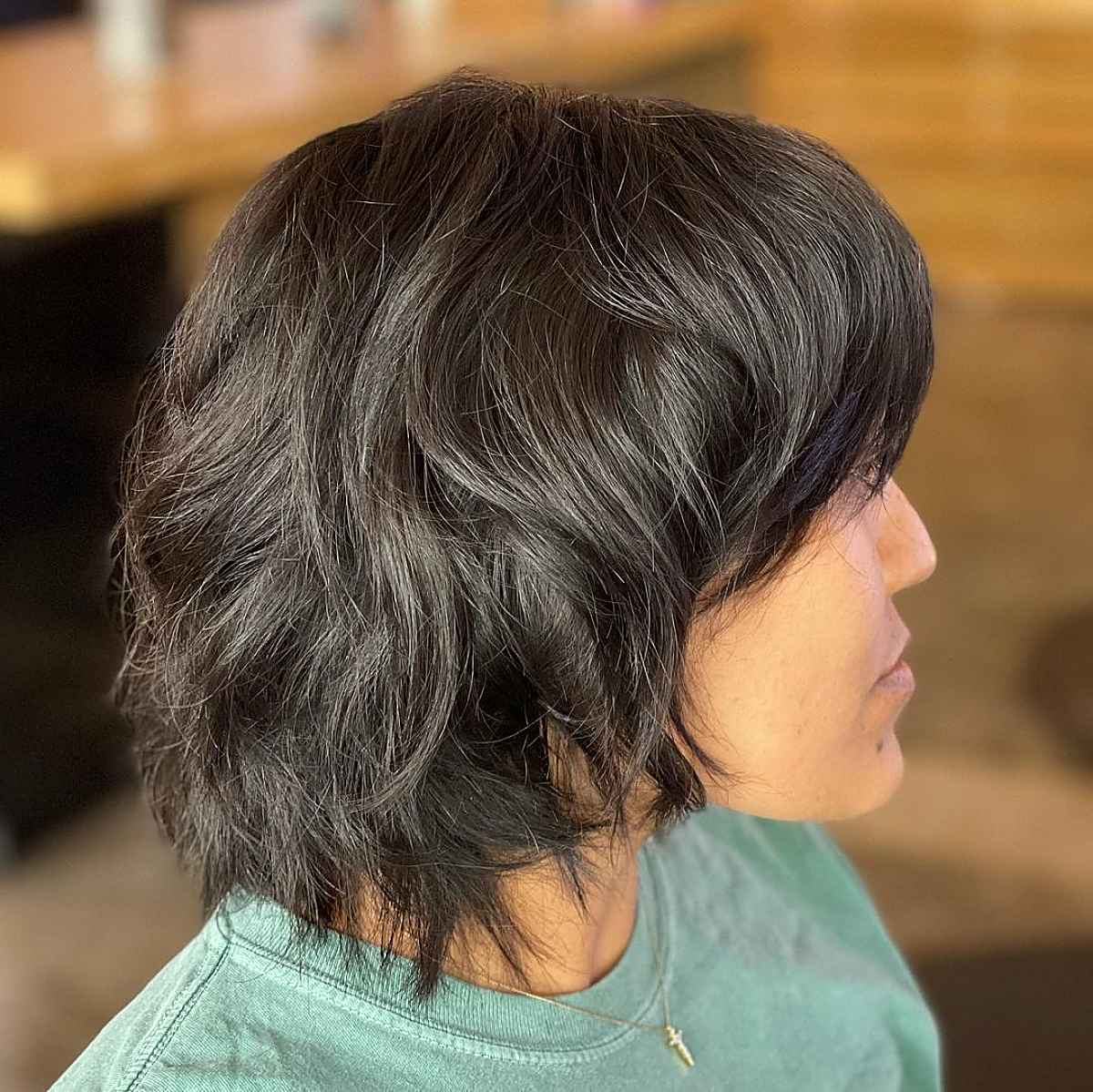 #16: Razored Shag for Women Over 30 with Thick Hair
A razored shag for women over 30 with thick hair, can enhance and frame the face. Adding a lot of texture to hair, a short low-maintenance style is best suited for thicker hair types who want to embrace facial features but still leave a little length.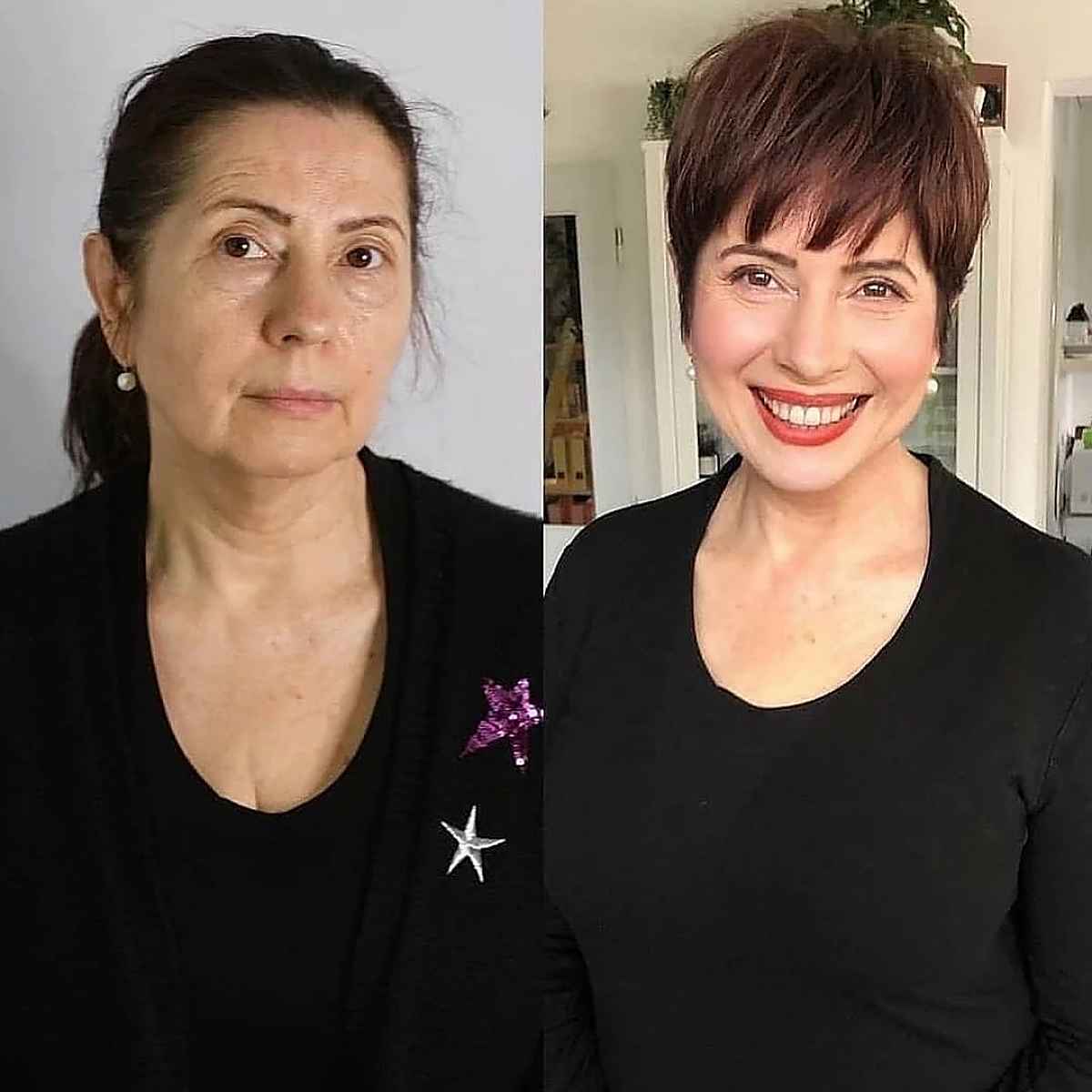 #17: Youthful Pixie Cut for Women Over 50
Try a youthful pixie cut for women over 50 for a new fresh-faced look. Low-maintenance short haircuts add a lot of life to hair by adding texture, volume, and fullness.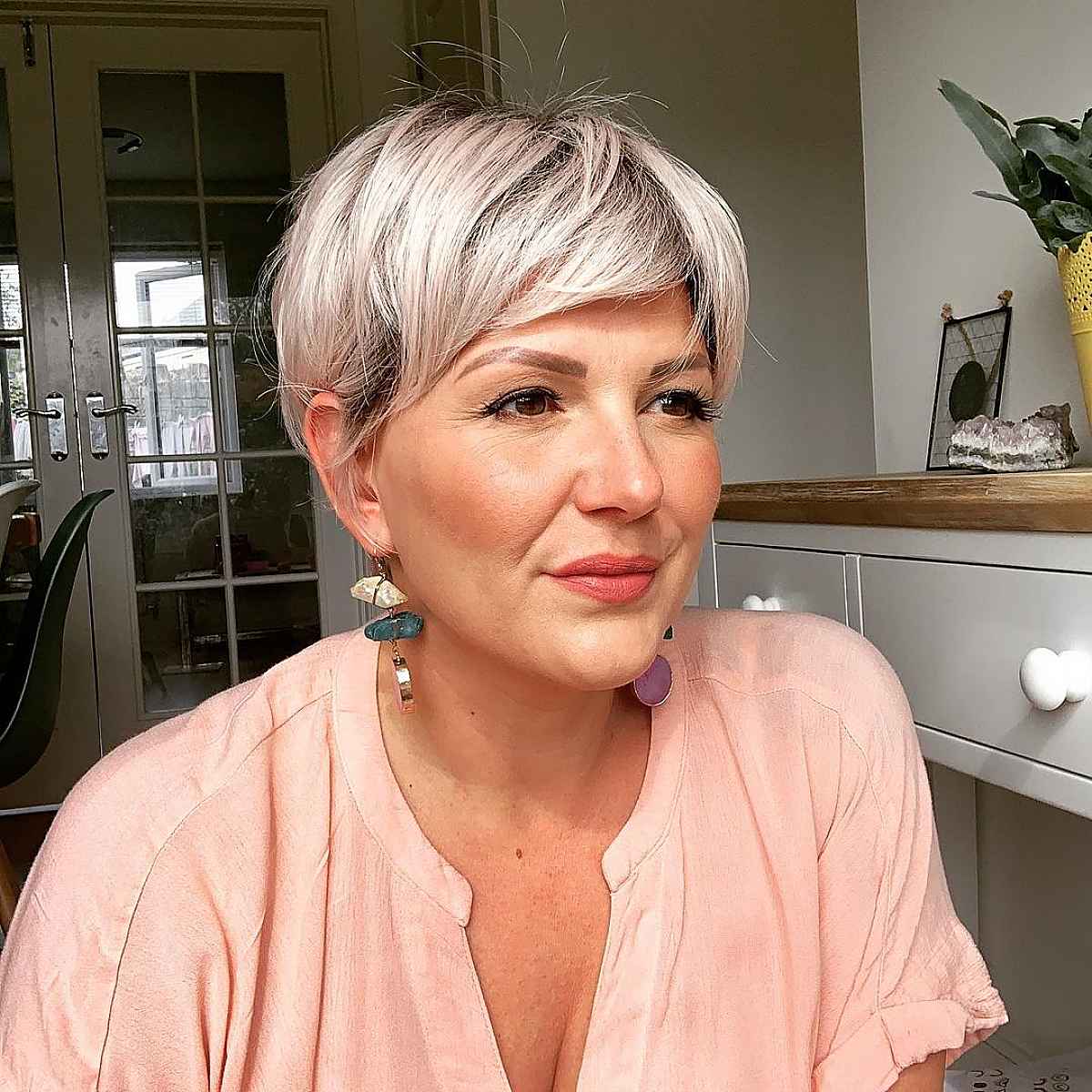 #18: Stylish Low-Maintenance Pixie for Older Women
A stylish low-maintenance pixie for older women adds a lot of fullness and texture to any hair type. Short low-maintenance cuts are flattering for a trendy woman who wants a fun style in minimal time.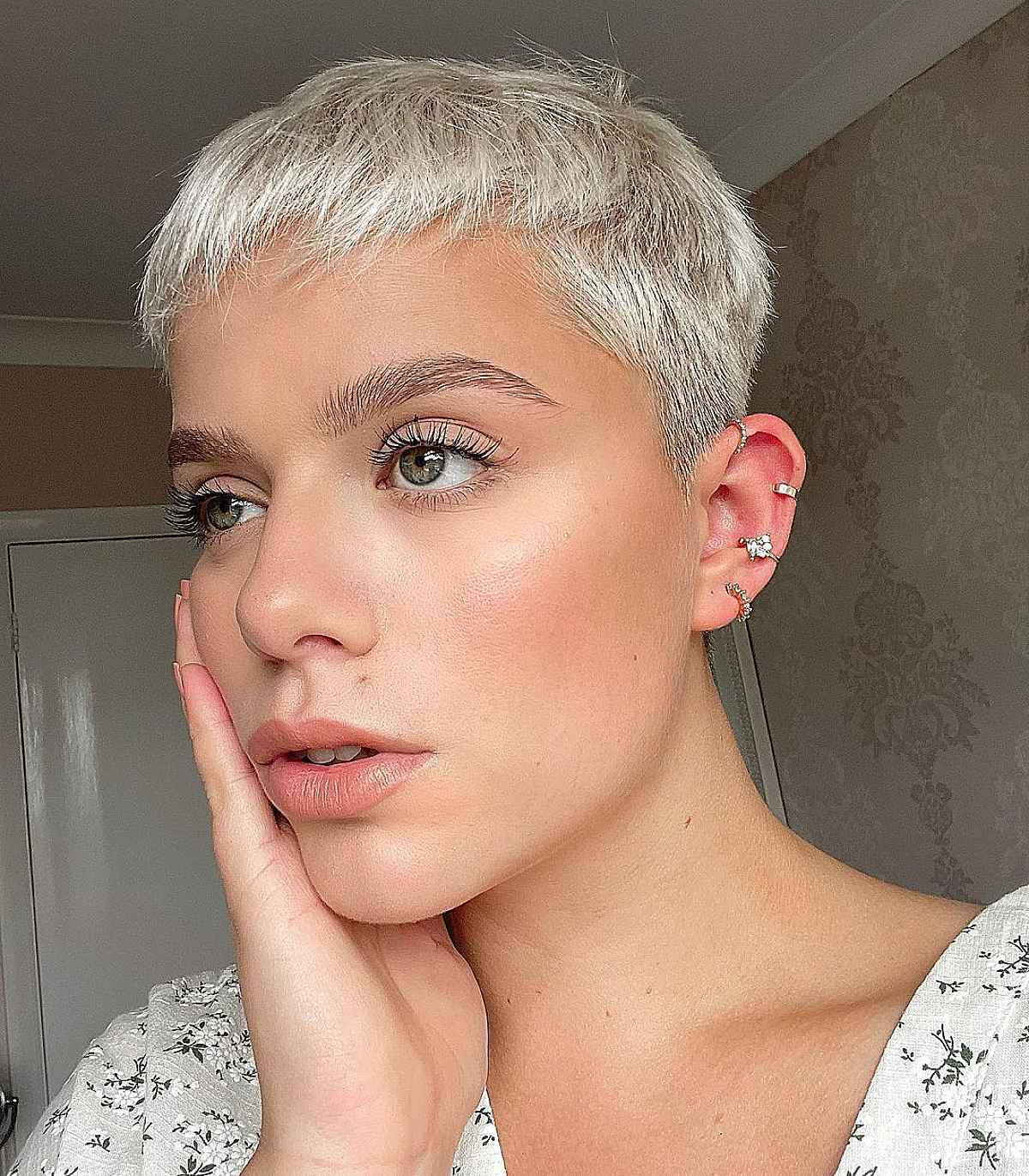 #19: Low-Maintenance Short Pixie
Try a low-maintenance very short pixie for a chic style that can be soft and feminine. A short low-maintenance hairstyle can be styled with a texture product and looks great on fine hair or thinned-out hair textures.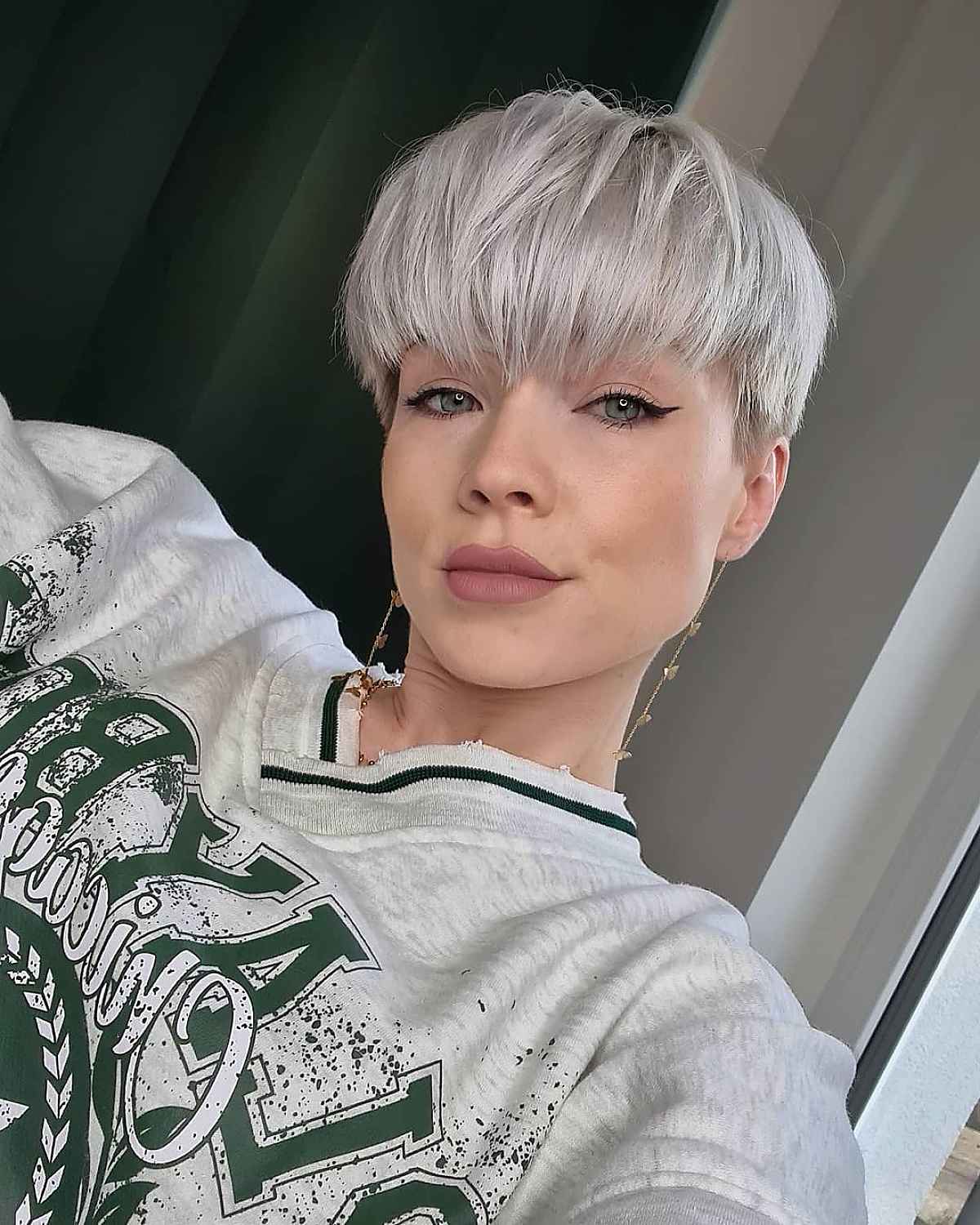 #20: Low-Maintenance Pixie Cut with Bangs
A low-maintenance pixie cut with bangs is a fun, tousled, and easy to manage style. Perfect for fine or thick hair, short low-maintenance haircuts really enhance the eyes and are not difficult to style. Pair it with a platinum hair color to really make it pop!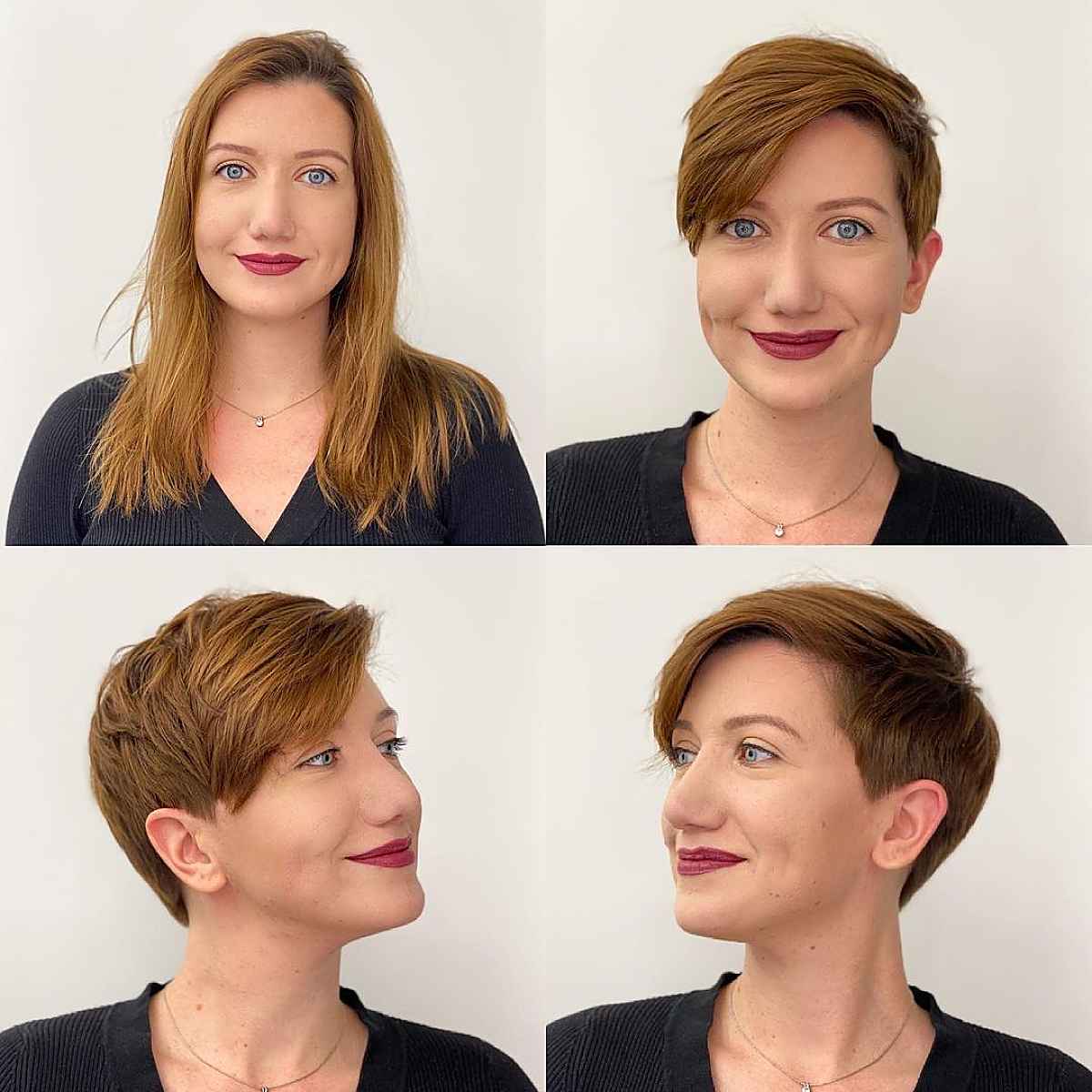 #21: Low-Maintenance Short Haircut
Try a low-maintenance short haircut to enhance facial features on round or oval face shapes. A short low-maintenance haircut is so easy to style and may require regular trims to keep the shape.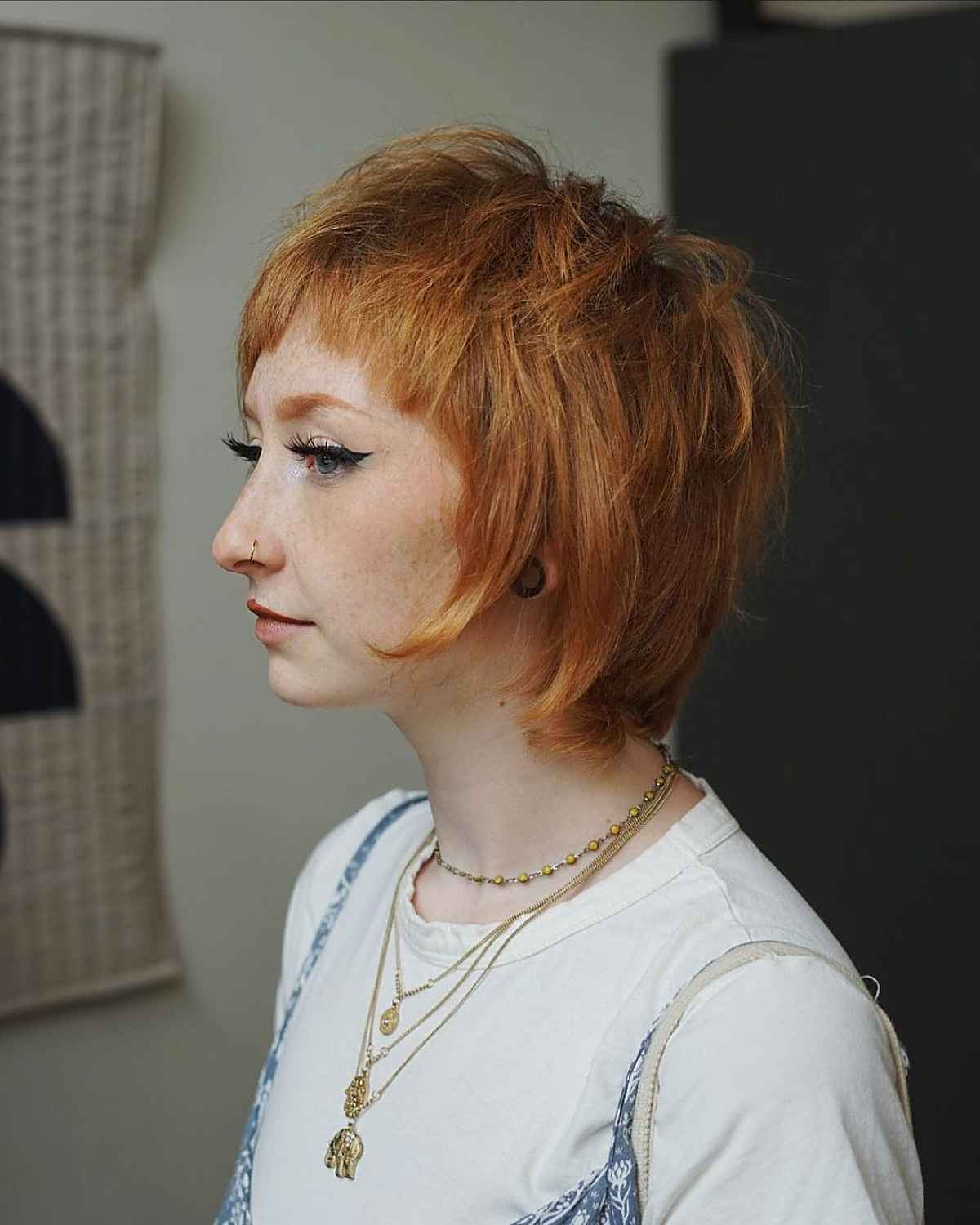 #22: Low-Maintenance Shaggy Cut for Short Hair
A low-maintenance shaggy cut with bangs for short hair is trendy and full of texture. Great for thick and medium hair, low-maintenance styles for short hair are appealing to the eye and cannot be over-styled.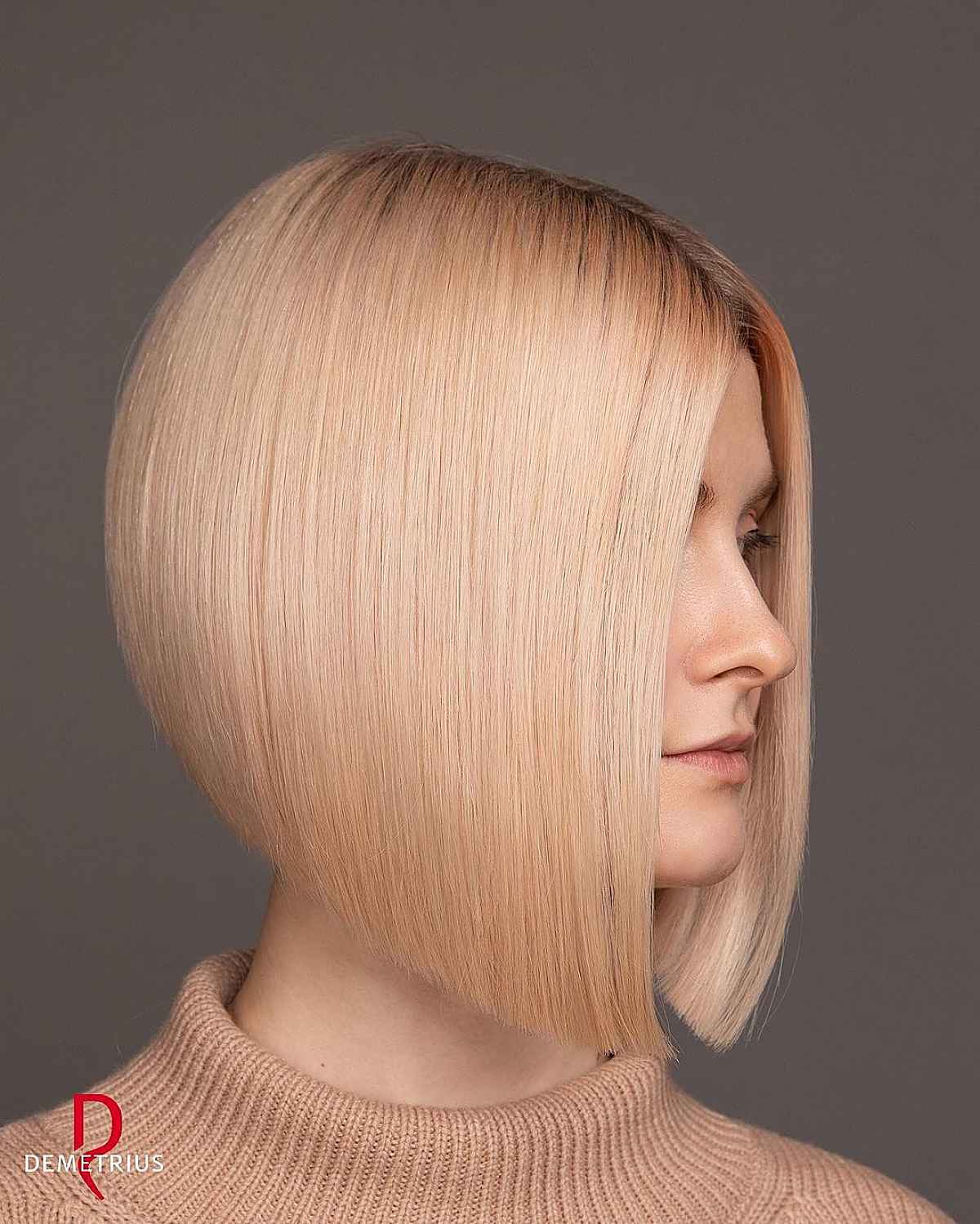 #23: Short and Sleek Angled Bob for Straight Hair
A short and sleek angled bob for straight hair is a well-put-together hair style. Excellent for straight hair or those who want to style straight, a low-maintenance cut for short hair is stylish and easy to style.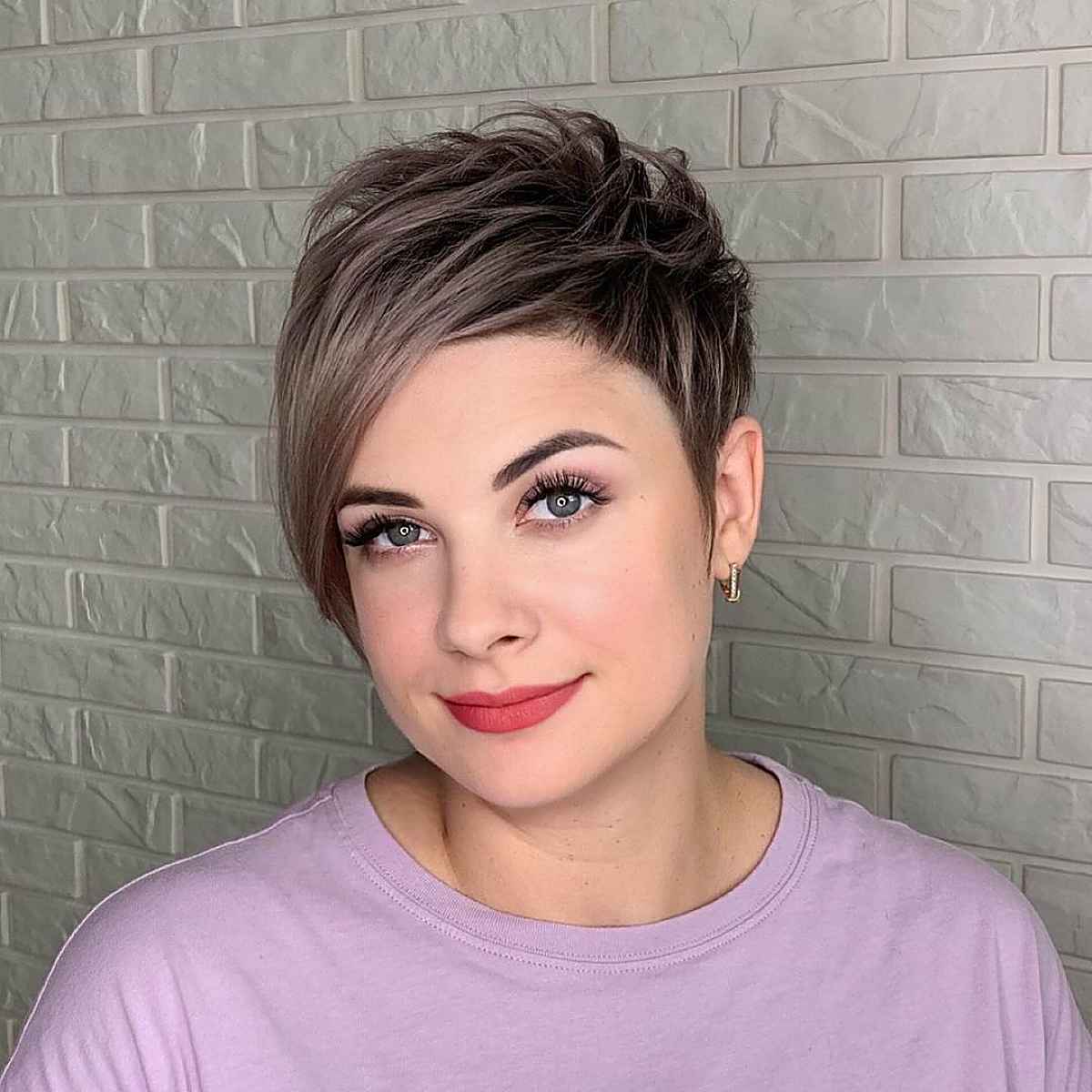 #24: Ear-Length Asymmetrical Pixie
Try an ear-length asymmetrical pixie for a dramatic cut that is sure to turn heads. With thick texture, and a strong bang, a short low-maintenance cut is great for fine, dense hair for ultimate volume.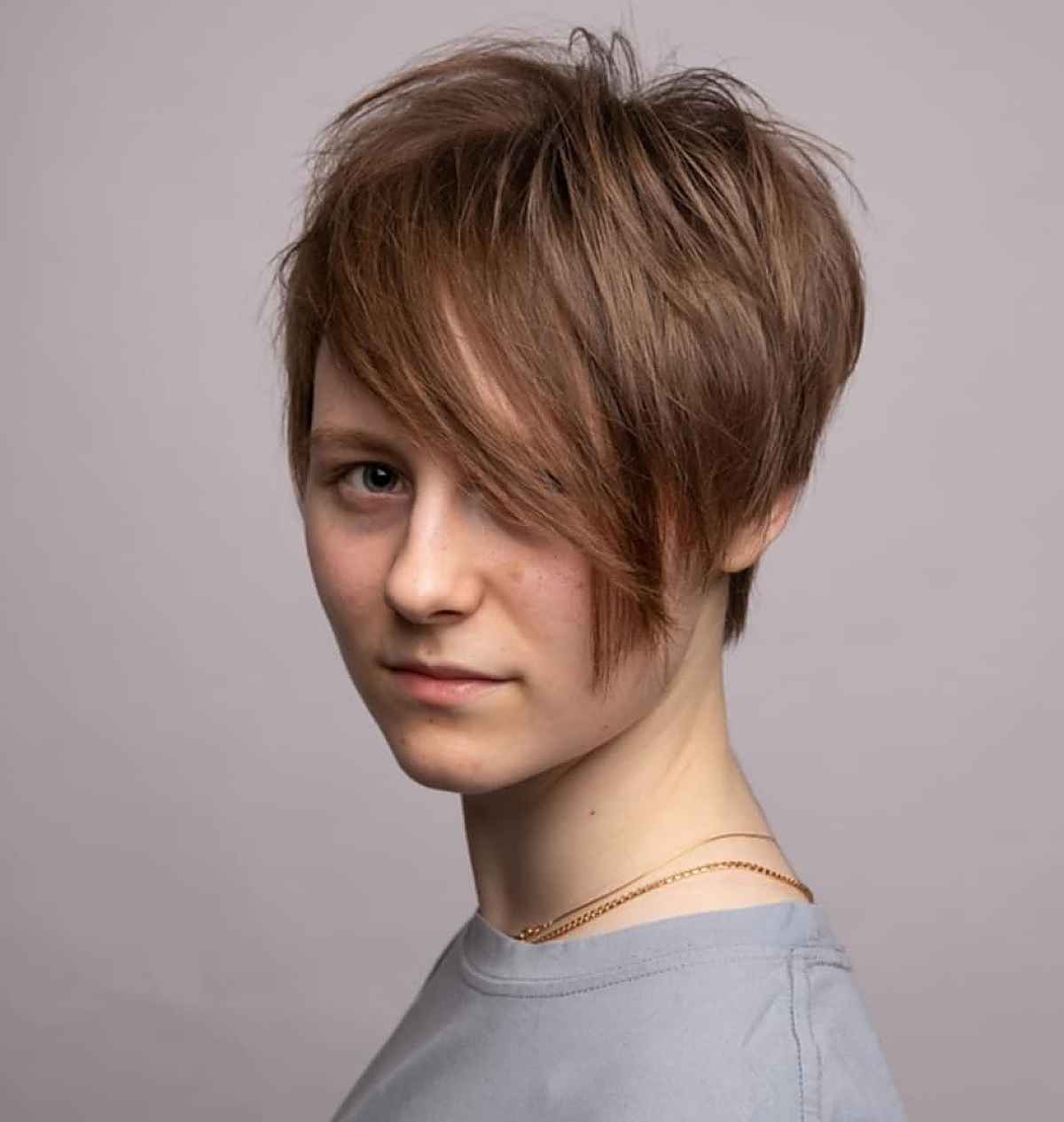 #25: Short and Low-Maintenance Long Pixie
A short and low-maintenance long pixie is stylish and spunky. A very textured haircut with long wispy bangs, low-maintenance short styles are easy to wash, style, and go and is great for fine to medium hair.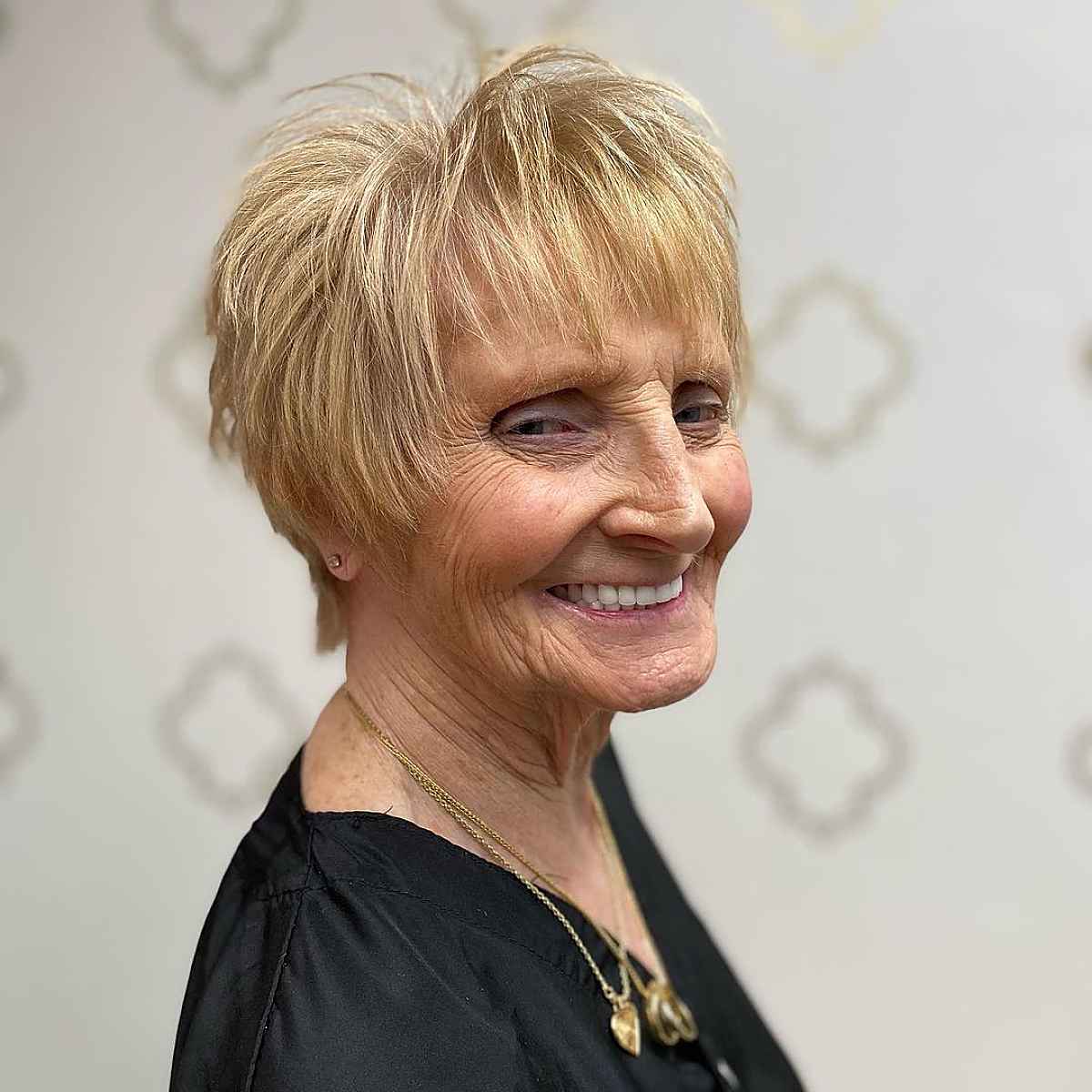 #26: Low-Maintenance Cut for Women Over 70 with Thin Hair
A low-maintenance cut for women over 70 is perfect for thin hair. Low-maintenance short hairstyles are easy to wear, so ask your stylist for a lot of texture for a spiky look.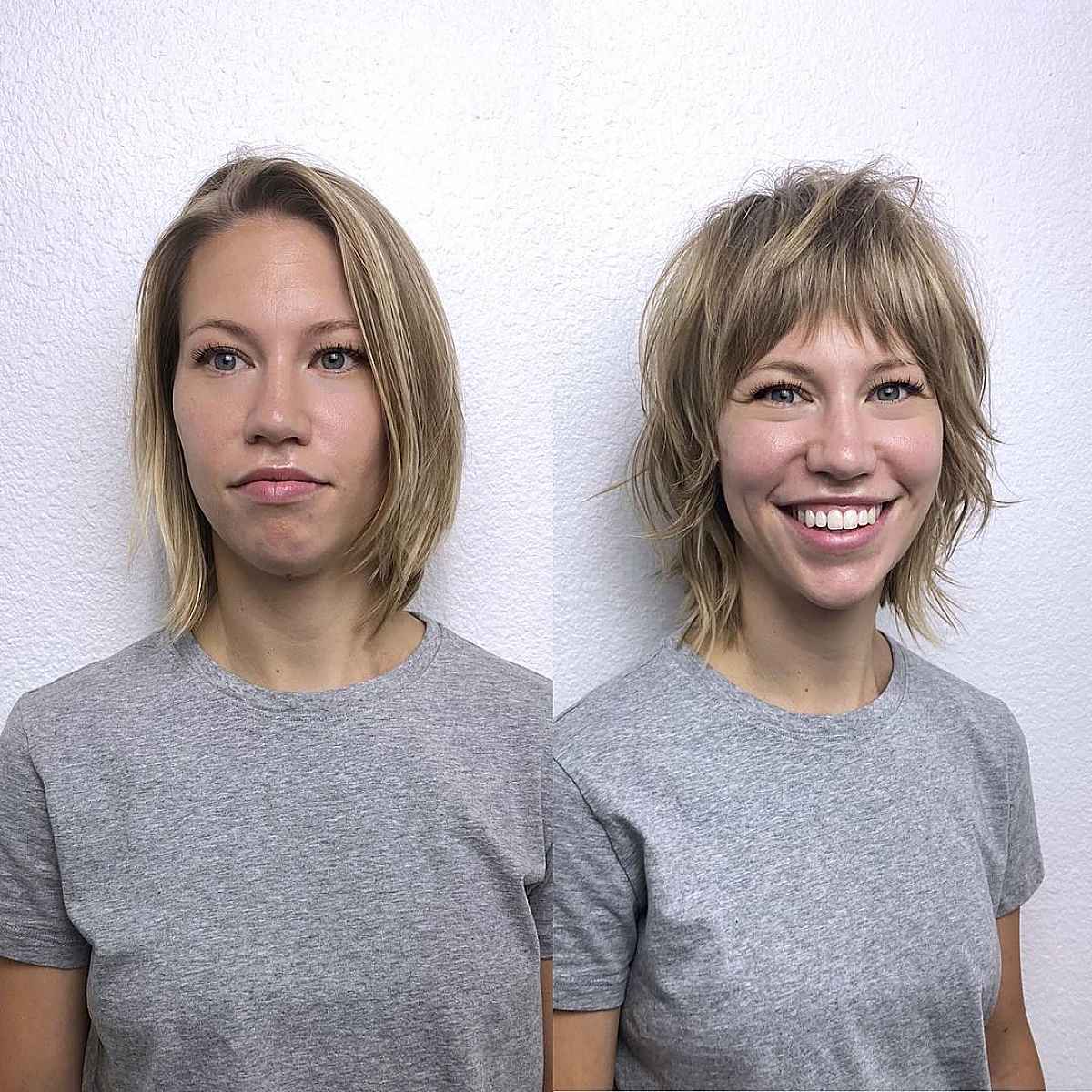 #27: Easy Shag Cut for Low-Maintenance Women
Try an easy shag cut for low-maintenance women. A low-maintenance short style is a fun, textured cut for ladies who want to throw in hair product, and go!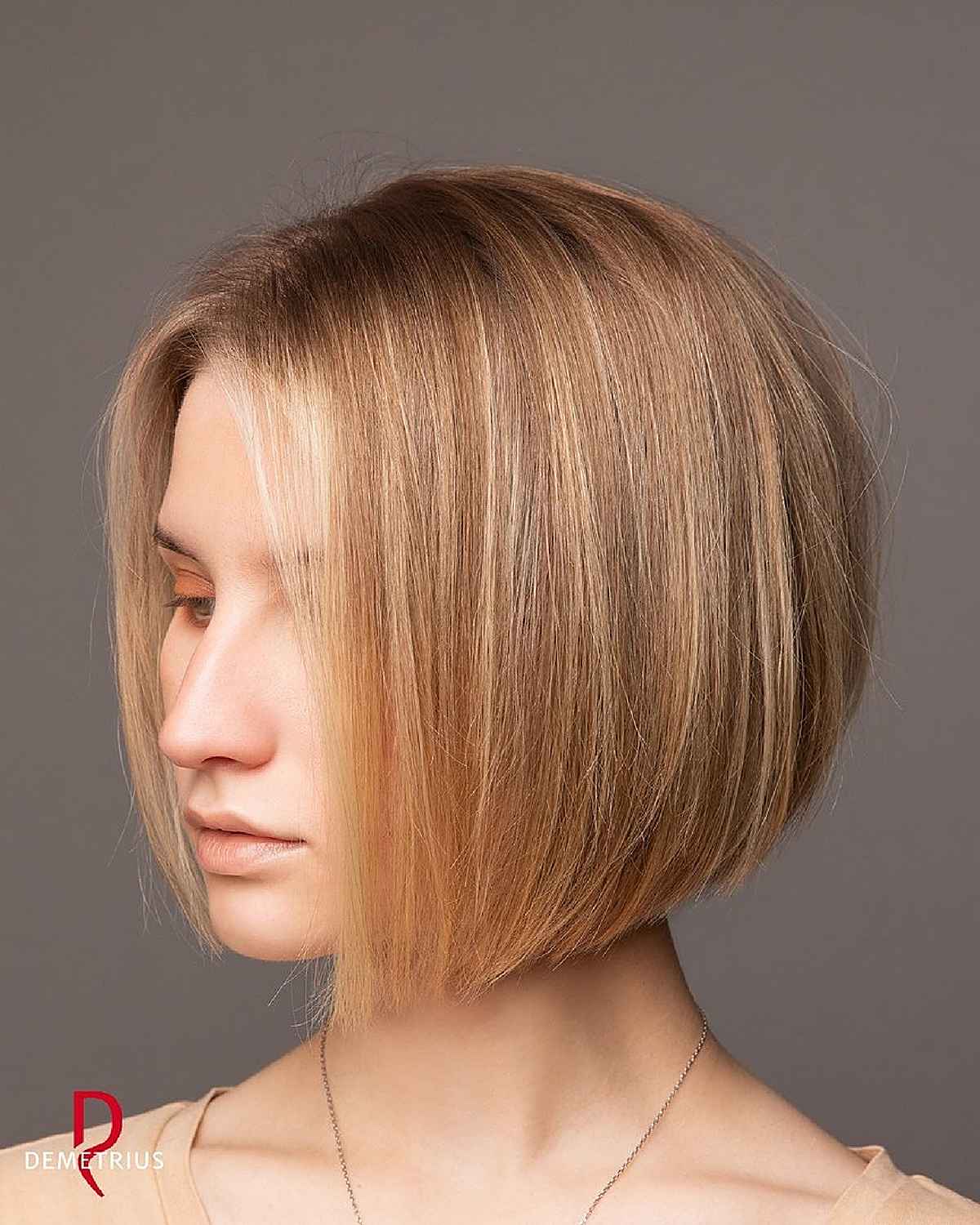 #28: Chin-Length Bob Hairstyle
A chin-length bob hairstyle is stylish and flattering. Great for enhancing the neck or jawline, short bobs are low-maintenance hairstyles for fine or thin hair.