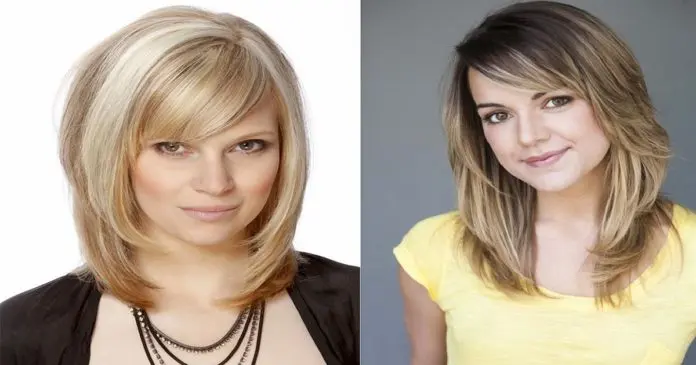 Medium length hairstyles will never go out of fashion, which is just one of the reasons why we love them. Medium length layered hairstyles are easy to maintain, look classy and they suit a wide variety of face shapes. Ask your stylist for one of these amazing hairstyles next time you visit.
#1: Highlights and Lowlights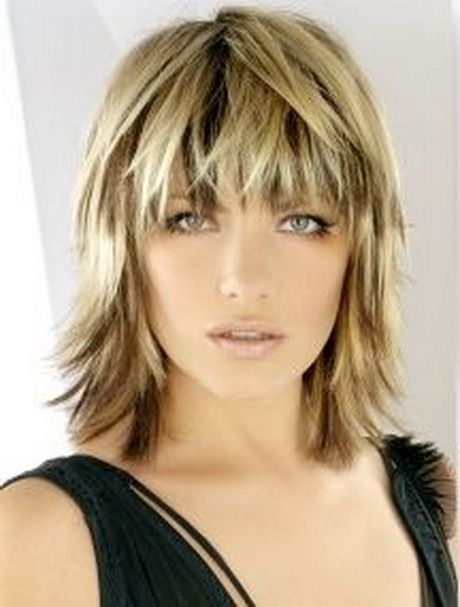 Give your layered look the illusion of having more texture, by adding complementary highlights and lowlights. This modern style of colouring looks fantastic with a choppy cut.
#2: The Wavy Weave Medium Hairstyle
Whether you get your natural hair relaxed or have a wavy weave put in, it doesn't matter. Heavy bangs make this a great style to try if you have thick hair.
#3: Fiery Temptress Medium Layered Hairstyle
These 60's inspired tresses are too hot to handle. Mix different copper tones to create a truly eye catching look, and the perfect medium length layered hairstyle
#4: Choppy Layers
This choppy layered look is reminiscent of the 90's, but is making a big comeback. Seemingly random layers allow you to have volume at the top, which thins out towards the bottom. Kick out each layer slightly to show off the styling.
#5: Straight and Sleek Haircut for Young Girls
Medium length layered hairstyles also look great when they are straight and sleek. Choose a slide parting with a long fringe to add another dimension to your style, so that the eye is drawn to your facial features.
#6: Loose Waves With Medium Hair Length
This manicured look can be worn for work or when you are out in the evening. Teaming a side parting up with loose waves helps to give the style a real touch of modern-day class.
#7: Bed Head Shoulder Length Haircut
This seemingly effortless layered look suggests that you got straight out of bed looking this fabulous. Run a little bit of product through your hair every morning to help to give your layers definition.
#8: Punk Rock Princess
A punk rock style can easily be created with medium layering. Short, chunky layers on top with thin, longer layers below offer a fantastically fashionable take on the mullet.
#9: Layered Lob
The layered long bob ("lob") frames your face wonderfully, and its a great style for people who have small "pixie" features.
#10: Frame your face
Chin length layers at the front teamed up with longer layers at the back will help to frame your face. This style is great for an "everyday easy" look that's still special.
#11: Thin Hair
Make thin hair look thicker with a combination of highlights and lowlights, and subtle layering. Feathering at the end of your layers will also add extra thickness.
#12: Dark Beauty
In a dark, medium length layered hairstyle, add extra excitement with very subtle hints of copper.
#13: High Volume Hairstyle for Girls with Mid Length Hair
If your hair already has a lot of volume, use layering to help you to create a manageable yet classy style. A side parting and loose flicks add an interesting touch to bigger hair.
#14: Smoking Eyes
Adding different length layers can draw attention to (or away from) certain areas of you face. Accentuate your eyes and cheekbones by creating a layered fringe which flicks out just below your eyes.
#15: Signature fringe
A large sweeping fringe is an excellent choice for a dramatic look. THe addition of choppy layers help to add to the sexy windswept look.
#16: The Rachel (mark 2)
Rachel was the queen of the medium length layered look, and the Rachel was the most fashionable hair cut in the world for 6 months in the 1990's. Bring your style into the modern era by choosing a different cut with a more timeless Rachel look.
#17: Wet Look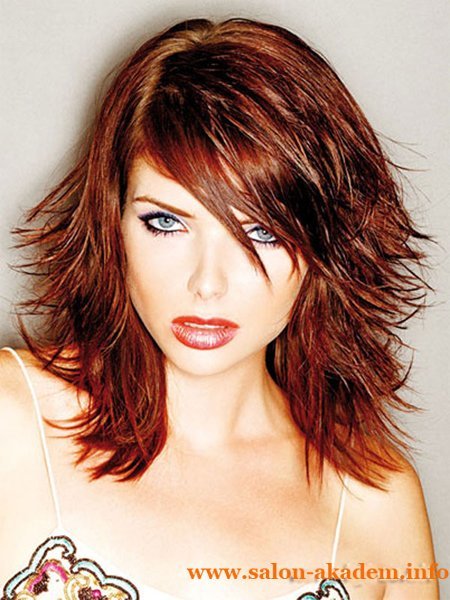 Stay cool in summer with this fantastic wet look. Run product through your hair, so that each individual length of layer is accentuated.
#18: Vampire Slayer
For a super trendy look which will be slaying them in the aisles, choose a look which is longer at the front than it is at the back. A mixed fringe (both long and sweeping) will draw attention to your dramatic eyes. Add a touch of colour for the killer blow.
#19: Back in Black
Medium length hair looks fantastic in a thick, luscious black style.  Frame your face with layers at the front, then keep things longer at the back, so that you can show off your shoulders when you are out and about.
#20: Short and Sweet
This short-medium length layered look is great for people who have thinner hair. Very fine layers can be added to keep your hair looking "light" and effortless, without leading to it looking thin and unkempt. A sweeping side fringe completes the look.
#21: Face Framing Bob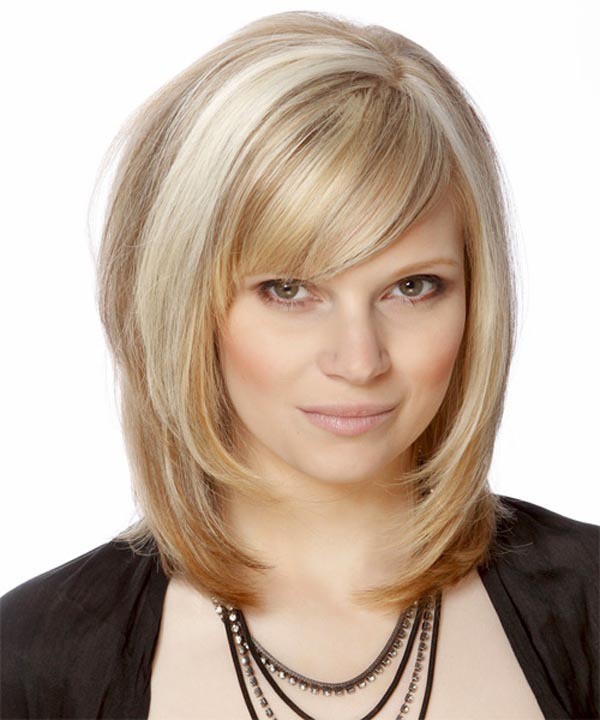 Frame your face perfectly by adding chin length layers at the front, and then slightly longer layers as you go back. For a face framing effect, keep the layers above shoulder length, and give them a slight flick inwards to follow the natural curve of your jaw. Beautiful bangs accentuate your eyes too.
#22: Everyday Easy
For an easy look which can quickly be changed up if you need to attend an important function, choose a manageable style which looks great whatever configuration its in. Face framing layers and a  diagonal parting help to make the style look effortless. To add an evening touch, add a few loose curls to some of the top layers.
#23: 70's Glamour
Bring back the 70's with big hair and lots of layers. Use a light feathering technique to flick the layers away from your face. Curl your hair rather than flicking it to give the style a modern twist. Short layers near the crown of your head contribute to the unique, retro glamour.
#24: Spanish Fire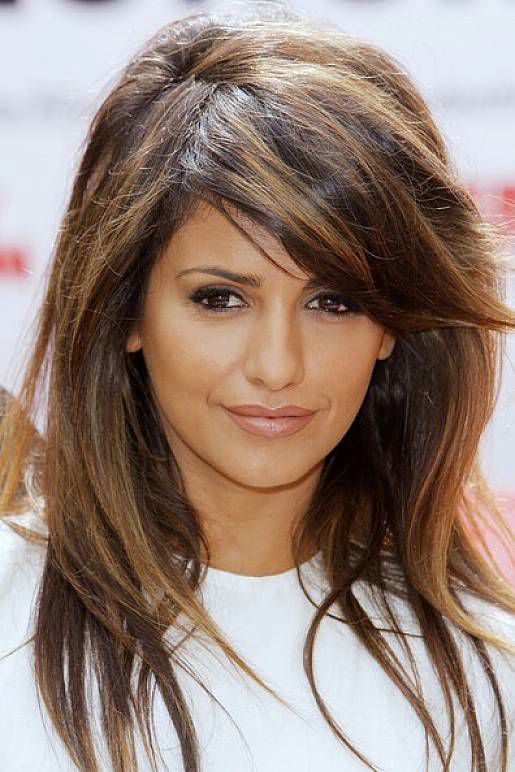 Soften dark hair by adding caramel highlights which complement your natural skin tones and dark eyes. Side swept heavy bangs can help to transform a simple medium length layered look into one which is red carpet ready!
#25: Sleek Bob
Not a hair out of place! Add only a couple of layers at the front of your style and keep the rest long. Straighten your hair to make sure that it stays looking sleek and perfect. If you have a long face shape, avoid styles similar to this one.
#26: Thick Hair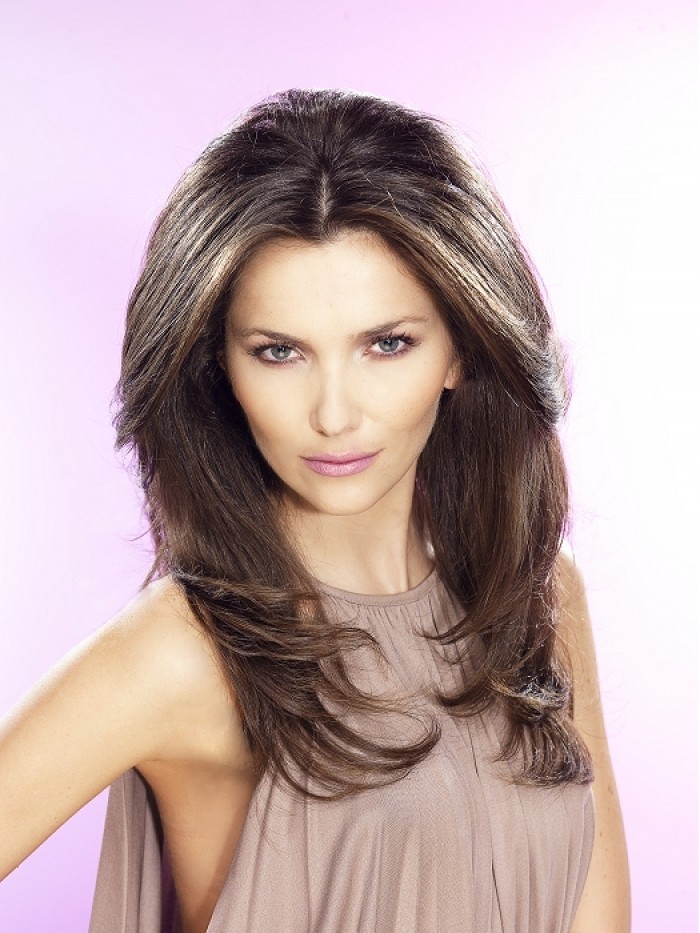 This medium-long style is an excellent option if you have thick hair. Add a medium length fringe which flicks outwards to accentuate your cheek bones, and brush through your layers to enhance your natural volume. This can be worn up when you are at work, then taken down in the evening for no-nonsense glamour.
#27: Casual Cool
For a casual but cool look, layer your hair around your face, and add a sweeping side fringe. This is a real girl next door look.
#28: Beautiful Bob
A short-medium length shaggy bob is a brilliant modern look for those who want everyday easy and gorgeous glamour all in one cut. Cut short layers on the top, and chin length layers underneath, then run a little product through your hair to create loose flicks out.