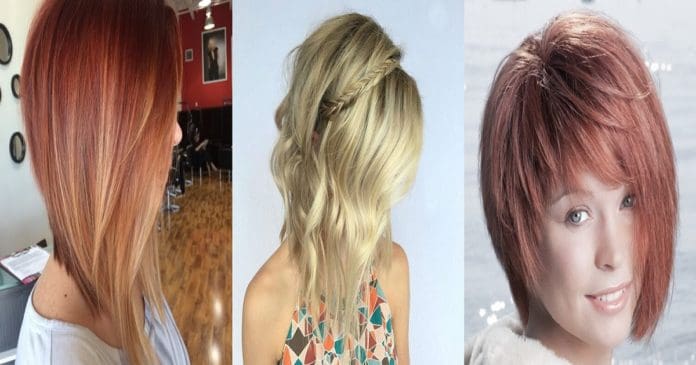 Out of all the new haircuts you could take into consideration, the asymmetrical bob definitely stands out from the rest. Not only does it incorporate one of the hottest trends in the past few years, the bob, but it takes it to the next level entirely. As the name suggests, this hairstyle is based on asymmetry and going against the grain fabulously. Enjoy the abundance of ways you can get yours below!
1. Messy Asymmetrical Bob
Contrary to traditional mindsets, "messy" is the new "classy" this year. When it comes to hairstyles and haircuts, a messy approach proves an almost paradoxical sense of fine style. So, ladies, rake those fingers through your hair without a care!
2. Icy Silver Bob
We hope you're already well aware that gray hairstyles are more popular than ever, including platinum silver versions. In this example, we took things a bit further with an ever so subtle blue tint on this adorable silver bob.
3. Asymmetrical Short Hair
Portia de Rossi proves that short bobs look utterly marvelous when trimmed unevenly. This particular haircut rests on the fine line between an outgrown pixie haircut and a bob, simply perfect for flaunting those lovely short locks.
4. Cotton Candy Bob
As a woman considering an asymmetrical haircut, we already know that you're brave. But if you're thinking about going even bolder with an unconventional hair color, then props to you! This cotton candy shade of pink is a pretty choice indeed.
5. Straight Asymmetrical Bob
One of the most generous textures for asymmetrical bobs is super straight hair. As there are no waves or curves involved, you can appreciate the difference from one side to the other. In addition, parting your hair to the side can help you achieve that sexy long bangs look.
6. Asymmetrical Long Bob
Speaking of long bangs, how about showing them off with an equally long bob? Even though many women tend to associate bob haircuts with short hair, you should know that the "lob" is just as trendy as the classic bob.
7. Ombre Bob
If you fancy playing around with colors, ombre will show the way. Although this technique has been around for quite some time now, it still maintains popularity. Pair it with a long asymmetrical bob and you've got a dreamy hairstyle indeed.
8. Balayage Bob
However, if you prefer a sleeker color gradient in your hair, balayage is the way to go. Melting different tones from a similar color palette is a beautifully discrete way to bring any hairstyle to life, an A-line bob like this included.
9. Wavy Asymmetrical Bob
So you've seen uneven bobs on straight hair, but what about girls with wavy locks? This haircut is a dream come true for women with wavy hair that don't want something too flashy. Owing to the dynamic texture of wavy hair, your bob will be subtly asymmetrical.
10. Blonde Tips Idea
On the other hand, you can always enhance the asymmetry of your bob through various methods. One way is to highlight just the tips or edges with an eye-catching color. In this case, you can see how a splash of blonde can make the whole difference.
11. Asymmetrical Bob African American Women
Ladies of color look absolutely ravishing with asymmetrical bobs. Not only can they rock them with braids, like in the photo above, but also with their natural curls grown out. You'll understand what we're talking about at #19.
12. Highlights on Bob
If you're not up for the color transitions that come with ombre or balayage, you can always go for a classic and classy set of highlights. You can opt for a traditional combo with a light brown base and blonde highlights, or you can explore hues that are more vibrant.
13. Fishtail Braid Bob
Alright, let's say you've got your asymmetrical haircut all sort out. What are you going to do about styling? Even though it might seem more difficult to style shorter hair, you should know that braids are always an option. Enjoy this fishtail crown braid as inspiration.
14. Thin Hair Asymmetrical Bob
We know that thin hair can be a genuine challenge when it comes to haircuts. Nevertheless, this isn't the case for asymmetrical bobs. This haircut is excellent for bringing your thin locks to life in a magnificent way.
15. Asymmetrical Bob with Bangs
Rest assured that you can also rock an asymmetrical bob with bangs. Regardless if they're straight, rounded or side bangs, they will all look enchanting with an uneven bob. Moreover, you can play around with the length of your bangs too.
16. Faux Asymmetry
What do you do if you like the idea of an asymmetrical haircut but you're not willing to chop off your precious locks yet? Fake it 'til you make it and recreate an asymmetrical bob look by pinning some of your hair back. Just make sure that you have a layered haircut to begin with.
17. Rose Gold Asymmetrical Bob
As far as colors are in discussion, you have a wonderful world full of possibilities for your bob. Generally any color will look fantastic with this haircut, but we have to admit that rose gold has a charm of its own.
18. Braided Bangs Bob
This is another way you can beautifully add braids to your bob. All you have to do is part your hair to the side and braid it in the same direction. Start from your part and work your way down, tucking the end behind one ear.
19. Asymmetrical Bob Curly Hair
As promised, here is how a slightly asymmetrical bob looks like with afro-textured hair. The natural curls make the hairstyle all the more delicious and impossible to not admire, even from afar. All we can say is W-O-W!
20. Pastel Neon Bob
Not many women will be up for a pastel neon hair color, but we couldn't resist including this heart-stopping hairstyle in our list. If you're courageous, outgoing and downright fearless, we encourage you to express yourself through the color of your wildest dreams.
21. Bob with Box Braids
Box braids are some of the most beloved hairstyles in the African hair community. We're happy to reassure you that they look stunning when cut asymmetrically. Consider highlights to accentuate your cute braids even more.
22. Colorful Asymmetrical Bob
Show your true colors with a funky hairstyle like this one. Even though it literally includes all of the colors in the rainbow, it's not nearly as flashy as you'd expect. The secret is that the bright colors were gently applied in a few highlights.
23. Asymmetrical Bob Sew In
This haircut can be easily adapted for wigs, weaves and other sew-ins. Here is an example of a sew-in that is just about mid-length, but you can make yours shorter or longer as you please. We love the tucked-behind-the-ear detail too.
24. Bob with Locs
Locs are adorable when cut into an asymmetrical bob fashion. A haircut like this also serves as an amazing way of rocking shorter locks, as opposed to shoulder-length or longer. We're digging the A-line cut on this one.
25. Angled Bangs and Asymmetrical Bob
How about making your bangs asymmetrical too, like the rest of your hair? The results are super cool and we love the unconventional vibe that comes with this hairstyle. Nonetheless, we recommend it for women with naturally straight hair for less maintenance stress.
26. Asymmetrical Bob for Mature Women
No matter your age, funky fresh hairstyles are for everyone! If you want to celebrate your youth, think about getting a sleek asymmetrical bob with a bit of color. Keep your natural gray (it's all the rage now) and throw in some highlights in your favorite color.
27. Long Asymmetrical Haircuts
We're all for long bobs, but this one gorgeously pushes the limits of the lob even more. We warmly recommend this type of haircut for women who don't want to radically shorten their hair with their new makeover.
28. High Fashion Bob
If couture is your middle name, you can show off your fashion sense through your hairstyle. The shape of this asymmetrical bob is jaw-dropping, as well as the color combination. If you choose this approach, you should definitely work with an expert stylist.
29. Short Bangs and Asymmetrical Bob
There's something about super short bangs that makes us adore them. Top them off with a visibly asymmetrical haircut and you've got a cool and chic hairstyle you can proudly sport. The color choice is nice in this example as well.