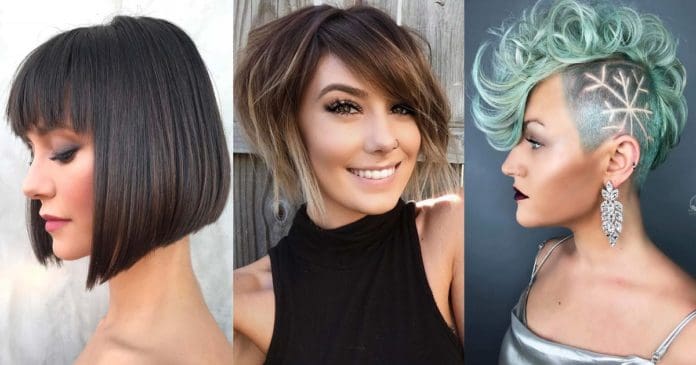 Unfortunately, we do not know who we should owe this trend to, but frankly speaking, these short haircuts are bomb dot com. Despite the fact that cutting your hair short has some disadvantages, advantages are much bigger. A nice short haircut can make your facial features more distinctive, bring attention to your neck and shoulders, and it is easy to take care of.
Short haircuts for women can be a huge dilemma, especially for the owners of long and thick hair. To tell the truth, do not be afraid to experiment a little. If you won't like your short cut, you can return to your long hair in a couple of months.
Short haircuts for black women look even better. Thick curly hair is extremely difficult to style because of its texture. Short hair will be perfect for this type of texture.
90's Bob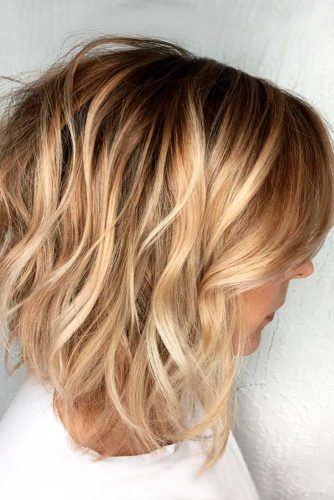 A layered bob is one of the trendiest short haircuts that suits almost every face shape. Being a safe bet, this hairstyle includes creating layers of different lengths. All of these layers end at your shoulder.
Another great aspect of this short hairstyle is that the blonde highlights in contrast to the darker hair under it will make your hair appear voluminous. By giving your locks some texture with a little bit of loose curling will enhance the look even further.
Source: Rachelringwood via Instagram
Dual Textured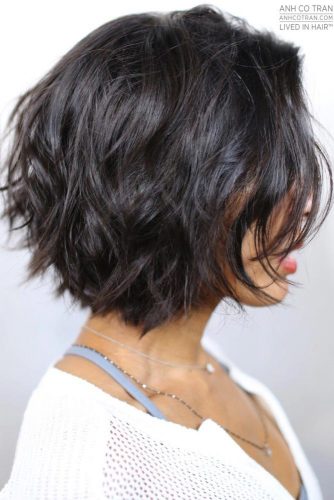 A short haircut that ends just above the collarbone, this particular hairstyle for the dark-haired beauties is a definite winner. The layers in this are shorter at the back and the front layers are kept slightly longer and give the appearance of a medium length haircut from the side.
The angle of the front layers gives this short hairstyle the appearance of a tousled, choppy bob. Apply some hairstyling gel on your palm and run your fingers through your hair to style this hairstyle into cute flicks. An amazing romantic look for a date night with your significant other!
Source: Anh Co Tran
Shaggy Bob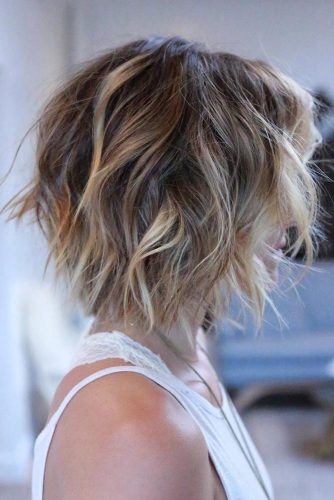 This is the perfect choice when you want a short haircut that is easy to create and maintain. A messy, shaggy cut like this contains uneven layers of hair that can be styled with minimum effort.
This layered haircut will give you that 'bedhead' look that has been popular on the fashion show ramps for quite some time now. You can either leave the hairstyle as it is or use some styling cream to make it look more tousled. For a sophisticated look, use two to three hairpins to pin a few strands at the back of the head.
Source: Anhcotran via Instagram
Golden Crop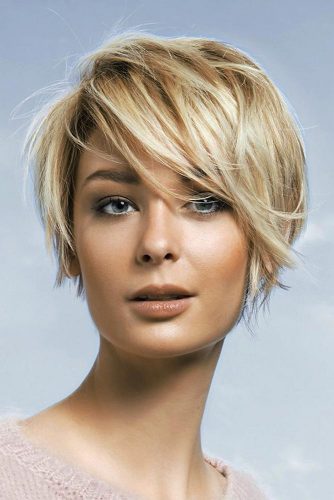 A short undercut with a long top section makes this short haircut stand out among the crowd. Also known as the pixie cut, this hairstyle is convenient to maintain and needs minimum styling.
Bleach the ends of the hair and keep the roots darker to give the top of your head some volume. When the hair grows out slightly making this hairstyle a long pixie, running a flat iron on the ends can make the look more playful.
Source: Bassu
Shattered Pixie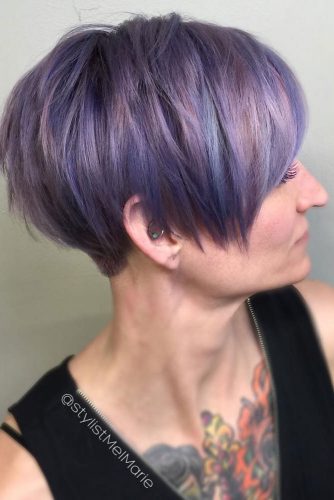 For those who want to take their short hairstyle to the next level, add some color to your pixie cut. The purple with the hints of blue creates a mesmerizing combination among the different layers of this haircut.
This pixie cut for thick hair includes adding bangs in the front. For women who have a stronger face cut like a square face or a diamond face shape, the long pixie cut with bangs can soften your features.
Source: Stylistmelmarie via Instagram
A-line Accents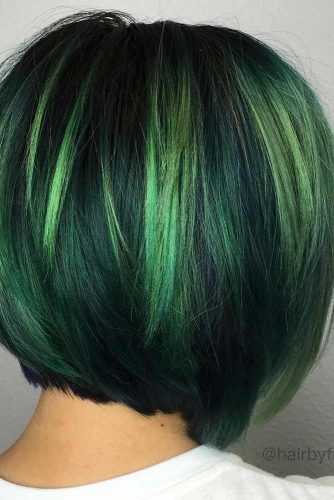 If you have hair that falls flat on your head, then this bob haircut for straight hair is for you. Opt for chin length hair in the front with a slightly angled cut at the back when you visit your hairstylist next.
Add some color to give this short hairstyle a graduated bob look. The right balance between classy and edgy is easily achievable with this type of a hairstyle. You can look stylish with minimum effort with a wedge bob like this.
Source: Hairbyfranco via Instagram
Sweet Pixie With Bangs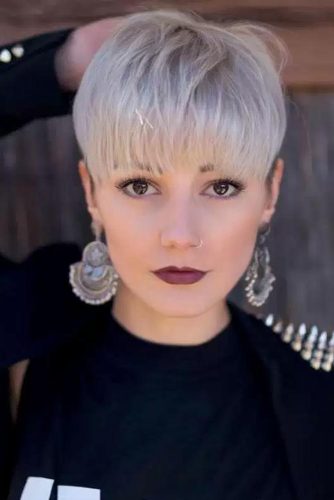 For the short hair fans, this sweet pixie haircut with bangs is a must try! Trimmed and tapered ends that do not reach the nape of the neck emphasize your neck and shoulders.
With longer bangs, this pixie cut suits face shapes that have a broad forehead. These bangs will highlight the other features of your face like your eyes. With no complications in styling, all you need to do is use a hair straightener to help the bangs fall easily.
Source: Mari_stru via Instagram
Layered Bob For Fine Hair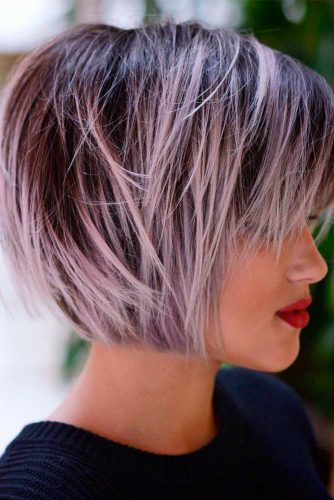 Straight, fine hair can be made to look voluminous by adding a couple of layered to your short haircut. A layered bob that is just a little below chin length and has shorter hair in the front can accentuate your features and not make your hair look limp anymore.
Play up this short haircut for fine hair by adding some highlighter hair strands to it. Colors like lavender look great against the background of darker roots in the hues of deep brown or burgundy.
Source: Cutyourhair via Instagram
Bob Haircut With Bold Middle Section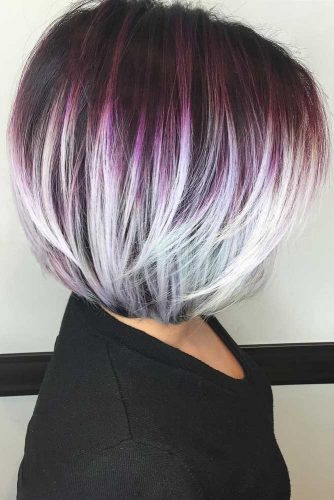 This short haircut almost touches your shoulders and comes in the short to medium layered bobs category. Choppy ends make the hair look a little messy but stylish at the same time.
The short layers in the front make this bob haircut with bangs easy to style as flat-out bangs or side swept bangs. To add a touch of boldness to it, ask your hairstylist to dye the middle section of your hair with a vibrant color.
Asymmetrical Wavy Bob
Source: Bobspiration via Instagram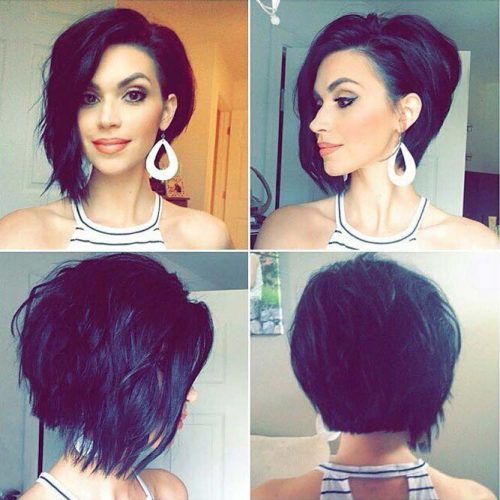 The asymmetrical bob is popular among women who have a smaller face shape and want a short haircut to put emphasis on their facial features. With one side of the head having short layers that end at the beginning of the neck, the hair on the other side is kept long, reaching almost shoulder length.
This is a suitable layered bob for long face shape too. The cut looks elegant and can be styled to look more texture using some styling gel. Braids can also be done to add a feminine touch.
Super Textured Undercut Asymmetrical Bob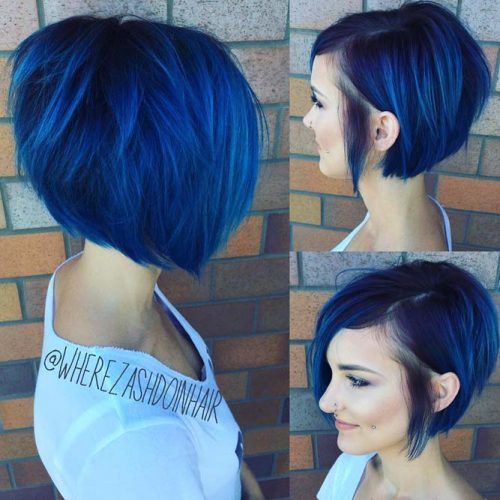 Undercut hair on one side can add more 'oomph' to your short, asymmetrical bob. With slightly longer hair strands on one side and the undercut on the other, this short hairstyle will make you stand out.
Ask your hair artist to keep the top layers of hair present on the crown of your head the shortest so that you can give this look the appearance of a textured bob. Additionally, add a bold color like the beautiful blue in the picture for that extra edge.
Super Textured A-Line Bob
Source: Glamiris via Instagram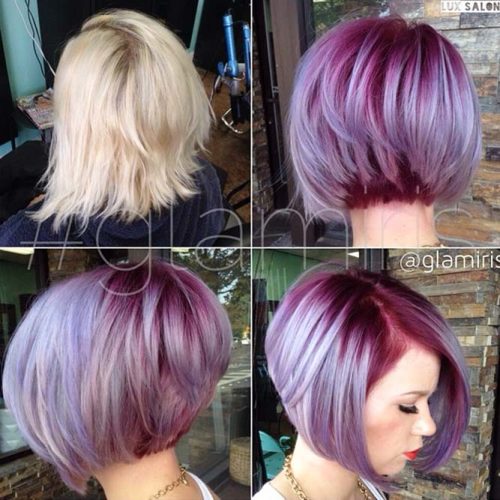 An A-line bob accentuates your face shape and highlights your jawline too. Be it a formal occasion or a night out in town with your friends, this wedge bob hairstyle will look great with any outfit.
This haircut is easy to style too. Use a cute hairpin or a hair accessory to pin-back the longer sections from the front and make this edgy look a little feminine and romantic when needed. Add a trendy hair color like purple or pink with in a balayage style to make the A-line bob look prettier.
Layered Bob With Choppy Bang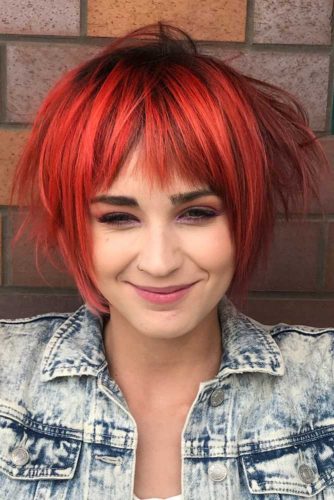 This short haircut can make your hair look luscious and full of volume. It suits women who have thin to medium thickness hair really well.
A choppy cut is what you need to specify to your hairstylist when you want to get this hairstyle. With uneven layers like this, use a texturizing cream before your blow-dry to look edgy and cute. A flat iron can help to straighten out the bangs and make them wispy. Jazz up this bob haircut with bangs by opting for bright highlight like the red in the picture.
Pushed Up Pixie Cut For Oval Face
Source: Laisdelagnese_ via Instagram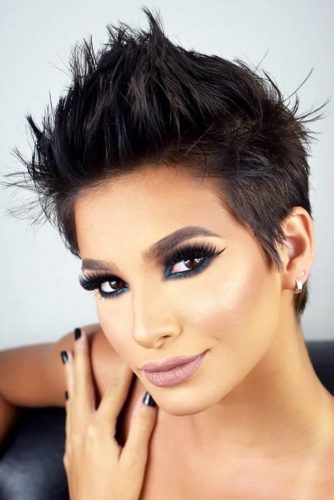 This is an absolutely sexy pixie cut. With the use of your preferred hair gels or pomades you can make this look your very own. Of all the short haircuts for oval faces, this would have to be one of my favorites. Its seductive flare makes one almost irresistible. This cut is also one of a confident woman who is not afraid to make sure that everyone knows that she is comfortable in her own skin. The smoky eye make up only enhances this cuts seductive attributes.
Silver Pixie Haircut For Square Face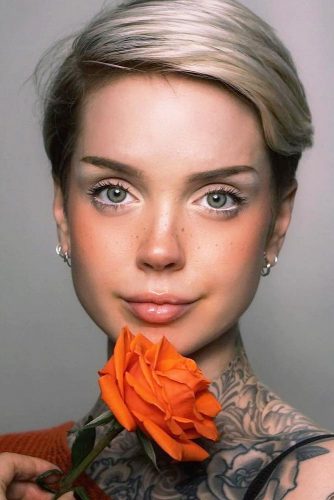 If you're wanting to acquire a short haircut for square faces, you'll want to look at the pixie cut. You can keep everyone intrigued if you go the route of silver hair. Feel free to explore the platinum blonde and gray hues to intrigue even the hardest of hearts. If you decide to add in some bangs that wouldn't hurt the sleek look either. Also be sure when if you're going with a short pixie that you are certain of your choice as that these hues typically appear better on a longer pixie.
Side Swept Style For Long Face
Source: Fevasconcellos via Instagram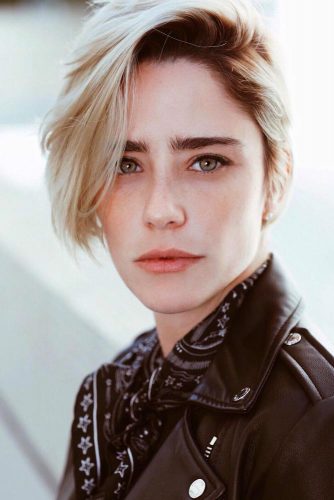 The long pixie is also a long time favorite of short hair wearers. It is one of the best short haircuts for long faces because it complements the facial features rather than isolating them drawing undue attention. Often worn on the side swept hairstyle it is easily maintainable and easily styled. Simply blow dry with a round brush in the desired direction and you're done. This specific style seems to be timeless with this cut.
Voluminous Pixie For Triangle Face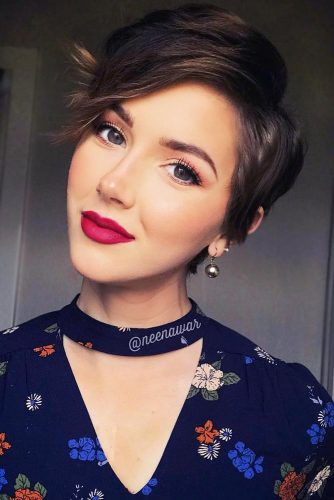 It was once thought that if a woman continually wore a short haircut that she was a tomboy. That is no longer the case. In modern times even the shorter pixie hairstyles are very feminine and classy. If you have dark hair you can still add some color to spice things up a bit. Although various body types wear this style length and layers complement the short haircuts for triangular faces. Be bold be daring and step outside of the box with your new, sassy, voluminous, pixie cut.
Choppy Style For Heart Shaped Face
Source: Peachpaintshair via Instagram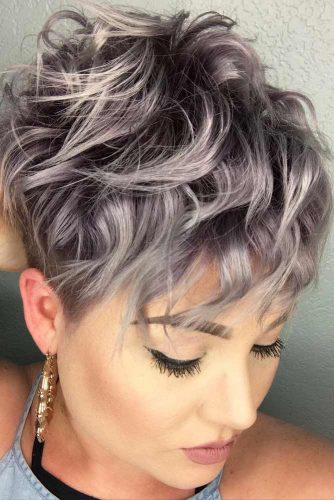 This pixie cut is definitely very charming with the soft wavy hair gently flowing downward. The lady's hair strands are quite thin and thus the addition of short layers creates enough volume and texture for this awesome pixie. Likewise, the short soft bangs create a lovely aura which is very innocent and charming. These so-called choppy haircuts have become increasingly popular with the messy hairstyle coming to the forefront in popularity. It performs excessively well as one of the premier short haircuts for heart-shaped faces.
Cool Long Pixie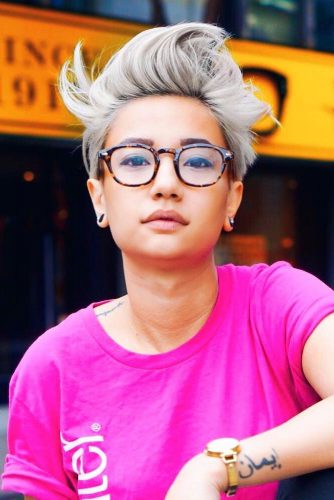 If you have fine hair you should explore the joy that awaits the world of the long pixie cut. As women age their hair tends to become more fine and harder to style. Thin layers and lots of them will boost fine hair into looking full and thick. Among short hairstyles, this long pixie is a very popular choice. It also appeals to those who are in search of their gray hair revolution. Whether they are seeking it as a fashion statement or accepting of mother natures ability to strip us even of our natural hair color. The long pixie is an avenue worth walking down.
Glamour Blonde Pixie
Source: micahgianneli via Instagram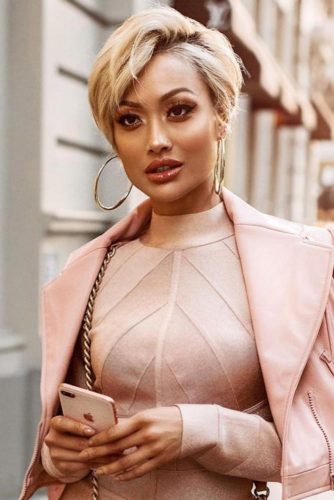 It is often said blonde is more fun. It is also said that they have more fun If you have blonde hair you, whether it is natural or not, you can attest to these statements. The long pixie cut above is strangely close to a bob with a longer top. The long bangs do tend to give it this effect however, it is a pixie none the less. The deep side part accentuates the clients darker roots allowing contrast to the style.
Brown Chocolate Pixie For Thin Hair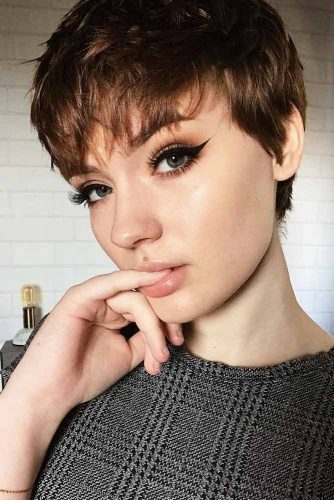 Long-held beliefs that brown hair wasn't well suited for short haircuts to have finally became a thing of the past. The supposed asexual appearance that was associated with a brunette wearing short hair has been annihilated and brunettes everywhere are rejoicing. Adding some layers is beneficial in haircuts for thinning hair. The layers not only add volume but also add a dimensional effect that assists the hair is looking fuller and more voluminous.
Textured Pixie With Balayage
Source: Riawna via Instagram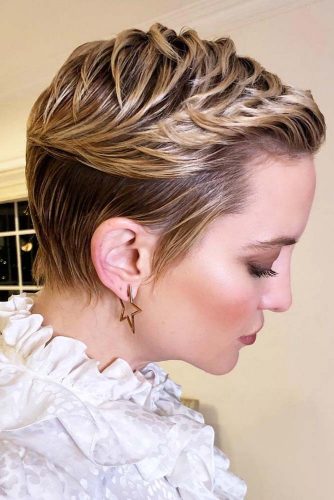 When one is in search of a textured haircut one must pursue the idea of multitudes of layers being present in their cut. The model above is sporting a fine example of a pixie balayage hair. The multiple layers included in this style has the appearance of a difficult styling procedure. However, that is not the case since the layers are cut in such a way as to make styling hassle free. The clean sides and back have a very professional air making this the perfect power haircut.
Classic Bob Haircut With French Fringe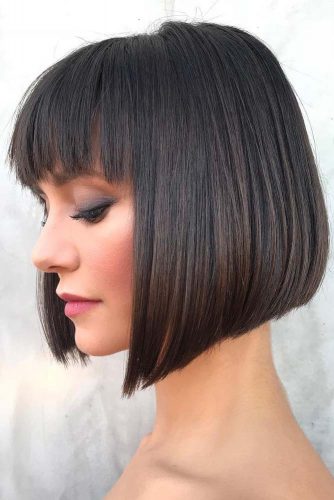 The French fringe cut is a cut that can go from mudding in the backwoods to a 5 star gala with little effort. Its versatility is one of its most attractive attributes. The classic bob has long been a hairstyle chosen by women worldwide for its versatility and ease of styling. A bob haircut is always in style no matter the season no matter where you are in the world. It is quite literally a global style spanning cultures and ethnicities all over the globe.
Tapered Haircut With Colored Shaved Side
Source: Bottleblonde76 via Instagram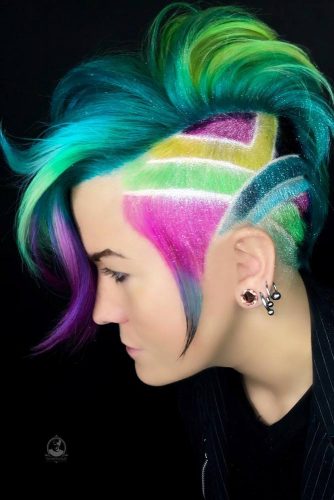 This particular style is a very bold and daring one. The seeming unicorn look has a classic taper hair cut with a poufy top. This side shaved and lined color palate is the epitome of one who is not concerned with others opinions of them. While this style would not be widely accepted on the corporate scene it is a fun style for a more relaxed work environment. The use of multiple hair colors and lined out sections on this cut make it even more thought-provoking.
Taper Curly Haircut With Undercut Design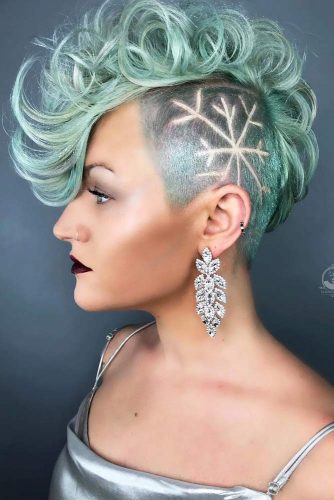 As seen in the model above we have yet another version of the taper cut. This one leaving a mohawk of beautiful ice blue curls atop. As often is the case with naturally curly hair styling comes by happenstance. This style is accented by an undercut design which could serve as a warning to approaching strangers. The snowflake design would fit well with a punk rocker version of the Disney character "Elsa".
Wavy Bob Haircut With Deep Purple Balayage
Source: Thejennshin via Instagram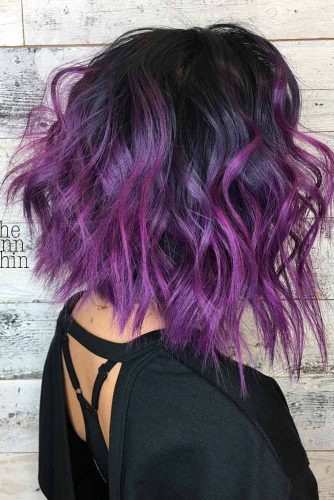 If you have wavy hair this is one of the cutest bob hairstyles we have seen in a while. The balayage effect combined with the wavy texture of her hair gives her depth and width to a normally drab head of hair. The purple hair, in its own right, does an excellent job of adding its own layer of depth and beauty. This is a beautiful representation of a combination of several ingredients resulting in a gorgeous finished product.
Silver Wedge Bob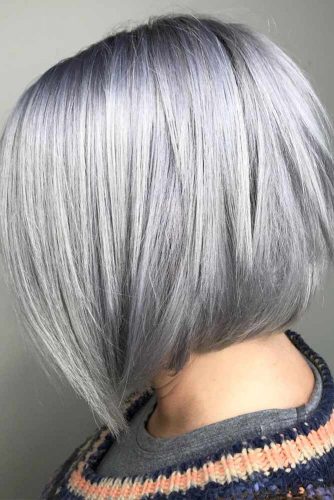 Reminiscent of the 1960's the wedge bob has made a come back in recent years. The layers provided by this look are a gorgeous representation of a deep yet clean look. This layered bob looks phenomenal on silver hair! Combining these two styles results in a stunning wedge that would work great in any work or casual situation. While it typically works best on straight hair it can also be worn with loose curls without making the style look too busy.
Peach-Pink Blunt Bob
Source: Therealmelissab via Instagram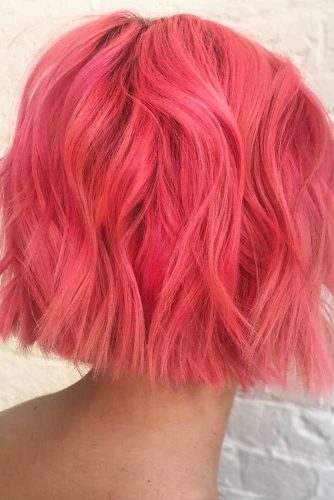 You would most likely never guess that this lady has thin hair, would you? This blunt bob haircut gives the illusion of volume due to the use of a razor during the cut process to create a shaggy ended masterpiece. It is set off by the lustrous peach color assuring one of her confidence of character. While this cut typically works best with wavy hairstyles it is also compatible with straight hair. You don't, however, want to use a razor on curly hair as that the various ends will result in a frizzy untamed look.
Highlighted A-Line Bob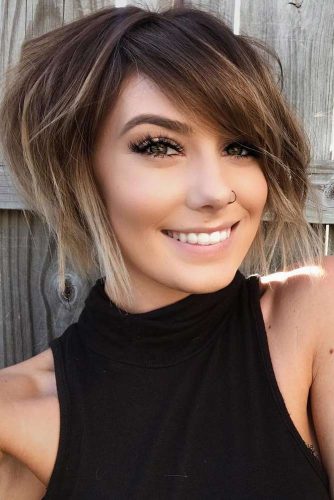 This lady is absolutely owning this chic style. Her A-line bob with the chin length front works beautifully with her brown hair with highlights. This asymmetrical bob also allows for depth provided by the gradual incline of her cut and the various layers provide her with enough volume so that her hair doesn't appear limp and unmanageable. This style would also work in nearly any environment whether work or play and it works well with her facial features also.