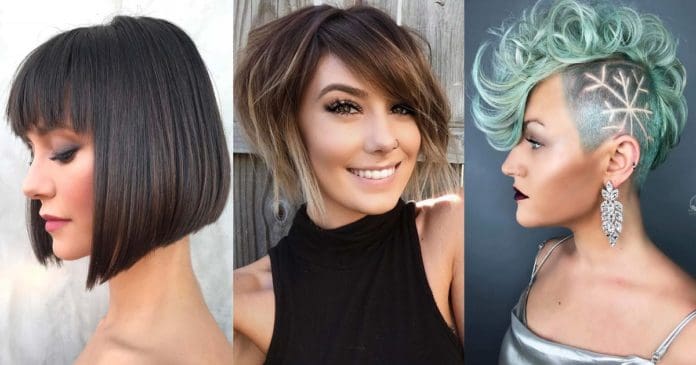 Unfortunately, we do not know who we should owe this trend to, but frankly speaking, these short haircuts are bomb dot com. Despite the fact that cutting your hair short has some disadvantages, the advantages are much bigger. A nice short haircut can make your facial features more distinctive, bring attention to your neck and shoulders, and it is easy to take care of.
Short haircuts for women can be a huge dilemma, especially for the owners of long and thick hair. To tell the truth, do not be afraid to experiment a little. If you won't like your short cut, you can return to your long hair in a couple of months.
Short haircuts for black women look even better. Thick curly hair is extremely difficult to style because of its texture. Short hair will be perfect for this type of texture.
90's Bob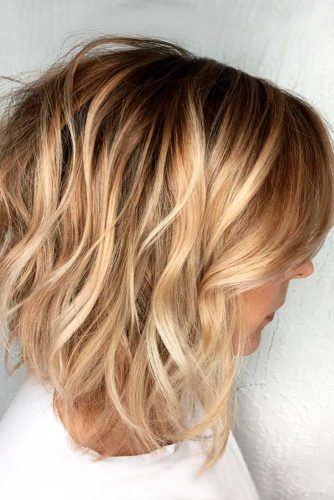 A layered bob is one of the trendiest short haircuts that suits almost every face shape. Being a safe bet, this hairstyle includes creating layers of different lengths. All of these layers end at your shoulder.
Another great aspect of this short hairstyle is that the blonde highlights in contrast to the darker hair under it will make your hair appear voluminous. By giving your locks some texture with a little bit of loose curling will enhance the look even further.
Source: Rachelringwood via Instagram
Dual Textured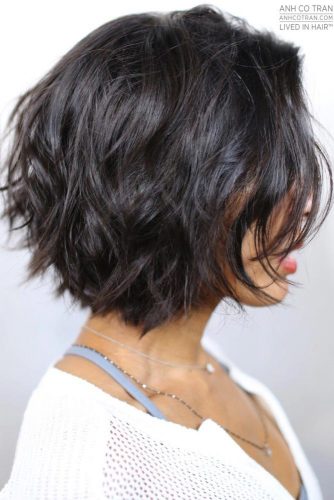 A short haircut that ends just above the collarbone, this particular hairstyle for the dark-haired beauties is a definite winner. The layers in this are shorter at the back and the front layers are kept slightly longer and give the appearance of a medium length haircut from the side.
The angle of the front layers gives this short hairstyle the appearance of a tousled, choppy bob. Apply some hairstyling gel on your palm and run your fingers through your hair to style this hairstyle into cute flicks. An amazing romantic look for a date night with your significant other!
Source: Anh Co Tran
Shaggy Bob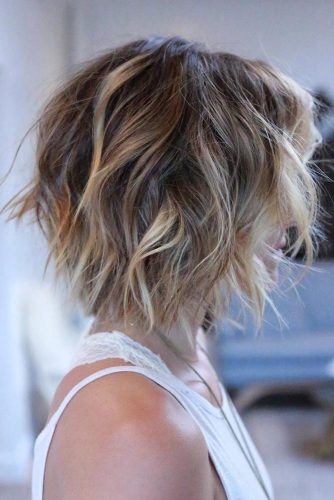 This is the perfect choice when you want a short haircut that is easy to create and maintain. A messy, shaggy cut like this contains uneven layers of hair that can be styled with minimum effort.
This layered haircut will give you that 'bedhead' look that has been popular on the fashion show ramps for quite some time now. You can either leave the hairstyle as it is or use some styling cream to make it look more tousled. For a sophisticated look, use two to three hairpins to pin a few strands at the back of the head.
Source: Anhcotran via Instagram
Golden Crop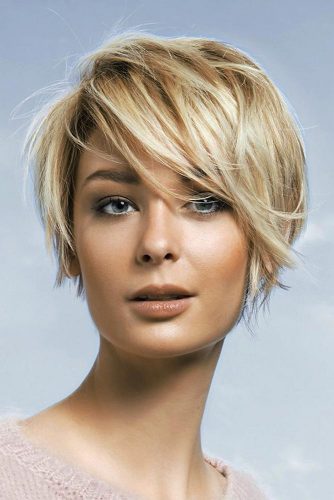 A short undercut with a long top section makes this short haircut stand out among the crowd. Also known as the pixie cut, this hairstyle is convenient to maintain and needs minimum styling.
Bleach the ends of the hair and keep the roots darker to give the top of your head some volume. When the hair grows out slightly making this hairstyle a long pixie, running a flat iron on the ends can make the look more playful.
Source: Bassu
Shattered Pixie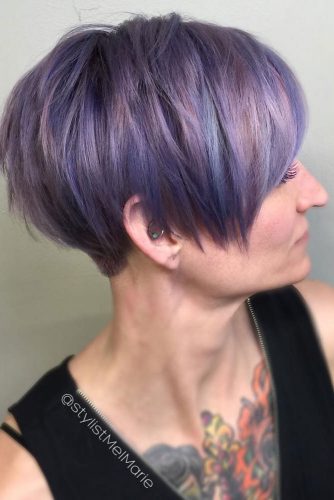 For those who want to take their short hairstyle to the next level, add some color to your pixie cut. The purple with the hints of blue creates a mesmerizing combination among the different layers of this haircut.
This pixie cut for thick hair includes adding bangs in the front. For women who have a stronger face cut like a square face or a diamond face shape, the long pixie cut with bangs can soften your features.
Source: Stylistmelmarie via Instagram
A-line Accents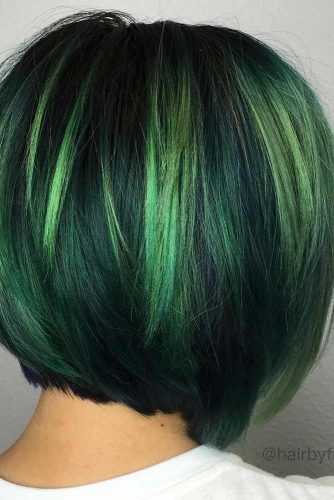 If you have hair that falls flat on your head, then this bob haircut for straight hair is for you. Opt for chin length hair in the front with a slightly angled cut at the back when you visit your hairstylist next.
Add some color to give this short hairstyle a graduated bob look. The right balance between classy and edgy is easily achievable with this type of a hairstyle. You can look stylish with minimum effort with a wedge bob like this.
Source: Hairbyfranco via Instagram
Sweet Pixie With Bangs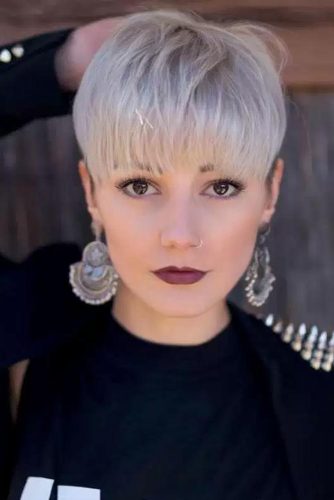 For the short hair fans, this sweet pixie haircut with bangs is a must try! Trimmed and tapered ends that do not reach the nape of the neck emphasize your neck and shoulders.
With longer bangs, this pixie cut suits face shapes that have a broad forehead. These bangs will highlight the other features of your face like your eyes. With no complications in styling, all you need to do is use a hair straightener to help the bangs fall easily.
Source: Mari_stru via Instagram
Layered Bob For Fine Hair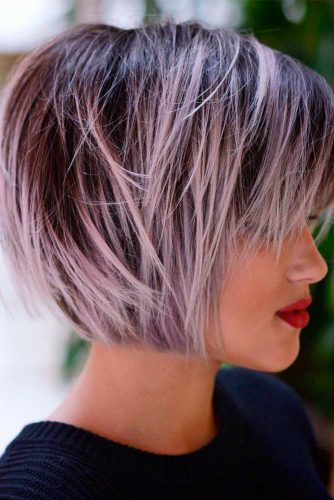 Straight, fine hair can be made to look voluminous by adding a couple of layered to your short haircut. A layered bob that is just a little below chin length and has shorter hair in the front can accentuate your features and not make your hair look limp anymore.
Play up this short haircut for fine hair by adding some highlighter hair strands to it. Colors like lavender look great against the background of darker roots in the hues of deep brown or burgundy.
Source: Cutyourhair via Instagram
Bob Haircut With Bold Middle Section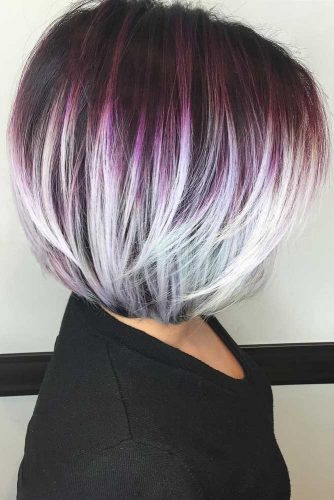 This short haircut almost touches your shoulders and comes in the short to medium layered bobs category. Choppy ends make the hair look a little messy but stylish at the same time.
The short layers in the front make this bob haircut with bangs easy to style as flat-out bangs or side swept bangs. To add a touch of boldness to it, ask your hairstylist to dye the middle section of your hair with a vibrant color.
Asymmetrical Wavy Bob
Source: Bobspiration via Instagram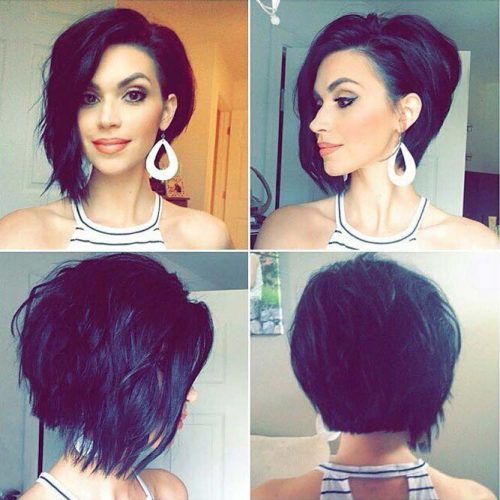 The asymmetrical bob is popular among women who have a smaller face shape and want a short haircut to put emphasis on their facial features. With one side of the head having short layers that end at the beginning of the neck, the hair on the other side is kept long, reaching almost shoulder length.
This is a suitably layered bob for long face shape too. The cut looks elegant and can be styled to look more texture using some styling gel. Braids can also be done to add a feminine touch.