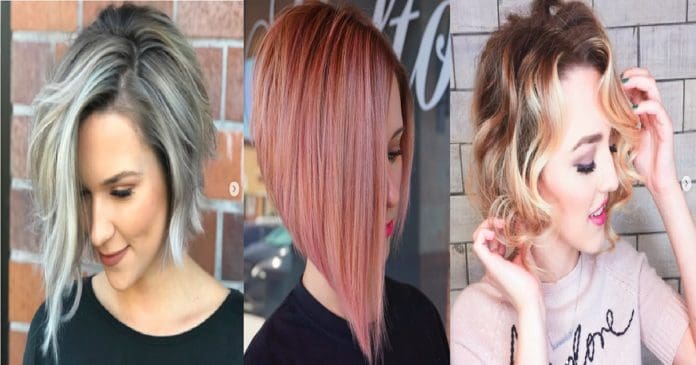 Fine and thin hair can be both a blessing and a curse when you think about it. On one side of the scales, fine and thin hair takes almost no time at all to get ready. Blow-drying is quicker, even styling is quicker, mostly because there is less of it. There are fewer hairs to contend with when working your magic with your hairstyle. As well as being good for things such as speed of readiness, fine hair is also a great burden. It is a well-known fact that fine and thin hair often doesn't stay in intricate updos, like thicker and bulkier hair does. Also, trying to add volume to flyaway and fine hair often takes a serious amount of heated stylings, such as heated rollers, as well as backcombing, using dry shampoo, and also firm hold hairspray. It is due to that reason that many women opt to go for the chopper when they have shorter hair, looking at cool and unique shorter styles.
These 40 Short hairstyles for fine hair 2022 should give you some great inspiration — use them to find new and unique styles to try on your own fine and flyaway hair.
1 – Ice Cool A Line Chrome Bob
This ice cool A line bob is stunning. some might say a true work of art. Mixing different tones of a wonderful silvery-grey shade, the result is hair that shines like a diamond. You'll need hair that is definitely in good condition to walk out of the salon with luscious and shiny locks like these, and we would definitely recommend early conditioning treatments to get your hair in the best shape you can.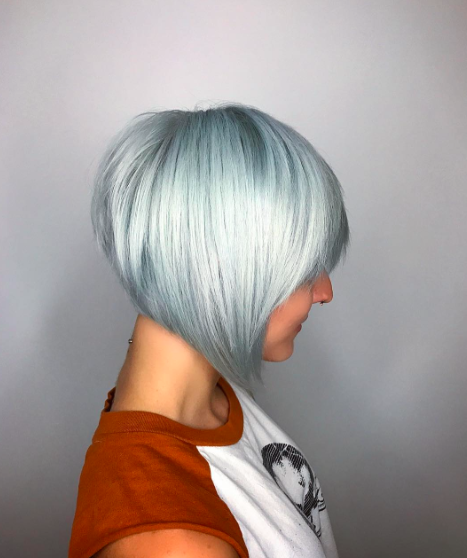 2 – Amethyst Crystal Cute & Curly
Chin length is a flattering length for many women with many faces shapes, and when you opt for something A line in shape, it is generally much shorter at the back than it is at the front. This means that you get to keep some of the more flattering layers and length around your face, but still keeping things nice and simple at the back. If this is your first venture into the world of short hairstyles for fine hair 2020, something A-line and textured is most definitely a great place to start.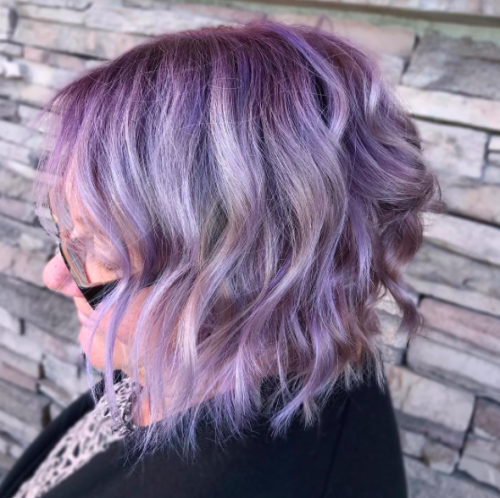 3 – Modern, Layered Jaw Length A Line Bob
Adding a few sharp and jagged layers across the bottom of your short bob will help to add a bit of oomph, and this is a very neat trick to use at the back of your 'do. The natural straw and honey tones of the blonde also help to add depth to this look, one that combines a cut and colour perfectly to thicken up fine hair.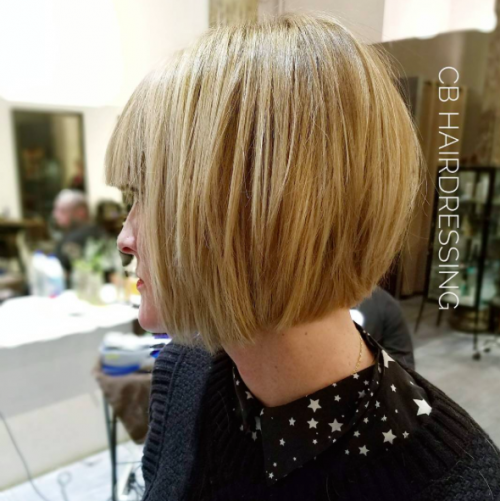 4 – Silver Toned & Lovely
Silver and grey shades of hair are quite difficult to achieve if you don't know what you're doing to start with. You will usually need quite a few lightening and bleaching sessions beforehand, especially if you have naturally darker hair. You may also find that your silvery and grey efforts turn a little lilac and lavender when it's dried. This is to be expected and can be worked with, but you are going to have a much finished result if you opt for a salon job.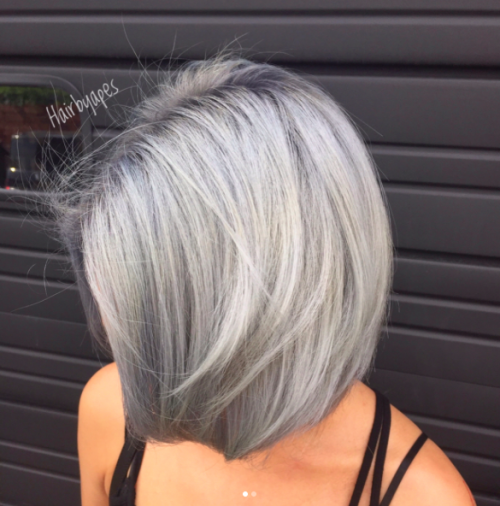 5 – Icy Blonde Short Hairstyles for Fine Hair
When it comes to adding more volume to your hair, a good colour and cut is a great place to start, but things really do start in the shower. If you aren't using the right products when you're washing and drying your hair, you may find that they add greasy heaviness to the hair, rather than volume and oomph. Use products that are designed to be used on flyaway, thin and fine hair, and you'll have much better results than with the wrong products entirely.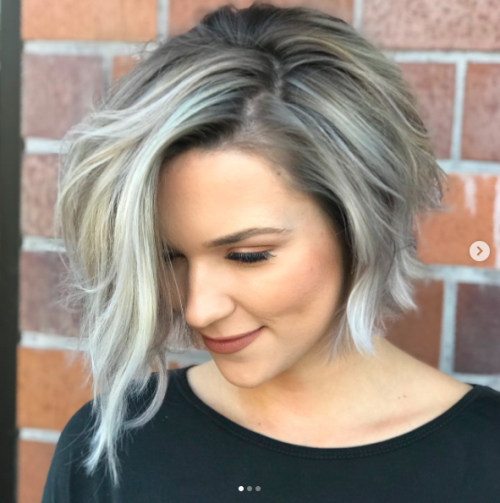 6 – Blonde on Top, Brown Undercut
If you want to add real depth to your hair, two-toned effects, like this blonde and brown combo, are great to work with. Darker shades have been used across the undercut, lighter shades left on top. It's a little bit like contouring, but with your hair rather than your makeup.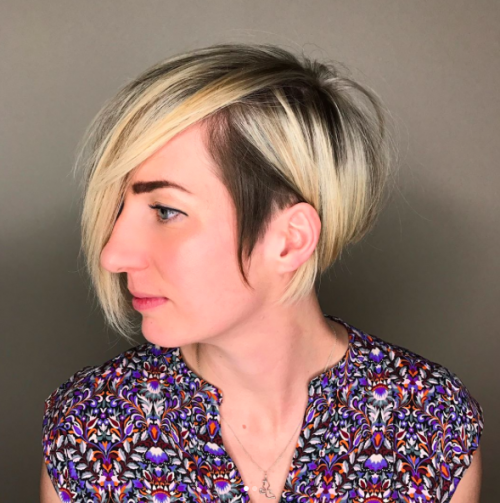 7 – Raging Red & Undercut
Softer layers that curl around the face are very flattering on a number of face shapes, but once your'e out of the salon, you'll need to know how to flick them under yourself to keep the textured style. Pixie cuts like this are suitable for almost every face shape, and is a lock that has been rocked by Hollywood beauty, Charlize Theron, as well as many others.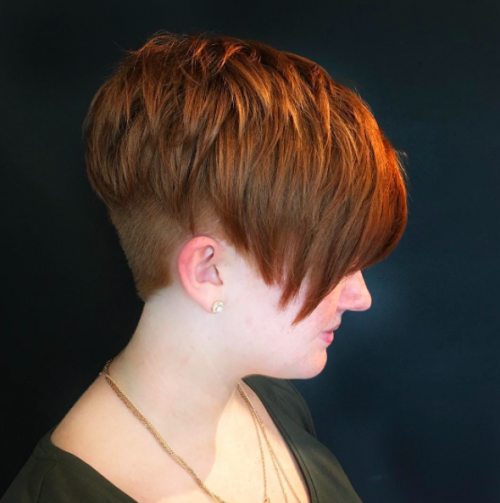 8 – Mermaid Flopped-Over Pixie
If you want a quick way to liven up your short styles for fine hair, how about changing up where the parting lies. If you usually rock a center parting, take things over to the side a little. You'll see that it changes the entire look of your face, and this is even more so the case with bangs too, left wispy and side-swept.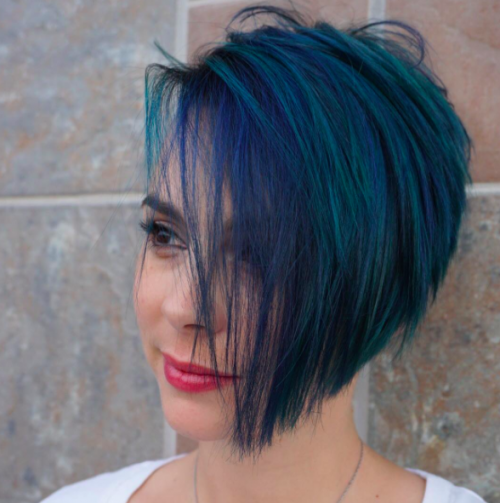 9 – Razor Cut & Just Below Chin Length
The gradual incline on this A line look helps to add depth to it all, and the highlights bring about another dimension. When these things, along with short and choppy layers, work together, your look not only looks like it's packed with volume, but also feels like it too. You'll be waving your new, fuller-feelin' locks around all over the place!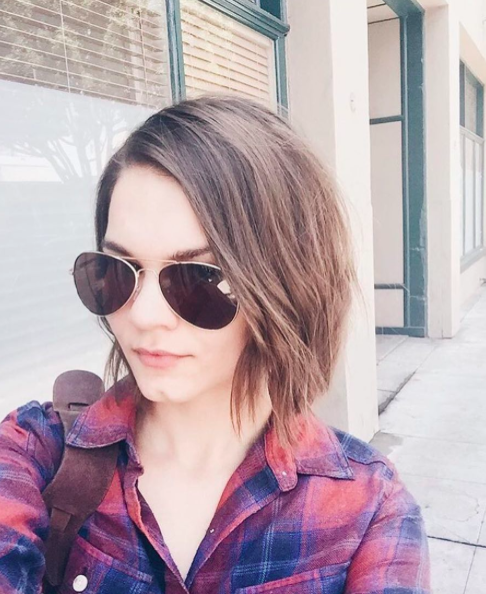 10 – Edgy & Styled Undercut
There are several things to take into account when you're looking at an undercut, and this is a conversation you will most definitely need to have with your hairdresser before you commit. This look is gunky, edgy and modern, but does require more upkeep than other, softer short styles.