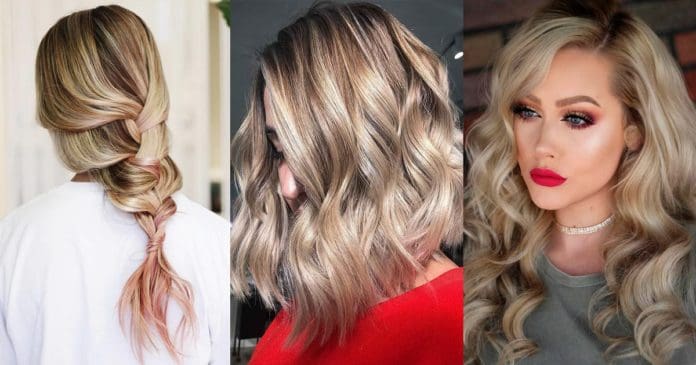 Although dirty blonde hair seems to get a bad rap, it's one of the most popular shades of blonde. A perfect blend of warm and cool tones, such hair is quite stunning.
Blonde hair comes in many shades from ash blonde to strawberry blonde hair to bombshell (aka platinum) blonde. Such hair shades fall somewhere in the middle of the color spectrum for blondes. There are actually quite a few trendy shades and styles. We have put together a list of our 54 favorite dirty blonde styles.
Long Layers With Dirty Blonde Ombre Hair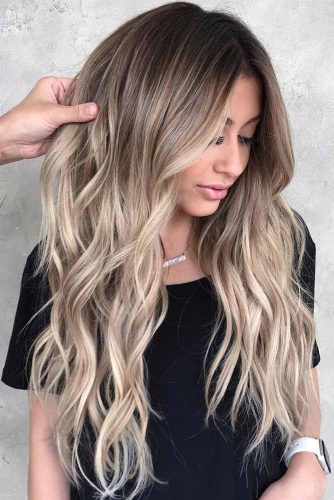 Dirty blonde, the sophisticated, more natural-looking sibling of platinum and yellow blonde hair colors, has so many spectacular tones. Why not show off them all with dirty blonde ombre hair? The ombre coloring technique is tremendously trendy these days. Ombres commonly start darker at the roots and remain so through the center and then progressively lighten toward the ends. An ombre is great for those who want a unique style that requires little upkeep. This model's dirty blonde curly hair looks incredible in a dirty blonde ombre. The graduated ash blonde color and sun-kissed beachy waves complement one another brilliantly and go together, like, well, the sea and sand.
Source: hairby_chrissy via Instagram
Dirty Blonde Hair With Blonde Highlights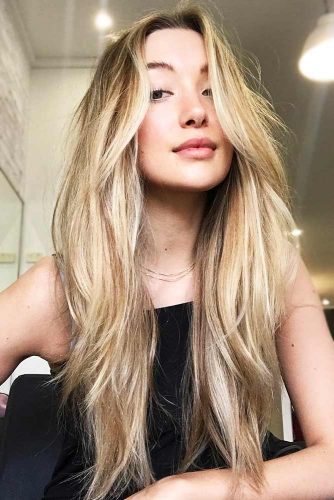 Sometimes age darkens natural blonde hair to dark brown and even brunette. But, when such women become dirty blondes, they go skipping and a-jumping. This dirty blonde brown eyed girl looks very grown up and sultry. You might think that dirty blonde hair with blonde highlights would incorrectly blend the opposing cool and warm tones, but the hairstylist superbly melted the dark and light hues to build dimension and offer different looks depending on light and setting. She can be anything she wants, really. Dirty blonde hair with caramel highlights also offers the same versatility and is just as fun, too. So, green, hazel, and blue-eyed girls, you, too, can sing "la la dee dah la dee dah."
Source: chelseahaircutters via Instagram
Wavy Natural Dirty Blonde Hair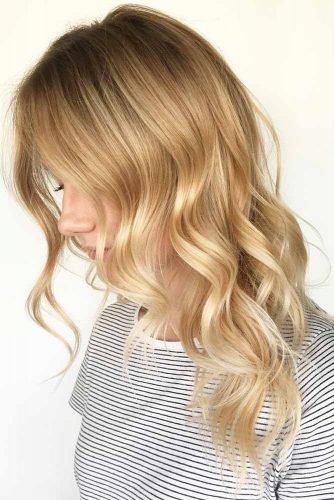 Multiple gold tones delightfully update and ignite natural dirty blonde hair. While this model's darker roots are still visible, the downward transition looks like an ordinary summer effect. The long, lazy waves in her dirty golden blonde hair give her lots of styling options for having plenty of fun-in-the-sun. That no doubt flatters her because you get the impression that she spends most of her time outdoors, both recreationally and professionally. It's just so easy to picture her walking barefoot on the grass or along the beach, perhaps with flowers in her hair. Or with simply pulled back hair, either working on a laptop or celebrating with friends.
Source: chelseahaircutters via Instagram
Extra Long Dirty Blonde Hair With Lowlights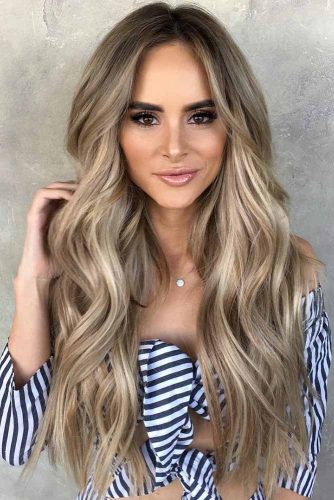 You simply can't take your eyes off this model's dirty blonde hair with lowlights. You just want to run out to the salon and beg the hairstylist to give you the same look. Lowlights add intensity and dimension, which is why they look so dazzling on long hair. And do you notice how the color also makes her hazel eyes beam? Her warm skin favors brown. Dirty blonde hair and hazel eyes are truly a winning combination.
Source: hairby_chrissy via Instagram
Cute Dirty Strawberry Blonde Hair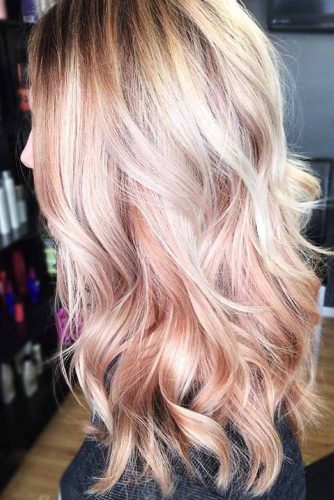 Take a moment to look at the Renaissance paintings of beautiful women. They set beauty standards, some of which still exist. Most had strawberry blonde hair. It isn't a natural hair color, though. Women back then went through a lot to achieve it. Today, women must dye their hair to achieve it, too, but so what? It's simple now. And, what if you aren't sure? Suppose you can't decide between strawberry and dirty blonde? Or, maybe you aren't sure which would flatter you best. Do both, then! This model's dirty strawberry blonde hair perfectly combines warm highlights for dirty blonde hair and red undertones. The energy just sparkles. There are plenty of variations for nearly every skin tone. Warm strawberry blonde favors neutral and fair skin tones, while more auburn strawberry blonde favors warmer skin tones.
Source: modernsalon via Instagram
Dirty Blonde Hair With Blue Tips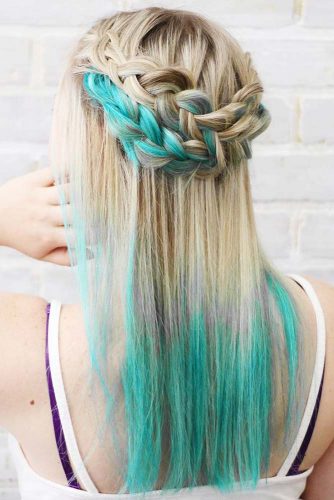 Dip dyed hair is certainly the rage these days. There are guides all over the Internet, so you can do it yourself at home with a kit from the nearby beauty store. No matter what color your hair, there's a dip that'll instantly revamp you. And there are so many natural and unnatural colors from which to choose. Because blue has so many variants (cornflower, sky blue, cadet blue, aquamarine, navy blue, teal), it's one of the most popular unnatural color choices. There's one for every complexion and hair color. This model's dirty blonde hair with blue tips is utterly fantastic. She looks modern, sassy, and one-of-a-kind. And the way the blue peaks out from her braid adds even more distinction and personality.
Source: jamiedanahairstylist via Instagram
Dirty Blonde Hair With Pink Highlights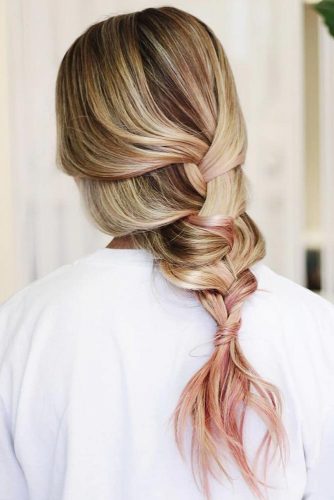 Pink is such a great highlight. It's romantic, soft, and classy, but yet funky, too! Pink lets you be anything you want, really. You can easily change your look from day to night, office to party – from one minute to the next, actually. Dirty blonde hair with pink highlights is the subtle color choice. It certainly jazzes up this model's dirty blonde hair color. She'll definitely stand out wherever she goes, be it a networking lunch, party, or family reunion. And if she has blue eyes, watch out. When a dirty blond haired girl with blue eyes adds pink highlights to her hair, she will literally stop people dead in their tracks.
Source: jamiedanahairstylist via Instagram
Ash Blonde Hair Color Idea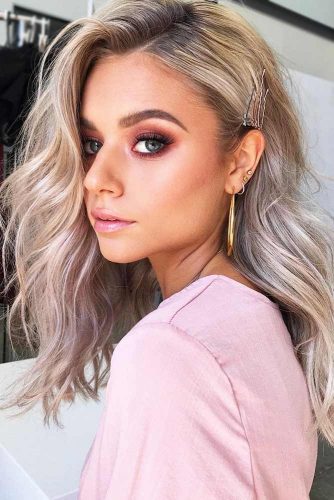 Ash blonde hair, regardless of whether it's light, medium, dark, or whatever, looks fabulously with highlights. Most blonde hair shades require strict upkeep to look fresh, but because ash blonde is so subdued, you have more freedom. This lovely lady's balayage on dirty blonde hair, which exquisitely blends varying shades of ash and dirty blonde, works so well that you really can't tell where the ends actually meet. It's what fashion photographers and magazine publishers would call "editorial," meaning they'd have to immediately photograph her for a fashion spread. And her alluring swooped-over style evokes classic Hollywood appeal that remains powerful today and continues to influence.
Source: emmachenartistry via Instagram
Cute Layered Short Dirty Blonde Hair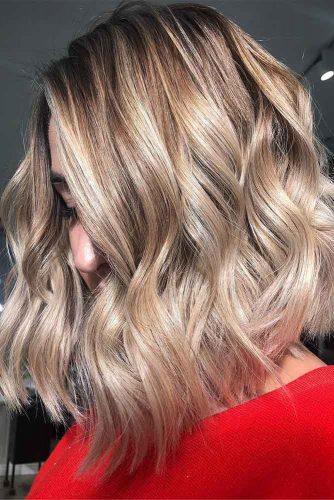 For years, women evaded dirty blonde hair. But not anymore. Dirty blonde hair is now becoming the favored blonde choice. It offers relief from the heavy bleaching and damage most blonde colors require and cause, while its shades can also be customized to flatter and brighten your skin tone and fit in with your daily routine. For what more could you possibly ask? Take for example this model's cute layered short dirty blonde hair. It begins with dark roots, then the cool color immediately jumps in and adds depth and brightness to the beachy waves in her short dirty blonde hair, then ends with a pretty choppy bob. It's absolutely adorable.
Source: natalieannehair via Instagram
Curly Dirty Blonde Hair With Subtle Highlights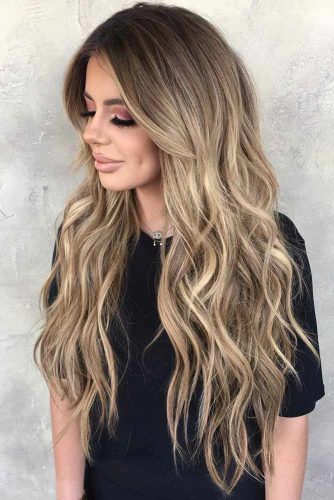 Dirty blonde hair has certainly had to put up with insults. Not only does it have "dirty" in its title, but it's also called "dishwater blonde" because someone, somewhere claimed it looked like water used to clean dirty dishes. Ewww! Now, would you use such insulting terms to describe this young lady's gorgeous hair? Just look at what those subtle, sun-kissed highlights on dirty blonde hair accomplished. Dirty blonde sits between light brown and dark blonde, so golden blonde tones warm it, and ashy tones cool it. Though her curly dirty blonde hair is very long, the golden tones warm her dark skin tone and emphasize her beautiful lips and eyes. That's why dirty blonde hair is a great shade for anyone.
Source: hairby_chrissy via Instagram