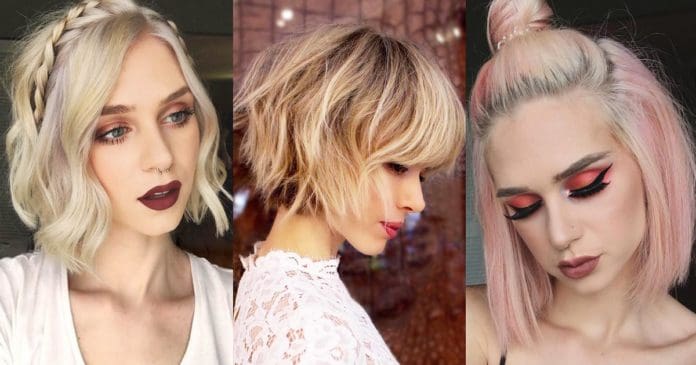 Short bob hairstyles have been popular all the time, it is not a secret. The thing is that these days, the variety of options we have for chin-length hair, which is the perfect short bob hair length, is more than breath-taking.
You can opt for a short bob with bangs, if there are some features you would like to hide away with the help of a haircut, or you can opt for a layered bob to add some volume to your mane. In fact, there are dozens of options to suit even the most demanding ladies.
Of course, we can't leave out the fact that all the colors and coloring techniques you can pick for your bob hair are extremely versatile. Besides, bob hair styles are easy to style and the number of options is limitless. Just be able to make up your mind, and all the best ideas will be supplied with our help.
1. Very Short Bob Haircut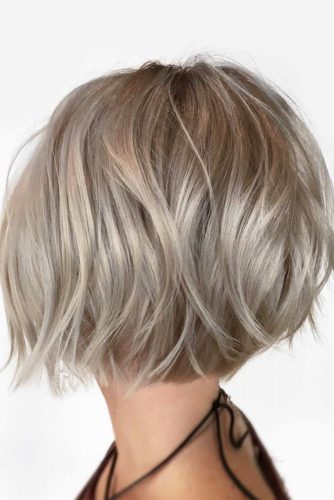 This haircut is ideal for straight hair. The layers give the hair volume to allow for a fuller appearance. This short bob haircut is a perfect way to cool off and stay stylish this summer. The blonde hair color this model has chosen creates a perfect balance for her skin tone. This cut accentuates her features, compliments her facial shape. This is a very short bob in comparison with some other bob haircuts that are very long.
2. Short Stacked Bob Hairstyles
Source: mane_ivy via Instagram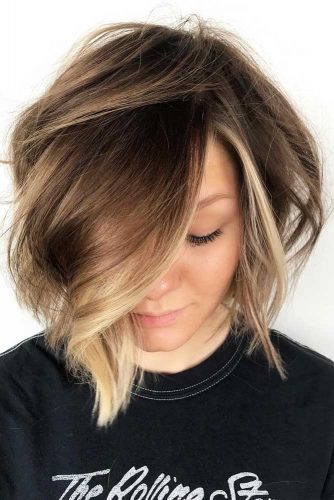 This is a fabulous example of a side bang haircut. The inverted bob cut with the deep part is accentuated by the ombre hairstyle that allows the light color to draw attention to the model's face. This style goes great with the hip, new messy hair hairstyle. Although named the messy hairstyle, it isn't always as easily attainable as the name implies. Some women go to great lengths to style their hair in a manner that looks as if they've just stepped out of a convertible. This style is a beautiful representation of a stacked bob that has layers and stacks in the rear of the cut, enhancing the depth and volume of a hairstyle.
3. Short Layered Bob Haircut
Source: ellie_gonsalves via Instagram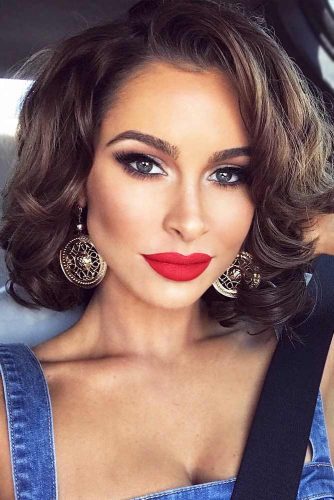 If you don't mind taking a bit of a leap, then jumping into the category of layered hair may be just what you need to spice up your hair-do. If you're ready to really take a daring step, there's no better time than summer to add an ashy brown color to your hair. The style and color pictured in this photo is a beautiful representation of how this would look on a wavy hairstyle. It would also look exceptional on other types of hair. The balayage color in this cut is so well blended that it is hardly noticeable.
4. Bob Hairstyle With A Bang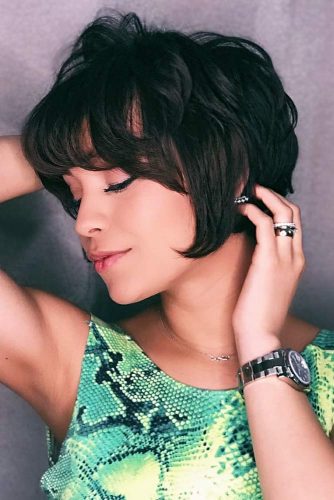 A cute, sassy option for the bob haircut that has held timeless beauty is the bang haircut. This style was exceptionally popular in the 60's and 70's and is making a roaring comeback to the beauty scene in this modern era. This model has a beautiful, sleek black hair color that compliments her skin tone and makes this cut all the more alluring. The trendy layered cut adds loads of volume to her hair, giving it a beautiful depth and dimension.
5. Short Bob Haircut For Curly Hair
Source: manuelagmartins via Instagram
This is a gorgeous bob haircut on curly hair, and the blonde hair color really turns heads. Also, the bang haircut is making a huge comeback. The days of one-length hair are finally coming to an end. Although not typically necessary on curly hair for the sake of adding volume, the layered haircut, in this case, lightens the weight of the hair to make the cut more comfortable. While this cut works well on all hair types, this is especially intriguing on this model's curly hair.
6. Short Bob Haircut For Wavy Hair
Source: michealaxanne via Instagram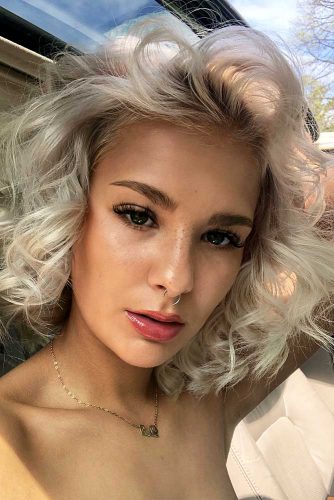 Don't be afraid to experiment with your blonde hair color. A color job doesn't have to be the boring one color with some highlights or lowlights added anymore. In modern times, it is perfectly acceptable to add some interesting colors to your hair such as the light platinum vibes in this model's photo. In addition to the trendy color on her locks, the ever-popular wavy hairstyle is a perfect balance between sleek, straight hairstyle and the conservative, curly hairstyle.
7. Short Angled Bob Hairstyle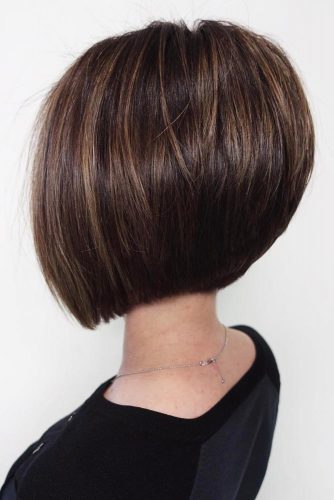 If you have a preference toward straight hair, then this is an excellent choice for you. This short-inverted bob has the classic stacked appearance in the rear of the cut, adding volume to the hairstyle. This model's dark brown hair has a beautiful wedge or horse shoe shape that you would expect with the inverted style. It also has a gorgeous balayage that provides depth and dimension to her hairstyle. This angled bob is a fun, chic way to add a flair of interest to your hairstyle.
8. Bob Haircut For Thick Hair
Source: suetyrrellstylist via Instagram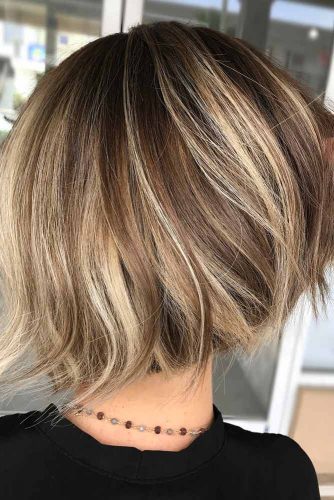 If you have thick hair, then you are likely to look for a way to lighten the weight of your hair while, at the same time, maintain a sexy look. No matter what your natural hair color is, nothing says mysterious and sexy like a dirty blonde balayage. This model has chosen to add highlights through an ombre hair style accents around her face.
9. Deep Side Parted Short Bob
Source: ellie_gonsalves via Instagram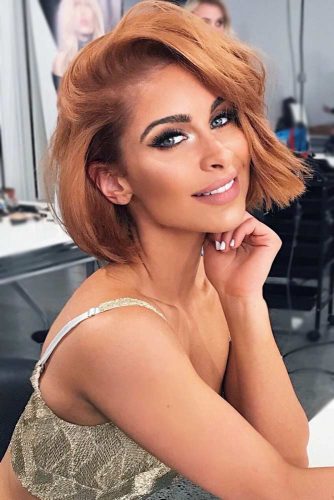 Side parted looks have always been the most attractive hairstyles: when one side outweighs the other, it creates a stunning, a bit asymmetric, and lifted silhouette. It's so easy to change the parting, which means that looking fascinating is even easier than you can imagine. Besides the awesome body of her hair, the soft light coppery hues nicely play on the short bob.
10. A-line Bob Haircut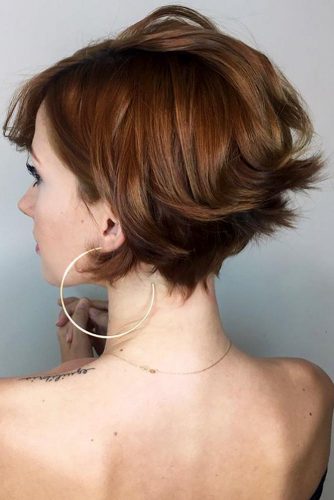 The styling options that A-line bob can give to you are simply countless. You can put up the shorter back locks, creating a sassy spiky look like the one you see in the pic or sport its straight version, where charming A-shaped silhouette emphasizes the beautiful texture of your hair. It's all up to you, as well as colors: this girl managed to combine her bob with light chestnut brown hair color.
11. Short Bob With Middle Haircut
Source: chrisweberhair via Instagram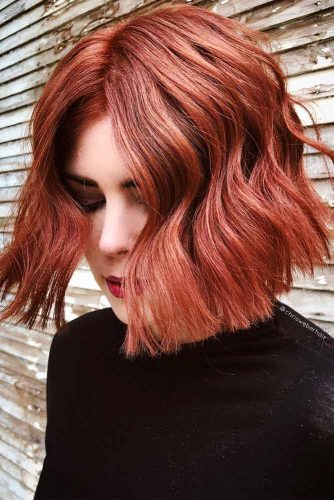 Middle part hairstyles can take your haircut to a whole new level. Not only do they flatter your face, framing it in a beautifying way but also add a modern touch to the classic variation of the short bob. If you want to both stay tuned with trendy styling and make some of your facial features look even more attractive, don't miss this idea. Also, reddish colors are the nowadays' trends too.
12. Asymmetrical Wavy Haircut
Source: derickus via Instagram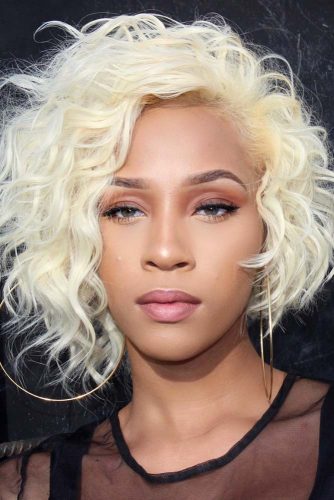 When asymmetry meets textured waves, they form a look that every lady would like to copy. Just look at this cold wavy blonde: the wavy texture looks so unbelievable when it's styled asymmetrically, that it seems to be the best cut to express your creative personality. Those who are bored with common and familiar looks will love the charm of asymmetrical bobs or lobs.
Wavy Short Bob Hairstyles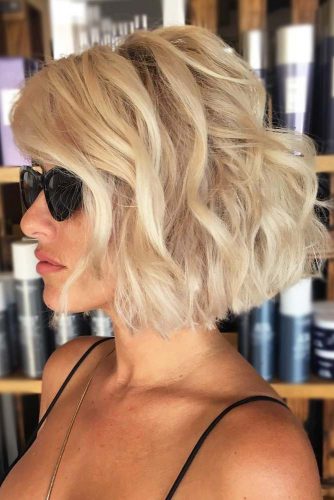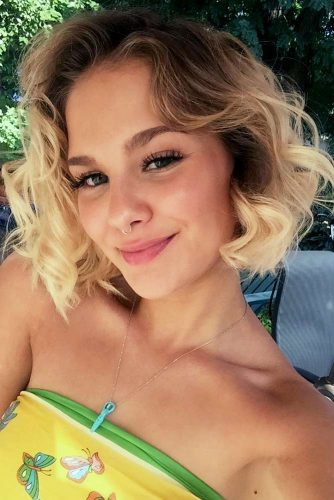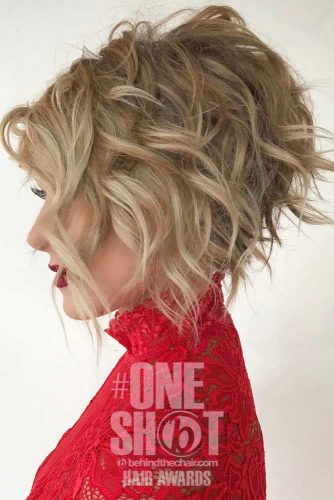 Nothing can give your hair more texture and movement than waves. And the shorter your bob, the more prominent they are! Wave it for your everyday look, wave it for your special occasion; it will beautify everything.