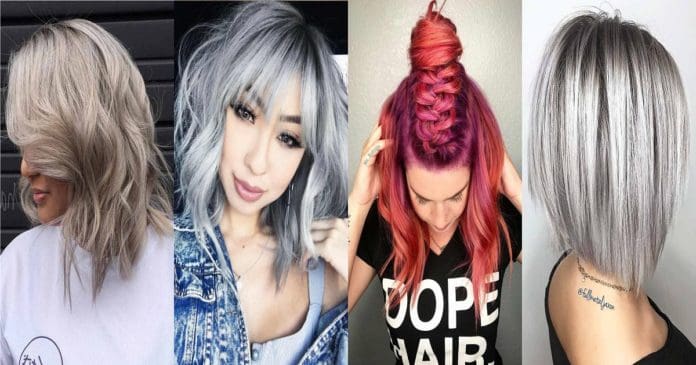 Shoulder length hair is versatile beyond belief! There is nothing you wouldn't be able to pull off with such a length. Plus, you can sport a shoulder-length cut at any age. You can wear it straight, curl it, or blow-dry it wavy to perfection. The styling options are endless when it comes to the shoulder length. Here we have gathered some freshest ideas for you to try out. In case shoulder-length styles are not your cup of tea, for now, we hope that our ideas will inspire you to get one!
Middle Parted Shoulder Length Hair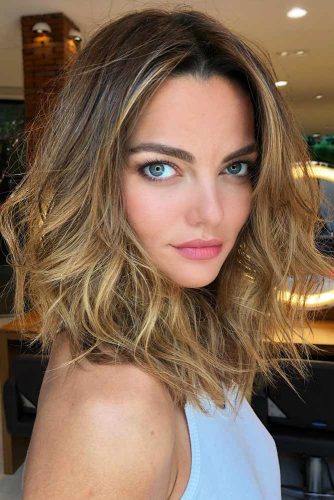 The long bob haircut or lob that ends just above the collarbone looks fantastic whether the hair is naturally straight, wavy, or curly. Product and styling tools easily create different textures for this shoulder-length hairstyle. The long bob can be styled neatly, and there are times life requires poise, but long bobs love the wild freedom of a messy hairstyle. This model shows you why. Her long bob with soft waves gracefully frames her cute face. The balayage hairstyle, in which the hairstylist adds varying tones to make it appear as though the sun added highlights to the waves, grants another level of depth and splendor.
A-line Medium Haircut
Source: mefiu via Instagram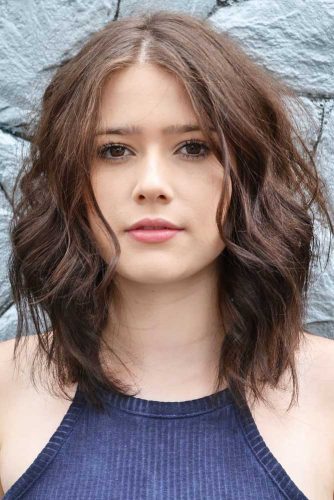 Brown hair works very well for shoulder length hairstyles, especially when it's rich, like this model's color. It warms her gorgeous complexion and makes her lips, cheekbones, and eyes pop. The layers in her bob haircut offer a wavy hairstyle that spotlights those features and also adds volume, character, and a multitude of hairstyling choices. It will never go out of fashion. It's been popular for over a century. Note, too, that she has a round face (when selecting a hairstyle, a face shape is the most important factor). The muss and waves of the bob haircut slim her cheeks and bring attention to her facial features. Perfect.
Side Parted Medium Hair
Source: bescene via Instagram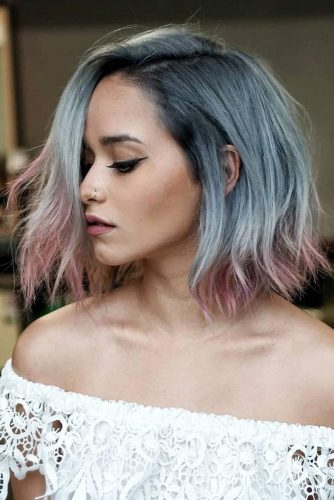 A layered haircut tends to fascinate more than other shoulder-length hair cuts. The bob cut is the standard layered haircut. Layers flatter a face, and there's so much a hairstylist can do with the front, sides, and ends. This model's dazzling bob enhances her features. And the side part and choppy layers add volume. Layered haircuts also show off the color. Ombres generally begin with a darker color at the roots and fade into lighter tones toward the ends. They look so good, though, it's a shame to limit them to just one color. The model clearly thought that way when she selected a blue to pink ombre. The combination clearly upped the punch of her bob.
Medium Hair Length With A Side Bang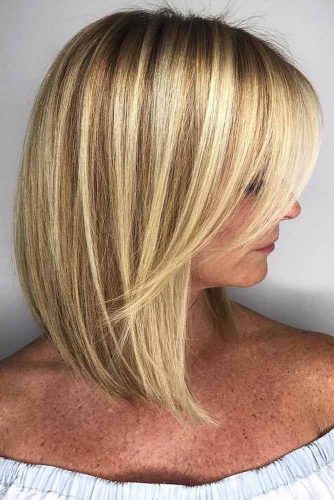 With straight hair, achieving the ideal look requires a focus on angles, length, and bangs. Matching it all to your features, hair texture, and style is important, but the face shape rules. This model livened up her straight shoulder-length hair with long V-shaped angles that flatter her square-shaped face. A side bang hairstyle offers the additional styling flexibility. The balayage looks so natural on her blonde bob. It leaves the roots dark and brightens the ends. It's just the thing for the summer and its upkeep is so easy. You have no trouble imagining this model living and near a fabulous beach.
Shoulder Length Blonde Bob Haircut
Source: maggiemh via Instagram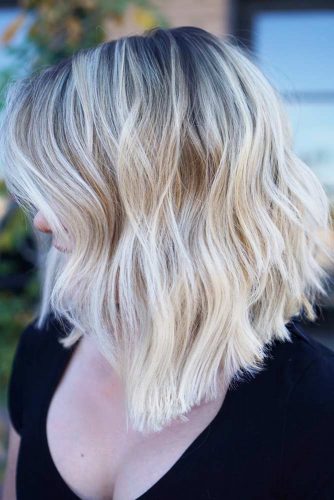 Balayage is a French word that means to paint or sweep. We take the meaning seriously. For us, it's a hair coloring technique where the hairstylist paints color onto the hair strands (no foils). You get as much color as you want. You can get a touch of color, a whole lot, or somewhere in between. Check out the blonde highlights in this model's balayage hair. There's a range of tones, but they blend so seamlessly into each other you can't tell where one color begins and ends. And, it's so right for her shoulder-length bob haircut. It doesn't matter if those waves aren't hers. Curlers or heat tools grant a wavy hairstyle. On the other hand, if they're natural and she wants a sleek look, a flat iron will take them away. Whatever she chooses, it's definitely a classy shoulder length hairstyle.
Shoulder Length Hairstyle For Thick Hair
Source: timm.morrison via Instagram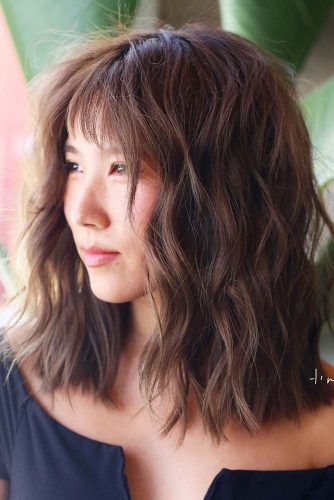 Those with thick hair might fear that they have few hairstyle choices. Mid-length tapered and layered haircuts are much more vibrant than one-length hairstyles. Plus, they'll add movement to heavy hair. Choppy layers on this model's thick hair give her a stunning messy hairstyle that's also chic and definitely feminine. The layers and waves spontaneously give her brown hair dimension and light that illuminates her pretty face. Thick hair also works well for a bang haircut as long as it blends into the layers. She can do whatever she wants with those feathery bangs – let them drape down or brush them off to the side. Whatever she decides, they simply add more splendor to her shoulder-length hairstyle.
Medium Haircut Idea For Thin Hair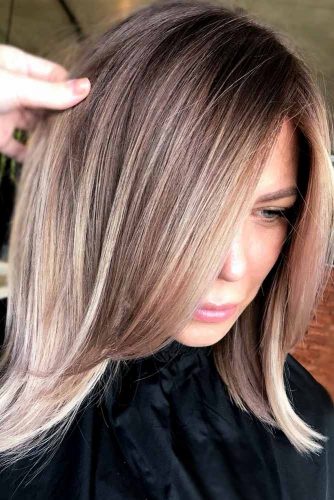 Most people think they have thin hair when they really have fine hair. Thin hair refers to the amount of hair, while fine refers to the thickness. Whatever you or anyone else calls it, if you also have straight hair, instead of simply wishing your hair had been thicker, think about all the things you can do! You can distract attention, enhance the texture, and add volume by changing the part, color, tousling, teasing the roots, or create waves. This model used a few such tricks with her long bob haircut. The flicks and curls jazz up her ends and those oh so subtle highlights she put in the front of her dark blonde color frame her charming face. Fine hair? Thin hair? Where? Not here.
Easy Hairstyle For Shoulder Length Hair
Source: maggiemh via Instagram
Most people assume only those with long hair can have fun braiding, twisting, and creating updos. Wrong! Shoulder length hair offers just as many, if not more, options. Consider the high ponytail. It's extremely popular. It has so many uses. It's a great casual style for the gym or while running errands and it's a perfect chic style for the office and job interviews. When wavy hair is put into a high ponytail (natural or curled), it can even be appropriate for the red carpet. Playing up the eyes is an absolute must when hair is pulled off the face. This model's stunning blue eyes practically begging for her to pull back her hair. Her ice blonde color makes her eyes "pop" even more and is an excellent choice for her skin tone.
Cute Hairstyle Idea For Shoulder Length Hair
Source: jbraidsandbows via Instagram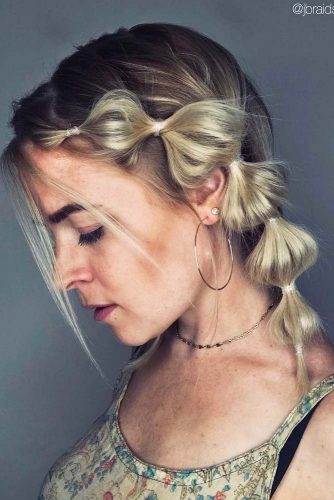 At Valentino's 2014 fall show, the hairstylist, Guido, secured a runway model's straight hair into a ponytail (hair must first be smooth and sleek). About two inches down, he secured another ponytail holder and twisted. Thus, he created a pouf underneath the secured section. About two inches farther down, he secured another ponytail holder and twisted, creating a second pouf. He repeated the steps until he ran out of hair. Viola, he had created the Valentino Bubble Braid. It's a fun and playful, yet classy shoulder length hairstyle that can be created on the entire head of hair or only part of the hair and worn anywhere. A side bubble braid especially spices up this model's dirty blonde hair and lets you see all the spectacular tones the color has to offer.
Medium Hair Length Hairstyle With Braids
Source: jordanlipscombee via Instagram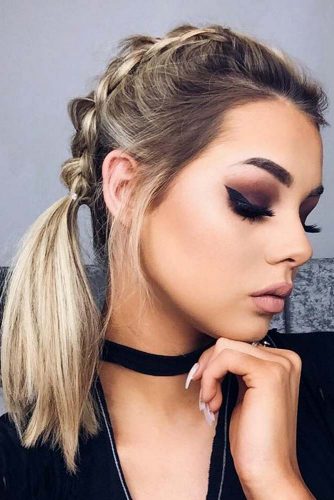 Braids were once associated with little girls. Not anymore! Current stylish updates on the basic braided hairstyle are a no-sweat addition to shoulder length hair that can simply get your hair up and off your face for a workout, add vintage charm to a dressy outfit, or even add a touch of grunge to your rocker chick look. This model's side-swept fishtail braid delightfully incorporates a side braid and ponytail. While captivating, it takes no attention away from her striking features, which her makeup exquisitely accentuates. You can also notice the balayage in her blonde hair. With balayage, the hairstylist selects where to place the highlights. Some even offer "ponytail lights," where color is to add dimension when the hair is worn up.