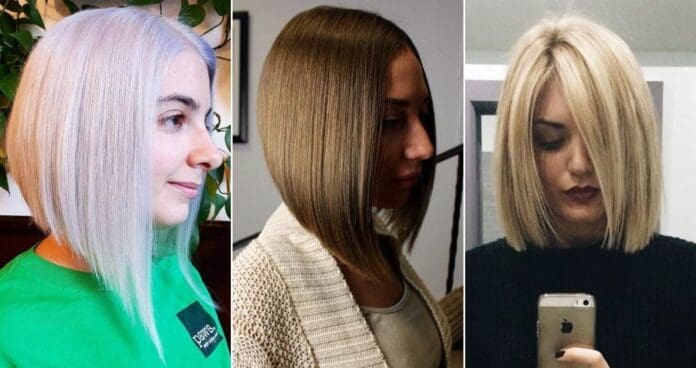 Bobs have been in fashion ever since famous British model Twiggy rocked the crop in the 60s – and they've been dominating the fashion scene ever since. Cropped, pixie, long, curled and now our favorite of the bunch – blunt. Blunt bobs are so in style and we think they look absolutely remarkable, so we've gathered our favorite blunt bobs to hopefully inspire you to change your own look.
Blonde Blunt Long Bob for Straight Hair (lob)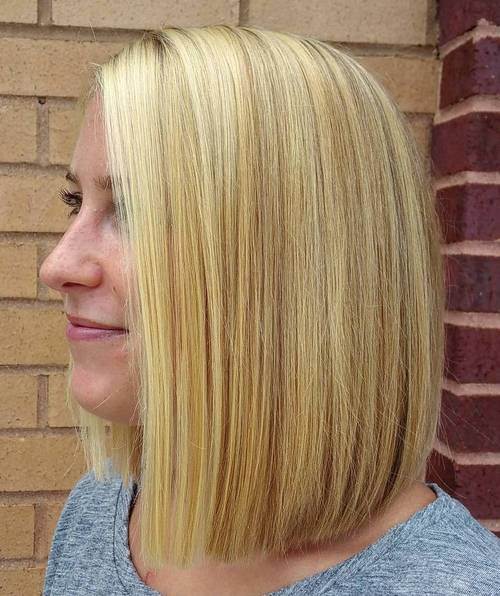 This stunning long bob is finished with a completely blunt edge that falls in one length from the front to the back of the head, creating a sleek and striking finish that we simply adore. She's gone for a glorious yellow blonde look that simply screams summer – and we are very jealous of this look indeed! This would look wonderful with some curls too.
Chocolate Brown Slanted Bob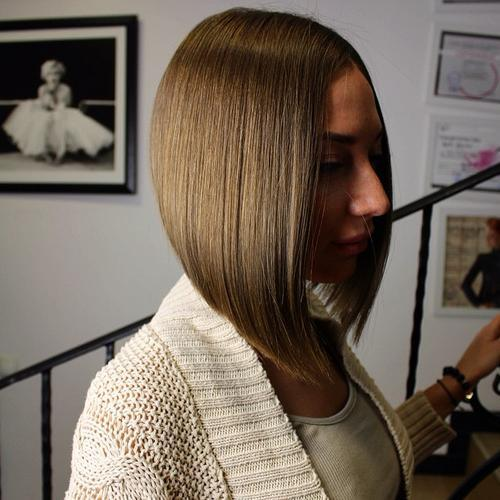 When it comes to blunt bobs, you don't get much more striking than the wonderful look this lady's gone for! With a stunning chocolate brown colour all over, this lady's gone for a beautiful and blunt slanted line, starting from a short crop and the back and sweeping into a longer length that frames the face. We love this unique and pretty hair cut.
Big Bouncy Ombre Bob – Blunt Ombre Bob Hairstyle with Waves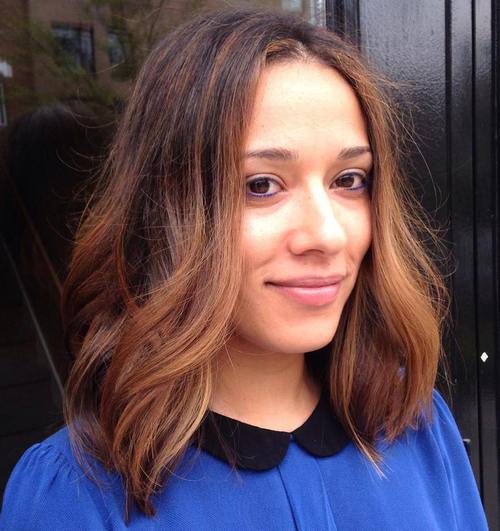 If you're looking for a blunt bob that is still full of body and texture, then this is absolutely the look for you! Finished at shoulder length so it's a slightly longer bob, this gorgeous cut is full of big barrel curls towards the ends of the hair, adding a beautiful bounce to the cut. This lady's gone for a stunning ombre effect from dark to light and we just love it.
Side View of Sleek and Rich Brown Blunt Bob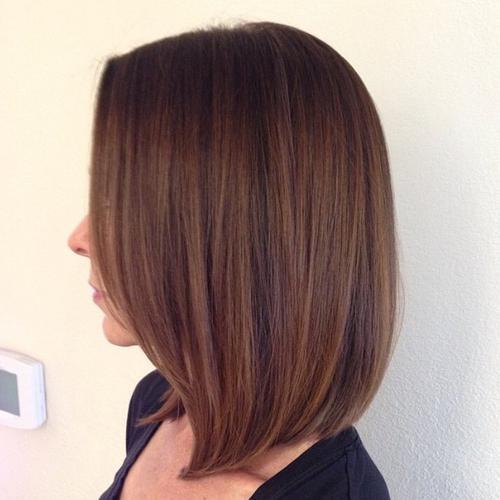 This beautiful sleek and rich brown bob is perfect for a classy and sophisticated daytime look. Finished in a nice blunt line from the bottom of the jaw straight along and above the lady's shoulders, the cut makes the hair look glossy and thick; in incredible condition! Add a few curls to take this look from day time to night time et voila!
Close Cropped Red Bob – Short Red Blunt Bob with Bangs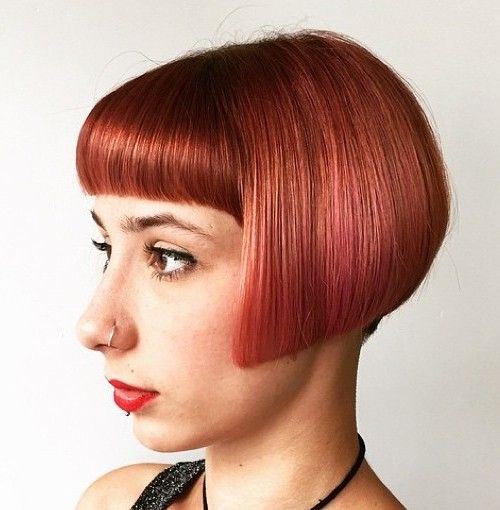 This close cropped red bob is simply stunning – and a guaranteed head turner! In a beautiful red colour, this incredibly fashionable lady has gone for a fabulous blunt fringe to show off her features, and the cut is finished with a beautiful blunt crop that finishes just around ear length. This vibrant colour just makes the cut pop, don't you think?
Unique Strawberry Blonde Bob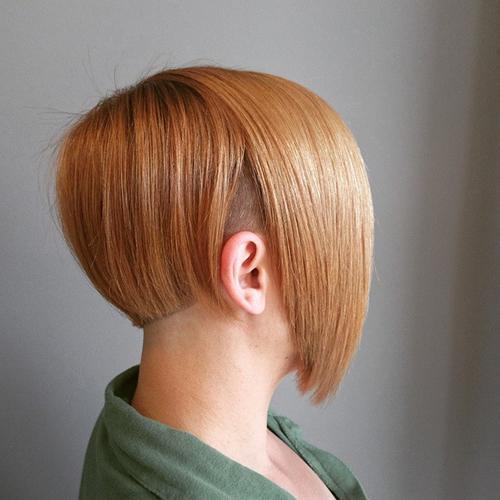 This fantastic and unique strawberry blonde crop has a completely one of a kind look that we can't get enough of. With a unique shaved bottom layer which is cropped so closely, the top layer is a lot longer and is shorter at the back and longer at the front to frame the face. Finished in a beautiful strawberry blonde colour, this cut is seriously striking.
Denim Blue Bob – Short Balayage Blunt Bob with Waves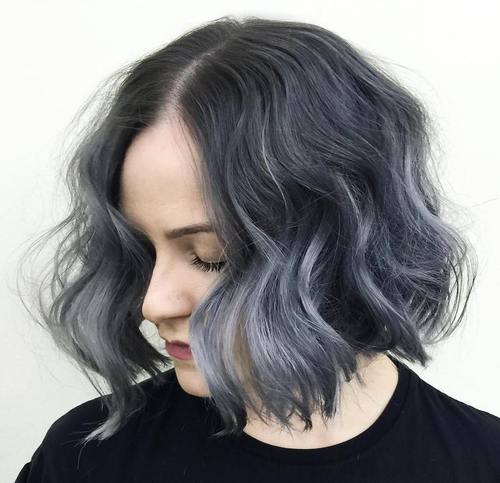 If you're looking for a different hair colour that is still relatively subtle and versatile, then we would recommend the gorgeous denim colour blue this lovely lady has gone for. It's a washed out dark blue that is incredibly striking, especially when paired with this stunning jaw length blunt bob! Add in a few tousled curls and you're away!
White Blonde Bob with Fringe – Short Straight Blunt Bob Hairstyle with Blunt Bangs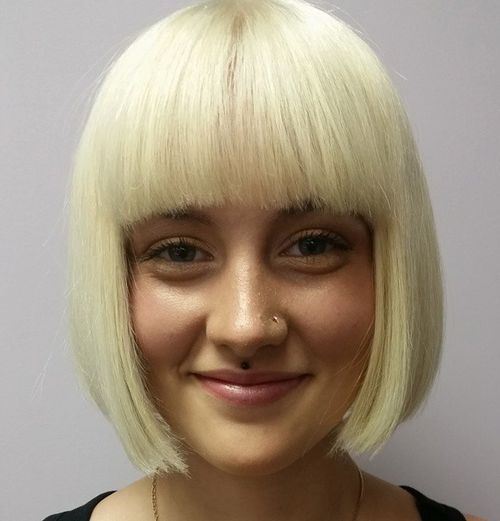 A completely simple but totally effective cut, this gorgeous white blonde bob with a fringe is ever so fabulous! This beautiful, light crop finishes just around the jaw line in a nice blunt line and has a gorgeous straight fringe that frames the face beautifully; as this gorgeous lady shows! This straight and sleek style looks absolutely wonderful.
Black Slanted Bob – Trendy Straight Blunt Bob Hairstyle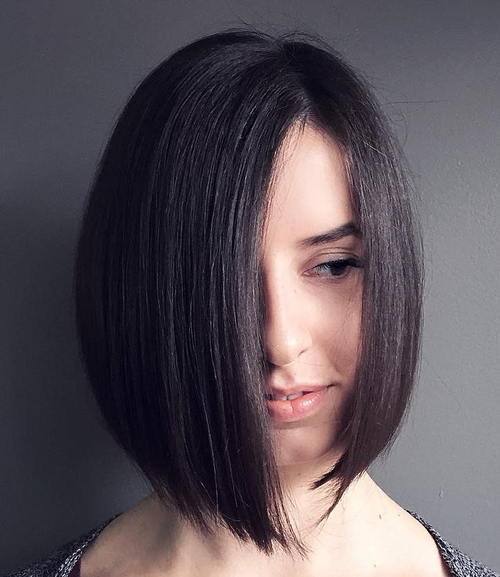 Credit[/caption] This gorgeous black bob is sleek, shiny and slanted to perfection – creating a stunning blunt finish that is guaranteed to turn heads. This lady has gone for a beautiful straight style that accentuates the asymmetrical crop from the shorter layers towards the back of the head to the slightly longer layers that frame the face around the front.
Blonde Long Bob – Stylish Sleek Blunt Lob

This stunning blonde bob with a blunt finish is simply gorgeous and this beautiful lady looks like a model! Starting with a darker blonde root and quickly transitioning into a beautiful and bright blonde, this gorgeous cut is finished with a blunt edge right along the end that perfectly accentuates this straight and sleek cut which is truly fantastic.
Blonde Middle Parting Bob – Blunt Bob Hairstyle for Fine Hair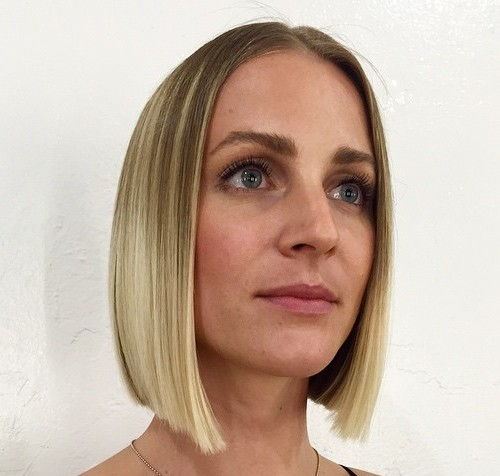 This stunning blonde middle parting sleek bob is very striking indeed. With gorgeous light blonde ends and a darker blonde at the root of the hair, this beautiful bob is straight, sleek and finished just below the ear in an eye-catching blunt line. This lady's parted her hair right down the middle to frame her face symmetrically and we love it!
Black and Red Ombre Bob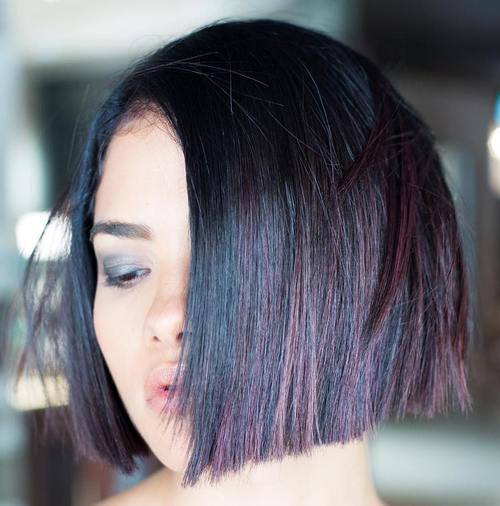 This lovely lady has combined her blunt bob cut with a stunning colour selection, combining two looks in one; and we think it looks simply sublime. This gorgeous black bob is accentuated with stunning red streaks right through the cut, which is finished with a blunt end that sits just below the ear. It's one length from front to back and we love it!
White Blonde Crop – Short Blunt Bob Haircut for Summer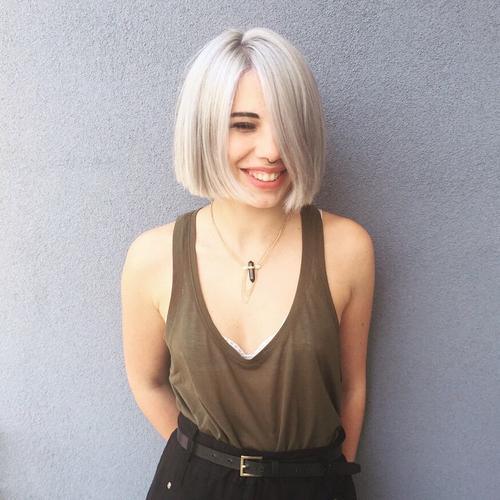 This beautiful white blonde crop finishes around the jaw line and is the most gorgeous and vibrant colour, don't you think? It's no wonder this wonderful lady is smiling from ear to ear! She's gone for a fabulous straight look with a subtle sweep around the fringe that creates a gorgeous line, and we're absolutely smitten with the finished look.
Shoulder Length Brown Bob with Loose Curls – Sassy Blunt Wavy Bob Hairstyle for Thick Hair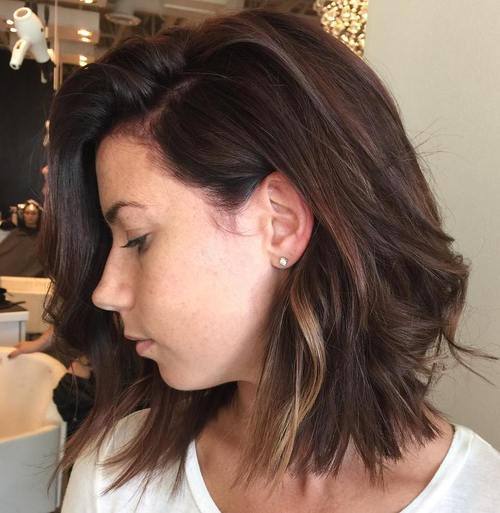 This gorgeous longer bob is so striking that we just adore it! In a rich brown colour, this shoulder length bob is scattered gently with lighter brown and blonde highlights throughout to add a subtle lift to the cut. Finished with a fabulous blunt cut in long layers, this lady has added soft curls throughout which adds bounce and body to the cut.
Cropped Brown Cut with Blunt Fringe – Messy Blunt Bob Hairstyle for Thick Hair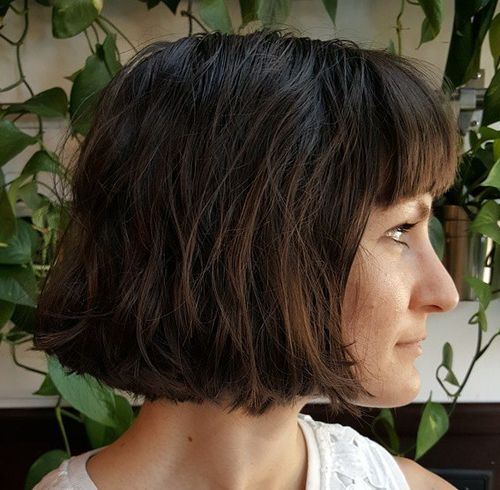 This cropped brown cut with a fabulous blunt fringe is in a beautiful and rich chocolate brown tone with subtle ombre ends in a slightly lighter shade! Cropped just along the jaw line in a blunt line to create a wonderful straight edge. This lady has very subtly tousled the hair in a wonderfully relaxed style and we just adore it, don't you?