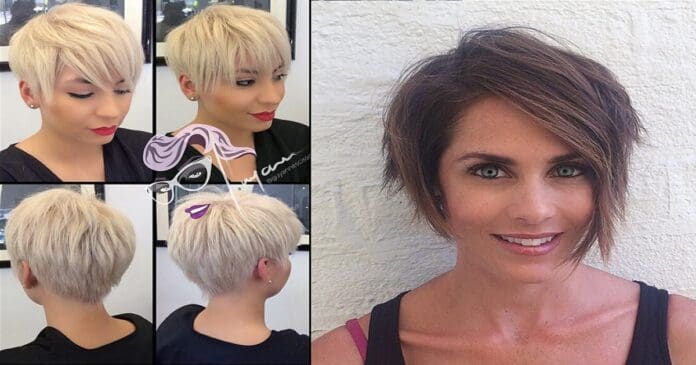 The pixie cut pushed its way to the top of the popularity charts for the year 2021, and will continue to make a strong appearance for 2022 too; and we couldn't be happier! Pixie cuts are effortlessly cute, framing the face exquisitely and creating an overall fun, bouncy, and modern style. But if you're nervous about completely chopping your mane, consider a longer pixie cut like one of these 21 shown below!
Cool Colors and Side Swept Bangs
What's not to love about this hairstyle? With vibrant hues of pink, purple, and blonde, this triple-toned cut is an absolute knockout. Parted to the extreme side and given a flip at the tips, this super trendy and youthful style is perfect for girls seeking a funky and flirty 'do with plenty of body and wave. Finish it off with some dazzling earrings and thick eye makeup like this lovely lady here did!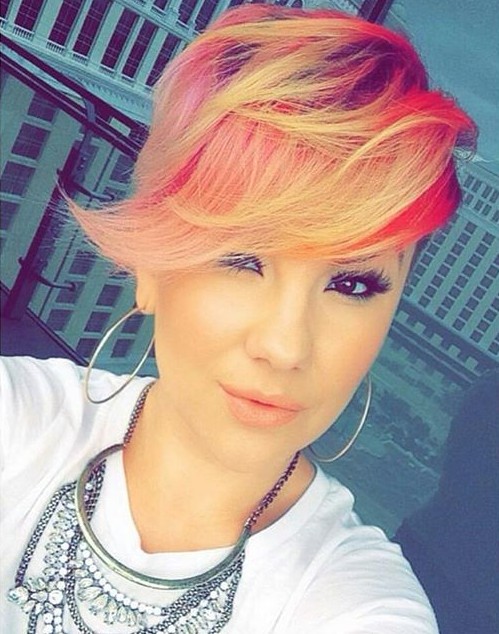 Blonde and Gray with Shorter Sides
Shaved sides became a huge hit for 2021- 2022, but if you don't want to take the plunge but still want to indulge in this style a bit, consider this edgy and cute pixie haircut. The sides are cut extra short while the side swept bangs are kept long, perfect for framing the face- especially round faces and oval faces. Pop haircuts the blonde and gray mix is ultra trendy, making one incredible hairstyle.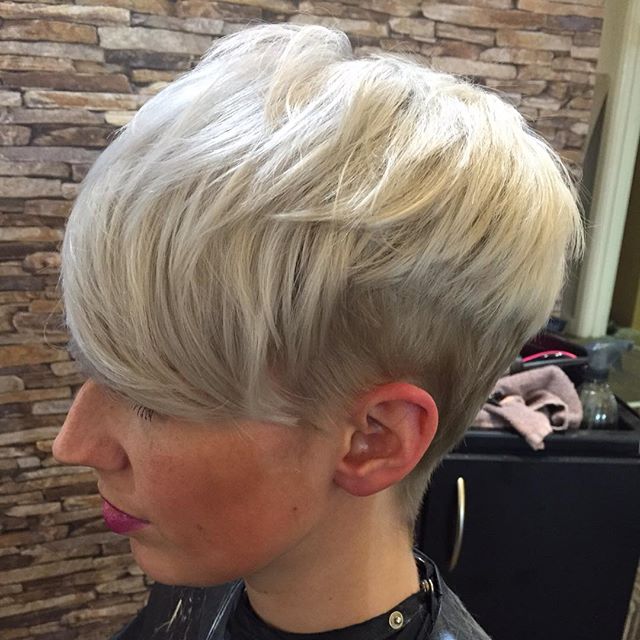 Golden Blonde Layers
Edgy and bold, this layered hairstyle is filled with tons of body thanks to the mix of short and long layers. The front is kept extra long, which softens the face beautifully and creates a very alluring style. We're loving the golden blonde hue against dark roots, an intense blend that's nothing short of modern and elegant. Easily dress it up with a black dress or keep it casual with blue jeans and tee.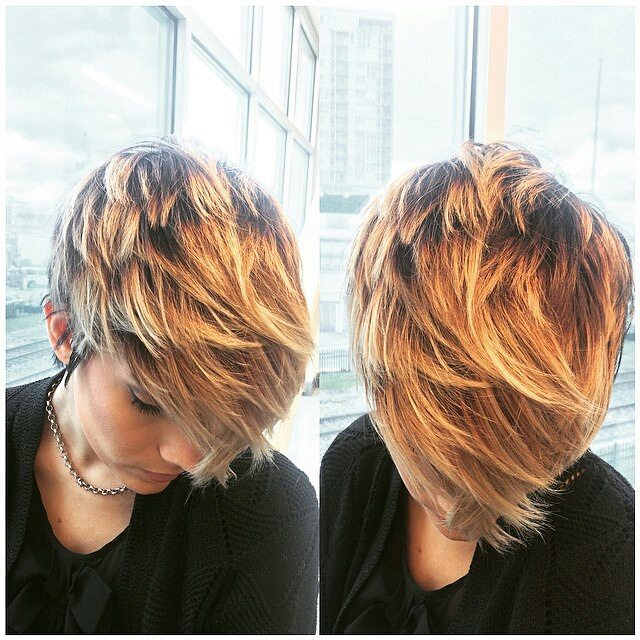 Gray Long Pixie
Gray hair may have been a fashion faux pas for years, but it's become a fashion MUST for 2022! If you've had your eye on this unique and funky trend, we highly recommend you give it a try. And while you're add it, chop your locks down into some super long pixie layers like we see here. It's a great choice for fine hair and thin hair and can quickly be dazzled up with some dark eyes and lips!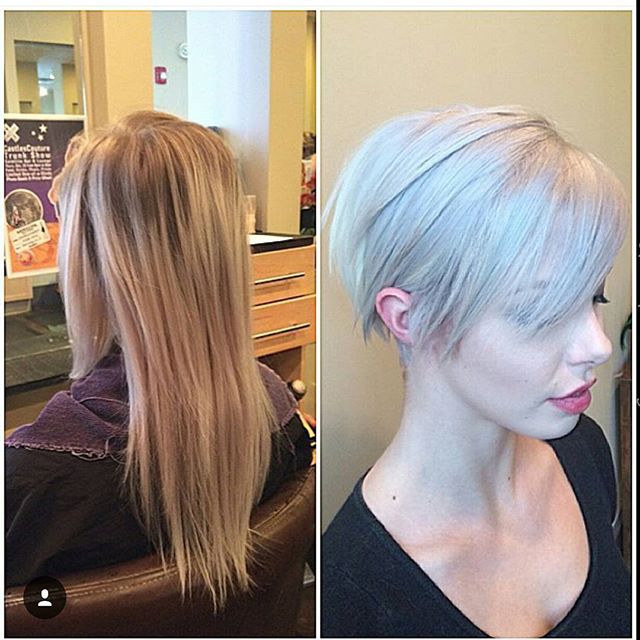 One-Sided Length with Blonde Bangs
Leaving your pixie cut extra long means you have one great advantage: you cans till curl your locks! This elegant haircut is shorter on one side, leaving the remaining side with some serious length for waves, curls, and more. Create a fashionable and sweet hairstyle with plenty of luscious curls and don't forget to lighten around the face with some beautiful bright blonde coloring. Perfect for girls and ladies of all ages, whether you're 12 years old or a women over 60!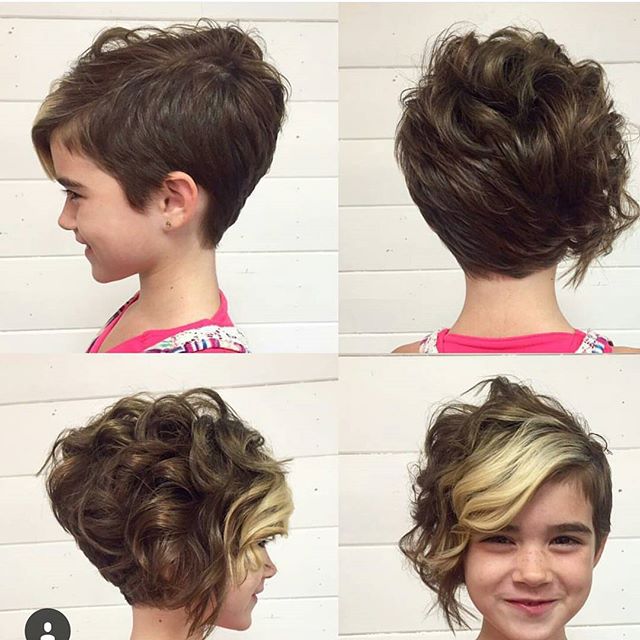 Funky Chocolate Brown Layers
If you're struggling with thick hair that's simply overwhelming, one easy way to tame it down and thin it out is with some super funky layers of all shapes and sizes! This funky long layered pixie cut is cute and casual, with a stunning chocolate brown hue that looks beautiful with tanned skin.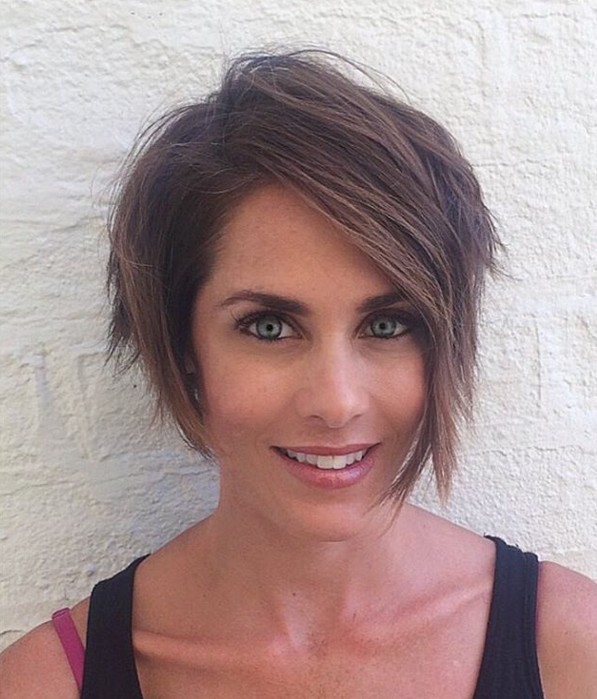 Framing Long Layered Pixie – Cute, A-line Short Hairstyles
First of all, we have to say how much we're adoring this hair color. It's dark and luscious, perfect for fall and winter seasons, being accented gorgeously with deep shades of purple. The hair color gives the overall look a glossy appearance while the long layers frame the face beautifully. We're simply in love with this pixie cut!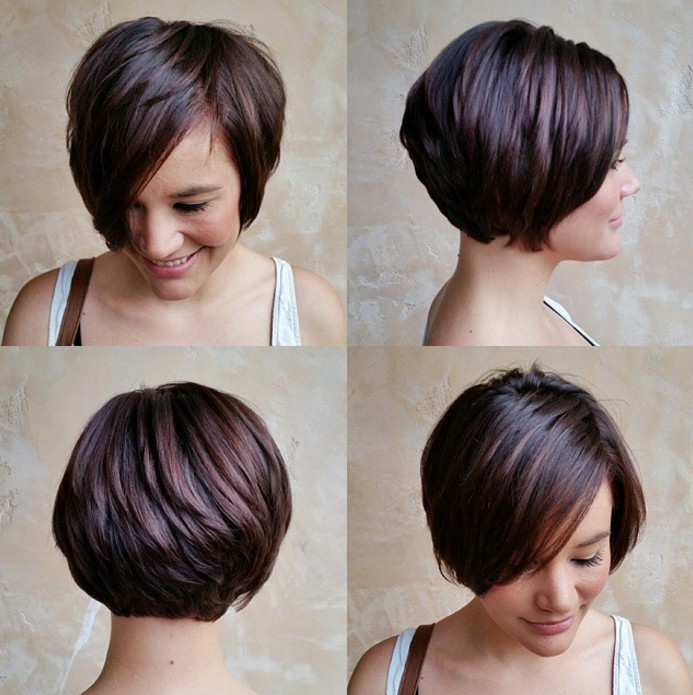 Shaved Side with Accenting Brown Highlights
Edgy haircut that's sleek AND sexy? Don't mind if we do! This gorgeous pixie haircut showcases a gritty shaved side while the other half is left long and strong, easy for curling or flipping back for an elegant look.