You've decided that you'd like to experiment with your hand at white blonde hair? The first thing to do is begin with a warning that white blonde isn't for those who aren't confident. It's a financial commitment and plenty of time to achieve it safely. However, the white blonde can be a major draw and looks stunning on many people if done properly. If you're thinking of changing your hair color to "Khaleesi" white look, keep reading for some ideas and tips. Contrary to what you might think the color of white blonde hair isn't "dyed" in this way. it's actually bleached to turn white also known as "de-colored." The white blonde hair is the result of all the pigment creating your natural color eliminated from the locks. This process can result in damaged hair that is bleached that's why you'll need to pick regular treatments, and top quality Shampoo and Conditioner. In addition, blonde hair requires regular maintenance, such as regular salon visits, either monthly or bi-monthly to keep your hair looking clean as well as not looking brassy. Since hair with a white color is more prone to splitting and causing damage, you'll be thinking about the different types of hair brush and hair dryers, curling irons, and other hair accessories that you may require so that you don't cause more damage to the hair. Are you thinking that having white hair sound like a risky venture? Well, going blonde always is. These images that showcase amazing white blonde hair color shades are sure to make you want to put all worries to the side. Take a look at these amazing White blonde color options for 2023!
#1: Bombshell White Blonde Waves
This is a deeply rooted white blonde style that has neutral tones and icy tones. best accomplished with a complete head bleach, shadow roots and an cold toner.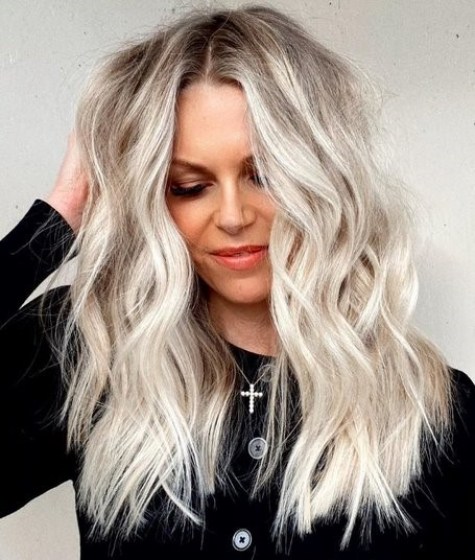 #2: Show Your Grays
Women who are older and have gray or white hair can opt for a white blonde look to smooth out their hair regrowth, and create an unpretentious appearance. The final result is that this style won't require any maintenance if you wash your hair with silver shampoo each second time you wash it at home to keep the hair's color lively.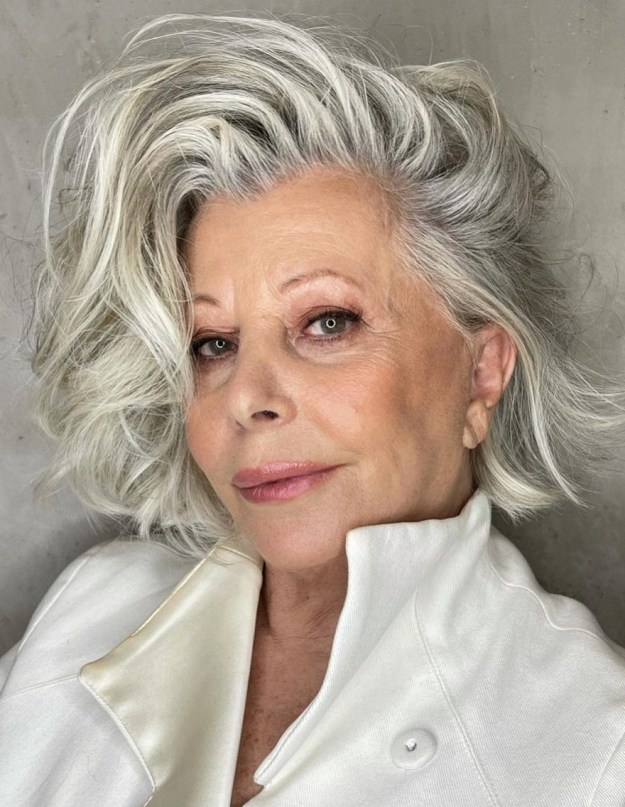 #3: Beautiful Platinum Blonde Bob
This is a general white blonde color with beige tones. This shade is suitable for all skin tones because it lies between cool and warm in the wheel of color.
4. White Blonde Hair with Lived In Roots
The relaxed beach waves showcase their natural brown hair and highlights of platinum blonde in a stunning way. The dimension that is created by leaving a portion of the natural hair's color exposed between foils lets you enjoy longer periods before and after salon appointments.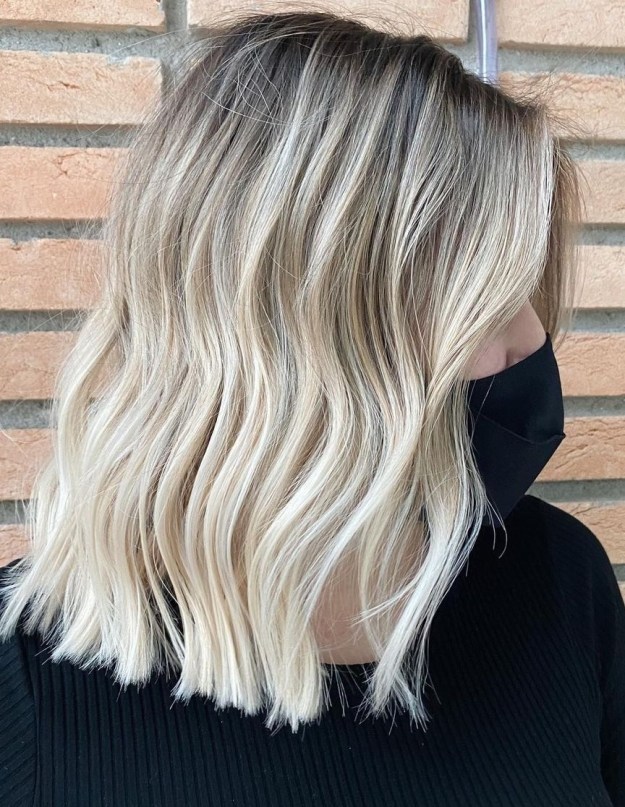 #5: Sexy Volume
The soft, blonde white hair that has pearl tones is the kind of blonde dream you can think of! The hair was cut with an 1.5-inch barrel for huge soft volume. Be sure to include the heat-protectant and a dry texture spray on the roots to add oomph!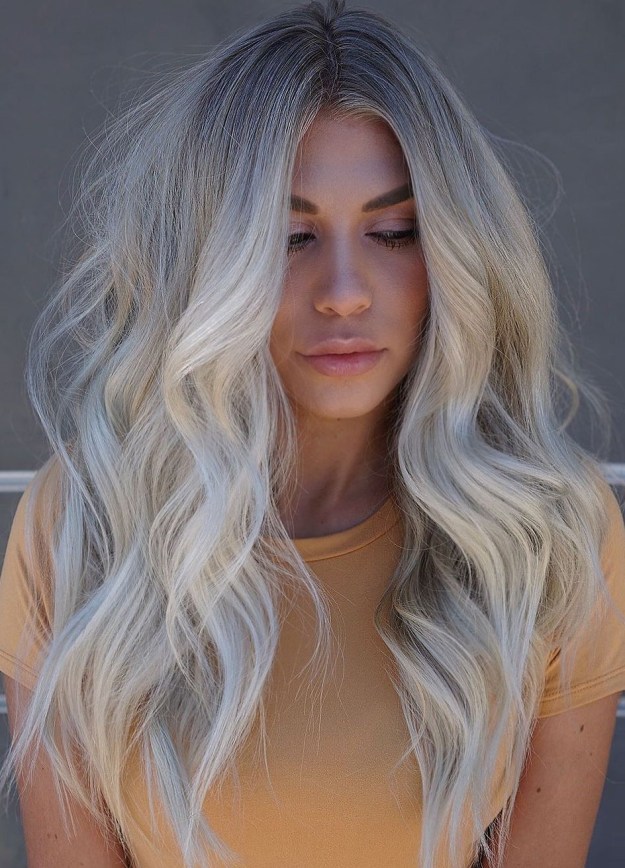 #6: Chic Platinum White Shade
To get the platinum blonde look the colorist will highlight and tip out across the top of hair. The hair that is thick and long requires additional maintenance to ensure it stays healthy and strong. It can easily turn brassy if the right products aren't employed.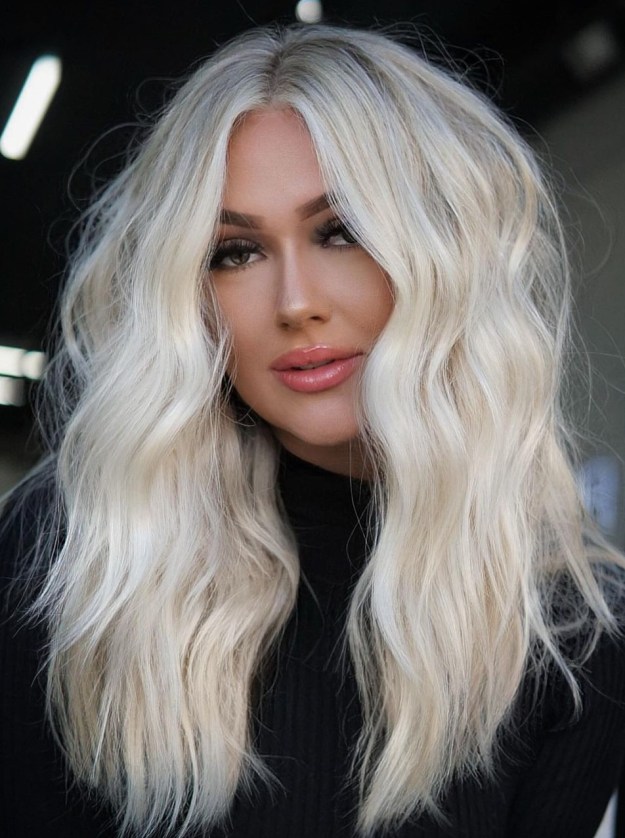 #7: Fashionably Stylish
This hairstyle with white blonde hair in a short cropped cut is the perfect fashion-forward style. This style will not just require regular color regrowth as well as regular trims every four to six weeks. It is in the streets of Paris It can be styled in variety of ways, and is very adaptable.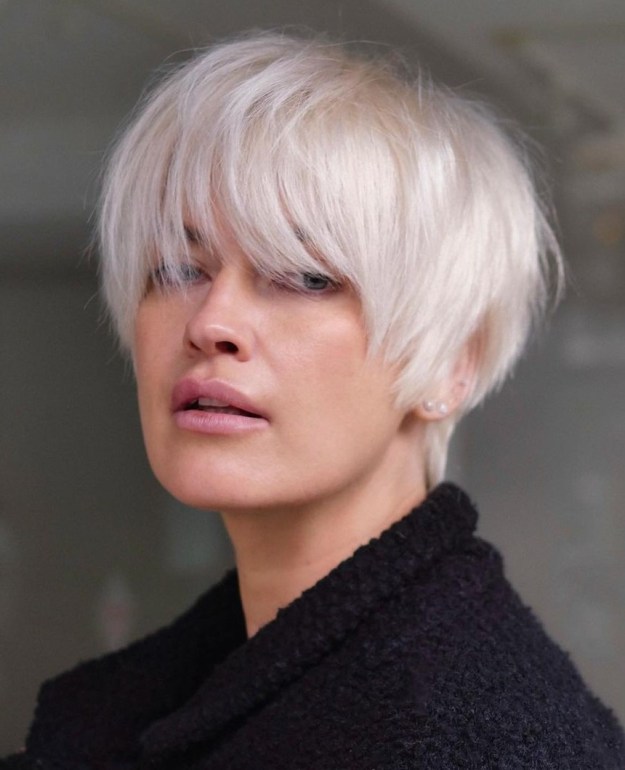 #8: Effortlessly Stylish
The blonde, white color is gorgeous, and the subtle stretch at the root gives it a more textured style. This long bob was created by a light beach waves texture that adds a touch of spice to the.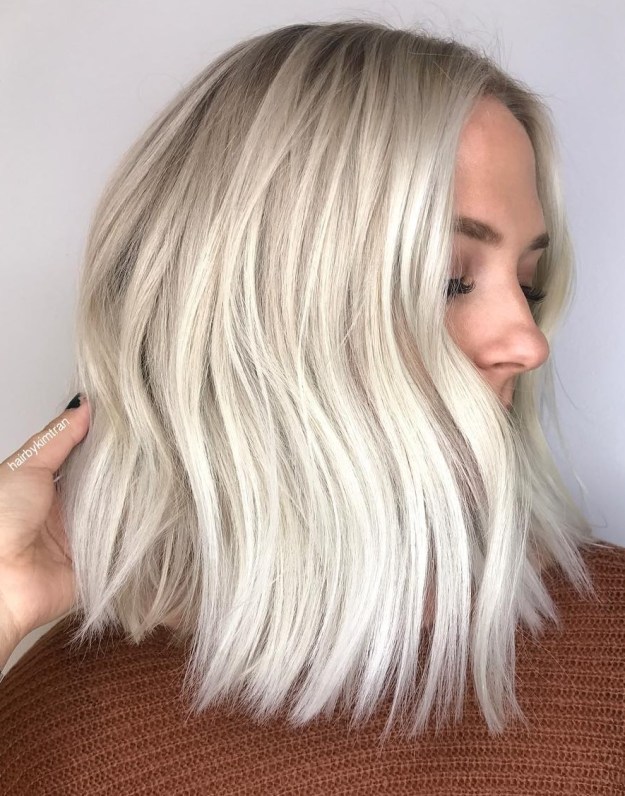 #9 Smudge that Root
Beautiful platinum waves that have soft roots that let you have more length between appointments. Dark roots not only blend in and soften the regrowth but also give the hair more an extra dimension to the hair and make it appear more thick than it really appears to be.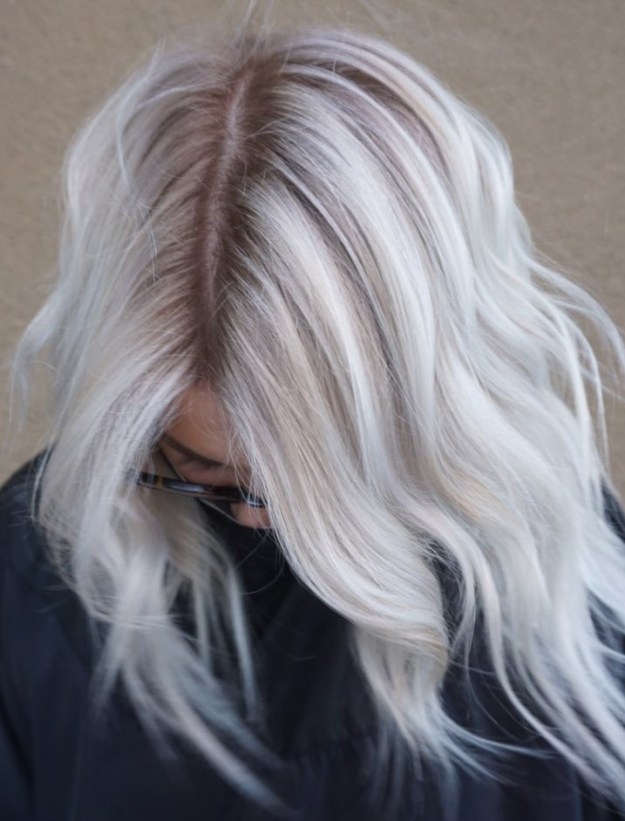 #10: Bright Boho Beach Wave
White blonde hair reflect the sunlight beautifully in photos and waves like those are a great way to showcase depth and depth in the look. This could be a great bridal look for an outdoor wedding.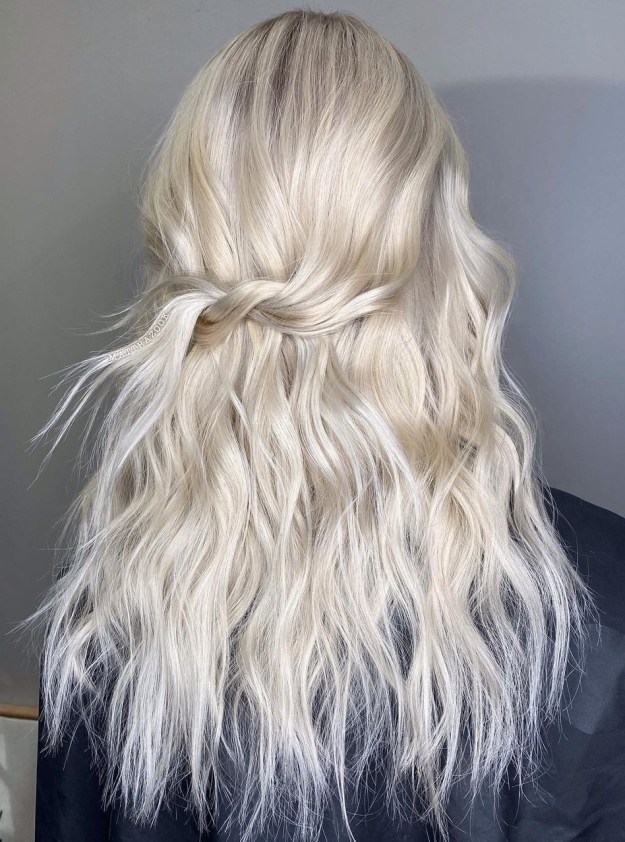 #11: Chic Cropped Curls
This is the full head bleach as well as a pearl tone – an enthralling choice for natural hair with an amazing effect. The blonde-white shade is created by stripping the hair color until you reach the palest yellow shade, the dyeing process is followed by the pearl tone.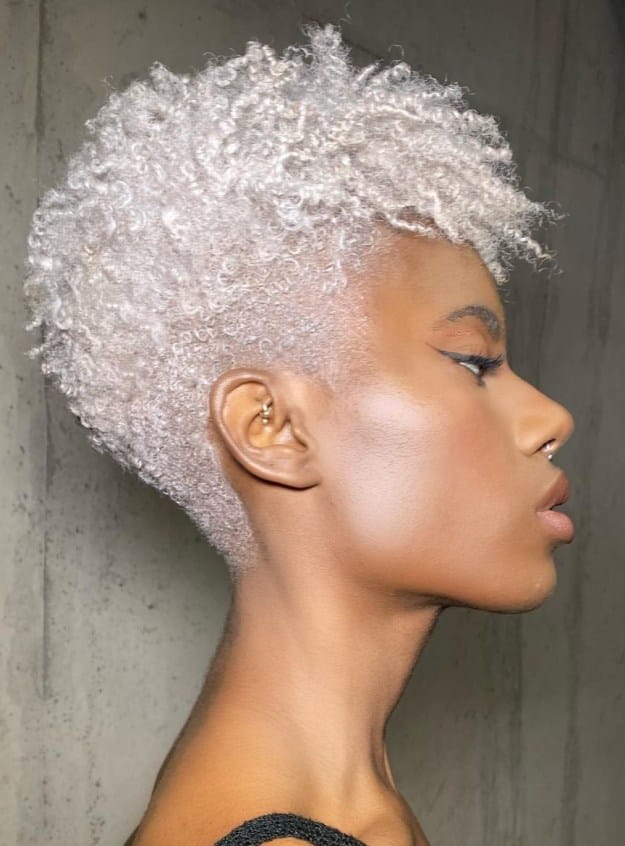 #12: Mesmerizing Icy Blonde Waves
You will look stunning all day long with this stylish platinum-colored hairstyle! It is perfect for medium-wavy locks, however, you are permitted to apply it to straight hair too because it looks stunning on any hair type.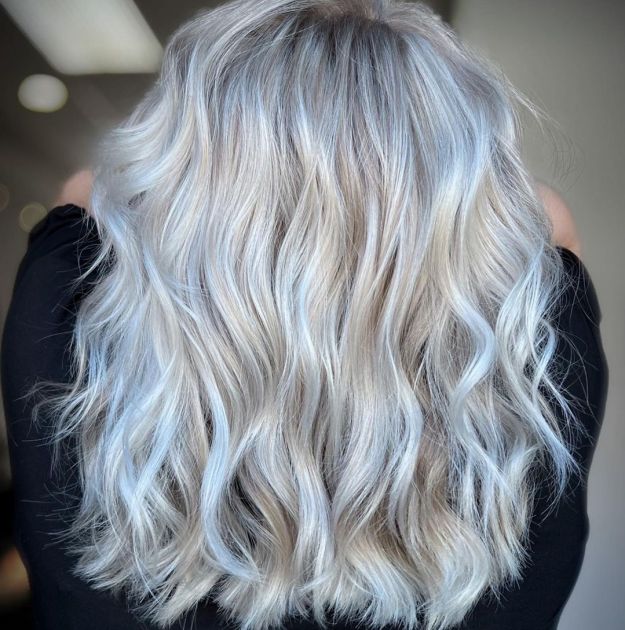 #13: Voluminous Blonde Hairstyle for Thin Locks
The platinum blonde shade probably requires a slightly more in-home cleaning as compared to other hues, however it's totally worth it! Long curtains add volume the hair's thinness, which makes the hairstyle appear more substantial.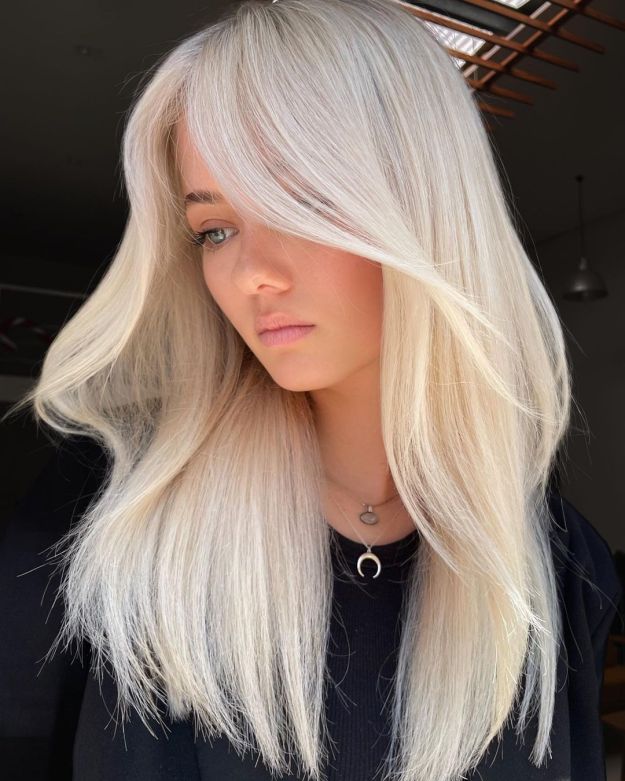 #14: Choppy Short Cut for Blondes
A pixie with side-swept bangs is a great idea for a trendy hairstyle transformation. Discuss with your hairstylist how to choose the ideal shade of blonde that matches your skin tone and get people talking!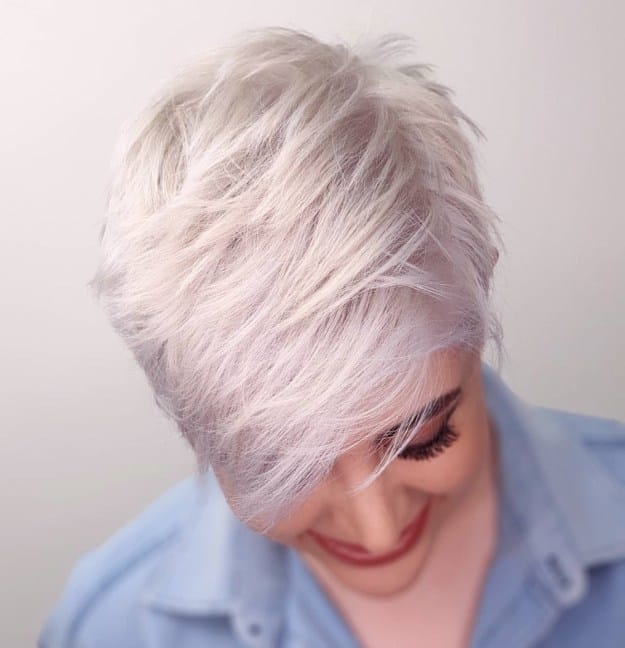 #15: Inverted White Blonde Bob for Straight Hair
This color is among the most sought-after colors in 2023. If you're looking to make an amazing hair change now is the time to do it! If you prefer cool tones the purple hair color should be your go-to. Otherwise the yellow tones are fast to change your cold-weather appearance.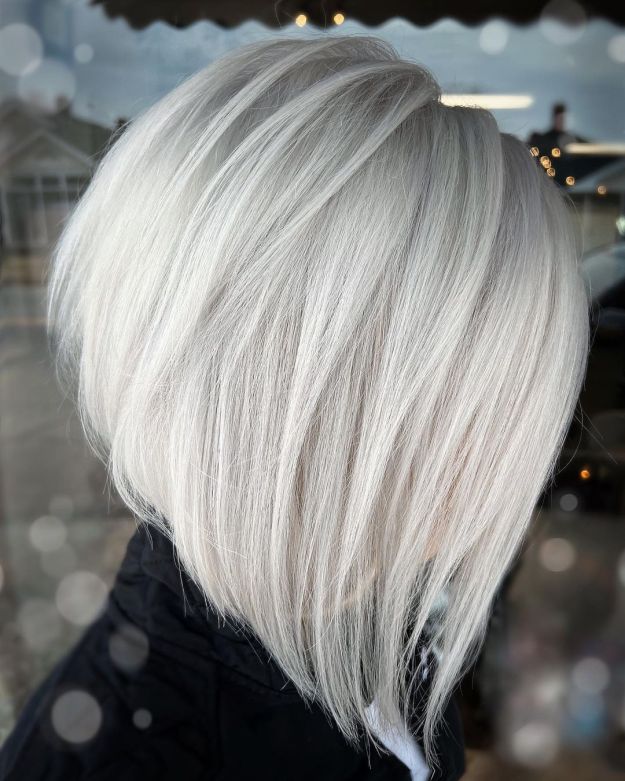 #16: Icy Tones for Classic Straight Lob
Cool blonde tones are great for those looking to stand out. These shades are ideal for natural and fair-skinned skin tones which means you are able to explore your new hair shade.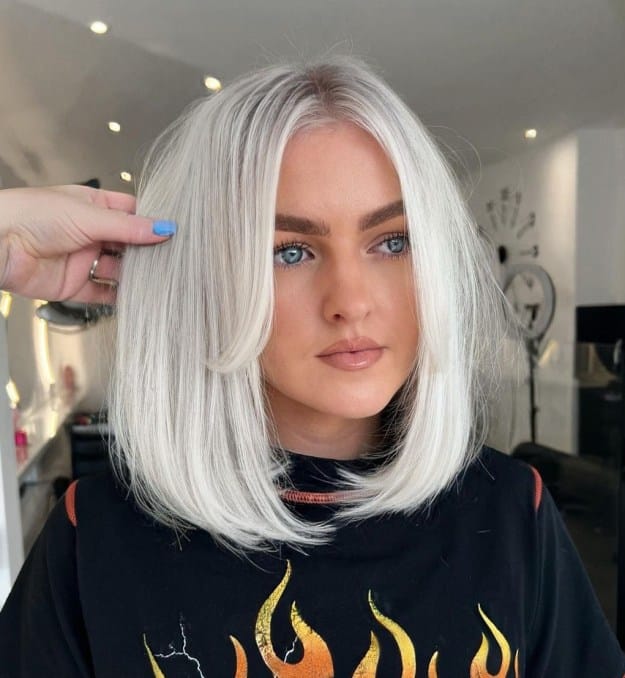 #17: White Blonde Pixie for Black Women
A pixie hairstyle looks appealing by itself, but when it is paired with a white shade , this style is a delight. Add some flair to your trendy short haircut with a plethora of accessories that draw the attention of your look and be a hit at any event!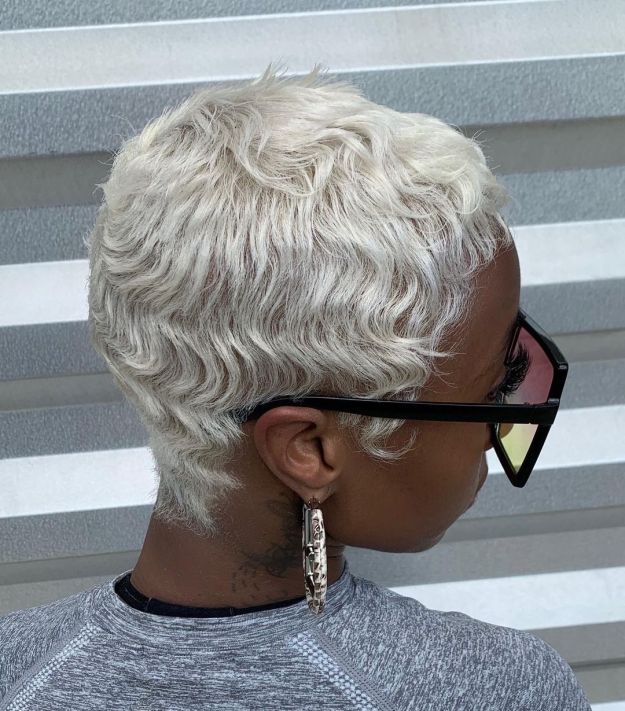 #18: Medium Blonde Shag
All-textured hair always brings more in terms of volume and movement to the hair and, therefore, should your hair require more dimension, be aware of shaggy haircuts. Hair that is bleached and has shaggy layers is suitable for all hair types, however be wary of a drastic coloration like this if you suffer from hair damage.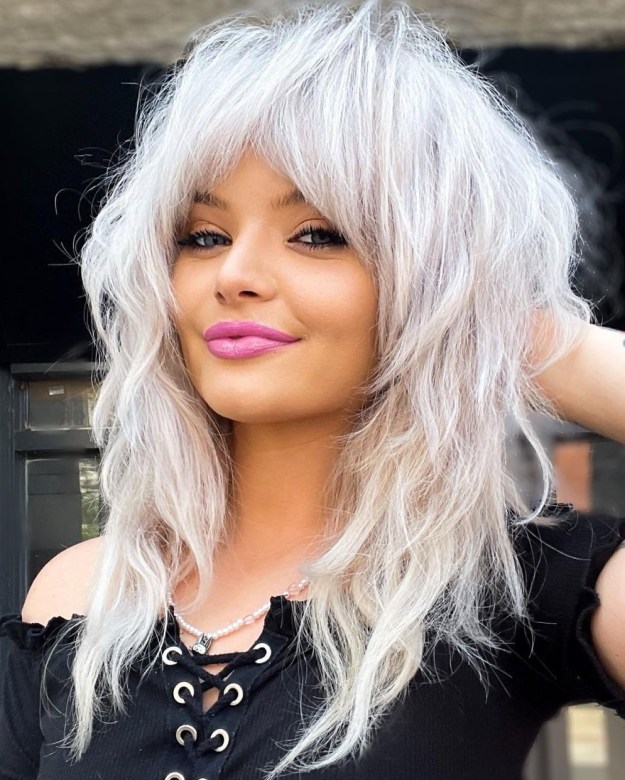 #19: Flattering Side-Parted Stacked Bob
It's not easy to maintain the longevity of this gorgeous color, however cutting it short like the bob pixie will make this job easy. Make sure you lightly smooth your crown before styling your locks to the side for your hair an edgier and natural appearance.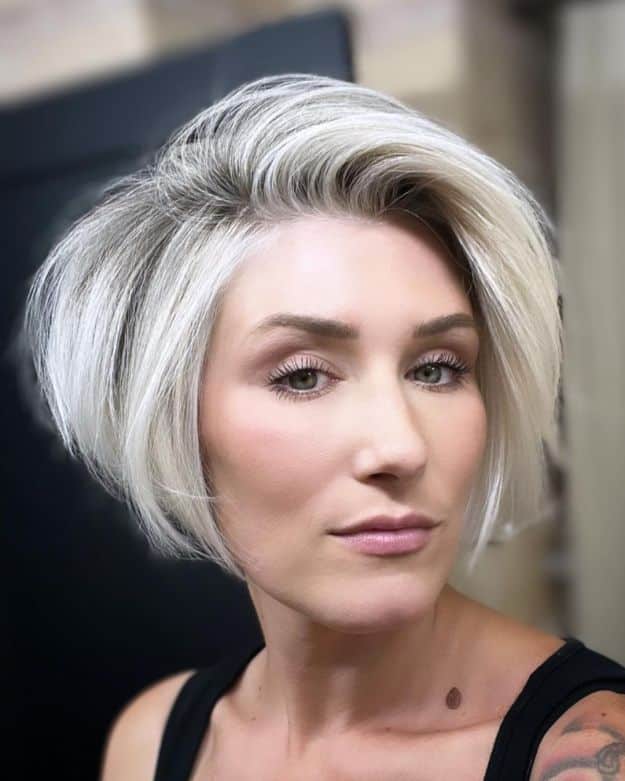 #20: White Blonde Bob Transformation
If you're looking to make your hair appear more full and thicker take a look at this gorgeous blunt platinum blonde hairstyle. Use white-blonde highlights on your face to highlight your face and tone even more.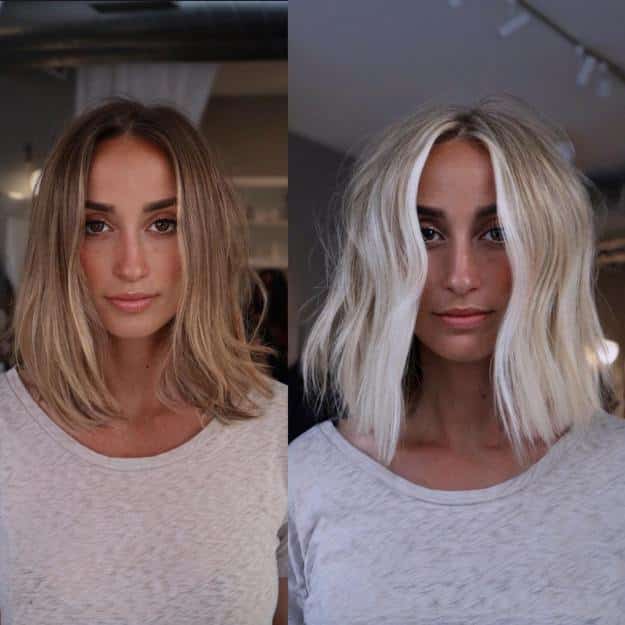 #21: Blonde Layered Waves and Black Roots
Dark hairstyles create a stunning contrast against white blonde hair, making this style stunning and stylish. Layer on choppy waves and layers to add texture and motion to your gorgeous locks.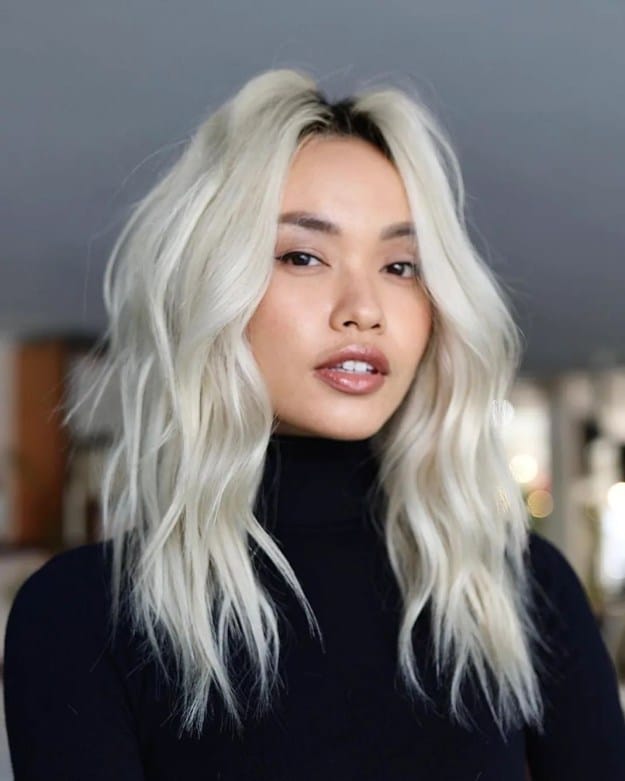 #22: No Split Ends Allowed!
Keep your blonde hair looking healthy and full by keeping your hair free of split ends and having regular haircuts. These cuts are perfect for keeping your White blonde locks looking full and healthy.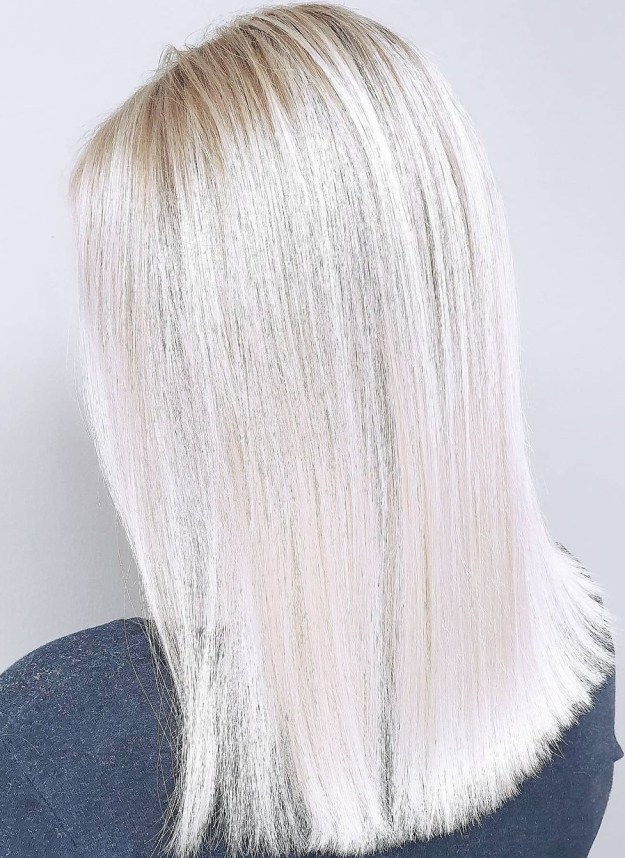 #23: Chic White Blonde Shade
Hair that is white and blonde looks amazing when it is curled, as shown in this image. Whatever curling device and method you employ, you should leave the ends straight for a the most modern appearance.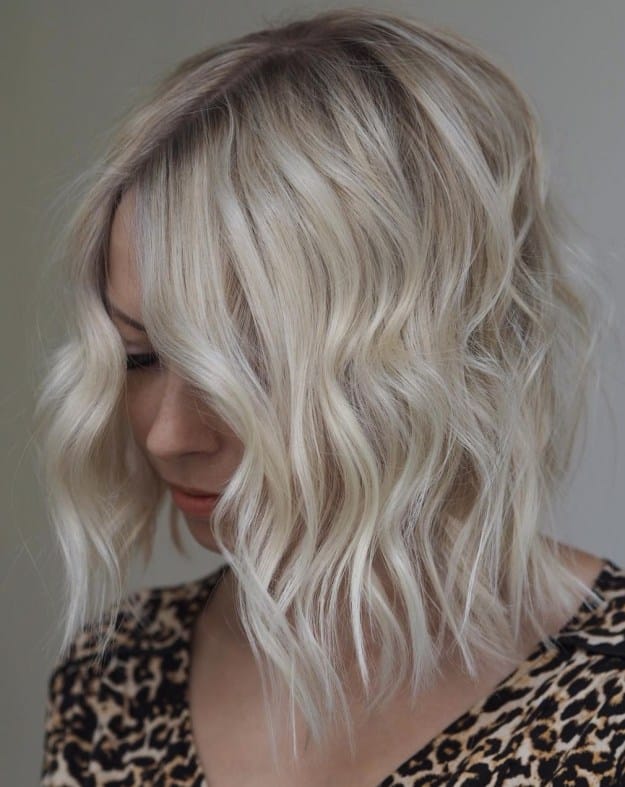 #24: Style It Up
If you dye your hair blonde and you don't have the ability to wash it as often because it dries out your hair. To hide hair that's been in the water for two or three days it is possible to experiment with a deep part on the side as well as waves, to prevent a a flat limp hairstyles.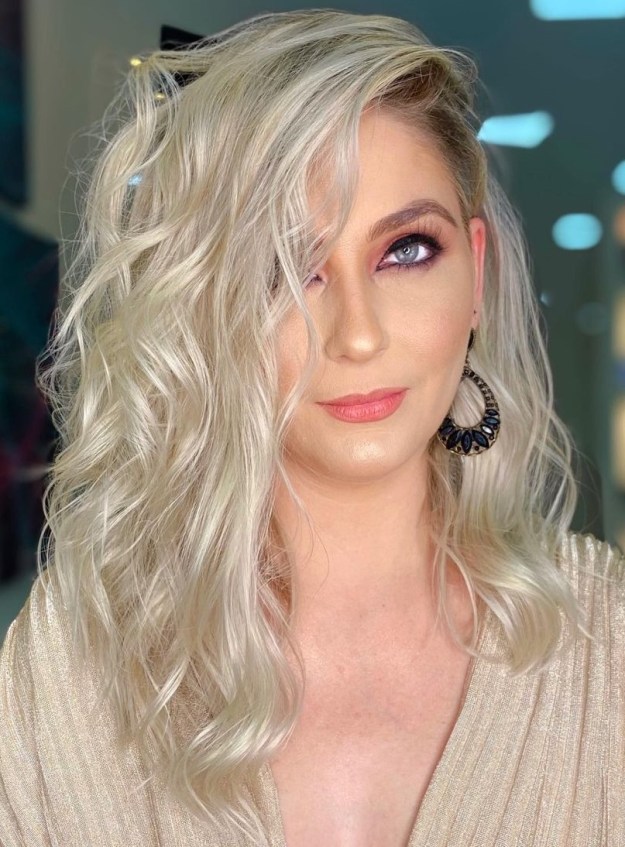 #25: The 80's and 90's Are Back
The streaking cap is back! White blonde "frosted" appearance can be created with a quality classic streaking cap. It is recommended to visit Your colorist once every four to six weeks to lighten the new growth.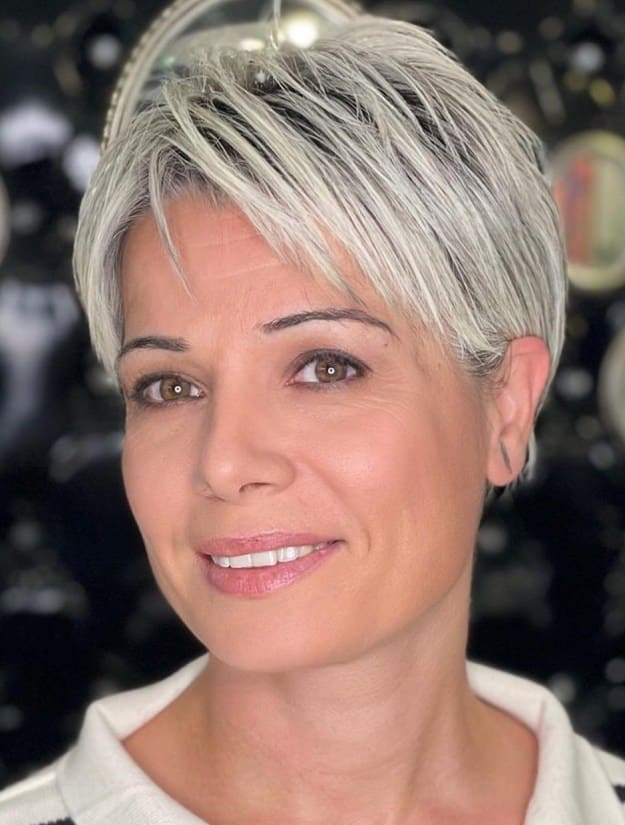 #26: High-Contrast Blonde Hair
This is an impressive bleach and tone that is blended with dark roots. Blending out roots gives longer intervals between visits to the salon. Regularly used toners and shampoos in purple are recommended to keep hair as white as you can.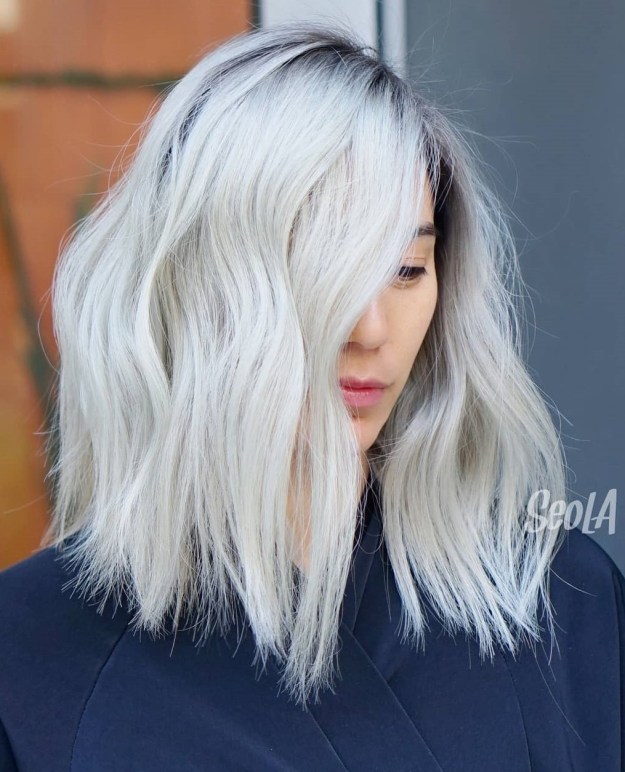 #27: Perfect Pearl Princess
Look at this gorgeous white blonde beauty! This shade of white blonde needs a lot of maintenance and maintenance, which is regular toners and highlights that are changed every two months. However, it's worth it!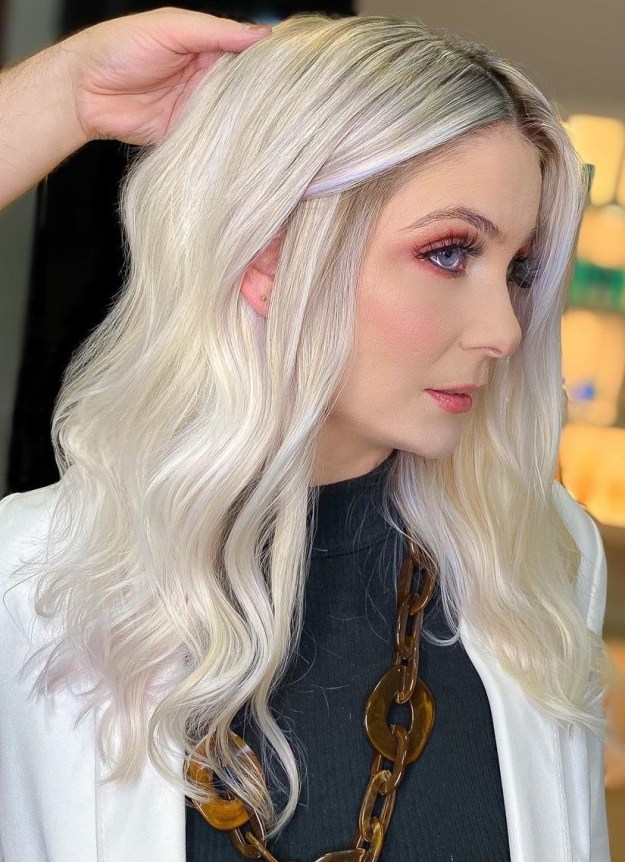 #28: Shag It Up
The white blonde shag style is very modern and is also the ideal look for those getting a shorter hairstyle called a pixie. Hairstyles are created with blow-drying using the medium-sized round brush and shifting it away from the face in order to create flips.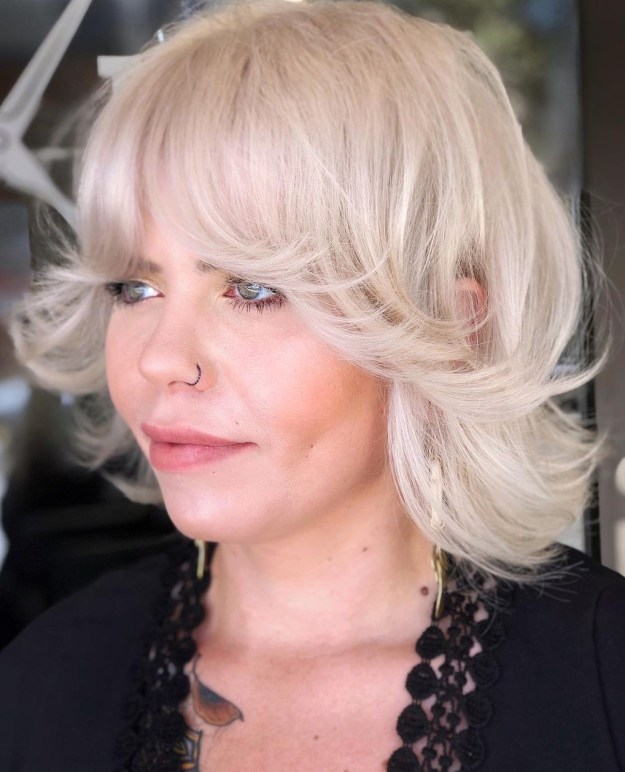 #29: Pop of Pearl
Cool skin tones go beautifully with the cool blonde tones. This style employs pearl tones for added sparkle and dimension for the hair.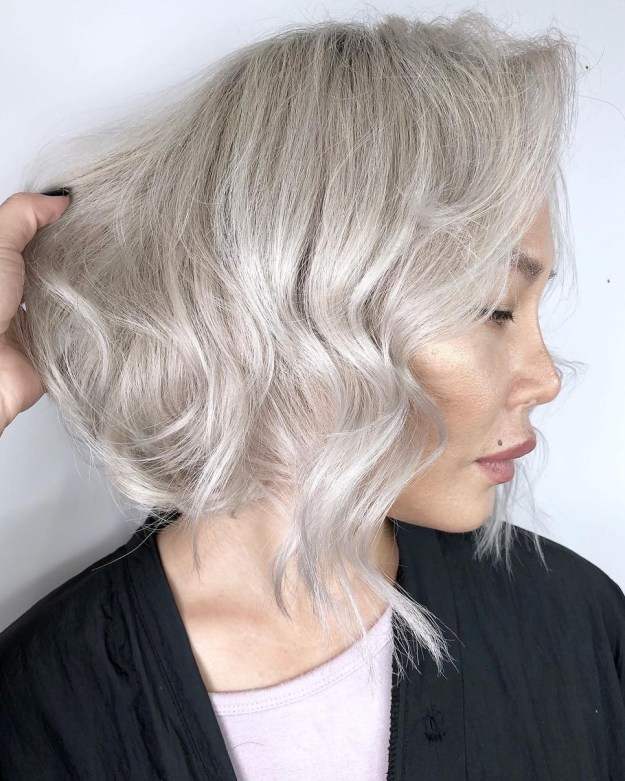 #30: Boxy Ash Blonde Bob
Can't decide between ashy blonde and white blonde hair? Bleaching all hair in the first time and applying an all-over toner of ash is a great compromise!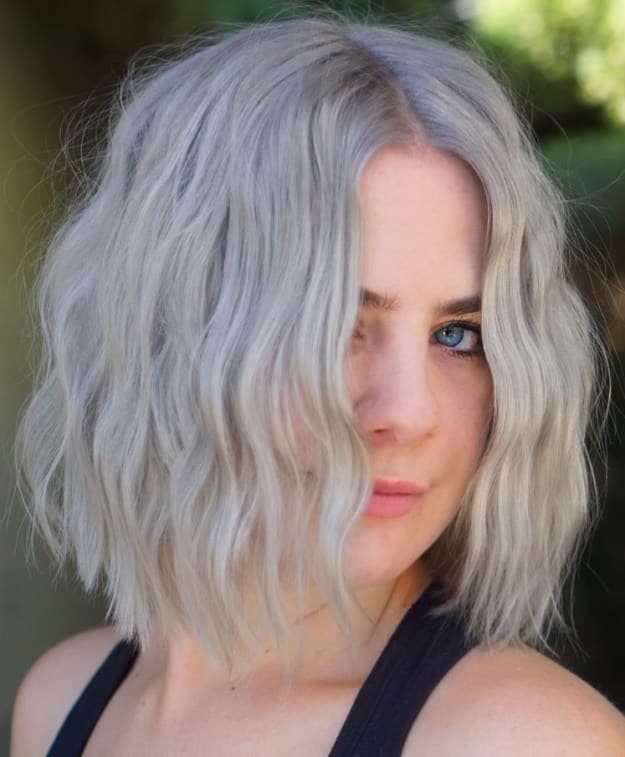 If this information has made you want to change your hair to white Then 2023 is the time for you to take the plunge and do it! Make sure to conduct your research, choose an expert colorist who specializes in white and platinum blondes. You should plan to go to the salon each four to six weeks if you've chosen a global bleach or tone, or at least once every 2 to 3 months to achieve a more natural natural, natural look.