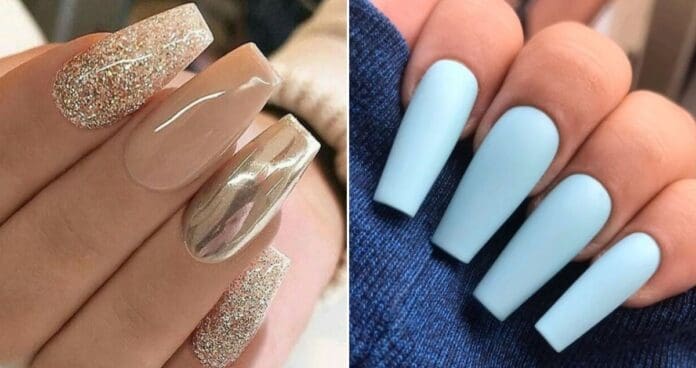 Given the colder season, you can safely assume that fall nail color will include the tried-and-true combination of black, bright red, or navy blue. But if you really want to go with what's on-trend, there are bolder shades to turn to when varnishing. It's all about choosing a less traditional shade and updating with a fresh color that will be a real headliner. So, without further ado, we present the best fall nail colors that will take your game to a whole new level.
1. Creamy Blue
We can say that in the last few autumn-winter seasons, blue has become the new black. And trends show that this fall is no exception. For this, we can thank the elegant versatility of galactic and midnight blue as decisive hues. But when the cold weather hits, we suggest you try a lighter and dreamier manicure before diving into the deep end of the spectrum. You'll love how this creamy blue hue softens, making it powdery and subtle. This shade is soft like a cloud. It also pairs perfectly with chambray or white jeans; and gives a new look to your office clothes. Whether you're blonde or brunette, a set of creamy blue nails will look great on nails of any shape and help start your fall day on the right track.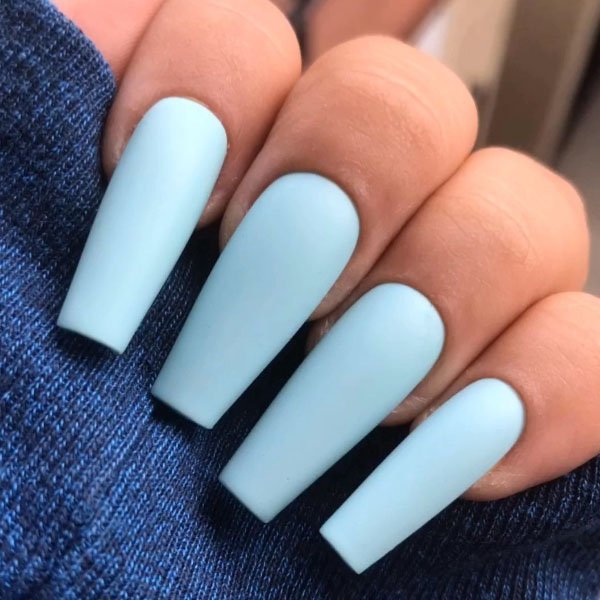 2. Soft Red
This fall, luscious reds are soaring up the style charts. But why this news? You will notice that the most delightful red nails, favored by discerning fashionistas, are gentle on the eyes and more romantic in their hues. We are not saying that chili peppers and other bright red flowers should not be. But for a more modern, trendy look, a mouth-watering set of cranberry nails or a splash of burgundy found their way into our color scheme. Remember that you can wear any shade of lips to enhance the beauty of your hands. Soft red is a color that looks equally good on short nails, long claws or full lips. So the only question is, how red are you?
3. Royal Dark Teal
Duchess Meghan Markle herself wore royally bright turquoise. From the realms of the Egyptian pharaohs to the Aztecs, royal turquoise has always been a sought-after shade and the perfect color choice to freshen up your nails this season. Lighter teal and turquoise are considered summer nail hues, and this rich dark gem shade is considered one of the coolest manicures for fall. For the best effect, pair the turquoise nail design with black or soft neutrals like sand or tan. On your next visit to the salon, choose the Cleopatra treatment and pamper your fingers with a trendy turquoise hue.

4. Milk Chocolate
Those teasing claws look quite appetizing! Be seduced by this gorgeous mid-tone brown and you'll be transported back to the 70s when this shade was at its peak. This time we love the revival of the nail color trend. A comeback color that's not only sweet, but also a bit luxurious, and adds a certain edge when coordinated with your lighter neutrals. When it gets colder, this shade of hot chocolate will look great with cozy wools and as a complement to brown leather boots. Always luxurious and never boring, a milk chocolate manicure is sure to shake up your style.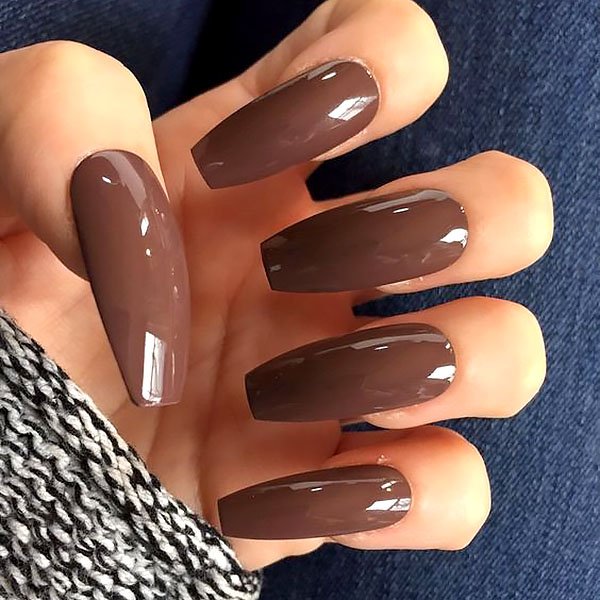 5. Glossy Fuchsia
Fuchsia manicure is the epitome of glamour. Filled with exotic charm, this charming nail color will remind you of an orchid corsage, bringing a touch of the greenhouse to your fall. The vibrancy of the fuchsia color will not only bring your nails to life; it will also cheer you up. Perfect for a coffin or almond-shaped nails, this super glossy fuchsia shade is a new fall classic. You will feel like you just escaped to the tropics!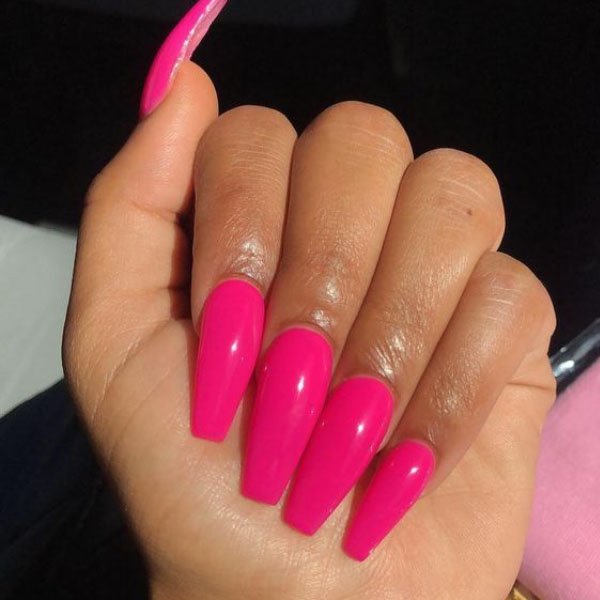 6. Light Grey
One of the most sophisticated nail colors this season is frosty grey. We're crazy about this matte finish, which shows off this exquisite shade to almost silvery perfection. Being a discreet shade, your light gray nails will look equally elegant both at a business meeting and at a wedding. Less edgy than darker shades, this manicure looks divinely feminine in an almond shape with subtle squares at the tips. Pair your light gray nails with solid black stitching to heighten the sense of drama, or elevate class by pairing it with cool white for timeless allure.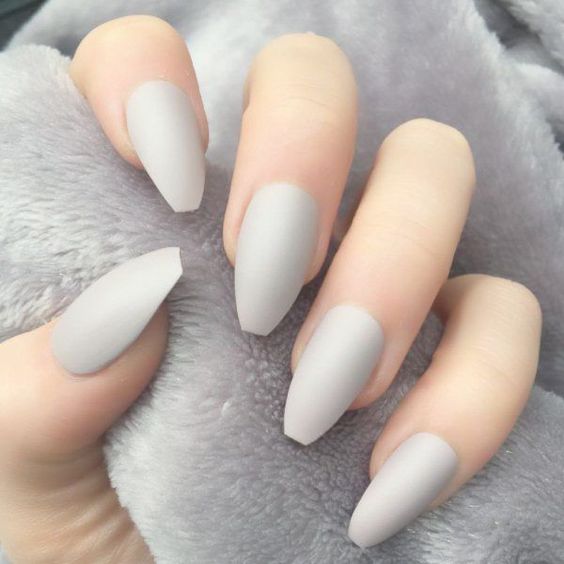 7. Glitter
Sprinkle glitter on your nails this fall to brighten them up and add a 3D effect. From cocktail parties to holiday events, glitter nails are a great way to show off your hands to the hilt. There are so many shades to choose from, but we love this gold glitter polish on the nails paired with nude and pure gold on the other fingers. Your energetic hands will shine brightly in a little black dress. Or opt for a silver metallic bag or a sequined blazer. As a nail design, a glitter manicure sets the stage for some real fun and is sure to add even more sparkle in good times.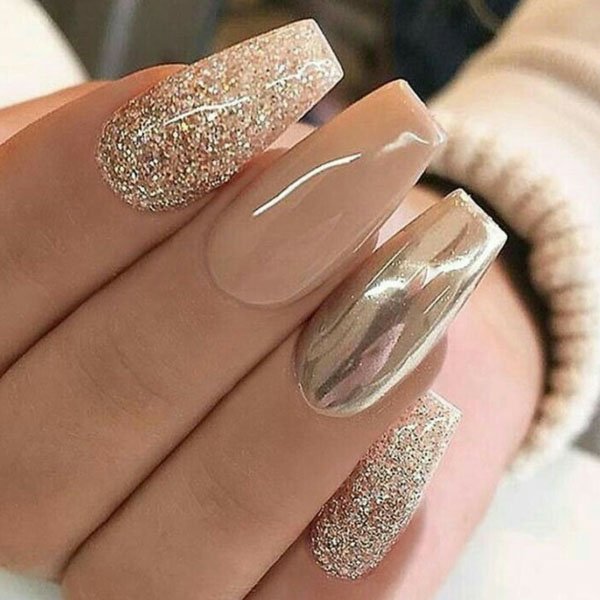 8. Sand
The whispery shade of sand is perhaps the most amazingly polished nail color on our list. Don't let the beige appearance fool you; this is one nude that should not be overlooked this fall. With a subtle mid-tone range from custard to smoky gray, this new neutral shade is designed for sophisticated people who always look harmonious with minimal effort. Sand's popularity stems from its ease of use—it's so versatile that it can be worn in almost any setting—and yet manages to look extraordinary. Whether you have porcelain hands, tanned or olive skin, the sandy color will create an iconic manicure that will suit everyone.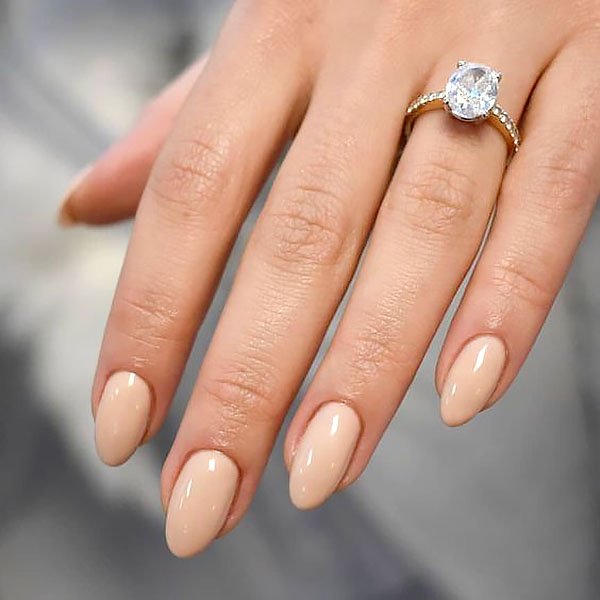 9. Ombre
Ombre is a great way to wear your favorite nail colors in an ultra-cool style. A beautiful soft gradient will add zest to your standard manicure, especially if it is done in your favorite autumn colors. This muted mauve nail polish is at the forefront of fashion. Wear an ombre with red for an outstanding feminine look that will make you doubly fashionable. Try some of the least likely ombre combinations this season by mixing moss with emerald green or tiger orange with dark cheddar. You are only limited by your imagination – and just a few steps away from being knocked out!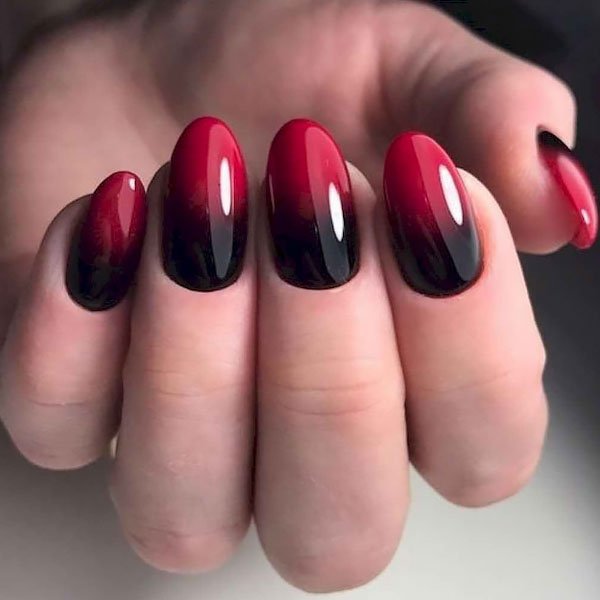 10. Holographic Nails
Finally, the least predictable and perhaps the most mind-blowing nail design of all. Ever since Gigi Hadid first showed off her chrome pinkies at the Met Gala, this glittery holographic look has continued to grow in popularity. Overtaking straight metallics is easier than you think. Light reflective pigments can be applied over regular polish to give your manicure a mirror finish. Try a more sophisticated version of this trend in bright purple; it glows slightly with a subtle shimmer rather than having a full futuristic feel. Stunningly attractive as ever, a little less extravagant than wearing a whole rainbow hologram. But no matter how far you want to go, holographic glitter is a trend that won't go unnoticed.