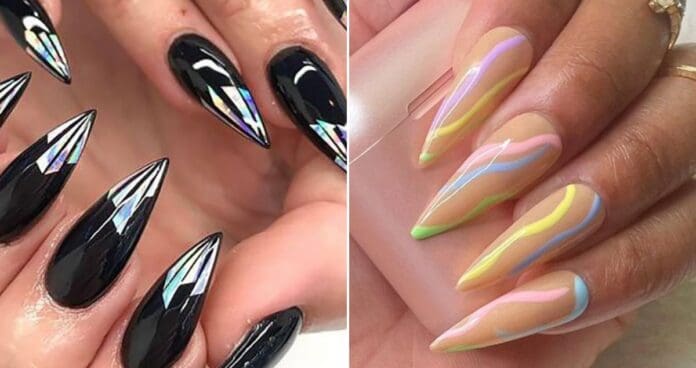 Nail care is just as important as choosing a killer outfit for going out. You should be proud of your looks and what better way to turn your nails into chic stilettos. They look fierce, have a conical shape with pointed ends. Not to mention that they are totally on-trend. However, if all this is new to you, then do not worry. We are here to tell you all about stiletto heels, including the best design and color to choose from, as well as their price.
1. White Stiletto Nails
White is one of the most timeless and classic nail polishes. It is comfortable to wear, goes with everything and suits almost all occasions. This is a color that will never go out of style and suits any skin tone. Whether you opt for plain white polish or try out effects like ombre, there are plenty of ways to wear this color. In addition, white is often associated with freshness and new beginnings. The radiance of the shade will draw attention to your long white stiletto nails, making them even more noticeable. For this reason, it's important to keep your hands in great shape, so make sure your nail polish doesn't crack and moisturize your hands regularly.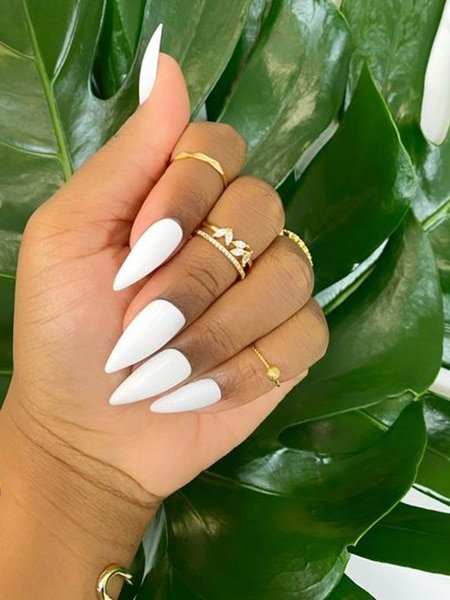 2. Black and Red Stiletto Nails
What's not to love about black and red stiletto nails? The two colors are perfectly combined with each other and create a striking impression. This combination is for those who want to draw attention to their hands because bold shades should not be missed. Red nails are often associated with love and passion, while black nails look chic and sophisticated. There are many ways to try this combo, whether it's a black base and red tips or a piece of art inspired by Christian Louboutins shoes; iconic red-soled shoes. For a seductive look, apply your favorite shade of red lipstick to complete the manicure.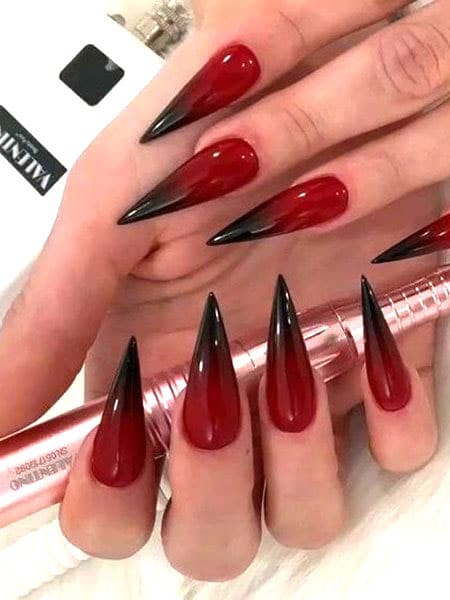 3. Pink And White Stiletto Nails
Pink and white is a timeless classic combination. This is one of the most feminine combinations and looks great on nails of any shape and length. The appeal of wearing pink and white stiletto nails lies in their versatility and you probably won't be limited to where you can wear them and with what. This is especially true if you choose a muted shade of pink. For a simple and sophisticated option, you can try a French manicure with tips. Polka dots, line art, or swirls are great choices for those who want to be a little more creative and daring. You can also experiment with different finishes; a glossy or glitter polish can be luxurious, while a matte polish can create an interesting texture.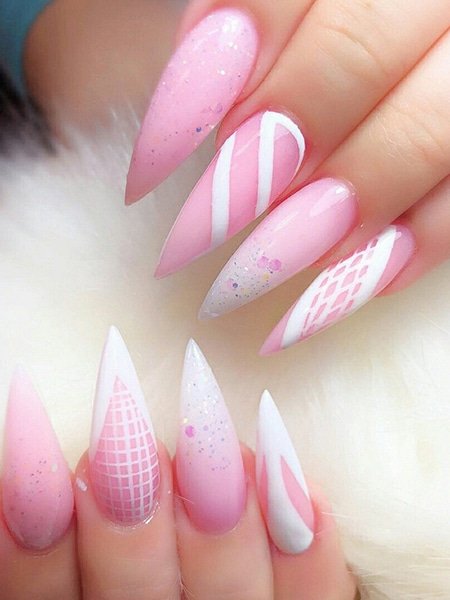 4. Natural Stiletto Nails
There's a time and place for bold colors and fun nail art, but if you want the perfect everyday look, opt for natural nails. The beauty of the stiletto nail shape is that it is interesting, so you don't need to pick up something too detailed on top of it. The simplicity of lacquer in combination with studs will emphasize the figure. In addition, natural colors are unobtrusive and comfortable to wear and are well suited for a variety of occasions, including corporate parties. It may seem like a simple look, but that's the beauty of it. You also don't have to worry about conflict with your outfit because these nails can be worn with everything!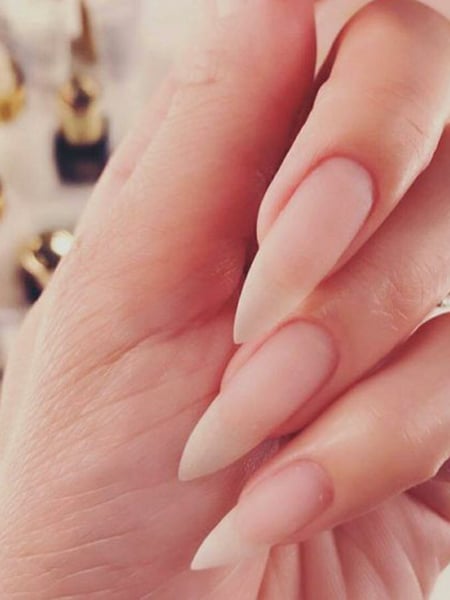 5. Spring Stiletto Nails
Spring is a time of new beginnings, life, and growth. This is one of the great seasons and is often depicted with floral details or pastel colors. No wonder this season has inspired nail art that can be beautiful and feminine. There are many different options; you can do it simply with pastel tips on natural nails. Play with interesting patterns and shapes. Or opt for tiny floral patterns over your favorite nude base coat. Your creativity is your only limit, so have fun with your manicure and let it reflect your personality or the colors you love the most. Muted shades are also easier to wear and work well for a variety of occasions, including formal ones.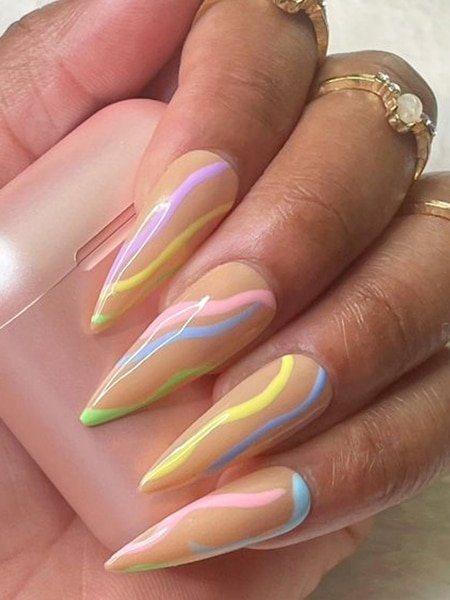 6. Almond Stiletto Nails
Stiletto nails get their name from the shape that looks like the heel of a shoe and is usually long and pointed. An alternative to this bold manicure can be almond-shaped nails, which are usually more rounded and often shorter. Almond nails are an attractive option and are easier to wear because they are more practical, though no less glamorous. There is also a wide variety of nail art options; keep it simple or get creative with interesting designs and effects. Both studs and tonsils can break, so be careful in your daily life to make sure your manicure looks its best.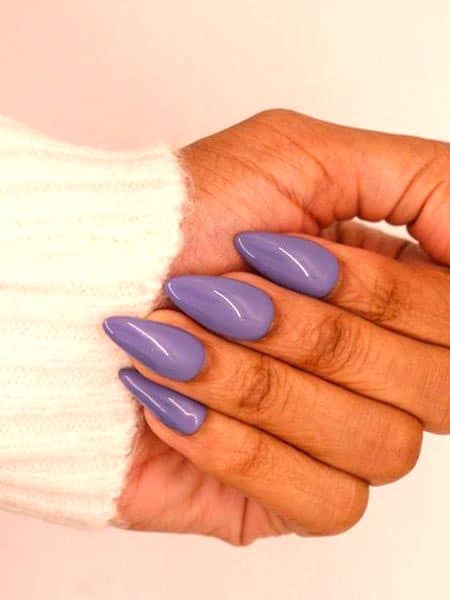 7. Fall Stiletto Nails
Stiletto nails are defined by their pointed tip, but this shape is actually amazingly versatile and goes well with many nail art ideas. Lengthening your nails also gives you more options for what you can do. If you're in the mood for dinner and hot chocolate, this super cute fall manicure will inspire you. The colors associated with autumn have warmth. This is also the season when the leaves change and to reflect this, nail art is created using yellows, browns, reds, and oranges. You can paint each nail a different color, or experiment with one or two. Try checkered prints, line art, and squiggles for interesting and very versatile looks.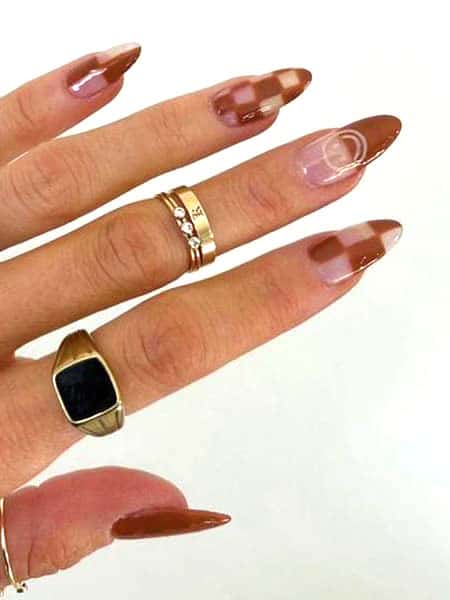 8. Black And White Stiletto Nails
Black and white nails create a striking combination. The monochromatic color scheme is comfortable to wear and works well in a variety of environments. There are also many options for how to wear these two colors together. You can use black as a base coat and add a white manicure that can be anything from polka dots to stripes. Or you can get creative with black French tips or paint all your nails white leaving the black nail; this is a more subtle and simpler approach, but just as effective. While the focus will be on your hands, you can also spruce up your look by wearing a vibrant shade of red lipstick. Complete your look with black or white clothes that will make you look sophisticated and chic.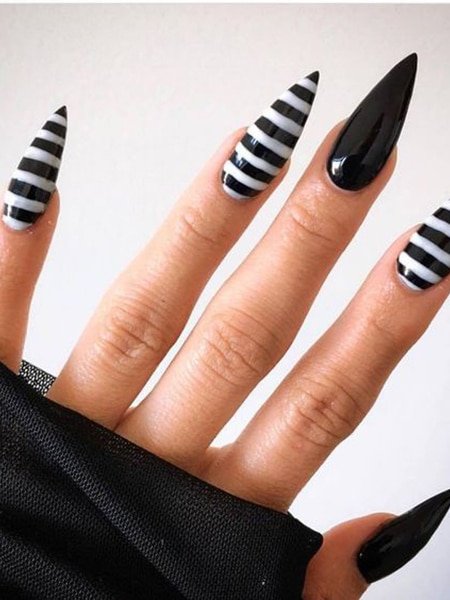 9. Long White Stiletto Nails
The beauty of stiletto nails is that they look perfect when held for a long time. The shape can elongate the fingers and make them look longer and thinner. There is also more versatility for nail art and you can get creative with your design. Or make it easy by choosing your favorite shade of nail polish. White nails are a great choice because they are timeless classics. It's a shade that can be mixed and matched with everything you own. It can also be combined with other colors; pink and white create a feminine finish, while black and white are bright and bold. There are so many ways to try this fresh shade that it is sure to become your go-to color for all your manicures.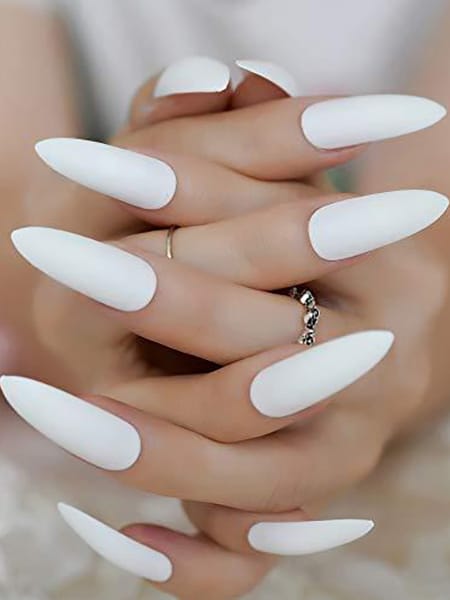 10. Baby Blue Stiletto Nails
Baby blue is a soft color and because it's not as intense, it's easier to wear. Blue is also associated with calmness and serenity, so choosing blue stiletto nails can make you feel at peace every time you look at your hands. There is a shade for all skin tones and this color can be worn on nails of different lengths and shapes. It also works great as a base coat, allowing you to get creative with your nail designs. You can include other colors like pink or white, and for a dreamy and feminine option, you can try the ombre technique. You can also get creative with glitter or matte finishes and embellishments like diamonds and rhinestones.