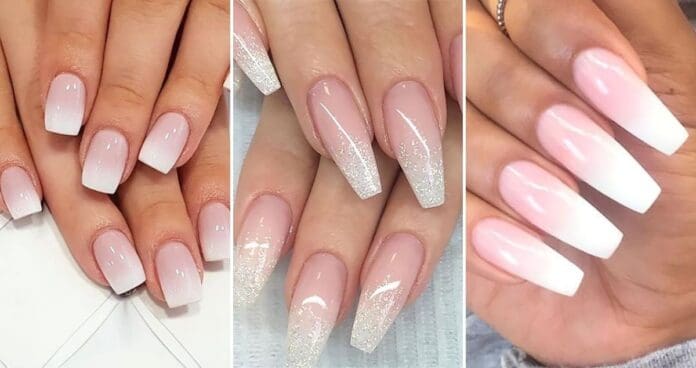 Why stop at one simple shade when you can color your world with the coolest ombre nail designs that will instantly transform your look from plain to sparkly. While the ombre has been extremely popular in fashion and hair, its whimsical gradient of tones – from shadow to light – transforms nails with equal style. Every style-conscious woman knows that dressing from head to toe means that every little detail needs close attention. Your nails play an important role in creating a chic impression, and they will need to be decorated too. So why not ditch the simple base coat and opt for stunning nails with a unique creative touch. Here are 35 of the coolest ombre styles that fashionistas love and your favorite celebrities wear to say goodbye to boring nails.
1. French Ombre
Let's start with this subtle twist on the staple of nail art, the French manicure. This variation on the classic ombre theme in a classy, sophisticated style will look great on any occasion. Simple enough for a casual look, from the office to weekend shopping, or for a sophisticated look after hours. French ombre nails are the perfect choice for any woman who prefers to look flawless without the fuss and embellishments.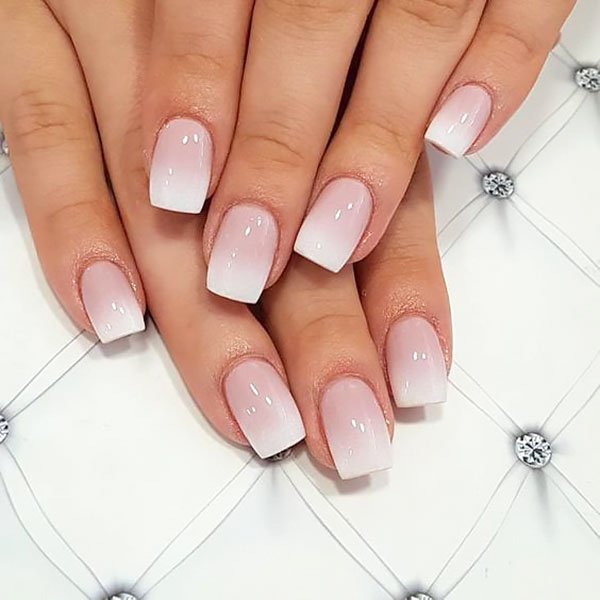 2. Glitter Ombre Nails
Add a touch of glitter and sparkle to your nail repertoire with this gorgeous glittery ombre. Not only is this a cute and modern way to decorate your fingertips, but it's also easy to replicate at home. Just add some glitter to your favorite base color or let the pros create their own magical combination. Whether it's tiny splashes or larger patches, this sparkly ombre will dazzle them in the sun and long after sunset.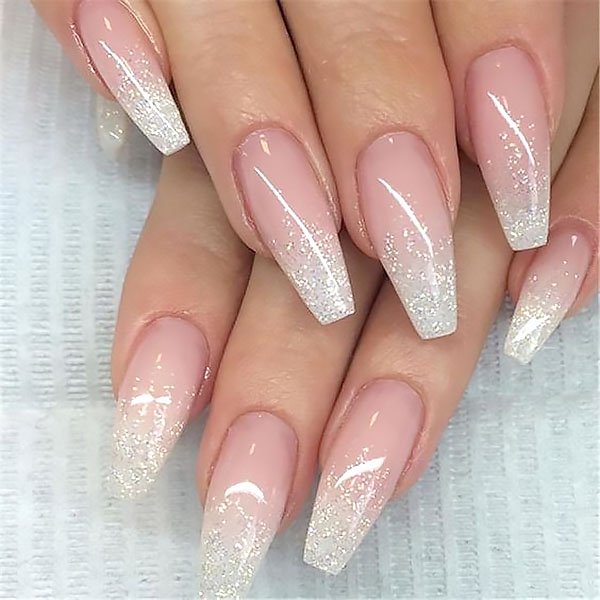 3. Pink Ombre
For your next manicure, think pink! Ombre pink manicure is a delightfully feminine option, from the latest bright neon hues to candy hues or soft pastels. Darken the shading from the cuticle to the tips, or apply a reverse gradient for the same vibrant effect. It all depends on where you prefer the backlight. Pink ombre nails are a particularly cute addition to your summer outfit. Equally beautiful on tanned hands and radiant skin, and on light porcelain skin. Find the ombre tonal combination that suits you best and you'll look perfect in pink.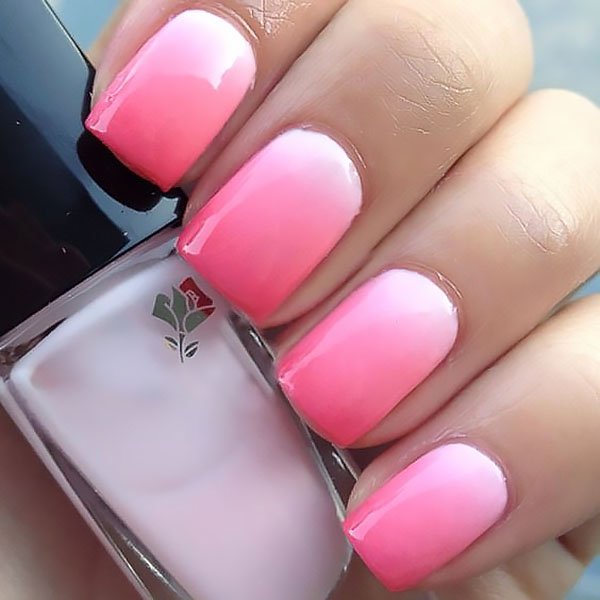 4. Blue Ombre Nails
One of the most elegant ombre designs is the moody blues trend. Winter fashion creates the perfect backdrop for the fingers, which look like they've been dipped in juicy blueberries, while the tips are tinted in a lighter icy shade. But while we usually equate this shade with cooler seasons, a brighter blue also looks fantastic in an ombre style. Try shades from sky to azure to feel more energized and fresh. Pick a trendy cornflower color to match your nails, pair it with snow-white for an extra kick, and you've got a glamorous daytime look worthy of spring beauty.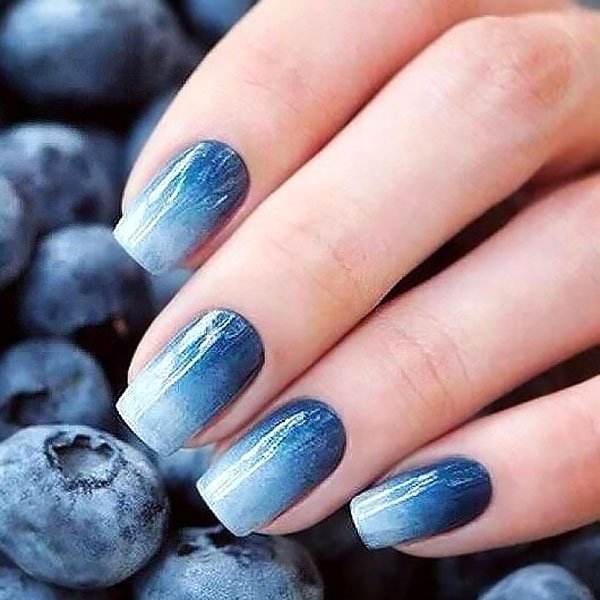 5. Nude Ombre Nails
Nude tones always give your hands a natural understated look. This minimalist ombre style is suitable for weddings, parties, or any occasion where the dress code calls for you to look sophisticated and understated elegance. Just as neutral colors continue to be a key all-season trend, your new nude manicure reflects that same taste for versatility. Try this ombre if you want simplicity without resorting to banal vanilla. Chic and modern, these nails are easy to pair with a variety of looks, from casual to office.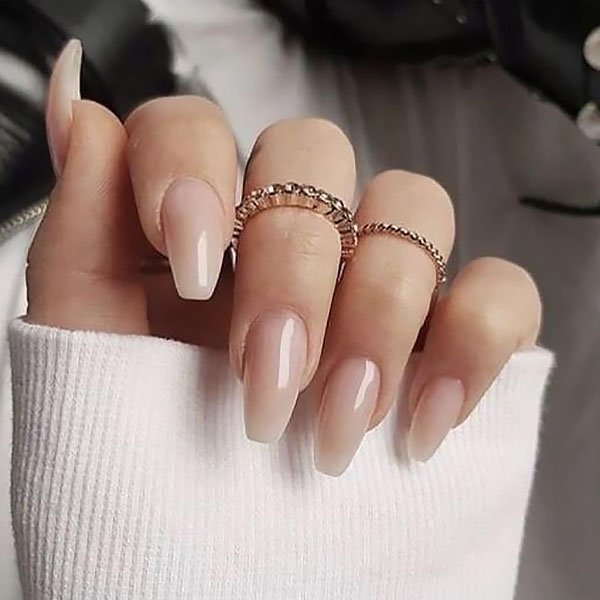 6. Pink and White Ombre Nails
The beautiful and feminine ombre design is another fresh alternative to the standard manicure. A delicate pink and white hue is suitable for lighter weather and goes well with a summer dress or spring ensemble. You can also try this palette at a wedding or just when you want to look cute and chic. Pink variations have been on the scene for a while now, but that's certainly no reason to pay attention to this charming combination. From dark pink to pale pink, this soft pairing with white creates a gorgeous effect without being too radical.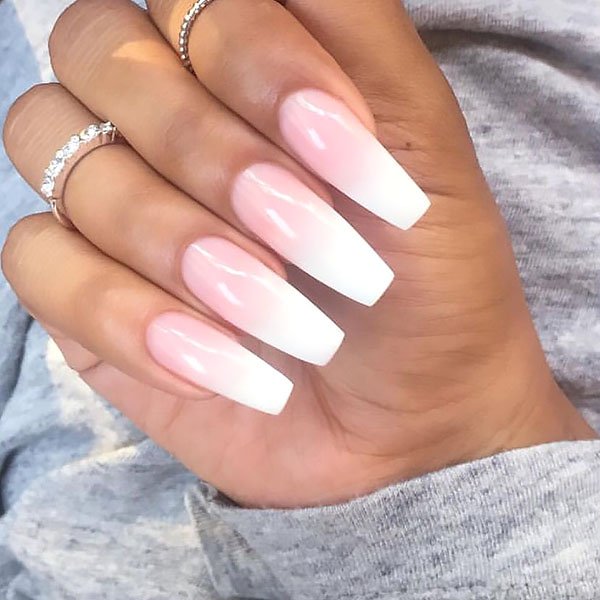 7. Red Ombre Nails
Fiery red ombre nails signal passion and stop it! This standout shade looks incredible no matter how you coordinate it. From bright black to cool blue, your red ombre nails will stand out among the many colors. Choose a fiery red with a black tint at the cuticle for a darn stylish look. Or try this tone-on-tone gradient, blending from bovine blood to candy apple at the ends, for a more seductive high fashion look. Great for winter and fall or any time you decide to make a dramatic statement.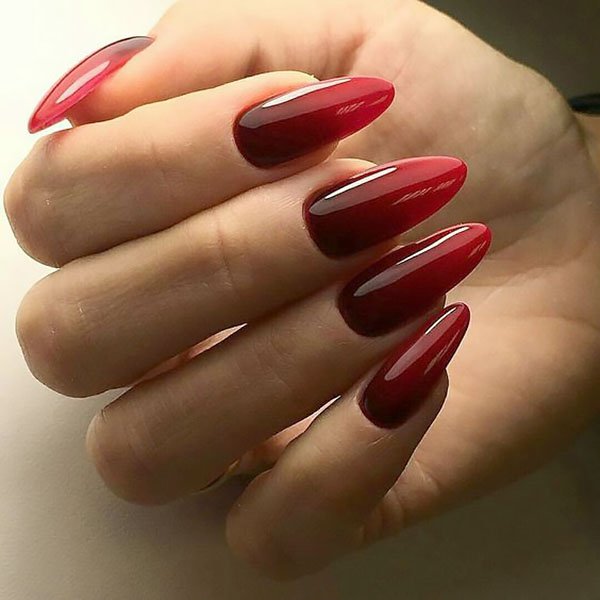 8. Ombre Coffin Nails
With a fanatical approach to nail design, many people love ombre nails, but this can scare away beginners. But there's no denying that this distinctive shape makes for an utterly eye-catching look when you're done with the ombre treatment. While not all nails need to belong, their cropped tips and sharp angles will best accentuate your preferred gradient when extended beyond the fingertips. Whatever palette you choose to create your ombre look, make sure it pairs well with that sensational beveled cut.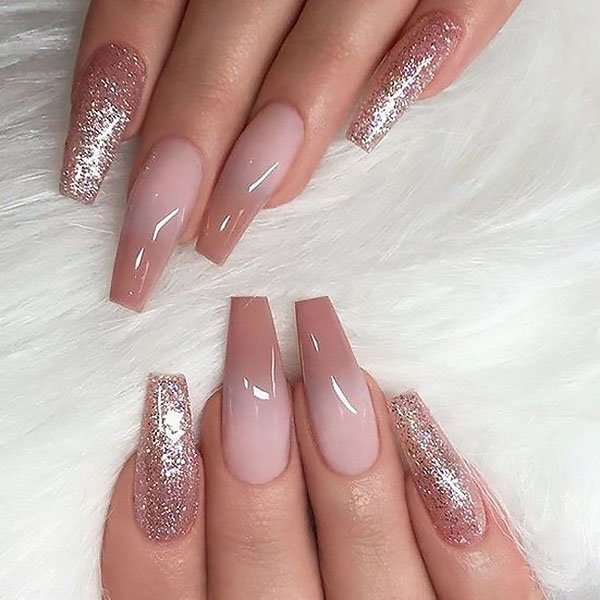 9. Black Ombre
Move over, black base! Edgy and charming, the black ombre nail announces your cool credit loud and clear. The black polish looks amazing when tinted with neutrals or grays. A classic ombre with a beige tint will give your nails a unique sepia effect. Or try pairing black with one of the many glamorous shades of grey. A more subtle option, such as charcoal, lends an enchanting hazy look; or a combination of black and blue for a chic dynamic. This is an ombre combination that looks equally interesting with both glossy and matte finishes. Perfect with winter ensembles or complement your favorite monochrome outfits.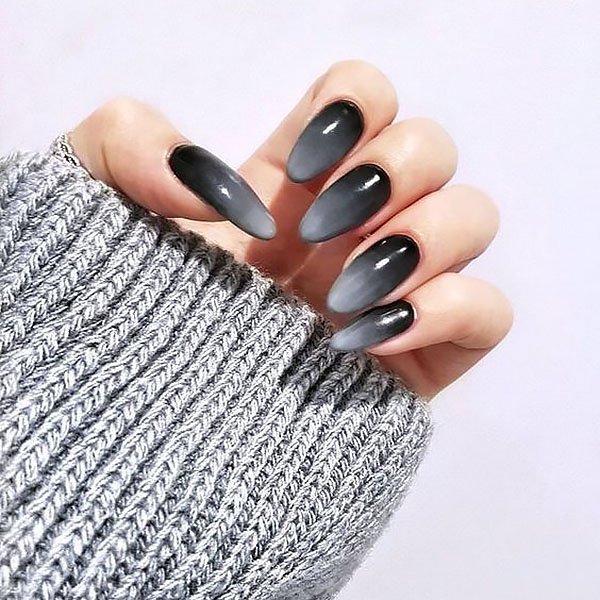 10. Purple Ombre
This ombre shade is clearly not for shriveled violets. Purple ombre nails express your personality and create an elegant and glamorous look. From warmer to cooler tones, wherever you start with purple, this hue spans a rich and inviting range. Going from dark regal to mauve, aubergine to iris, or boyish to lilac, purple ombre nails look irresistible and are best done with a glossy sheen. Wear this stylish ombre design to evening events or anywhere you want to stand out from the crowd.