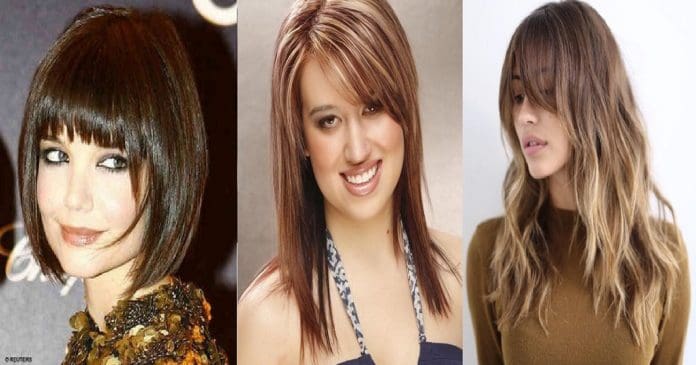 31 Perfect Hairstyles For Round Face Women
We all have our unique beauty. The key to looking good is knowing yourself and fine tuning your look around what makes you the person that you are. Round face women have many gorgeous and flattering looks to choose from. Here are our picks of 32 perfect hairstyles for round face women. These looks are approachable, realistic, and are guaranteed to please!
1. Side Swept Face Framing Chin Length Bob
A classic for a reason, this is sure to be go-to for most women at some point. Not much is needed for styling, but some people do add a lot of color to this look.
2. Shaggy Short Cut With Bangs
A short razor cut with bangs is a hip look that can be styled in minutes. Edgy highlights can make this a look that is all your own. Bangs can be done a lot of ways, with some choosing to go blunt cut while others like a more textured approach. If you like to curl your bangs, then allow just a little extra length when getting a cut.
3. Long Razor Cut Layers
This hip look is becoming on round faces because the length and texture add a lot of non round dimensions. The more layers, the better and as far as length, below the shoulders for longest layers is best for the full effect.
4. Mid Length Layers With Side Part
Mid length is good for women that want manageability, great condition, and style options. Soft wispy layers help reduce weight and add body. You can braid hair, put it up, do a half up or down. Hair is short enough that it is easier to keep it shiny and in great condition.
5. Shoulder Length Side Sweep With Awesome Highlights
The color is sometimes a girl's best friend, and this look proves it. Highlights that are well placed can totally change your appearance. Beware of doing complicated color yourself. A good colorist is a real artist that can achieve a lot when they create a custom palette of color for you.
6. The Classic Rachel
This cut is always a popular one. Side swept bangs and the fact that it is easy to keep looking good as it grows out to make this a cut that a lot of women go back to time and time again. This is an ageless cut in that you can look good in it regardless of how old you are.
7. Longer Asymmetrical Pixie Cut
This is ideal for round faces that prefer a shorter cut. The face-framing front longer pieces are good for balance. Make sure to tell your stylist you want to part hair to the side, so the cut is done right. Some ladies leave parts in the front that go to the chin and frame the face.
8. Soft Longer Curls
Soft long curls are gorgeous, and you can get them without chemical styling if you use steam rollers or a good large barrel curling iron. This look bridges the gap between wave and full on curl.
9. Bangs
Bangs help cover up the forehead so they distract from a round face plus they are fun to have and style regardless.
10. Chin Length Side Parted Curls
Curly hair with a lot of texture is even more stunning when a creative side part is used. Stacked layers in the back are another option if you are inclined.
11. Updos
An updo creates volume on top of the head, so it balances out a round face. Just make sure to do a side part and not a middle part if you can.
12. Long Balayage Layers & Bangs
Can you say gorgeous? You will be traffic stopping in long layers and bangs. Balayage color adds more depth and dimension and is a better choice for women that do not want to rely on a salon for root touch-ups every 4-6 weeks like with some color services. Balayage costs more upfront then traditional color and the session is going to take substantially more time than the color services you are used to, but the results are longer lasting and less costly overall.
13. Major Volume On The Bottom
Straight on the top and major waves and curls on the bottom add balance and look lovely at the same time. This easy to style look is perfect for those that are busy at work and home. If you are not used to curling it is important to keep in mind that the tighter the curl, the more length you are going to lose. This is especially important if you are getting a permanent curl done at a stylist.
14. Loose Half Up & Down Pony Tail
Pulling all your hair away from your face can accentuate some roundness but going halfway with the look can be a good way to keep hair manageable and good looking.
15. Low Bun With Messy Bangs
A low bun with teased or side swept bangs allows round faces to shine while not over emphasizing face shape. A low bun can be done by twisting and pinning braids, or anyway, you want it. Doesn't be afraid to tease hair a bit to create a more voluminous bun either.
16. Top Knot
A very high on the head top knot is hot and easy to get. A bun maker styling accessory can make it as easy as sticking your hair in and rolling it up. For those that like to work out or that are super busy, this is a realistic look that can be dressed up with head bands, gems, or other accessories for a special look.
17. Head Bands
A well-placed head band can be a pretty accessory and be very flattering on rounder faces. Don't just go to any drug store and grab a headband. Purchase bands that are suitable for your sense of style at a beauty supply store or search online.
18. Straight & Smooth Long Cut
Wearing hair long and straight is easy and approachable and gives you that girl next door look that is hard to resist. Coarse hair may need some help with a keratin straightening treatment, or a gloss treatment will be enough for a lot of ladies.
19. Very Short Pixie Cuts
If you don't mind a lot of attention paid to your face, a well-done pixie can be very flattering. You can leave some extra length in the front if you want with good results.
20. Low Pony Tail & Side Swept Bangs
The low pony tail and side swept bang look is fabulous for long hair fans that want to look elegant and put together. A jeweled clip or hair elastic can take a look up a notch. Side swept bangs might need to be trimmed some for a better-textured look.
21. Over The Shoulder Pony Tail
An over the shoulder pony tail with a teased crown part can be a majorly cute look. You don't have to have super long hair to do this; shorter hair will work too. This is a good look for showing off fancy hair accessories since you can use a large clip style barrette for a low pony tail.
22. Big On Top Hair
Any hair style that adds a lot of fullness on the top or the bottom will help with round facial features. The rose gold color is different and outstanding.
23. Page Boy
This super short with blunt bangs look is flattering and looks good with a lot of classy little hats. If you are not afraid of super short, then this is a retro look that should be on your future hairstyle list. The asymmetrical lines towards the chin can create interest as well.
24. An Interesting Part
There are a lot of ways to part your hair. Having a part that is a bit different can make a big difference in the way your hair lays. This can take some time, but there are styling accessories you can use to get a zig-zag side part or similar. Special combs and even patterns can be bought if you want some help getting a perfect part.
25. Long Layered Heavy Highlights
Anything that creates the appearance of flow is going to be a major help when it comes to making the most of a rounder face shape. Heavy highlights are something you will have to get at a stylist for best results. Streaky looks are in at the moment and allow you to make the most of the lighter and darker hair colors.
26. The Super Teased Up Asymmetrical Bob
Backcombing and some product are going to be needed to get your hair to do this, but it can be cute and manageable. This is edgy yet not so much that it is not a work friendly look anywhere you are.
27. Wispy Layers
If you do not love the choppy razor cuts that are so popular, then wispy layers may be the answer. As your stylist for soft layers and you will get what you need. These layers are usually achieved with a fine set of scissors and can take a few minutes longer at your stylist depending on just how layered you want to go.
28. Hot Color Streaks
If you like some of the fun colors that are increasing in popularity then what is stopping you from trying them out? Clip-in extensions can add volume and layers to areas around your face, and this can help with balance.
29. Braids
French braids or braids that create a lot of volume on top can be pretty and help balance out your face. Learning to braid is not as hard as you might think especially with the huge amount of tutorials out there.
30. Half Up Half Down Braid Bun
You can create a messy braid and bun on top of your head and wear the rest down for a fabulous bohemian look and style. If you are looking for a look to get you through a vacation, then this is not a bad choice. This casual style is sure to turn heads when you walk by.
31 Hair Flower Braids
Creating flowers on your hair with braids and pins is so easy it is a surprise that more women don't do this. Simply make a braid the size you want it and then twist and pin. You can do this as much as you want, even going so far as to make a crown of hair flowers. This is a look that is doable for shorter hair as well; you just have to have enough to create a small braid to get a little flower.
Exploring Styles
A lot of the Hairstyles for Round Face Women that you have just seen can be done with little input. With the right cut, you can likely change hairstyles often by braiding, updos, and clip in extensions. This can also be a fun way to find a look that you like best for everyday wear.
Getting bored with your hair doesn't have to be a fact of life for you. Hairstyles that look like they took a lot of time are not always as hard as you might think. Learning different styling methods can be something fun to do for a girls night.