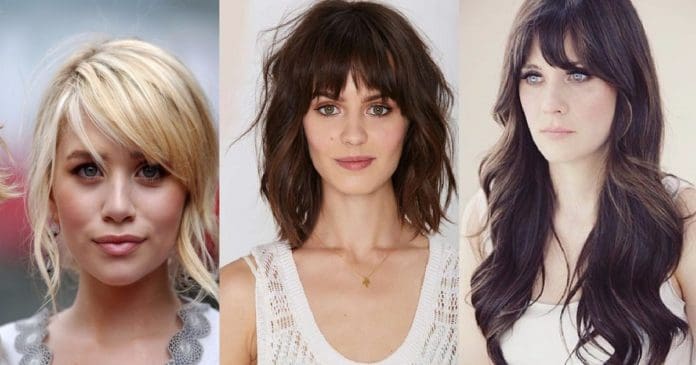 Haircuts for women with bangs have gone in and out of style over the years. Bangs can make you look younger. They can make your hairstyle look more versatile. You can blend your bangs in with the rest of your hairstyle or make them a focal point. You can wear bangs with trendy, curly hairstyles or straight haircuts.
Whatever you do with your bangs, having fringe is a great way to look like you styled your hair without having to do much to it. Remember to deal with your bangs as soon as you get out of the shower, and follow these tips for bangs that stay styled all day.
Shag Bangs
Who said bangs have to be short? When they're long and cut with a razor, they can blend into your style. You can also separate them out for added definition. Blow dry your long bangs under with a round brush, and then run your fingers through them as you draw them to the sides.
Brunette Fringe That Brushes The Brows
Sleek but laid back, these bangs are thinned out at the ends. Bring them beyond the brows so that they don't look too short. The rest of the hair has shiny wave and a few layers for texture. However, it still retains its natural shine.
If your hair is naturally curly, create wave with a straightening iron to seal the cuticle and prevent frizz. Run the straightening iron quickly down the bangs to keep them from sticking out in all directions.
Straight Texture
Each strand is emphasized in a style that has a few layers and lots of volume. An angled part gives you a tousled look. With this hairstyle, you don't want to see the part at all. Grab alternating 1-inch sections along the crown of the head and pull them to the opposite side. This creates a zig-zag part with plenty of volume. Thin out the layers with a razor for hair that swings when you move.
Long Layers And Bangs
Make sure that your bangs start far enough back to make this look successful. You won't really have to create a part when each strand of hair starts at the center of the top of your head.
Bangs To The Lashes
This fringe grazes the eyelashes to bring attention to the windows of the soul. Add a little interest to the rest of the style with some balayage at the ends of the hair. Just keep the bangs dark.
Growing-Out Topknot
You can't see the bangs in this style. That's because they're drawn up into a knot at the top of the head. This is a great way to get bangs off of a sweaty forehead in the summer. You can also disguise bangs that are growing out by teasing them into the hair above your head. If they keep falling down, use powdered shampoo before blending them in with your longer layers.
Lob With Long Bangs
Although you don't have to sport bangs with a lob haircut, they add shape as a shorter layer around the face. You can part your hair on the side and sweep the bangs to the opposite side. You can also create a center part and have the bangs frame the face with texture. Highlights in all the right places emphasize the shape of this cut.
Shaggy Short Fringe
The shaggy, just-rolled-out-of-bed look gets a little polish with some fringe. Short bangs that end just below your eyebrows can be tousled with the rest of your hair. If your bangs are sticking out when you wake up in the morning, just blast them with a hair dryer to tame them without making them look too perfect. The beauty of this style lies in its imperfection.
Full Pointed Fringe
Thick bangs that are pointed at the ends are the perfect complement to lots of wavy layers. Not quite straight and not quite wavy, these bangs create a textured frame to the face and bring out the eyes. A few highlights around the face lighten up the look so that it doesn't get too heavy.
Striped Shag With Bangs
Choppy layers can look even better with dramatic lowlights contrasted with bright highlights. Normally, colorists tend to shy away from coloring the bangs. However, with this unique look, you can color the hair all over your head. This includes the fringe.
Don't make the bangs too blunt, and use plenty of volumizer and texturizer to get a tousled look. A straightening iron is your friend when you have this haircut.
Super Thick Bangs
Bangs look amazing on very thick hair. When your hair is coarse, you can't be noncommittal about your bangs. Don't get wispy fringe, or it will look like you were a little undecided when you got bangs. It won't match the rest of your style. These thick bangs look best surrounded by long layers. If the layers on the sides of your head are cut too short, you might end up with a bowl haircut effect.
Long Blended Bangs
Bangs that blend into the layers that flank them make a long, layered haircut look styled at all times. Thin out the ends instead of cutting straight across, and you'll be able to sweep them to the left and the right. A few pieces will fall in the center of your forehead. This narrows the look of a wide forehead or a triangular face.
Caramel With Volume
The height is strong all over with these red-toned bangs. The thick fringe is softened at the edges. The sides taper nicely into the rest of the haircut. Major layers create volume around the head, but the layers aren't cut into the shape of the fringe. This is a great look for bangs that you just started growing out.
Strong Side-Swept Fringe
Pull back your hair and let your bangs speak for themselves. Heavy bangs angle down into long layers around the face. When you pull your hair into a ponytail, these layers will hang free and give you a carefree look. You can lightly curl the layers for extra movement.
Long Hair, Short Bangs
Don't be afraid to cut your bangs short even if you have long locks. Thin out the ends so they blend well if you want to sweep them to the side a little bit.
Train the bangs to stay side-swept by aiming the blow dryer at them sideways as you brush them in that direction with a paddle brush. Don't use a round brush if you don't want to look like Shirley Temple. This haircut can give you extra time in between trims.
Choppy Bangs With Straight Hair
If your hair is long and straight, thick, choppy bangs can add a lot of interest to what might otherwise be a bland style. Have the ends cut bluntly. The bangs should hit about half an inch above your eyebrows. Create an angled part that starts almost at the temple and ends in the center of the top of your head. Sweep the bangs to the other side, and add pomade or wax to keep them in place.
Short Bangs With Volume
This vintage look is ideal on dark hair. Super-short bangs are only an inch or so long. They're intensely layered.
These bangs work well with a shag or lob. If you have long layers, you can throw them into a messy updo to complement your fringe.
Perfectly Sleek Bob
Bangs that have a dramatic, sharp edge are beautiful with an angled bob. If your hair has no hope of curl, it will hold its shape well in this style. If you do have wavy hair, straighten it before sealing with an anti-frizz serum.
Messy Bob With Short Bangs
If you have extremely curly hair, the shortest bangs might be your best bet. Crop the fringe close to the hairline, and keep the rest of your bob messy. Don't forget to tousle the front along with the back, or your bangs won't match the rest of your wave.
Bright Red Pixie
Short bangs sometimes beg for a pixie cut to set them off. Sharp angles around the sideburns and lots of texture throughout the hair make this style look dramatic. Go intense with your color for hair that turns heads.
Elfin Layers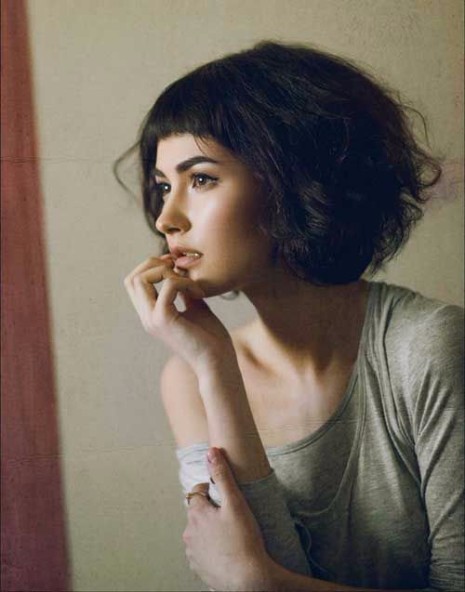 A cross between a pixie and a shag, this haircut can bring volume to fine hair. It can also thin out thick, wavy hair. It's super choppy from front to back. The longest layers are in back and brush the collar. The front has shorter fringe along the forehead and choppy layers that come to the earlobes.
Layers In Front
When you have tons of long layers, you can bring them out in the front of your hair. The outer layer of your hair can stay long so that you can sweep your bangs to the side. Underneath, have some short fringe cut in that peeks out when the hair is side swept. It's like having two sets of bangs in one.
Asymmetrical Texture
Heavy bangs does not have to be cut straight across. Nor do they have to be long and side swept. They can be heavy and asymmetrical. Have the ends cut on the diagonal, and build in lots of layers. The result is a thick, feathery fringe with lots of movement.
Follow with an asymmetrical cut throughout the hair. The side near the shorter end of your bangs can be cut shorter, getting longer as you move around the back of the head to the other side. This looks feminine but has edgy appeal.
Short Boho Hair With Bangs
Bohemian hair doesn't have to be long. If you have a lot of wave to your hair, have the ends thinned out and cut your hair into a modern pageboy. Keep the bangs long, and drag them to the side. They all flip and twist with the rest of your hair, adding to your laid-back image.
Long Bangs, Short Hair
You might imagine a pixie cut with short bangs. However, you can have long bangs in front and a short, shaggy cut around the rest of your head. Keep it very layered so that you don't end up looking like you're wearing a helmet. Have the bangs thinned out so they look wispy and can be styled to the side.
Chunky And Sleek
Whether you have short or long hair, you can cut chunky bangs with pointy ends. Keep sections of the bangs together by securing them with a sticky texture product. Sweep them to the side throughout the day for added movement. Keep the rest of your haircut sleek. If you have a short cut, you can comb gel through your hair. If you have longer hair, you can pull it back into a ponytail or tidy bun.
Bangs With A Center Part
If you just can't part with your long, bohemian hair, you don't have to. Long bangs can go along with your look. Just extend your part through the bangs and have your stylist blend the ends into your length. This is another great cut for women who have highlights throughout their fringe.
Zoey Deschanel Bangs
What dark-haired woman hasn't wondered if she would look good with this fringe? The bangs are thick and come down to the eyelashes. The ends aren't completely blunt, but they're not totally thinned out either. This is a fairly balanced look that works with long layers, a bob and everything in between.
Long Shag
A textured shag can be cut into long length. This can create shape to hair that are straight or slightly wavy. Don't be afraid to have the top layers cut shorter than ear level.
The Final Fringe
Haircuts for women with bangs can help soften the face, draw attention to the eyes and change the shape of the hairline. Bangs work with so many different hairstyles and face shapes. You can wear bangs with a hairstyle for round face women or with a haircut for narrow faces.
Ask your stylist if you can have your bangs trimmed for free between cuts. If not, learn how to cut your own bangs at home.