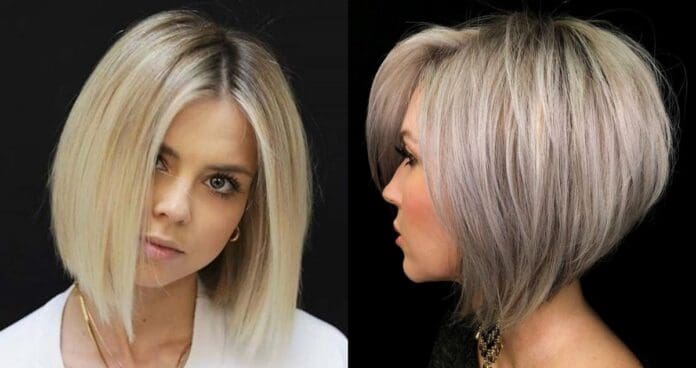 A short blonde bob is a fresh and pretty haircut with bright, yellow-ish tones. The best thing about this hair trend is it's customizable. Feel free to tweak the cut to suit any face shape or change the shade to flatter any skin color.
You can always trust short blonde hair to instantly make you look several years younger than your actual age. Blonde hair is associated with beauty and love for good reason.
For the bombshells who wanna go short and blonde, stylist Sarah Krook from Victoria, BC has tips to share. "Trust your stylist." Maintenance and styling options are the key things that women need to know about this look.
To keep the hair on point, Krook doesn't suggest going longer than five weeks between cuts. "The roots get pretty frustrating at the 4-week mark."
"If you don't want such a high-maintenance hairstyle, I recommend a lot more texture," Krook adds. "A drop root blonde foil or balayage is a great option, too. Both get a more natural grow-out that can push longer between appointments."
When styling, Krook points out that each hair type requires distinctive products. "For finer hair, I like using Eleven Australia's I Want Body Texture Spray. Spraying it lightly at the roots before blow-drying gives a nice texture to help build up volume."
Krook continues, "for thicker or more coarse bleached locks, I love Liquid Spell by Davines. It strengthens the mane and gives body to help it look healthier, silky and naturally shiny."
There can be long, brown-haired ladies who'll think of taking a leap to change their current style. And if you're one of them, Krook suggests showing the stylist some photos of the inspiration. "Your idea of blonde might vary from a full-global bleach out to some subtle balayage."
Before your next hair appointment, check out these inspiring photos of popular short blonde bob haircut ideas!
Choppy Bob with Ash Blonde Hue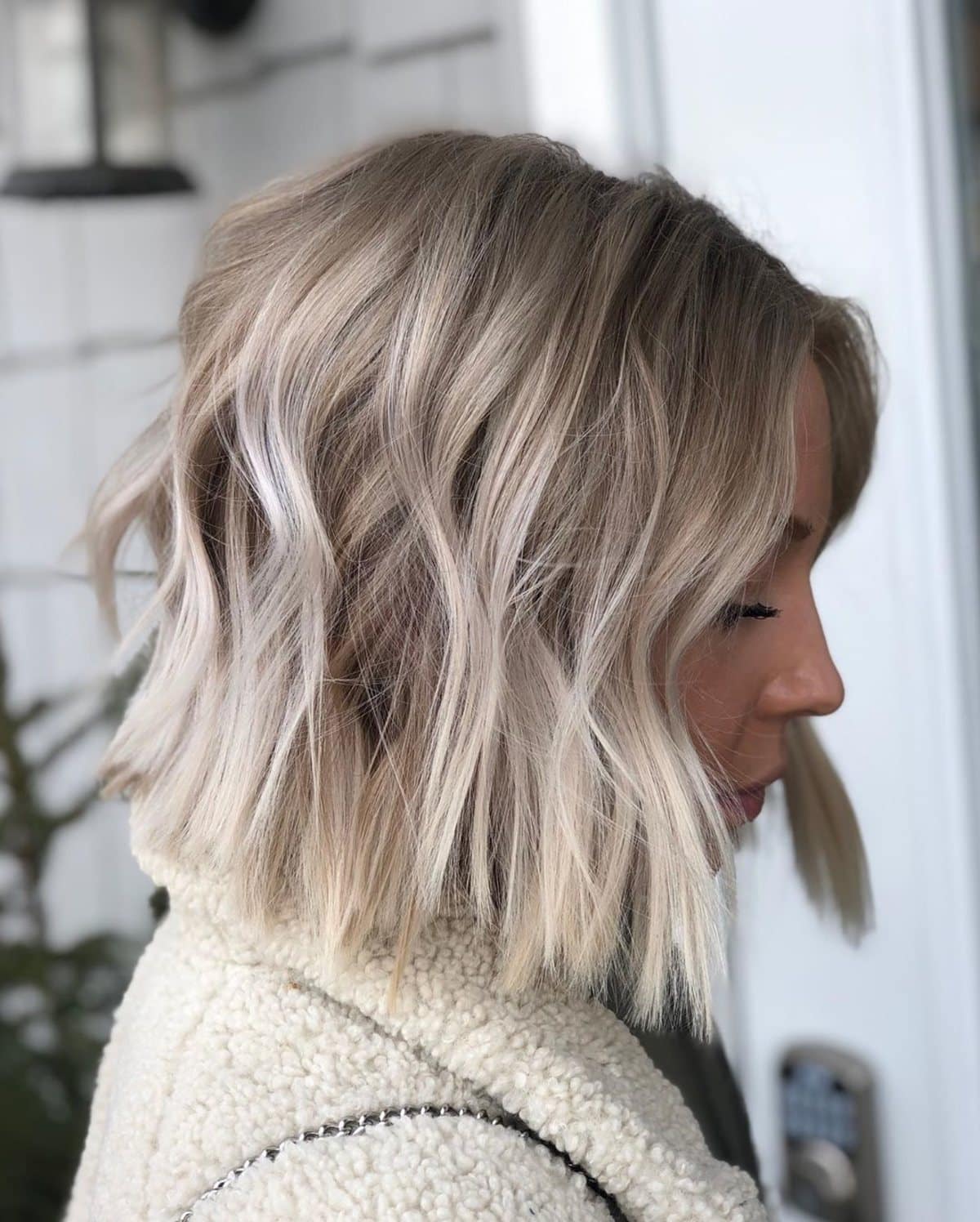 Instagram @thstudio.at.thehairstudios
This is one of the blonde bob hairstyles that everybody loves! This choppy bob looks so appealing with waves that focus on the mid-lengths. The movement gives the ash blonde hue a pop, which is very beautiful. For a stunning style that lasts all day, spritz a dry texture spray onto this neck-length cut.
Wispy White-Blonde Bob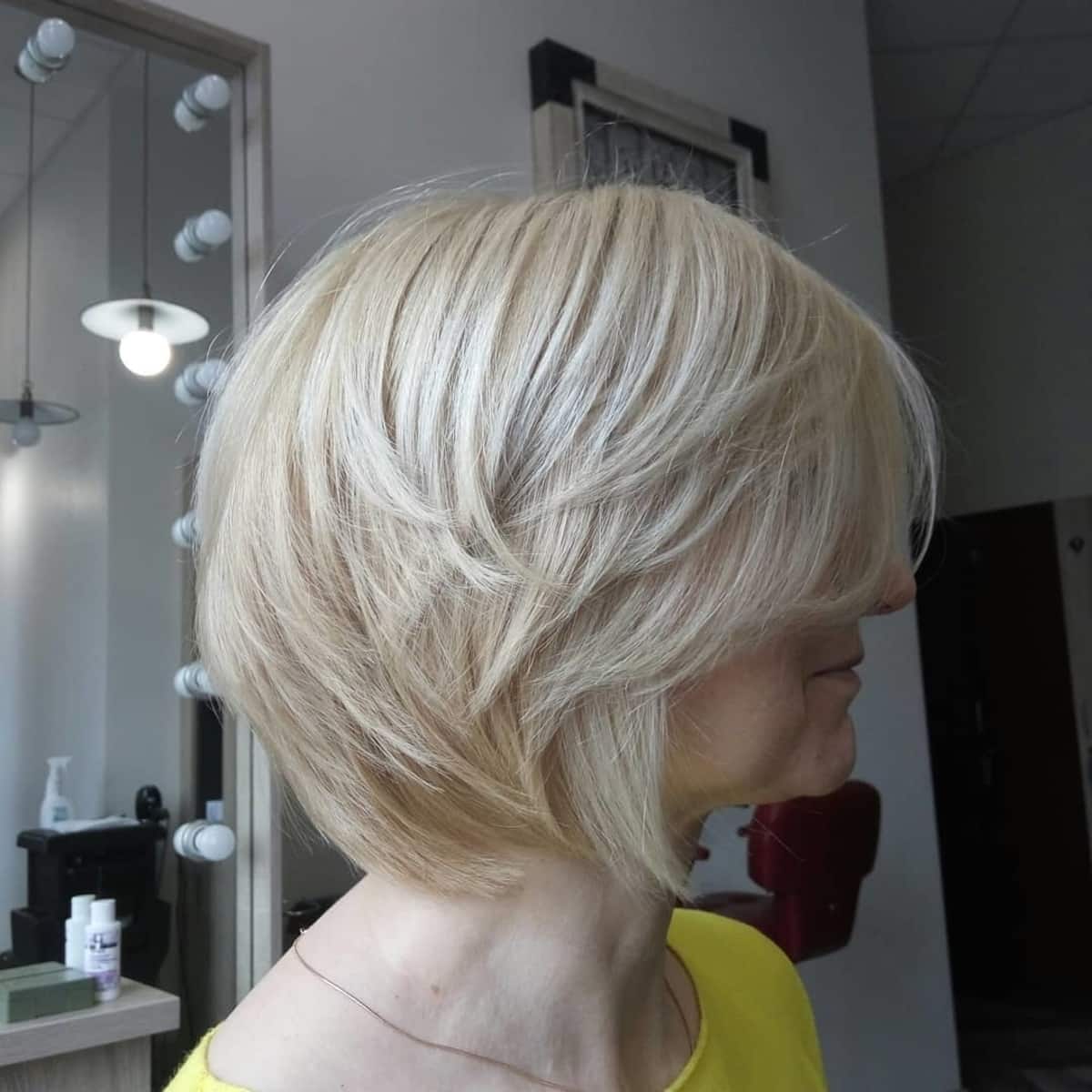 Instagram @lara_stelmashuk
A wispy white-blonde bob gives off a soft, airy, effortless finish to your tresses. To achieve a feathered and layered haircut, talk to your stylist about using a feather blade razor to cut blended and soft layers into your hair. It helps remove bulk and thickness while adding texture. When styling at home, use a large round brush when blow-drying, to give you a straight out of the salon hair on your own at home.
Wavy Chocolate and Blonde Bob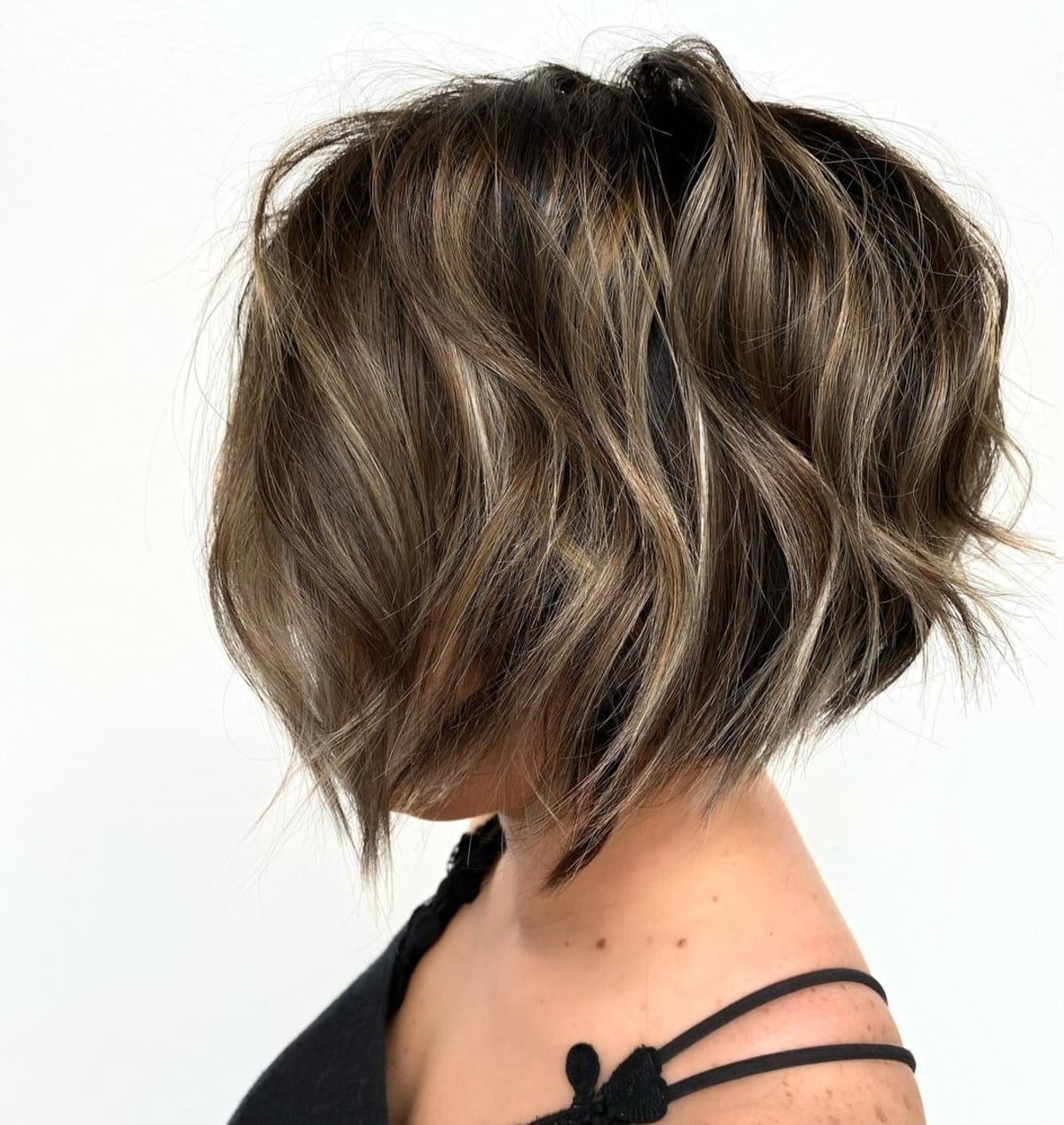 Instagram @shmoakin_hair
Wavy chocolate and blonde bob is loaded with dimension and texture. Short hair is alluring and bedazzled with soft, warm-toned highlights. Make sure to talk to your stylist about leaving depth and darkness underneath your hair while adding caramel blonde highlights to the top of your hair and around the face. It makes the gorgeous blonde streaks pop even more.
Blonde Bob with Lowlights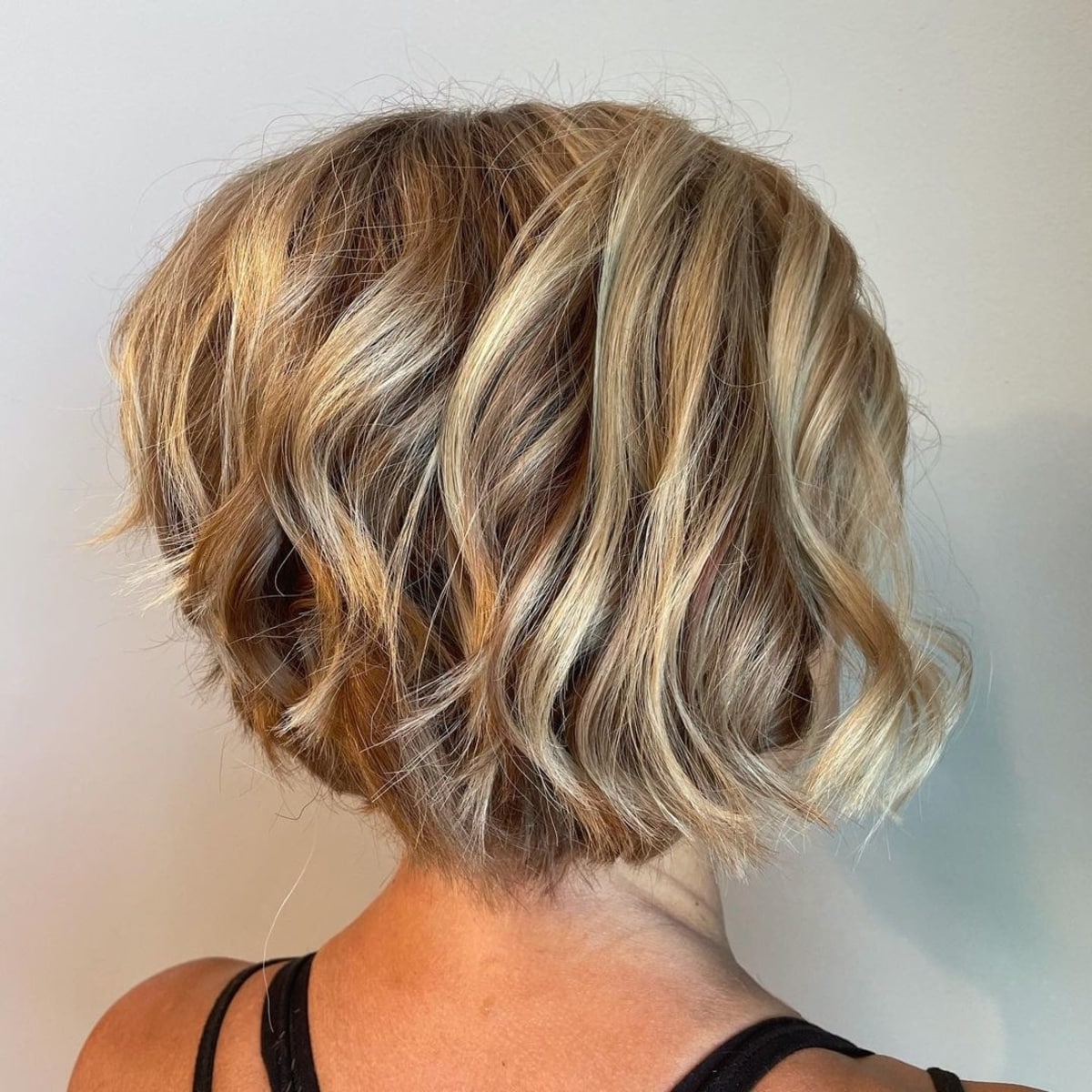 Instagram @kelseys_hairpage
Blonde bob with lowlights is wonderful for women wanting a natural blonde hue paired with the perfect haircut. Bob is a universal haircut that grows out effortlessly when paired with subtle lowlights. These lowlights are ideal for any woman who wants dimension in her hair hue. Lowlights also help make the lighter pieces in the hair appear even lighter and brighter.
Caramel Blonde for an Inverted Bob Cut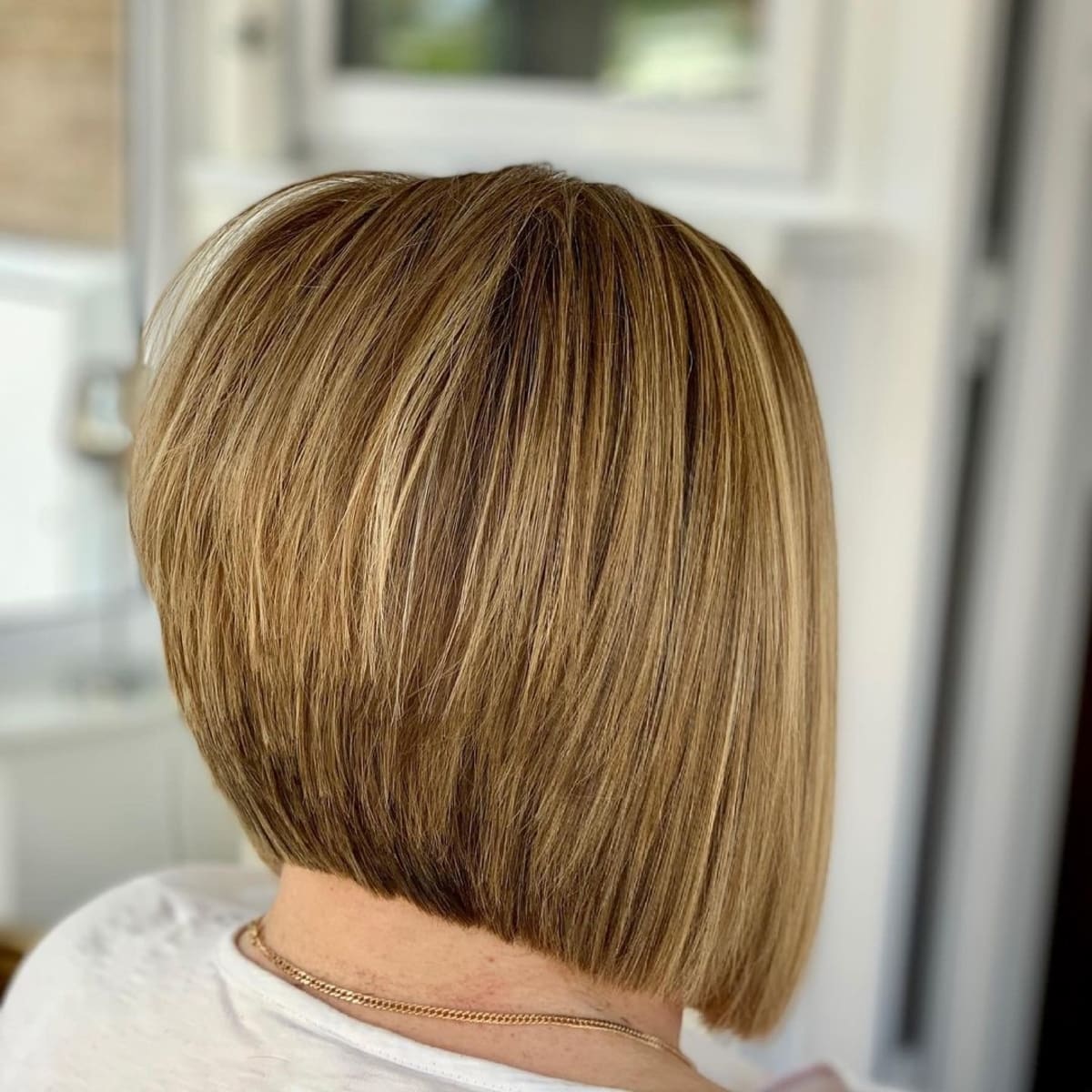 Instagram @cm_hairology
Consider a caramel blonde for an inverted bob cut! The warm tones of the blonde pair perfectly with this cut. The different hues of blonde showcases the layers and textures of this cut. Style this hairstyle with a texture spray to highlight the textures even more.
Jaw-Length Honey Blonde Bob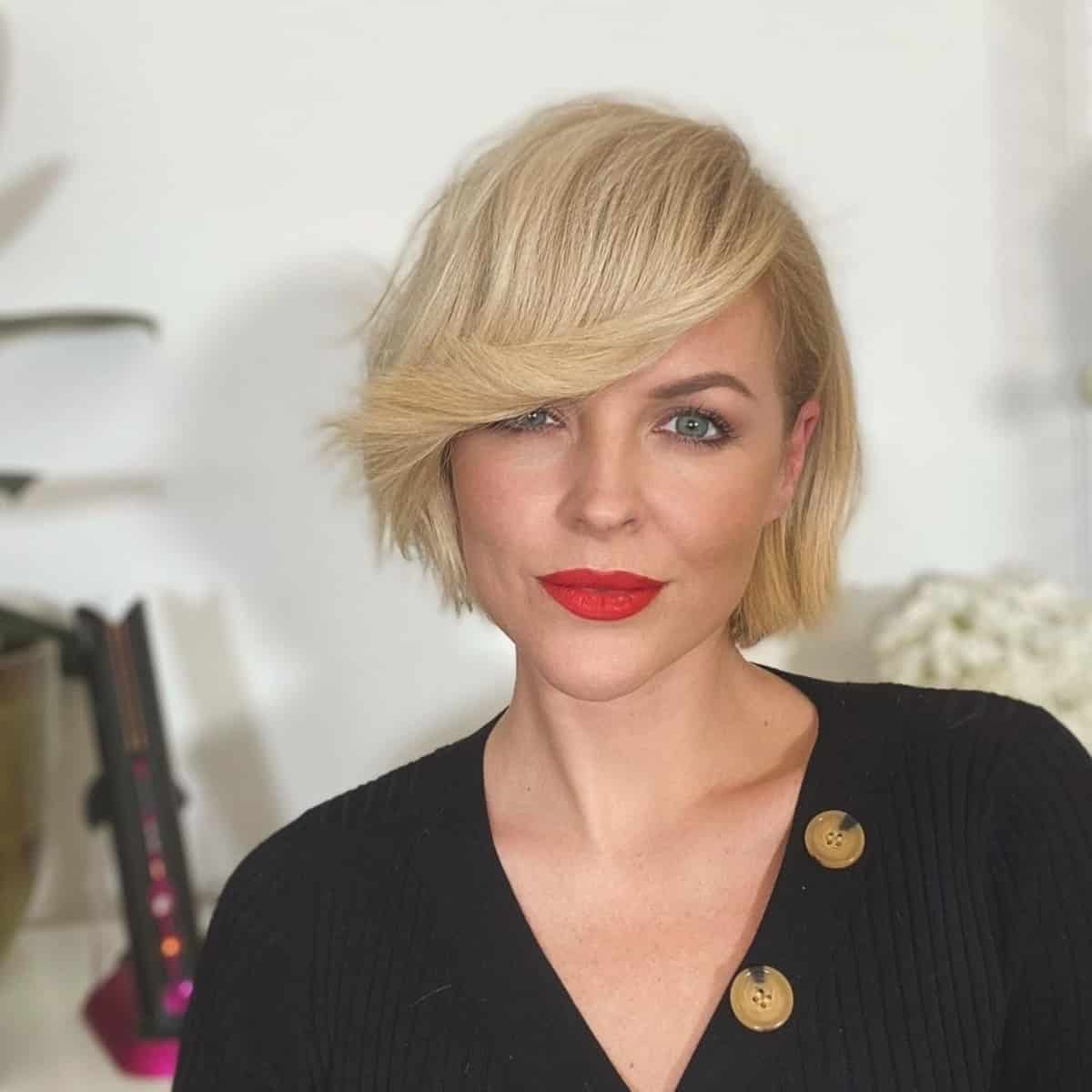 Instagram @alibaileylondon
This jaw-length honey blonde bob has always been a trendy cut. The honey blonde tones are perfect for when you decide to take a quick dip on the beach. This bob haircut is so versatile that it can be styled sleek or with waves for a luxe finish.
The Curly Blonde Bob with Bangs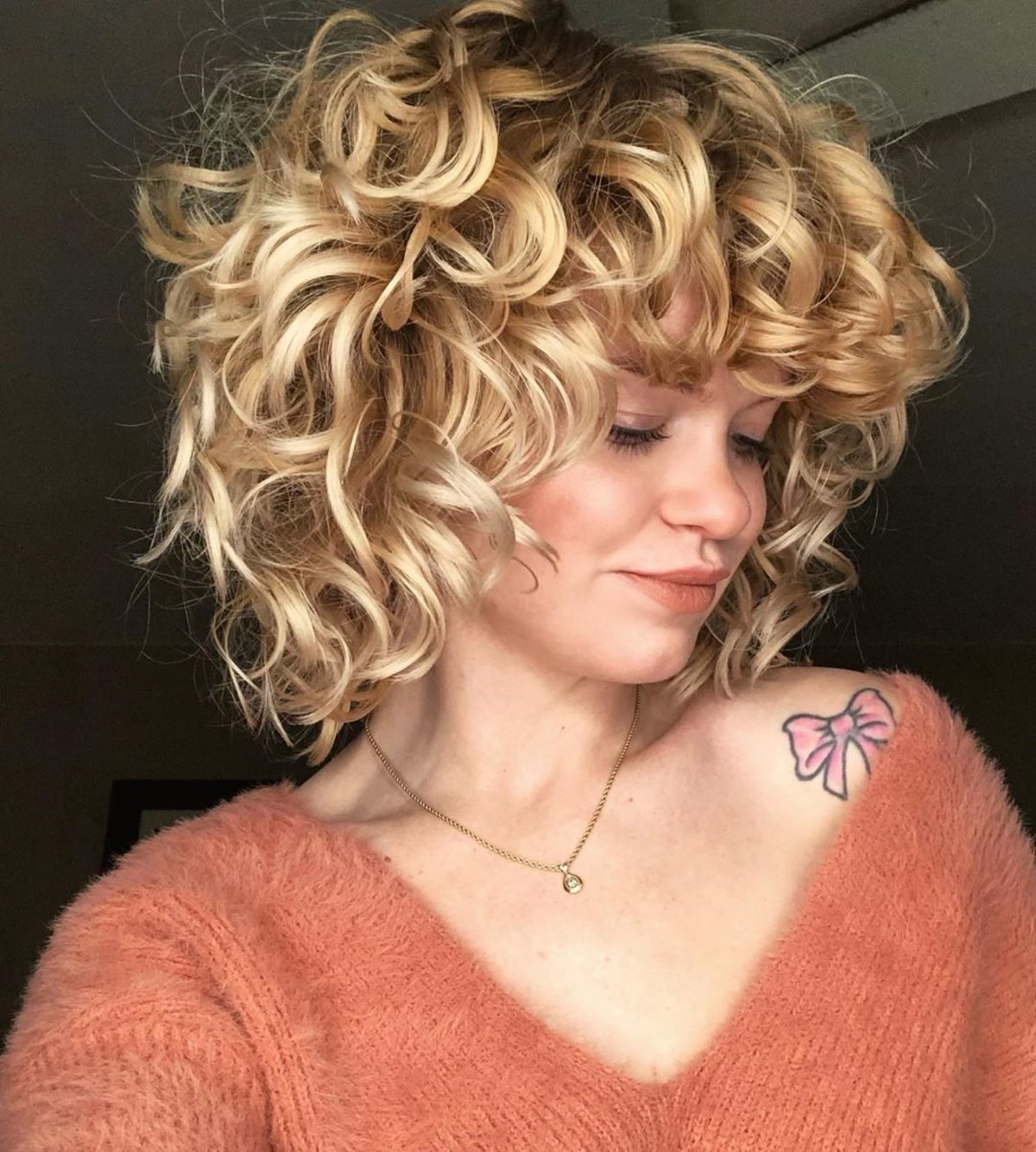 Instagram @krissy2295
Show them your natural texture! Slay an astounding look such as the curly bob with bangs in the shade of light strawberry blonde. Be sure to fine-tune your hair with a curling wand for a more defined outcome.
The Short Bob Weave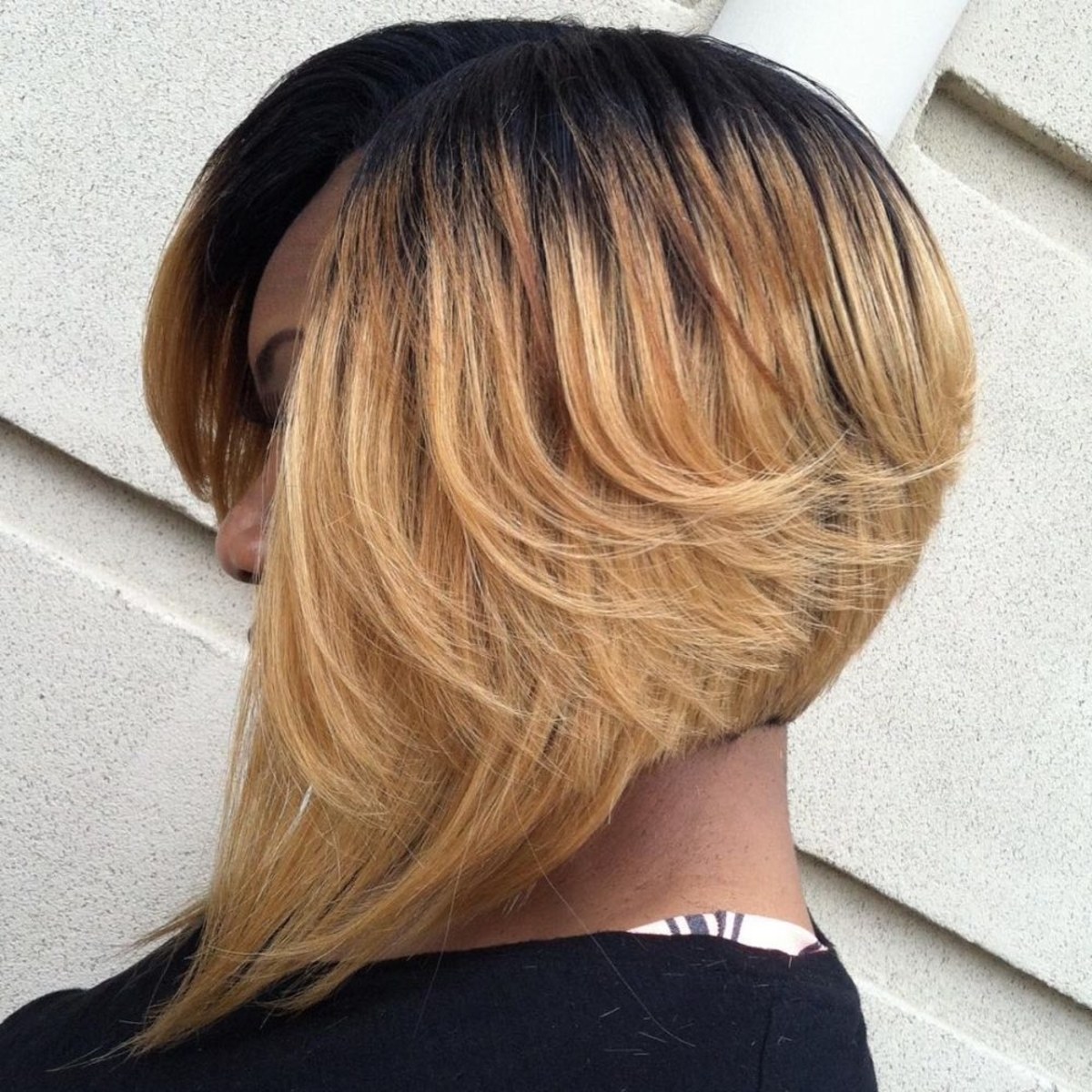 Instagram @tamekaking
This rounded blonde bob weave with longer strands around the face is a lovely idea for your next hair revamp. And yes, you can try a new shade without harming your natural locks with chemicals! Part of the mane near the root is black to create a gradient effect. Achieve such a sharp and unique look by keeping the shape at the back rounded with longer layers at the front.
A-line Curly Bob Cut with Blonde Streaks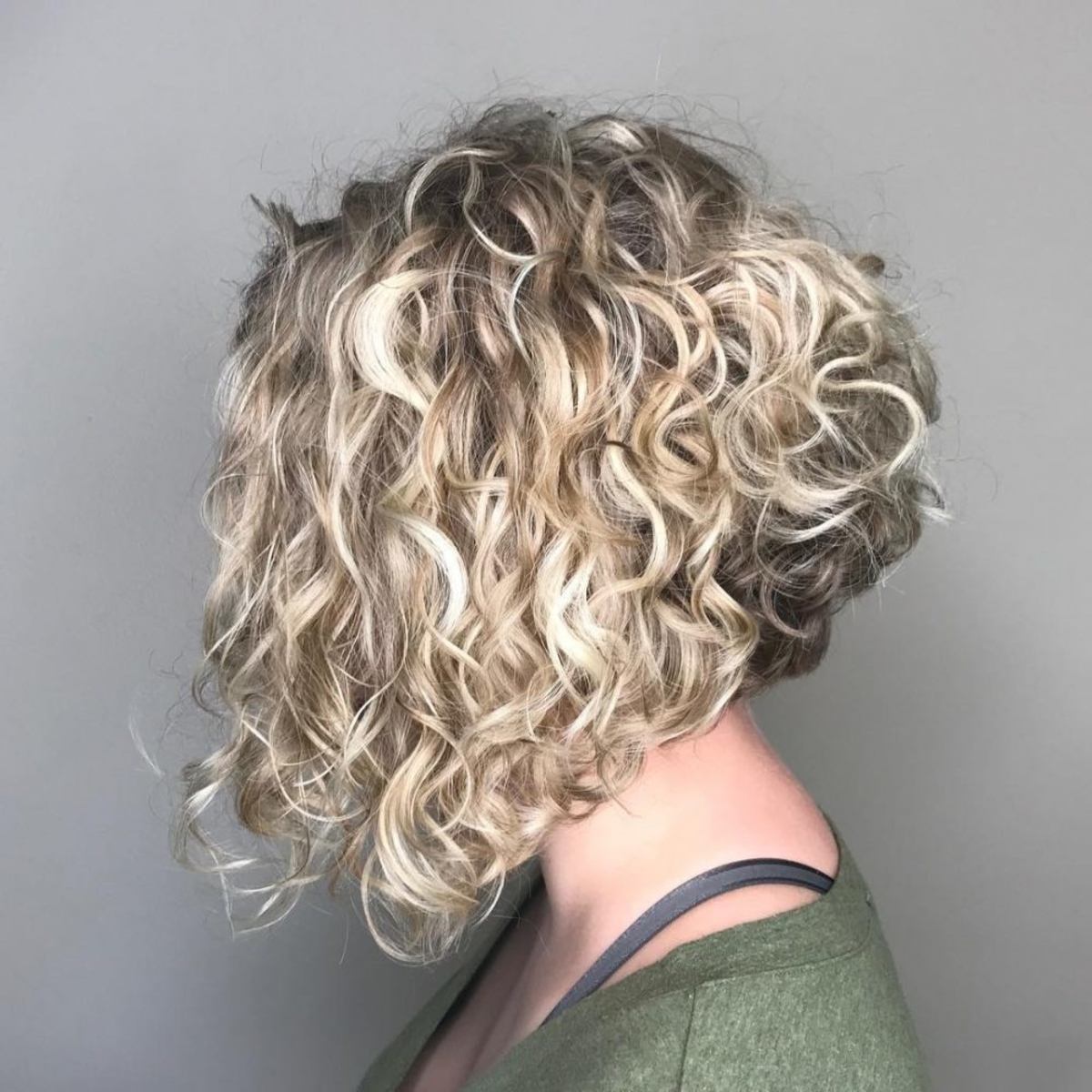 Instagram @ashley_hairstylist__
Freshen up your style by wearing a stunning hairstyle with an A-line curly bob cut that carries out dimension if done on your dark-rooted, bright blonde hair. When going out for fun, a mist of sea salt spray will help your natural curls boost their texture.
Short Blonde Bob with Beachy Waves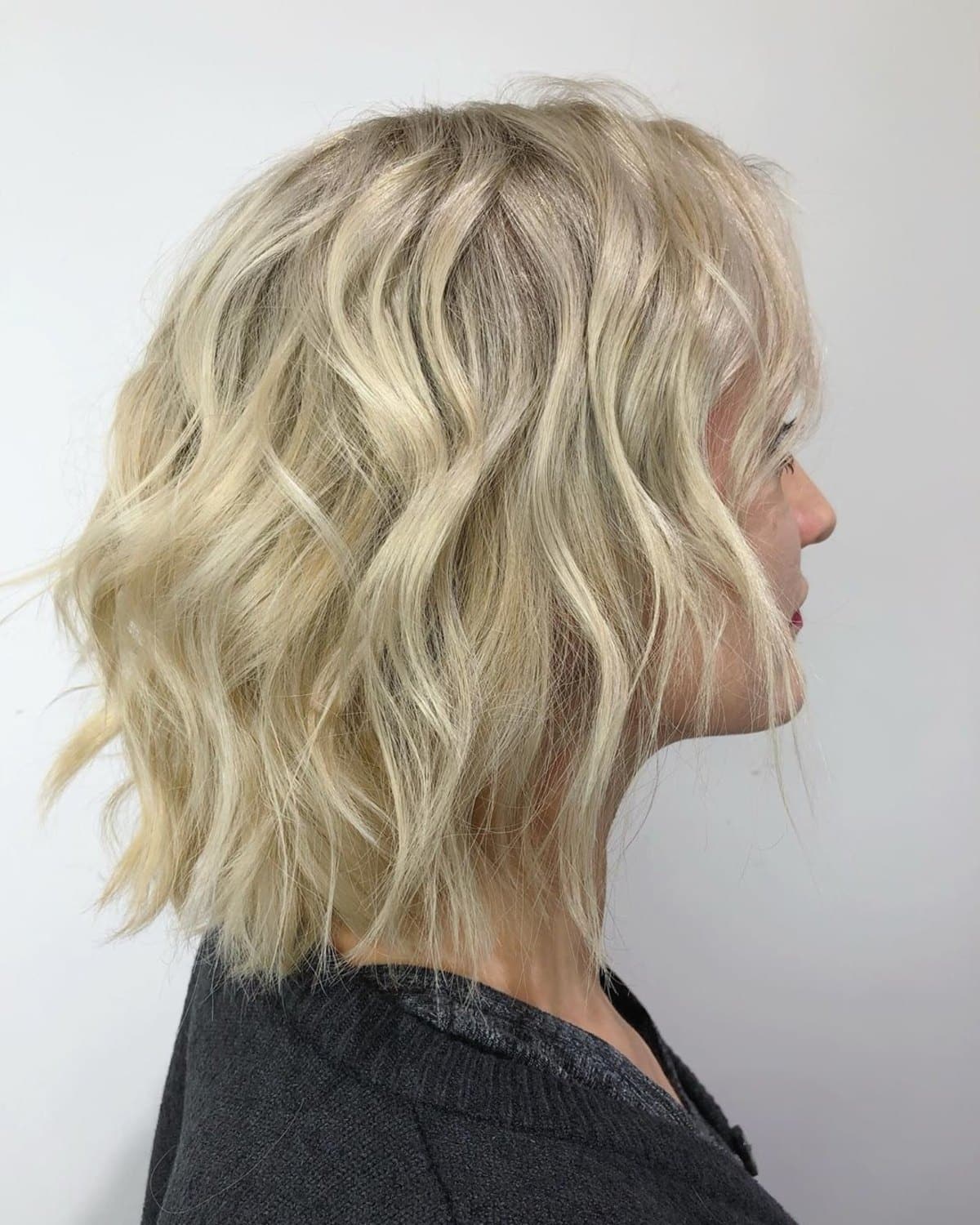 Instagram @roxschreiber
Looking for a chop to flatter your dimensional diamond blonde and natural wavy hair? Here's the medium wavy bob with blonde highlights and babylights, which defines modern glam. It'll allow your fine hair to look fuller by keeping the length sits on your shoulders. Jagged ends will pop even more if styled with beach waves, for sure.