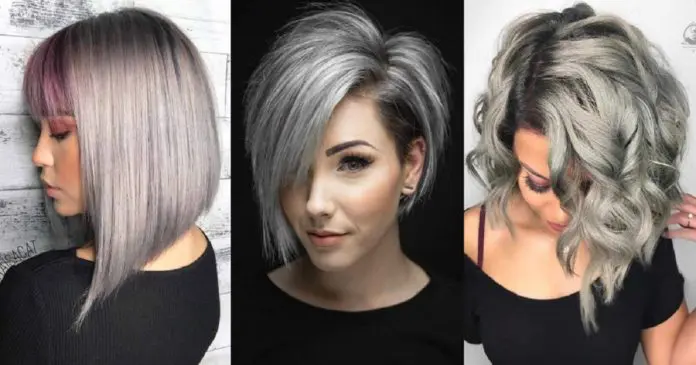 Short grey hair looks especially chic and bold, and you can show it off whether you are 20 or 40. There are so many ways how you can wear it, and we have picked only the coolest. For example, try an asymmetrical cut for silver hair. Your look will seem much edgier and so young. Or, if your hair is naturally curly, you can opt for a curly silver short hair cut with a fringe. It looks very-very cute!
Straight Pixie-Bob With Grey Highlights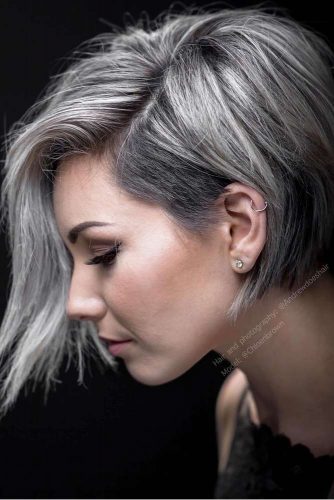 Grey short hair styles are many, and surely most of them are extremely trendy these days. However, if you are looking for a dramatic cut upgraded with not less dramatic dying technique, then we have something special in store for you. The thing is that short pixie-bob combined with silver highlights is exactly the cut to stand out in the crowd no matter where you are headed. What is more, such a cut will suit all the events you are headed to from the official meeting to informal party. Try it out, and you will not regret it!
Edgy Mohawk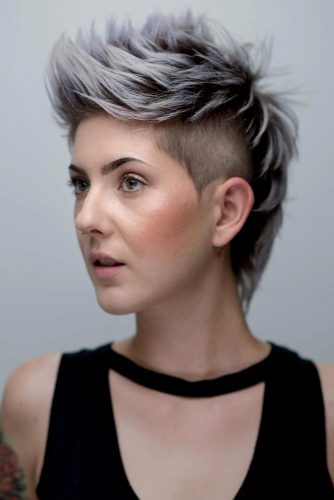 There are so many ways that you can experiment with grey short hair that it may be difficult to list them all in one place. Yet, the truth is that some cuts and styles are bolder and more daring than the others are. In case you are looking for something to look your absolute best and to be noticed anywhere you go then edgy Mohawk was simply created for you. Those of you who are ready to go as far as it takes to look unforgettable will surely appreciate the shaved sides addition. Is it too much for you? We do not think so!
Pink To Grey Ombre Bob Hairstyle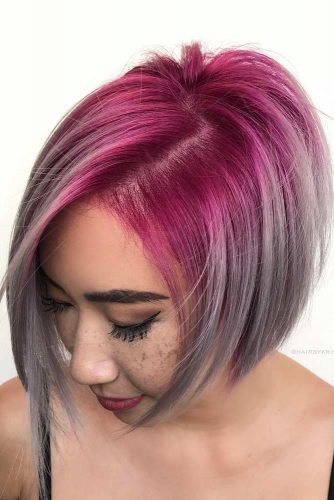 Short grey ombre hair is genuinely not the limit when you wish to look like no one else. It is true that these days bold colors are on the edge when it comes to the hair coloring. That is why we think that the combo of grey and some other bright color will help you succeed the goal like nothing else. What do you think of pink? We dare to suggest you that the mixture of bright pink to silver transition is just marvelous. What is more, despite the presence of bright hues it does not look too screamy or out of place, don't you think?
Asymmetrical Straight Pixie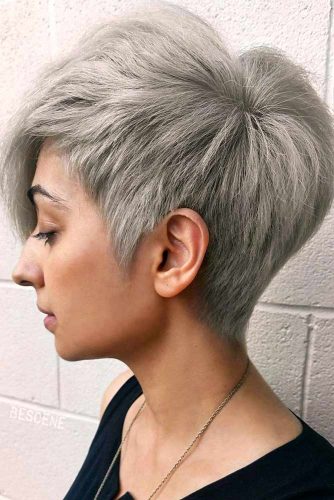 When you deal with short to midlength haircuts for fine hair thats going grey, things get a little bit different when you just decide to play around with silver hues. For example, when you are looking for a short haircut but afraid that your mane is just too voluminous to pull something like that off, we are going to tell you that everything is possible if you know what to opt for. The thing is that asymmetrical pixie is that one cut that will take away the unnecessary volume and will grant you a stylish look you have been looking for. What is more, you should keep it in mind that short grey hair is on the edge of popularity.
Side Parted Wavy Bob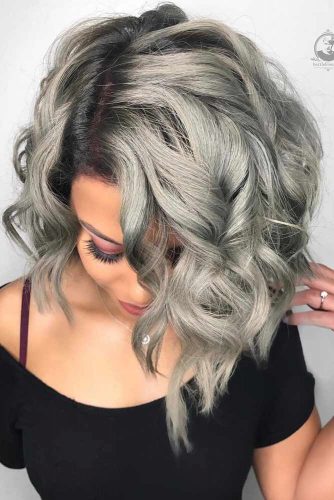 Black to grey ombre short hair is all in recently, and there is no wonder why since the combo of colors is truly a magnetic one. However, apart from the color combination, there are other things to consider too. For example, the cut and the style to combine with the coloring. We think that there is no better way to add a youthful touch to your look rather than to add some light curls to your silver mane. If you have a naturally curly hair that will make things greater since all you need to do to look perfect is to work some hair product in your hair. As simple as that!
Messy Grey Long Pixie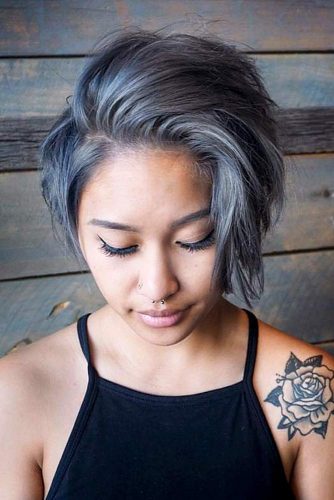 When you start looking for short haircuts for grey hair, it is very important that you come up with something that you are going to feel comfortable with yourself. Of course, you should take trends and other peculiarities into consideration, but you should simply fall in love with the cut you choose. The thing is that long messy pixie is a perfect cut for those who like to wear their hair differently on a daily basis. With such a cut, you can pull off dozens of styling options so that you will not get bored of it, that is for sure. One more thing, the shade of grey should fit into your personality as well, that is why you better choose wisely!
Side Parted A-line Bob Haircut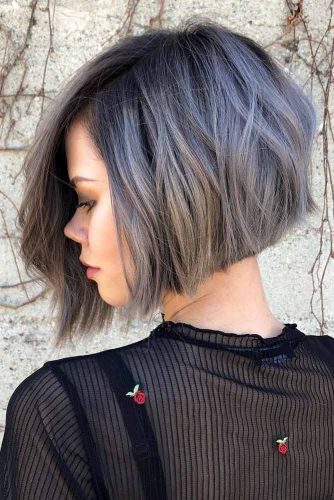 Among short hairstyles for grey hair, it is essential to choose the one that will suit your lifestyle too. Besides, you should also pay attention to the texture of your hair when heading to the hairdresser's. The truth is that A-line bob is one of those universal cuts that fits in all ages, textures, and tastes for that matter. What makes it even greater is the variety of hairstyle options to pull off. You can be strict and elegant when wearing your hair straight or you can be sweet and charming when you introduce some light waves in. The choice is yours!
Layered Pixie-Bob With Undercut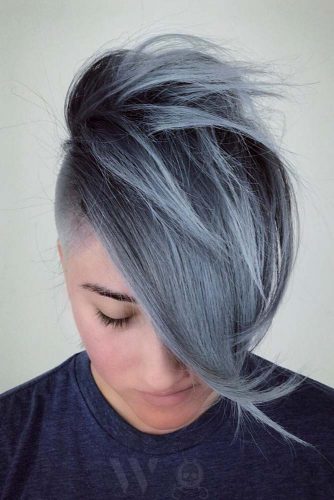 Very often, it is easy to assume that grey ombre short hair is somehow limited in the number of looks to try out. We think quite on the contrary. One look at this edgy mixture of bob, pixie and undercut in one haircut will help you understand what we have in mind. The addition of layers can take away the unnecessary volume as well as to introduce some of it in; it certainly will depend on your preferences.
Short To Medium Sleek Straight Bob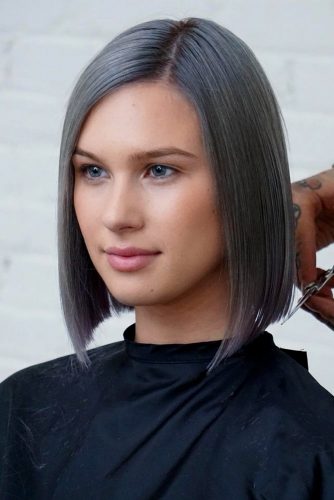 Short hairstyles for grey hair and glasses are many, but there is the most universal and classy one – straight and sleek bob cut. If you have naturally straight hair and it is pretty fine as well, then there is no better cut for you than a straight bob. Such a cut will add certain class and elegance to your look, not to mention the fact that it is so easy to style and to maintain and if you are a busy lady you will appreciate this more than all.
Short Wavy Pixie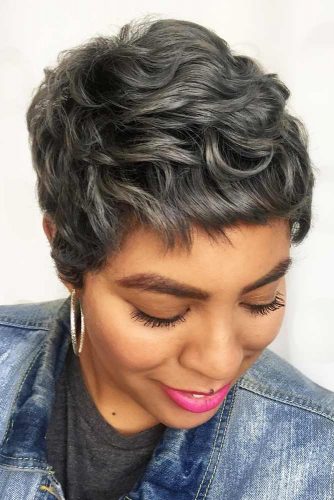 There are short grey hair over 60 ideas that can be easily pulled off even when you are a lot younger than that after all, age is only a number. Short wavy pixie is not only super stylish, but it is also incredibly comfortable. If you have wavy natural hair then you will not need to spend too much time and effort on fixing your mane in the morning, all the busy ladies will certainly appreciate such an advantage. What is more, dark steel color grants this cut, additional charm.
Side Parted Straight Short Bob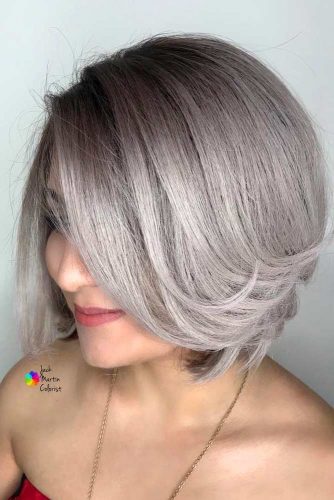 Short grey hair can be extraordinary bright as well, all you need to do is to pick up the corresponding hue. This silver color is so light and beautiful that it is difficult to take the eyes off, what is more when it is paired with such a sassy bob the combo is indeed a killer one. If you are looking for an elegant and stylish look to stand out then there is nothing better than this straight short bob in silver, we can assure you!
Layered Wavy Short Bob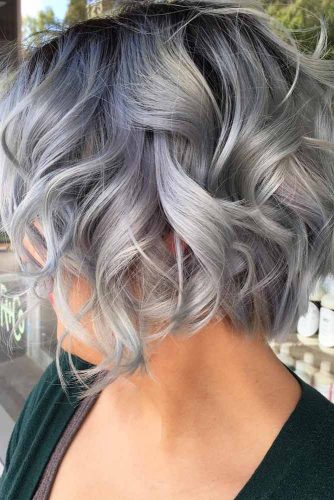 When it comes to fine hair, there is a particular limitation of hairstyles to pull off due to the texture. However, when it comes to layered bob, you can rest assured that even thin, fine hair will look good with it. The fact is that layers add that missing volume to your mane and that is undoubtedly a good thing. What is more, when sole layers are not enough you can always introduce some waves into your hairstyle, this is also a winning choice. When you are fine with the volume it is time to think about the color; light grey hair dye will grant your hair that extraordinary depth and glow, that many are looking for.
Voluminous Bob For Older Women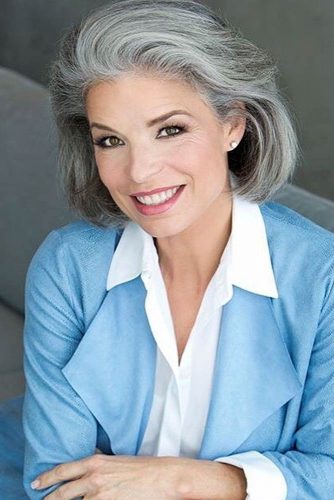 As the time passes, that great volume you had when you were younger may start to fade, and you need to deal with it somehow. That is why voluminous bobs are such a great option for older women. You do not need to go as far as to dye your hair since it may already have its special and natural silver touch, but you most certainly need to take care of that volume. Take this piece of advice into consideration and then share it with your stylist, we are sure you will be pleased with the outcome.
Short Messy Pixie For Woman Over 50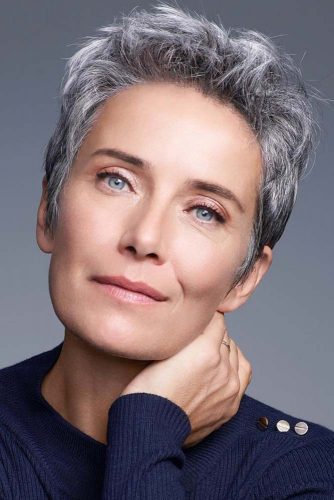 When you are headed towards your 50's that does not mean that you need to feel left out when it comes to the hairstyling. The thing is that with short grey hair there are many looks to experiment with even when you are about to turn 50. Short messy pixie may be an ideal option for those of you who do not wish to waste too much time on styling. With such a cut all that you need to do is to work some hair product in your hair and add some more messiness to the look. That is about it! Do not thank us!
Curly Grey Bob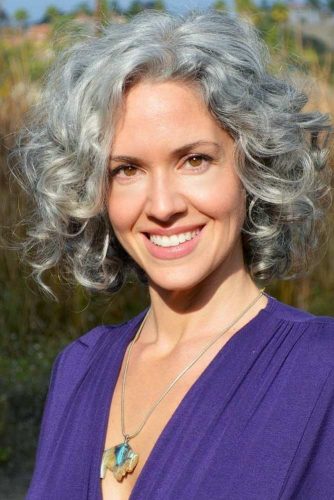 Sometimes it is considered that longer hair does not fit all ages, we think otherwise. The one thing you need to know is what to fit in with your hair texture perfectly. For example, tight natural curls will look great on you no matter the age if you keep them cut in a classic bob way. However, you are bound to remember that the cut is an only halfway to looking flawless. Your hair needs to be healthy to look gorgeous as well, especially that concerns curly hair. That is why make sure that you keep your hair well-moisturized all the time.
Grey Hair Color Ideas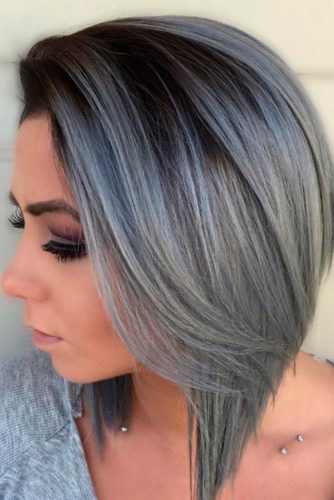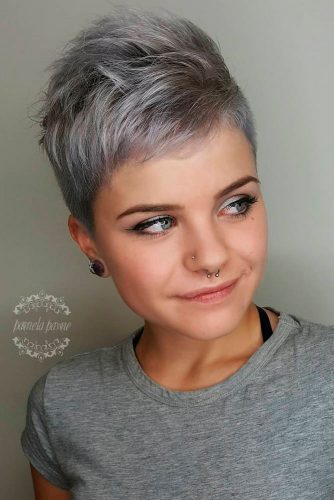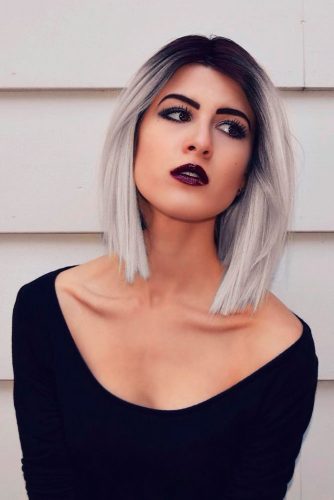 When considering hair colors, pick some shades that will flatter your facial features and personality in general. Getting your hair dyed in one color only is sooo in the past. Try ombre or highlights and you will never regret!
Cute Short Grey Hairstyles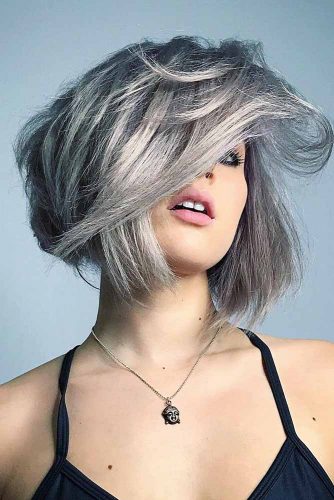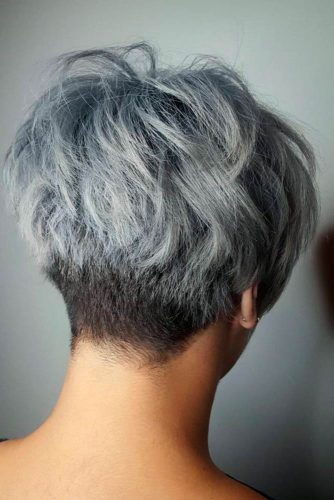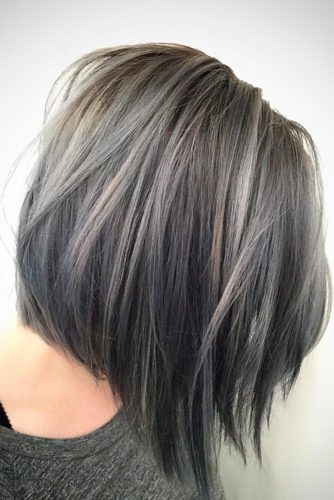 Dark blonde hair is probably the best base color for getting your hair dyed in grayish shades. Thus, you won't have to bleach it one more time and, consequently, harm it even more.
Grey Long Bob Hair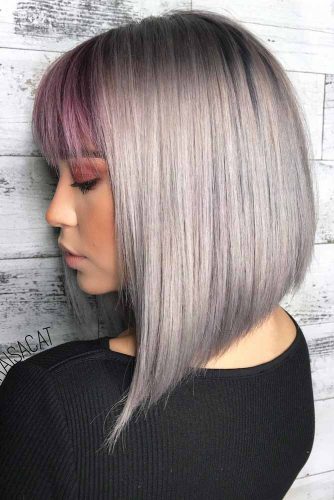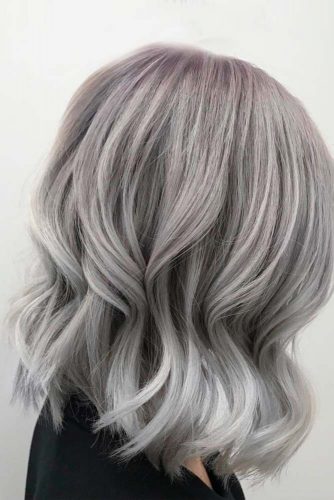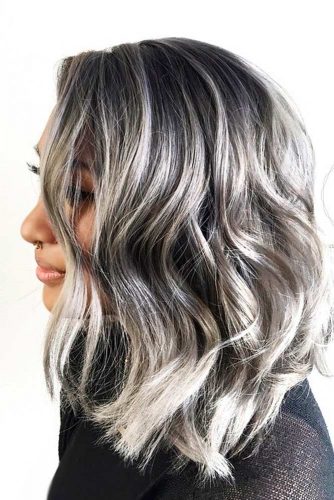 Being very chic, grey is also quite a demanding hair color. Let us explain what we mean. To look flattering, grey requires you to follow certain rules when applying your makeup. Don't panic, they are simple.
Stylish Short Grey Haircuts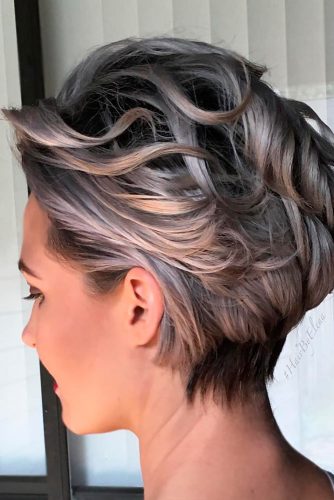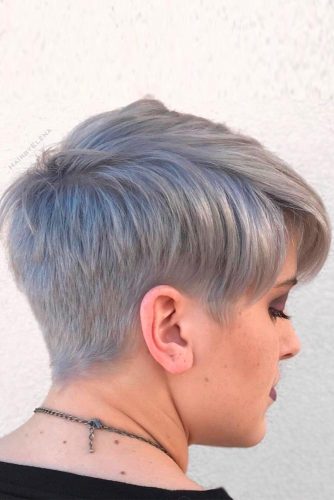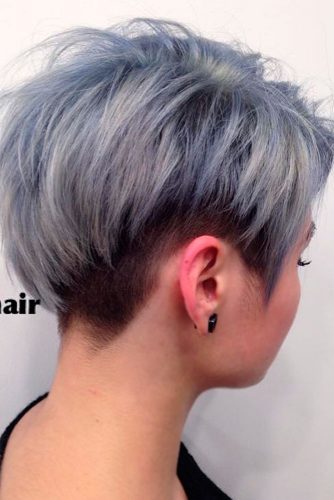 First of all, don't apply too much powder. Your skin already looks paler now when your hair is grey. So, it is better to wear a moisturizing and luminizing foundation instead of powder. One more way to enhance your facial features is to wear blush.
Beautiful Grey Hairstyles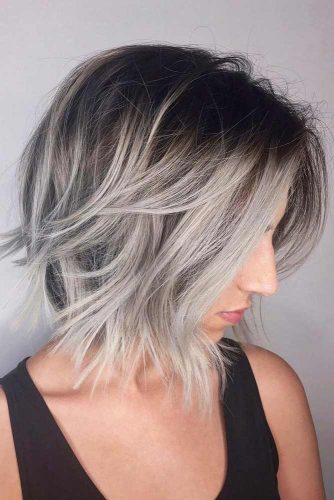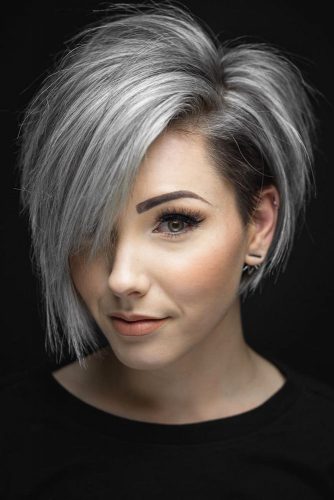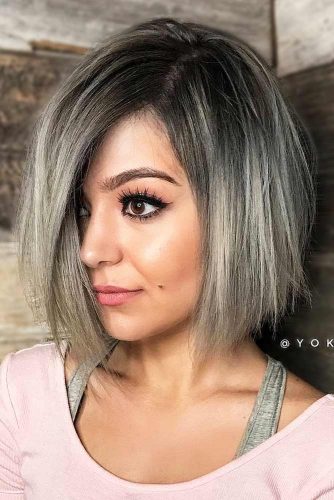 Stylists point out that blush will make any skin tone become more vibrant. In case your skin is fair, pick light rose blush. And bright peony blush will flatter ladies with olive or medium complexion.
Amazing Silver Color Ideas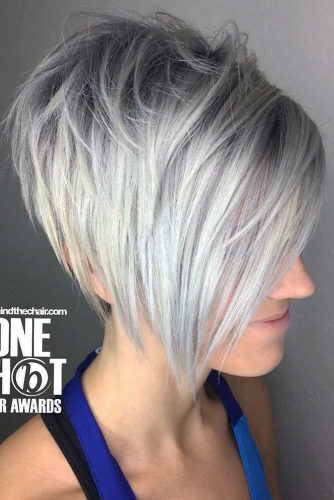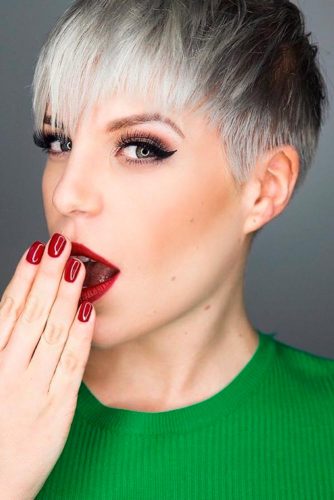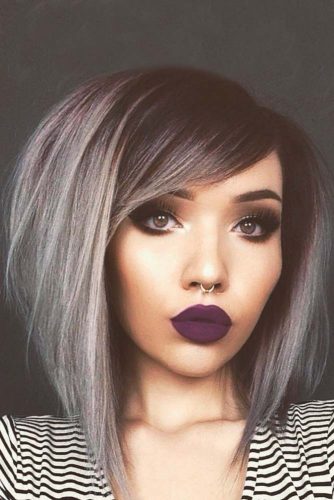 As we mature, our lips tend to lose the contour. So, apply nude lipliner before applying lipstick, and you will look years younger. Match it with your shade of grey.