Dark brown hair color adds a mystery to the overall look. One can find different shades of the color that can help every woman look the way she wants. Besides, various hair coloring techniques can add a zest to the overall image.
Chocolate brown hair is a particularly interesting shade that suits the majority of women and looks very fascinating.
Dark Brown Hair Color With Red Locks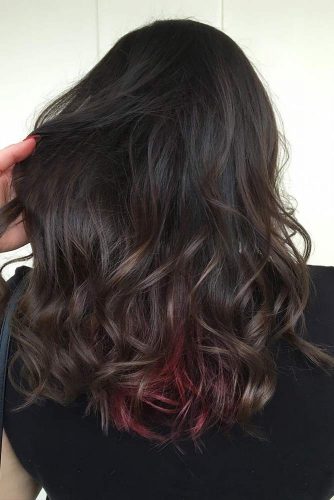 If you aren't afraid of experimenting with your hair, you can dye some of your hair locks in a bright red color. You can either dye all your hair ends with this color or just some chosen parts. Red color always looks bold and will surely attract the attention.
Source: espostyles via Instagram
Gorgeous Dark Brown Hair Color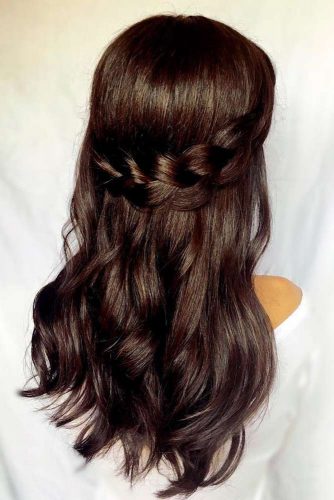 If you have long hair and are more in favor of a classical style, go with pure dark brown color. It looks very elegant, mysterious and feminine.
Source: jamiewileyhair via Instagram
Solid Dark Brown Colored Bob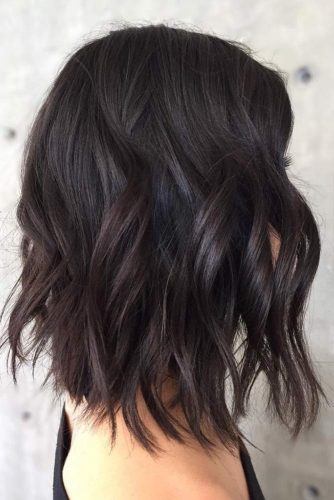 Make your bob haircut look more attractive by having your hair dyed in a solid dark brown color. It looks stylish and classy. You could add some waves if you strive for a more casual look.
Source: ana.rinsesalon via Instagram
Natural Chocolate Brown Hair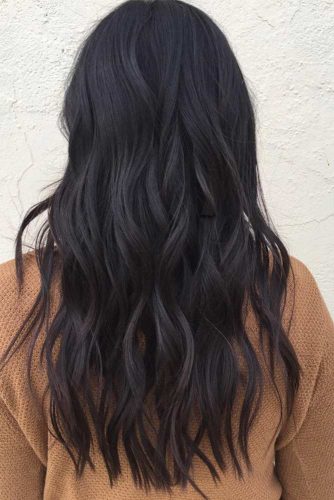 Natural colors are very trendy these days. So, if you have natural dark brown hair color, you can simply enjoy your natural look. You can wear your hair straight or slightly wave it depending on the effect you are trying to reach.
Source: ana.rinsesalon via Instagram
Rich Hue Of Dark Brown Hair Color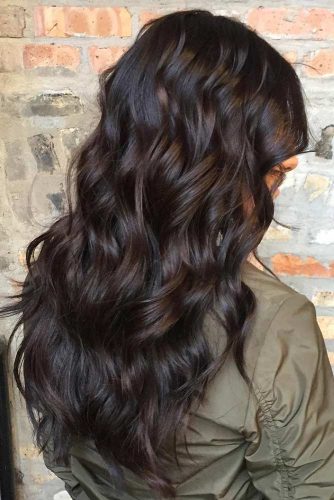 Dark brown color comes with various hues, and so you can dye your hair with either deeply saturated dark brown or use slightly lighter version of it. It all depends on your personal preferences and the effect you are trying to reach./p>
Source: beautybybullaro via Instagram
Dark Chocolate Hair Color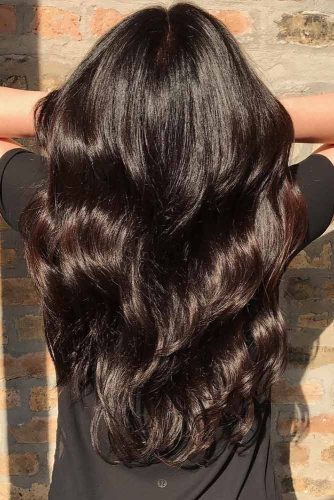 Dark chocolate hair color looks very attractive as it's associated with the chocolate, – and who doesn't like it? This color would look good no matter whether you have long or short hair, straight or wavy.
Source: beautybybullaro via Instagram
Glory Dark Brown Hair With Copper Hue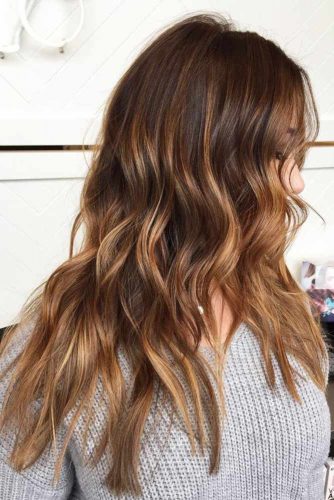 The combination of dark brown hair with the copper hue is astonishing! Darker and lighter shades melt into a perfect unity while creating a marvelous and shiny look. With such hair color you will surely get tons of compliments.
Source: hair_byjane via Instagram
Warm Dark Brown Hair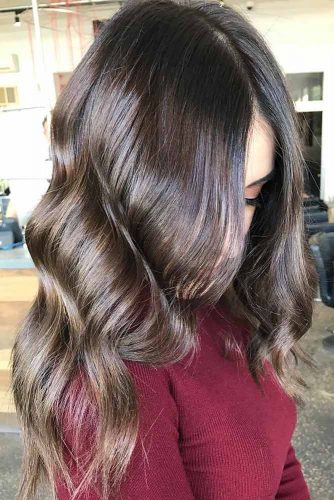 If you are not sure about getting your hair look very dark, you can always find an alternative. Go with the warm hue of dark brown color and enjoy your new look!
Source: tyson.mendes.hair via Instagram
Textured Brunette Hair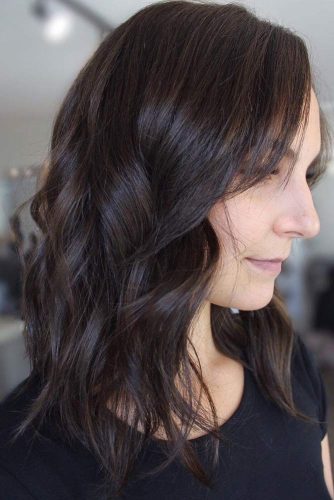 Make your brunette hair look more interesting by adding some layers to your haircut. The layers will add more volume and help create more casual and messy look.
Source: hair.by.cara via Instagram
Dark Brown Hair With Honey Highlights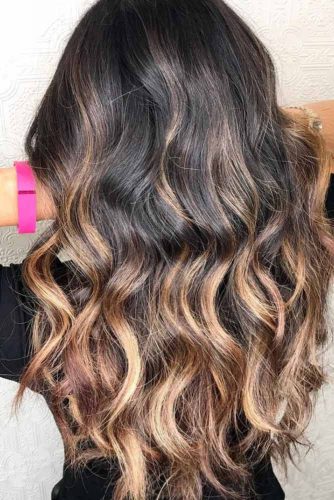 Are you looking for some warmth during cold autumn weather? Add some honey highlights to your dark brown hair, and you'll radiate that warmth yourself. Everyone around you will feel that warmth and happiness coming out of your personality.
Source: mdjhair via Instagram
Mocha Highlights For Dark Brown Hair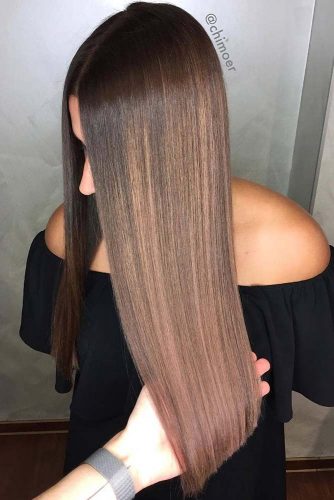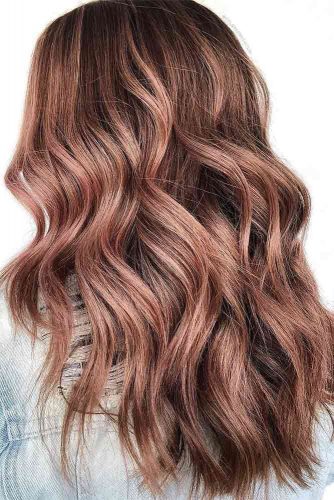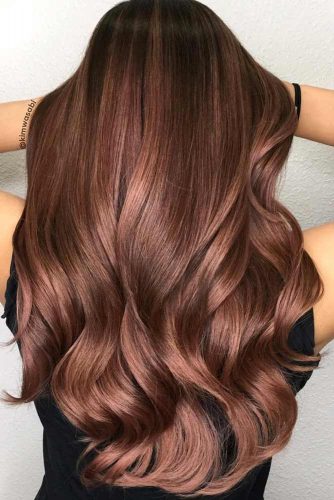 Mocha dark hair is slightly different from the brown hair shades you are used to. Warm red undertones grant your hair something that simple chocolate shade can't. This shade is so rich and silky-looking that it is difficult to resist. What do you think?
Chocolate Brown Hair Color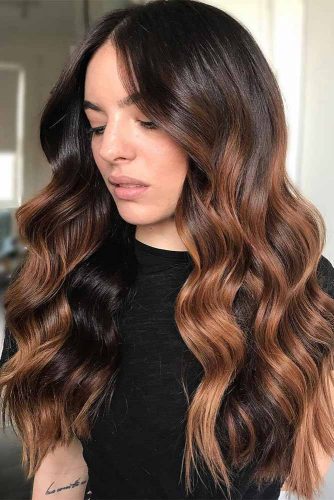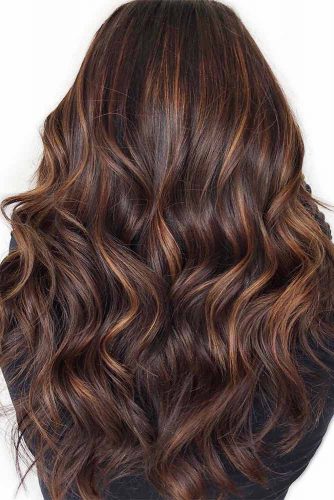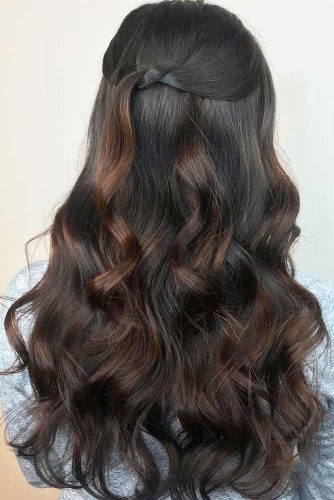 Chocolate brown hair is often underestimated. Today we are going to show you the ways to take mere chocolate hues to the next level. There is nothing complex about it, all you need to do is introduce some highlights in. The key point is not to make them stand out too much, just a tone lighter than the original shade, and natural glossy mane is yours!
Caramel Brown Hair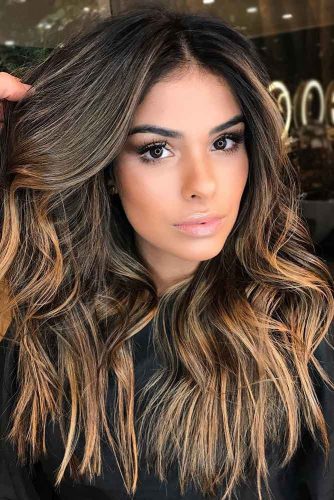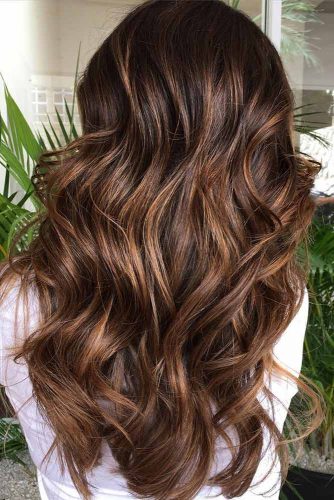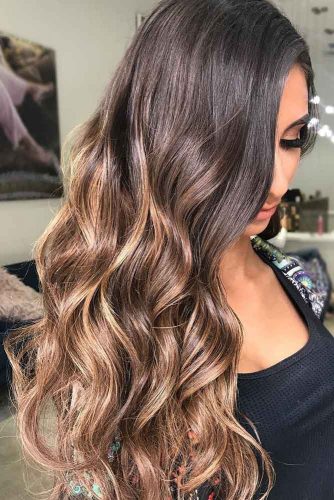 Sometimes people wonder why caramel shades are considered to be so special. The answer is simple, while the shade itself is not. The simple transition from dark brown to soft caramel looks incredibly juicy and magnetic, there is no way you will be unnoticed. That is the answer!